Where is Karon Viewpoint?
The Karon Viewpoint Thai name is Kho Sam Haad, which means 'The Hill of the Three Beaches', and once you reach the place, just as promised, you will see three beaches. If this is your first trip to Phuket, you probably will stop for a few minutes at this popular and beautiful panoramic landmark to admire the view from the top of the hill. You really can see three magnificent bays up there.
The closest and smallest one is Kata Noi Beach. A bit further is the beautiful Kata Beach with its island 'Koh Poo', which means Crab Island, and the far, the very long Karon Beach.
With such a strategic location on the side of the road leading to the famous Promthep Cape, everyone stops at Karon Viewpoint for a selfie or Instagram shot on their way to Nai Harn. Some visitors rest a bit longer in the Gazebo shade to enjoy drinks or snacks bought at the tiny shops located a few steps below. Others enjoy chatting with the well-known reggae guy who is always hanging there selling some necklaces and accessories.
---
Why is it called Karon Viewpoint?
The name is a little mysterious. The first time we visited it, it was called 'Kata Viewpoint', but one day, someone decided to rename it 'Karon Viewpoint'! If you know Phuket's geography, you'll realise how odd this is because it is much closer to Kata Beach than Karon Beach. It may fall under the Karon district or someone who had too much time on his hands. It is a little confusing, and travellers sometimes try to find it around Karon Beach!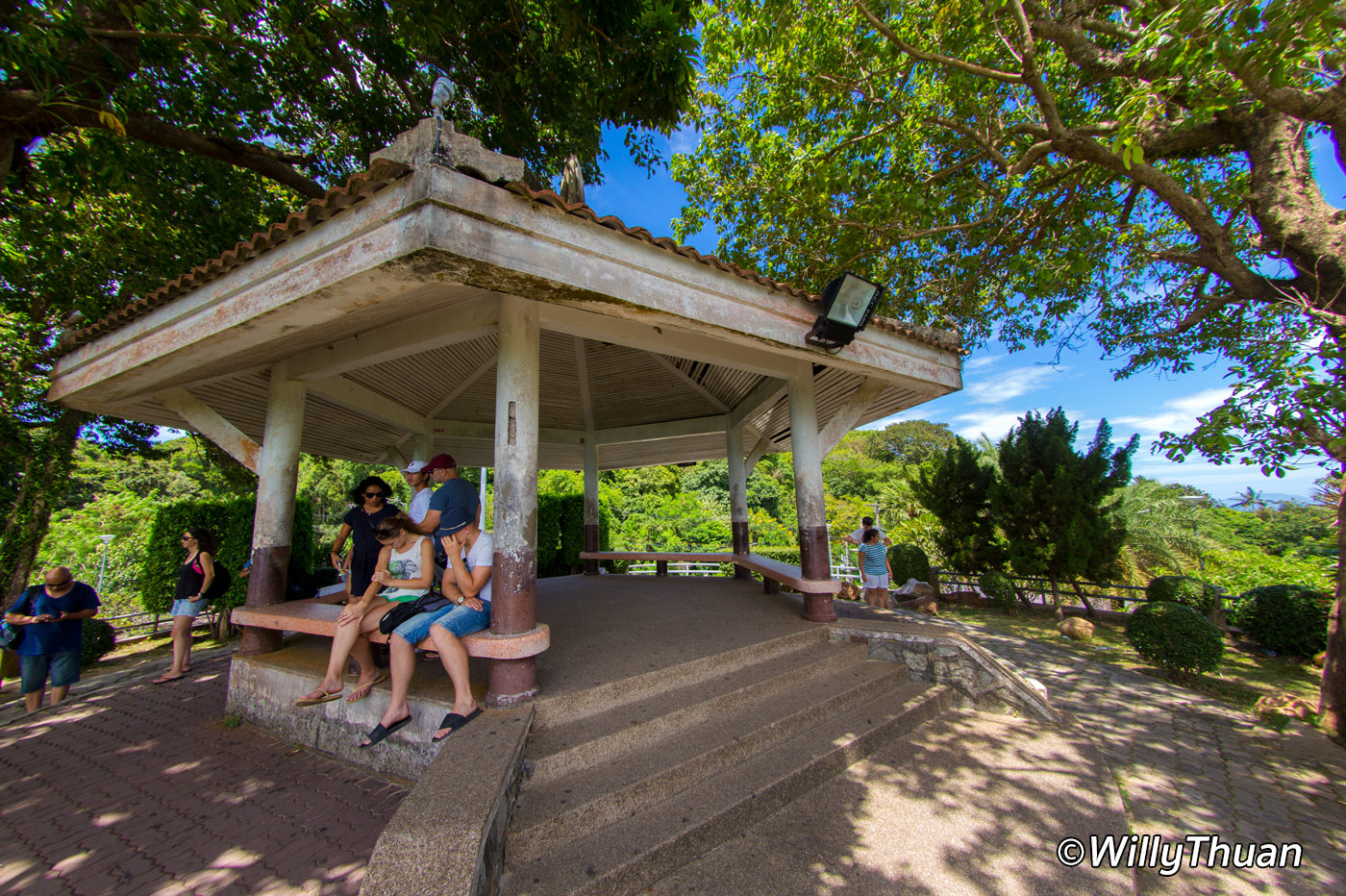 Anyway, Thai visitors and residents continue to call it Kata Viewpoint and most never noticed the name change or the massive sign on the building.
Karon Viewpoint has a large and accessible parking area, so if you can't resist a viewpoint, don't hesitate to stop on your way to the Windmill Viewpoint and Promthep Cape.
Photos of Karon Viewpoint
---
Karon Viewpoint Street View
Where to eat near Karon Viewpoint?

Heaven Rooftop Restaurant is a little-known viewpoint terrace hidden below the famous Karon Viewpoint on the east coast of Phuket. Heaven Restaurant has a relaxed style usually found on beach clubs and is a great place to end the day with a sunset. Most importantly, it offers some amazing views over the three bays of Kata Noi Beach, Kata Beach and Karon Beach, further in the back.
Address: 6 Soi Leammumnai, Tambon Karon, Phuket 83100
Open: 5 pm – 10 pm
Phone: 093 140 0113
Price: Affordable
Phuket 101 receives 250,000 monthly visitors on average (500,000 pageviews/month).
If you wish to advertise on this space or other options available on Phuket 101, just contact us.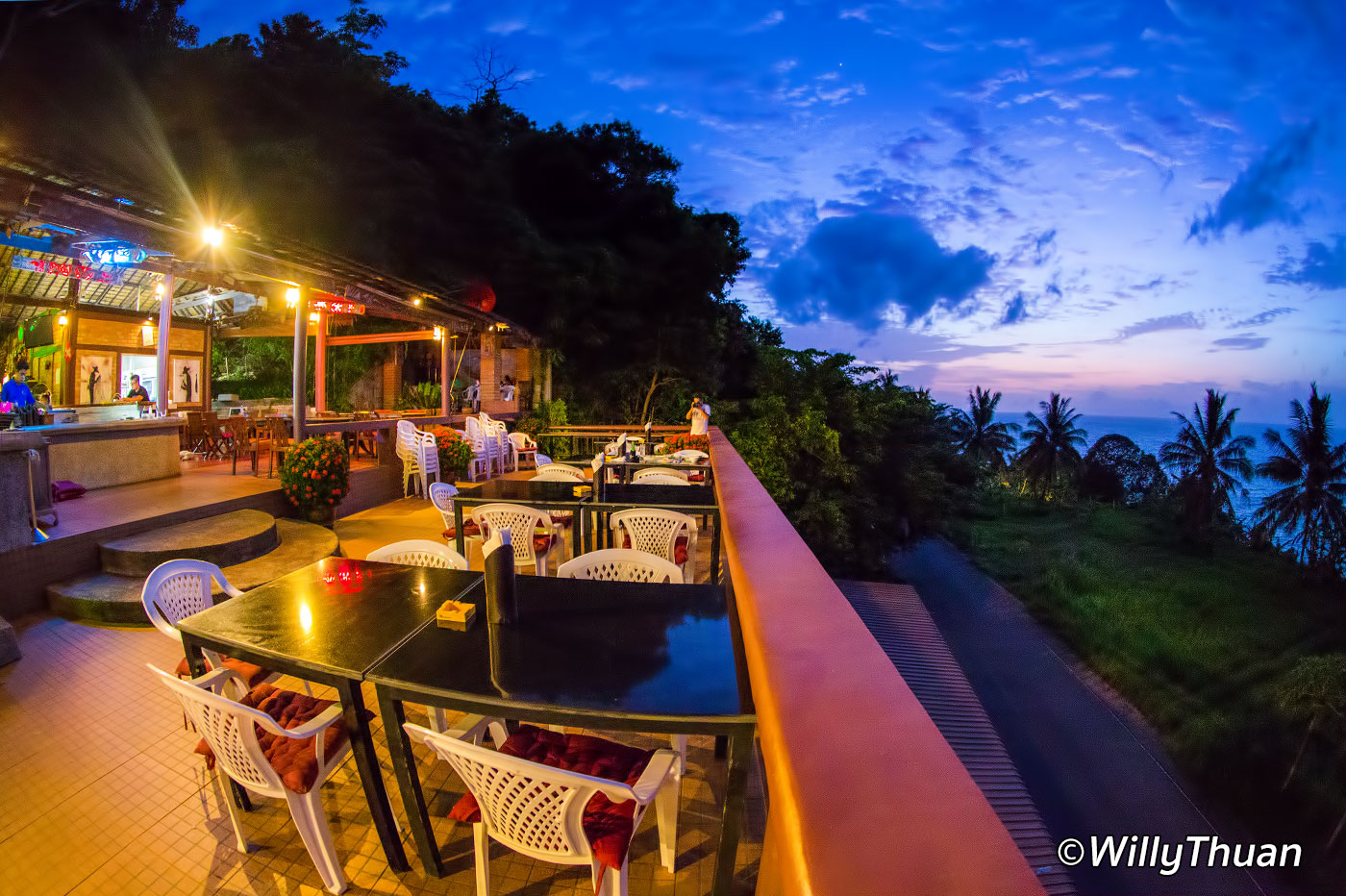 Sabai Corner is a beautiful Thai restaurant hidden in Phuket, not far from Kata Noi Beach. Only a few dedicated travellers will find it or try to find it. The food is good without being exceptional, but you will get much satisfaction just finding it and discovering the magnificent panoramic view of the nearby sea.
Location: Take the small road past Karon View Point and drive all the way down
Open: 10 am – 10 pm
Phone: 089 875 5525
What to do nearby?
Nui Beach stands out as an unconventional beach. While it may not possess the grandeur of other beaches, its coarse sand and hidden nature appeal to those who enjoy discovering secret and secluded spots. The more challenging it is to locate such beaches, the more attractive they become to travellers, and Nui Beach happens to be one of the remaining few.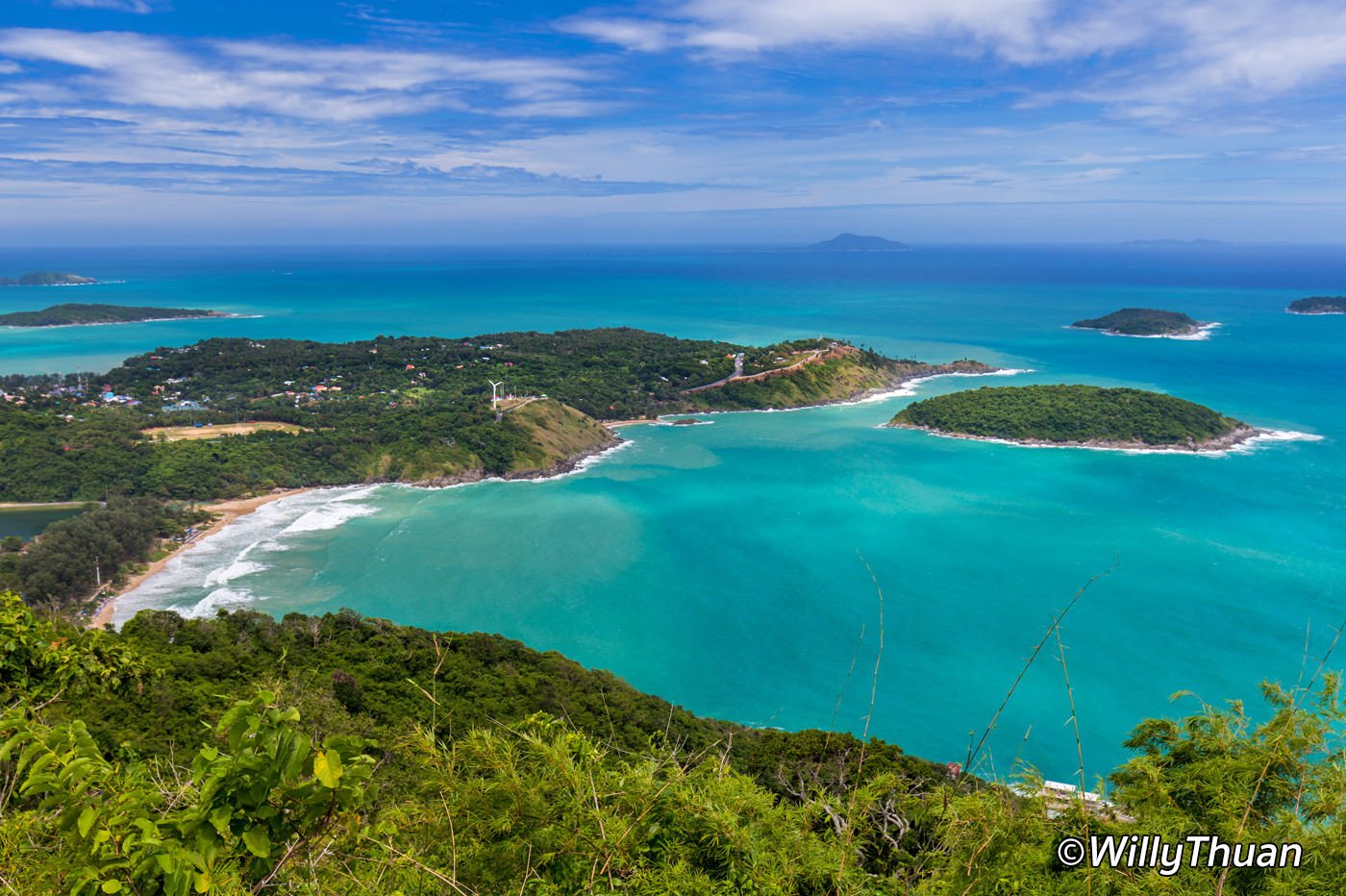 The Black Rock viewpoint, located in the southern part of Phuket, has gained recognition over time; however, it is considered a bit challenging viewpoints to find unless you are familiar with the area. It is recommended to have a car or, ideally, a motorbike to reach the viewpoint path entrance. Additionally, being in decent physical condition is recommended due to the steep walking involved.
Karon Viewpoint Info
Location: Past Kata Beach and Kata Noi Beach
Address: 4233, Tambon Karon, Amphoe Mueang Phuket, Chang Wat Phuket 83100
Open: 24 hours
Price: Free
---
How to get to the Karon Viewpoint?
Karon Viewpoint is easy to find by the coastal roadside between Kata and Nai Harn Beach. You can easily go there by local bus or smart bus, tuk-tuk, taxi or self-driving:
From Patong Beach to the Viewpoint: 13 km
From Kata Beach: 3 km
From Bangtao Beach: 32 km
From Phuket Town: 17 km
From Phuket International Airport: 49 km
---
Karon Viewpoint Map
Get the directions on your phone: https://goo.gl/maps/gYLeg1hSAfFXBKfW9.
---
More reading
More places to visit in and around Phuket
Plan your trip