Where are the best viewpoints of Phuket?
Karon Viewpoint, the Big Buddha and Promthep Cape are the best-known viewpoints of Phuket, but there are many more, and all are great photo opportunities. Climbing on top of every single hill around the island seems to be an Instagram magnet for many travellers.
Here is a list of beautiful places for some fantastic panoramic shots. Some are just hills; others are unforgettable opportunities to enjoy a drink with a sunset, or even a romantic dinner. Most are easy to reach, but few of them are more challenging to access.
Once known as 'Kata Viewpoint', here is one of the most famous panoramas of Phuket. You really can see three magnificent bays from up there. The closest and smallest one is Kata Noi Beach, then a bit further is the beautiful Kata Beach and its island 'Koh Poo' and in the far is the long Karon Beach. This might be the best known panoramic spot in Phuket, but there is not much more to do up there than a couple of photos. Read more
---
The 45 meters high Big Buddha has become the most famous landmark of Phuket and is visible from anywhere in the southern part of the island. It is both a temple and a religious place, but it feels a lot like a tourist attraction than a holy place. And this for a good reason: not only this white marble statue is majestic, but the view from the hill up there is breathtaking. In front of Big Buddha you can admire Chalong bay and even Phang Nga Bay in the far, and in the back is a beautiful bird view of Kata Beach. Read more
---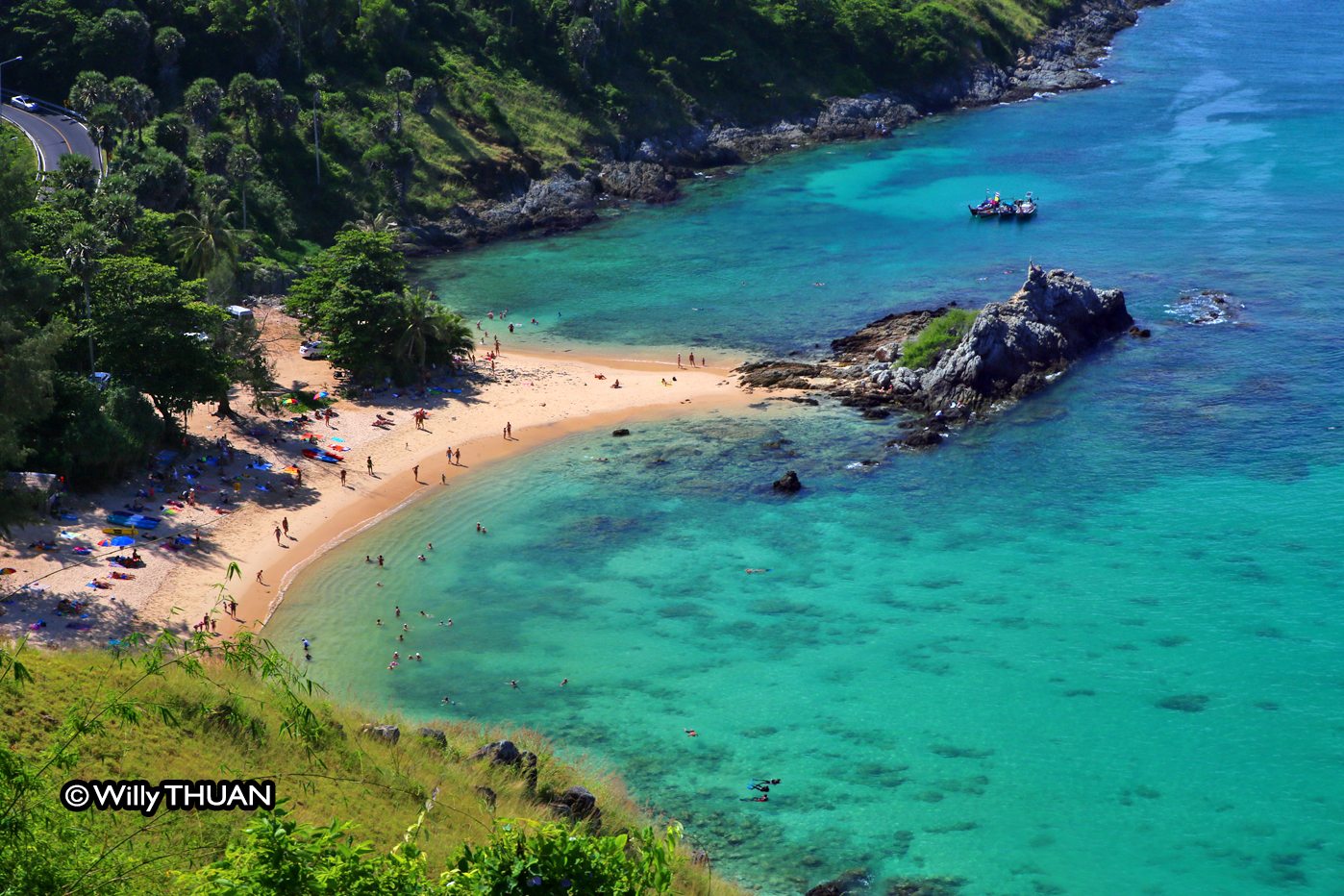 Ya Nui Viewpoint is an excellent viewpoint to bring back a beautiful tropical photo of Phuket. This place is well-known because of the enormous white windmill visible from a distance. From Nai Harn Beach and Ya Nui Beach, you cannot miss it; the trick is to find where the path leading to it is. Read more
---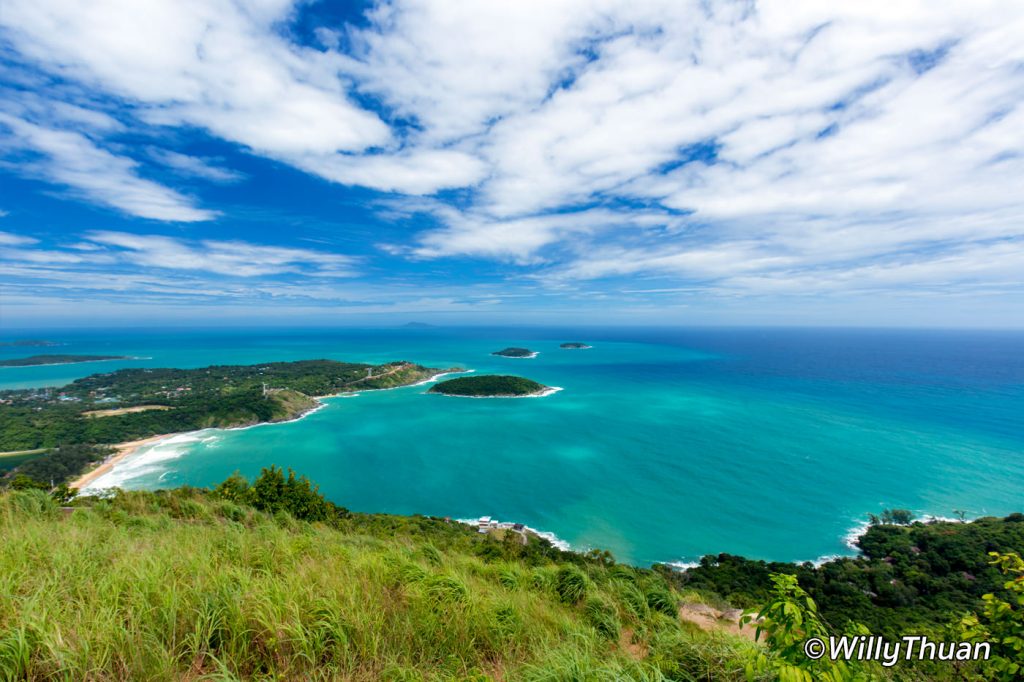 Black Rock is one of the most beautiful viewpoint in Phuket but also one of the most challenging to reach if you are not familiar with this part of Phuket. You will need to have your own transportation to ride the dirt road leading at the hill. From there, but will need to be in a decent physical condition to climb that last hill as it involves some steep walking, but it definitely is worth it. Read more
---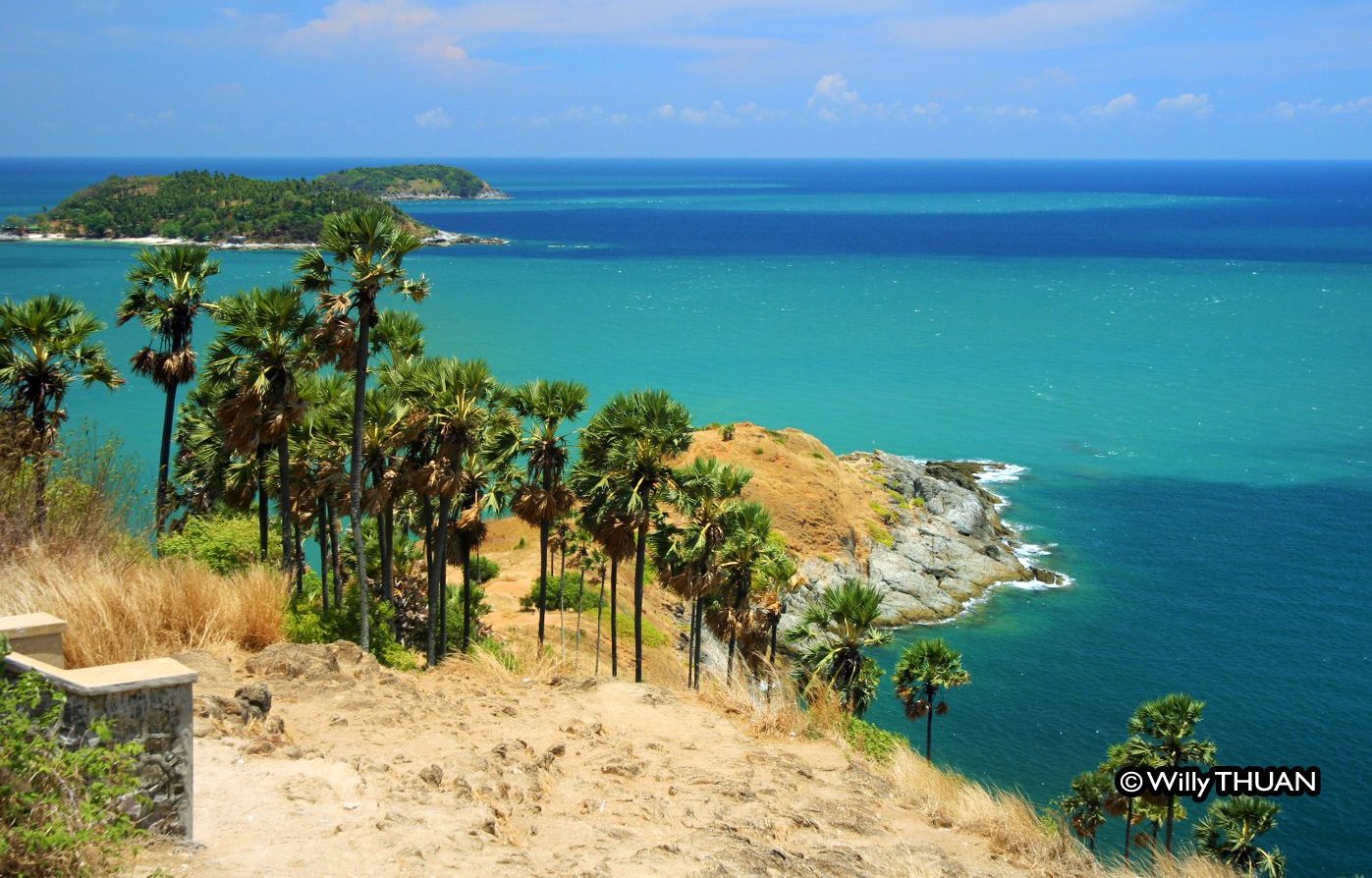 Who can resist a good old sunset photo? Indeed not the horde of photo-shooters lining up each evening at Promthep Cape, the southernmost point of Phuket island. This landmark has always been the meeting point for hundreds of tourists, mostly Thai, to get a fun sunset shot. Huge colourful buses park in the back and release their load of tourists hungry for a picture, and the place starts buzzing with cameras flashing all directions. Read more
---
Kata Noi viewpoint is a great place, easy to find on the way from Kata Beach to Nai Harn Beach, for a relaxed lunch or dinner. Several bars and restaurants built on the hillside above the beautiful Kata Noi Beach are an excellent opportunity for a sunset photo. Read more
---
Wassa Homemade Bar located high on the hills in the back of Patong is a modest little bar. You can go there any time of the day but sunset time and beyond is the best. This small hut all made of wood and surrounded by dense greenery has a decent view of Patong Bay. Read more
---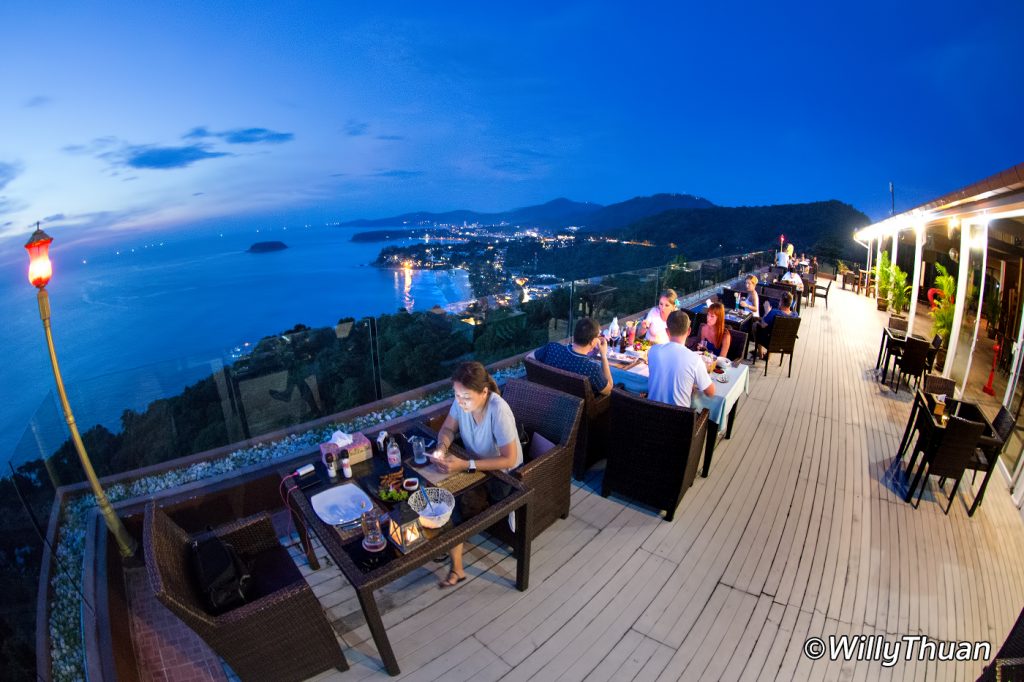 Heaven Rooftop Restaurant is a little know viewpoint terrace located just below the very famous Karon Viewpoint. Heaven bar is set in the trendy style usually found on beach club and is a great place to end the day with a sunset. Most importantly, it offers some pretty amazing views over the three bays of Kata Noi Beach, Kata Beach and Karon Beach further in the back. The food is a mix of Thai, Italian and Russian as most guests were Russian. The place plays some lounge or house background music, not too loud that fits the atmosphere well. Read more
---
9. Karon Beach Viewpoint
Not obvious to find if you are not aware of its location is a little restaurant bar on the way down between Patong and Karon, just past Centara Karon Villas. The bird view from the terrace covers the entire Karon Bay.
---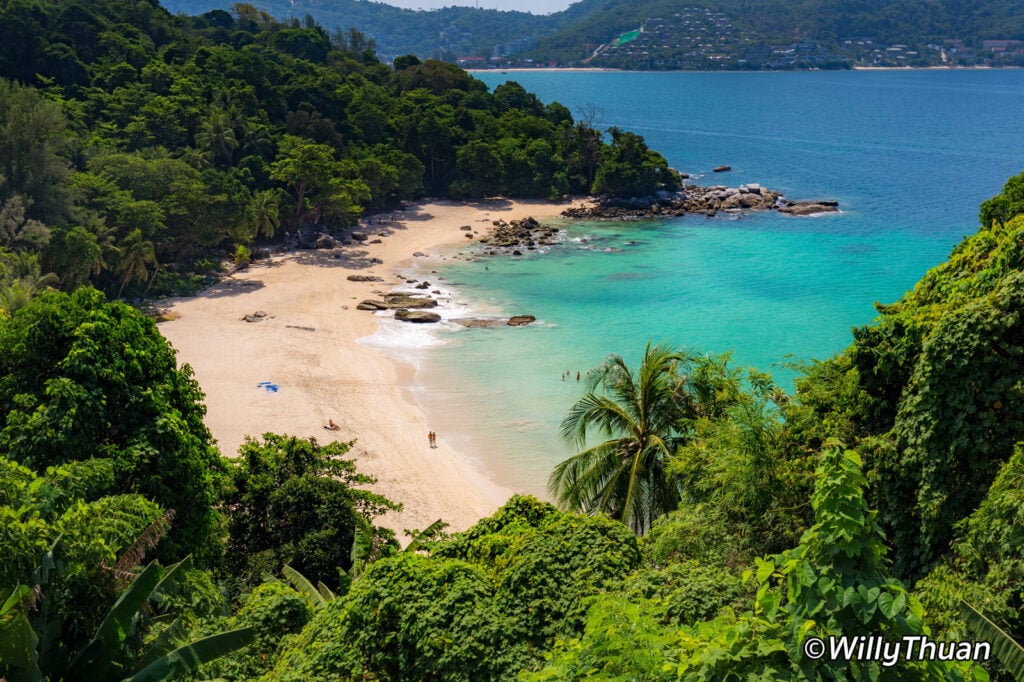 Laem Singh Viewpoint is a relatively new platform built with a large roof above a beautiful sitting area and decent sized parking. The view over the famous Laem Singh beach is stunning. A beautiful photo to take home! (Read about Laem Singh Beach)
---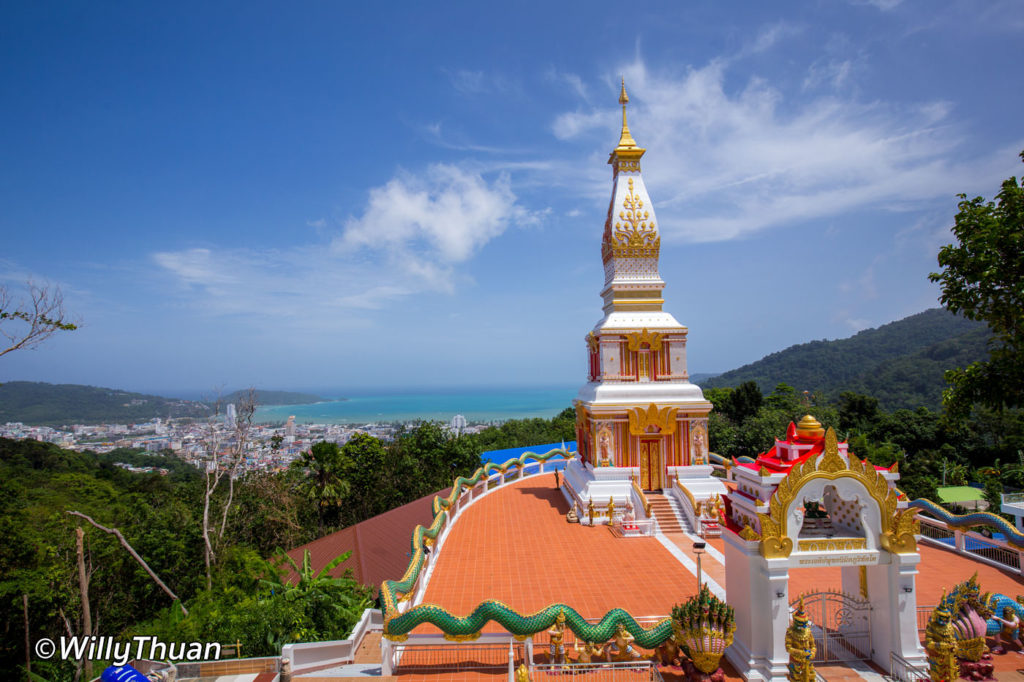 Doi Thepnimit Phuket is a monastic residence with a fantastic panoramic view over Patong beach. You can see its iconic white pagoda from Patong beach if you know where to look. Doi Thepnimit is a small temple but so beautifully decorated, and with such a view, it's worth stopping by on your way in or out Patong beach. The Chedi (a Buddhist stupa) is ornate with colourful seven-heads Naga (a mythical serpent-like creature) and many other mythological characters. Read more
---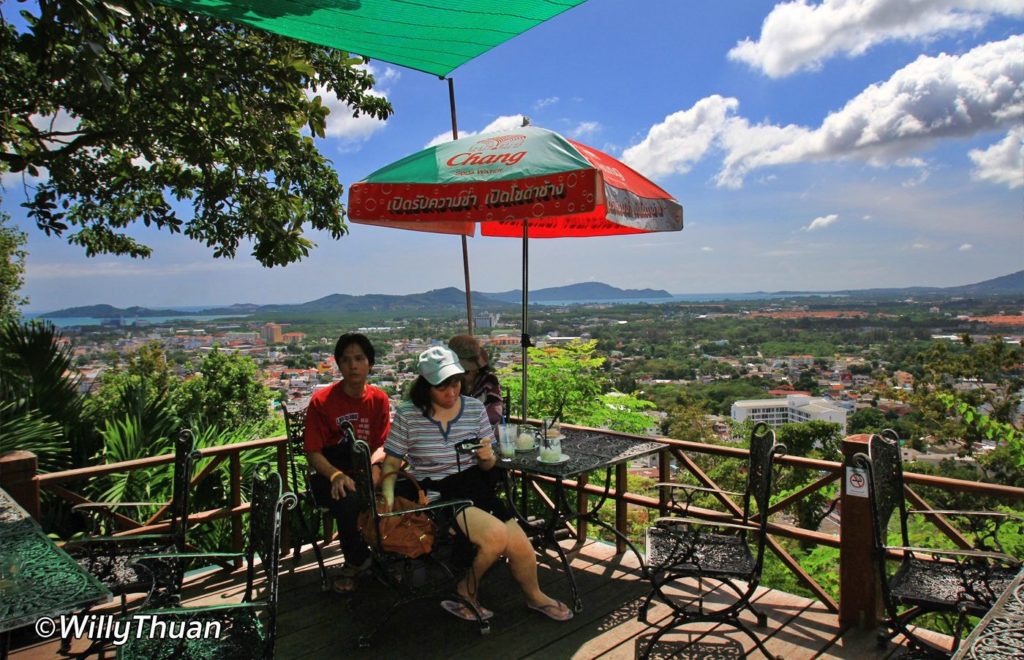 Take a short break in your exploration day to get a glimpse of what Phuket Town looks like from the top of Khao Rang Hill. All year round, people climb up there to admire bird views of the southern part of the island: Chalong, Panwa and even the Big Buddha sitting on top of its hill. But Khao Rang also features a nice restaurant called Tunk Ka Cafe. Read more
---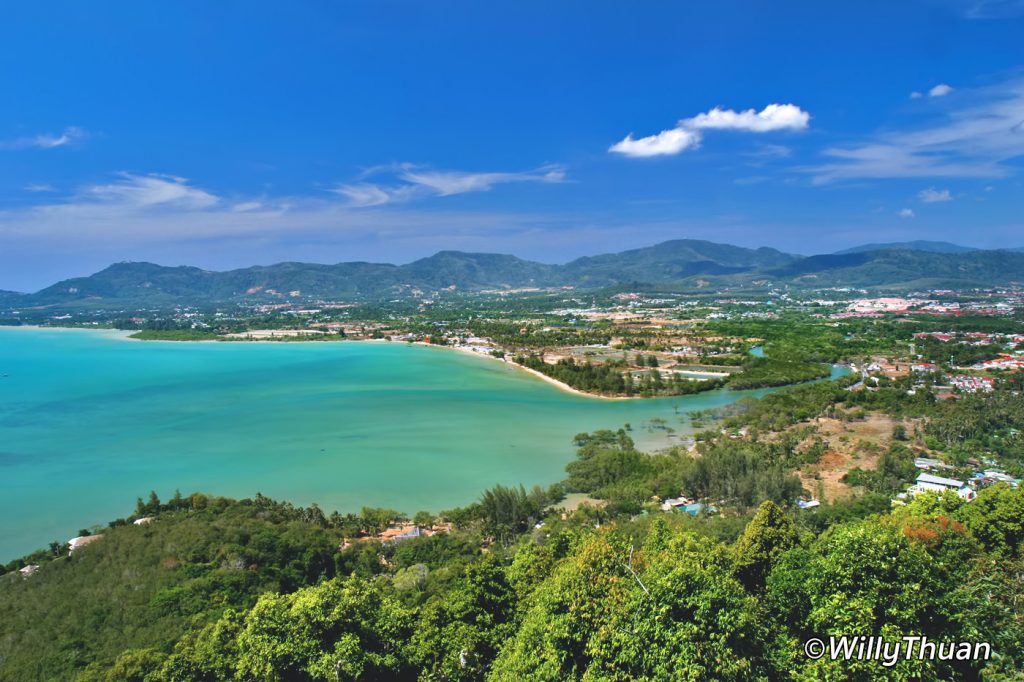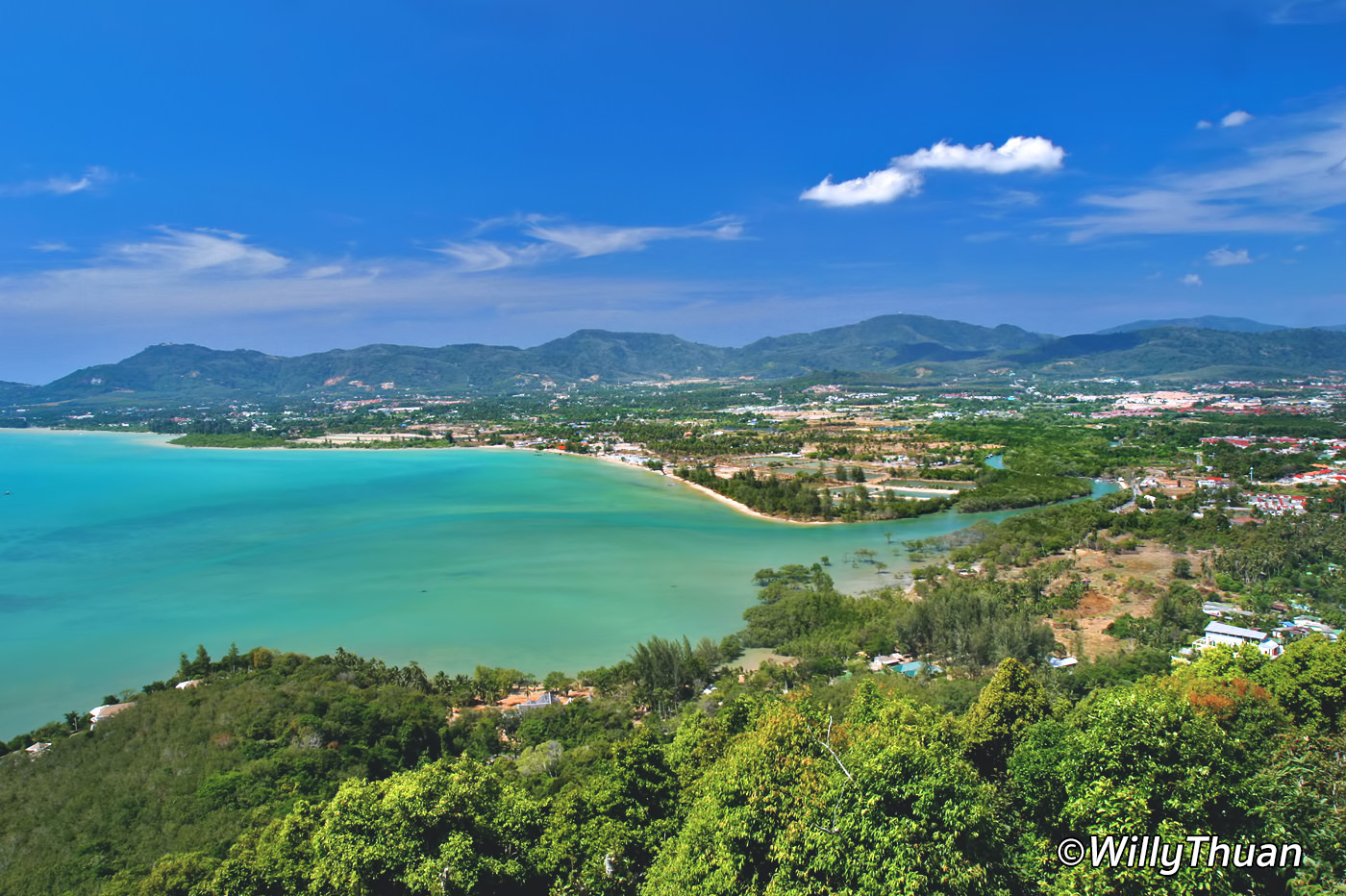 Solitary standing on top of one of the highest and most remote hill of Phuket, Panwa View Point, also known as 'Khao Kad View Towers' is a bit of a mystery. With parking designed to accommodate a large number of buses and cars, numerous shops and a massive staircase leading to a large tower, you would expect to find a crowd up there, but when you arrive, the solitude of the place is striking. Read more
---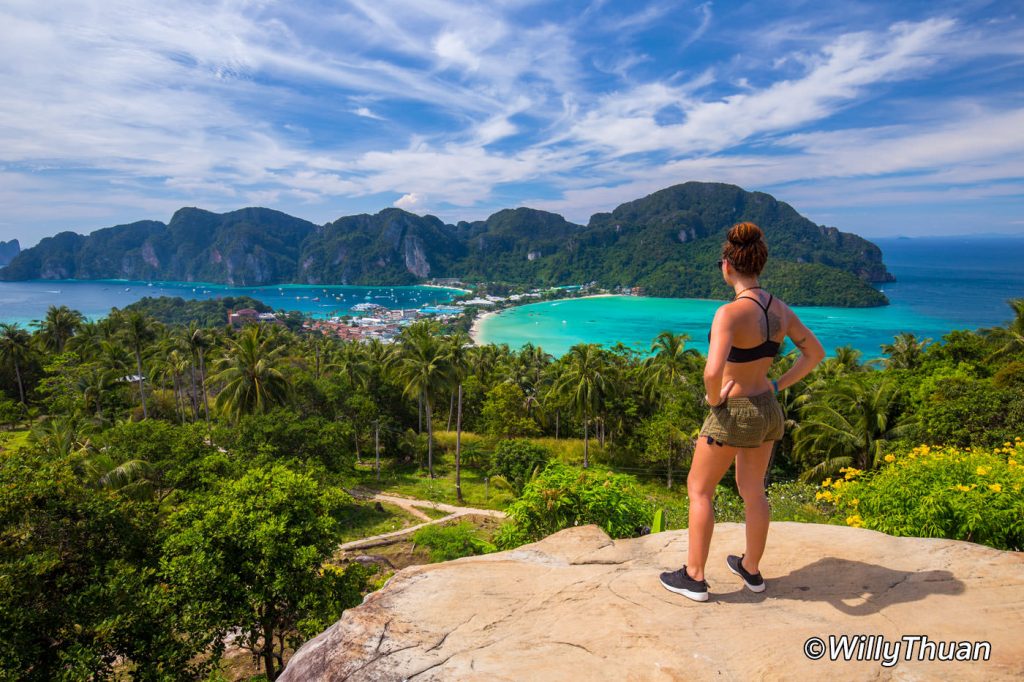 Phi Phi viewpoint is probably the second thing you will visit during your stay on Phi Phi island, the first thing being the famous (and crowded) Maya Bay, which is only accessible by boat. You can easily reach Phi Phi viewpoint by foot, and this is where visitors take the iconic '2 bays view' photo of Phi Phi. On the left is Tonsai Bay, Loh Dalum beach is on the right, and those majestic limestone cliffs serve as background. Read more
---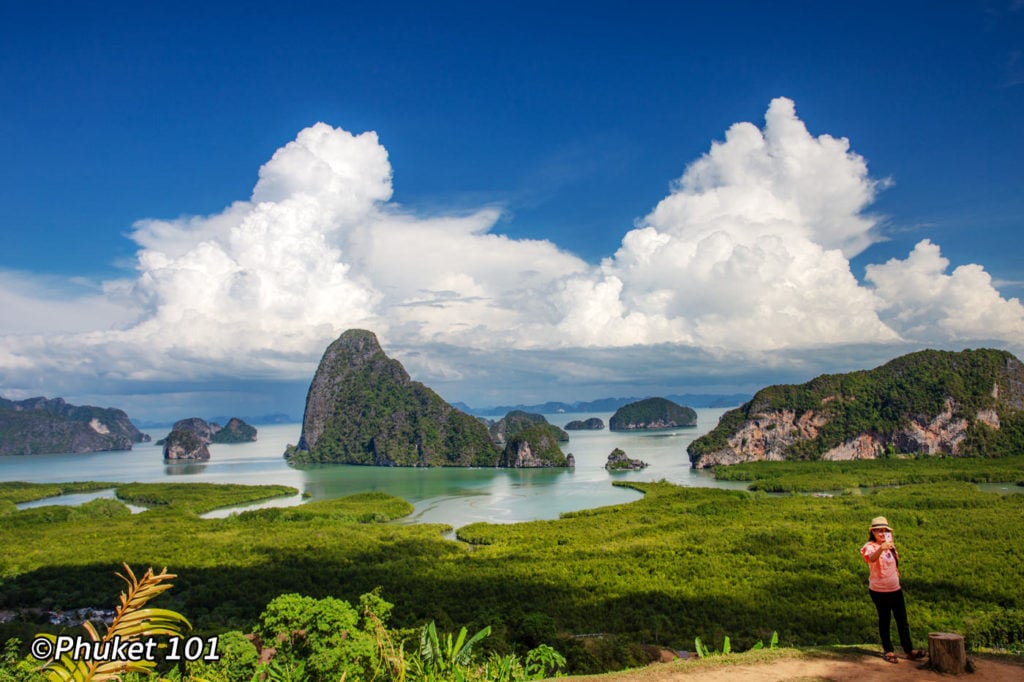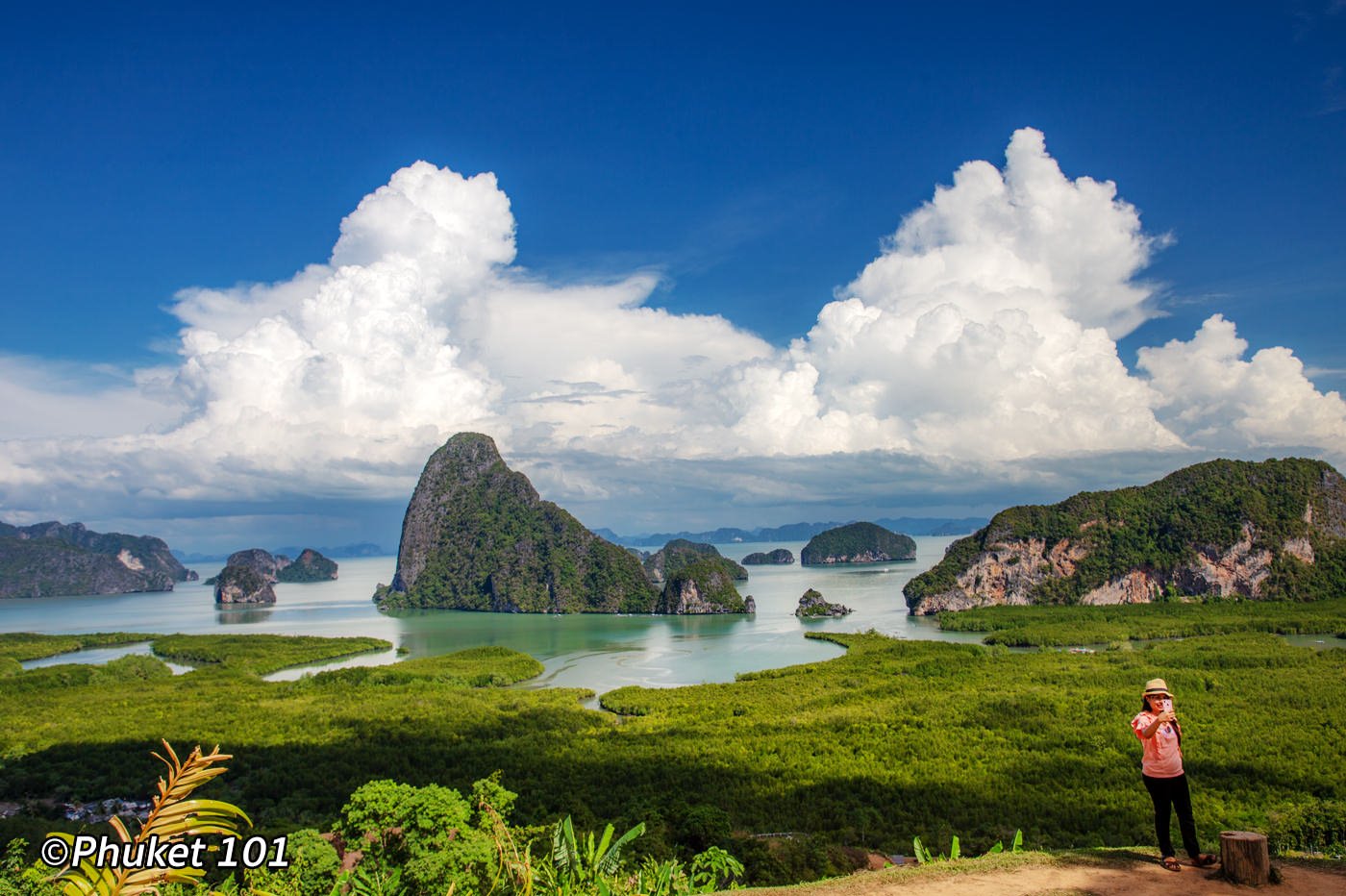 Samet Nangshe is a superb viewpoint located in Phang Nga Bay (that's why we placed it as #13). It's a little far outside Phuket island, but if you have a car, it is definitely worth the drive. From up there you can admire the fantastic limestone formations of Phang Nga Bay, but it requires some effort. Not only you need to drive 25 kilometres past the Sarasin bridge that connects Phuket to the mainland, but also a 15 to 20 minutes climb. Read more
---
NOTE: The panorama from the 'Radar Hill' is breathtaking, but lately, the vegetation has grown so much it might not be worth the complicated trip. Read more
---
Map of Phuket Viewpoints
---
You may also like