Patong Best Viewpoint
Wassa Homemade Bar or just Wassa Bar, is a modest little bar located high on the hill in the back of Patong Beach. You can go there anytime of the day but at sunset time, Wassa offers the most stunning 180˙ panoramic viewpoint in Patong… This little hut with attached terraces is all made of wood and thatched roofs, surrounded by trees and greenery. Wassa Homemade Bar is a great place to treat yourself with a cold drink, some snacks or Thai food at the end of a hot day in Phuket. Note that Wassa Bar is a private property and you must buy a drink if you plan to stay and take photos. It seems obvious but apparently a lot of people forget this basic fact.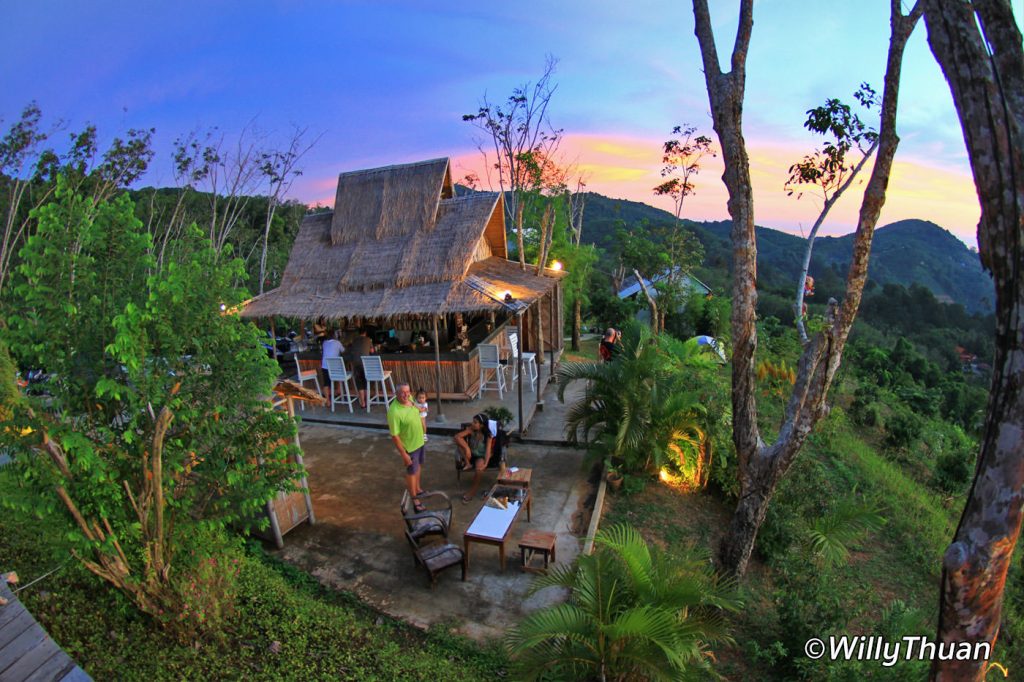 The large wooden terrace at Wassa Homemade Bar is great to chill for hours and enjoy the ever changing 'cloudscape' over the sea while enjoying your drinks. Another smallr terrace as added in front of the bar to accommodate the growing customers.
Surprisingly, the raining season might be the best time to take stunning photos, with massive clouds drifting over the ocean, in front of the sun.
They also serve good Thai food, snacks and drinks at very affordable prices. Just for this panoramic view, it is worth the climb.
How to Get There
The best way to go to Wassa Bar is probably by motorbike but a Tuk Tuk might be able to get you there. You will need to reach the back road called 50 Pee Road, which is accessible from Pisitgoranee road. On the map below we traced the way from Jungceylon, that should give you a good clue (about 4 km from the mall). There is a sign at the entrance of the small street that leads to the bar. Note that the slope is steep to reach up there. Enjoy, but don't forget to order a drink before shooting!
Drink Prices at Wassa
To give you an idea of the prices: Soft drinks: 60 Baht, Fruit juices: 80 Baht, Smoothies: 100 Baht, cocktails 250 Baht, Beers: 100 to 120 Baht
Food Prices
Kao Phad: 100 – 120 Baht, Chicken Massaman Curry: 120 Baht, Kra Pao Moo (Fried ground pork or chicken with chili and basil) 120 Baht, Kao Kai Jaow Moo Saap (omelette with ground beef) 120 Baht
Photos of Wassa Bar
Wassa Bar Address
Location: 50 Pee Road, Patong Beach
Open: 4 pm – 12 am
Phone: 091 882 9322
Wassa Homemade Bar Map