Baba Nest Rooftop Bar
Baba Nest at Sri Panwa is the ultimate rooftop bar in Phuket. It's far, hard to find, hard to get it, and there is a 2 weeks waiting list to get a table, but it's worth it. Once if managed to get a table, hold a cocktail or even better, a glass of Champagne, and witness a glorious sunset over the Panwa Bay, you will know why you went through this. Baba Nest is in Sri Panwa Hotel, on the remote Cape Panwa on the south-east of Phuket Island, high above Phuket Aquarium.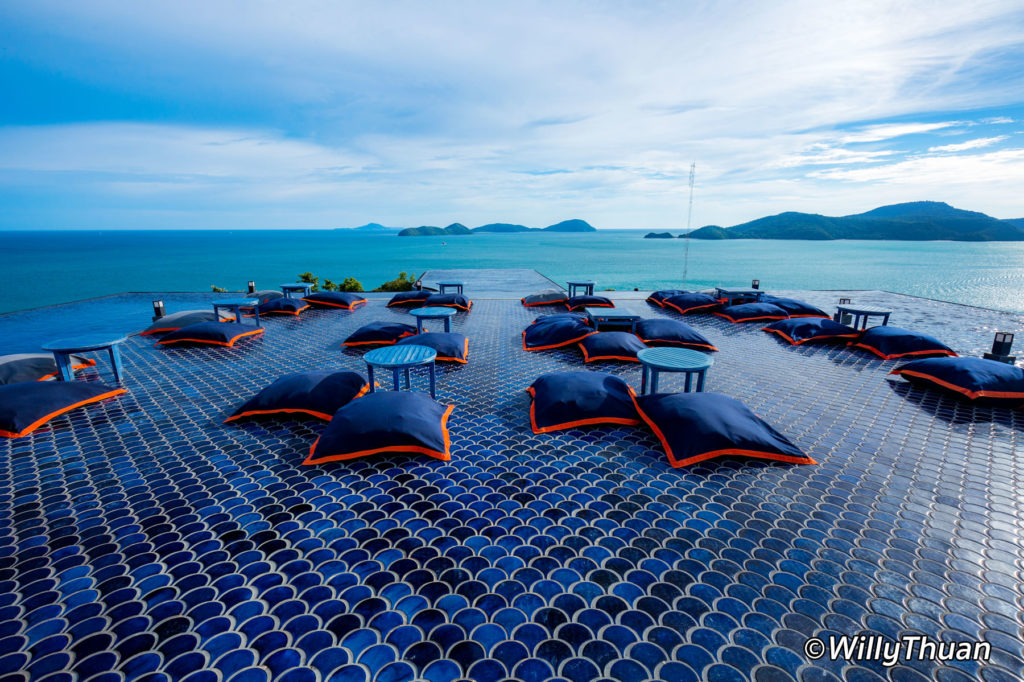 And when we say it is difficult to get a table, you can take our word for it. Let us describe how hard it was, unless you are incredibly lucky. The 1st time we naively drove to the gate, not realizing how exclusive the hotel was. At the gate we were politely asked if we had a reservation, which we didn't. We were politely denied entry and advised to book in advance as the place was full. The next day we called, but Baba Nest was full for many days.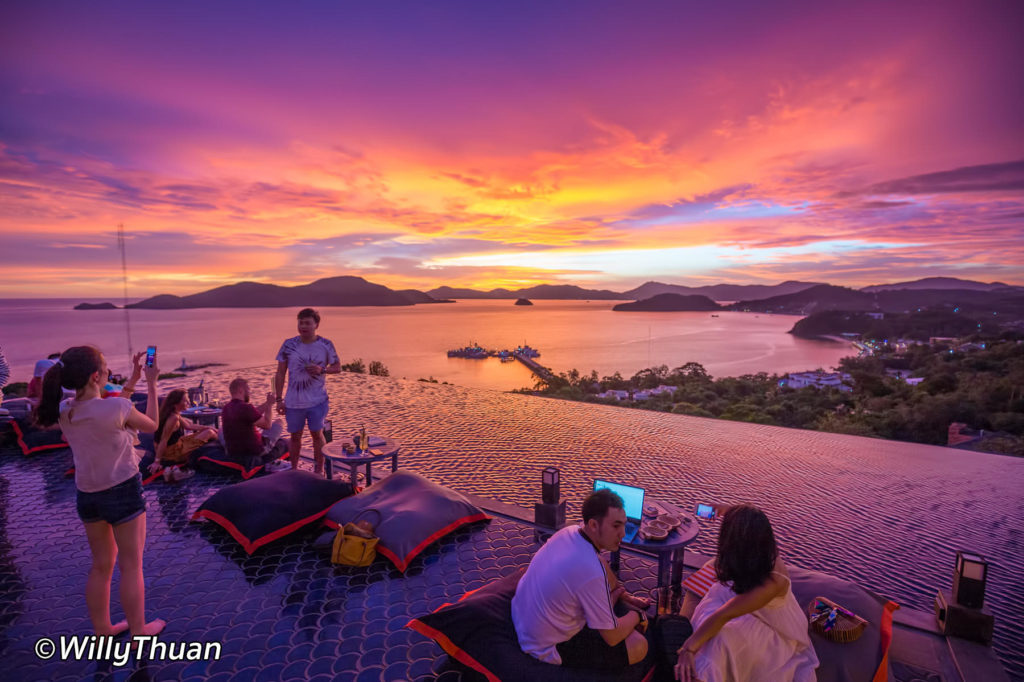 We decided to literally stay at the hotel and review both the hotel and the rooftop…. Seems logical, right? We booked the hotel weeks before and again naively assumed that, as guests, we would have no problem getting our Baba Nest table. Wrong! Few days before we had a doubt and called to secure one, just in case. Sorry sir, Baba Nest is full on the 2 nights of your stay… how unfortunate…  but we can put you on 3rd waiting list. Wow. But we took that waiting list.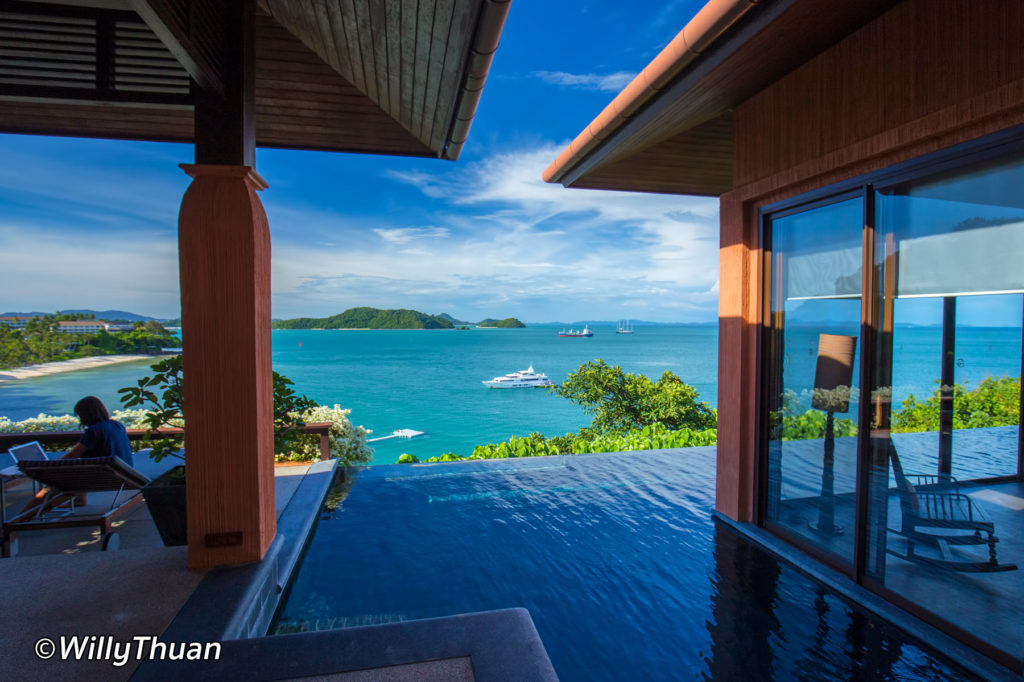 On the day we stayed at the hotel (which is fabulous), we walked there at 5pm as they allow hotel guests who didn't get a table to take photos only between 5pm and 5.30, and while we was shooting, guess what: there was a cancellation and we got our table!
The Rooftop is a square platform surrounded by a water pond, overlooking the amazing Panwa bay, all the way to Phang Nga Bay on the east side and Phuket hills in the west. Apparently on some days go the year, you can even see the sun setting exactly behind the giant sitting Big Buddha (but not on our day).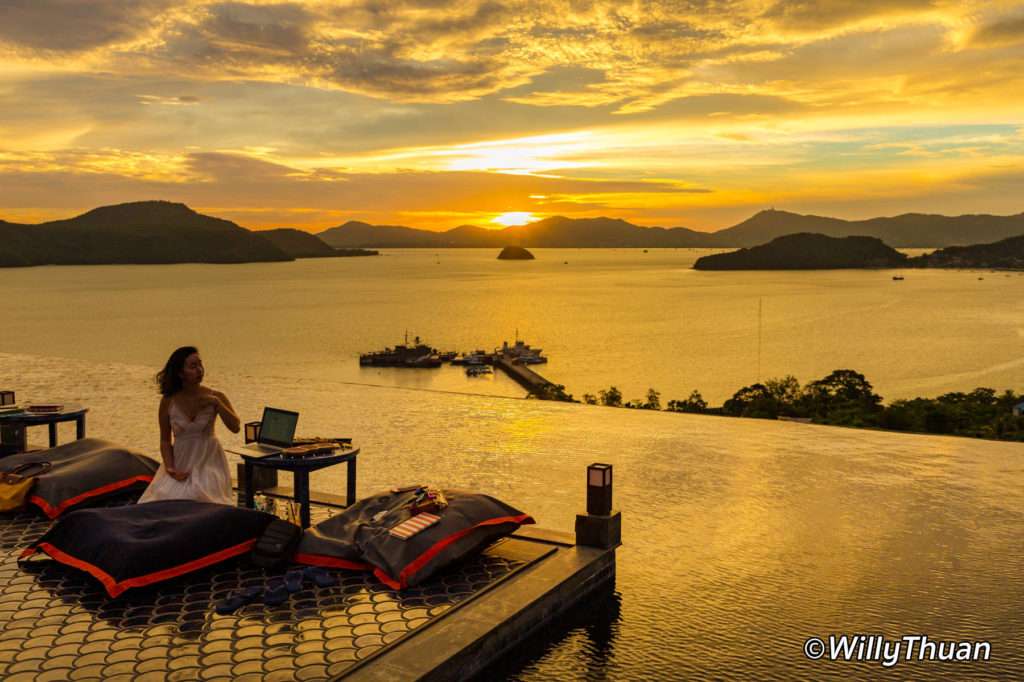 At 5.30 pm all the guests arrive, sit on big cushions, order fancy drinks from the extensive (and expensive) drink list. Selfie sessions start at all tables…. Until the sun literally explode in red and pink tones over the sea and the clouds. Everyone stop and stare at the incredible vision. The rooftop offers almost a 360˙ panoramic view and wherever you look, it's amazing. We even got a rainbow to the east while the sun was setting on the west. Can't get better than this.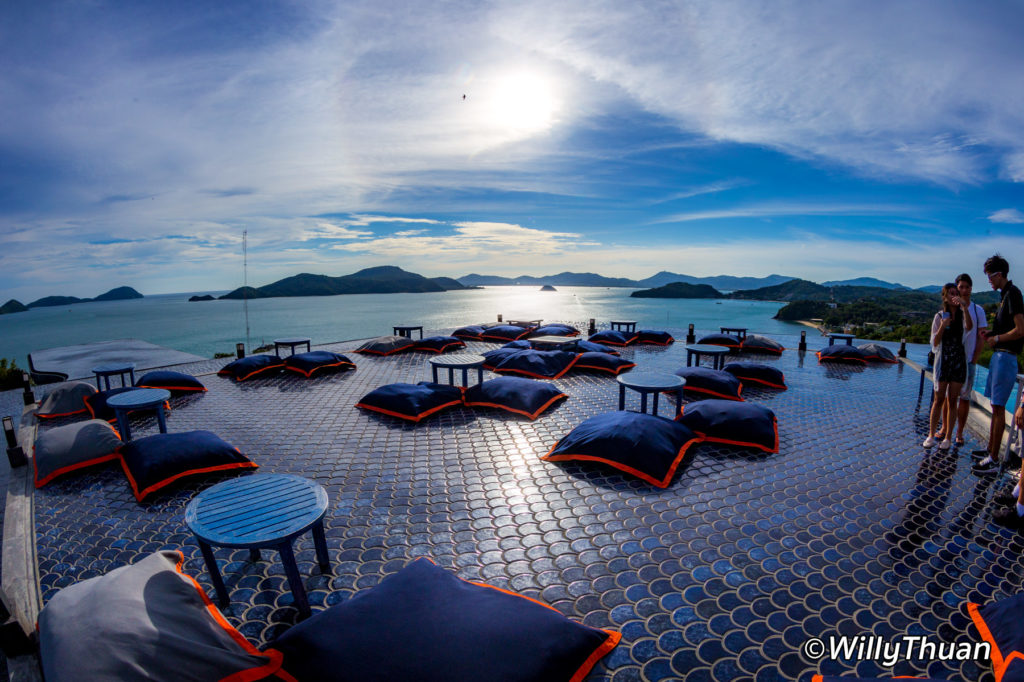 Just as you can expect it in such a popular venue in a 5 star hotel, all prices are very high. You can order wines, cocktails or Mexican tapas (about 400 baht per).  A glass of wine is 480 baht and a glass of Champagne is 990 baht. Note that is you are an outside guest, there is a minimum spend of 2,000 baht per person. This will be charged and the booking will be confirmed with a credit card authorization form and is non-refundable.
We had a truly fantastic and unforgettable evening and it make no doubt that it was worth all the trouble. And by the way, the hotel was fantastic too and the staff are all very friendly and highly competent.
Usual note: As usual, this is not a sponsored review: we paid for our stay, all expenses and came unannounced.
Baba Nest Rooftop
Location: Sri Panwa Phuket, 88/5 Sakdidej Rd, Tambon Wichit, Amphoe Mueang Phuket, Chang Wat Phuket 83000
Open: 5 pm – 9 pm
Phone: 076 371 000
Contact for bookings: https://www.sripanwa.com/contact-us/
Baba Nest Map