What is Bangkok's Best Rooftop Bar?
The list of Bangkok Rooftop Bars keeps getting longer, and not many cities in the world can pretend to have more rooftops and sky bars than Bangkok. At this time, we count more than 30 'real' rooftop bars and restaurants and a good dozen alternate ones. By 'real rooftop bar', we mean built at the top of a building with an open sky above, not a terrace with a view.
---
Why this craze for Bangkok rooftops bars?
The fascination people have for high places and their fantastic views, and the photos they can post on Facebook,
An excellent weather condition most of the year that allows running all year round, (probably why there are not as many rooftops in Kuala Lumpur, seems to rain a lot at sunset time)
Rooftop bars can be great money makers for a space the hotel owns anyway! Few seats, a bar and a sound system and here you go, 350 baht for a Singha please (plus 7% tax and 10% service charge), and we all are happy to pay.
Wherever you are in Bangkok, there is always a rooftop near you! We know this list is not complete, but we are growing it fast! Check also our list of Phuket Best Rooftop Bars.
---
61st floor on Sathorn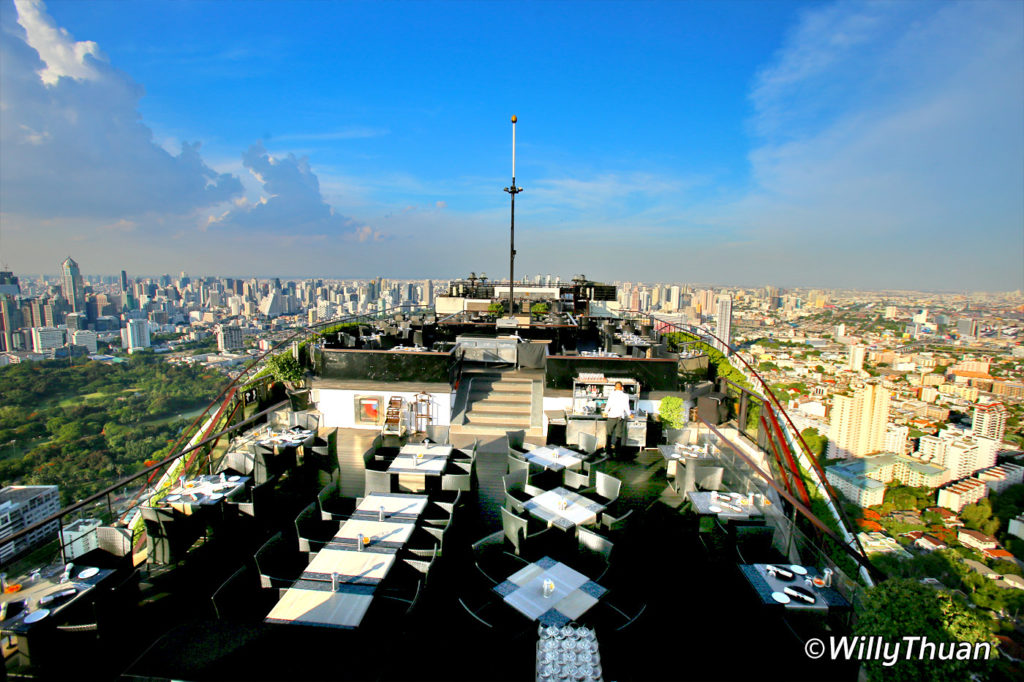 Vertigo Rooftop Bar and Moon Bar at Banyan Tree Bangkok are among the best in Bangkok, just after the Sky Bar at Lebua State Tower and the 360 Bar at the Millennium Hilton. Both Moon Bar and Vertigo are on the 61st floor of the famous Banyan Tree Hotel on Sathorn Road, a tall and skinny looking building. Read more
Location: Sathorn
Address: 21/100 South, S Sathon Rd, Sathon, Bangkok 10120
Open: 5 pm – 11 pm (Moon Bar), 6 pm – 1 am (Vertigo Restaurant)
Phone: 02 679 1200
Floor: 61st floor
Price: very high
---
---
62nd floor in Silom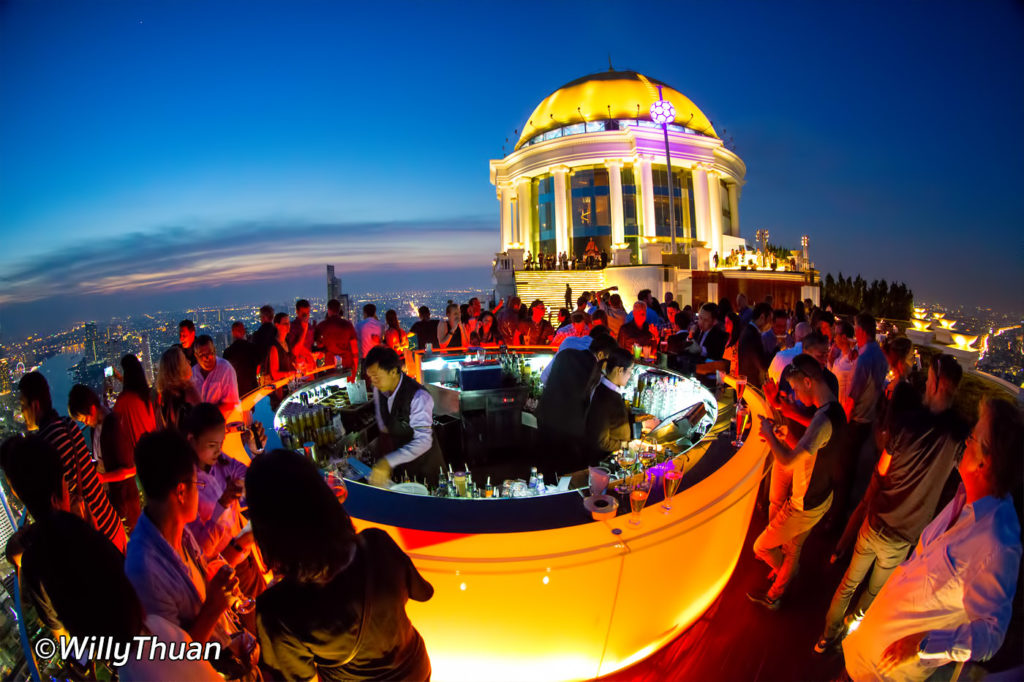 Sky Bar at Lebua Hotel on top of the State Tower is, without a doubt, the most famous rooftop bar in Bangkok. It was already renowned since its opening for its excellent location close to the river, its height, and mostly for that iconic golden dome. But after being featured in The Hangover II, it suddenly became a must on every traveller's list. Now is it my favourite bar? Not quite. While the views are great, there are way too many people up there to enjoy it. Wherever you stand, you are in somebody's way. Read more
Location: Silom
Address: 61st Floor, The Dome at Lebua, Silom Road, Bangrak
Open: 6 pm – 1 am
Tel: 026 249 555
Floor: 62nd floor
Price: very high!
---
---
49th floor on Sukhumvit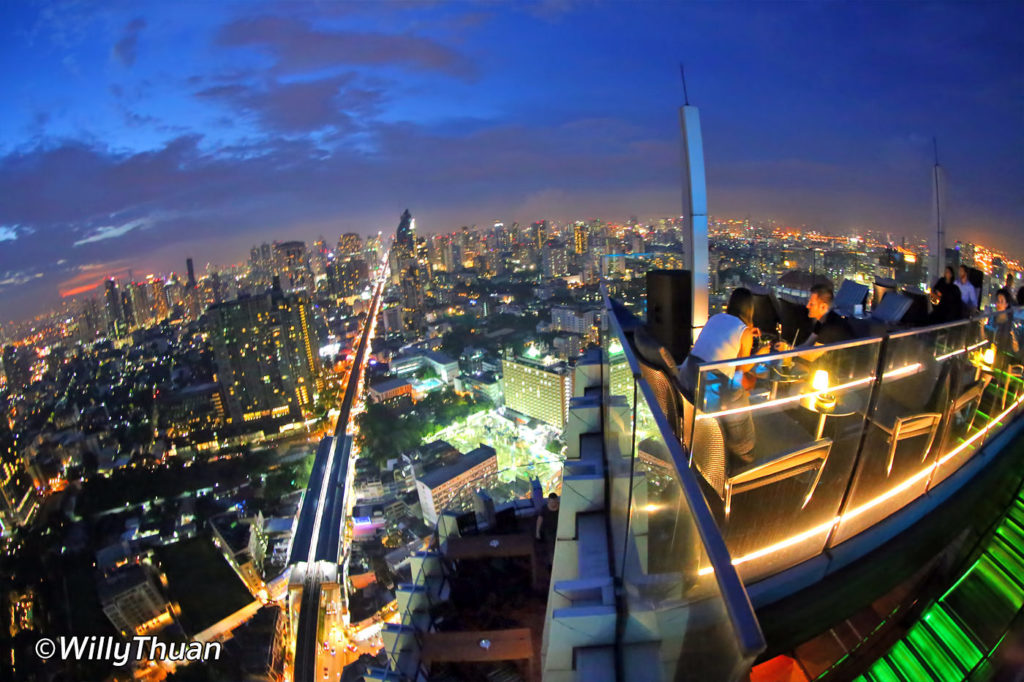 Octave Rooftop Bar is one of the most impressive in Bangkok by size. Built on three floors at the top of the Marriott Executive Apartments on Sukhumvit 57, Octave offers a full 360 view of the capital with a great perspective on the entire BTS track and the usual traffic jams of Sukhumvit road. Fortunately, it is also effortless to reach by BTS. Read more
Location: Bangkok Marriott Hotel Sukhumvit
Address: 2 Ban Kluai Nuea Alley, Khlong Tan Nuea, Watthana, Bangkok 10110
Open: 5 pm – 2 am
Phone: 02 797 0000
Floor: 49th floor
BTS: Thonglor
---
78th floor in Silom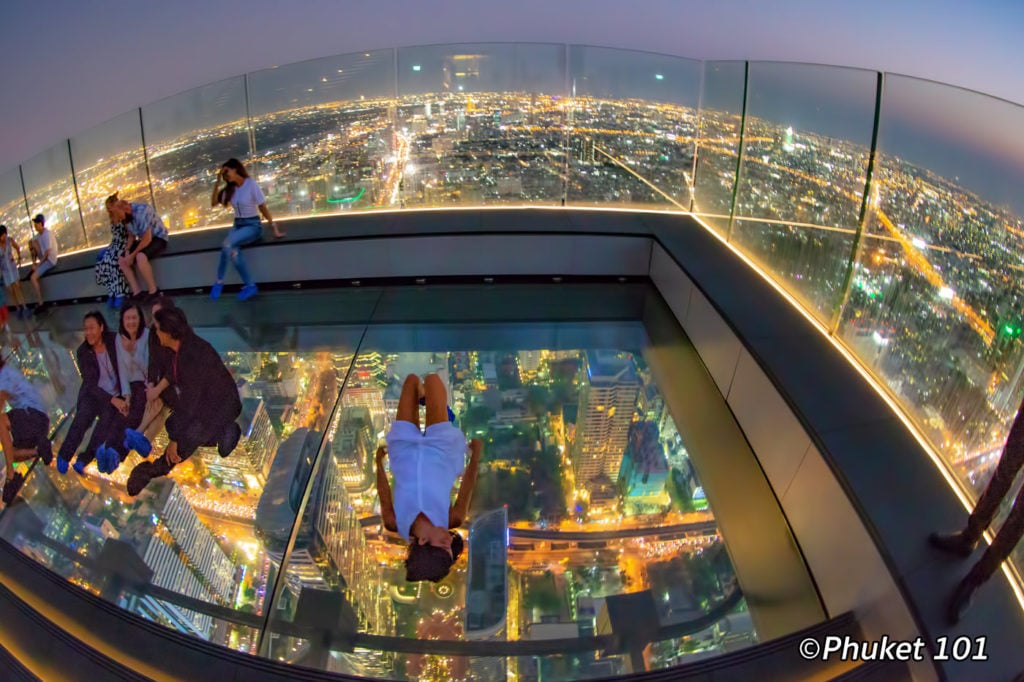 Mahanakhon SkyWalk in Silom is, without a doubt the most thrilling experience you can get in Bangkok these days. It's relatively expensive, but the views from this 360˙open space at the top of the tallest tower in Thailand somehow justify the price. Built on the 78th floor of the iconic Mahanakhon pixelated building, this long-awaited rooftop bar offers an impressive viewpoint on the entire Bangkok metropolis. Read more
Location: Silom
Address: 114 Naradhiwat Rajanagarindra Rd, Khwaeng Silom, Khet Bang Rak, Krung Thep Maha Nakhon 10500
Open: 10 am – 12 am (last admission at 11 pm)
Phone: 02 677 8721
Price: 765 baht
Floor: 78th floor
BTS: Chong Nonsi
---
---
---
---
---
---
---
---
---
---
---
---
---
---
---
---
---
---
---
---
---
---
---
---
---
---
---
---
---
---
Map of Bangkok Rooftop Bars
---
---
FAQs about Bangkok Rooftop Bars