Wat Phra Kaew and Bangkok Grand Palace
Bangkok Grand Palace, the Temple of the Emerald Buddha and Wat Phra Kaew (or Wat Pra Kaew) are without a doubt, the most famous landmarks in Thailand, often seen in many movies. Despite being such a touristic icon, this is still the number one place to see while in Bangkok, a marvel of delicate and intricate craftwork, architecture, carving and painting. Wat Phra Kaew is described at length in so many websites; We are not going to get too much into details, just a few facts and a lot of photos.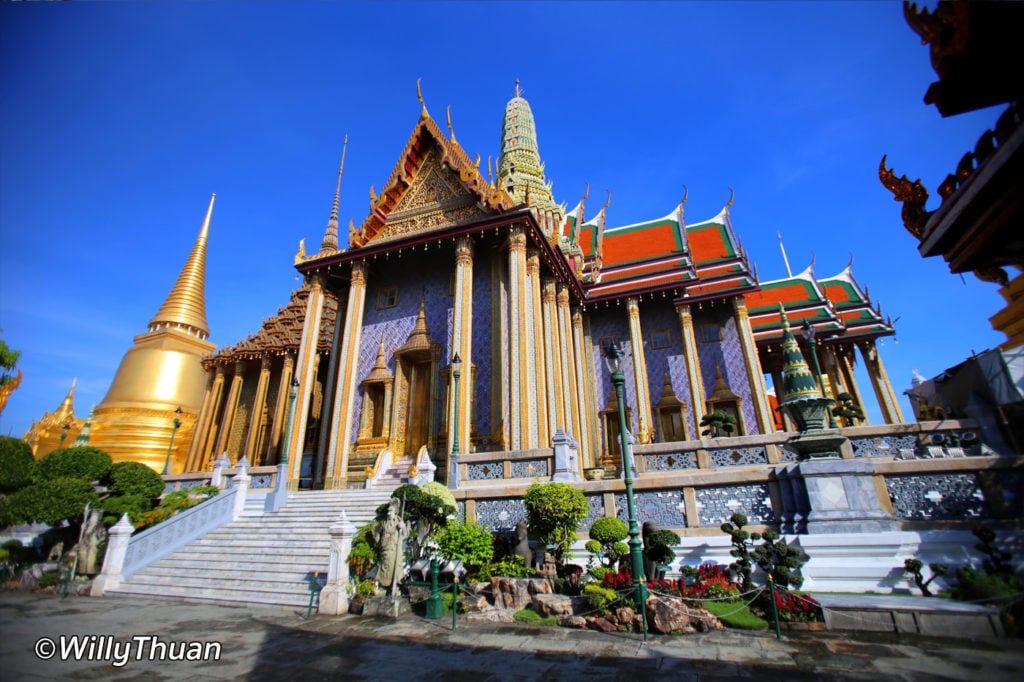 The official name of the temple is 'Wat Phra Si Rattana Satsadaram' but many call it 'The temple of the Emerald Buddha' and is on the ground of the Grand Palace, another historical monument which used to be the Royal Residence.
The first thing you'll see when entering the temple ground is the black stone statue of the 'Hermit Doctor', considered a patron of medicine, which is believed to have healing powers. Each day, relatives of the sick and infirm pay respects and make offerings of incense sticks, fruit, lotus flowers, and candles.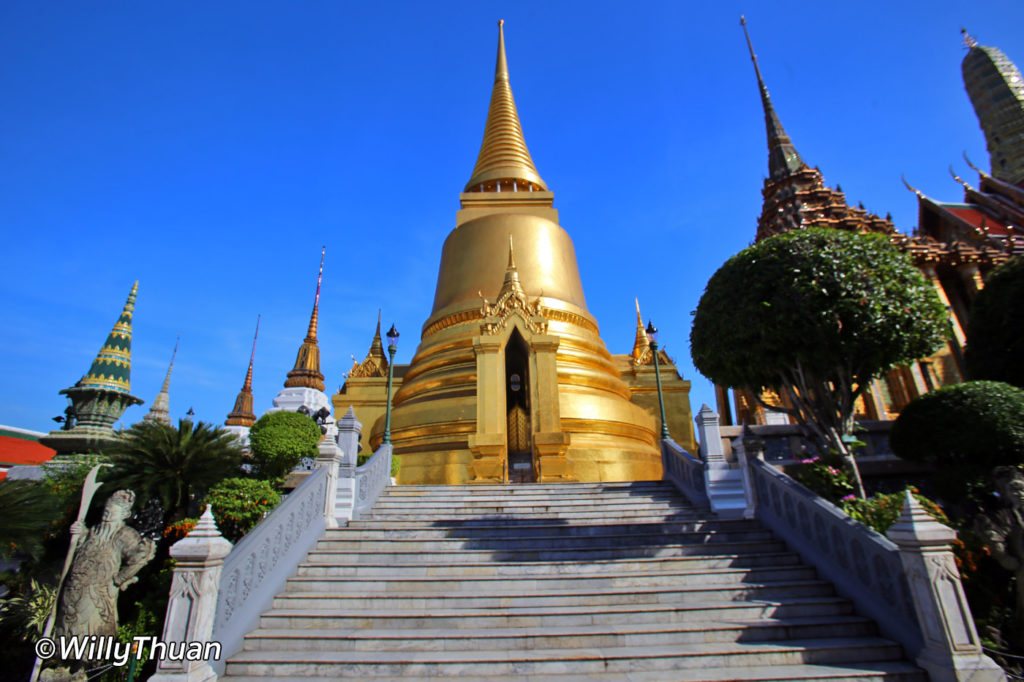 Among the many buildings, you can admire in Wat Phra Kaew, the most photographed is probably the massive shiny golden Chedi called Phra Si Ratana, a 19th-century stupa built in Sri Lankan style enshrining ashes of the Buddha.
---
The Emerald Buddha
The second most visited is the large 'Ubosoth', the ordination hall, where you can admire, but not take photos, the famous Emerald Buddha which official name is 'Phra Phuttha Maha Mani Rattana Patimakon'.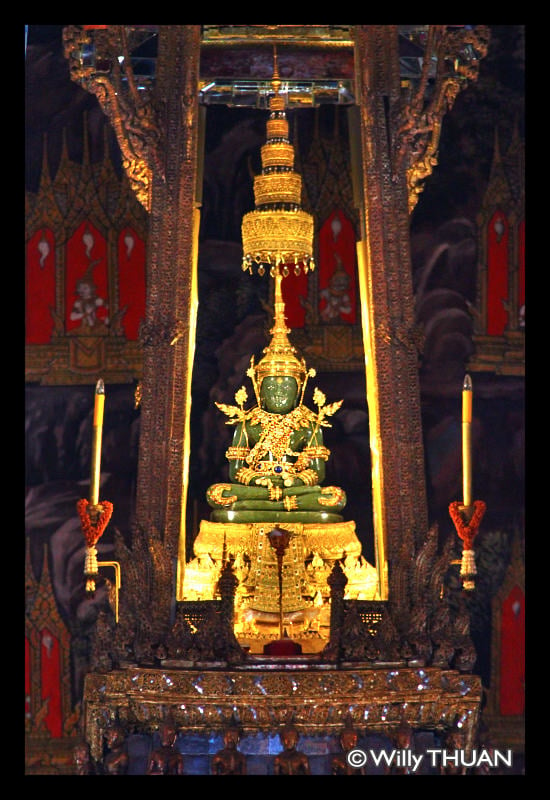 The Emerald Buddha is made of Jade and not emerald and is carved in a yogic position, known as Virasana. Originating from India in 15th century AD, its history is long and troubled… after being transported to Sri Lanka, Cambodia, Laos, Ayutthaya, Chiang Mai, it was then kept in a shrine near the famous Wat Arun (The Temple of Dawn) until the capital of Thailand shifted from one side of the river to the other and the Emerald Buddha was finally enshrined in Wat Phra Kaew. The emerald Buddha in brilliant green colour is 66 centimetres (26 in) in height with a lap width of 48.3 centimetres (19.0 in).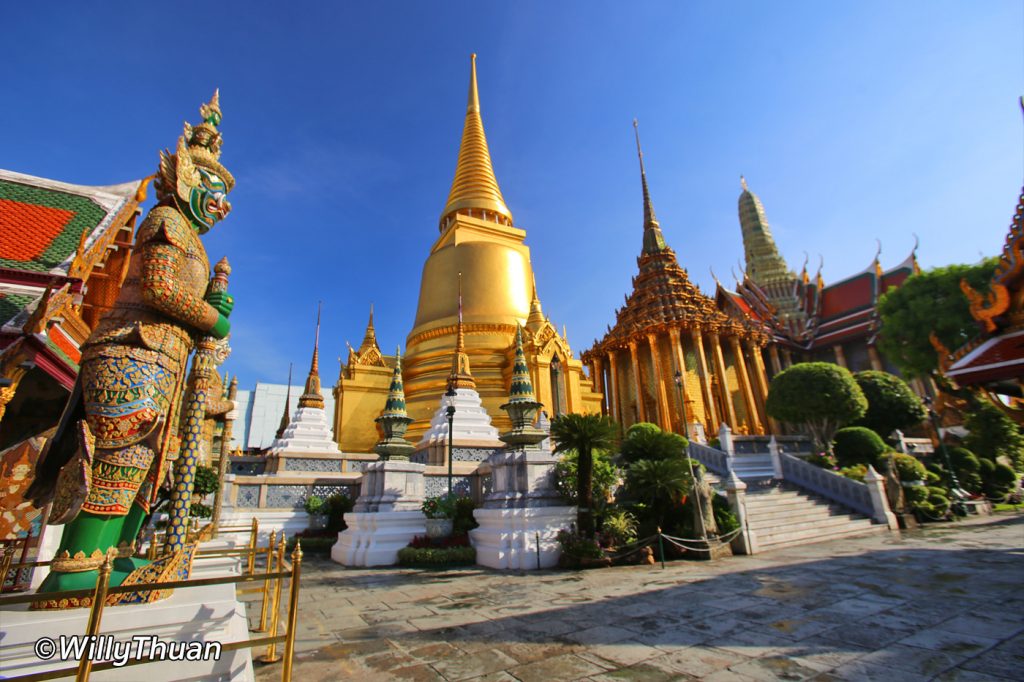 The temple grounds cover 94.5 hectares (234 acres) and feature more than one hundred buildings. Wat Phra Kaew gate is guarded by a pair of Yakshis statues, mythical giants measuring 5 metres (16 ft) high. Don't miss the beautiful mural painting gallery surrounding the entire grounds of the temple.
The temple complex also has a model of the famous Angkor Wat, started by King Mongkut and completed by King Rama III.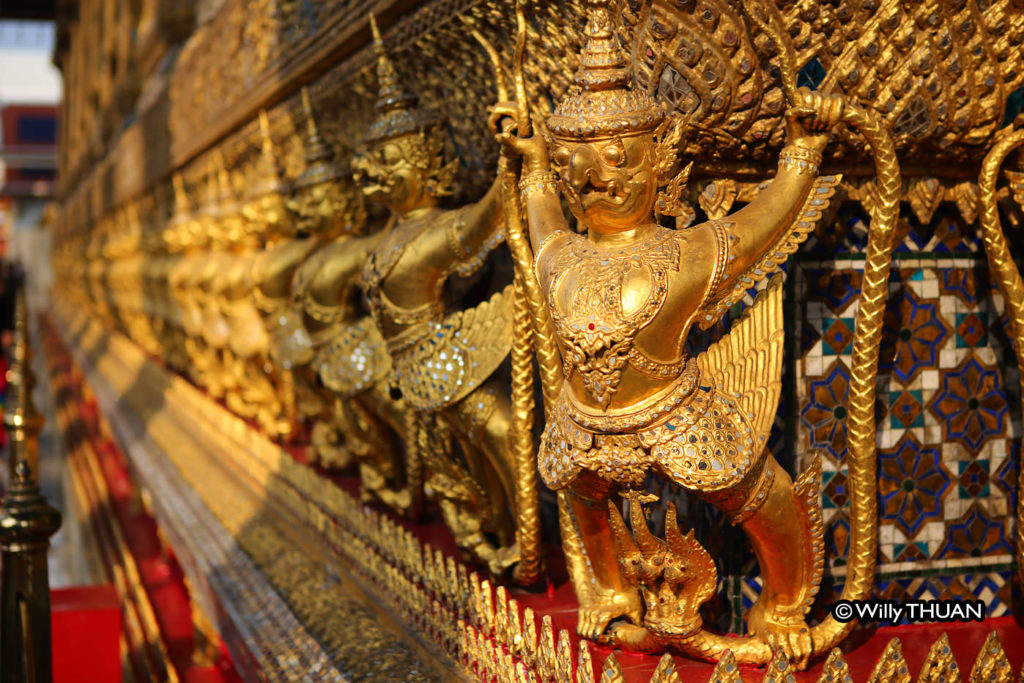 ---
Best way to go to The Grand Palace
The best way to reach the Grand Palace is by taxi or tuk-tuk, as there are no BTS around this area. You also can try by boat with the Chao Phraya River Express (disembark at Tha Chang).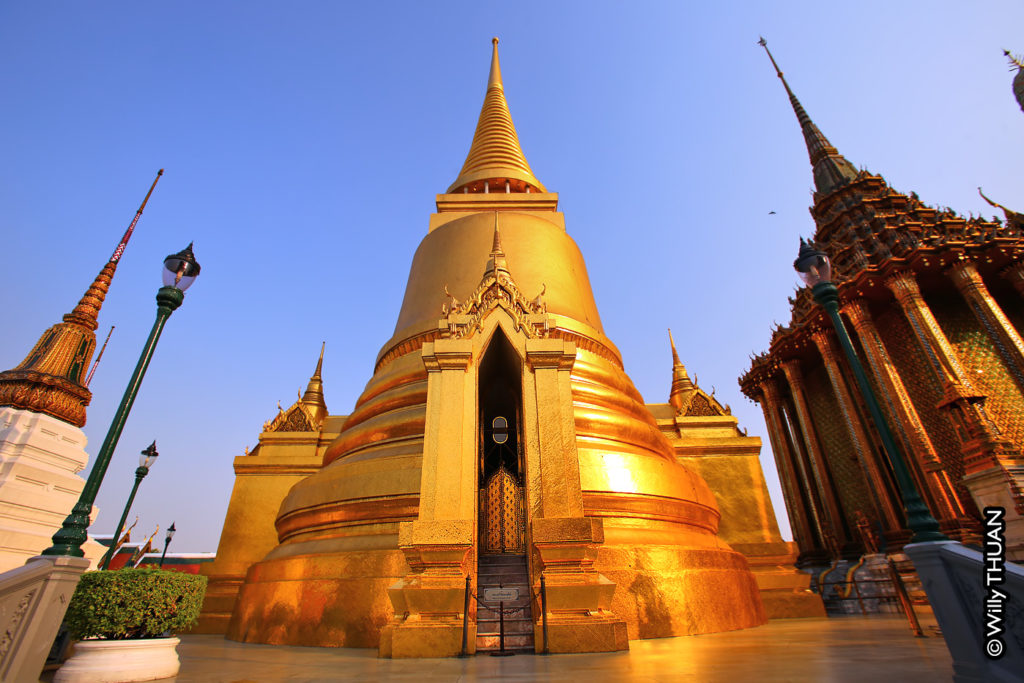 ---
More Photos
---
Wat Phra Kaew Info
Location: Bangkok Riverside
Address: Na Phra Lan Rd, Phra Borom Maha Ratchawang, Phra Nakhon, Bangkok 10200
Construction started: May 1782
Phone: 02 623 5500
Open: 8.30 am to 12 noon and 1 pm to 3.30 pm, which is a lot earlier than any other temples.
Price: 500 baht per adult while it is free for Thai.
Guides: a guide is available from 10 am to 2 pm, but you can borrow an Audio Guide.
Dress Code: No short skirts or too short pants.
The dress code is very strict as you can see in the photo. If you forgot to wear the proper attire you can borrow a sarong for a small deposit but be aware of the (very) long queue. Alternatively, you can rent one outside the temple for 50 baht or less if you are good at bargaining.
---
Map of The Grand Palace