Our Phuket Travel Guide shares 11 years of passionate exploration and photography to help you plan your trip. We'll help you prepare it, and decide where to stay to fit your holiday style, pick all the best things to do and even discover some hidden gems off the beaten track, secret beaches and amazing islands. Try with us some real local food in local restaurants, explore night markets, and discover the notorious nightlife and the famous Bangla Walking Street in Patong Beach.
What makes Phuket so popular? The island itself is small and easy to explore in a day or two. Beyond 40 superb beaches, the list of things to see and do during the day is vast: the Big Buddha, the many beautiful temples and the streets of Old Phuket Town are just the most popular. Then you have even more exploration to do just outside Phuket: Phang Nga Bay with James Bond Island and Samet Nangshe Viewpoint, plus dozens of tropical islands with stunning sceneries are just a short boat ride away. There are activities for everyone: scuba diving, snorkelling, golf, ziplining and muay Thai for active travellers, cooking classes and spas if you prefer to take it easy. Families are not forgotten! kids can feed the elephants, learn to surf safely and play in water parks.
Phuket Live Webcam!
Phuket Map and Beaches Locator
Our map will help you locate the many beaches and visualise our small island's geography.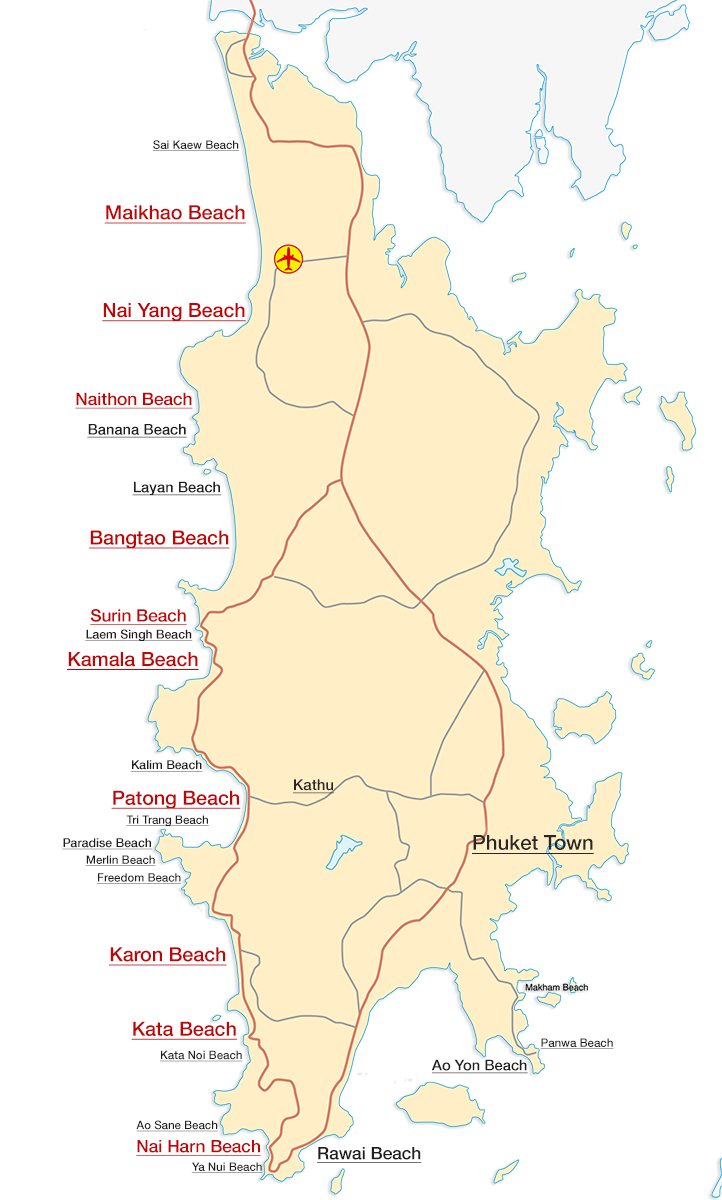 Phuket Island has more than 40 amazing beaches so it is important to keep in mind a few useful facts that could help you pick which beach you wish to stay on, and which beach you want to explore during your holiday:
1) Most of the sandy beaches are on the west coast.
2) The most famous and busiest beaches are in the southwest: Patong, Kata and Karon beaches can be bustling during the high season.
3) The central west part of Phuket is getting trendy! Kamala and Bang Tao Beaches offer now a lot of fancy restaurants and beach clubs and a vast choice of 4 and 5-star resorts at affordable prices.
4) The northwest beaches are more peaceful with enough restaurants and great hotels for a great holiday, such as Naithon, Nai Yang and Mai Khao beaches.
5) There are still some hidden band secret beaches!
There is a vast range of hotels for all budgets, and it can be challenging to pick the right beach and hotel. Most hotels are on the main beaches of the island: Patong, Kata, Karon, Kamala, Bangtao, Maikhao and Old Town. Before diving into this section of our travel guide, it is good to think about what you want your holiday to be like. Party near the beach, quiet and remote? Are you planning to spend a lot of time in your hotel to mainly relax or is it just a base to explore the island? What is your budget, when do you plan to visit? Is the weather important or can you take a bit of rain for better prices?

Phuket Video
As your plane approaches Phuket island and if you are lucky enough to have a window seat, you will be amazed by how many islands you will fly over! In the northeast, the vast Phang Nga Bay on the island's northeast is home to hundreds of those exotic islands, often consisting of tall limestone cliffs with a beautiful crescent of white sand that reminds of Robinson Crusoe. Cruising east and southeast, Phi Phi Islands are the best known, but there are other gems, such as Racha Island, Coral Island, Rang Yai and Koh Yao, to name a few. Island hopping is very easy to organise for an unforgettable day trip. Similan Islands is another iconic gem open only during the high season (October to May) and located a bit far in the northwest area.
Phuket with Kids
Travelling to Phuket with kids offers a perfect blend of family fun and relaxation with the island's beaches, attractions, and exciting adventures. Kids can enjoy building sandcastles on picturesque shores, explore vibrant markets, and visit attractions like the Aquarium and ethical elephant sanctuaries. Family-friendly accommodations with pools and childcare services make for a comfortable stay.
Where and What to Eat?
Thai food is an endless discovery and if food is as important to you as it is to us, Phuket will surprise you! Experience true local food, as there is much to enjoy in south Thailand, from the cheapest street food to Michelin restaurants and everything in between. You can find great Thai food by the roadside for just 50 baht or have a fancy dinner with a sunset on a romantic terrace by the sea. The choice of Thai food is staggering! You can start with the classic and well-known Thai dishes and the amazing seafood, try some excellent street food, and then experience real southern specialities.
Nightlife
Patong Beach nightlife has always been legendary; it's pretty unique and as fun and wild as you want it to be. However, while Patong is still home to many beer bars and go-go bars, the island now has many to offer to families and couples.
Calendar of Events for New Year's Eve in Phuket 2024
Shopping
The shopping scene is vast, cheap and surprisingly fun. With so many street stalls, night markets and bazaars, anyone can find something to take back home. The Sunday Walking Street Market is the most talked about, but at least six more markets are open on weekdays, including Chillva Market and Naka Market in Phuket Town but also Malin Plaza in Patong Beach. Jungceylon Shopping Mall in Patong is an all-time favourite as, beyond just shopping, it offers entertainment, spas and tons of excellent restaurants to keep you busy on a rainy day or in the evening. Just next to Jungceylon, Banzaan Fresh Market is a great opportunity to discover the surprisingly vast range of tropical fruits, vegetables, spices and ingredients used in Thai cuisine.
1st Time in Phuket – a beginner's guide
Phuket is Thailand's largest and best-known island, about 850 km southwest of Bangkok. The island is relatively small: 48 km north to south, 21 km west to east which is about 570 km2 (222 square miles).
Phuket Useful Information
This section of our travel guide covers all the aspects and elements you need to plan your first or next trip, from the correct Phuket pronunciation to weather information, when is the best time to come, weather information month by month (even with a live webcam!), where to exchange money at the best rates as there are many options for getting Thai Baht, but the best rate is in the street and at the many ATMs around the island.