Phuket Best Pool Villas
Staying in one of the best pool villas in Phuket, overlooking the Andaman Sea is, without a doubt the most fantastic way to enjoy a holiday on the island. If you can afford such luxury, of course. On average, it is pretty expensive, but it is also unforgettable. As we live in Phuket most of the time, we get plenty of chances to try the best hotels in Phuket, and every time it is worth the price. A pool villa is not just a room; it is a way of life. While you can drive around and explore the island, you probably will spend quite some time relaxing in your villas, especially if you pick one with an infinity pool!
---
[the_ad id="30528″]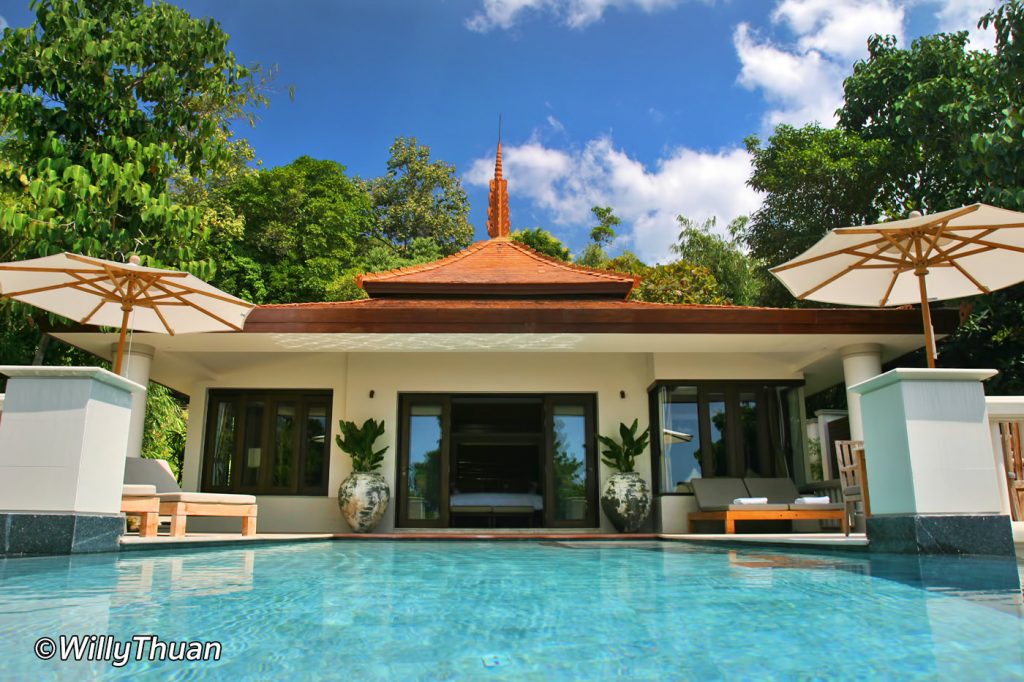 Trisara is the ultimate Pool Villa in Phuket. The villas are fantastic, and all come with a large infinity pool over the ocean. The price is very high and the location remote so Trisara Villa is not for everyone. Trisara addresses to traveller searching for a romantic escape away from the crowds. Trisara also features Pru, the only restaurant having received one star from the new Michelin Guide 2019. The spa is also famous, and some villas even come with their private spa treatment rooms. We tried it, but it wasn't our thing. The private beach is rather small, but you are not far from the beautiful Naithon beach and the hidden Banana Beach. [ See the rates for Trisara ]
[the_ad id="30528″]
---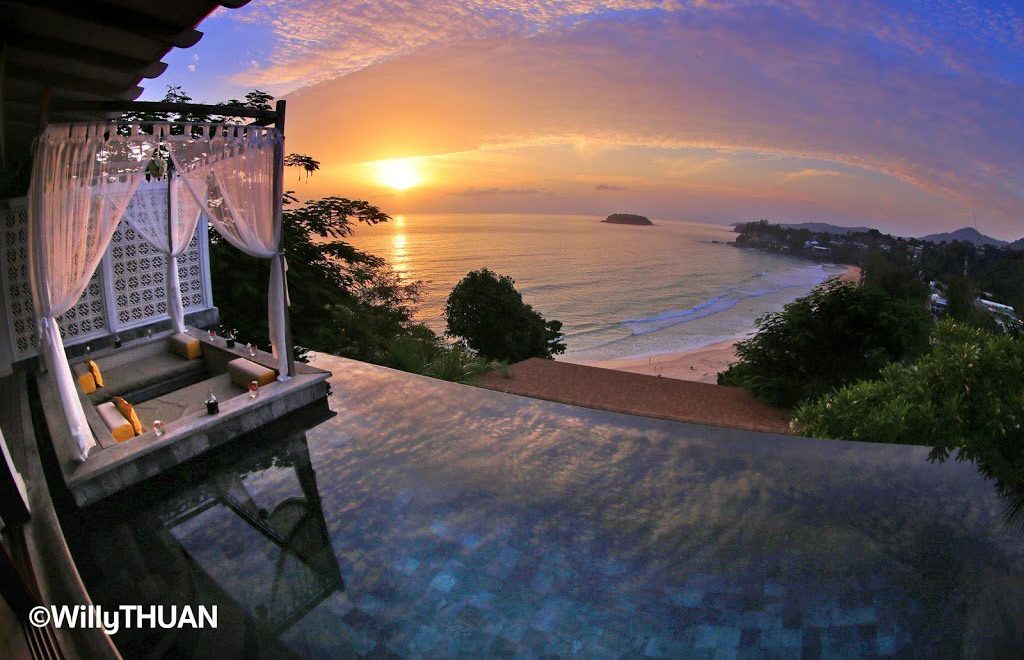 The Shore is a collection of well-designed villas with some of the most beautiful views in Phuket. Each villa has an infinity pool of a decent size with the famous Kata Noi Beach as a backdrop. You can enjoy this beautiful, striking view right from your bed!
The villas are medium in size but well designed. The hotel only has one restaurant and a spa, but guests can enjoy all the outlets of the Katathani next door. Shopping and nightlife of Kata Beach are just a couple of kilometres away, making the Shore the best mix of romantic escape without being isolated. Also, The shore has direct access to Kata Noi Beach, one of the most beautiful beaches of South East Asia. [ See the rates for The Shore ]
[the_ad id="30528″]
---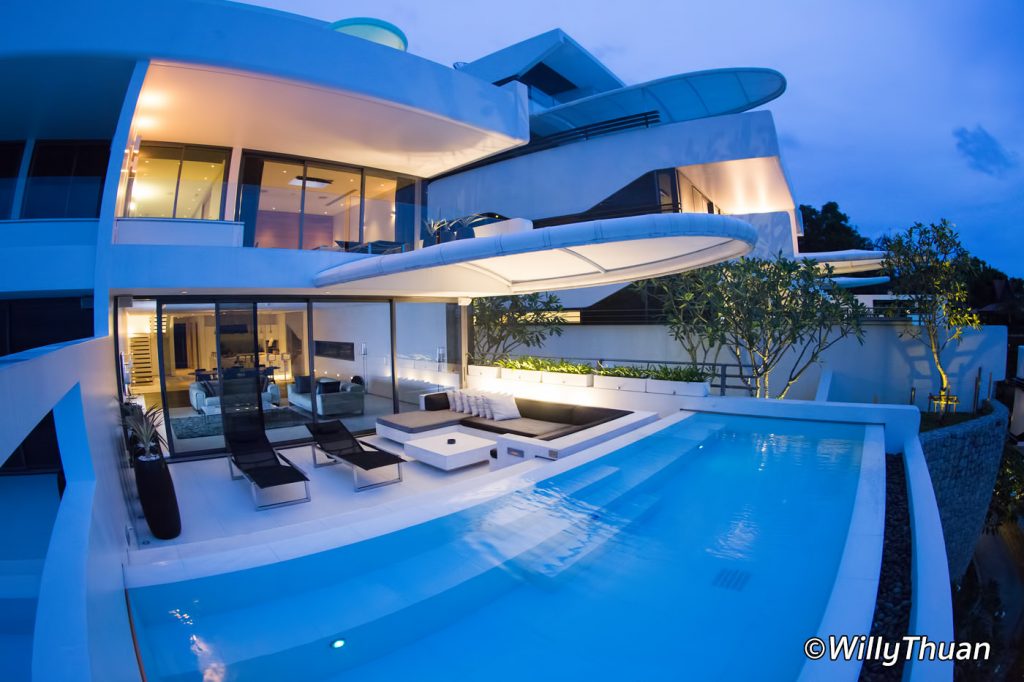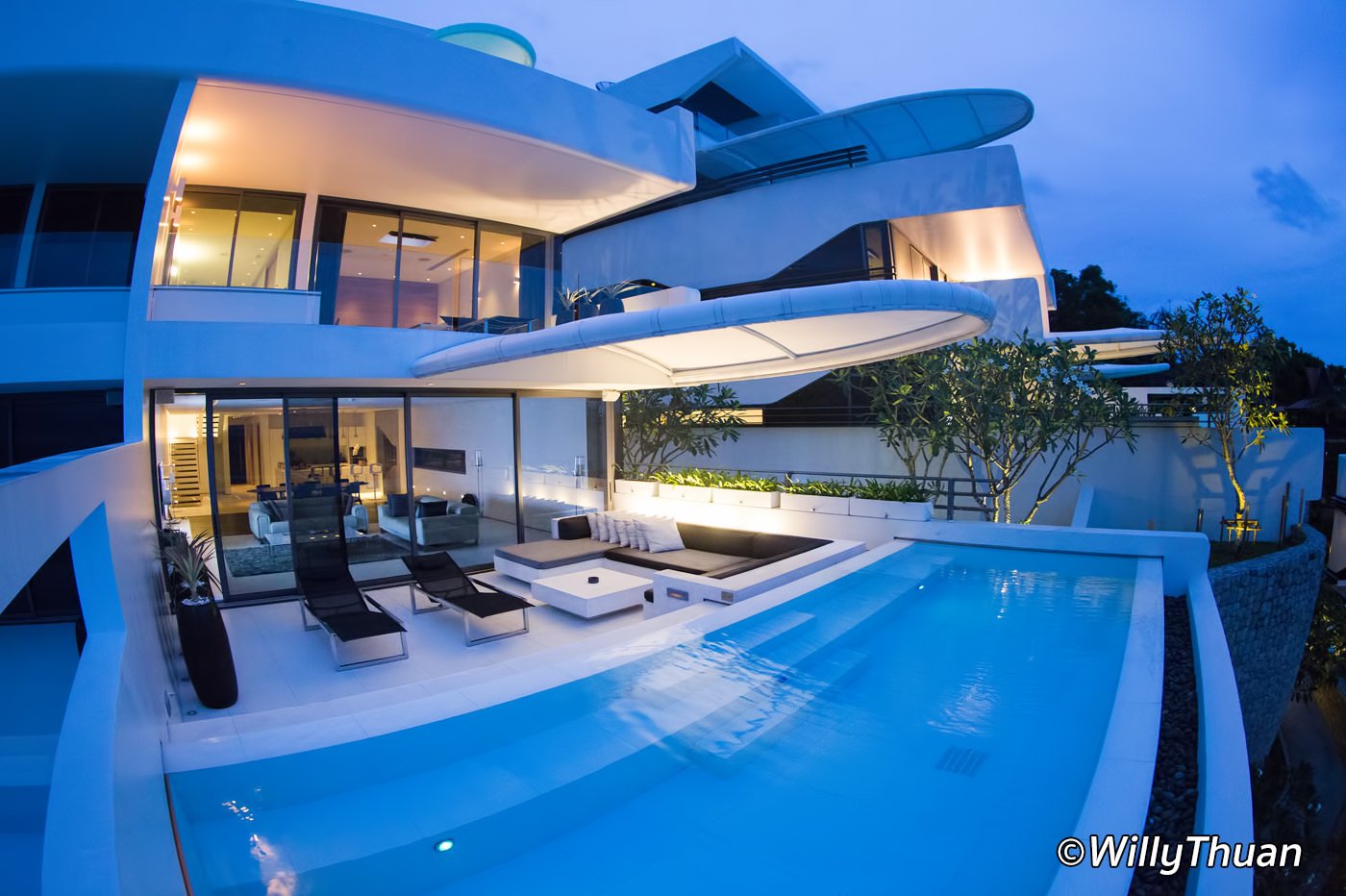 Kata Rocks villas are immense with a contemporary design and a strong focus on comfort and practical functionality. Set on two floors with three bedrooms upstairs, a huge living room/kitchen downstairs, and an infinity pool in front. There is no beach in front of the hotel, but Kata Beach is not far, and a shuttle can take you there at any time. Kata Rocks is well-known for the views from its central swimming pool in front of the restaurant, an excellent place for a romantic sunset dinner. The Spa is also very famous. The resort facilities are quite small, but you will spend a lot of time in your large villa just as we did. [See the rates for Kata Rocks ]
\
[the_ad id="30528″]
---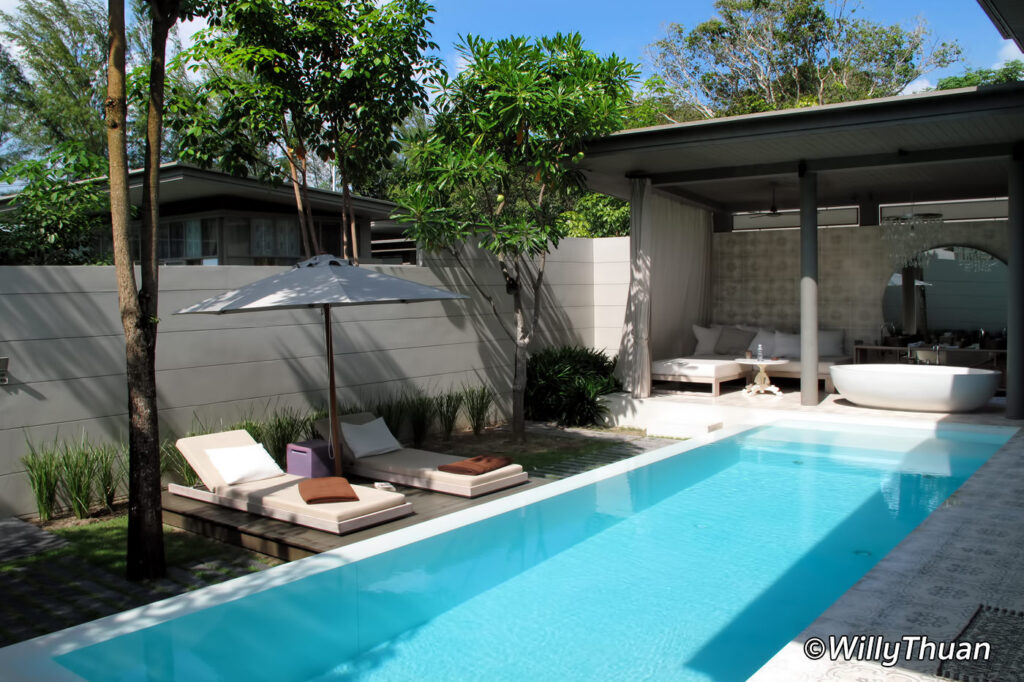 Sala Phuket villas are all about total privacy and large private pools. You won't see the sea from your room, and those are not infinity pools, but privacy is guaranteed. The bathroom, shower and even the big bathtub are outdoors by the pool, together with large sofas and day beds. A perfect romantic hideaway. The resort itself has all the facilities you need so you don't have to drive anywhere if you don't want to: a beautiful restaurant by the main pool, an excellent spa, and best of all a vast deserts beach all for yourself. Sala Phuket is on Mai Khao Beach so don't expect shopping or nightlife, but you can enjoy all the restaurants from the fancy hotels nearby. [See the rates for Sala Phuket ]
---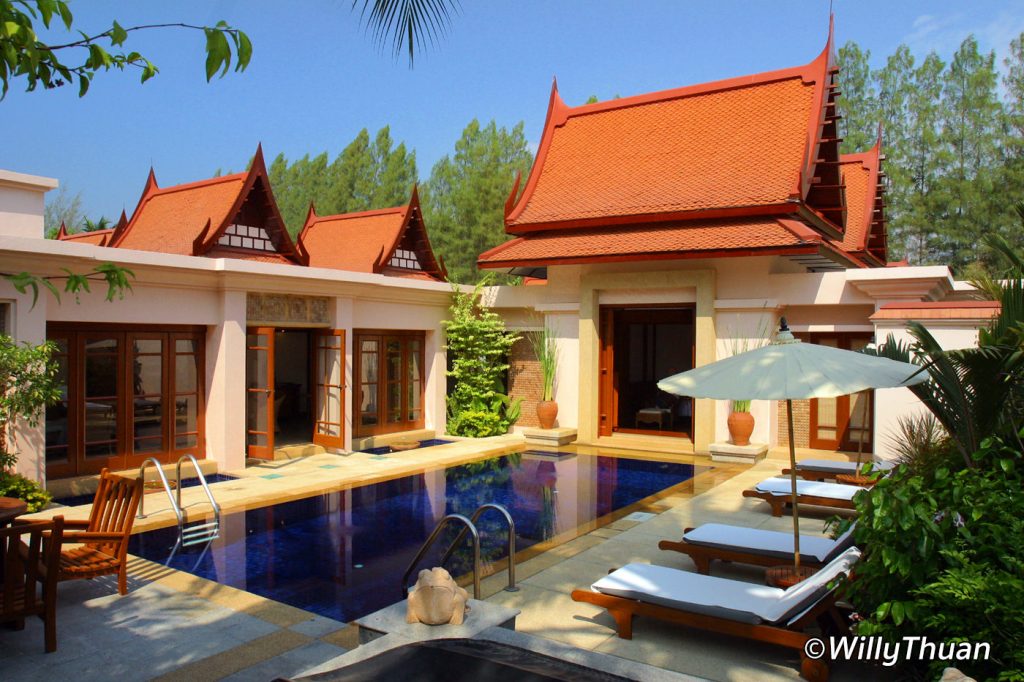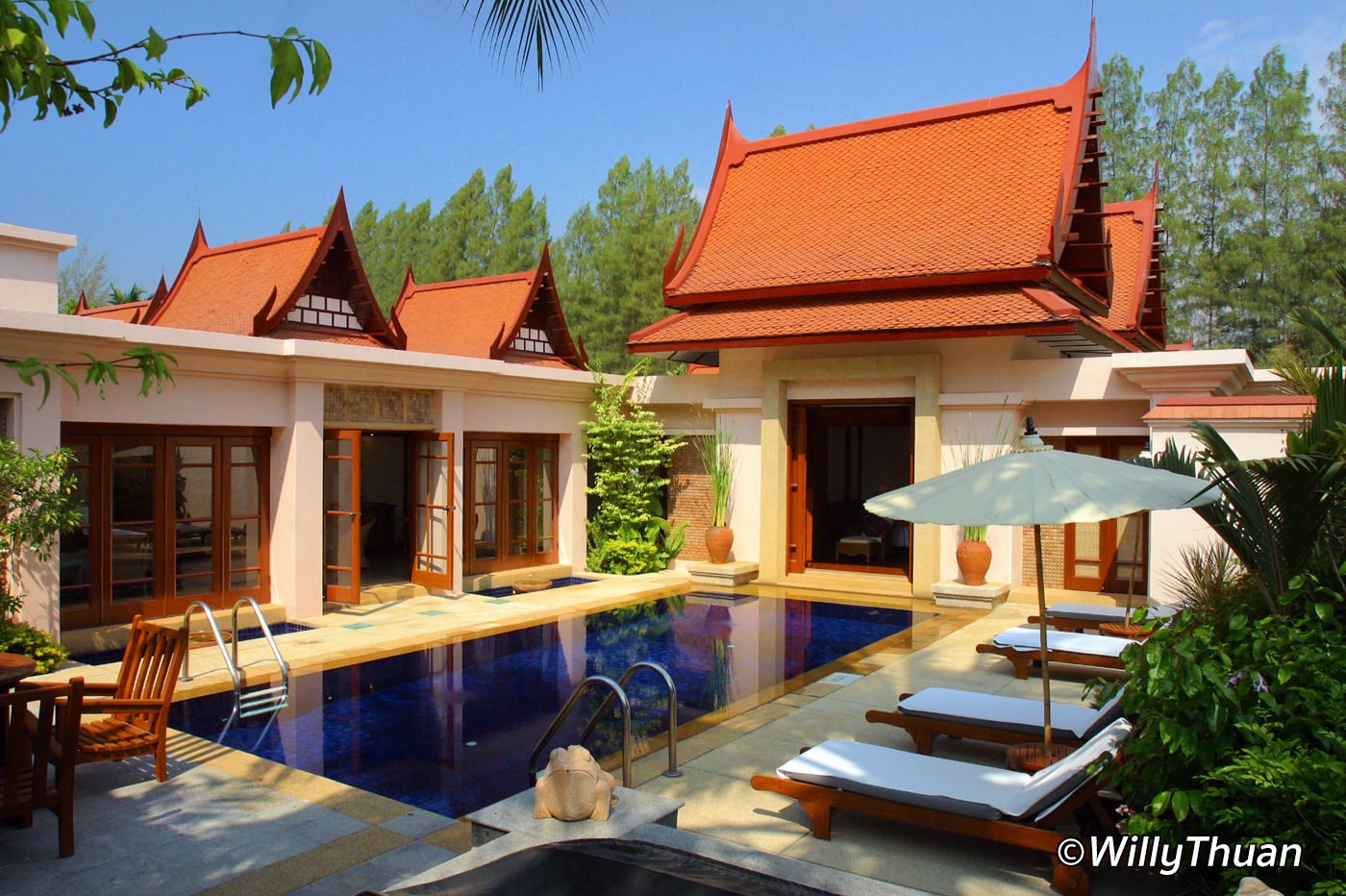 Banyan Tree Phuket is one of the first real luxury pool villas in Phuket. Each villa comes with an immense pool and total privacy. Banyan Tree also has the most Thai inspired villas in this list. The villas are designed beautifully with a high level of comfort and functionality. The hotel features one of the best spas in Phuket if no the best. There are at least three superb restaurants and some elegant boutiques. The hotel is not on Bangtao Beach itself, but the beach is not far, and a shuttle is always standing by to take you there within a minute. Bangtao area used to be the quiet part of Phuket, but all this has recently changed. You can now enjoy some excellent shopping at the nearby Boat Avenue and chose between contemporary dining or simple local beach dining. [See the rates for Banyan Tree Phuket ]
---
Cape Panwa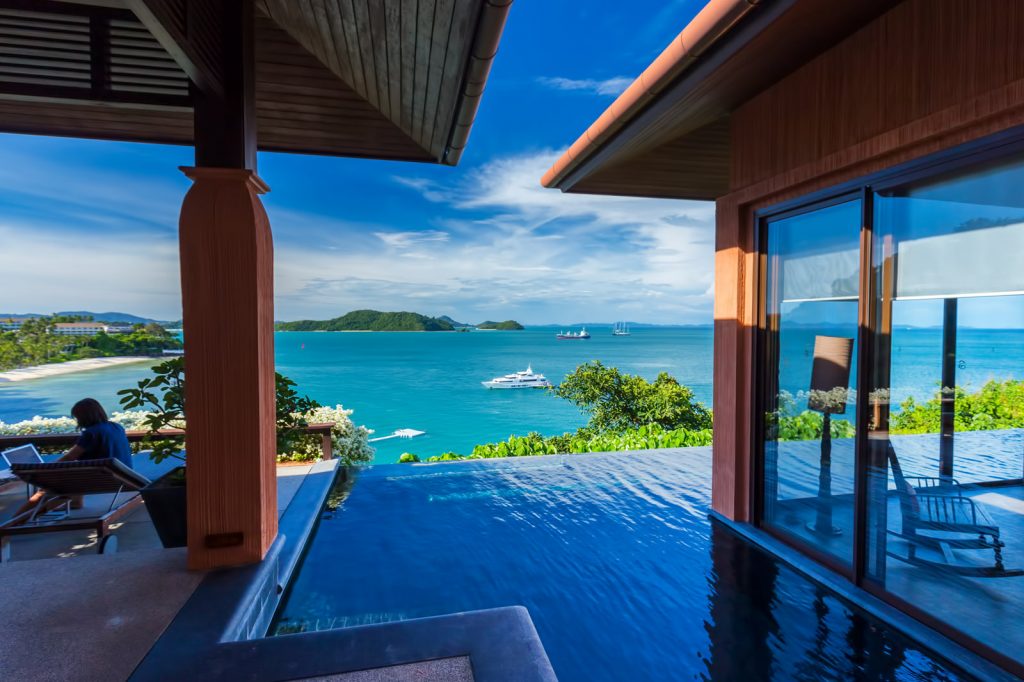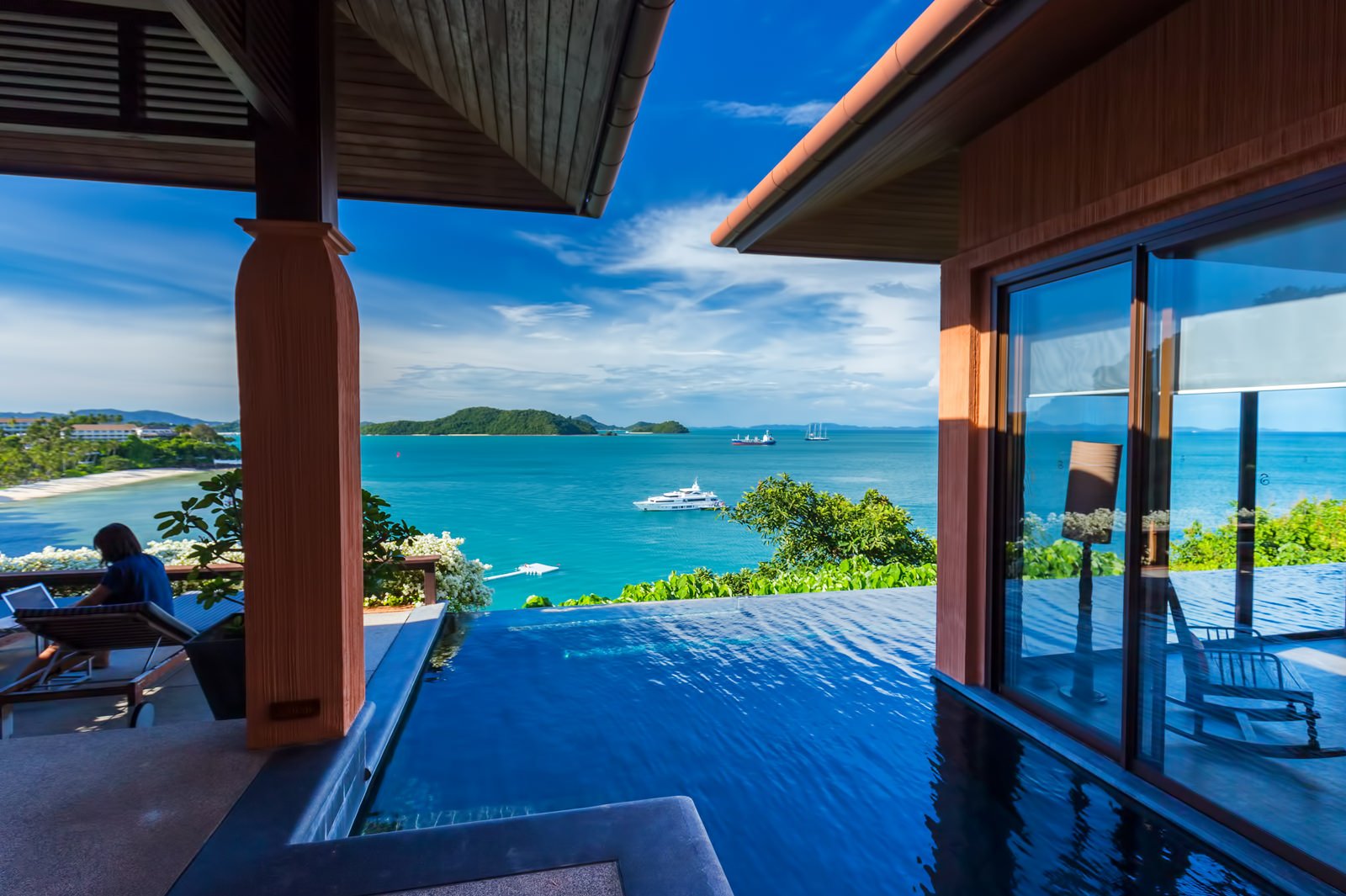 Sri Panwa Phuket is one of the best villa experience we had in recent years. It has everything we needed for a weekend escape and a lot more! The villas with their large infinity pools are fantastic with beautiful views on the ocean and the nearby islands. Waking up in the morning with a full ocean view is a rare luxury you will not forget. The bathroom is immense, and the living areas very convenient to spend your free time. Sri Panwa resort is not at the top of the list because it lacks a beach, which is often a requirement for most travellers, but not for us. The resort is immense with five excellent restaurants and a jaw-dropping rooftop bar so popular; you have to book it weeks in advance. [See the rates for Sri Panwa ]
---
Koh Yao Island
Six Sense Hideaway is a unique resort on Koh Yao, a small island next to Phuket, perfect for travellers who want to escape the crowds and spend their holiday in the most relaxing way possible. Six Sense Hideaway also has a great spa to make sure you start your holiday a relaxed as possible. The entire resort is designed around a sustainable concept with a lot of wood and natural elements, creating a unique atmosphere. All the villas come with a private pool, but not all of them offer a Seaview so you should ask when booking. The island is quiet, but there are now many small restaurants along the sea if you want to dine outside the hotel. [See the rates for Six Senses Yao Noi ]
---
8. The Naka Phuket
Hua Beach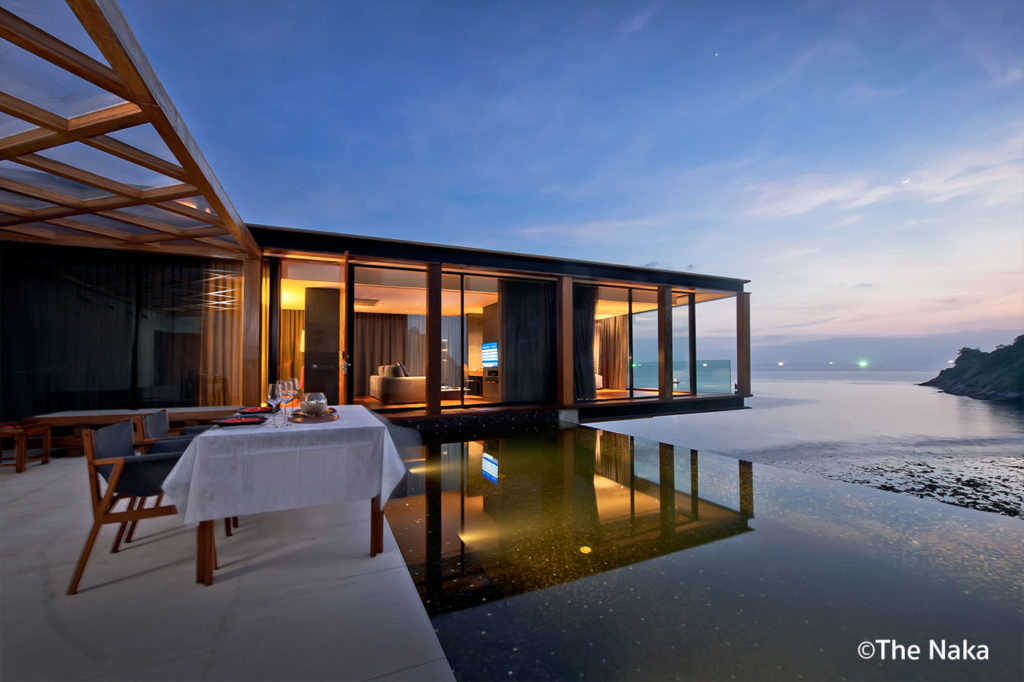 The Naka is a superb collection of pool villas in a strategic location between Patong and Kamala beach. A good compromise if you wish to enjoy partying in Patong then a quiet retreat by the sea the next day. The 94 glass-built villas are beautiful, and most come with infinity pools and sea views. The beach is modest and not fit for swimming but private.
---
Maikhao Dream Villa Resort is a great romantic hideaway on Mai Khao Beach in Phuket. If you want to treat yourself and your loved one to the most romantic holiday possible far from everything with long strolls on a deserted beach, this is your place. The three-bedroom villas are the biggest we ever stayed at, and it came with no less than three swimming pools!
If you can afford this place, you can afford to rent a car to have the freedom to drive and explore around as the villas are far north of Phuket. Mai Khao Dream is a superb escape with some of the most beautiful untouched beaches on the island and great local restaurants to experience. (RimPan seafood, Laem Sai, Thanoon seafood). [See the rates for Maikhao Dream Villa Resort ]
---
Mai Khao Beach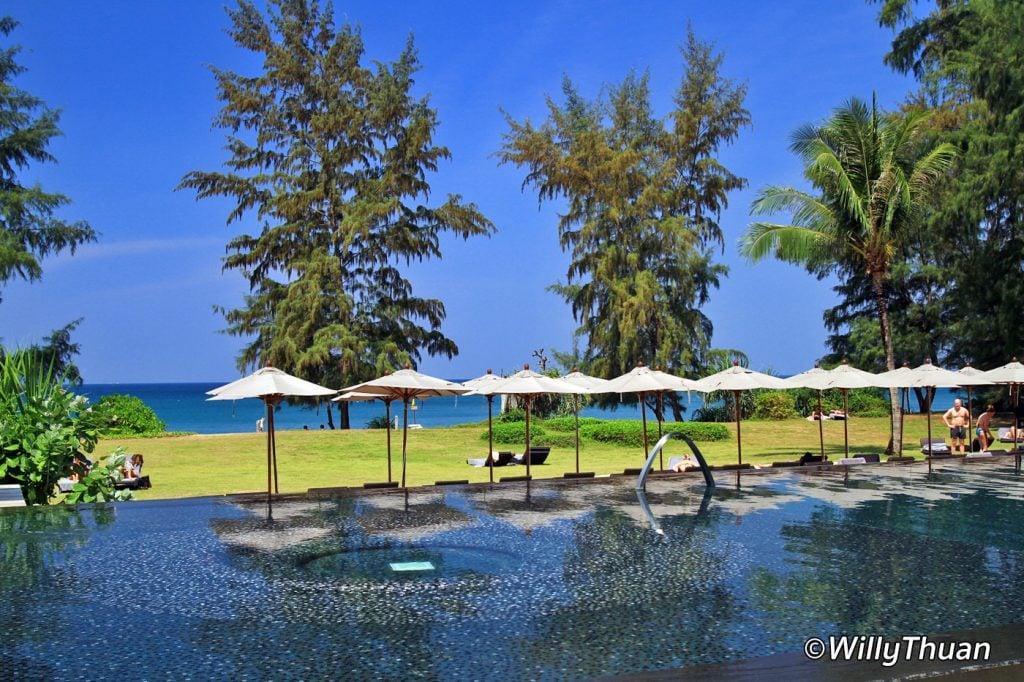 Renaissance Phuket Resort is not a fully dedicated pool villa resort but features a beautiful collection of 1 and 3 bedroom villas at relatively affordable prices. The hotel is on the beautiful and deserted Maikhao beach in the northern part of Phuket island. [See the rates for Renaissance Phuket Resort ]
---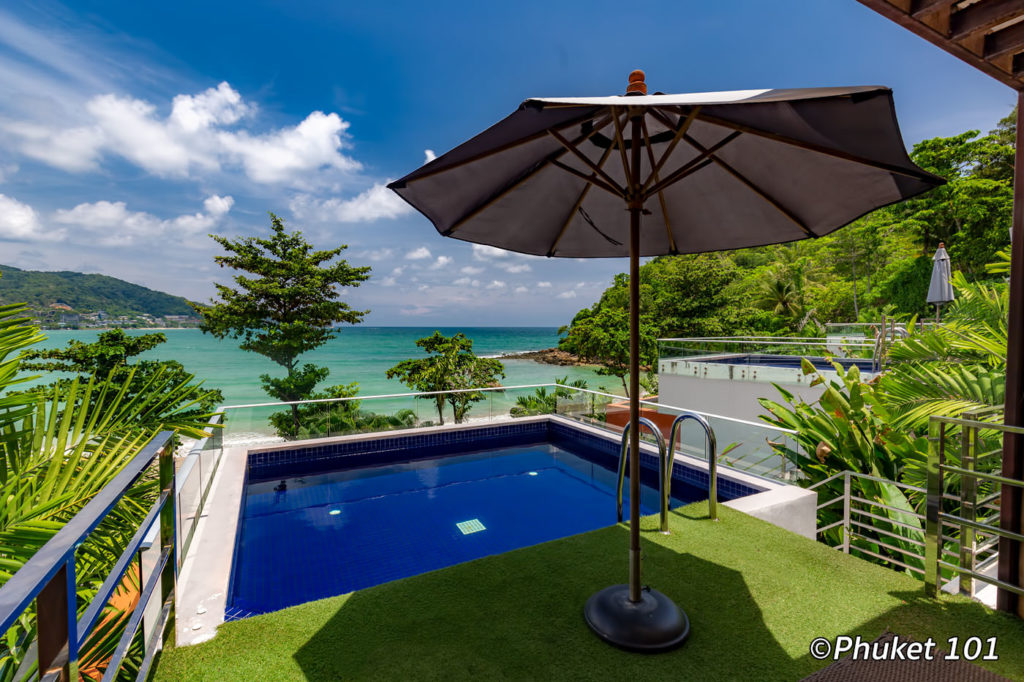 Special mention should be made about Novotel Phuket Kamala Beach. As you may have noticed when reading all the hotels listed on this page, pool villas in Phuket can be costly. So we decided to add an affordable but great alternative for a romantic budget hotel right on the beach, with your private pool. [See the rates for Novotel Kamala Beach Phuket ]
---
---
You may also like