What to Do in Cape Panwa?
The Cape Panwa peninsula is a part of Phuket that most people miss because it's on the opposite side of the island, away from the busy beaches of Patong, Kata or Karon. The sandy beaches are known to line the west coast of Phuket and because of this, the east coast is often overlooked for these reasons, however, there are in fact a few beaches worth visiting in the Panwa area. The geography of the peninsula is a little confusing, even for people who have been on the island for a long time. There are 6 or 7 beaches but only two are known.
Khao Khad Beach is the longest and best-known beach in the area and was often called Panwa Beach because the real Panwa beach is a private beach, away from sights. The beach has a few hotels, a couple of beach restaurants and a growing number of residences and villas. The beach is not great for swimming because of the rocky bottom and the mangrove at each end.
Phuket 101 receives 250,000 monthly visitors on average (500,000 pageviews/month).
If you wish to advertise on this space or other options available on Phuket 101, just contact us.
Ao Yon Beach is just south of Khao Kad is a little-known beautiful beach with a few restaurants, a couple of superb hotels and a great beach bar. The beach consists of two little bays and is one of the only beaches where you can swim during the rainy season when the sea on other beaches is too rough and the tides too dangerous. The view from the beach is also beautiful and is a great place to catch a long-tail boat to explore the nearby islands of Koh Lon, Koh Bon and even Coral Island.
Panwa Beach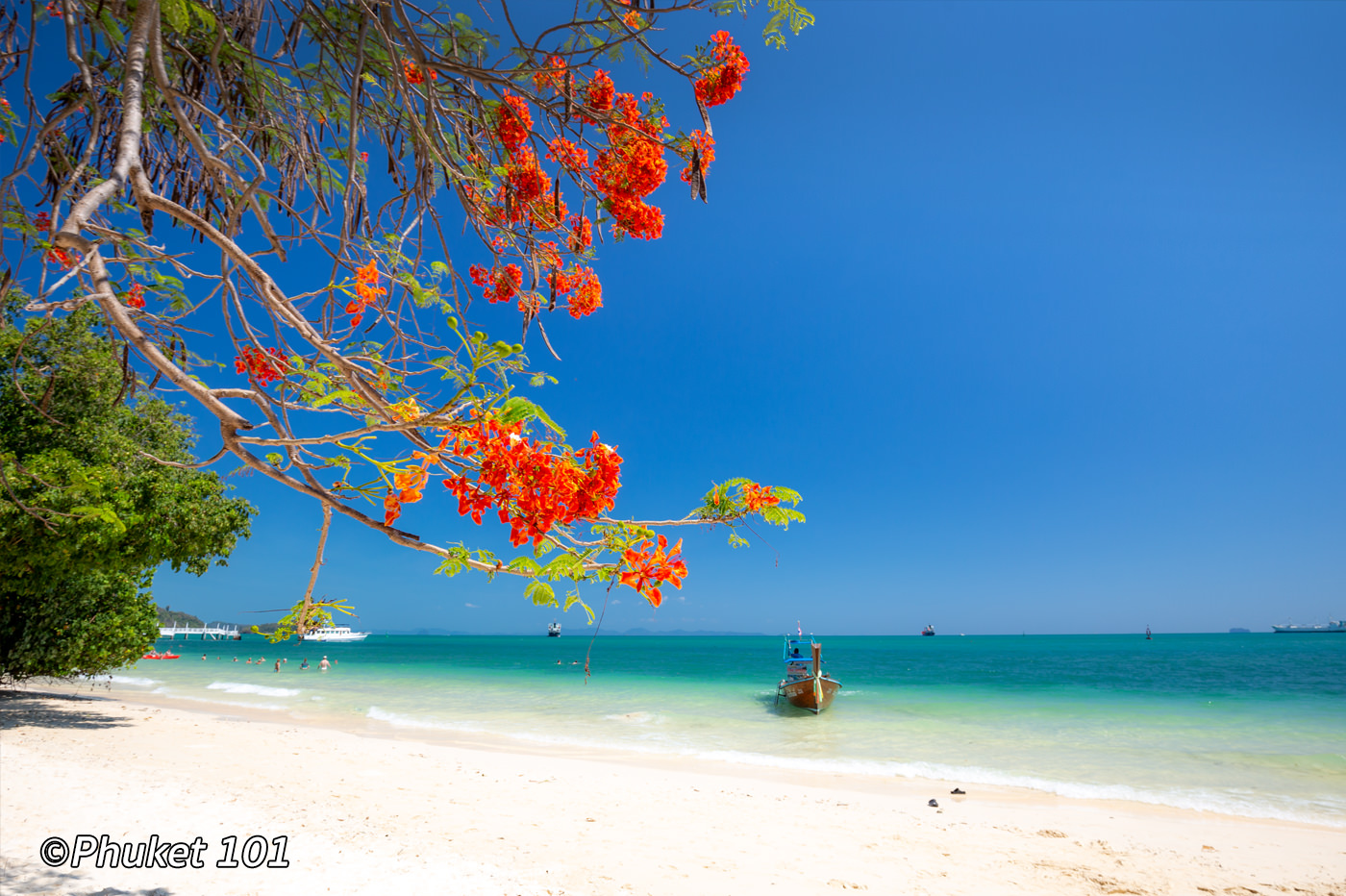 Panwa Beach is without the most beautiful beach on the peninsula. Wide with soft sand and surrounded by vegetation, it's a hidden gem only accessible by the guests of the Cape Panwa Hotel.
Sri Panwa Beach
Sri Panwa Beach is a tiny white beach surrounded by immense trees and dense tropical vegetation hanging from steep hills. At low tide, the beach is very scenic but is only accessible by the lucky guests of the luxurious Sri Panwa Hotel.
Amatara Beach
Amatara Beach has known name yet and we therefore name it after the hotel that surrounds it: The Amatara Resort, which is known to be a wellness resort.
Makham Beach
Makham Beach is a vast shallow beach on the opposite side of the peninsula but while it offers a great setting for beach walks and nice views from your hotel balconies, the beach is a bit muddy and not great to swim, but a great spot for walking and or even running in a peaceful surrounding. A popular hotel on this beach is the Crowne Plaza Phuket Panwa Beach, an IHG Hotel
Heeowat Beach
Heeowat Beach is just next to Makham Beach and offers the exact same situation: vast and shallow, but not great for swimming. A popular hotel on this beach is Crowne Plaza Phuket Panwa Beach, an IHG Hotel
Read more about the best hotels in Cape Panwa