What to Do in Patong Beach?
Patong Beach is the real heart of Phuket nightlife, and what makes it so attractive to many is often what other people hate most about it. Patong is big, bold, crowded, bright and loud, yet millions of people flock here every year, like flies on honey. If Bangkok is the Big Mango, then Patong is the Big Durian: you'll love Patong or hate it!
Patong Beach Video 2021
Subscribe to our Phuket YouTube videos!
The initial success and popularity of Patong mostly rotate around two things: a fantastic beach and a legendary wild nightlife. The rest? Don't blind yourself: shopping, dining, and foot massage are just the cherry on the cake. Anyway, there is a long list of things to do at night in Patong!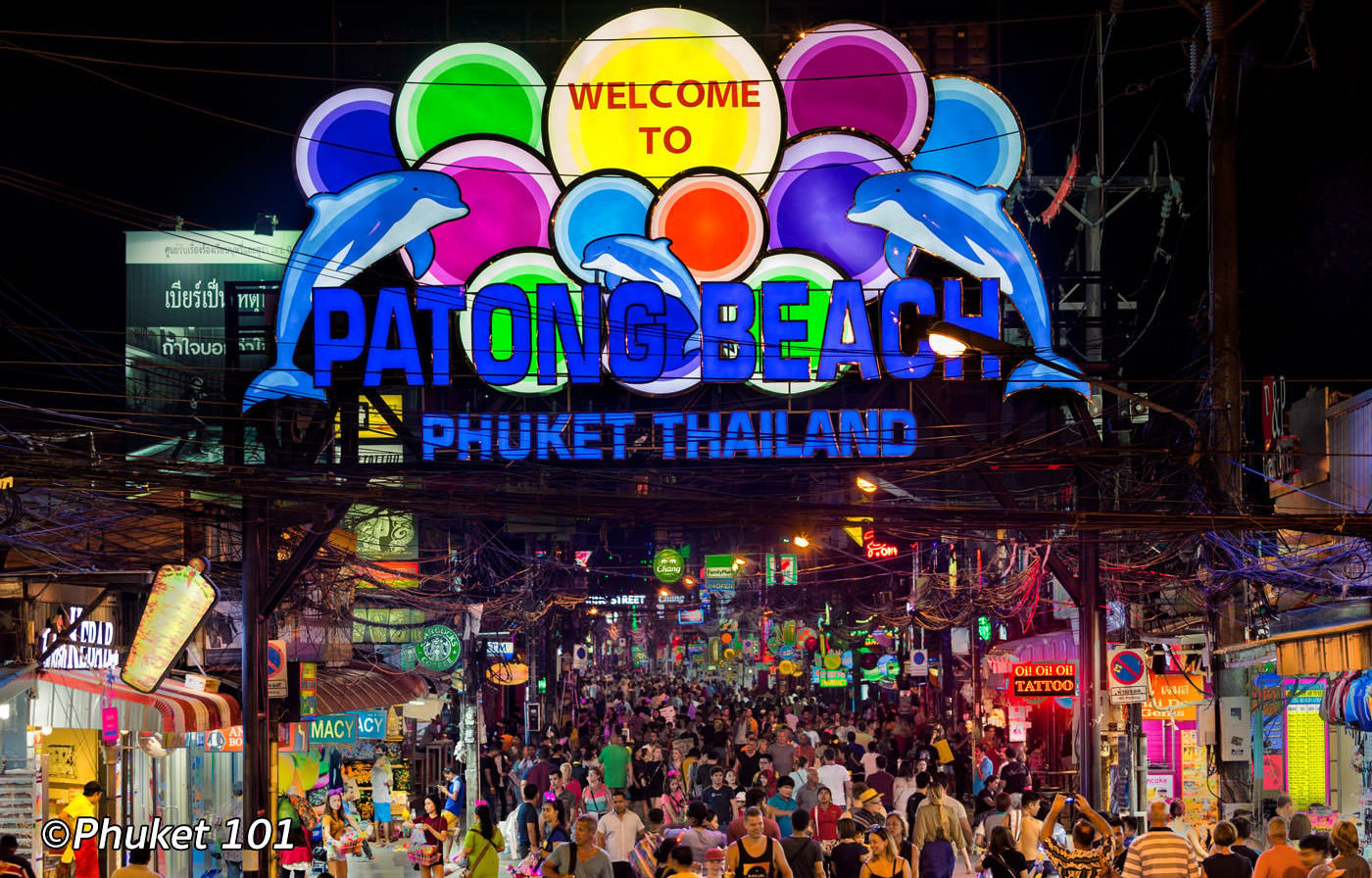 Just walk up and down Bangla Walking Street at night, and you will instantly understand why it is so popular. Everyone is there: guys, girls, couples and even families with kids. And why not? Patong has rooftop bars, beach clubs and world-class nightclubs. For many, it's a once in a lifetime party experience (once a year for some). For others, it's mostly a curiosity to tick off their Phuket must-do list and something to talk about once back home. Just look at the crowd staring at sexy and very feminine ladyboys dancing on a street stage in a very tiny outfit, and you'll get the picture, literally. And don't forget to close your mouth.
---
The main reason people come here is obviously: the beach! If you decide to spend the day on the beach, you can rent beach chairs and umbrellas, get a beach massage, try some parasailing, or get yourself killed by renting a jet ski (we warned you). Beyond the beach and the nightlife, Patong has a surprisingly wide array of things to do for everyone. There are rooftops bars, night markets, ziplines, cable ski, cinemas, bowling and huge shopping malls that are a lot more fun than you may think.
The Beach of Patong
The beach is 3 kilometres long and often crowded in the middle part during the high season. Forget about parking your car anywhere around there, and even parking your motorbike can be a problem.
The northern part of the beach, not far from Novotel Phuket, Four Points by Sheraton and Graceland Resort, is more beautiful and a lot less busy. There are fewer people in this part of Patong and more parking, plenty of local food and fruit vendors to enjoy. Water is also bluer during the high season, and there are plenty of palm trees to offer shade.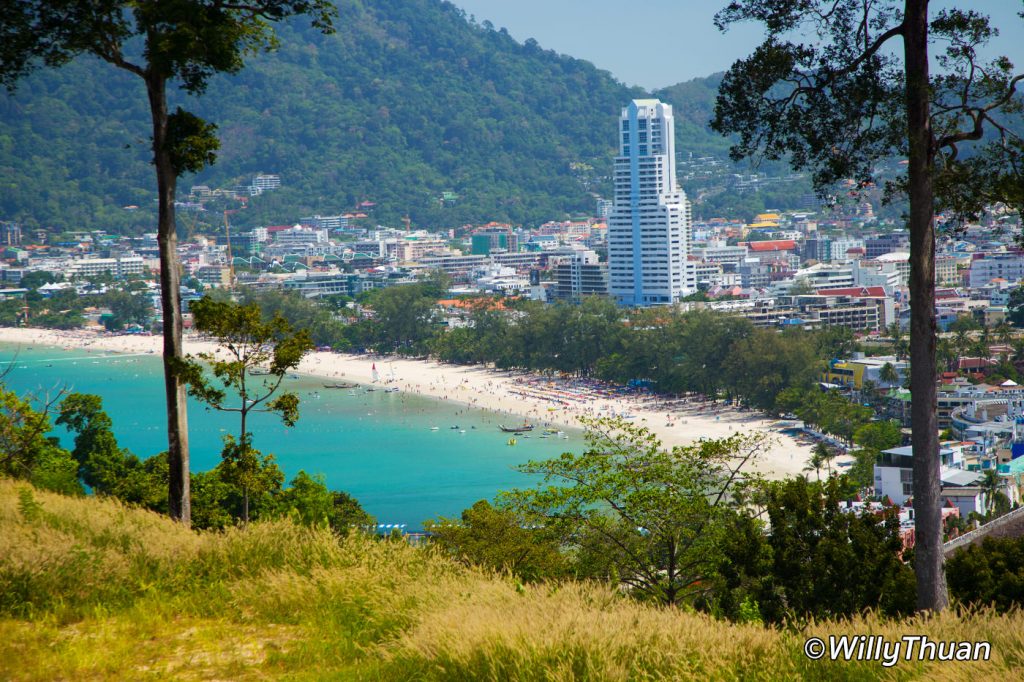 The water at the southern end is not always as transparent as in the north. On this part of the beach, you can rent umbrellas and beach chairs available on 10% of the beach (probably more now!). During high season, a long floating pontoon allows tourists to board those longtail boats to take them to the beautiful and secluded Freedom Beach.
---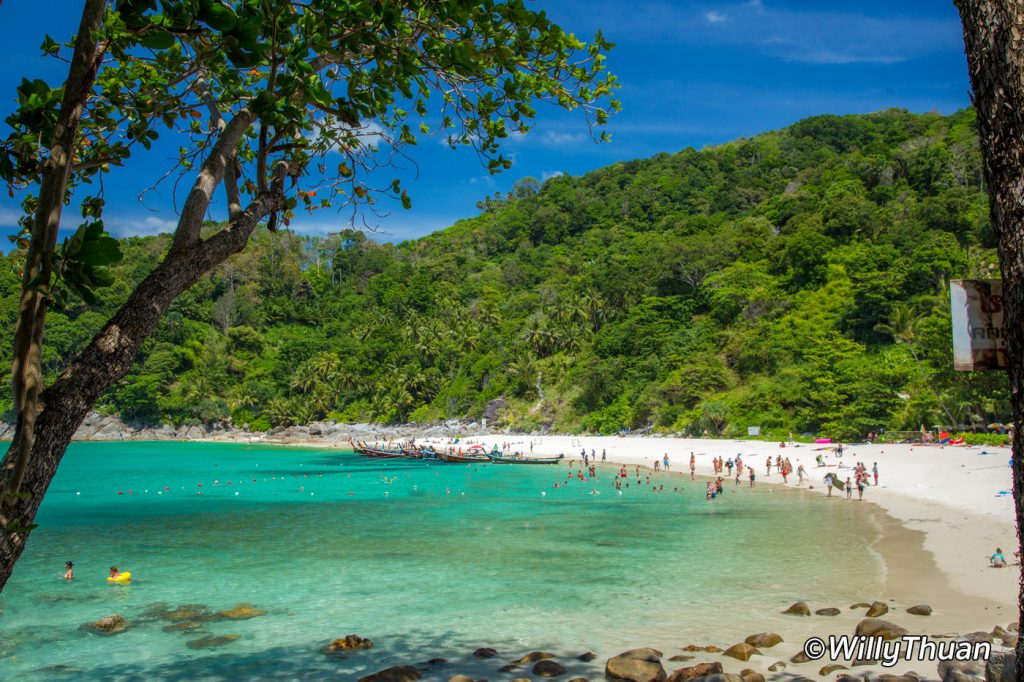 Freedom beach is one of the most beautiful public beaches in Phuket, and despite being just next to Patong, it has remained relatively untouched because it's not easy to access.
---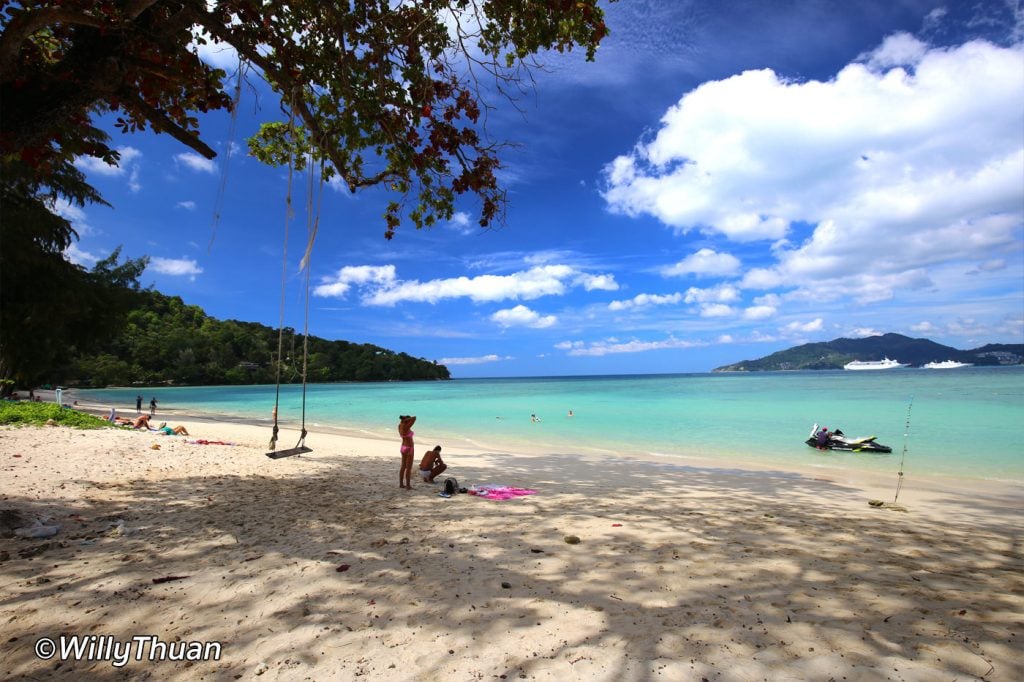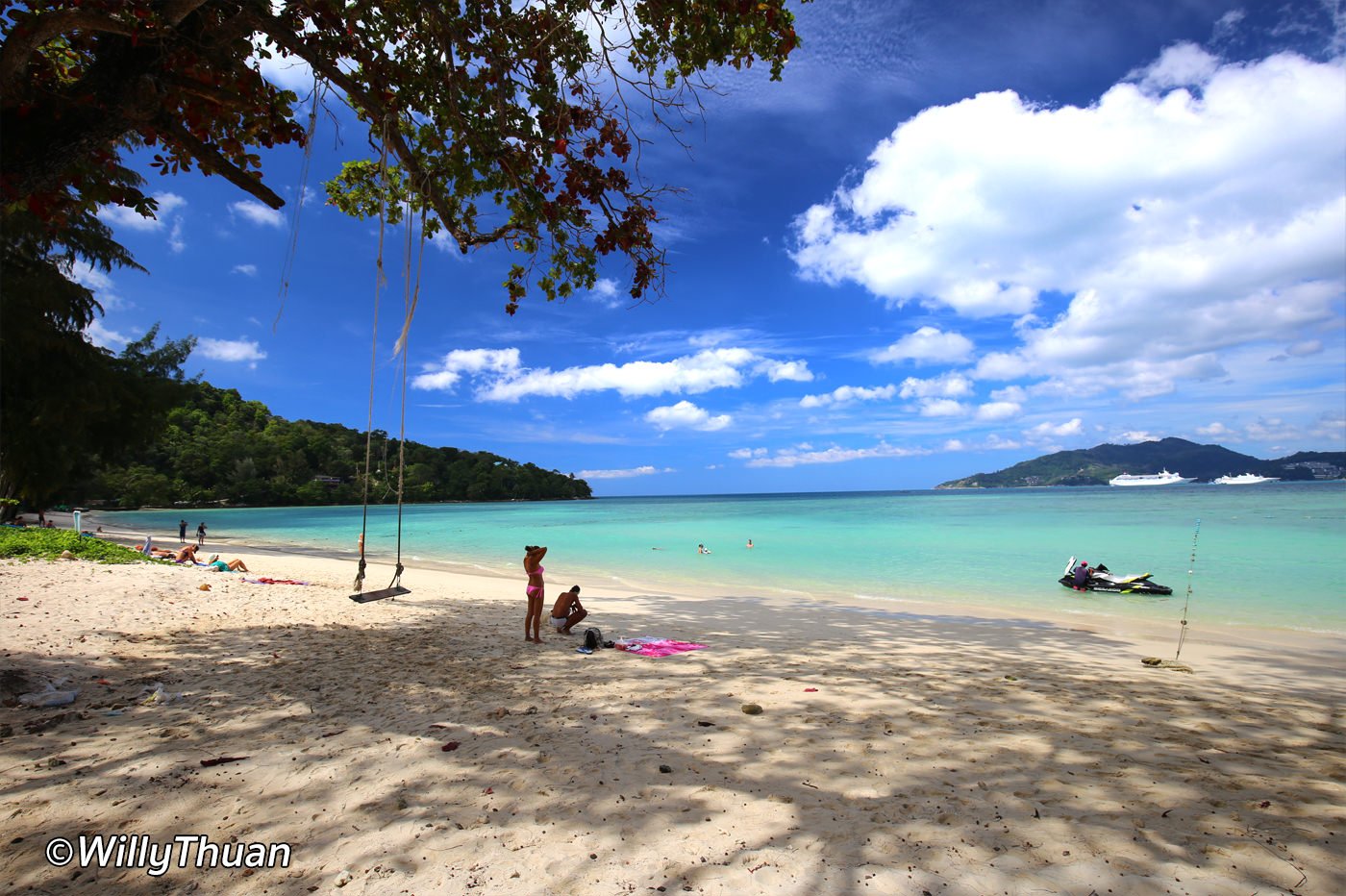 Tri Trang is a beautiful beach situated just a couple of kilometres south of Patong, known to be surprisingly quiet, as well as one of the few beaches in Phuket where you can swim safely in the low season. You will find a few modest restaurants with superb views on the roadside, plus a couple of hotels to stay at, including the luxury Rosewood Resort.
---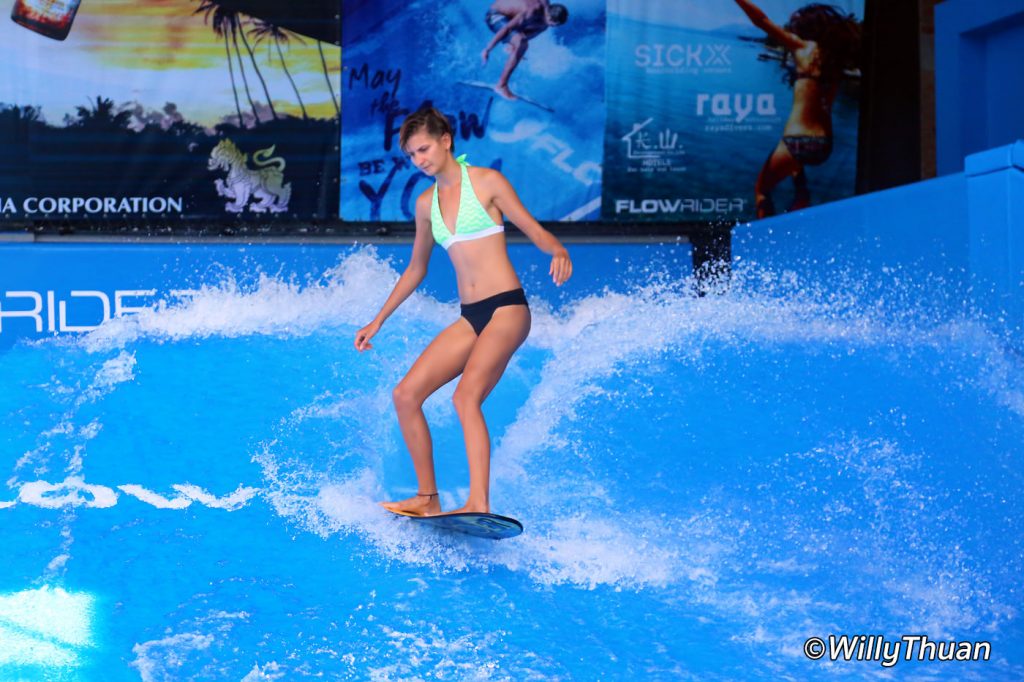 Patong Surf House is a great place to safely practice your surfing skills as the shallow stream of water runs on an inflated rubber surface. The site is also well-known to hold parties, a fun alternative if you prefer an open-air party rather than nearby nightclubs.
---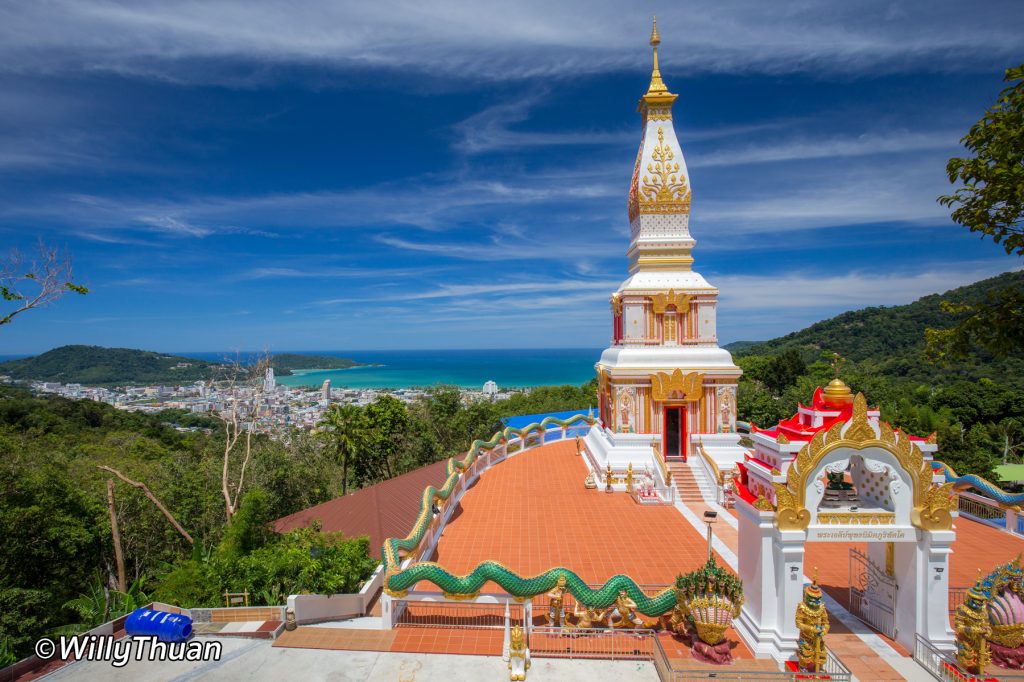 There are three Thai temples in Patong and one Chinese Shrine just outside on the hill. The most visually attractive and often missed is the one at the bottom of the hill. It's not easy to park if you drive a car, but it's worth taking a photo on your way out if you are on a bike. Built at the top of the hill overlooking Patong, Doi Thepnimit is a lot more impressive. Technically it's not a temple, but a Chedi and a monastery, but with such a panoramic view of the bay, it is impressive. You can't miss the small Chinese temple on the main road.
There is a lot to do in Patong. Of course, the beach and the crazy nightlife is what comes to mind first, but there are dozens of other things to do.
Read more about Things to Do ►
---
Patong has changed a lot since the old days when all there was in Patong was beer bars, go-go bars and a couple of discotheques. There are now great live music bars, enormous international nightclubs, beach clubs and even rooftop bars. Of course, Go-Go Bars are still here.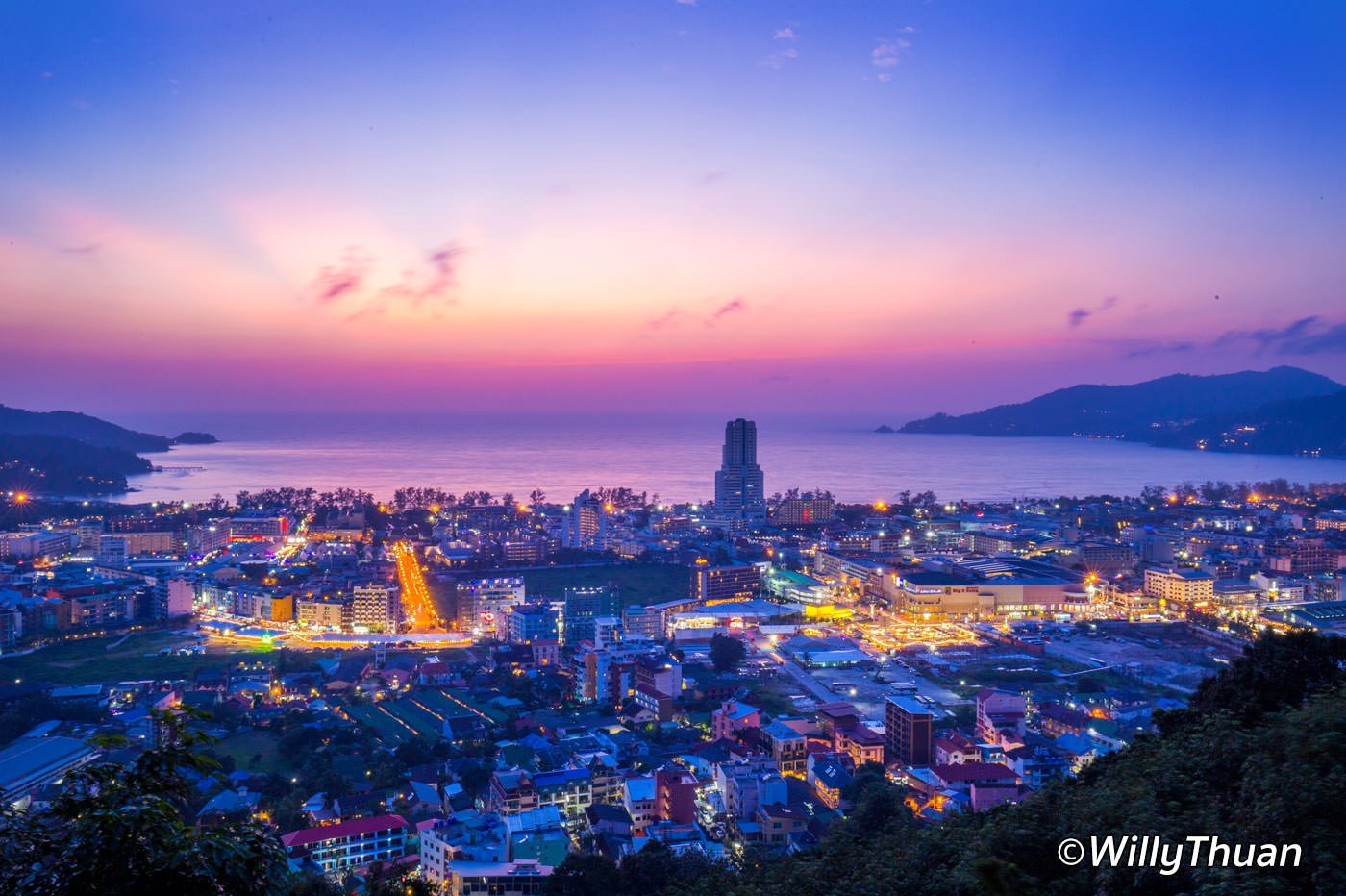 ---
Patong nightlife essentially rotates around Bangla Walking Street, all the way to Rat-U-Thit Road (the second road parallel to the beach). Every evening from 6 pm, this road closes to the traffic and turns into a bustling walking street. A vast amount of entertainment battles to grab your attention, senses, and money on each side!
---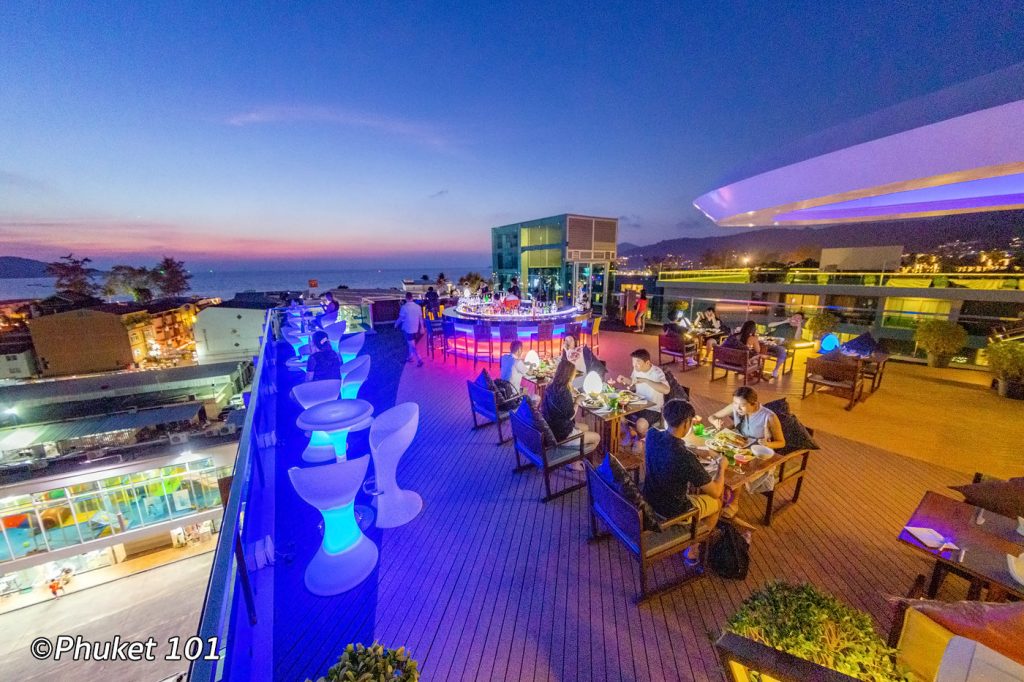 There are more and more rooftop bars in Patong, and while they can never compete with rooftop bars in Bangkok, they are a great way to enjoy a sunset from a high point. So far, we have found four rooftop bars in Patong.
---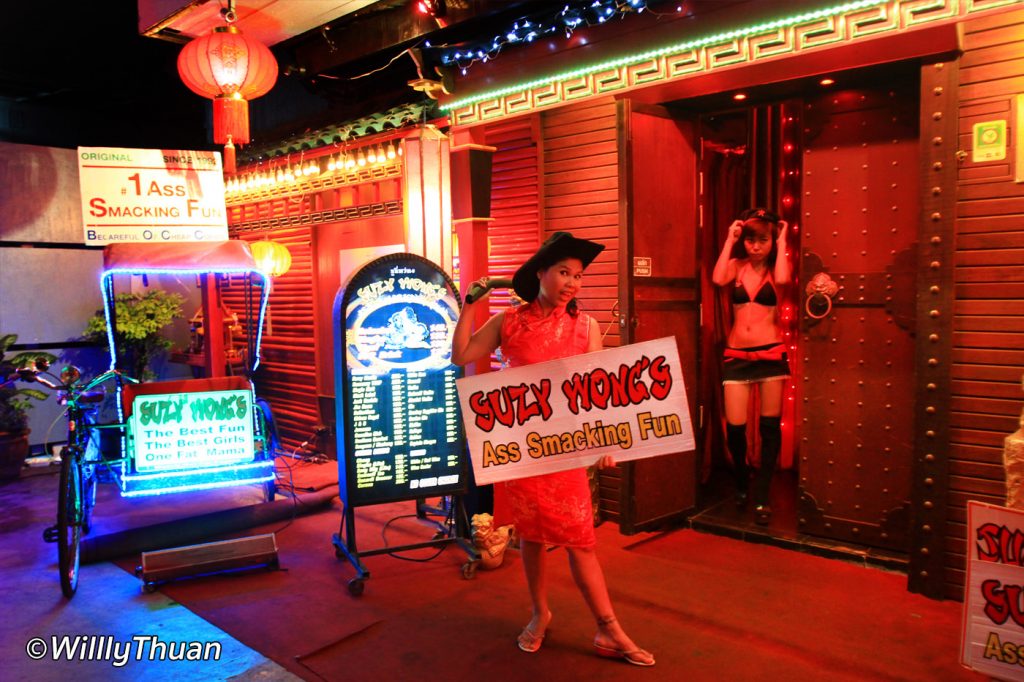 Whether it's with bright light, loud music or ladies wanting you to have a seat at one of the many open beer bars or even touts inviting you to have a look at the naughty shows (you should never follow touts, by the way!)
---
Further is the Paradise Complex, known to be the gay street, easy to spot as it's right at the Royal Paradise Hotel tower's feet. It can be worth a visit, it's friendly and you can watch a small ladyboy cabaret show for a drink price.
There is a lot more to enjoy and discover when it comes to the notorious nightlife in Patong, and we extended this section with more detailed information:
---
Shopping in Patong
You could say, "there is something for everyone in Patong Beach", but in fact, it's tourist-oriented. As you walk the street, expect to see souvenirs shops, tailors, Thai massage-foot massage-soapy massage, tailors, suitcases shops, tailors, art galleries, and more tailors.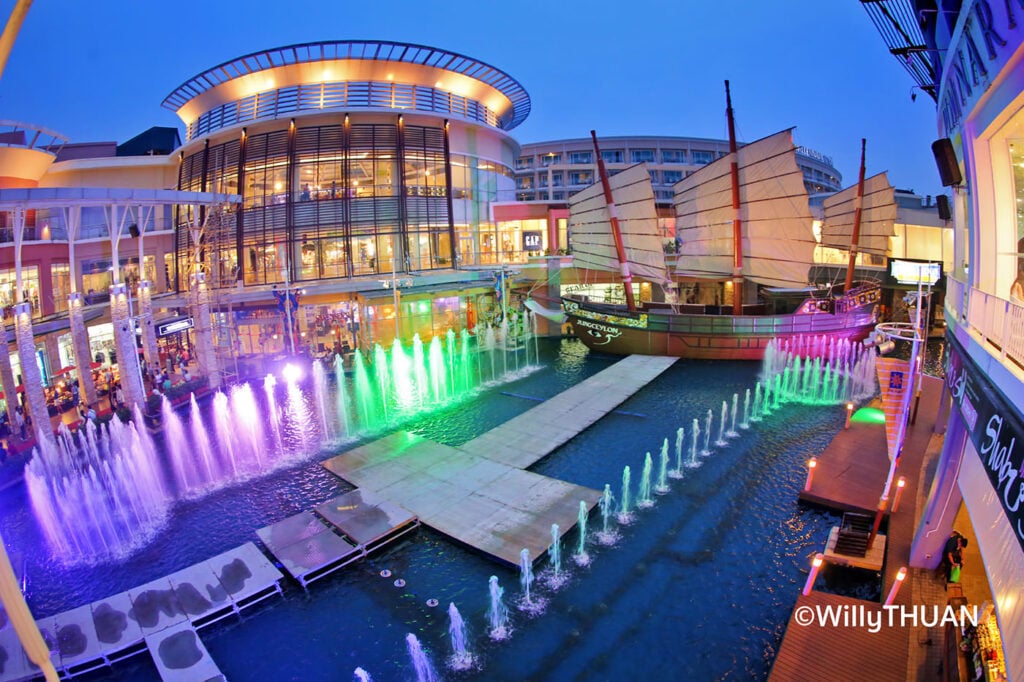 Night markets have become incredibly popular in Patong, and there are no less than four to explore, Otop Market, Malin Plaza being the most popular. There are also two shopping malls here to enjoy. Jungceylon and Central Patong both offer a more sophisticated shopping experience as well as an excellent way to escape the heat with plenty of restaurants, shopping and activities. If you want to know more, read about the Jungceylon Shopping Center, but don't miss the Banzaan Fresh Market just behind it, it is a chance to see real fresh local fruits, spices and products!
---
Jungceylon is a massive shopping and dining complex that occupies a strategic location in Patong near the famous Bangla Walking Street. Here you will find a department store, a huge supermarket, a cinema, and plenty of restaurants serving all kinds of cuisines. Travellers often spend time here before the party, when it rains or even when it's a little too hot out there.
---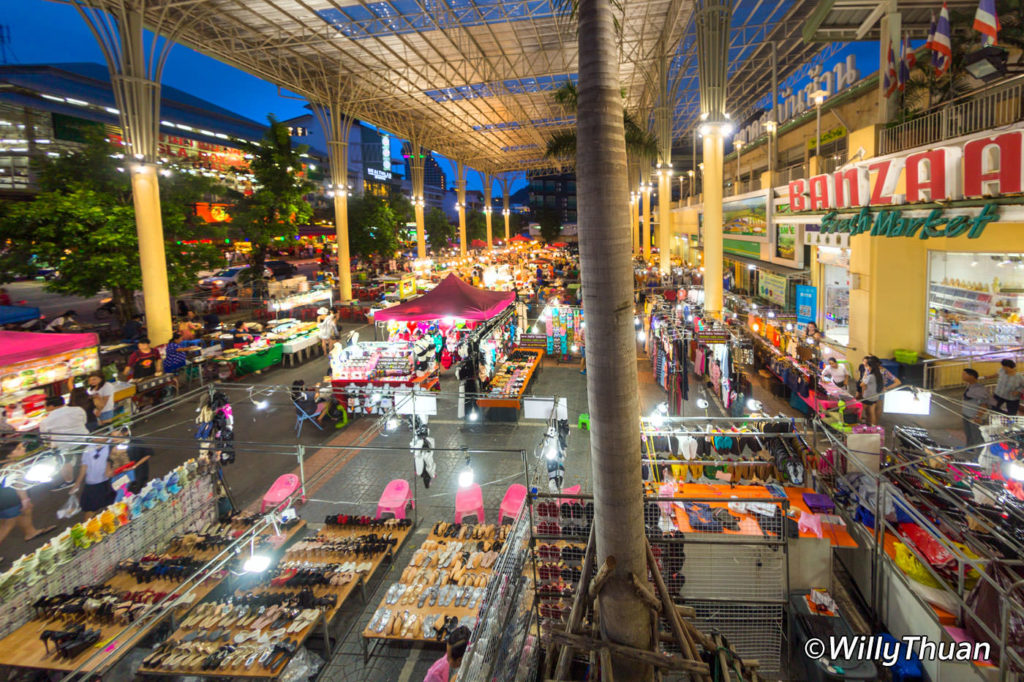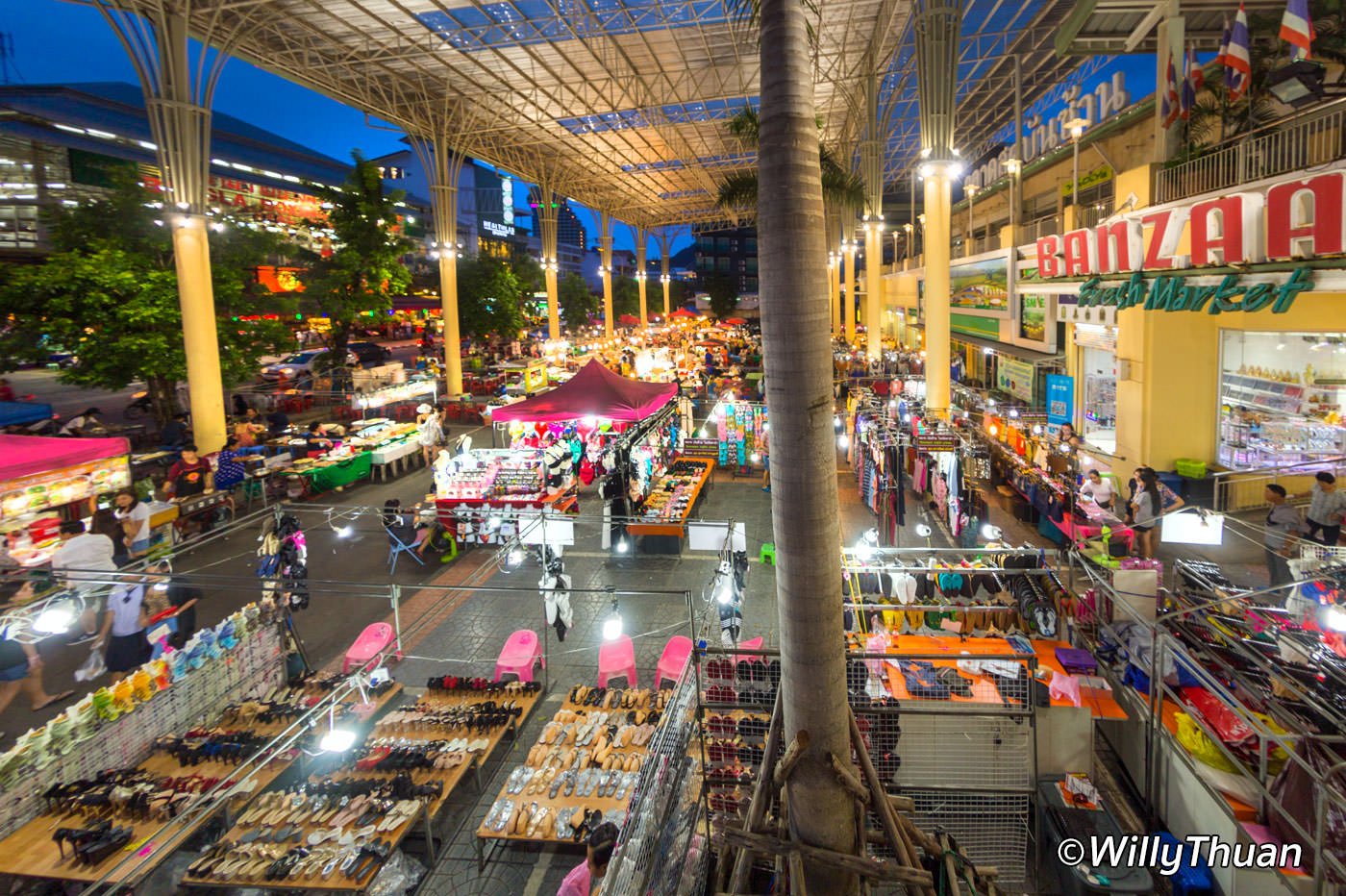 Banzaan started as a fresh market on the lower, a bazaar selling cheap clothing on the second floor, and a modest food court. Its popularity grew when it opened the night market where visitors can buy mostly seafood and have it cooked on the spot. It is just a little cheaper than in a restaurant, but it's more fun, something typical of south-east Asia.
---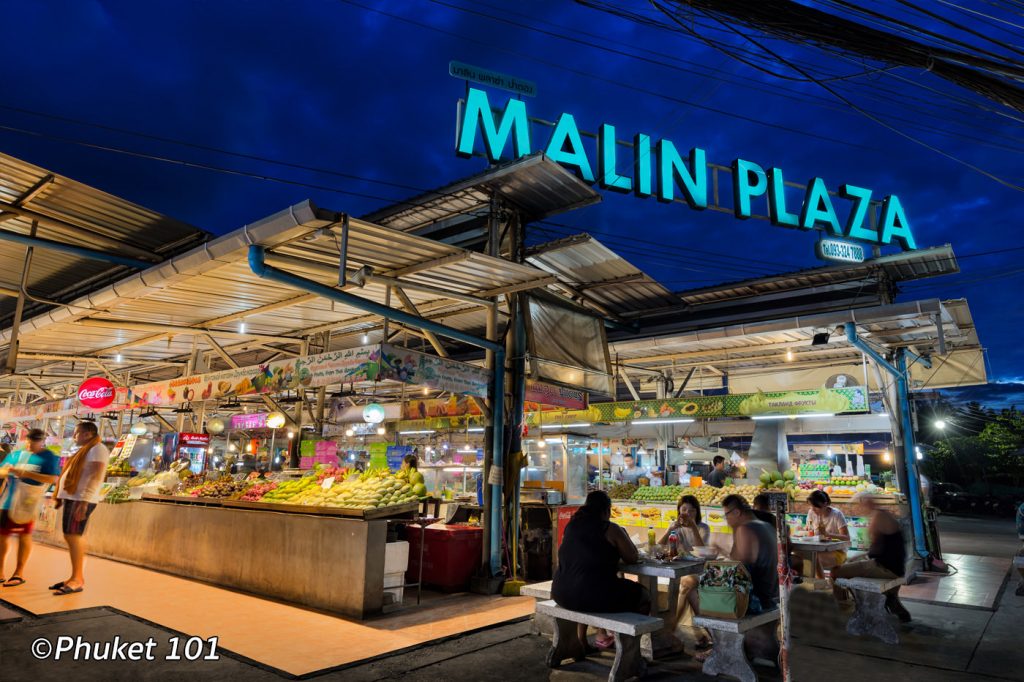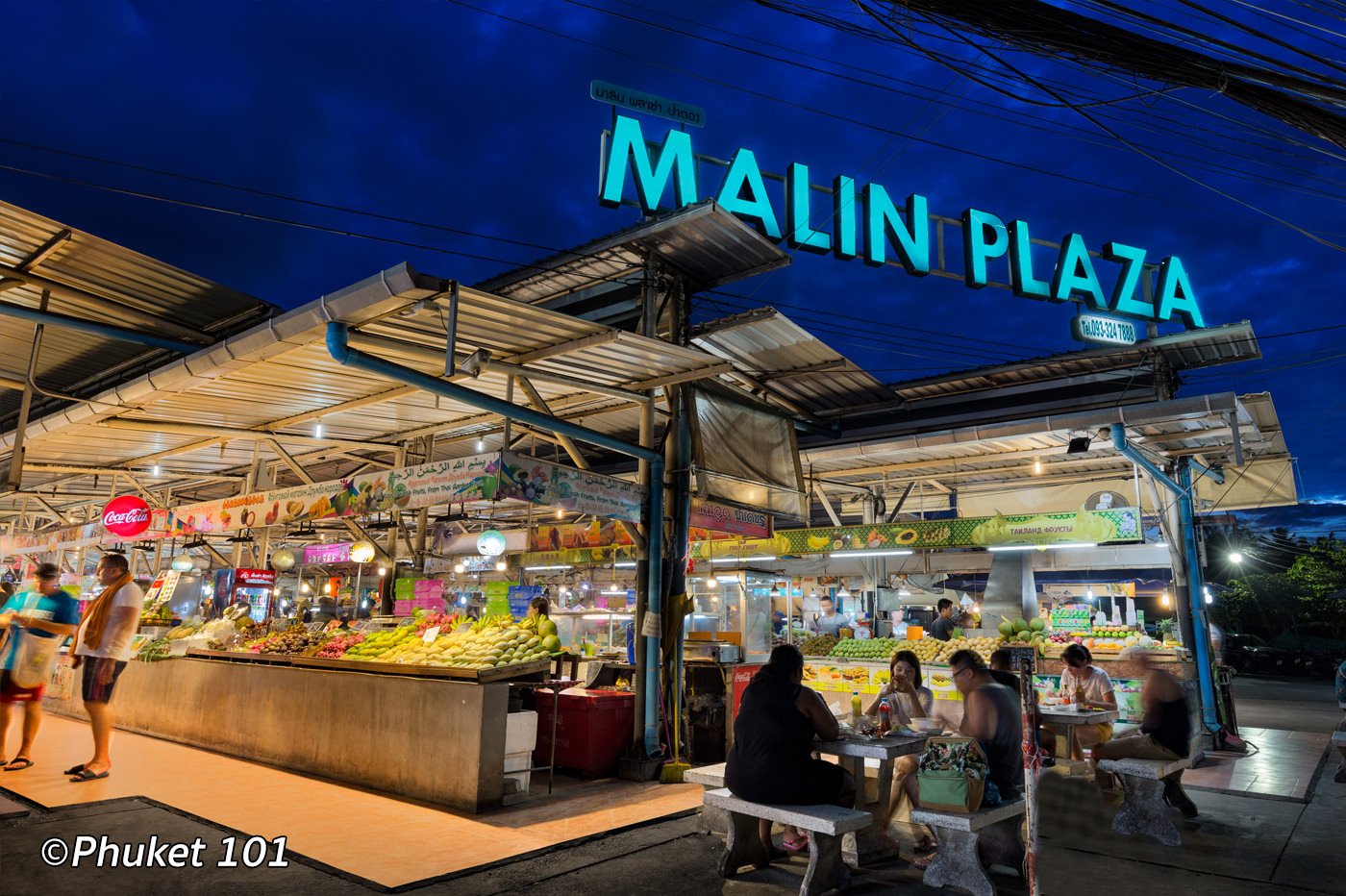 Malin Plaza is a popular and successful night market in Patong. It is an excellent place to spend some time after the beach to eat, drink, and buy inexpensive souvenirs and clothing.
---
---
Restaurants are everywhere in Patong, serving anything from Japanese to Russian, but real Thai food is difficult to find around here. You'll get some Thai restaurants serving decent Thai food, but you would hardly see a Thai person eating there, which should give you a clue. For instance, in Soi Post Office, roughly around the middle of the beach, is Sabai Sabai, a Thai restaurant very popular among tourists. You will find little places to eat around these small streets, but Thai food is often adjusted for tourists.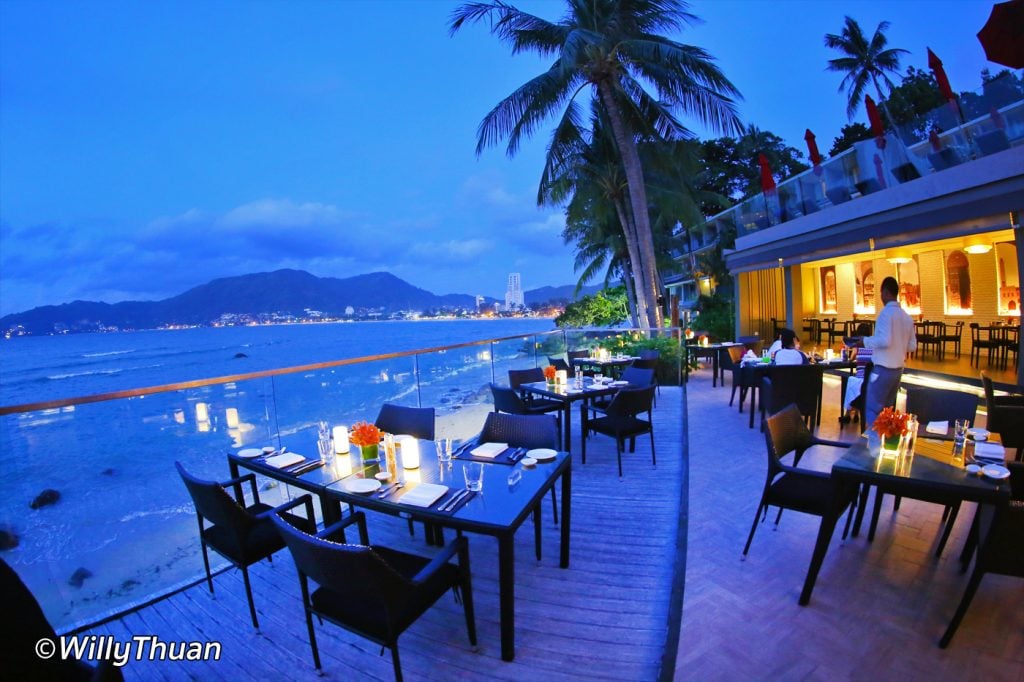 Further north, on the way to Novotel Phuket Resort, few restaurants were lucky enough to get their share of sand. Walk on the beach around 'Impiana Resort', and you'll be able to pick one of the few restaurants having tables right on the beach.
Not far from there, you can also try the 'Food Court', a popular concept in Asia, where you order your food at one of the many booths built around a central area where tables are. Usually good enough and cheap. Then you can't avoid the three or four 'seafood centres' with its army of waiters trying to lure you into their designated areas using every catchline they know. It is not bad, but not cheap as most people believe at first.
Few restaurants we recommend in Patong Beach:
If you want to go for real Thai food (with a view), you will have to drive outside Patong, the direction of Kamala Beach, and right before the Thavorn Hotel is Romsai Restaurant on the cliff. Hard to spot, but that's the real (good) thing.
Read more about dining in Patong ►
---
There are hundreds of hotels in Patong, and you will find yours with no problem. We tried some because they are close to everything, close to the beach or stand out from the rest. Below are some favourites, but there are many more. Read more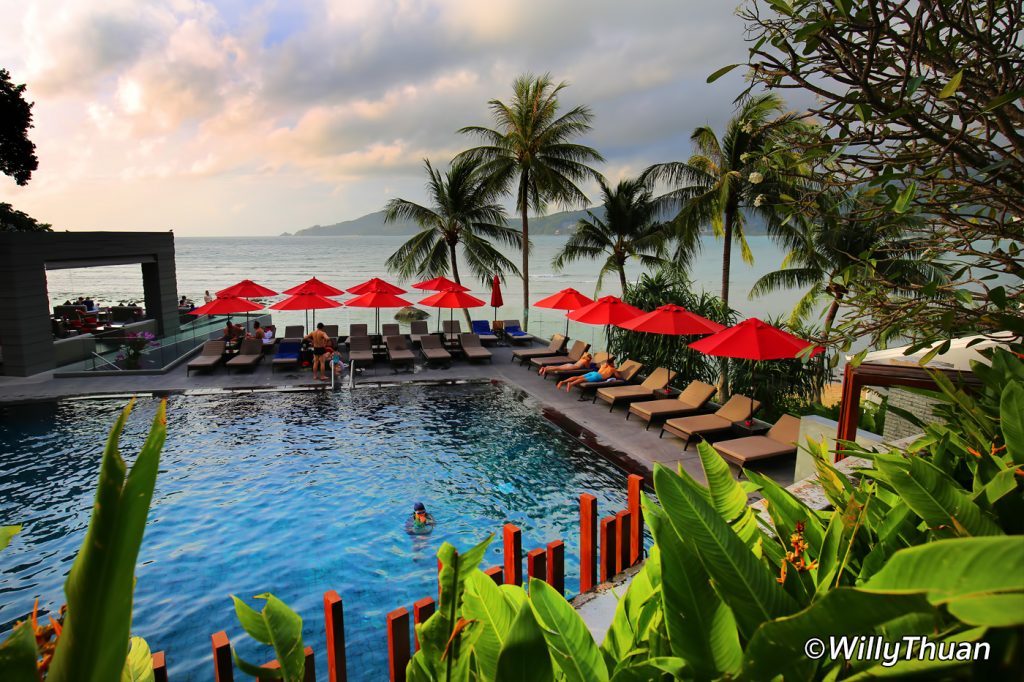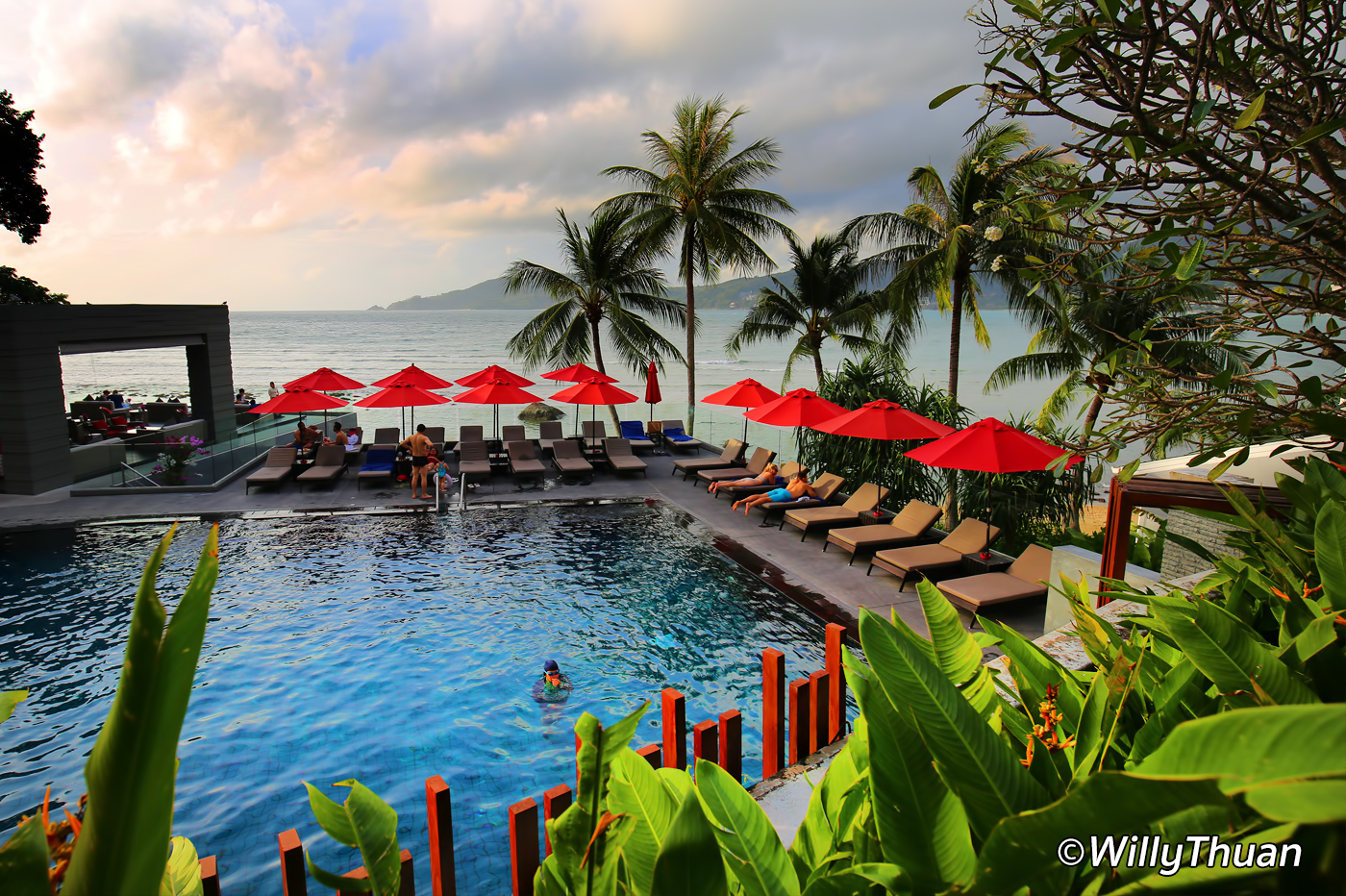 Amari Phuket has always been one most loved hotels in Patong. The hotel has its own small beach, amazing views on the bay, plus a trendy Italian restaurant by the ocean. The location is just close enough to Patong party street to access it within a couple of minutes, but far enough so you can truly relax the day after.
Range: 5-star
Swimming pools: 2 pools
Restaurants and bars: 2
Distance to the beach: 150 m
Distance from airport: 37 km
Distance to Phuket Town: 15 km
Distance to Patong City Center: 1 km
---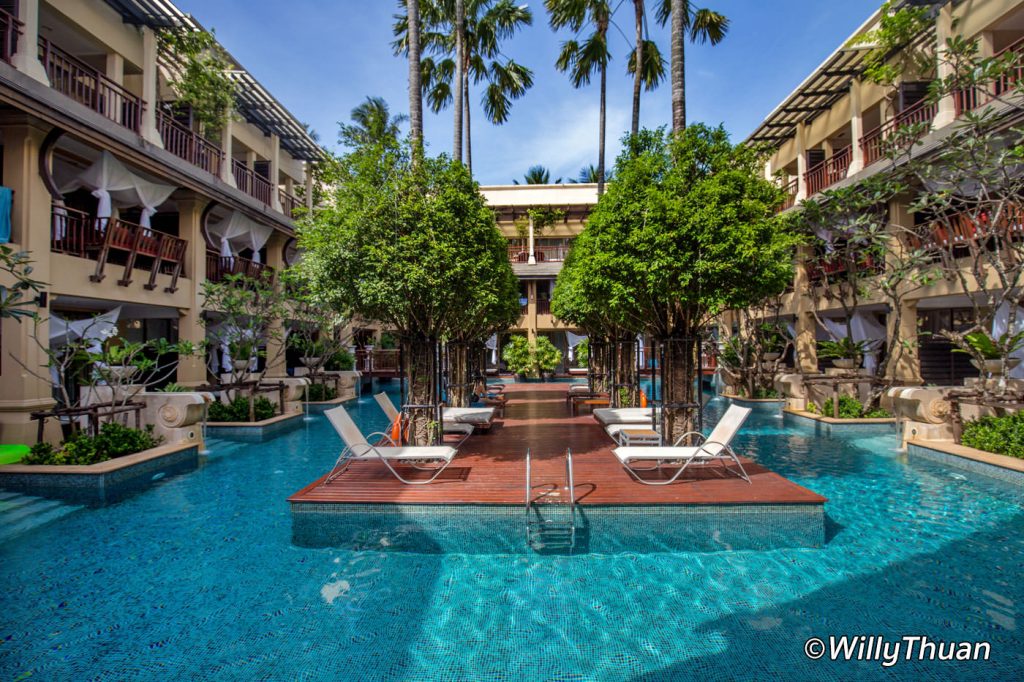 Burasari is a cosy boutique hotel within a short walking distance from the beach of Patong and not far from the city centre and shopping areas. The hotel is compact but well designed, with two beautiful pools and attractive pool access rooms. The value for money is excellent, considering the location and how well designed the hotel is.
Range: 5-star
Swimming pools: 2 pools
Restaurants and bars: 2
Distance to the beach: 150 m
Distance from airport: 37 km
Distance to Phuket Town: 15 km
Distance to Patong City Center: 1 km
---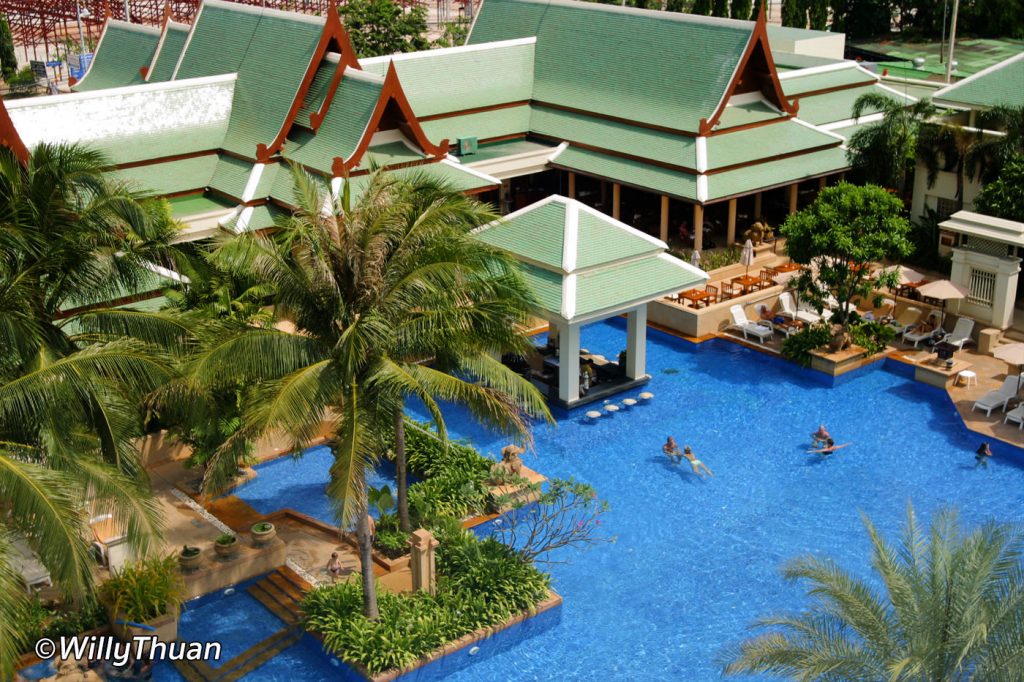 Range: 4-star
Swimming pools: 3
Restaurants and bars: 4
Distance to the Beach: across the street
Distance from airport: 36 km
Distance to Phuket Town: 14 km
Distance to Patong Center: 1.6 km
---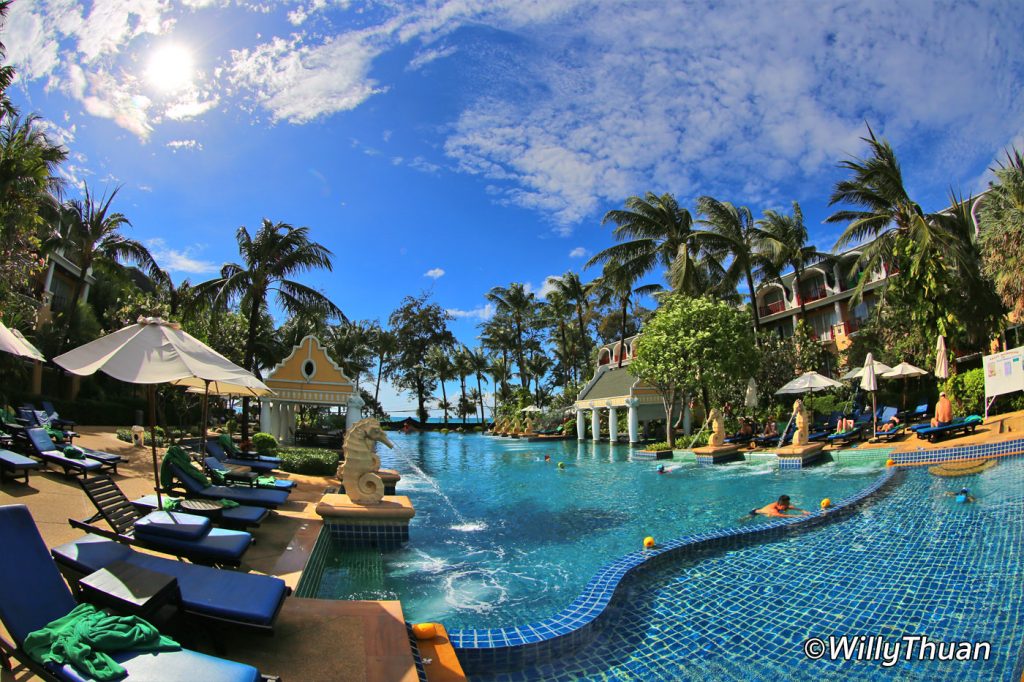 Range: 5-star
Swimming pools: 2 pools
Restaurants and bars: 6
Distance to the Beach: across the street
Distance from airport: 37 km
Distance to Phuket Town: 14 km
Distance to Patong City Center: 1 km
---
---
---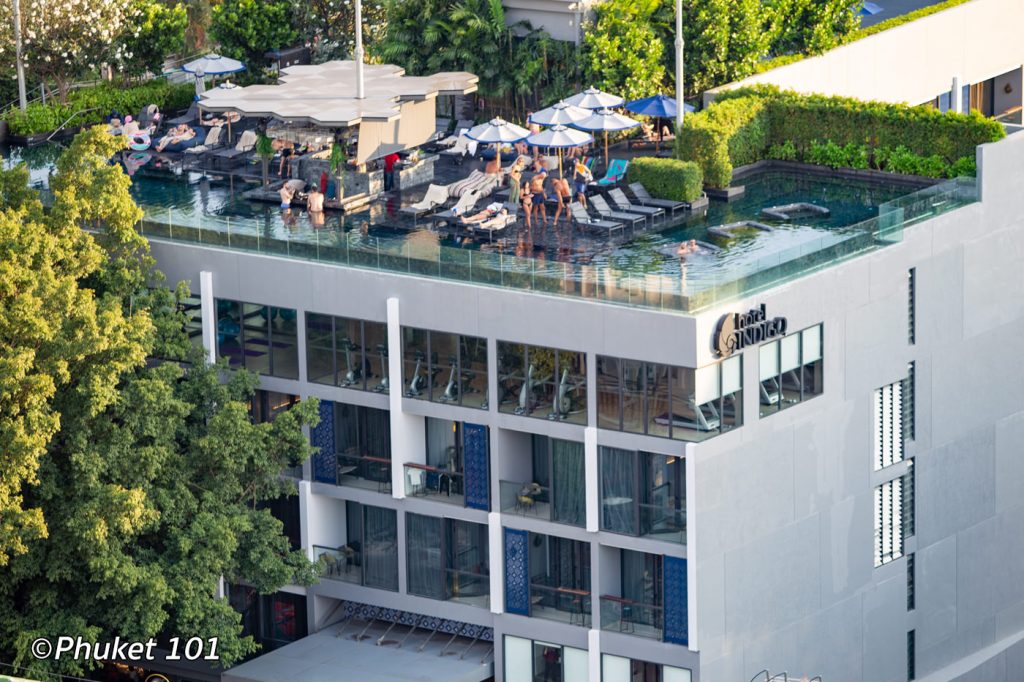 ---
Read more about hotels in Patong ►
---
Is Patong Beach Safe?
Patong Beach is very safe, considering the massive amount of tourists visiting it every year. Of course, just like in any city, there are a few incidents and occasional tourist scams, but if you use your common sense, you will never feel threatened or worried, even very late at night. Patong beach is very much alive until 4 am, and finding a tuk-tuk to go back to your hotel is always easy, and it's a lot safer than driving your motorbike if you have a couple of drinks!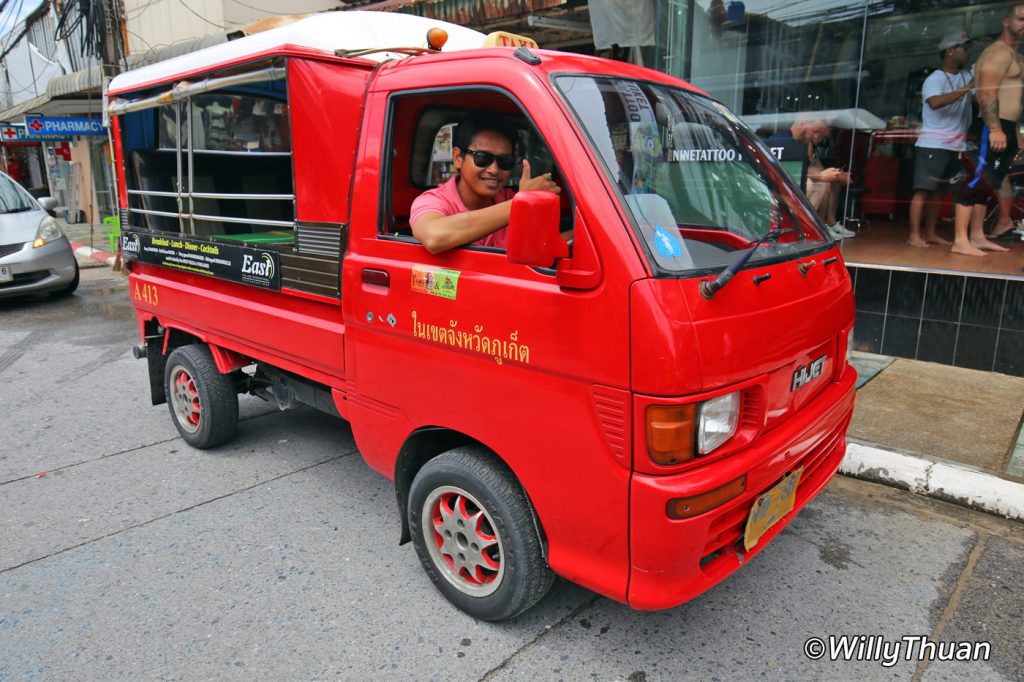 More Patong Photos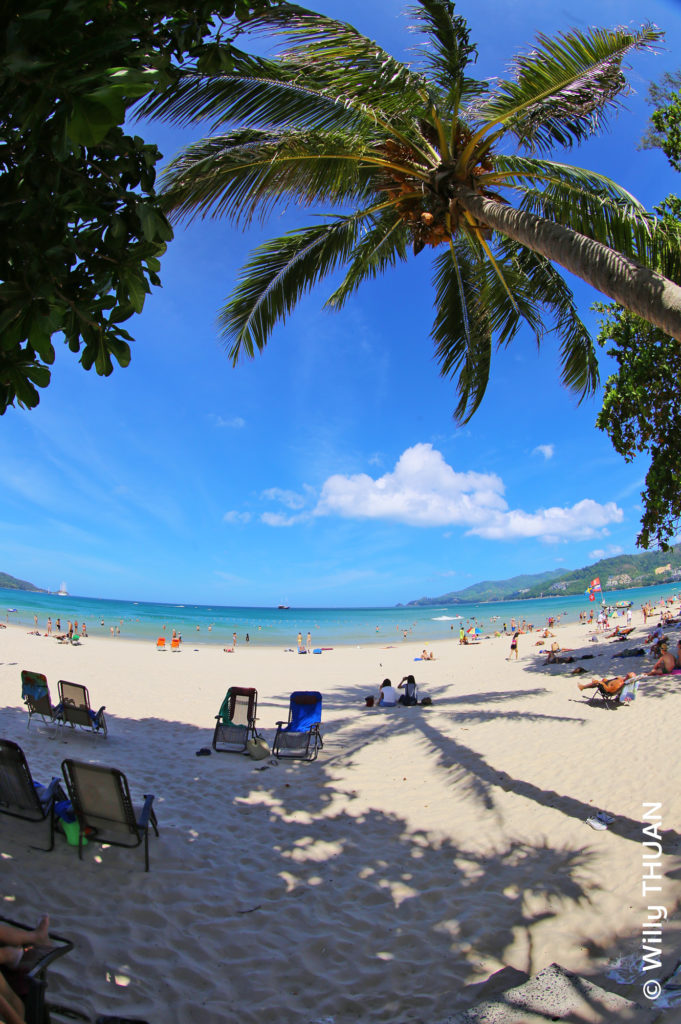 ---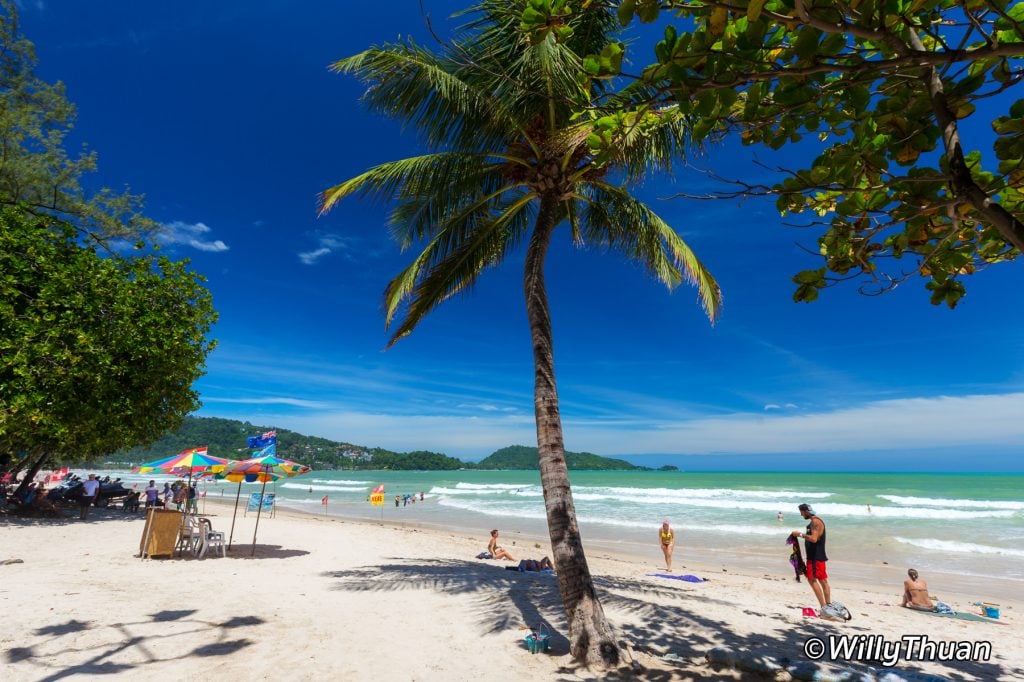 How to get to Patong Beach?
You can easily go to Patong Beach by bus, tuk-tuk, taxi or self-driving:
From Phuket Airport to Patong: 37 km
From Phuket Town to Patong: 14 km
From Patong Beach to Kata Beach: 10 km
---
Patong Beach Map
Load this map on your phone ▷ https://goo.gl/maps/7UrRwB8kBdbcgCiX9
---
---
FAQs about Patong Beach
---
More about Patong Beach
27 Best Hotels in Phuket We Tried and Loved
Patong Beach Photo Gallery – Photos of Patong beach