---
Where to enjoy great live bands in Phuket?
---
Live music bars have always been a big draw in Patong Beach and around the island of Phuket. As far as I can remember, for more than 25 years now, bands have been playing old hits more or less accurately. For decades, 'Hotel California' could be heard several times a night anywhere in Patong. It was considered the Phuket nightlife anthem. At the time, the only bands were next to the Banana Disco and at Margaritas, which was since renamed Red Hot. Apart from these two, any bar could have a small group of musicians or just one singer to entertain the guests.
Patong grew faster than a mushroom, and bars with dedicated bands seemed to attract more guests than bars without live bands, so guess what happened: more and more live bands popped up everywhere, and it worked! So what are the most popular music bars in Patong?
---
1. New York Live Music Bar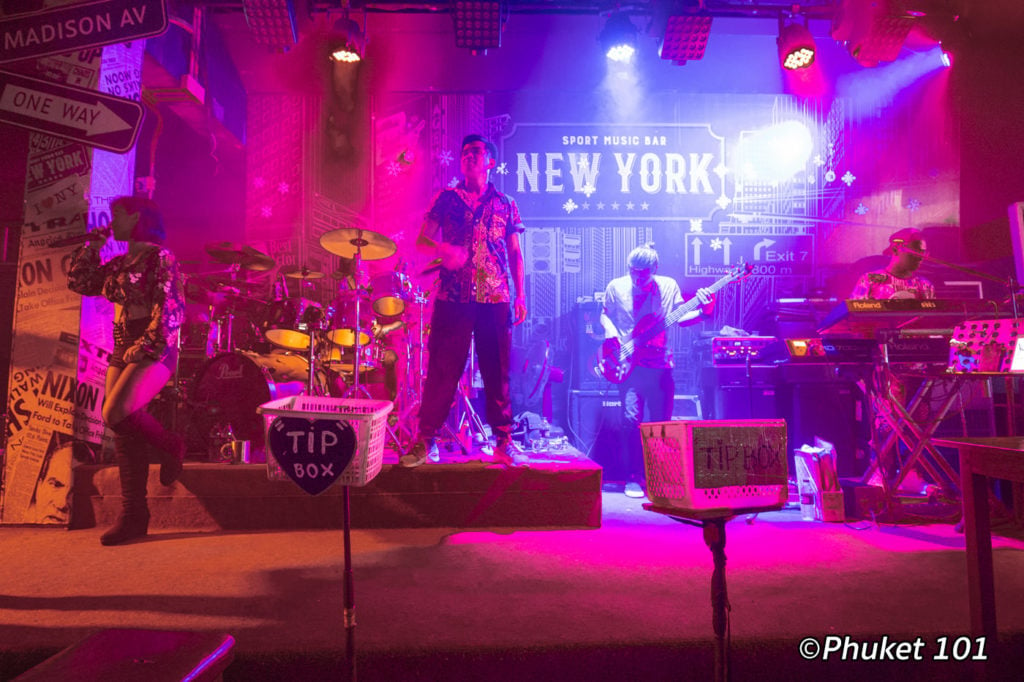 New York Bar on Bangla road is packed every night. The bar is vast and somewhat dark, with an excellent sound system blasting inside and outside on Bangla road, advertising itself naturally. Bands are good and dynamic on stage, mostly playing heavy rock and Hip Hop. New York Bar knows that singing and playing an instrument is not enough to attract a crowd spoiled with such a choice of live bands on the same road, making it one of the best live music bars in Phuket. Air conditioning works so well, even though the place is open at the front, and that also is very inviting during the hottest months of the year.
Location: Patong Beach
Address: 68 Bangla Road, Patong Beach, Phuket 83150
Open: 6:30 pm – 1 am (probably stays open much later)
Phone: 089 217 7799
Phuket 101 receives 250,000 monthly visitors on average (500,000 pageviews/month).
If you wish to advertise on this space or other options available on Phuket 101, just contact us.
2. Rockin' Angels Blues Cafe in Phuket Town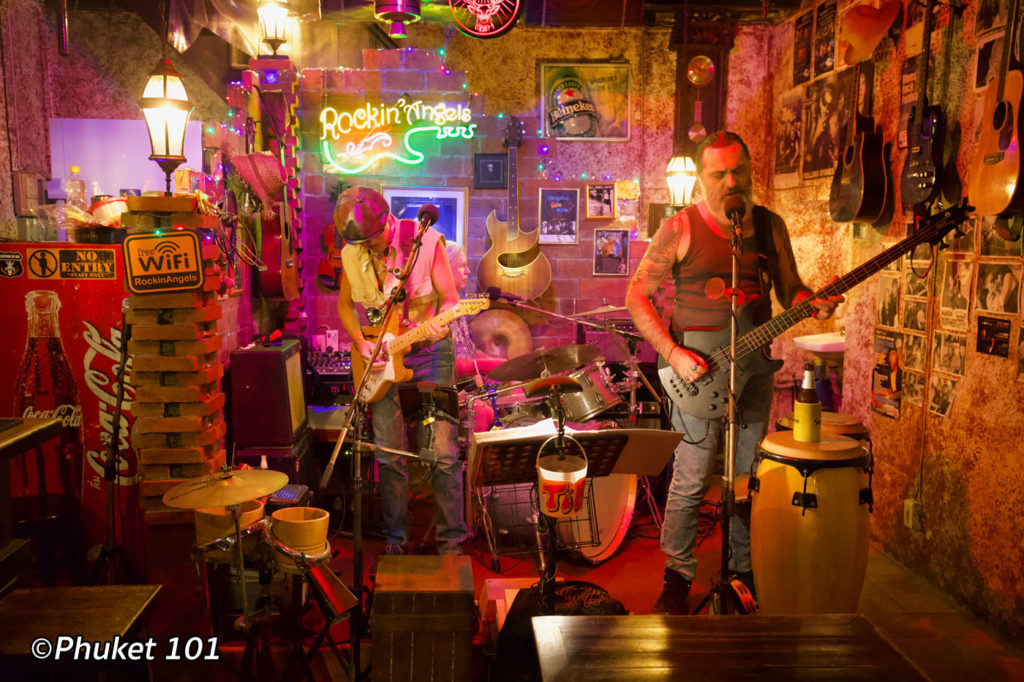 Rockin' Angels Blues Cafe is a long-established music bar on Yaowarat Road in old Phuket town. The bar is small, with an American eclectic vintage decor creating a warm and welcoming atmosphere. The music is essentially classic Rock and Blues from the 60s, 70s and 80s, performed by up 3 excellent musicians (guitar, bass and drums) depending on the evening. Expect to hear AC/DC, Jimi Hendrix, Creedence Clearwater Revival, Rolling Stones, The Beatles, Steppenwolf, Eric Clapton, Chuck Berry, Pink Floyd, etc. You can tell that the band play with passion and real soul, and Friday nights are the best day to get there, starting from 9 pm.
Location: Phuket Town
Address: 55 Yaowarat Rd, T. Taladyai, A. Muang, Phuket 83000
Open: 6 pm – 12 am (band plays from 9 pm)
Phone: 089 654 9654
The bright red facade of Molly's Tavern Irish Pub is easy to spot on the beach road of Patong Beach. With such a name, you know what you will find inside: ales, old posters, dark wood, many screens showing sports events and good comfort food (think bangers and mashed 350 baht). All this is already good, but the live band really adds the final element to your night out. They are really good, singing a great music selection.
Location: Patong Beach
Address: 94/1 Thawewong Rd, Pa Tong, Kathu District, Phuket 83150
Hours: 2 pm – 11 pm (live music starts at 8.30)
Phone: 086 911 6194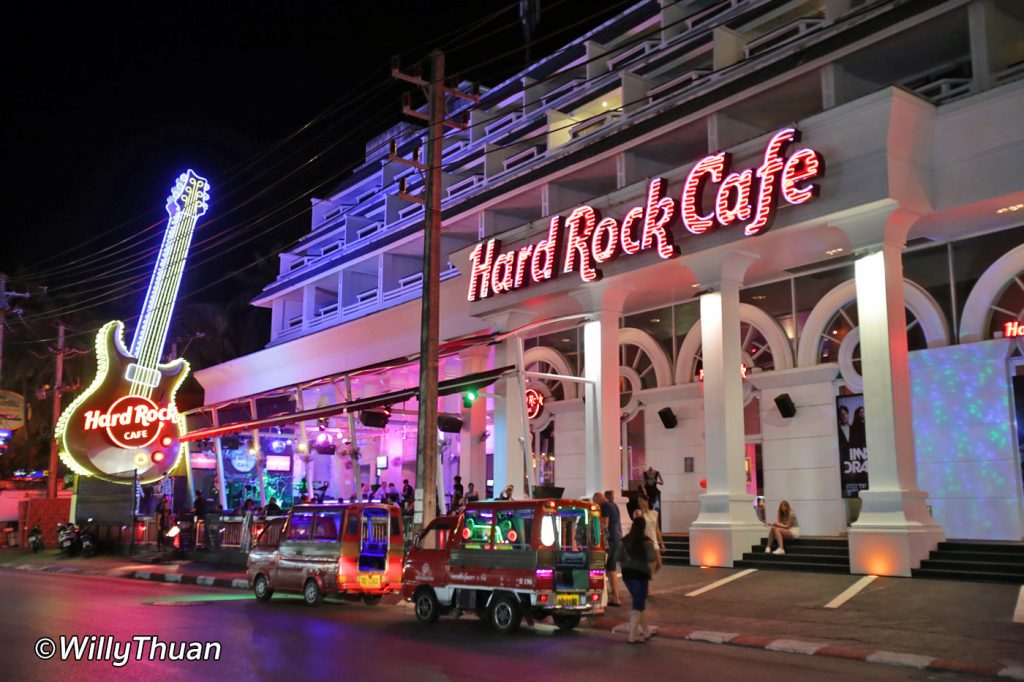 Hard Rock Cafe does need to be introduced: as you drive by, the giant guitar speaks for itself. The bands are really good, and the music is on the rock side, as you can expect it to be. Prices are higher than in other bars, but that's expected for an international franchise. You can also enjoy an excellent Tex Mex menu to go with your entertainment, and of course, buy their legendary 'Hard Rock Cafe Phuket' T-Shirt!
Hard Rock Cafe is located next to Holiday Inn Phuket, just across the street from OTOP market, so if you happen to stay in this part of Patong, this might be your spot. Read more.
Location: Patong Beach
Address: 48/1 Ruamchai Rd, Patong Beach, Phuket (in Swissotel Resort Patong)
Open: 9 am – 2 am
Phone: 076 366 381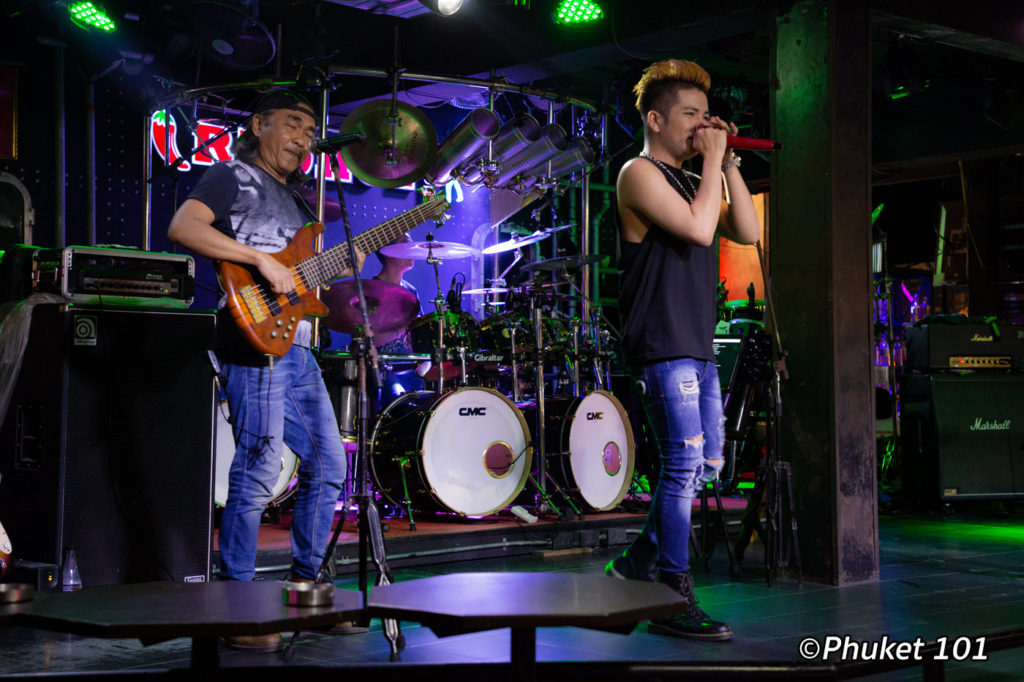 Red Hot benefits from a strategic location at the intersection of Bangla road and Ratuthit road, almost opposite the well-known Jungceylon shopping mall. Red Hot was the most popular live band bar when it was called 'Margaritas'. It is still busy, but the trend has changed in favour of the above bars. The addition of pole dancing seems to indicate that the focus is shifting, so let's see if it is for the better. Read more
Location: Patong Beach (near Jungceylon)
Address: Rat Uthit 200 Years Road, 83150 Patong
Phone: 076 340 519
Open 11:30 am – 3 am
Live Music Bars Map
---
You may also like