Phuket Town Coolest Cafés
Phuket cafés and coffee shops keep popping up (and closing) all around Phuket Town, mostly around the old streets of Thalang, Yaowarat and Dibuk. In recent years Phuket town has become a trendy tourist attraction and a fun photo playground, and as photographers and models seem to need frequent coffee breaks, cafés just appeared by magic. With so many people wandering the streets in the sun (or the rain) all day, there was a market to grab.
The young generation of Thai knew what to do, and one thing many of them have in common is that 'old vintage' look made of a bric-à-brac of colourful faux-old decoration. It doesn't matter: people love them! In other countries, they might have called them 'Bars', but 'Cafés' was a lot more appealing, even though the main coffee shops listed below are bars. They do serve cakes or meals, and they are an excellent addition to an exploration day.
Here are a few cafés for you to start with, and we will keep adding them as we visit them.
---
Location: Near Phuket Town
Address: 107/48 Bypass Rd, Village No. 5, Ratsada Road Phuket 83000
Hours: 9:30 am – 6.30 pm
Phone: 099 294 9957
---
2. Coffs & Burgh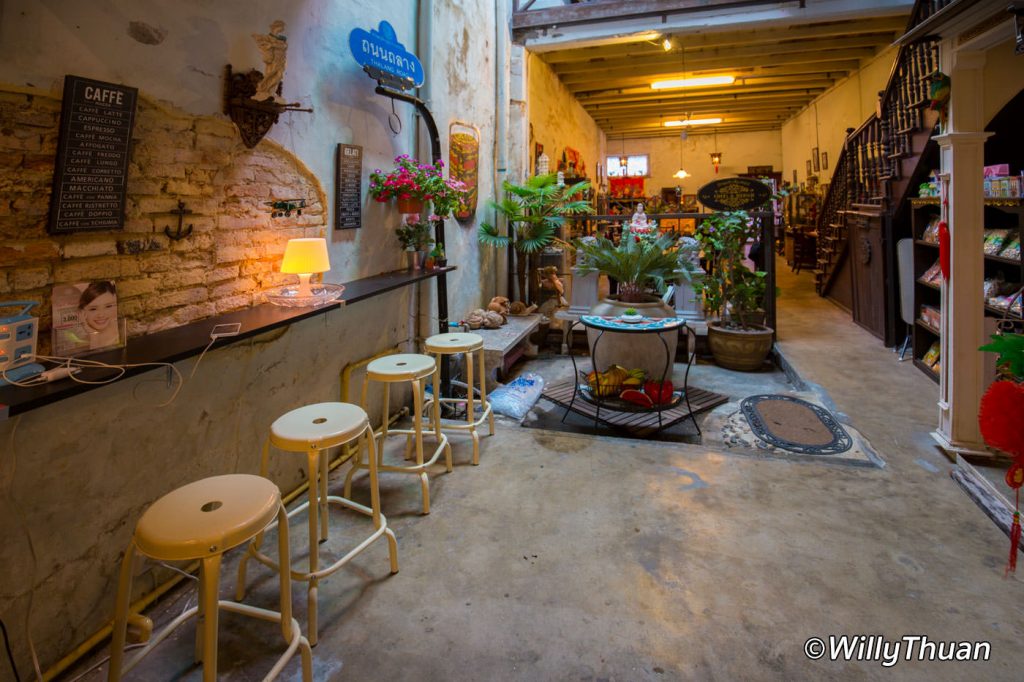 Coffs & Burgh is a beautiful café as well as a souvenir and antique shop found on Thalang Road in the heart of Phuket Town. Cakes and drinks are great to take a well-deserved break from your exploration, but it's also a fun photo opportunity. Coffs & Burghs set some Old Phuket town backdrops especially for visitors to take extra selfies! How smart! And it works.
Coffs & Burgh
Location: Thalang Rd
Open: 11:30 am – 11:30 pm
Phone: 088 658 0002
---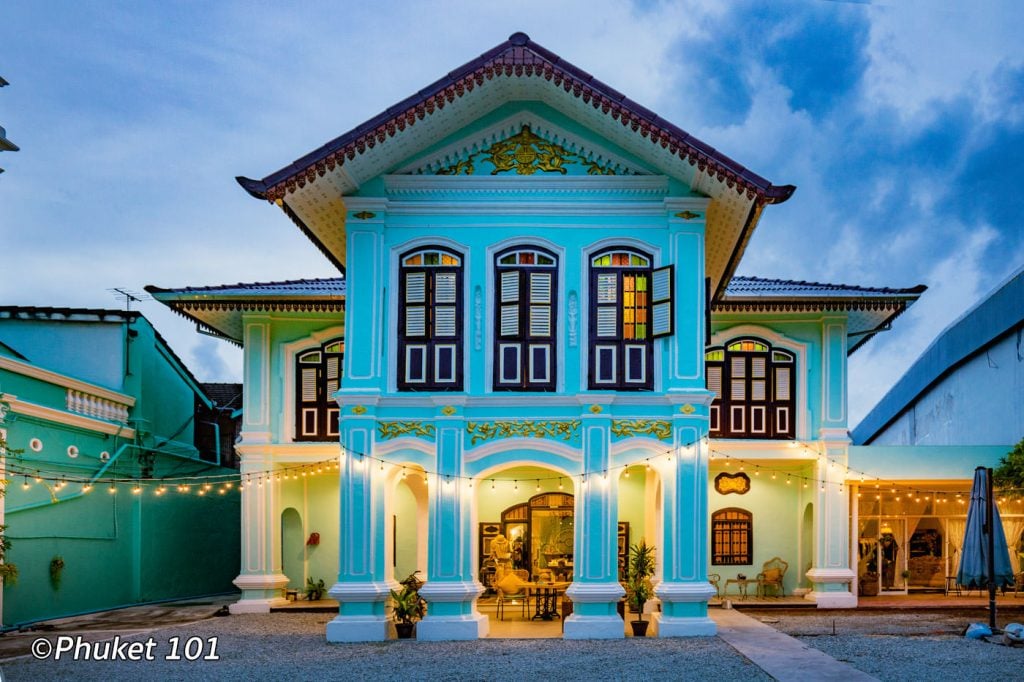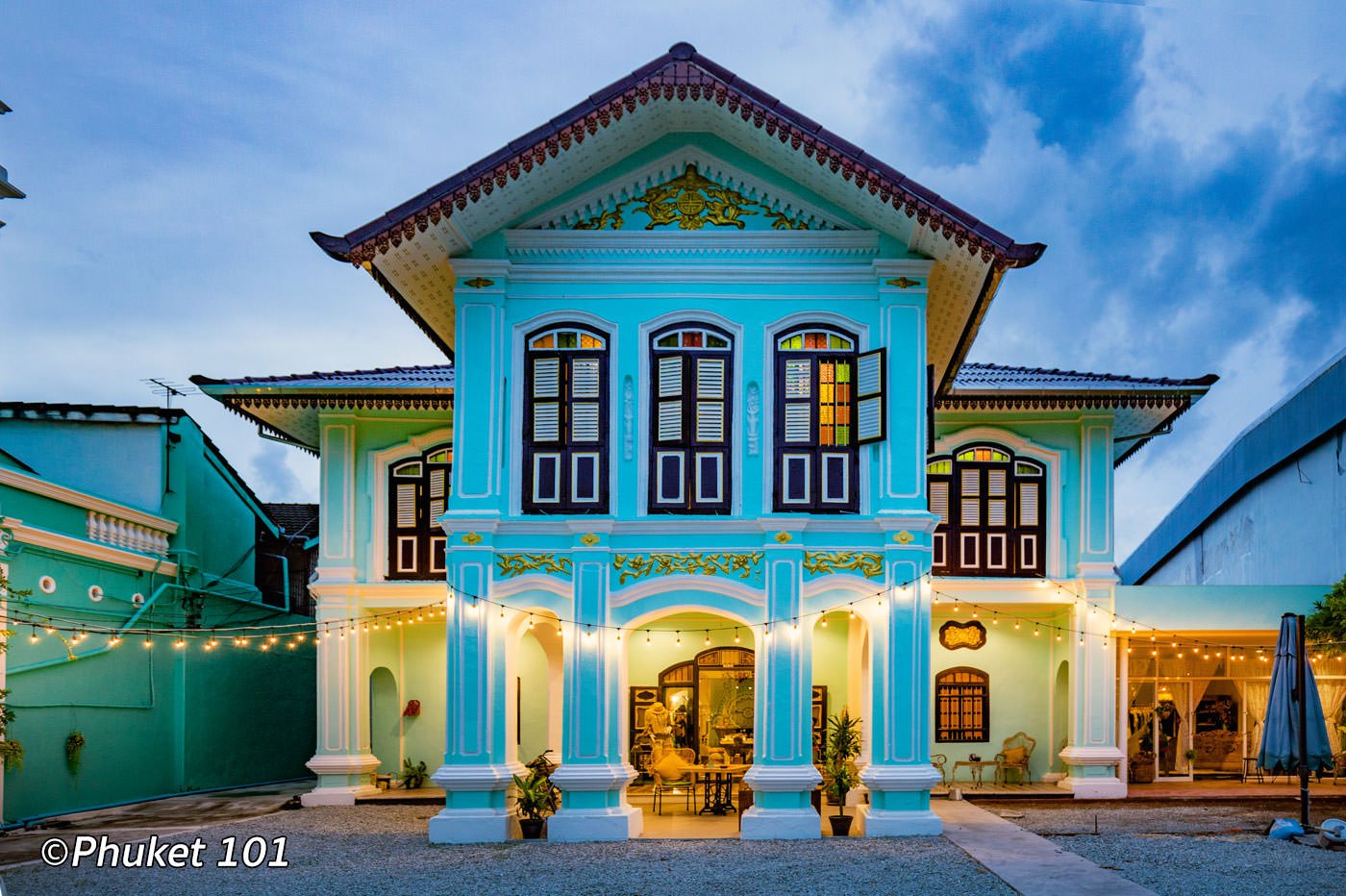 Endless summer is both a coffee shop and a fashion boutique set in a beautiful heritage home, in the heart of Phuket Town. You can enjoy light meals and healthy drinks, browse their beautiful collection of clothes for men, women and children, plus accessories and home decorations. The house is big and so beautifully decorated, that it is worth stopping for a drink and taking advantage of the decor for some amazing Instagram shots! Read more
Endless Summer
Address: 175 Yaowarat Rd, Tambon Talat Nuea, Amphoe Mueang Phuket, Chang Wat Phuket 83000
Open: 10 am – 7 pm
Phone: 099 029 8067
---
4. The Old Phuket Coffee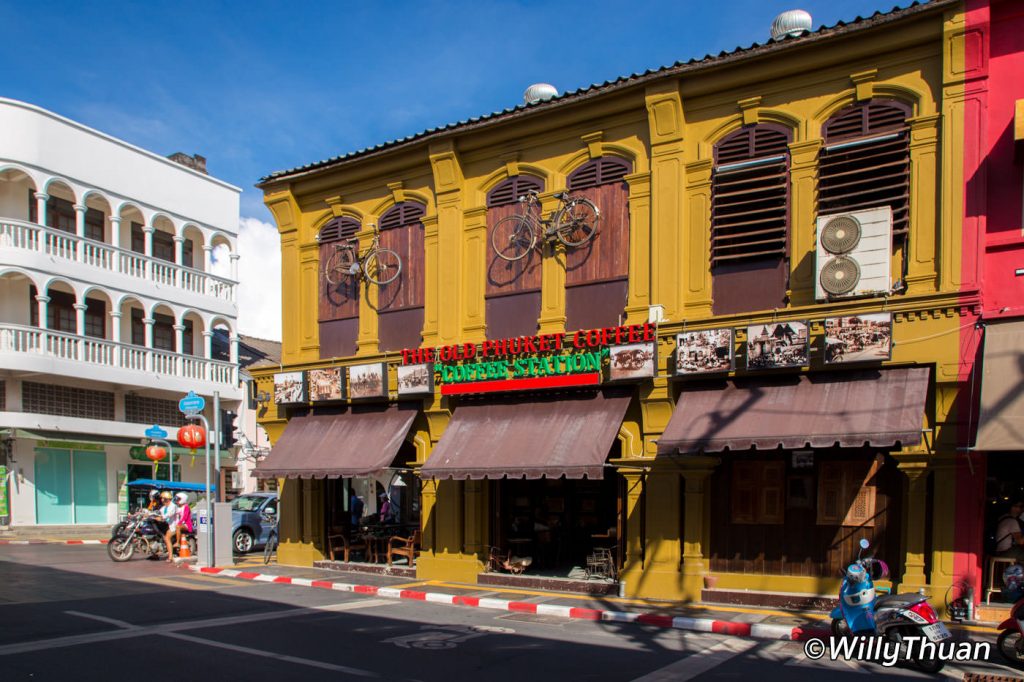 Old Phuket Coffee is one of the most popular bars in the old part of Phuket Town. They were an instant success for two reasons. First, they have a very strategic location at the intersection of Yaowarat Road and Thalang Road. In addition to the golden spot, they did a great deal of effort to decorate the bar in an old Phuket Style. Dark old wood with old radios and miniature Thai houses hanging in the walls. Outside is just as fun with old bicycles in front of the windows. Old motorbikes and photographs from the past make The Old Phuket Coffee an irresistible tourist magnet all day long until late.
The place is particularly busy on Sunday afternoon as it sits at the very beginning of the Phuket Sunday Walking Street Market.
Prices are normal to high for this part of town. They serve a decent choice of Thai food, but unfortunately, it's not Phuket food. A beer will cost you 70 to 90 baht and a soft drink 35 baht. A coconut is 80 baht. Fried rice is 150 baht and a Pad Thai is 120 baht.
The Old Phuket Coffee
Location: 72/1 Yaowarat Rd
Phone: 099 475 6846
[the_ad id="30528″]
---
5. Eleven and Two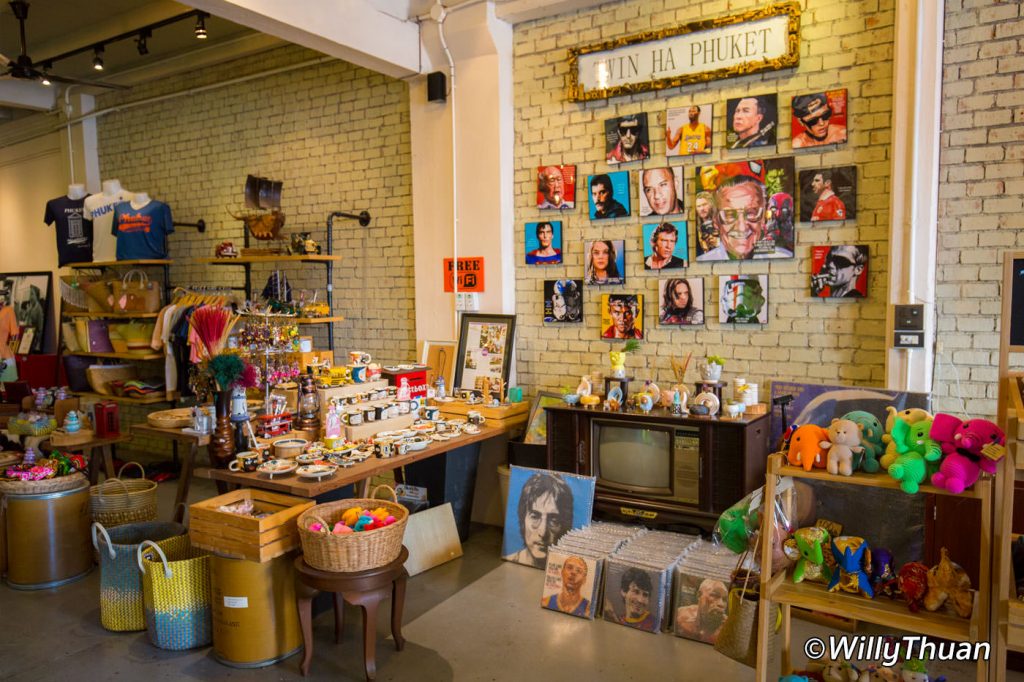 Eleven and Two is another favourite bar on Thalang road. This place has been opened for a couple of years and seems to have found the formula to be inviting. The front of the shop is widely open with a couple of inviting seats on the terrace. Inside, you can browse a bric-à-brac of souvenirs, so people tend to stop and have a look. Once you walked in, why not have a drink, right?
Prices are also a little higher than usual. They also serve some local craft beers Chalawan and Chatri for those who like craft beers. Craft beers seem to be the craze of the moment, but it's not mine. Chalawan starts fruity and turns bitter on the second sip. Eleven and Two also have aircon room, much welcome during the hottest months, usually April and May.
Eleven and Two
Location: Talat Yai, Phuket Town
Open: 10 am – 10 pm
Phone: 076 354 424
---
6. Feelsion Café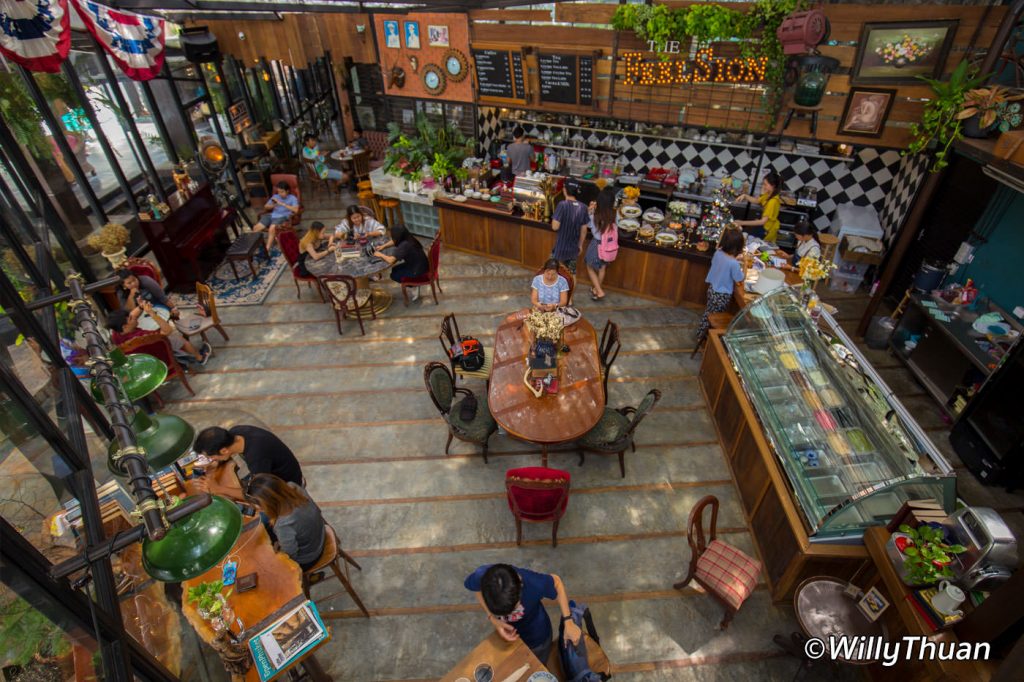 Feelsion Cafe (not Feelston as some try to call it) is a beautiful and unusual coffee and cake shop found in a tiny alley near Sapan Hin, quite far from the historic streets of Phuket town. Full of vintage items including a skeleton pointing at the toilets and an electric chair (don't think it was a real one, hopefully), Feelsion has an industrial mining look. Made of high windows, Feelsion is bright and surprisingly large with several rooms. It seems to be a popular place with the upper class of Phuket.
Location: 445/1 Phuket Road (opposite immigration office) on the way to Sapan Hin
Open: 10.30 am – 8 pm
Phone: 083 181 9845
---
7. Rose Espresso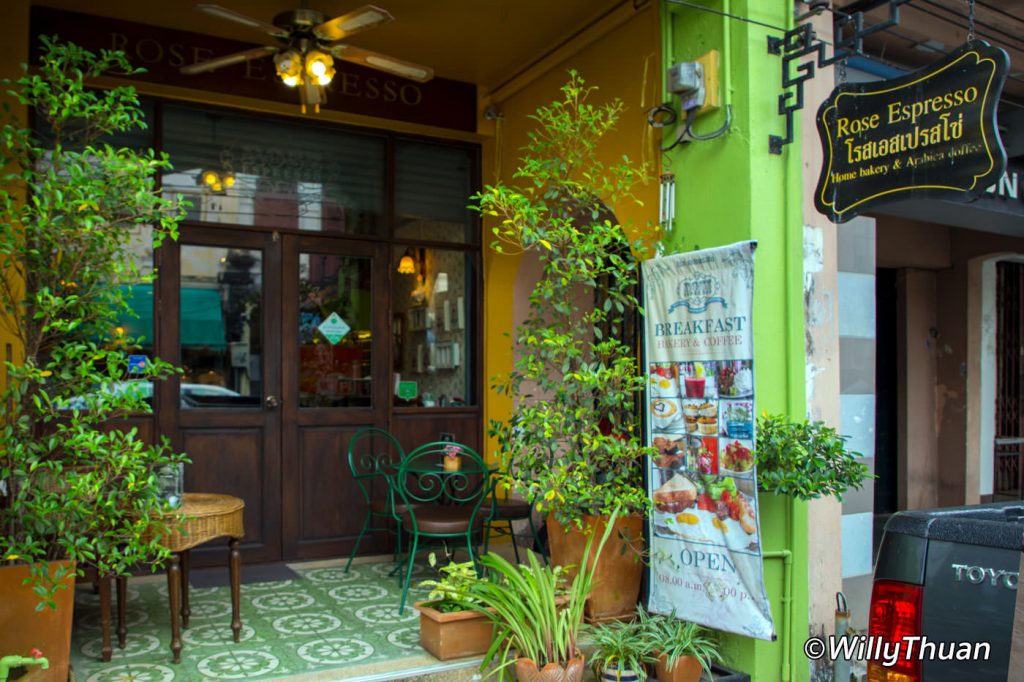 Rose Espresso is another tiny café located just opposite on the Thai Hua Museum on Dibuk road. The coffee shop serves some beautiful cakes, waffles and other sweets. You can get an excellent all-day breakfast too, including egg Benedict! Its cute vintage design with lots of flowers is what catches most people attention. Famous for its espresso of course but also its tea and smoothies. Don't miss the cheesecakes and pancakes. It's tiny, so we hope there is a seat left for you.
Rose Espresso
Location: 13 Krabi Road, Phuket Town
Open: · 8 am – 6 pm
Phone: 080 534 4964
---
8. Gaolad Café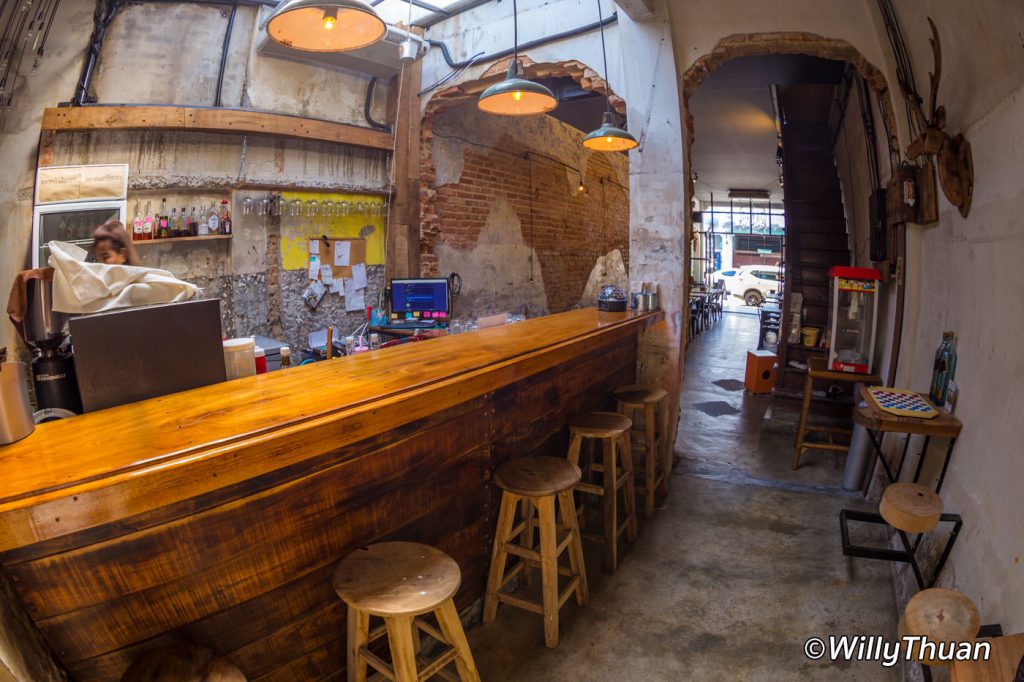 A cool little place found just outside the historic streets of Phuket town. Nee team good coffee and good casual Thai food. The design is mostly 'faux run-down', the way young people like it in this part of Phuket Town. Their most popular dish is the Crying Tiger, a Thai beef sirloin steak served with spicy sauce and grilled chicken. For the classics, you can always order a good old Pad Thai. The atmosphere is easy-going, maybe a bit slow, and they play jazz music in the background.
Gaolad Café
Location: 80 Yaowarat Road, Phuket Town
Open: 10:00 am – 00:00 am
Phone: 087 009 0280
---
9. Cafe' In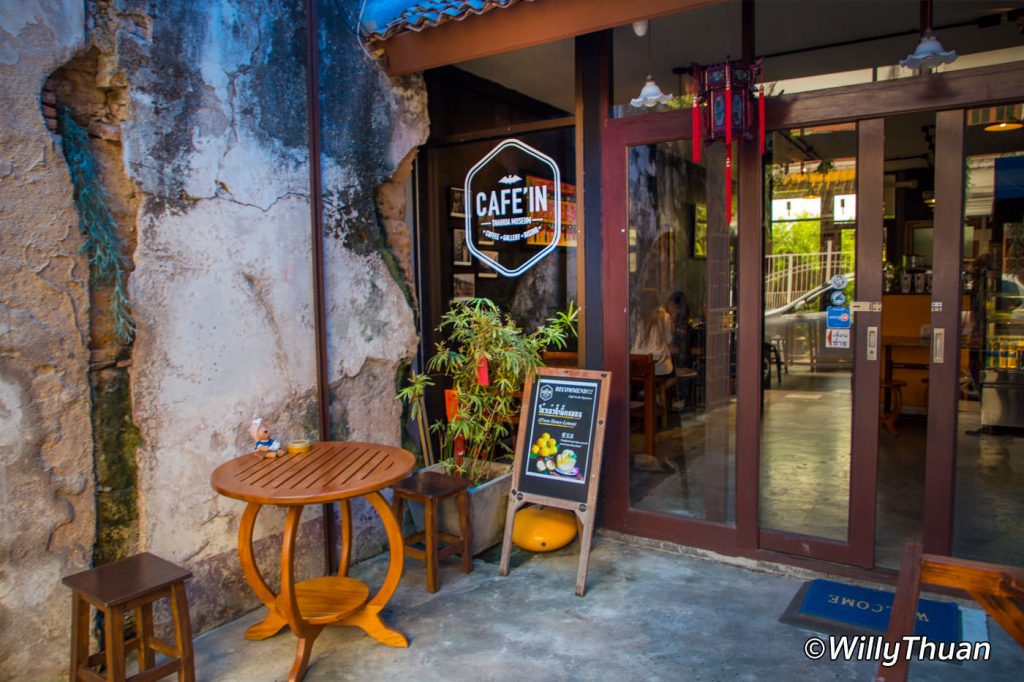 Cafe'In
Cafe'In is probably one of the smallest cafés in Phuket town, located just in front of the Thai Hua Museum. They are famous for their Thai milk tea and mango crepes but also their locally made jelly in honey syrup with fresh lemon desserts, a popular treat among locals.
Location: Talat Nuea (at Thai Hua Museum)
Open: 9.30 am – 7 pm
Phone: 062 067 5979
---
Cafés outside Phuket Town
---
Roxane Cafe and Restaurant is a new cafe and restaurant on the beachfront road of Patong Beach in Phuket. The location is convenient, and the food is really good, especially considering the large selection of breakfasts!
Location: Patong Beach
Address: 104 Thawewong Rd, Pa Tong, Kathu District, Phuket 83150
Hours: 8 am – 12 am
Phone: 066 042 0979
Facebook: https://web.facebook.com/Roxanephuket/
Coconuts Café is a lovely little bakery and restaurant hidden in a small lane of Chalong, in the south of Phuket Island. The coffee shop is a tiny house on stilts, with a garden surrounded by a vast green natural landscape and immense coconut trees.
Location: Chalong
Address: Chalong, Mueang Phuket District, Phuket 83000
Open: 9 am – 6 pm
Phone: 081 271 0644
---
Phuket Cafés and Coffee Shop Map
---
What's Around?