Exploring Dibuk Road
Dibuk Road is one of the famous old streets of Phuket town you should add to your list while exploring. It's very colourful and easy to find, with plenty of casual cafes, shops and restaurants to enjoy. Dibuk road is parallel and not far from the famous Thalang road, (where you'll find the Sunday Walking Street Market). It stretches for 800 meters, from the old Dibuk Mansion on the west to the old Song Ho Book Shop on the east.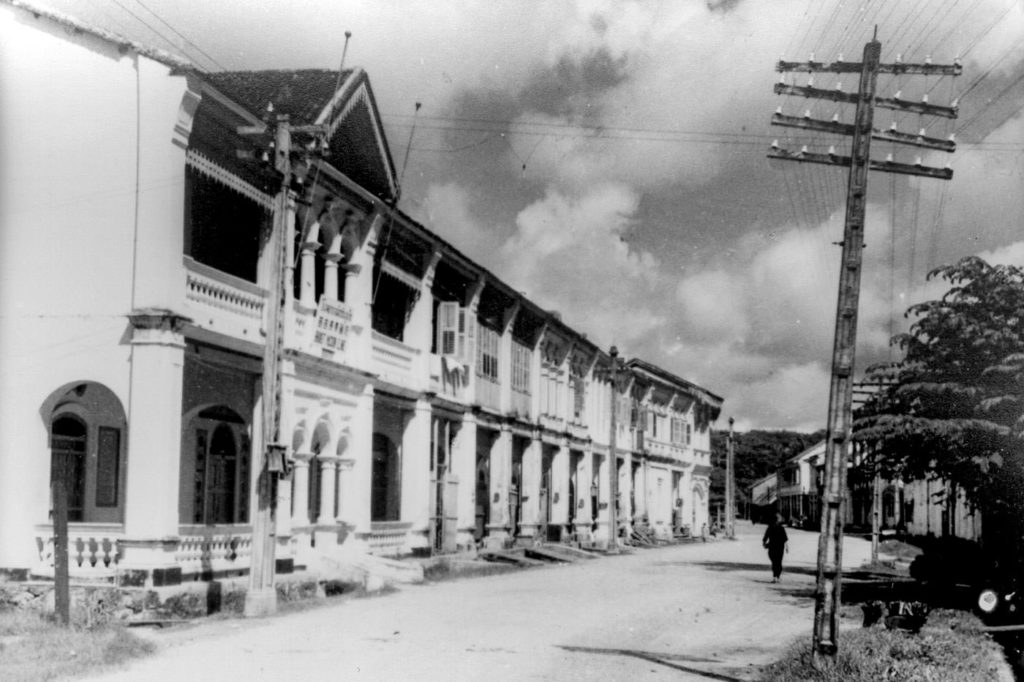 As you explore, you will enjoy old renovated Sino-Portuguese shophouses, cafes, restaurants and local shops. To help your understanding the geography of Dibuk, use the map at the bottom of the page.
---
What to see and do on Dibuk Road
To understand Dibuk road geography, the best is to divide it into 2 parts: west and east, west being the most interesting. To get there coming from Thalang Road, walk down Yaowarat road and turn left. West Dibuk has been beautifully renovated and every shophouse repainted with pasted colours. Most surprisingly (for Thailand) all the electric cables have been buried, creating a unique atmosphere and allowing beautiful photos. This part of the street has many cafes and Thai restaurants, some serving local food the way they have been serving it for several decades.
---
Pink Flamingo Boutique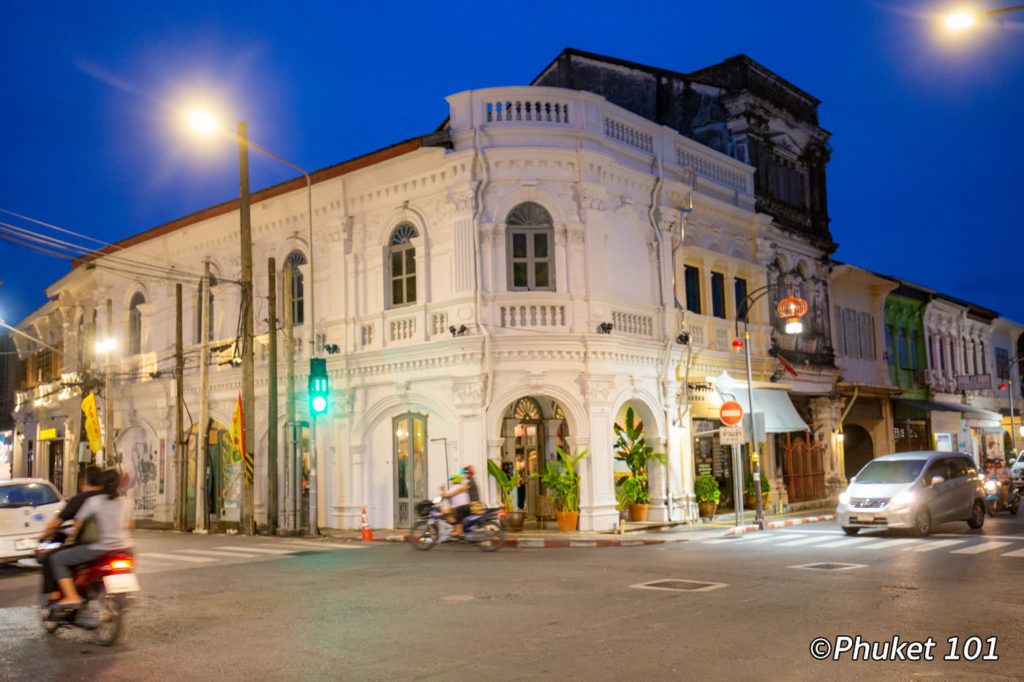 When walking down Yaowarat road, on the right is a beautiful old house that served many functions in the past years, a restaurant, a cafe and later, it became a shop called Pink Flamingo Boutique. The decoration is attractive and of course, frequently serves as a selfie background. We hope people also buy something. Next to it is a Dibuk House whisky bar. It looks quite attractive, but we haven't tried it yet.
---
ChimJae Walking Street (Vanich Walking Street) is worth a mention. It's a new and very long shopping gallery that connects Dibuk Road to Thalang Road. It's easy to miss because the entrance looks like an anonymous shop, but it's not less than 150 meters! Inside, young people sell all kinds of small souvenirs and local food. It's quite fun, especially if it rains (and there is a public toilet inside too!) Read more
---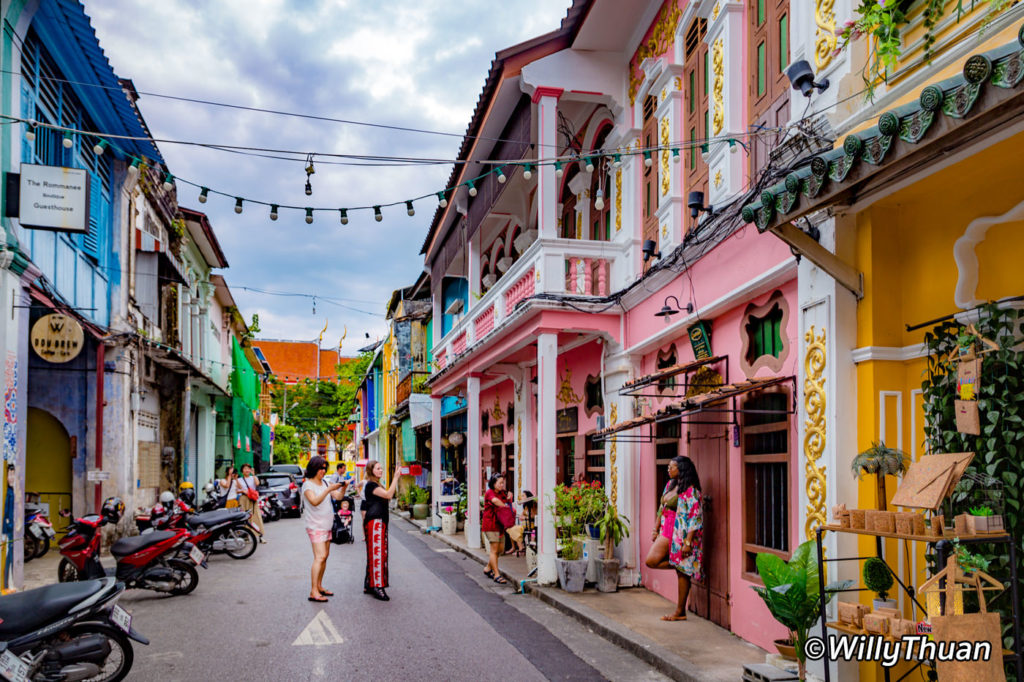 Opposite Wat Mongkol Nimit temple is the entrance of the famous Soi Romanee. This short street is very popular as a selfie playground and it's a convenient shortcut that will take you back to Thalang Road.
---
Luang Amnart Nararak Mansion
Near the end of the street is a beautiful but neglected mansion known as Luang Amnart Nararak Mansion (Dibuk Mansion). Apart from its majestic appearance, its charm comes for the fact that this house was never renovated, a rare sight in Phuket nowadays. However, this mansion is not abandoned and serves as a gas tank company.
---
The Mysterious Green Building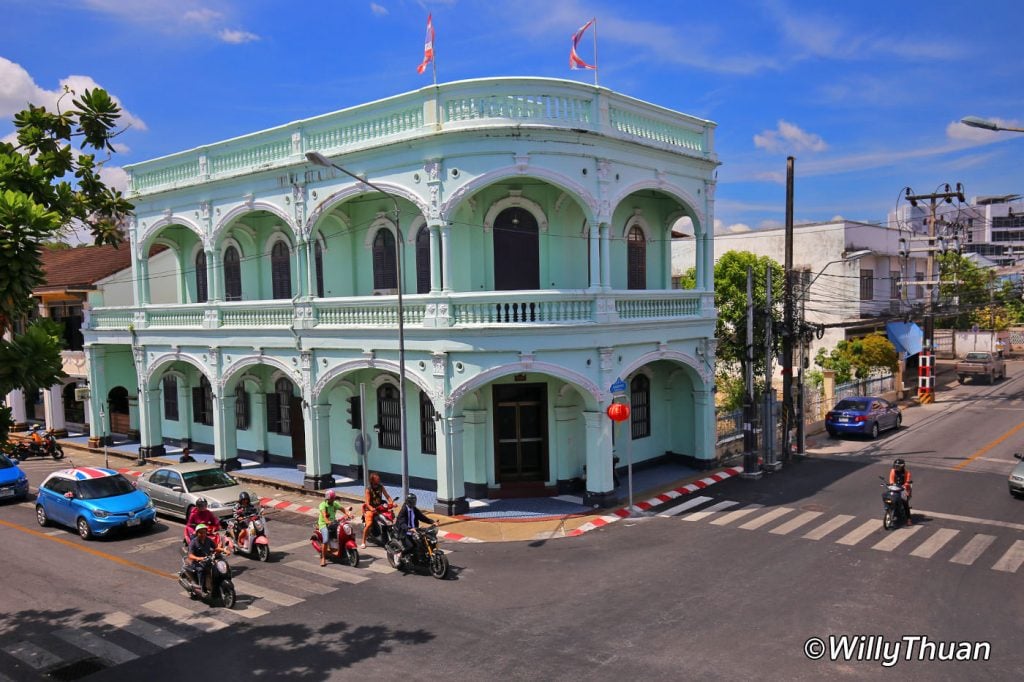 Opposite of Lock Tien food court is an iconic old building repainted in surprising bright green and white colour. It's not to everyone's taste, but at least you can't miss it. Surprisingly, very few people, even among the locals, know what this building is for. Apparently it was originally an office dedicated to tin mining, which would make a lot of sense since tin mining was the main trade of Phuket in the past. It then became a lapidary shop (an artist or artisan who forms stone, minerals, or gemstones into decorative items) and it seems to be a private office now.
---
Thai Hua Hokkien club
---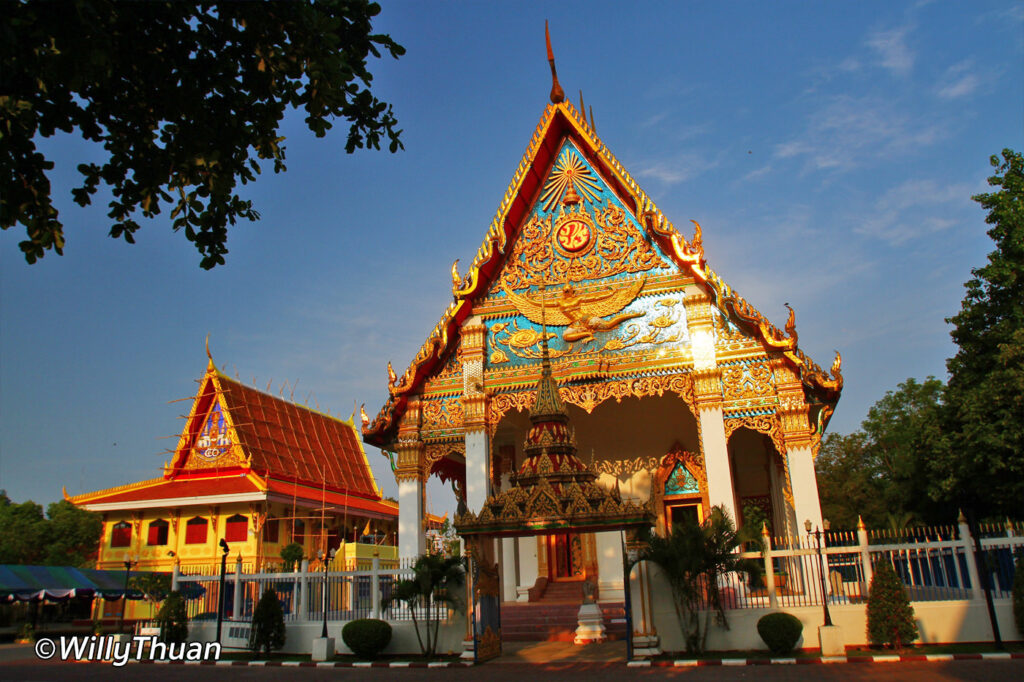 Further down the street is your chance to visit Wat Mongkol Nimit, one of Phuket most significant Thai temple. It is less known than the famous Wat Chalong, but this is where local attend the most important religious events in Phuket Town.
---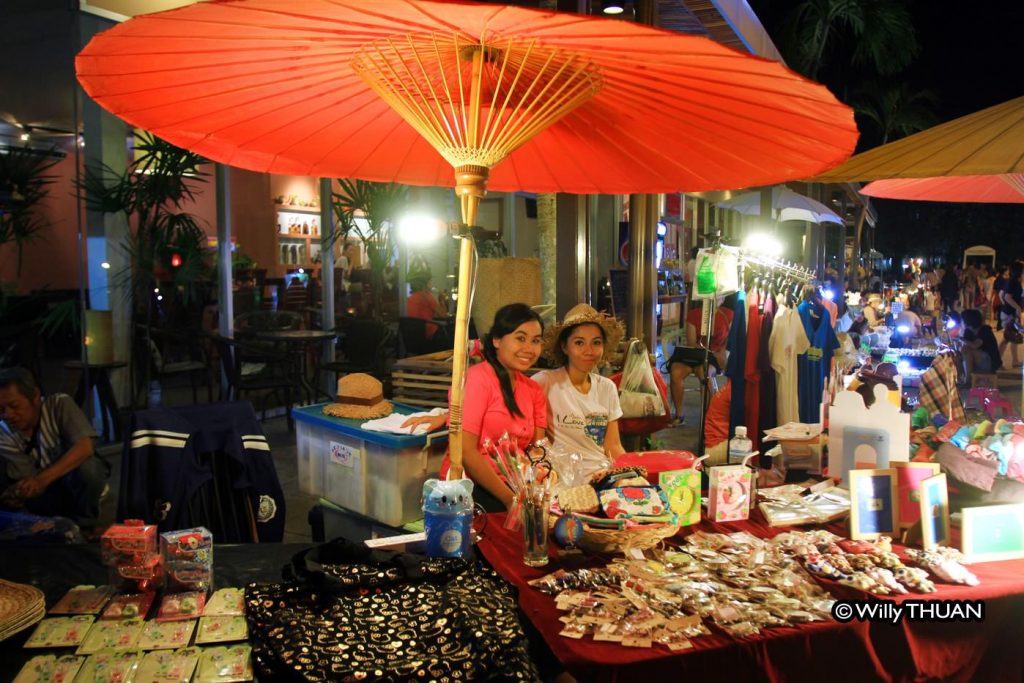 Indy Market next to the small shopping mall can be fun if you are still around on Thursdays to Friday after 5 pm. It's quite modest compared to the nearby Sunday Walking Street Market. Read more
---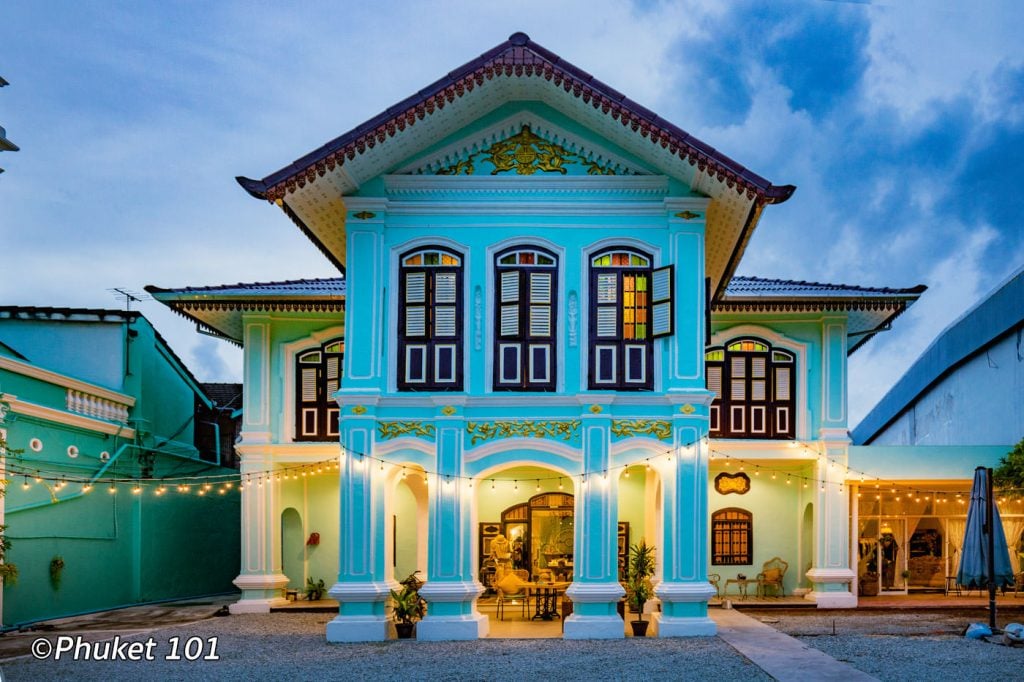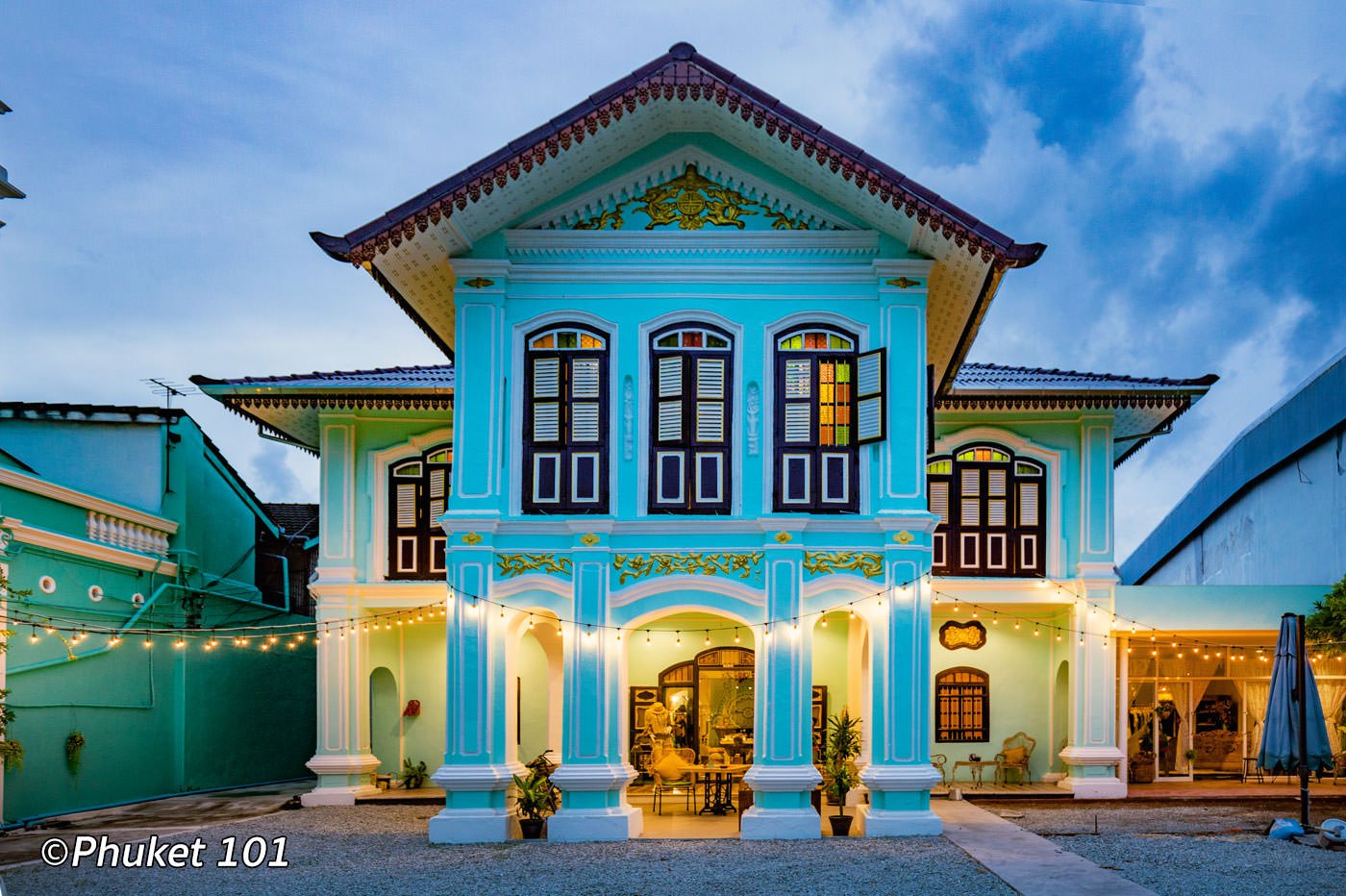 Endless summer boutique and coffee shop is not exactly on Dibuk, but it's so beautiful, it is worth mentioning, and stopping by. Read more
---
Where to Eat on Dibuk Road
The street is home to many restaurants, each with its own atmosphere. Dibuk Restaurant, opened for 20 years and serving an eclectic mix of French and Thai food in a small local shophouse. As you walk up and down Dibuk road, you will find several boutiques and coffee shops and small hostels. Phuket town is really a coffee shop heaven, it seems that a new one opens every month!
---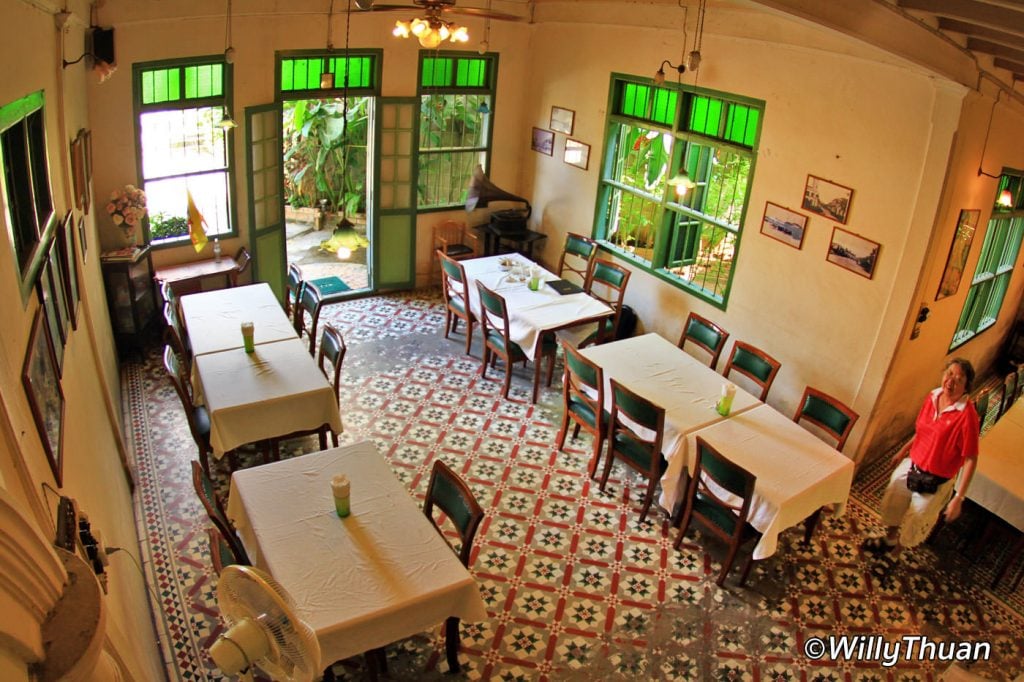 Raya Restaurant is a famous ancient mansion serving great Thai food for several decades. Read More
---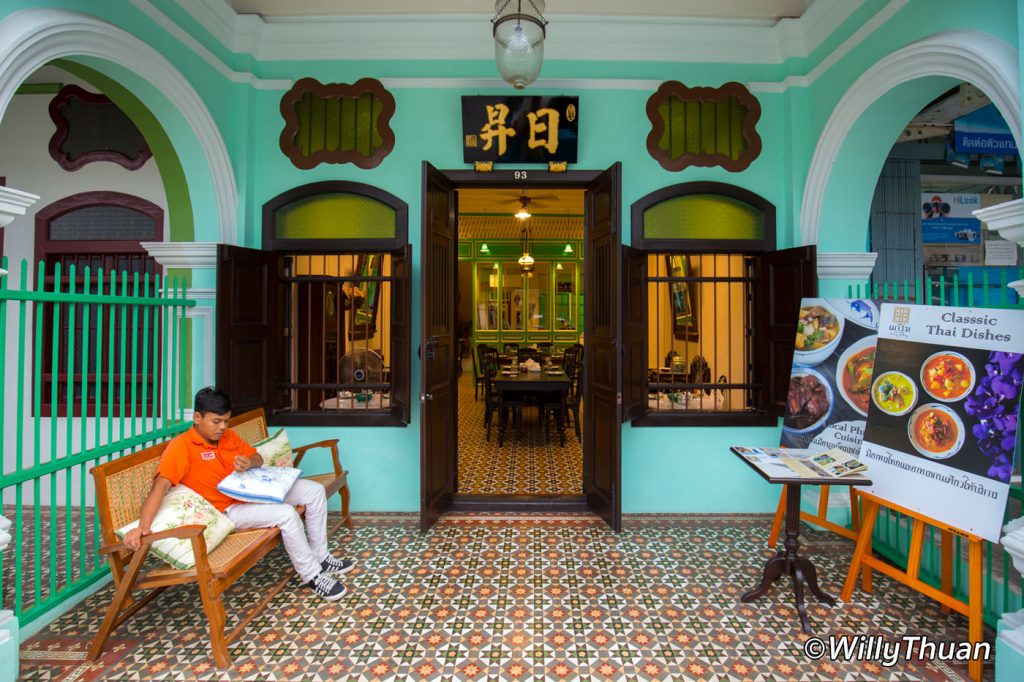 Further down the street is The Charm Phuket, a recently opened restaurant serving an authentic Phuket food in a Thai home atmosphere. The food is excellent, and the feeling of being invited to someone local is quite unique. Read more
---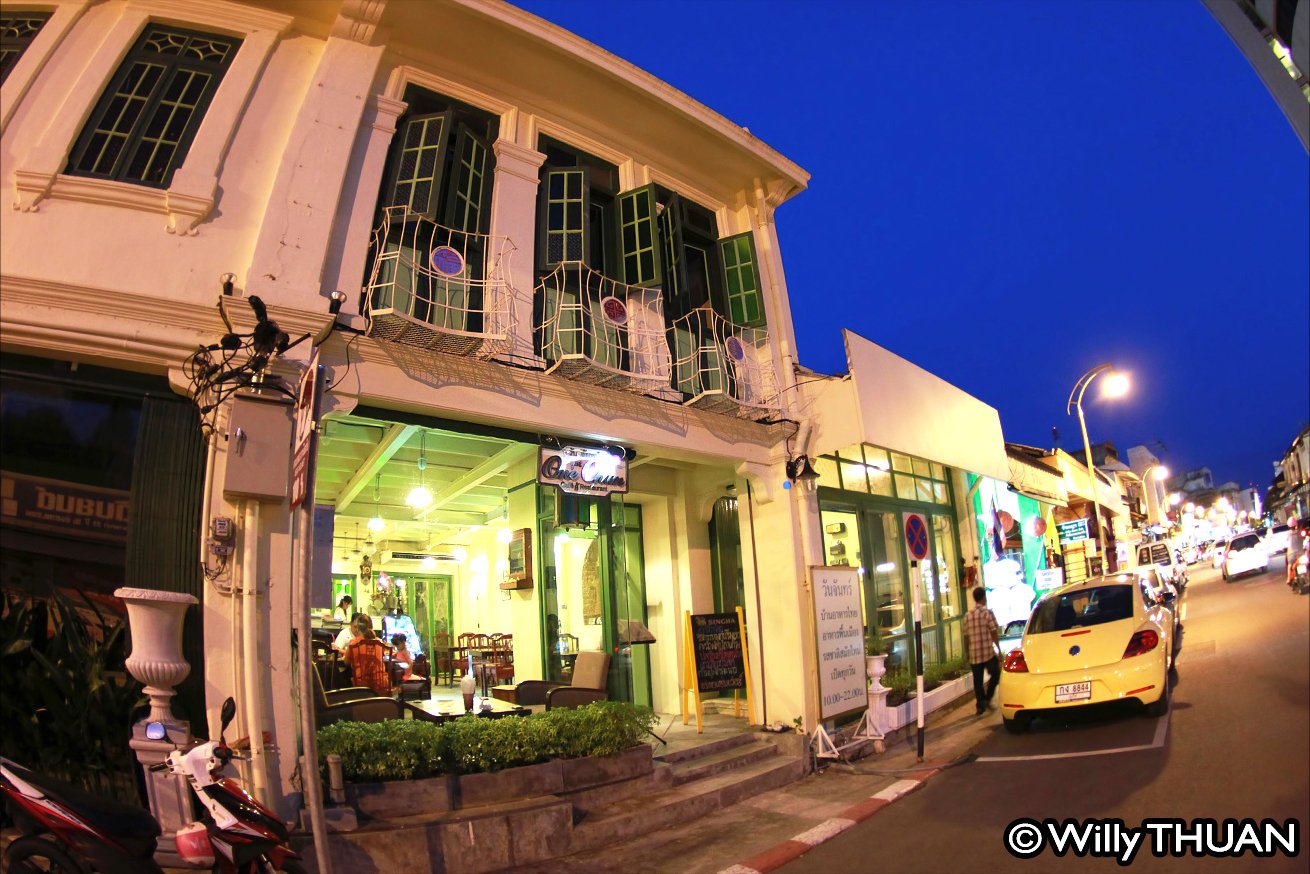 Walking further will not add much to your photo collection but 2 restaurants and a night market make it worth the effort. One Chun, an excellent local Thai food that received a Michelin mention. Read more
---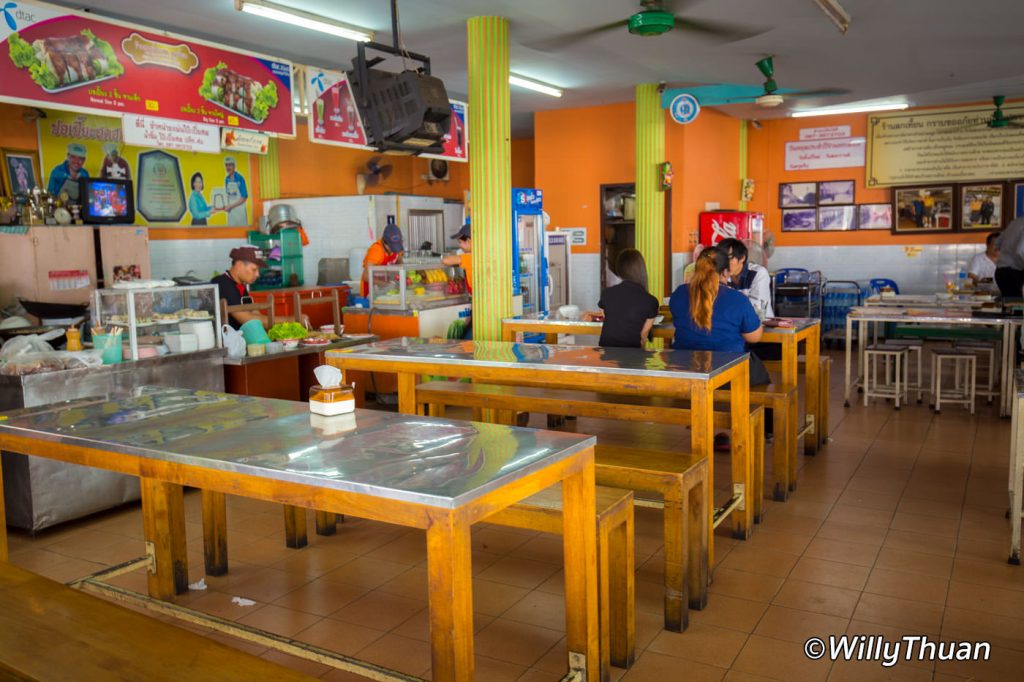 The most significant landmarks include the Lock Tien Foodcourt, which has been renovated a few years ago but still retains an old-fashion atmosphere. Lock Tien still serves a lot of local specialities at a very low price. It's a good stop for lunch if you are exploring the old street and want to experience local food on a budget. Read more
---
Mirror Mirror Restaurant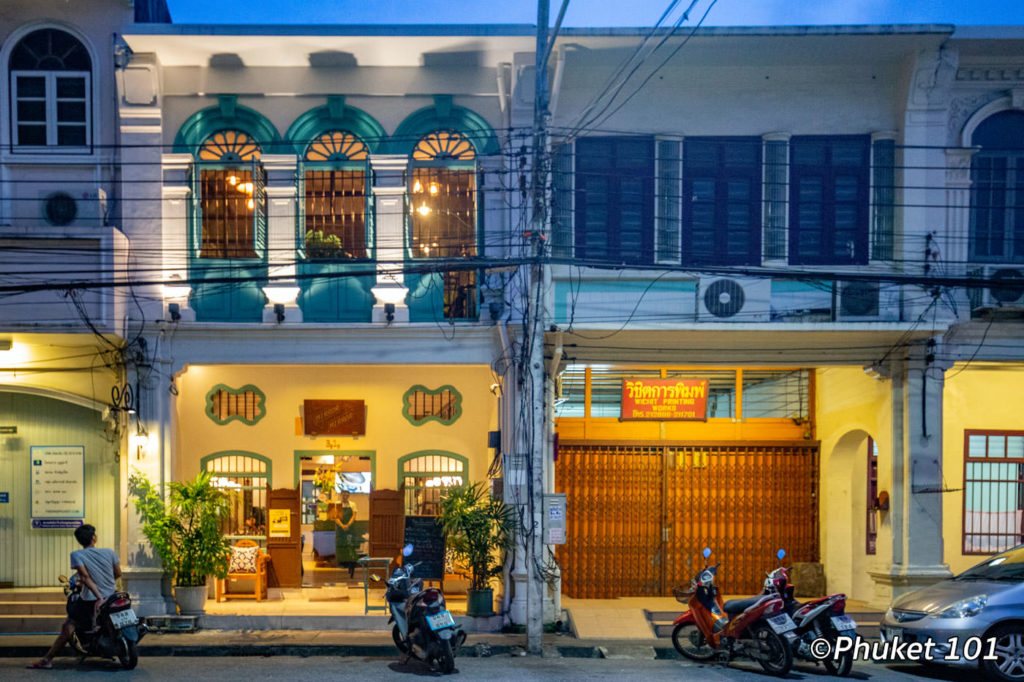 Passed the ChimJae Walking Street (Vanich Walking Street), Mirror Mirror is another popular fancy restaurant serving European food in a cosy shophouse. The price is a little high, but it's great for a special dinner.
---
Tantitium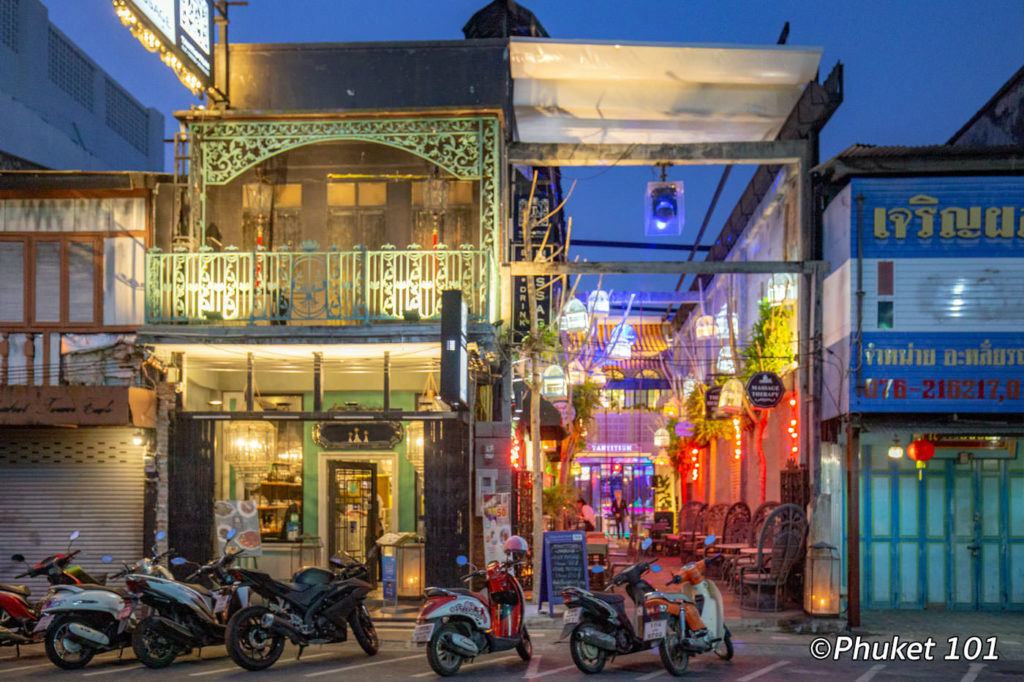 Opposite of Luang Amnart Nararak Mansion is Tantitium, a surprising combination of a high-end restaurant and a spa. The beautiful decoration never fails to catch the eyes of most people walking by, and people often stop for a drink and a lot of selfies! The food is actually quite good, so you have a lot to chose from if you decide to dine on Dibuk road!
---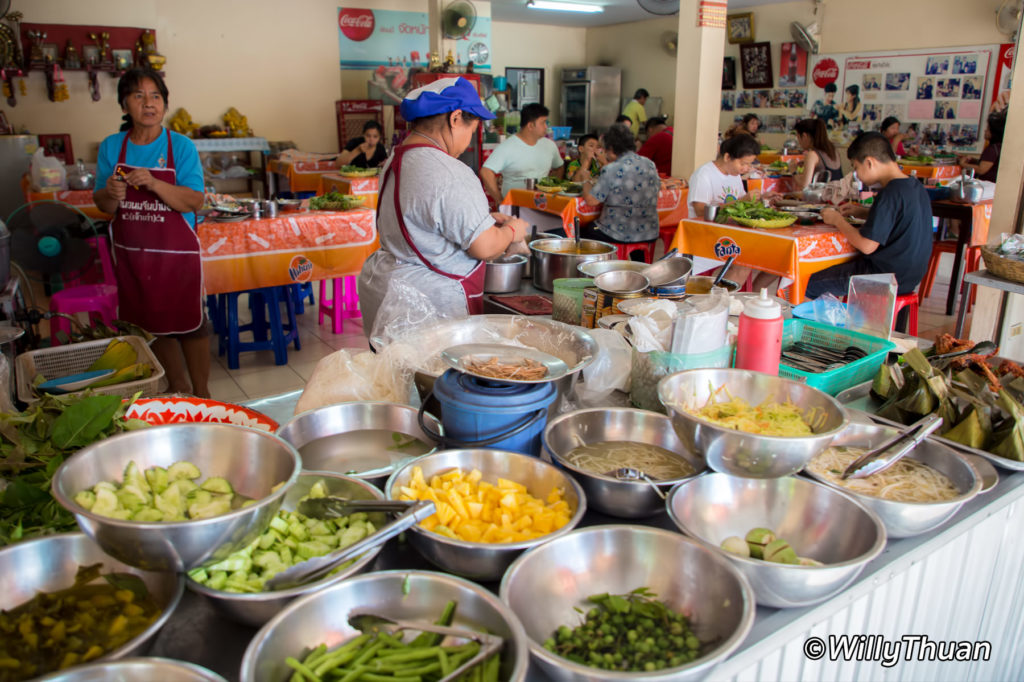 At the end of Dibuk are 2 more restaurants worth mentioning. The first one is Pa Mai, a modest Kanom Jeen restaurant that has been a popular local place for breakfast since forever.
---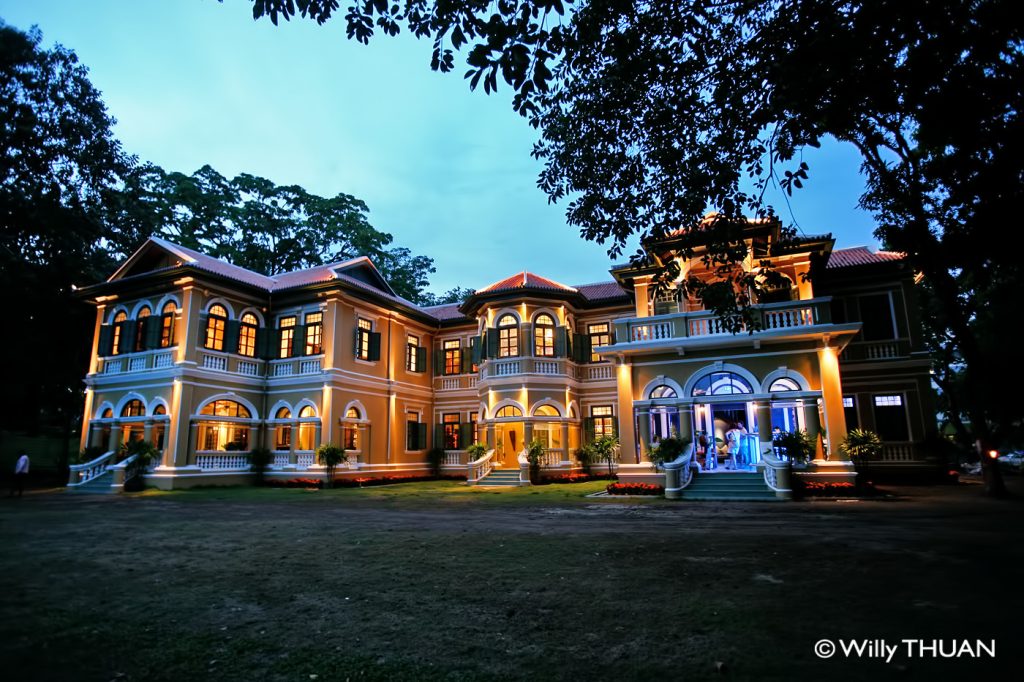 Just behind Pa Mai is the immense and beautiful Blue Elephant Phuket Thai restaurant. Technically it's not on Dibuk but if you reached this T-junction, it's worth stopping for a photo. Read more
---
More Photos of Dibuk Road
See more photos of Phuket Town ►
---
Map of Dibuk Road
---
More nearby streets to explore