Raya Restaurant Phuket
Raya Restaurant received a 'Bib Gourmand' rating from the new Michelin Guide for Phuket. Bib Gourmand means 'friendly establishments that serve good food at moderate prices.'
Raya Restaurant (known as Raya House here) is a unique restaurant combining ingredients that make it unforgettable: great food in an amazing old Thai house kept just the way it has always been, no excessive renovation but clean and well kept. It is simple, unpretentious and feels like being invited to a Thai home for lunch or dinner.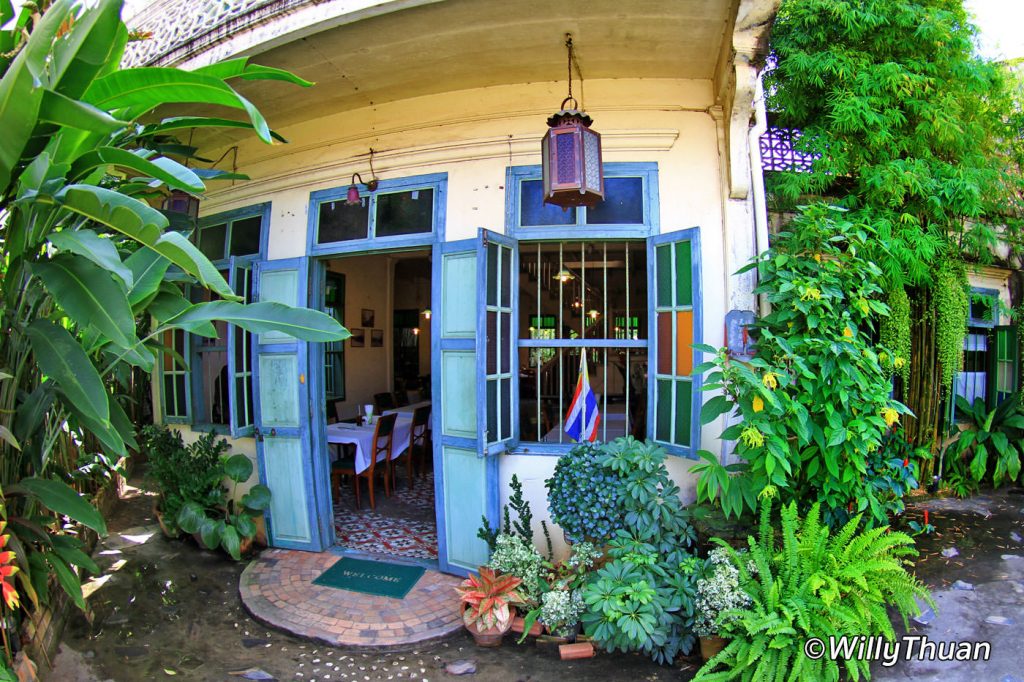 Raya Restaurant on Dibuk Road is mainly run by two sisters and can accommodate quite a lot of guests on two floors. They only use the second level when downstairs is full or for special occasions. A large balcony attached to the room upstairs makes it convenient for small parties. You notice mostly the decorated flooring tiles, typical of these Sino-Portuguese houses, and these have probably seen several generations of feet. The green wooden windows with safety bars and Portuguese stained glass add the right colour to the entire room.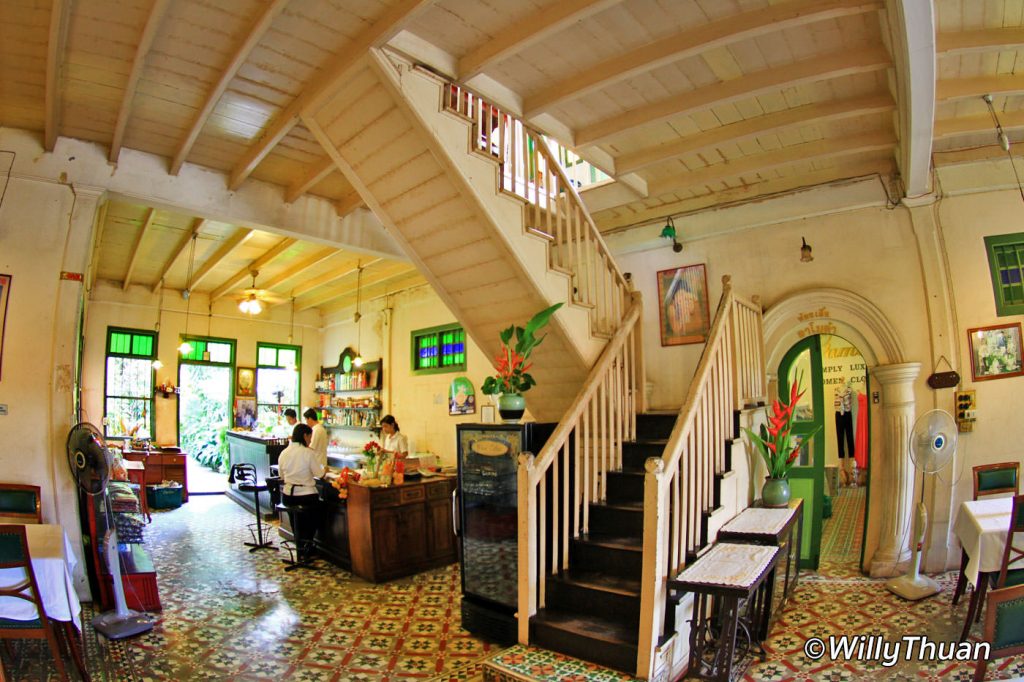 For more than ten years we use to visit Raya house regularly, and the place hasn't changed much. At first, the restaurant was pretty quiet as those old houses were somehow appreciated, but not yet considered 'heritage'. The food was excellent and affordable, and years after years, it got better like good wine. It didn't happen overnight, and they didn't do any visible advertising, but people talked. Slowly the place became well-known across the country, the way a good restaurant becomes famous for what it does best.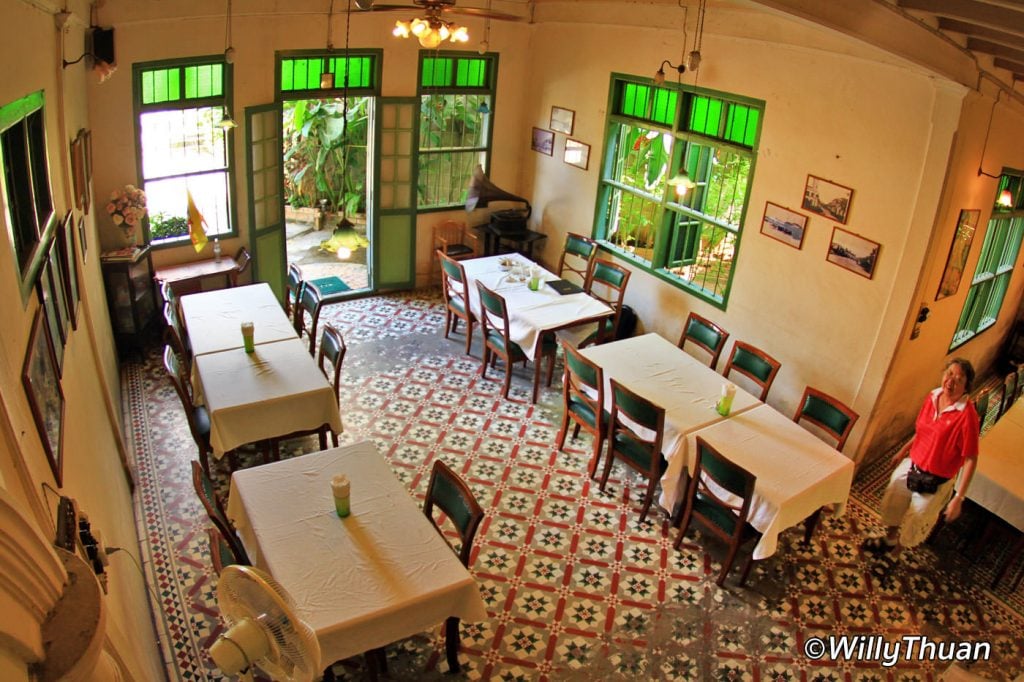 If you go for lunch, you still will get a table of course, and in the evening, you might have to move upstairs unless a member of the royal family has booked the entire place. It is not unusual to see Bangkok celebs coming down here for dinners with their friends. I wouldn't be able to recognise any, but I know when one arrives! First, you'll hear a lot of whispering and giggling; then the photo sessions will start.
Usually, celebs play the game happily, so get in the queue and get one yourself. You might not know who that person is, but you'll have a good story to tell and a proof of it! I also often choose this place for business lunch, and guests are always delighted to experience this treasure.
---
What to Eat at Raya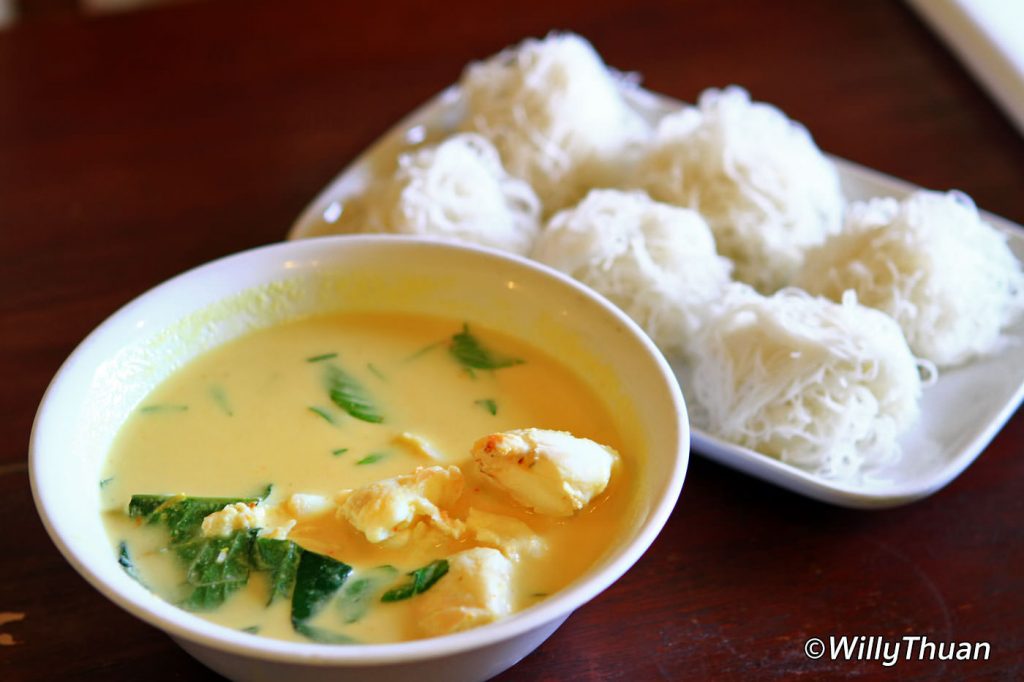 Now about the food of course. Everyone agrees that the creamy crab meat curry with rice noodles (Kanom Jeen) is their best speciality, Steamed pork with rice is great too, but watch out for the calories on this one. Pak Muang and Pak Liang are some nice fried pan veggies with dry shrimps or with pork, then you have to try the Tamarind prawns, a bit sweet to my taste, but many love it. For the rest, you have to pick from their long English menu.
---
Photos of Raya Restaurant
---
Raya Restaurant Location
Location: Phuket Town
Address: 48/1 Dibuk Road, Tambon Talat Yai, Phuket Town, Phuket 83000
Open: 10 am – 10 pm
Phone: 076 218 155
Price: a little expensive
---
Raya Restaurant Map
---
What's Around?
One Chun Restaurant Phuket – A Great Local Restaurant in Phuket Town
Related Pages