A great Thai Restaurant in Phuket Town
Blue Elephant Phuket received a 'Michelin Plate' rating from the Phuket Michelin Guide. A 'Michelin Plate' is a recognition of excellent food.
Blue Elephant Phuket is not a casual Thai restaurant, but at the contrary of what most people think, it is not outrageously expensive (We didn't say cheap though). Blue Elephant Phuket is perfect for a special occasion, a dining experience to share and remember. We wrote about this fantastic old mansion that used to be a governor's house and was abandoned for a long time. Seen from the street, it always had the majesty of a house with a long and mysterious history. The Mansion has been restored to its original grandeur, and you can now drive up the immense garden alley, leave your car under the trees and proudly climb the stairs like a celebrity to enter the famous Blue Elephant.
Dining in a hundred years old governor's house adds a new dimension to the experience. The Blue Elephant is a long-established cooking school from Bangkok and a great place to invite your guests or for a romantic occasion. Take the time to walk around the park with your glass in hand and appreciate the majesty of the Sino-Portuguese architecture, shaded by immense trees that witnessed moments of Phuket fascinating history.
As you explore, it becomes easy to imagine how parties and ceremonies were held within these walls. Then climb the stairs to the second floor and walk through the several large rooms with their dark wooden floors and the many windows so typical of this era. Then, it's dinner time, and you will walk through the 'Blue Elephant Gallery' to the air-conditioned indoor or the outdoor dining area. Service is as impeccable as you expect it to be, restaurant and tables setting are beautiful.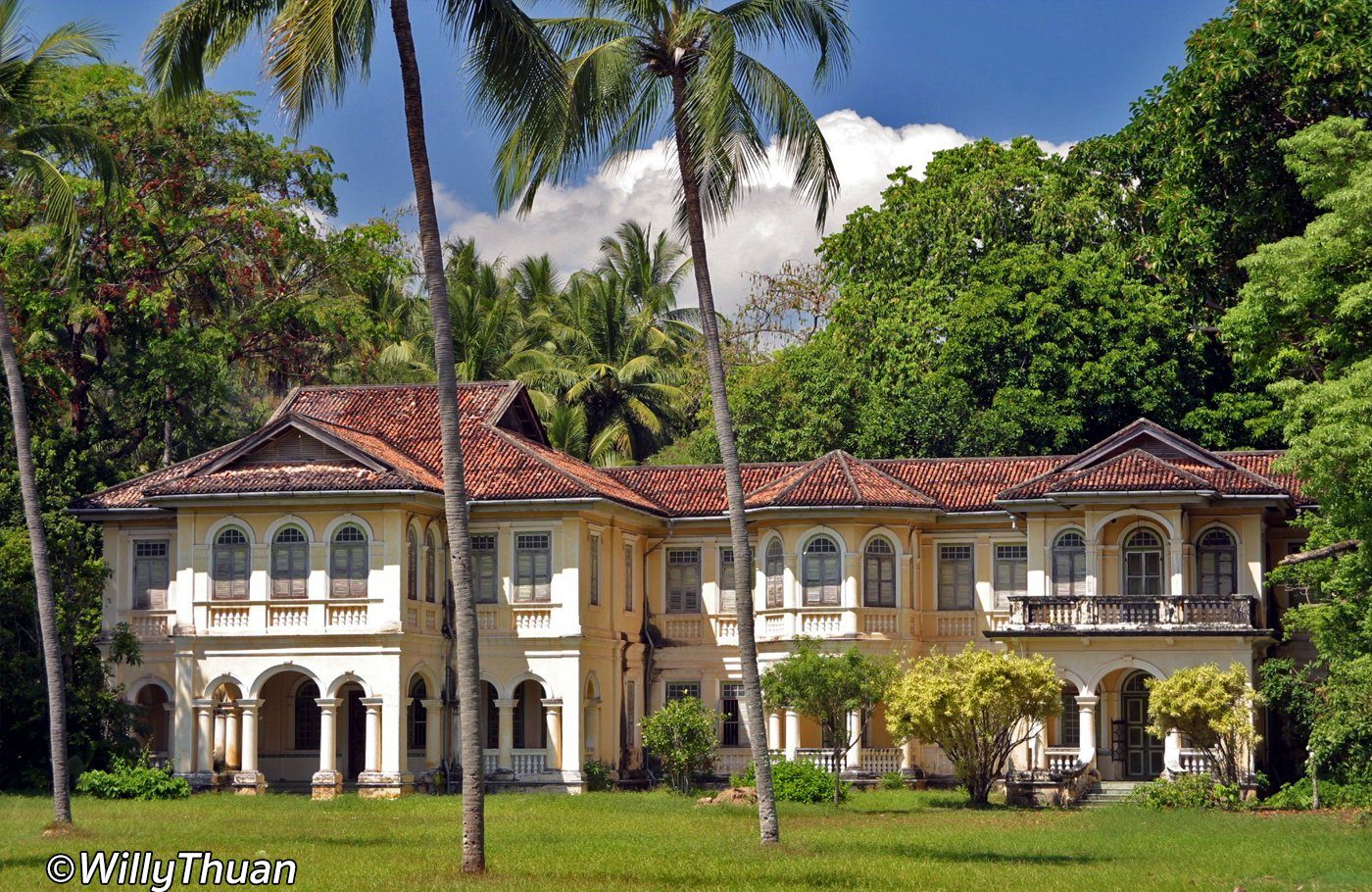 ---
What to Order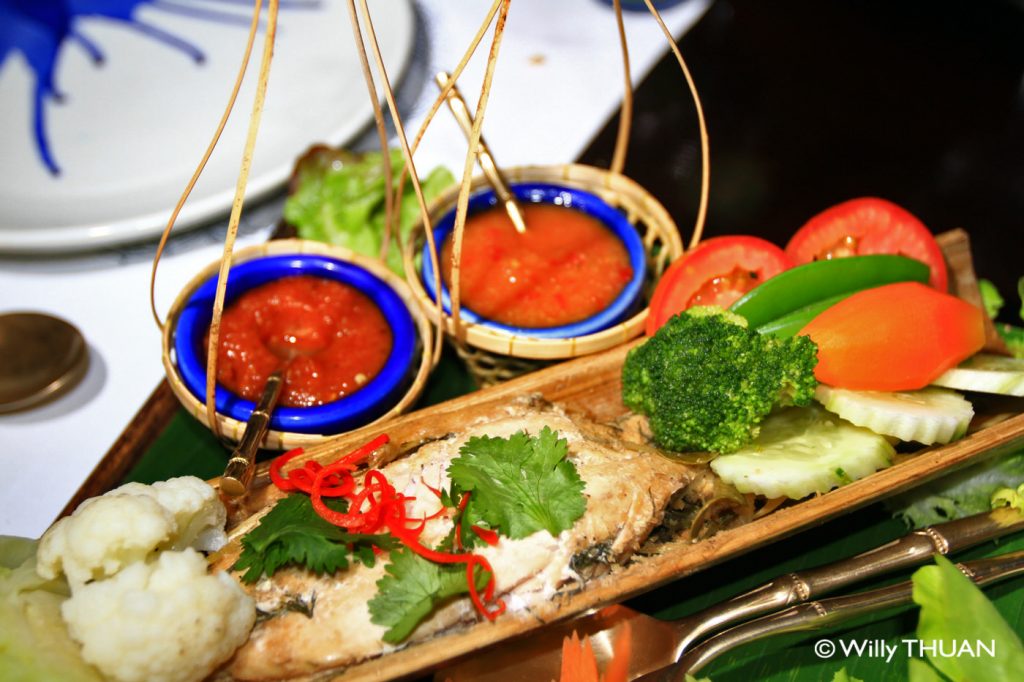 We could give you the full menu, but the list is too vast and original, you need to browse it yourself. To help your culinary experience, Blue Elephant marked the recommended dishes on the menu with Red Elephants. We are always tempted by the most unusual dishes on the menu because what would be the point of ordering dishes you could eat in any restaurant. Even though it certainly would be different, names like 'Buffalo Satays' and 'Steamed fish in Bamboo' never fail to trigger our curiosity. The Lamb Curry Massaman and Duck Massaman were also great. None of the dishes we tried on three occasions was spicy.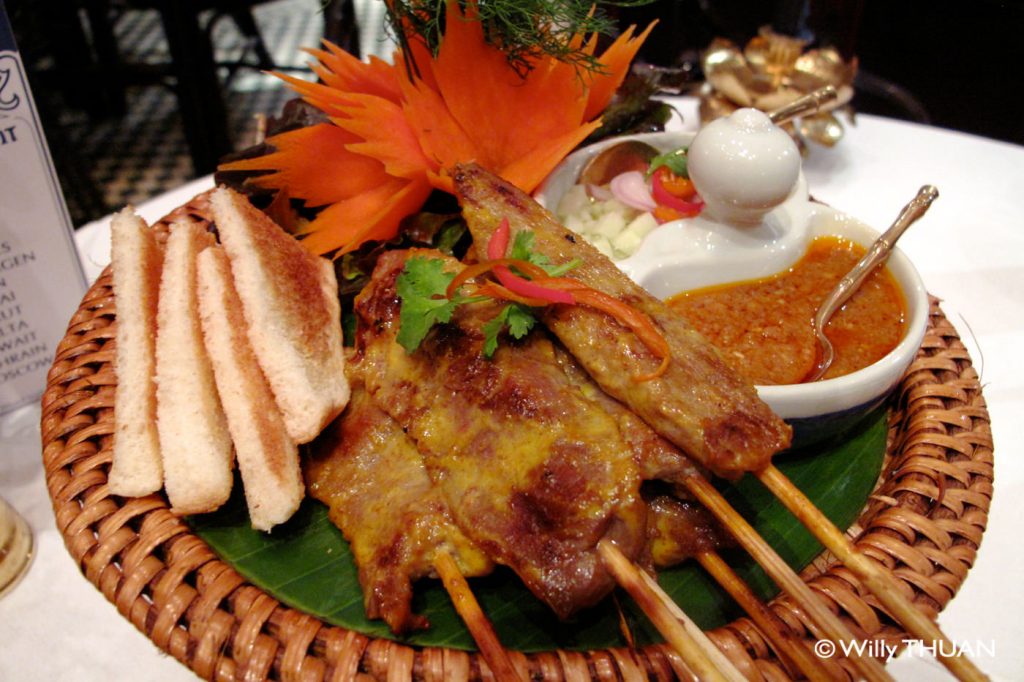 To give you an idea, the price was 1,500 Baht per person this time, and none of us had more than a cocktail and a beer or two. Blue Elephant Phuket is also one of the Best Cooking Schools in Phuket.
---
Photos of Blue Elephant
---
Blue Elephant Phuket Info
Location: Phuket Town
Address: 96, Krabi, Tambon Talat Nuea, Amphoe Mueang Phuket, Phuket 83000
Open: 11.30 am – 10.30 pm
Phone: 076 354 355
Cuisine: Thai
Price: High
Dress Code: Smart casual

---
Blue Elephant Phuket Map
---
Other great Thai restaurants in Phuket Town
The Charm Phuket – A Beautiful Thai Restaurant in Phuket Town
Raya Restaurant in Phuket Town – Great Thai Food in an Old Mansion