Where to learn Thai Cooking in Phuket?
Cooking Classes are the best way to learn how to cook real Thai food while in Phuket, and it's perfect for a rainy day or just as a fun thing to do on holiday with family or friends. Enjoying delicious Thai cuisine is a big highlight of travelling to Phuket, and if you learn the secrets of Thai cooking from a local expert chef, you'll be able to impress your friends and family with your culinary creations back home.
---
Here are Cooking schools in Phuket that'll help set you on your way as a Thai food master in no time.
(Contact us via Facebook Messenger to add your cooking class here)

Taught by the affable and skilled Chef Pui, this cooking course focuses on private lessons and small groups of up to 6 students. There's a choice of doing a cooking-only class making 4 or 5 dishes or a lesson that includes visiting a local fresh market. They'll tailor the class to your needs if you wish to cook vegetarian meals or have gluten-free or other dietary requirements. Free pick-up service is offered from the Kamala, Surin, Bang Tao and Laguna Phuket areas for those taking the market tour class.
Classes
Cooking only class, 3 hours: 3,000 baht
Cooking Class with a market tour, 4 hours: 3,900 baht
BrassWok Thai Cooking Studio Contacts
Location: Srisoonthorn
Address: 134/80 Moo 1 Thepkrasatree Rd, Thalang District, Phuket 83110
Phone: 087 620 8371
Facebook: click here
Popular Ways to Discover Thai Cooking Class
2. Phuket Thai Cooking Class by VJ
At this cooking school in Kata Beach, you'll have the chance to learn three dishes in a 3-hour class that includes tips on making curry paste with a mortar and pestle. Morning classes include a market tour. Lessons are in English and can be tailored to suit dietary requests like vegan or gluten-free dishes. Children are also welcome to try the class. Kids aged ten and up are given their own cooking station, while younger kids can learn for free. Free transport is available if you stay in Kata, Karon, Patong or near Chalong Circle.
Classes
Class with a market tour: 2,300 baht
Class without a market tour: 2,000 baht
Phuket Thai Cooking Class by VJ Contacts
Phone: 081 710 5250
Location: Karon Beach
Address: 90/19 Moobaan Kasemsap, Khoktanod Road,Karon Muang, Phuket 83100
Facebook: click here
Website: https://phuketthaicooking.com/
Phuket 101 receives 250,000 monthly visitors on average (500,000 pageviews/month).
If you wish to advertise on this space or other options available on Phuket 101, just contact us.
3. Blue Elephant Cooking Class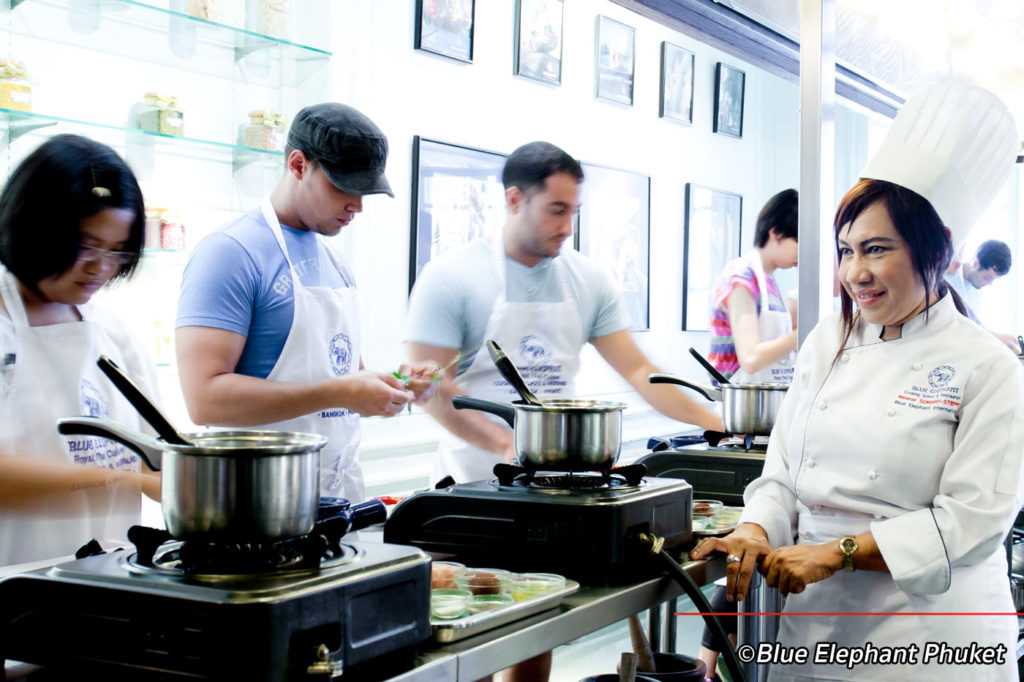 Set in a century-old Sino-Portuguese mansion in Phuket Old Town, this Thai cookery class at Blue Elephant Restaurant also immerses into Phuket's history and culture. The course includes a walk to a local market to find the fruits, vegetables and herbs that will go into the dishes you make, such as green curry with chicken and beef satay. This restored former Governor's mansion is an impressively regal place to do your cooking, and you'll be able to relax in the dining room afterwards to try all the dishes you've made.
Classes
Half-day, 4 dishes: 3,296 baht
Blue Elephant Phuket Contacts
Location: Phuket Town
Address: 96 Krabi Road, Phuket Town, Phuket 83000
Phone: 076 354 355-7
Facebook: click here
4. Moo's Kitchen at The Slate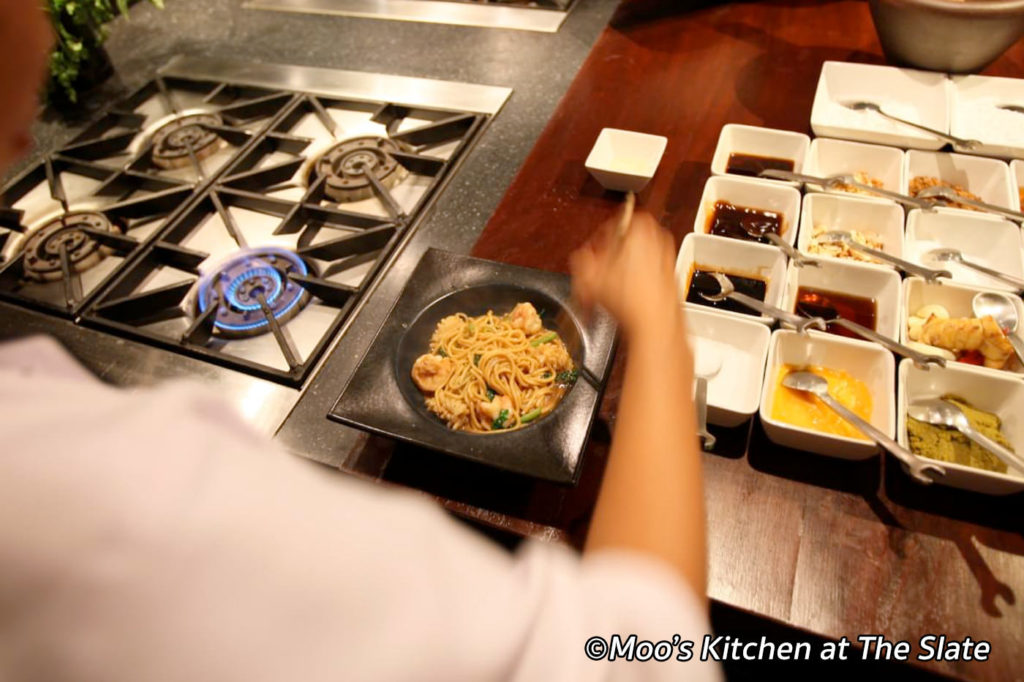 The Slate Resort at Nai Yang Beach has built a dedicated culinary classroom called Moo's Kitchen, where half-day and full-day courses are available. The full-day course starts with a visit to a nearby market with the chef, where you'll learn about all the fresh herbs, spices and vegetables used in Thai cooking. Students have the chance to prepare dishes such as Kaprao Moo (spicy pork and basil stirfry), tom yum (spicy seafood soup) and crispy fried prawns and Chapu leaves, and there's time enough to sit down together and try all the food at the end of the class.
Classes
Full-day "Food Pilgrimage", 6 hours, 3,530 baht
Half-day "Cook and Chow", 3 hours, 2,120 baht
Moo's Kitchen Contacts
Location: Nai Yang Beach
Address: The Slate Resort, Nai Yang Beach, 116 Moo 1, Sakhu, Thalang, Phuket 83110
Phone: 076 327 006
5. Phuket Thai Cooking Academy
Kathu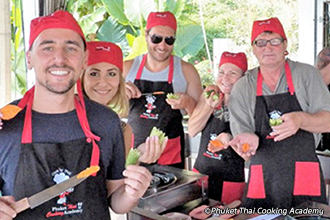 This cooking class is a bit off the beaten path, near Kathu Waterfall in a quiet residential area between Patong Beach and Phuket Town. Half-day and full-day classes are available in English, Thai or Chinese for all culinary skill levels. In addition to learning to make dishes such as pad thai, som tam or tom yum goong, you'll be taught fundamental techniques in Thai cuisine like making coconut milk and curry pastes. Classes include a visit to a local market and free return-trip transport from Patong, Kathu, Kata, Kamala and Phuket Town. Vegetarian classes are also available.
Classes
Half-day, 5 dishes: 2,200 baht
Full-day, 10 dishes and waterfall visit: 3,200 baht
Phuket Thai Cooking Academy Contacts
Location: Kathu
Address: 81/23 Soi Chang, Kathu, Phuket, Thailand 83120
Phone: 092 962 6076
Facebook: click here
6. Organic Thai Cooking School
This is a fun and intimate course run out of the home of a local Thai chef in Rawai, with a maximum of 6 students per class. Organic ingredients are used as much as possible (though not always 100% possible in Thailand), and the class includes a market tour and a wander around the chef's leafy-green organic garden. They offer a choice of many dishes you could try to master, including Tom Kha Gai (chicken coconut soup with galangal), laab moo (spicy pork salad) and several vegetarian choices. Free transport is available from some locations.
Situated in Rawai, Organic Thai Cooking School offers afternoon courses with 3 dishes and with 5 dishes. Besides their set courses, you can also make your own custom-made menu with a choice of 21 dishes. Vegans and vegetarians are also welcome, and a market visit is included. Organic Thai Cooking School offers free transportation for the south half of the island.
Classes
Three-dish class, 3 hours: 1,450 baht
Five-dish class, 4 hours: 2,400 baht
Organic Thai Cooking School Contacts
Location: Rawai
Address: 76/3 Moo 2, Rawai, Phuket, 83100
Phone: 076 288 258, 089 970 1797
Contact via Facebook: click here
Map
7. Kata Thai Cooking Class by Sally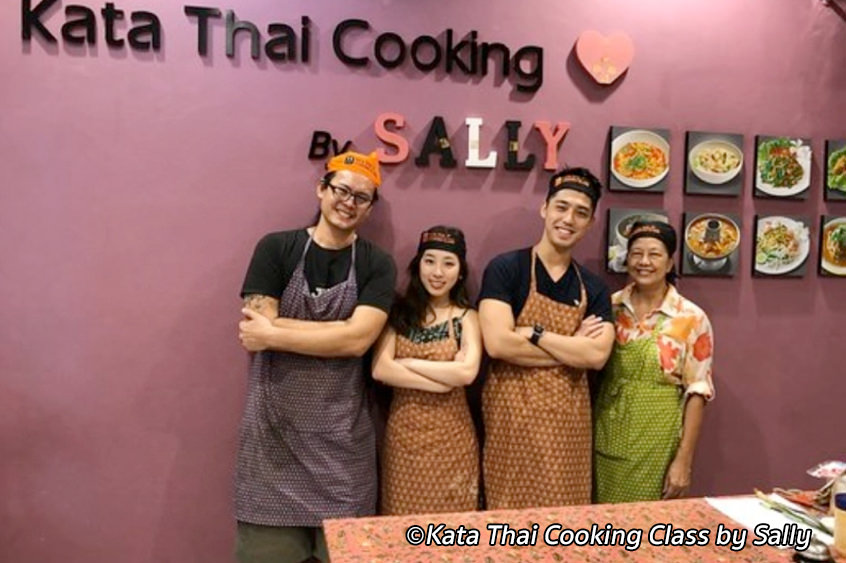 Found near Kata Beach, this class offers a choice of a quicker morning class or an afternoon class with a market tour. You'll learn how to make 3 dishes and a curry paste, with different dishes made on different days. For example, students make som tum, Thai fried rice, spring rolls and green curry on Tuesdays. Best to check the class schedule before booking to make sure at least a few of your favourites are in there. The price includes free transport from some areas, and kids under 9 years old can join for free.
Classes
Lunch class, 3 hours: 2,000 baht
Dinner class with a market trip, 4 hours: 2,300 baht
Kata Thai Cooking Class by Sally Contacts
Location: Kata Beach
Address: 1/4 Patak Road, Karon, Muang, Phuket 83100
Phone: 091 954 5563, 094 151 9646
Facebook: click here
8. Phuket Easy Thai Cooking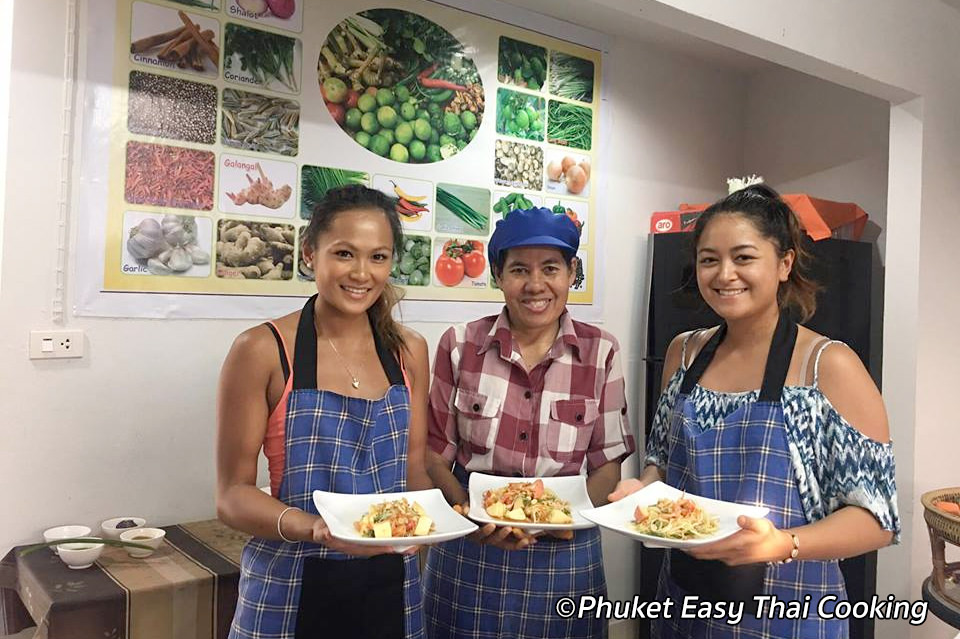 This friendly cooking course in Rawai offers half and full-day courses for small groups of up to 10. The class starts with a trip to a local market to shop for fresh ingredients; then, you'll have a busy time making at least three main dishes, curry paste and a dessert. The full-day class also includes a lesson on making coconut milk and coconut oil. Ingredients used are Halal, and vegetarian dishes can be made by request. The class includes transport from some locations, or a taxi service could be arranged for an extra charge if it's outside their usual pick-up areas.
Classes
Half-day, 3-4 hours: 2,200 baht
Full-day, 7-8 hours: 3,200 baht
Phuket Easy Thai Cooking Contacts
Location: Rawai
Address: 51/6 Moo 4 Soi Madsayid, Viset Road, Rawai, Muang, Phuket 83130
Phone: 088 765 9731, 089 693 0876
9. Phuket Thai Cookery
This is a popular class for its fun and informative lessons and the fabulous sea views to enjoy while you cook. Set on the beachfront in Koh Siray east of Phuket Town, Phuket Thai Cookery courses each include a trip to a local market, cooking 4 dishes plus a dessert, and either a fruit carving or curry paste-making lesson. Check the school's schedule to see which dishes are being prepared each day, with choices including Gai Hor Bai Teoy (chicken in pandanus leaves) and Tom Yum Goong (spicy prawn soup). Free round-trip transport is available from selected areas.
Classes
4 main dishes and market tour: 2,900 baht
Phuket Thai Cookery Contacts
Location: Koh Sirey
Address: Koh Siray, 39/4 Thepatan Road, Rassada, Muang, Phuket 83000
Phone: 082 474 6592; 098 196 6393; 099 298 5636
10. B's Thai Cooking Class
B's Thai Cooking class involves visiting a fresh market before preparing 4 dishes and learning some fruit carving and coconut milk making. Students have about 15 dishes to choose from, including the always-popular pad Thai and som tam (papaya salad). Class sizes are limited to 6 people maximum, and the cooking is done in Chef Bee's open-air kitchen in the Kathu area. Those who have tried the class have praised Chef Bee for her light-hearted, patient, and attentive teaching style.
Classes
Half-day with market tour: 1,800 baht
B's Thai Cooking Class Contacts
Location: Kathu
Address: 114/81 Moo 1, Kathu, Phuket 83120
Phone: 098 079 5369
---
11. Pum Thai Cooking School
Khun Pum is a bubbly and busy chef who runs three daily classes from her restaurant in Patong Beach, ranging from a quick 1-dish lesson of only 30 minutes to a full-day "grand chef" course. They promise to show how to be "lazy in the kitchen", where students are taught the easy ways to make Thai dishes. Class size is kept small, and students have more than 40 dishes to choose from, including curries, soups, noodles and stir-fries. If you miss Pum's Patong Beach class, she has another cooking school on Phi Phi Island.
Classes
Pum's Little Lipstick, three dishes, 90 minutes: 1,100 baht
Pum's Little Pigtails, five dishes and market tour, 5 hours: 3,500 baht
Pum Thai Cooking School Contacts
Location: Patong Beach
Address: 204/32 Rat-U-Thit 200 Pi Road, Patong Beach, Phuket 83150
Phone: 076 346 269
---
More reading