What to do at Central Phuket?
Central Phuket (Central Festival Phuket) is one of the major shopping malls on the island, the other famous one being Jungceylon in Patong Beach. Shopping malls may not be on your list of 'Best Things to Do in Phuket' but keep in mind that a mall can be a good alternative to spend an occasional rainy day. Nowadays, malls in Thailand offer so much to visitors that shopping is the least important reason one visits such a place.
What is Central Phuket
If you are a little confused with the many names 'Festival and Floresta' when deciding to visit, you should know that they are the two main wings of the same Central mall in Phuket Town. The Central Festival is the original wing, built on the outskirt of town and Central Floresta is an enormous new wing built later across the street, more than doubling the surface of this already large shopping centre.
The original Central Festival mall started slowly when it opened in 2004 but soon gained popularity. They soon opened another wing across the street, mostly hosting Baan & Beyond, Home Works, home improvement, and many furniture shops. It seems that the brand recently abandoned the term 'Festival'.
In 2018, Central opened Central Floresta across the south road, where the once famous Thai Naan Restaurant. This new building wing has become the high-end luxury and entertainment wing. So to make it easier, there are now three wings to the Central in Phuket town, a Central in Patong, plus a new 'Porto de Phuket' community mall in Bangtao.
Central Mall Shopping Zones
The original main wing of Central Festival is now mainly addressing a mid-market clientele. It is divided into several floors, built in a circular shape wrapped around an open-air Biergarten. You can easily walk to the new luxury wing from this old wing via an immense covered glass sky bridge.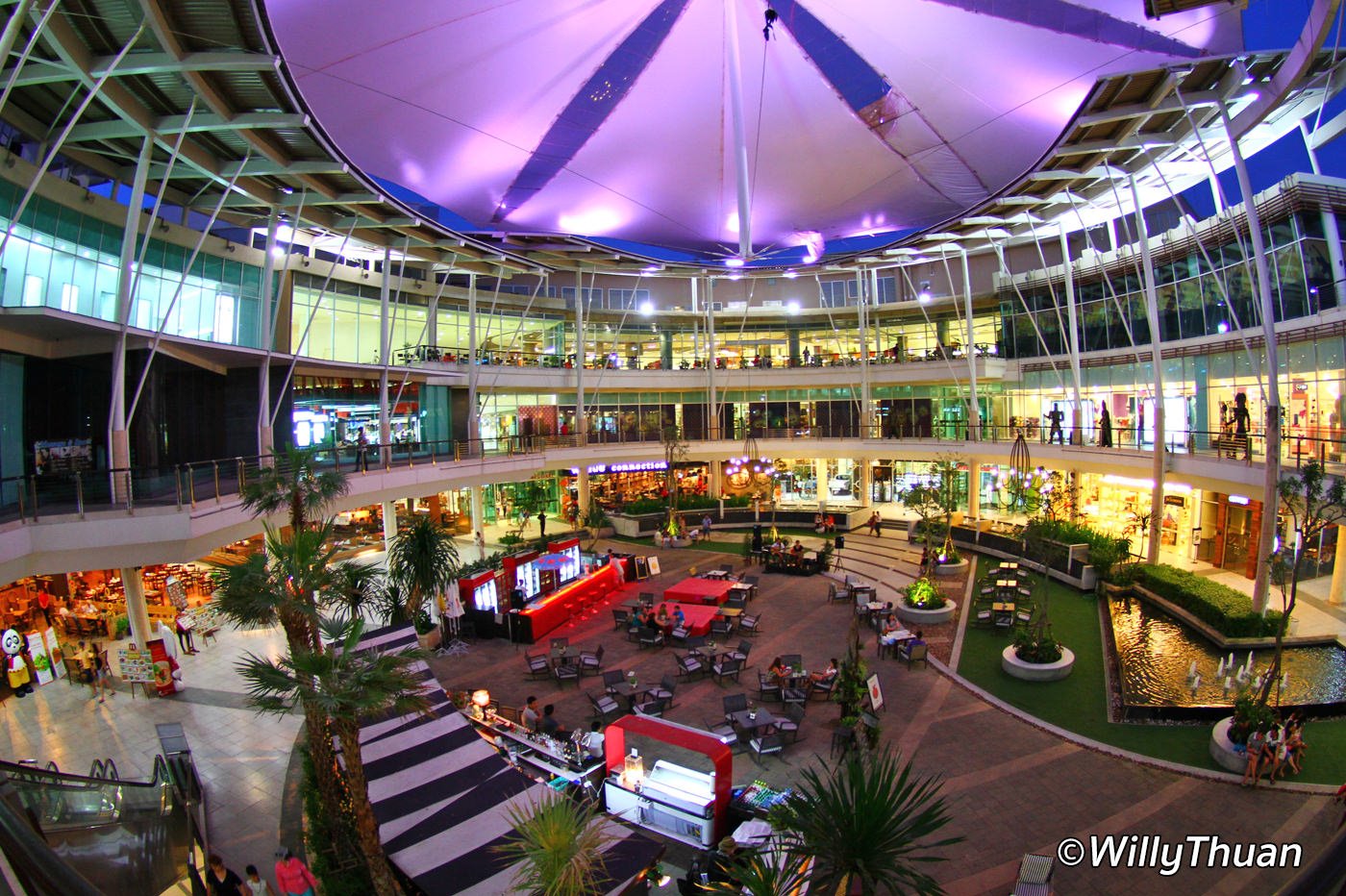 Central Phuket's old wing
Central Phuket Shopping Gallery
The main shopping gallery is immense, often hosting loud commercial events on the weekend, and it gets even louder at the end of the month, such as motors shows and property shows. The rest of the time, the area is a vast discounted items display. Surrounding the central areas are the usual fashion and cosmetic shops: Sephora, Guess, Zara, Esprit, and Mango (MNG)
---
1st Floor
Central Food Hall: a huge deli and supermarket with high-end imported products on the Lower Floor
A large food court: there are three of them in the entire complex
Mid-range fashion stores: CC-00, Jaspal, etc
---
2nd Floor
Central Shopping Gallery: A circular area with known brands and special events and many franchise restaurants: Pizza Company, Sizzler, Hachiban Ramen, Black Canyon, etc.
Electronic and electric appliances areas
SuperSport is an immense shop dedicated to sports attire and equipment.
---
3rd Floor
Food Court: a fast-food concept trendy in Asia.
SFX Cinemas with six rooms, including super VIP Sofas
---
4th Floor
Beauty floor: this is where you will find all the hairdressers, slimming salons, eyebrows and cosmetic salons.
Phuket 101 receives 250,000 monthly visitors on average (500,000 pageviews/month).
If you wish to advertise on this space or other options available on Phuket 101, just contact us.
---
The Food at Central Festival Phuket
What made the success of Central Festival Phuket are the many well-known franchise restaurants. At first, the management might have thought that people would come shopping and have lunch or dinner when done with it. With the 2010 renovation, you can see how that trend has changed. People come for food, and maybe they'll also buy something once done!
On the ground floor, the most popular is 'Wine Connection' vast choice of European and Thai affordable dishes and the large food court on the right-hand side of the Central Food Hall Supermarket. On the upper floors, a long list of Thai favourites: MK Suki, Oishi Suki, and Ootoya and Fuji Japanese Restaurants are always popular venues. Also well known are S&P, Sizzler, Yaam Sap, Hachi Ban Ramen and many more.
---
The Central Floresta wing is across the road. This is where you will find most designers brands and cosmetics, the most famous and most expensive are, as expected, on the ground floor, but note that 'Central Department Store' is a shop in the shop, often having its great promotions. Shops in the main gallery don't participate in these promotions.
Underground Floor:
The basement is mostly dedicated to guests' entertainment. Aquaria is an immense aquarium that also hosts Andasi, a restaurant where you can eat among the fish. Tribhum is a mini 3-D interactive theme park, and Happy Kids Club is a mini theme park and Kids Playground.
Basement:
You will find many Thai restaurants, souvenir shops and stalls in the main area, a food court, and even another Central Food Hall supermarket. Further is the kids and homeware section of the Central department store ( that used to be on the other side)
Ground Floor:
In a traditional mind, the ground floor is shared between luxury fashion boutiques and the cosmetic and fashion section of the department store.
How to get to Central Phuket from Patong
You can smoothly go from Patong to Central Phuket by using the free shuttle that runs every hour or every hour and a half from 11 am to 7 pm from Patong and from noon to 8.30 pm from Central Phuket (see schedule)
Keep in mind that while the bus stop in Patong is easy to find near Bangla Walking Street, Central Phuket Town is a bit on the outskirt of town, so you will need a second bus ride if you wish to continue to Old Town (Old Town is about 3 km away)
Central Phuket Photos
---
Central Phuket Street View
---
Central Festival Phuket Information
Location: Phuket Town
Address: 74-75 Wichitsongkran Road, Phuket 83000
Open: 10.30 am – 10 pm
Phone: 076 291 111
Distance from Patong Beach: 12 km
Distance from Airport: 31.7 km
---
Central Festival Phuket Map
If you are on mobile, add the map here: https://goo.gl/maps/JqF6P92vMdCXWQvU6.