The World's Largest Underwater Restaurant
Update: Andasi is temporarily closed.
Andasi Restaurant offers an unusual dining experience within Aquaria, the new giant aquarium of Central Floresta in Phuket Town. We decided to give it a try, and the experience was better than expected. The price tag is relatively high, and the amount of tables available inside the 'tunnel' is minimal, so make sure you book well in advance.
We previously visited and reviewed the aquarium itself, and spotted the restaurant and its lounge. During the day, with so many visitors all over the place, it is a bit difficult to imagine how dining would be. It didn't feel cosy. We made a booking, not knowing what to expect, but as the price is relatively high, we were a little worried.
We arrived at Andasi at 7.30 at the last visitors were leaving the aquarium. The staff politely welcomed us and walked us to the main room, and its attached tunnel. We were expecting to dine in front of the giant tank, but in fact, five tables were inside the tunnel (which is about 16 seats). If you are familiar with those tunnels, you might be a little disappointed: It's only a curved glass and a mirror to reflect it—a neat trick since you may not notice it at first. However, the setting was friendly with an immense tank in front of us and two giant statues from Thai mythical gods Suvannamaccha & Hanuman, surrounded by schools of fish.
As we were enjoying our drinks, we walk a bit around to look at other tanks, mainly the immense wall set in a dark room was imposing. The waitress came and invited us to sit at our table and describe how the dinner works and took our drinks order. The tables were a little too close to each other, and our neighbours had a baby, which was surprising since it was not allowed, so our experience was a bit distracted by the crying.
However, watching the stingrays and other huge fishes slowly gliding in front and above us created enough distraction to forget our neighbours.
---
Andasi offers 3 set menus: Machanu is a 5-course dinner at 1,888 ++ baht, Suvannamaccha is a 7-course at 3,688 ++ baht and Hanuman is a 13-course meal at 4,888 ++ baht!
In case you don't know yet, ++ means an additional 7% government tax plus a 10% service charge will be added to any price displayed. It's a bit tricky, but every hotel and upmarket restaurant uses it.
Each menu offers choices so you still have a bit of flexibility and you can also mention if you have any allergies.
We went for the Machanu 5-course, and the amount was more than enough for us. Each dish is beautifully crafted, well presented and described by our waitress. The ingredients are obviously selected and combined with great care, and the resulting taste and texture are indeed very successful.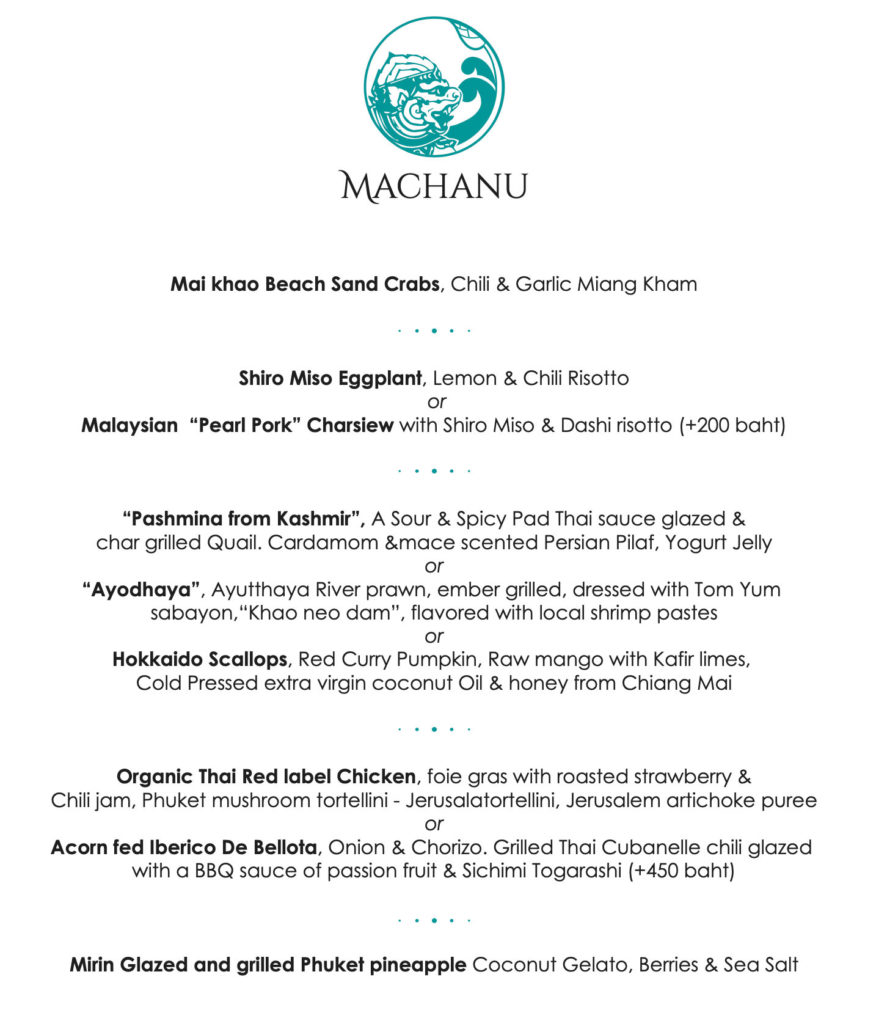 ---
Verdict?
Dinner at Andasi was better than we expected. It is not your typical restaurant; it is more of a fun experience around excellent dinner. The team does an excellent job of making the experience smooth and fast. The food is excellent and beautiful, and the permanent show given by the thousand fishes casually swimming all around keeps your eye entertained.
---
Andasi Restaurant Info
Location: Central Floresta, Phuket Town
Address: No. 199, B01, B Floor, Central Phuket Floresta, Wichit, Mueang Phuket District, 83000
Open: 7.30 pm – Midnight, closed on Mondays
Phone: 061 172 6144
Price: Very high
Contact: https://www.facebook.com/AndasiPhuket/
---
Andasi Restaurant Map
---
What's around?