How to Get Around Phuket?
Phuket Taxis, Tuk Tuks or Buses? What is the best way to get around Phuket? A question most first-time travellers will ask on our Phuket 101 Community. Finding the right transportation can indeed be a worry as Phuket doesn't have a good public transport system, but it is very easy to go around because Tuk-Tuks are just everywhere and can take you anywhere, at any time of the day or the night. It just can get costly!
So unless you are on a very tight budget or want to travel great distances, you will never have to worry about getting around in Phuket.
Here we describe the many ways to explore Phuket. The page is not yet complete, but it should be comprehensive enough to make you feel better about your upcoming holidays in Phuket!
---
1. Tuk Tuks in Phuket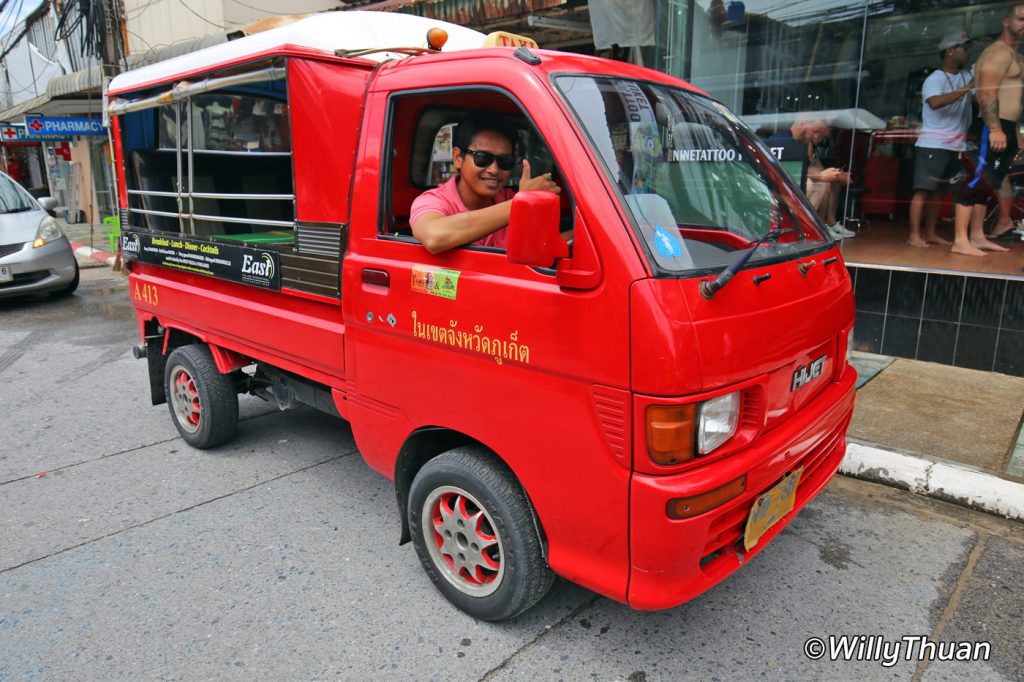 The Tuk Tuk of Phuket is very different from the iconic blue Tuk Tuks of Bangkok. Here, they are four wheels Daihatsu, with access from the back. They can be red or yellow, but the colour doesn't mean anything. Those Tuk Tuks, mostly those in Patong Beach, can come with blasting sound systems and lights can be as colourful as a night club. Young travellers seem to love these as you often can see them singing and laughing on the way to their destinations.
Price is a little high, and theoretically, there is an official rate displayed on boards near main beaches.
---
2. Grab Taxi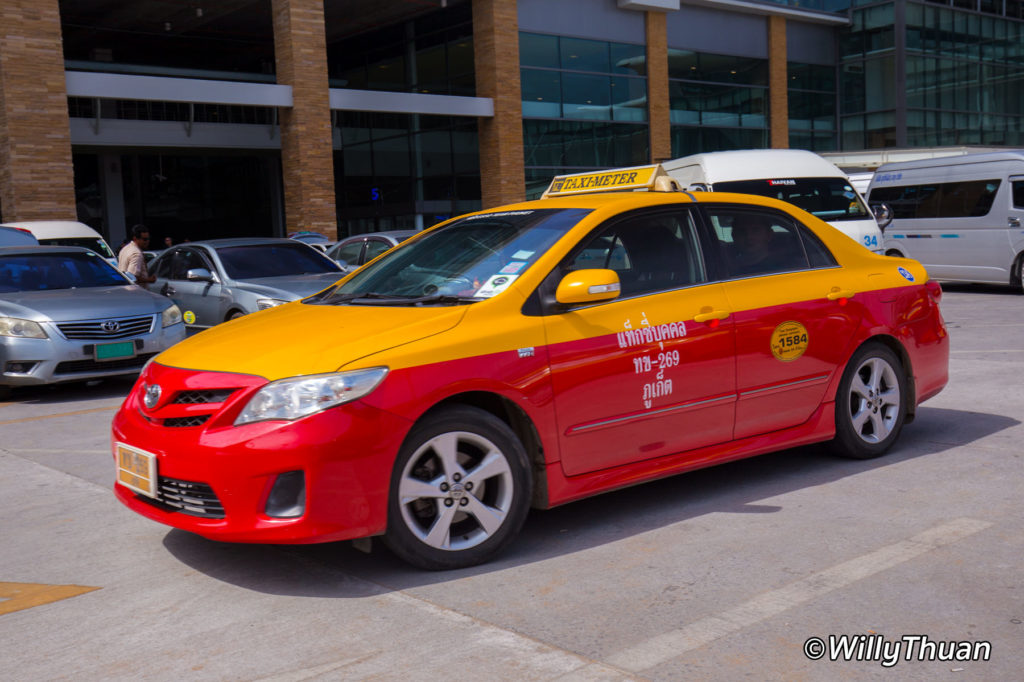 Grab Taxi is an excellent alternative to Tuk Tuks if you prefer a more conventional way to get around the island. It's less colourful than a tuk-tuk, but seats are a lot more comfortable, you get air-con, and you know how much the price is before you go so you won't need to bargain. (There is no more UBER in Thailand). Note that Grab is not allowed to pick you up from Phuket Airport. You will have to use one of the many other ways to get from Phuket airport to your hotel.
---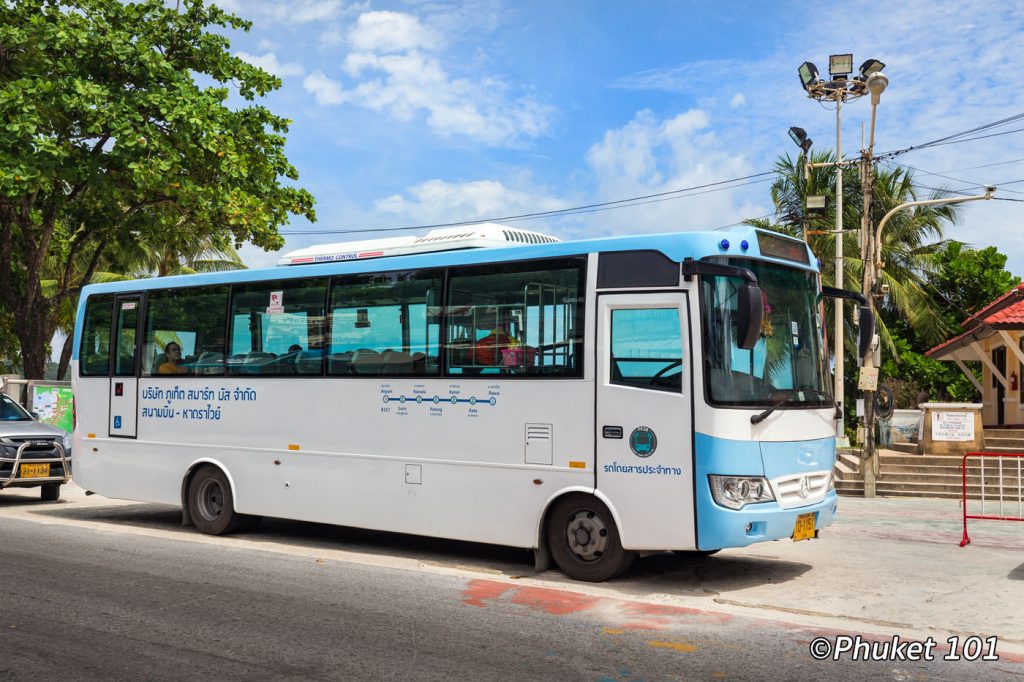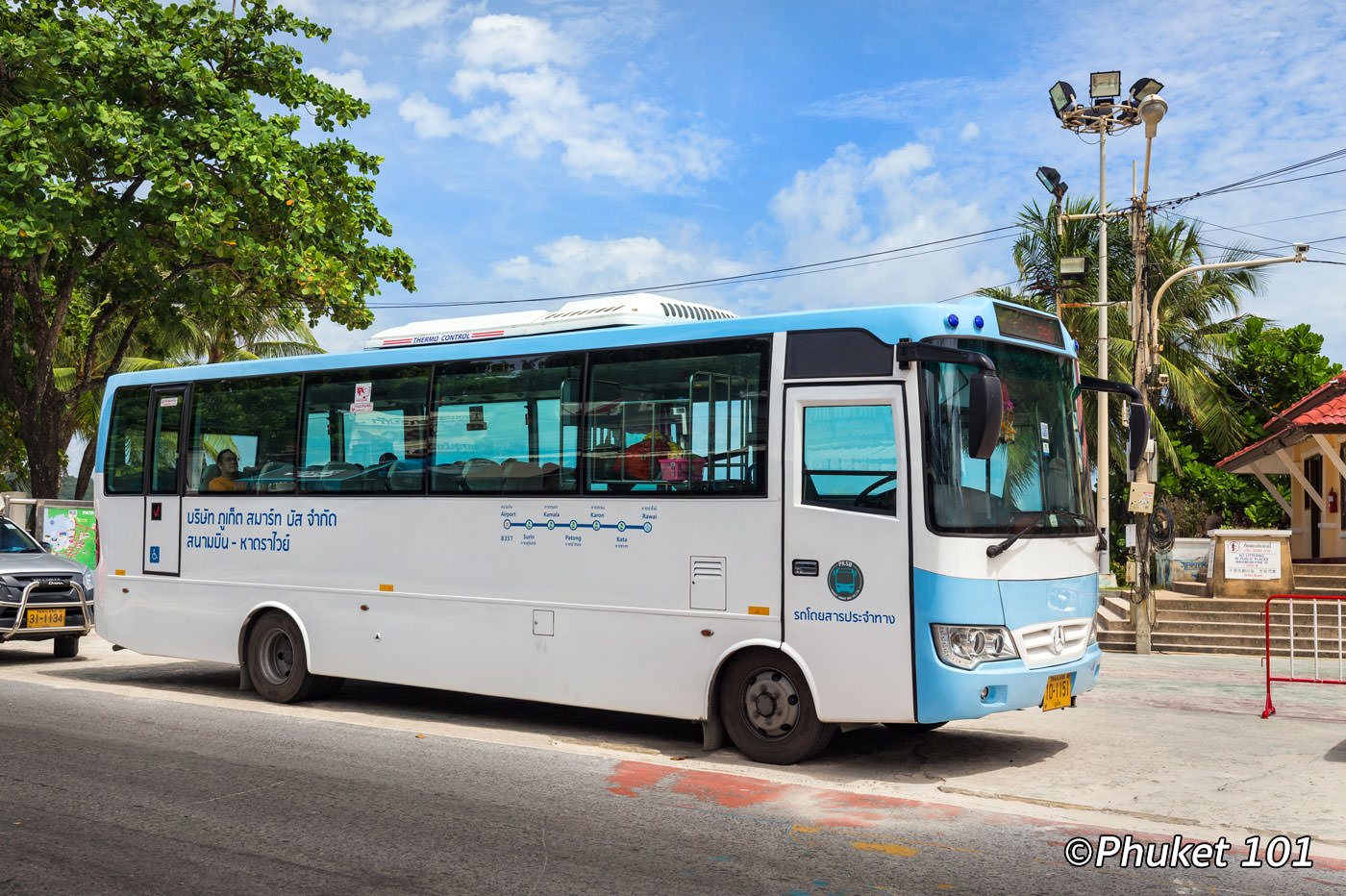 The Phuket Smart Bus goes from beach to beach, all the way from Phuket Airport to Rawai Beach. It is an easy and convenient addition to Phuket transportation options. It's more time-consuming than taxis or Tuk Tuks as it goes from a defined bus stop to bus stop, but it is incredibly cheap and comes with air-con. You buy a 'Rabbit Card' as you board the bus, then refill it at some shops around the island.
---
4. Motorbike Taxis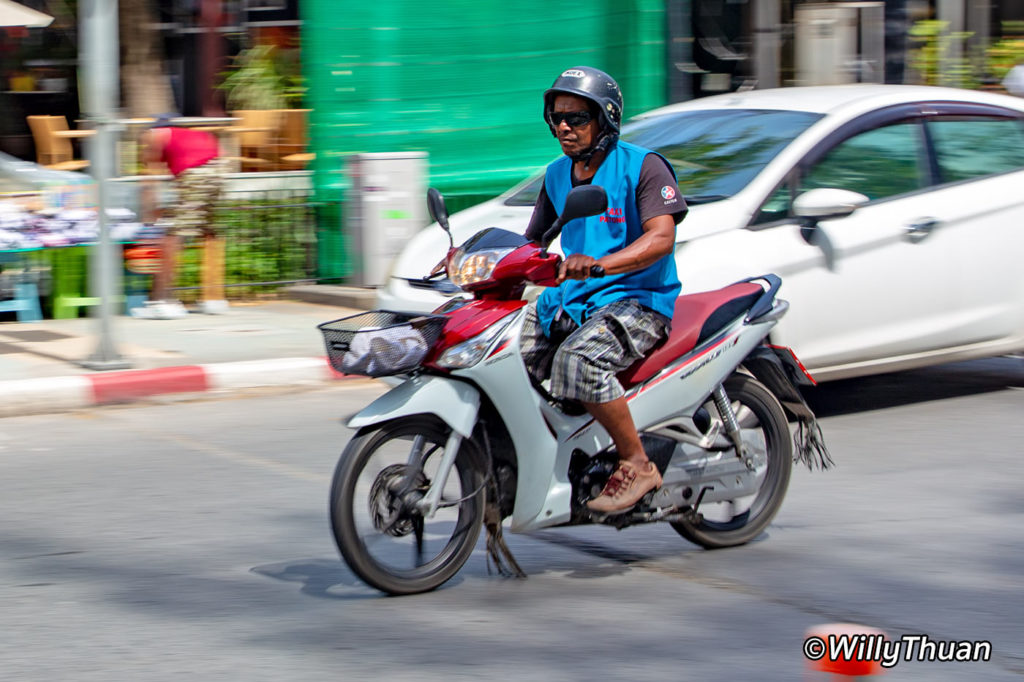 Motorbike Taxis are fast fun and relatively cheap but not available everywhere around the island. Probably in Patong, Kata, Karon and Phuket Town. You can bargain the asked price a little. You can easily spot a Motorbike Taxi by their colourful jacket with a number printed on it. They probably will honk at you anyway as they are pretty good at reading lost travellers' body language.
---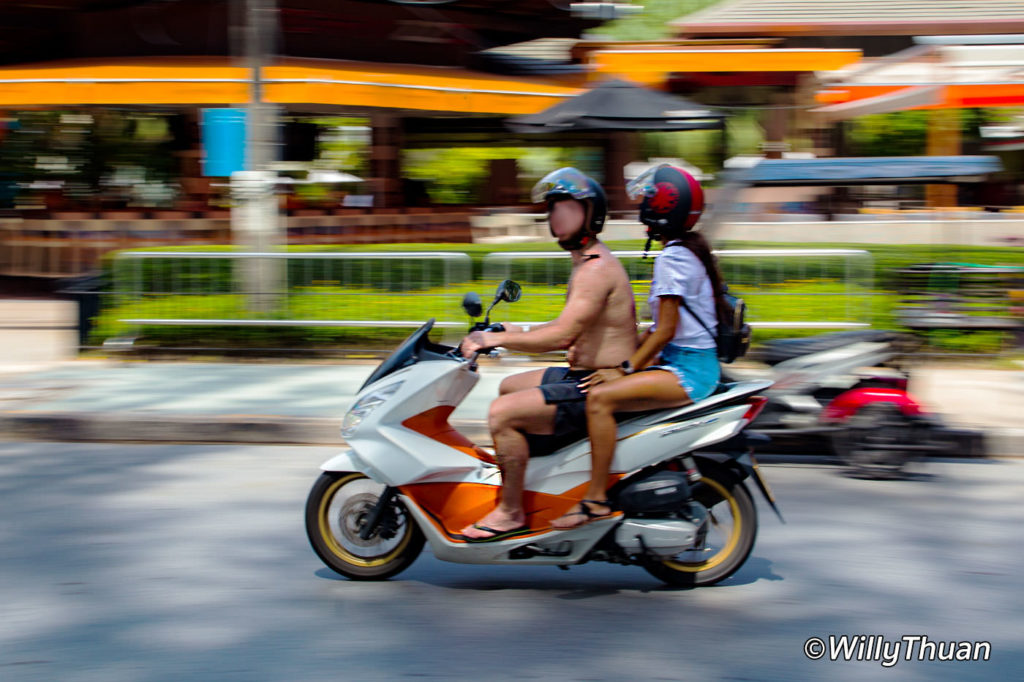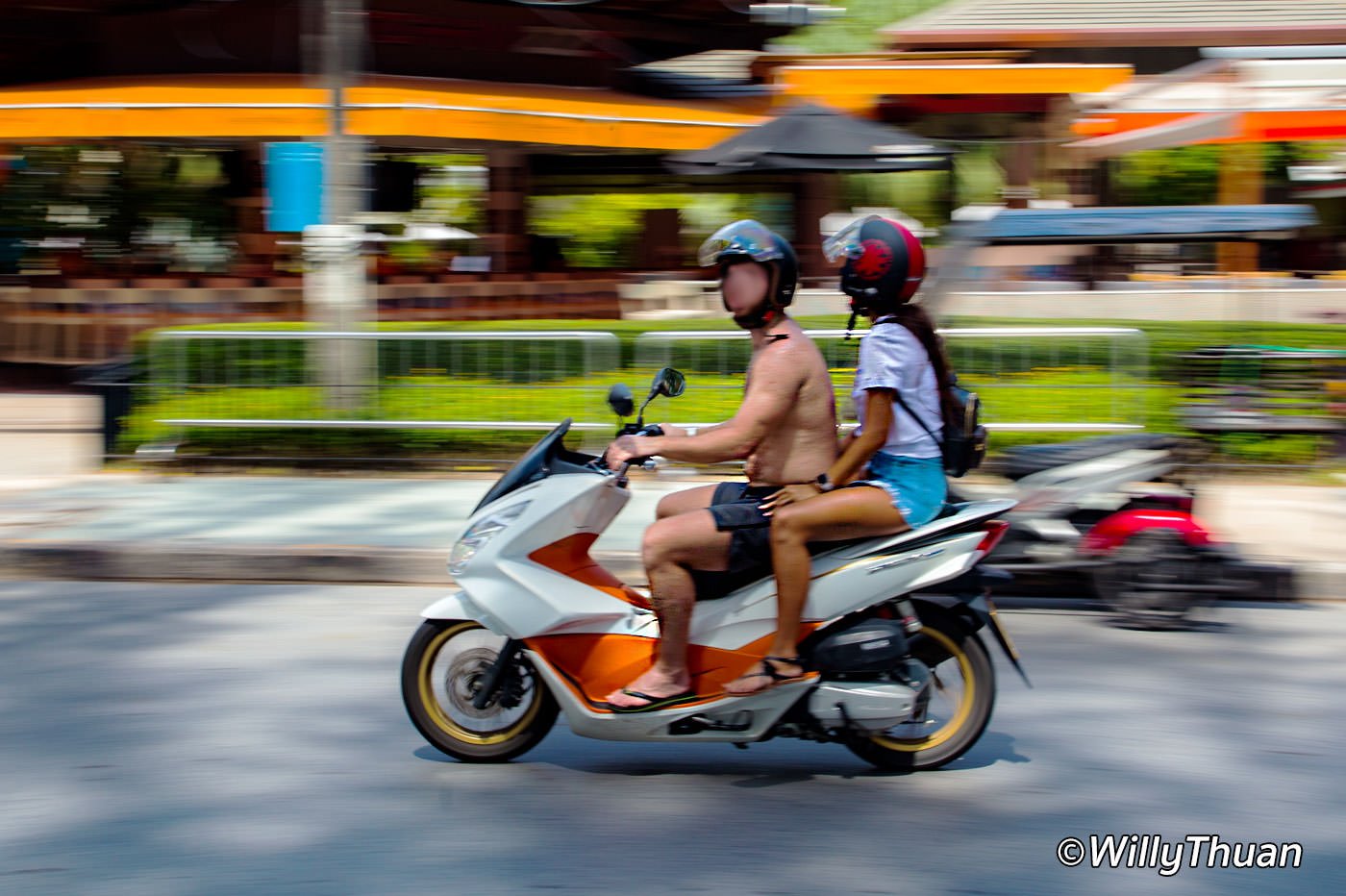 Renting a motorbike is a convenient option because it is widely available, cheap and gives you full freedom. At the contrary of a car, a motorbike is relatively effortless to park anywhere (except in the vicinity of Bangla Road at night!)
But renting a motorbike (they say motorbike or just 'bike' here, not motorcycle) is not for everyone. Driving here is challenging and requires skills and attention. Accidents are frequent, and most rented bikes have inadequate insurance coverage. If you plan to rent one, please get an international driving license and travel insurance for our peace of mind.
---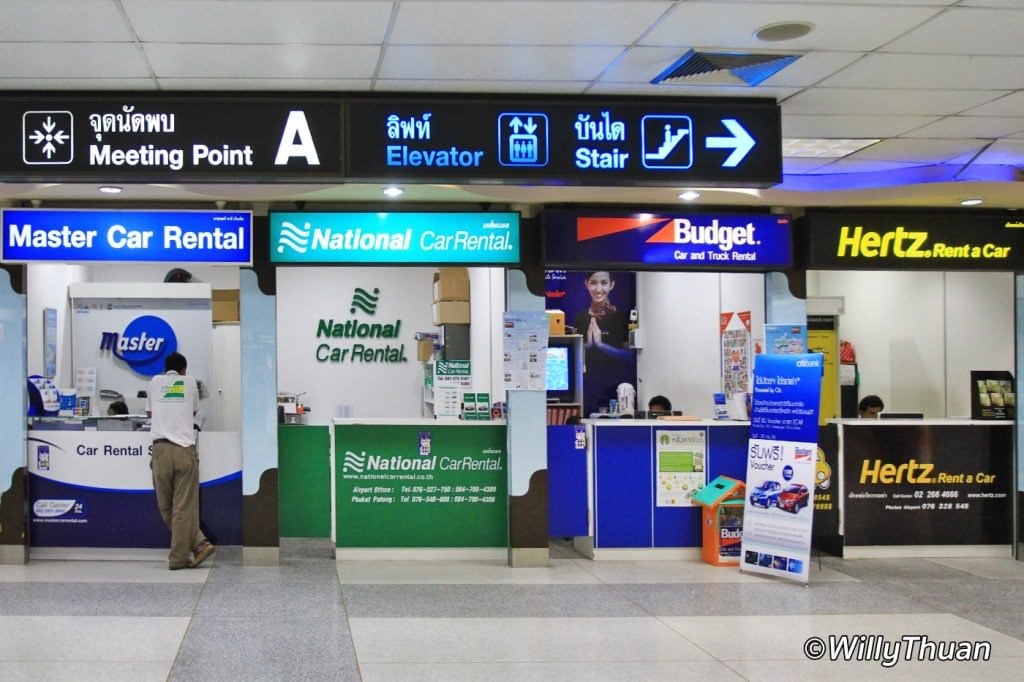 Renting a car is another way to explore Phuket and beyond. It's much safer than a bike and can accommodate up to 4 persons and some luggage. Always rent from a reputable international company: you can easily book online before arrival and prices are reasonable. They are not more expensive than local companies and come with proper primary insurance and a name you already know. For total peace of mind, you should consider full coverage insurance, driving in Phuket is a little different from most countries and even just a scratch can be a headache and a waste of precious holiday time.
Remember to book your car as soon as you are sure about your travelling dates, especially during the high season. This way you will have a better choice of vehicles. We tried all the international car rental companies and found them relatively similar in terms of prices and services. It's more a question of luck on the arrival day if the counter is busy.
---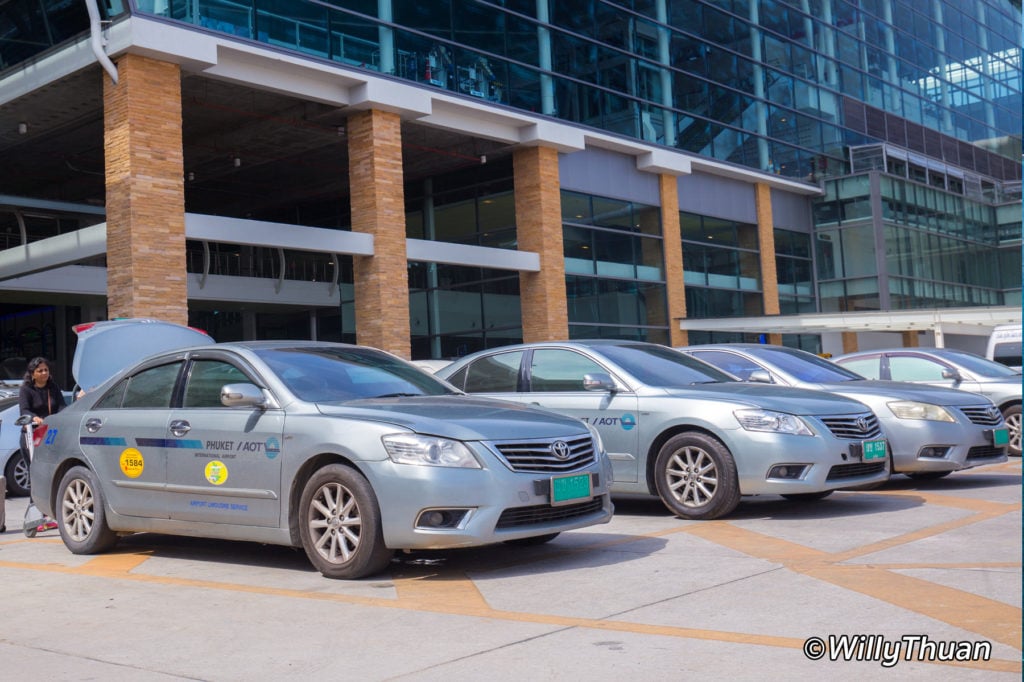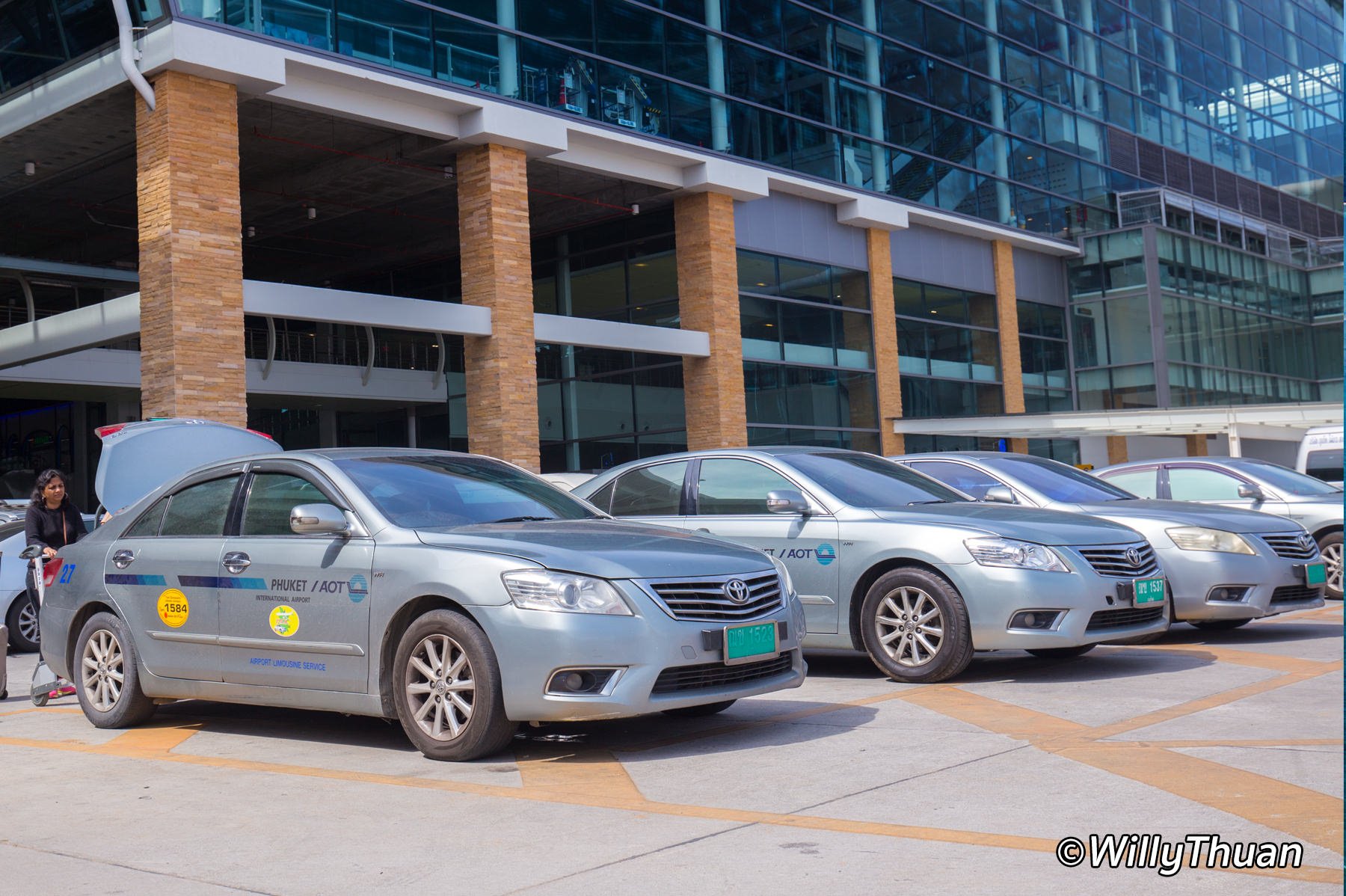 There are many ways to get from Phuket airport to your hotel, from the cheap (but slow) Phuket Smart Bus to the more luxurious airport limousine. People seem to often choose a compromise between both options by travelling in a mini-van or a taxi-meter. We describe all the options in detail on this page.
---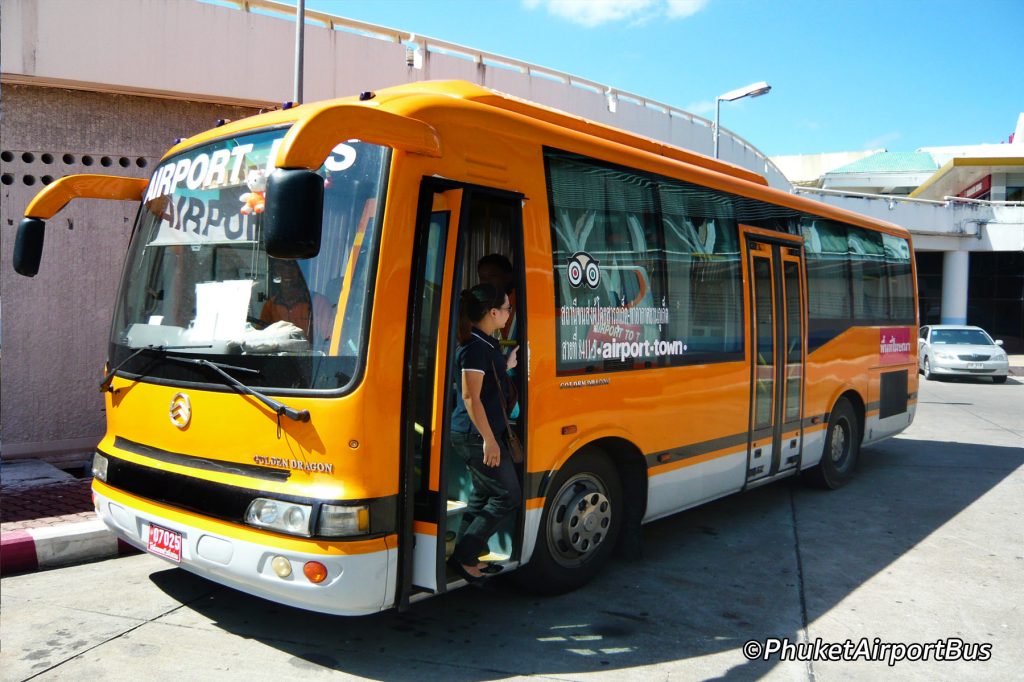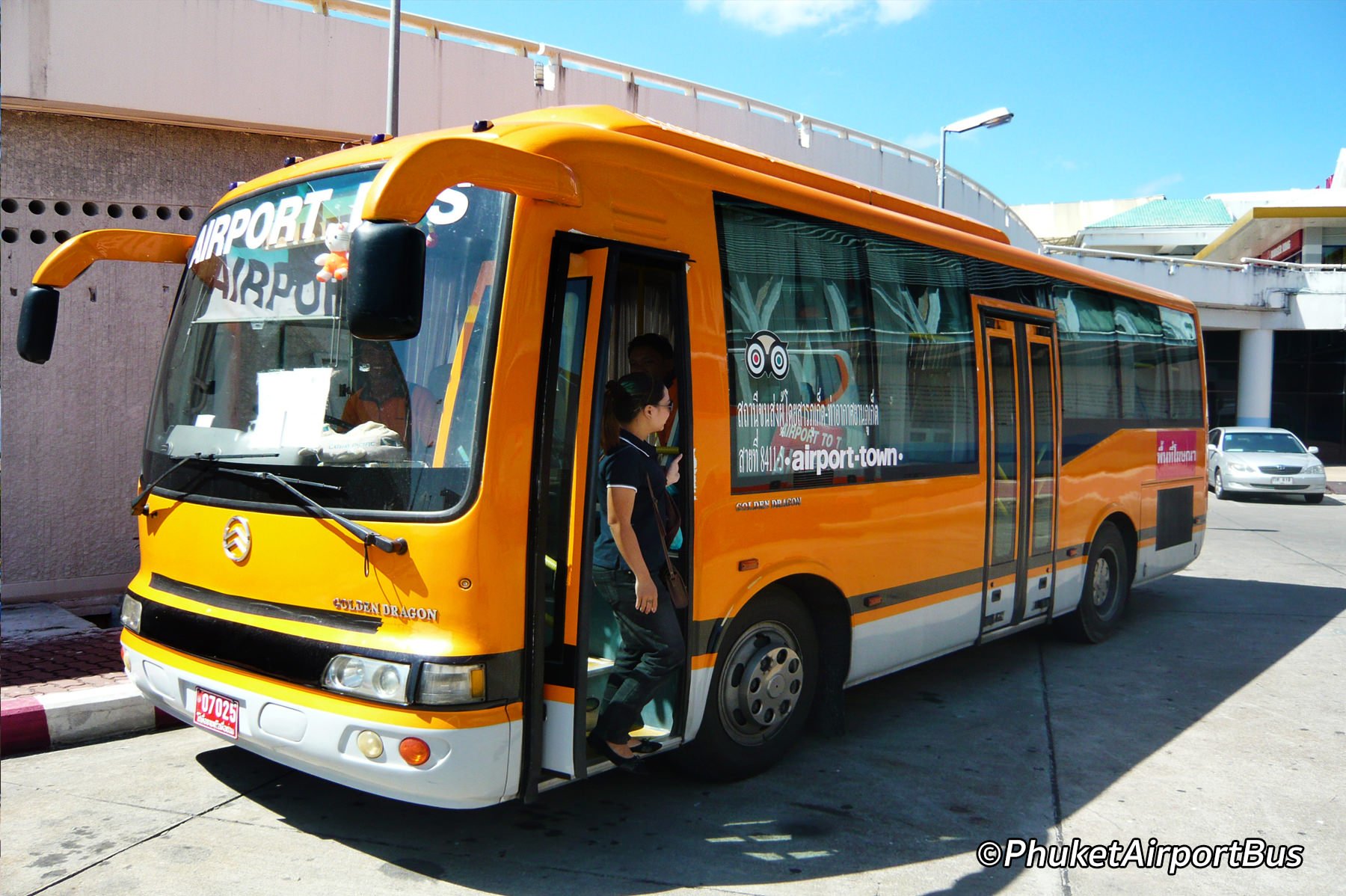 The Airport Bus Phuket has been quietly around for years, but not many travellers ride it as it doesn't go to any beach. It only goes from Phuket Airport to the old Phuket Town bus terminal. The ride costs 100 baht only and lasts 1h30 as bus stops at eight stations along the way.
---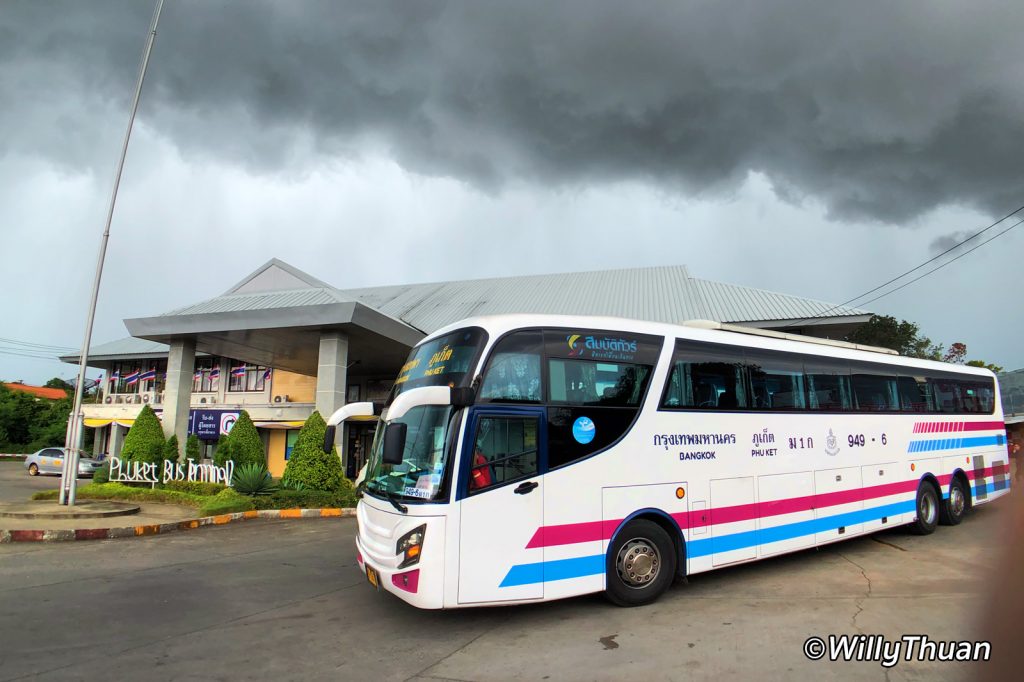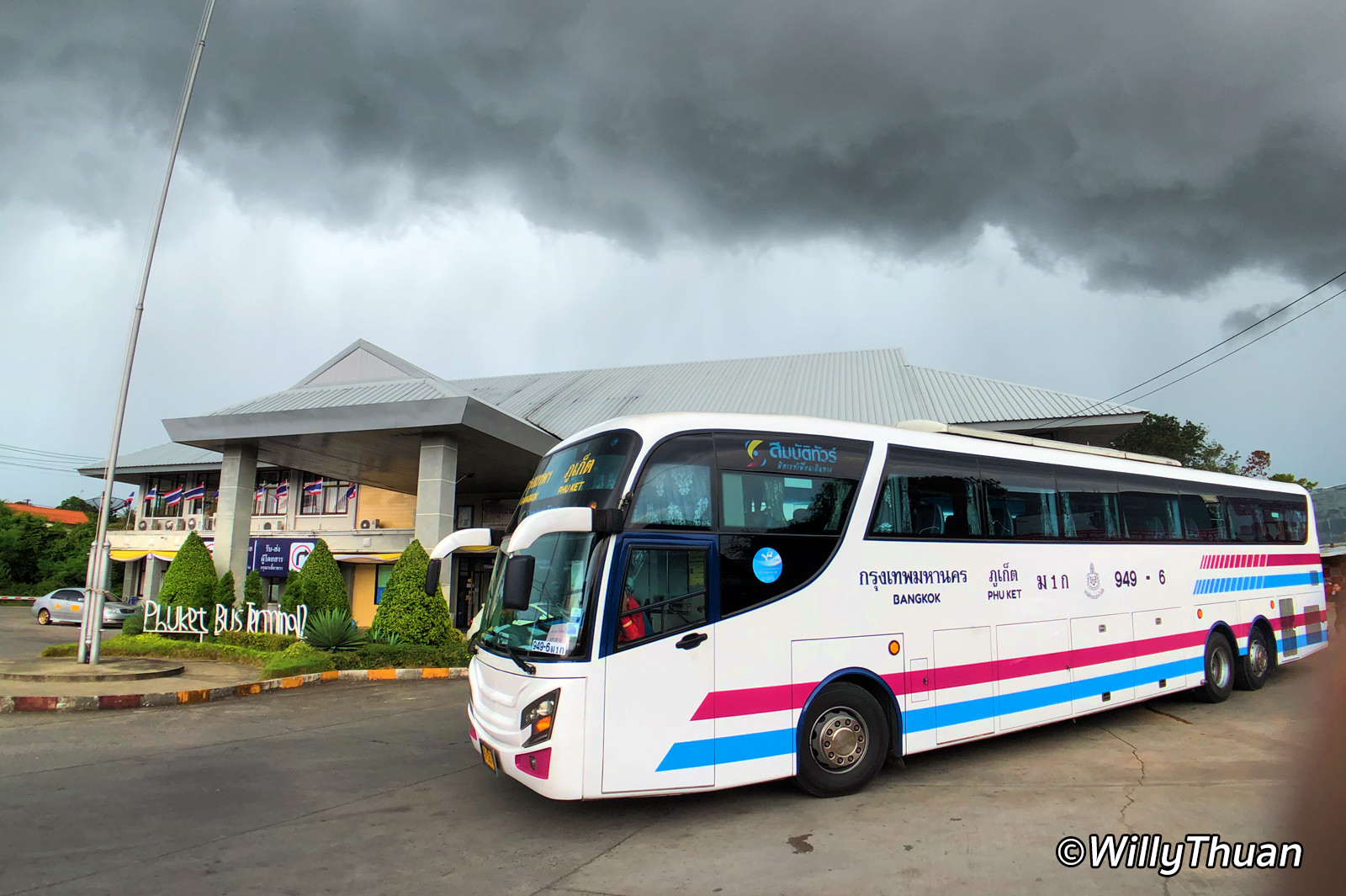 If you travel on a budget and decide to go to Phuket, Krabi or even Samui, the bus is your best option. You will find them at Phuket Bus Terminal 2 in Phuket Town.
---
Another persistent question is about going from Phuket to the famous Phi Phi island and even all the way to Krabi and Koh Lanta. See the Ferry Time Tables and Prices here.
---
More reading
Phuket Airport Transfers ▷ How to Get from Phuket Airport to your Hotel?