Good to know about Phuket International Airport
Phuket International Airport (airport code: HKT) has two terminals: international and domestic terminals are in separate buildings. The International terminal has been up and running for a while. Extensions have been massive, and despite a difficult start and long queues at the opening, it solved many past issues such as parking and crowded areas. Phuket International Airport is located on Mai Khao Beach, on the west coast of Phuket Island.
Arriving at Phuket Airport
Everyone knows that the most stressful time for any traveller resides between leaving home and reaching your hotel room in Phuket. Everything in between is just a long list of things to worry about: taxi, luggage, lost passport, how far the gate is, why the queue is so long, etc. Of course, we can't predict everything, but at least we can give you a few hints about Phuket International Airport.
Be ready to queue. Immigration is a lucky draw; the queue you are about to pick will always be the wrong one anyway. But think about this: even if the immigration queue goes faster than expected, your luggage hasn't arrived! So take it easy; you'll get through eventually. Hotel representatives are not allowed inside the Airport terminal, so if you booked a transfer with your hotel, go straight outside and find your name.
---
Did you book your transfer in advance? No problem! It may even be a good thing since hotel transfers are ridiculously expensive. So once you got your suitcase out of the carousel and cleared both immigration and customs, you have five options.
Note: UBER no longer exists in Thailand, but you can use Grab Taxi. However, be aware that they cannot pick you up at the airport, only drop you off on your departure day.
Several ATMs are past customs, all from public banks and safe to use, and the exchange rate is reasonable. – Once you pick up your luggage, there is STILL one duty-free shop! Your last chance to pick a bottle of something. Read more about changing money in Phuket.
Leaving Phuket
Again, there are two terminals located next to each other. There is not much excitement here inside the airport, especially since you are leaving. Proceeding to the check-in counters is simple, but time varies, like anywhere else. Once you pass immigration and move inside the international lounge, you'll find more restaurants and the unavoidable collection of duty-free shops for perfumes, alcohol and cigarettes. However, you can still find a few exciting deals.
---
How early should I arrive at Phuket Airport?
Theoretically, you should be there 2 hours before an international flight and 1 hour earlier for a domestic trip. But lately, traffic is an additional factor, and it can easily add a good 30 minutes! Avoid the stress and leave your hotel as early as 30 minutes to 1 extra hour if it's at rush hour, 5 pm. (that makes 2.30 to 3 hours for international and 1.30 to 2 hours for domestic)
Notes
If you plan to leave your car for a domestic flight somewhere, it costs 200 baht per day and finding a parking spot can be stressful at certain hours, so allow extra time. Keep in mind that traffic is unpredictable at the end of the afternoon, so consider at least one hour drive between your hotel and the airport.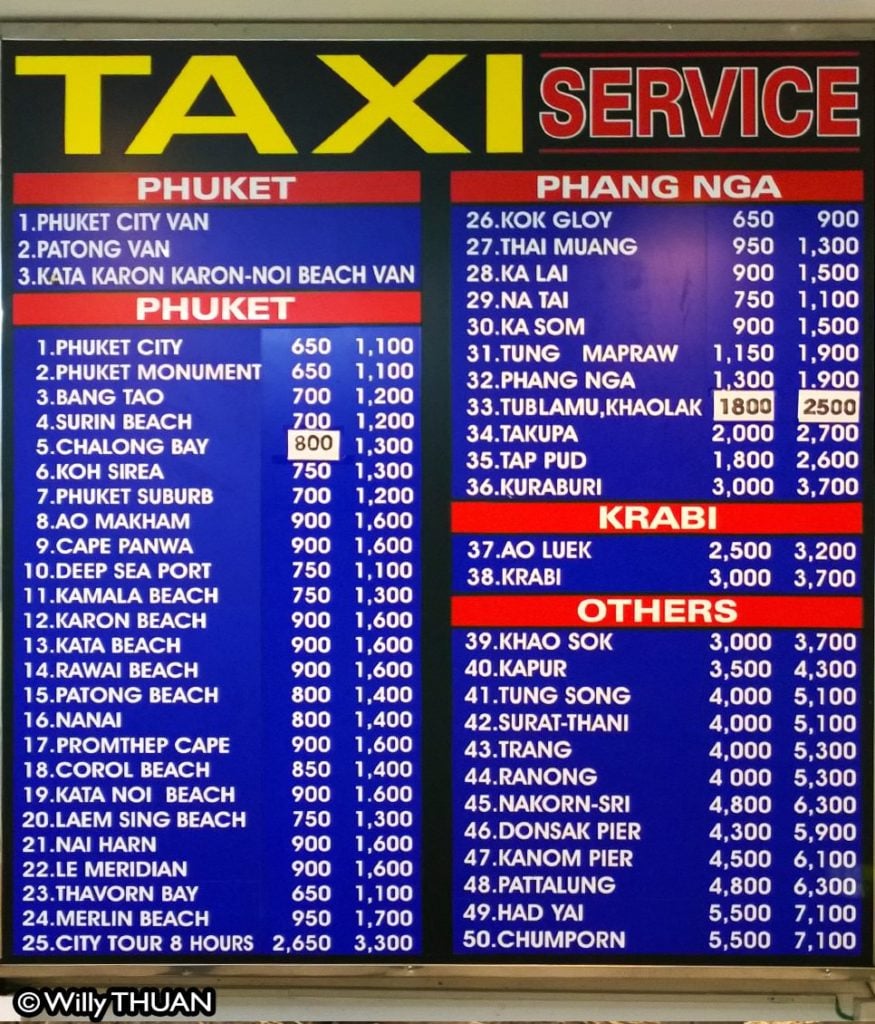 Where to stay near the airport?
Dewa Phuket Resort and Villas, is an upscale hotel situated near the serene Nai Yang Beach, just a short drive away from Phuket International Airport on the western coast of Phuket Island. With its tranquil setting, the hotel provides a calm and tranquil atmosphere, making it a perfect option for travellers in search of a peaceful escape, as opposed to the frantic beaches of Patong or Kata. Nai Yang is an unexpectedly quiet area with great beachfront restaurants, local markets, a Thai temple, and an exquisite beach, all within a short stroll from Dewa Phuket. Read more
Address: 65 Moo 1 Sakoo Thalang District, Phuket 83110
Hours: Open 24 hours
Phone: 076 372 300
More hotels near Phuket Airport
Where to eat near the airport?
The Natural Restaurant Airport, located 2.4 km from Phuket International Airport, is a great spot for Thai cuisine in a pleasant setting. Whether you need a meal before your flight or are in the area for any other reason, this restaurant is an ideal choice for breakfast, lunch, or dinner. Read more
More restaurants near the airport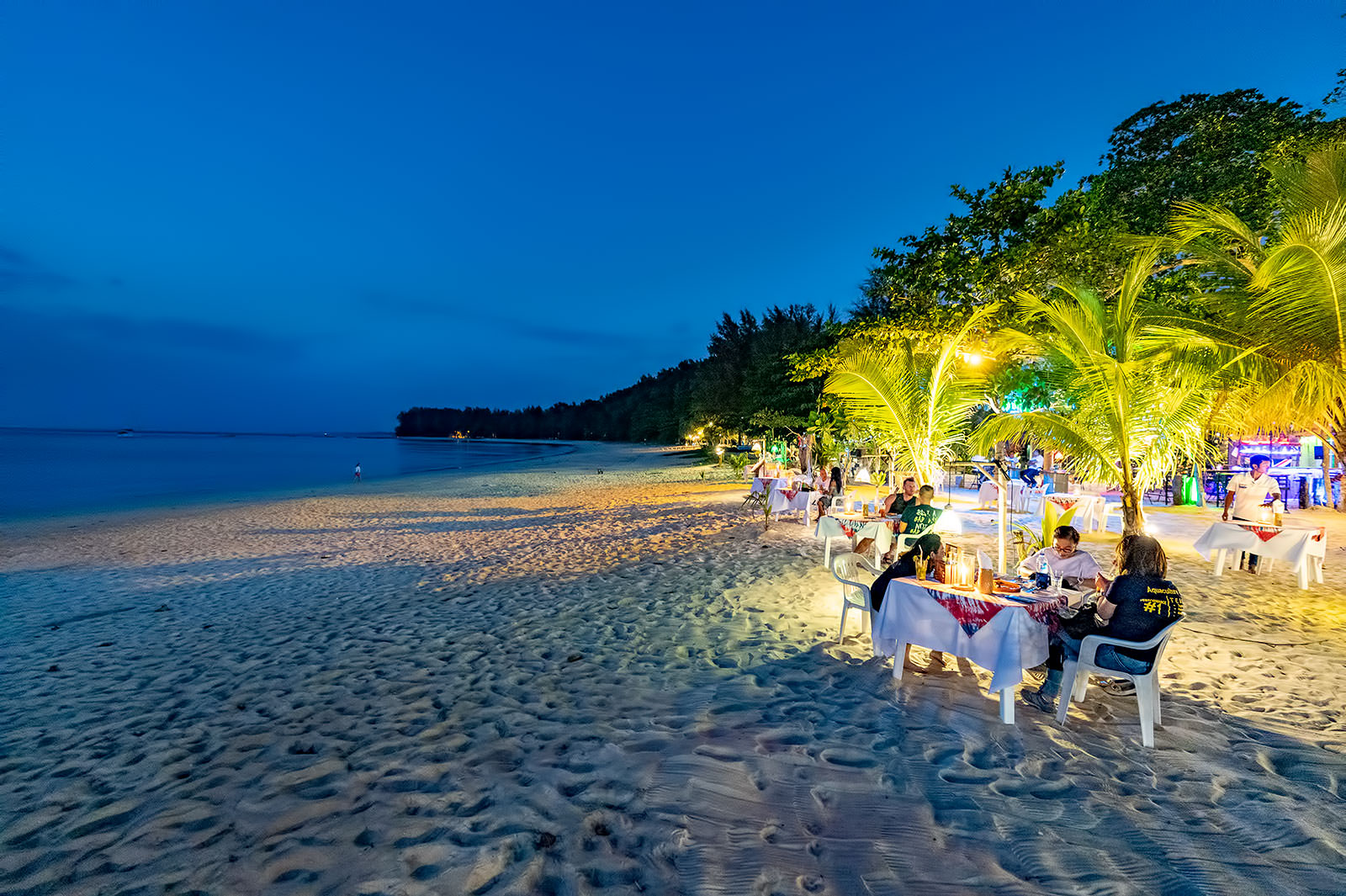 The Good View Restaurant Nai Yang Beach The Good View is a superb restaurant serving good Thai food on the beach of Nai Yang at a good price. A perfect place for a ...
Read More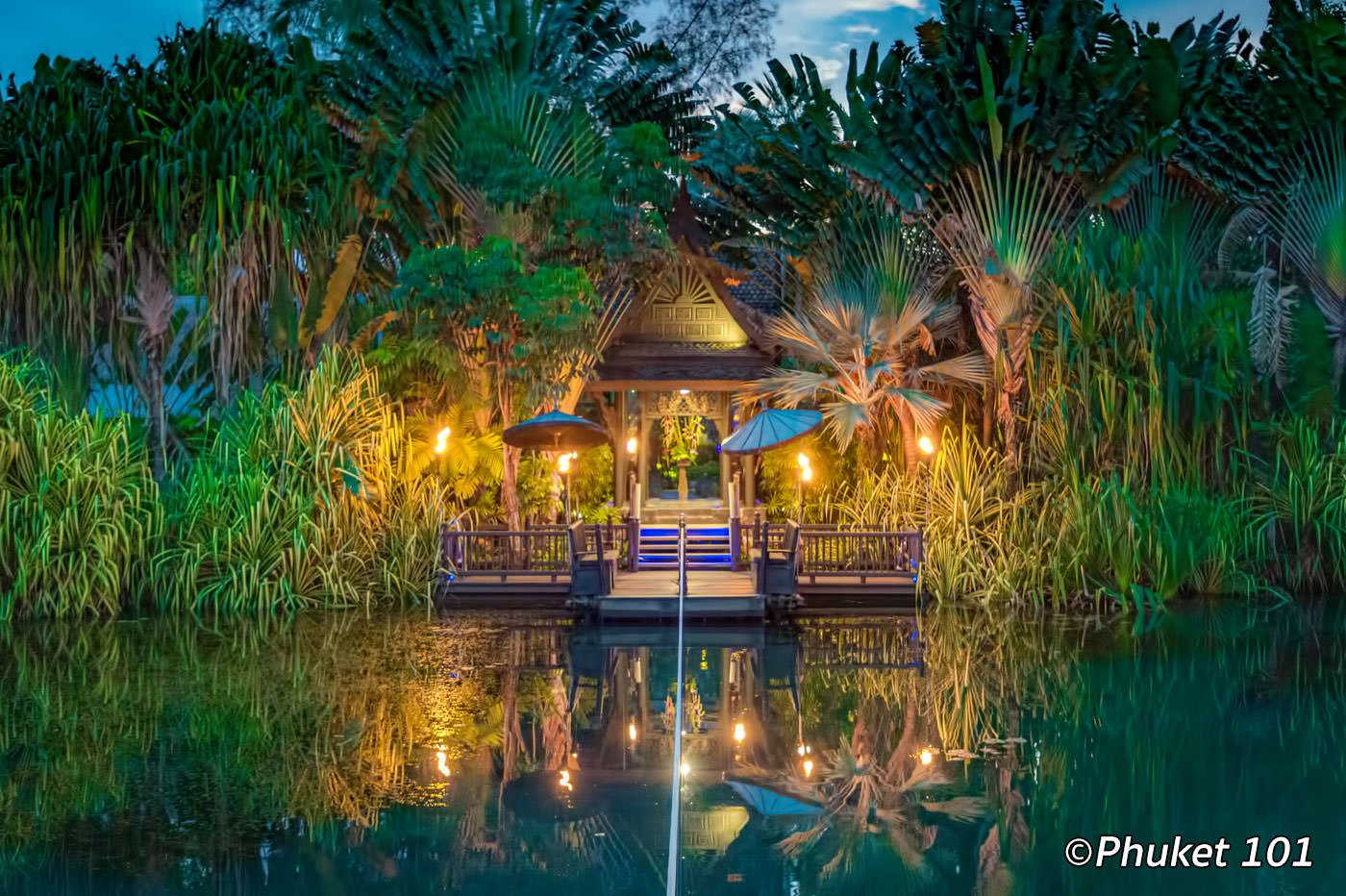 Black Ginger is a fabulous Thai restaurant in a lovely setting inside the Slate hotel in Nai Yang Beach. The cuisine itself is worth the visit, but the design and enigmatic arrival make ...
Read More
Use this link to check if your country requires a visa on arrival (and how to get one online)
Distances from Phuket Airport to Beaches:
| Destination | Distance in Km | Time (average) |
| --- | --- | --- |
| Mai Khao Beach | 8 km | 18 mn |
| Bang Tao Beach | 21 km | 30 mn |
| Surin Beach | 23 km | 30 km |
| Kamala Beach | 28 km | 36 mn |
| Phuket Town | 33 km | 40 mn |
| Patong Beach | 38 km | 53 mn |
| Chalong | 40 km | 50 mn |
| Kata Beach | 48 km | 1 hour |
| Karon Beach | 43 km | 1 hour |
| Panwa | 44 km | 1 hour |
| Rawai | 48 km | 1 hour |
Phuket Airport Facts
| | |
| --- | --- |
| ⛱️ Airport location: | Maikhao Beach |
| 📍 Address: | Mai Khao, Thalang District, Phuket 83110 |
| ✈️ Phuket Airport Code: | HKT |
| 📞 Phone: | +66 76 351 122 |
| 🕗 Open: | 24 hours |
| 🛫 Runway Length: | 3,000 m (9,843 ft) |
| 🧳 Passengers per Year: | 18,855,637 |
Airport Luggage Storage
If you don't want to carry your luggage with you, you can leave it at the International terminal, near the Police counter. The price for one bag is 100 baht per day.
What to do near Phuket International Aiport
Watching planes landing over Mai Khao beach in Phuket has become a top-rated attraction in recent years. It's easy to reach, fun, and truly impressive, and with such a beautiful beach as a background, it is an excellent photo playground!
Naiyang Beach is a hidden gem that is off the beaten path and lesser known to first-time visitors, but it's a hit among returning travellers. It offers a peaceful atmosphere, much like other northern beaches in Phuket, as it is not located near the main roads. The beach is picturesque, shaded, and dotted with small bars and restaurants that add to its charm.
Splash Jungle Water Park is a great place for families with kids to spend a fun day. It's located near Phuket International Airport on Mai Khao Beach and has activities for everyone, including swimming and eating. It's not too big and can be a bit pricey, but it's worth it for a fun experience.
---
Phuket Airport Map
---
Practical information about Phuket
More pages about Phuket International Airport
Phuket Plane Spotting – Where to See Planes Landing in Phuket?
Thai Airways First Class – Flying 1st Class on A380
---
FAQs about Phuket Airport