Phuket International Airport
Phuket International Airport and the domestic airport are in separate terminals. The International terminal has been up and running for a while. Extensions have been massive, and despite a difficult start and long queues at the opening, it solved many past issues such as parking and crowded areas.
---
---
Arriving at Phuket Airport
Everyone knows that the most stressful time for any traveller resides between leaving home and reaching your hotel room in Phuket. Everything in between is just a long list of things to worry about: taxi, luggage, lost passport, how far is the gate, why is the queue so long, etc. Of course, we can't predict everything, but at least we can give you a few hints about Phuket International Airport.
Read also Flying Business Class and First Class on Thai Airways.

On Arrival
---
---
Use this link to check if your country requires a visa on arrival (and how to get one online)
Be ready to queue. Immigration is a lucky draw; the queue you are about to pick will always be the wrong one anyway. But think about this: even if the immigration queue goes faster than you expect, your luggage hasn't arrived anyway! So take it easy; you'll get through eventually. Hotel representatives are not allowed inside the Airport terminal, so if you booked a transfer with your hotel, go straight outside and find your name.
Important point if you haven't visited Phuket recently: there are now two terminals, Domestic and International.
---
Airport Luggage Storage
If you don't want to carry your luggage with you, you can leave it at the International terminal, near the Police counter. The price for one bag is 100 baht per day.
---
---
Did you book your transfer in advance? No problem! It may even be a good thing since hotel transfers are ridiculously expensive. So once you got your suitcase out of the carousel and cleared both immigration and customs, you have five options.
Note: UBER doesn't exist in Thailand anymore, so you must use Grab Taxi. However, be aware that if Grab can drop you off at the airport on your departure day, they cannot pick you up. To select the options below:
---
The best way is to get to your hotel in a comfortable van, especially if you are more than two people and have too much luggage. Some can take you to Patong Beach for only 700 baht (1 to 4 people) and Kata or Karon for 800 baht (1 to 4 people)
---
Airport Limousine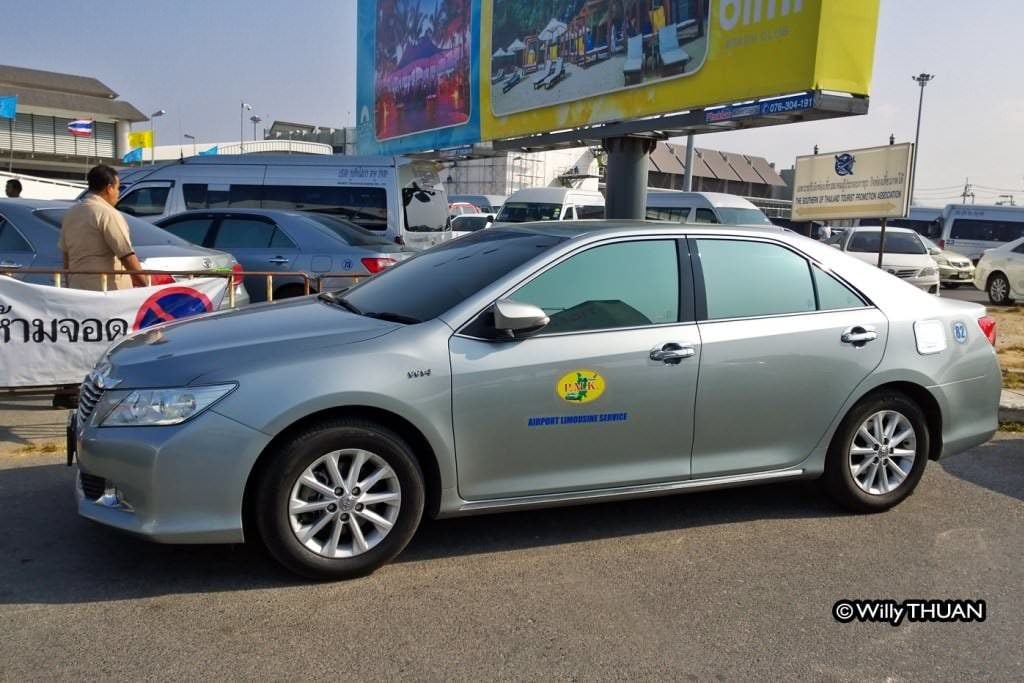 Airport Limousines are a comfortable and more luxurious way to reach your hotels and are not as expensive as you may think. Several counters are located right outside the baggage claims. Staff at counters appear a bit pushy, but it's because of competition: if they don't convince you, the next counter will (or might). It costs a bit more than a taxi meter, but it's hassle-free as prices are displayed (Patong 800 baht, Kata Karon 1,000, Phuket Town 650 baht, Kamala 750 baht. You get a nice Camry, and it is cheaper than hotel transfers.
---
---
Taxi Meter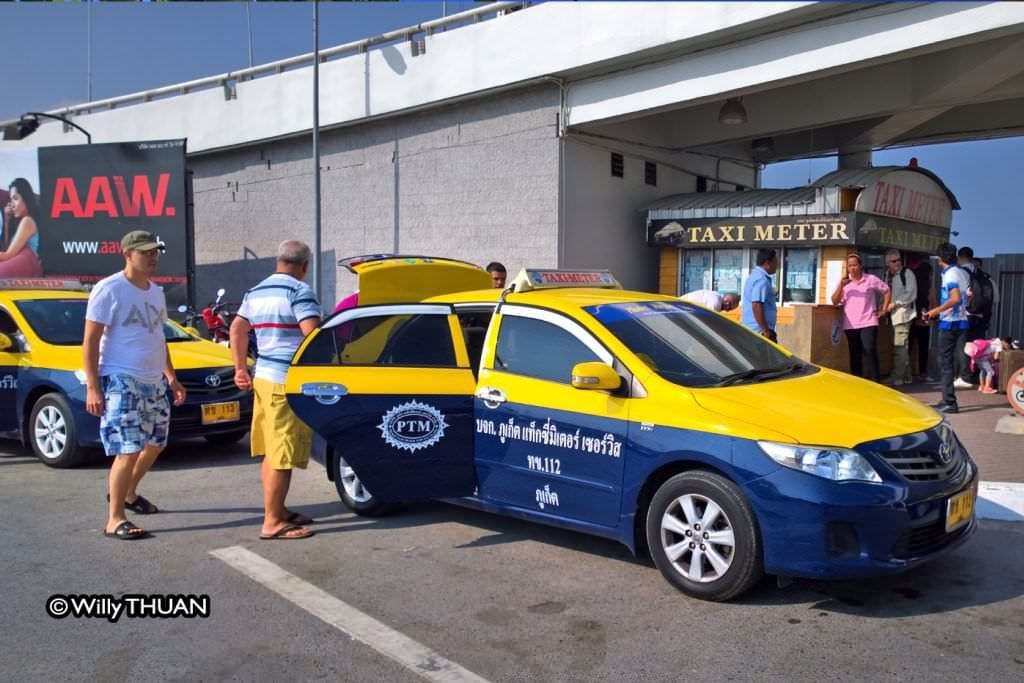 Taxi meters are outside the Terminals and are available all day until late. As usual, make sure the taxi turns on the meter, but this doesn't seem to be a problem in Phuket. Be informed that there is a 100 Baht surcharge for the airport. Readers shared that Patong by taxi meter cost 600 + 100 baht airport tax at the airport while it would cost 800 by limo. For the anecdote, taxis used to stop at their office on the way to your hotel, and a travel agent would come to the car, trying to convince you to change hotel for all kinds of silly reasons, the real one being their commission, of course. It doesn't seem to happen often anymore, but firmly refuse and ask to continue to your hotel if it does.
---
Seriously? Phuket International Airport is on Mai Khao Beach, 30 to 40 km from your hotel, and you just did a few thousand miles, and you are carrying big suitcases! The Smart bus is cheap and stops at every beach but is also very slow. So it might be better to keep the Smart Bus going from beach to beach once you settle down and have plenty of time. Also, the bus will drop you in the middle of the beach, and you still have to pull your heavy suitcase to your hotel. If you want to know more, read about Phuket Smart Bus.
Where to catch the Smart Bus at Phuket Airport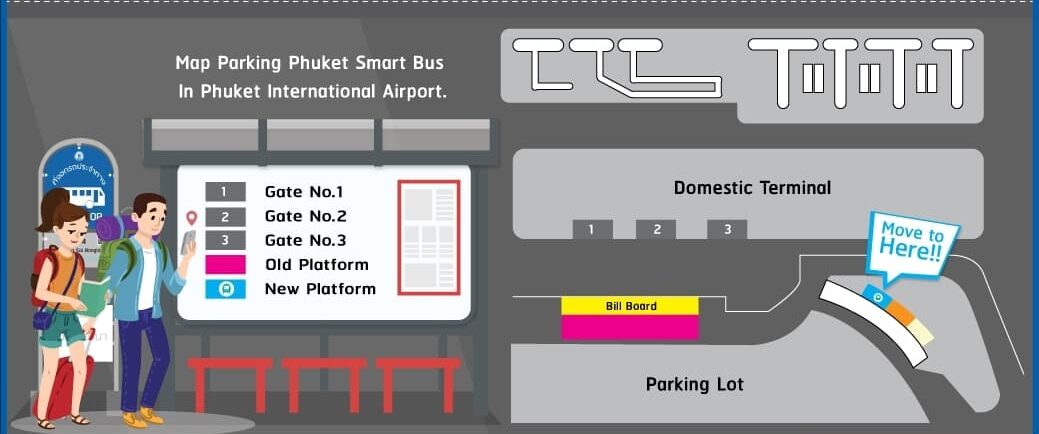 ---
---
Probably the best option if you are on a budget. Shared Minibuses can usually carry up to 10 people and cost around 180 to 200 baht per person to reach the popular destinations of Patong, Kata and Karon Beaches. However, it might take a bit of time to fill up the mini-van, and if you are unlucky, you will be the last to be dropped off.
---
Easy, they are just outside the domestic terminal gate or on the ground floor of the international terminal. When you arrive at the domestic airport, walk outside, and you will spot the logos from far anyway. Take an internationally known brand, and make sure you have your international license; later, I'll tell you how fun it is to drive in Phuket! Rates for a Honda Jazz or Honda city start at 1,000 baht/day with insurance. You can rent a GPS for 100 Baht/day. Read more about Car Rental in Phuket.
---
Several ATMs are past the customs, all from public banks and safe to use, and the exchange rate is reasonable. – Once you pick up your luggage, there is STILL one duty-free shop! Your last chance to pick a bottle of something. Read more about changing money in Phuket.
---
Leaving Phuket
Again, there are two terminals located next to each other. There is not much excitement here inside the airport, especially since you are leaving. Proceeding to the check-in counters is simple, but time varies, like anywhere else. Once you pass immigration and move inside the international lounge, you'll find more restaurants and the unavoidable collection of duty-free shops for perfumes, alcohol and cigarettes. However, you can still find a few exciting deals.
---
How early should I arrive at Phuket Airport?
Theoretically, you should be there 2 hours before an international flight and 1 hour earlier for a domestic trip. But lately, traffic is an additional factor, and it can easily add a good 30 minutes! Avoid the stress and leave your hotel as early as 30 minutes to 1 extra hour if it's at rush hour, 5 pm. (that makes 2.30 to 3 hours for international and 1.30 to 2 hours for domestic)
Notes
If you plan to leave your car for a domestic flight somewhere, it costs 200 baht per day and finding a parking spot can be stressful at certain hours, so allow extra time. Keep in mind that traffic is unpredictable at the end of the afternoon, so consider at least one hour drive between your hotel and the airport.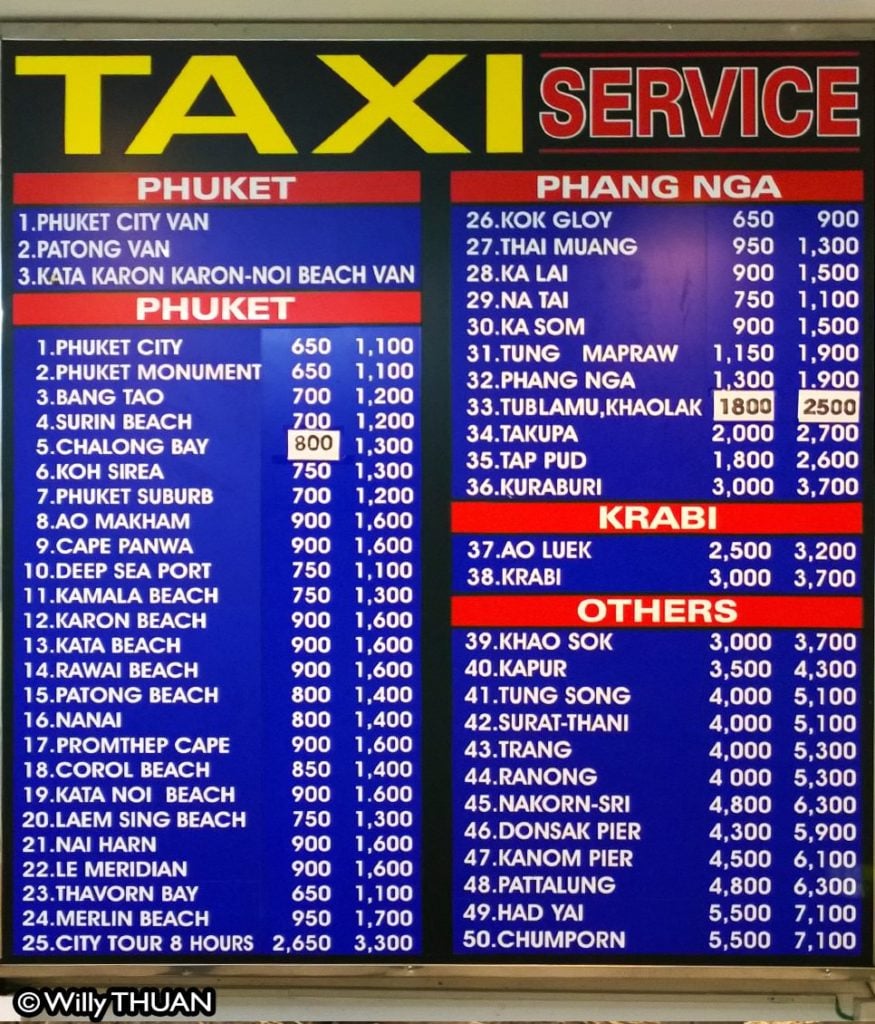 ---
Distances from Phuket International Airport to Beaches:
to Patong: 37.7 km, 53 min
to Kata: 47.4 km, 1 hour
to Karon: 43.4 km, 1 hour
to Panwa: 43.9 km, 1 hour
to Bangtao: 21 km, 29 min
to Phuket Town: 32.8 km, 40 min
to Rawai: 48 km, 58 min
to Chalong: 40 km, 50 min
to Kamala: 27.6 km, 36 min
to Surin: 23.3 km, 29 min
to Mai Khao: 8 km, 18 min
---
Phuket Airport Map
Below is a map of Phuket's main destinations starting from the airport. You can select yours by disabling all other destinations.
---
Phuket Airport Photos

---
Phuket International Airport Facts
Location: Maikhao Beach
Address: Mai Khao, Thalang District, Phuket 83110
Code: HKT
Phone: 076 351 122
Open: 24 hours
Runway Length: 3,000 m (9,843 ft)
Passengers per Year: 18,855,637
---
More pages about Phuket International Airport
Phuket Airport Transfers ▷ How to Get from Phuket Airport to your Hotel?
Phuket Weather ☀️☁️🌧️ What is the best month to visit Phuket?
Phuket Plane Spotting – Where to See Planes Landing in Phuket?
---