Thai Airways First Class Review
Thai Airways First Class, what is it like to go from Bangkok to Paris on an Airbus A380? In a previous story, we reviewed a long-haul flight in business class, but this is different, and for most, it is something to experience at least once in a lifetime. To be significant, it has to be long haul because domestic flights only offer a few of the perks (domestic flights won't give you the headset and meals are a lot smaller).
Note: This Thai Airways First Class story is NOT sponsored, we paid for our flights (mileage!)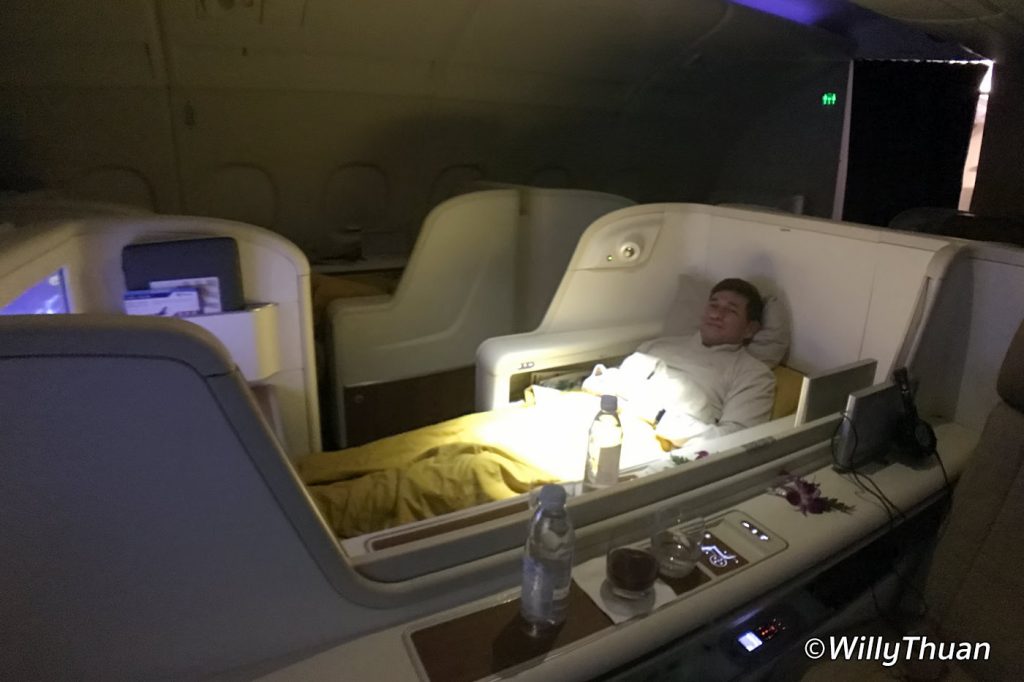 So what is the difference between Business Class and Thai Airways First Class?
At the airport
The first thing you will notice is how helpful and attentive the staff is with you, not in a stiff or formal way, with real smiles and a friendly attitude. The perks listed below only apply at Bangkok airport because this is Thai Airways in Thailand! Starting from another country, you will get access to the first-class lounge and priority lane to immigration, but that's a lot fewer fun features than what you get in Bangkok.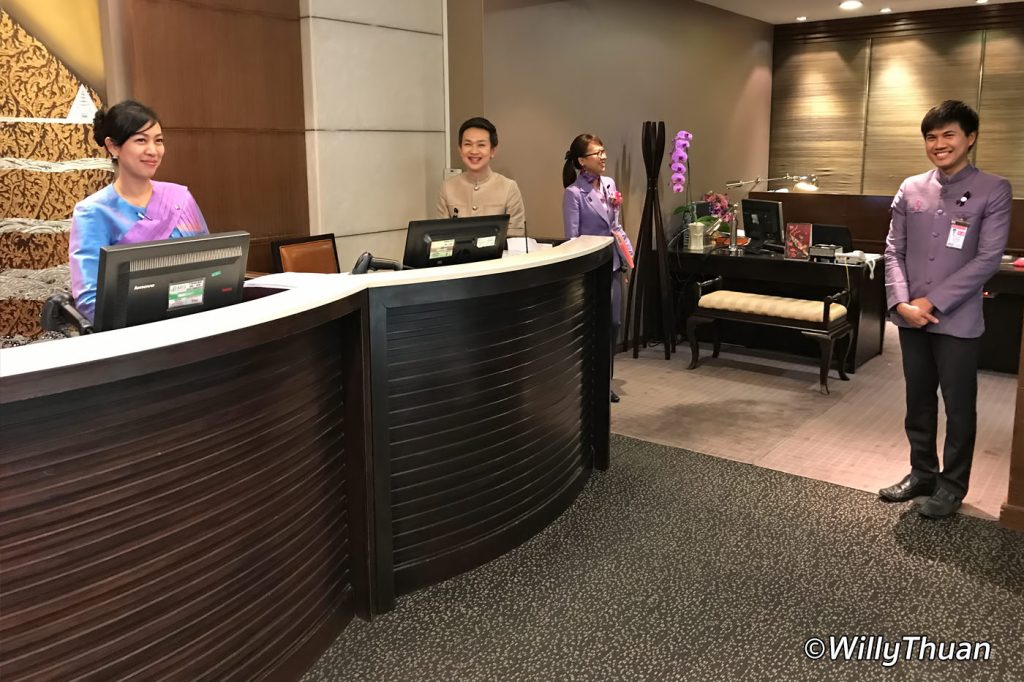 Check-in
At Suvarnabhumi airport you won't check in at any counter, you will be invited to a cosy salon area, and you will have someone taking care of you and your luggage just like in a high-level 5-star hotel. From there you will be personally escorted everywhere: to the fast immigration lane and the First Class Lounge, and later a buggy will drive you to your gate which is usually quite far as the Airbus A380 is so large it can only park at the very end of the airport.
The lounge
The lounge is a bit similar to the business lounge, just a little more sophisticated and colourful, with some private rooms with large flat TV screens, and it's less crowded!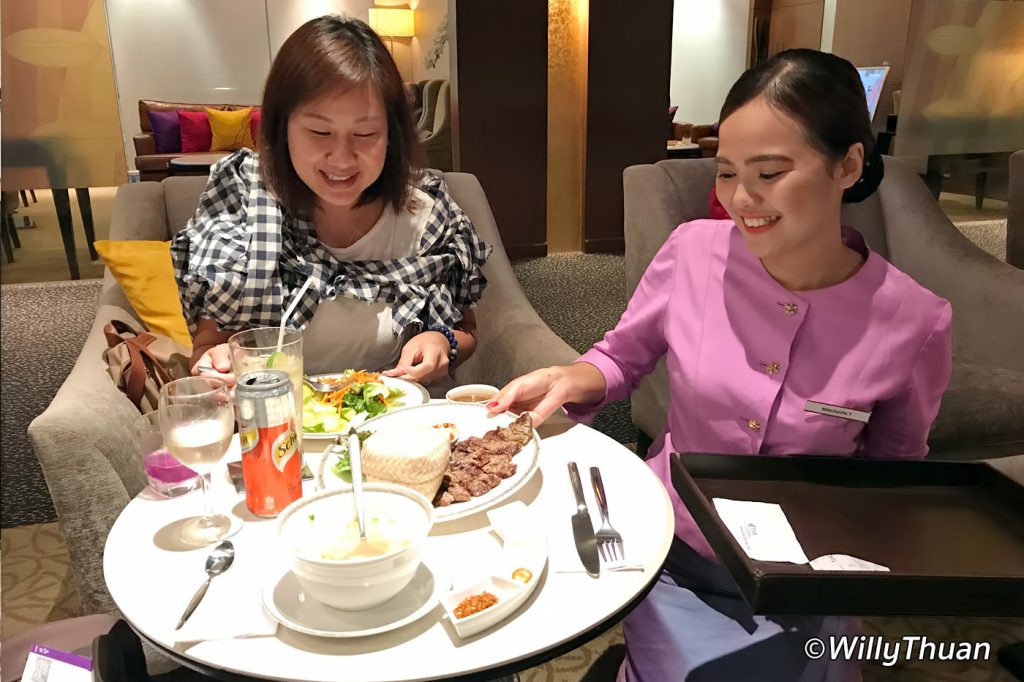 The Thai Airways First Class lounge also has a real bar with a real bartender! You basically can order any drink or cocktail for free, but Champagne is always a big winner. The team is always smiling and genuinely friendly, and the ladies wear beautiful Thai silk uniforms.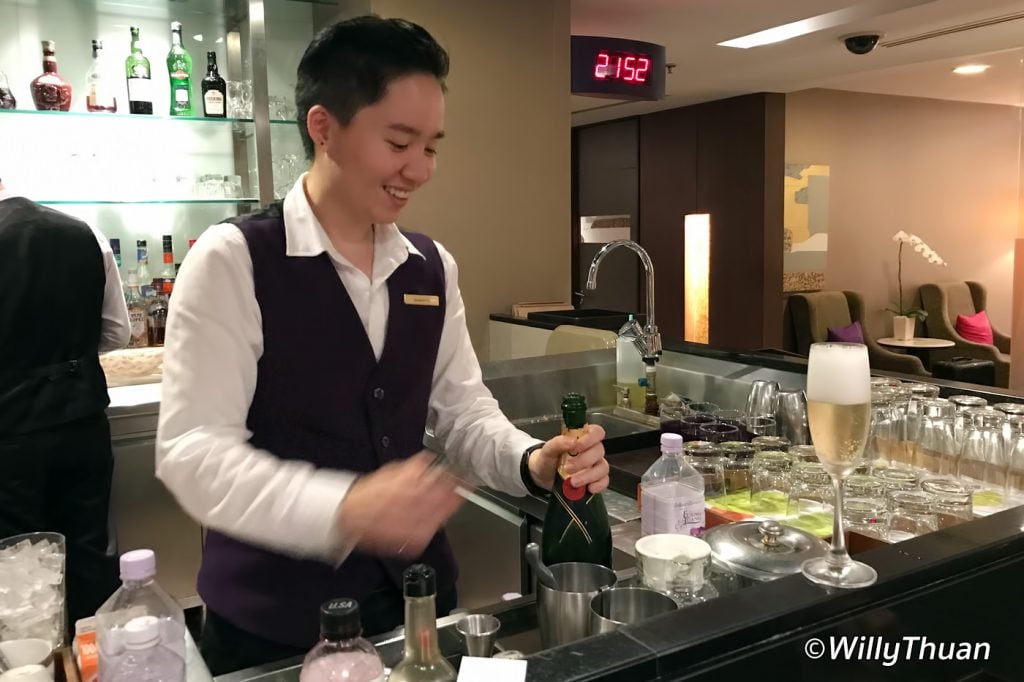 The Thai Airways First Class Spa
The spa is the most fun perk. If you arrive early enough, you can request an hour of free spa! You get to choose between aromatherapy or traditional Thai massage. Usually, I would go for aroma, but since we were on a long flight, I didn't feel like having any oil, so I went for a traditional Thai massage. And just like in the previous experience, we had on a business class flight, the therapist was professional, better than most massage places I went to in my many years in Thailand. (Business class only offers foot massage or shoulder massage).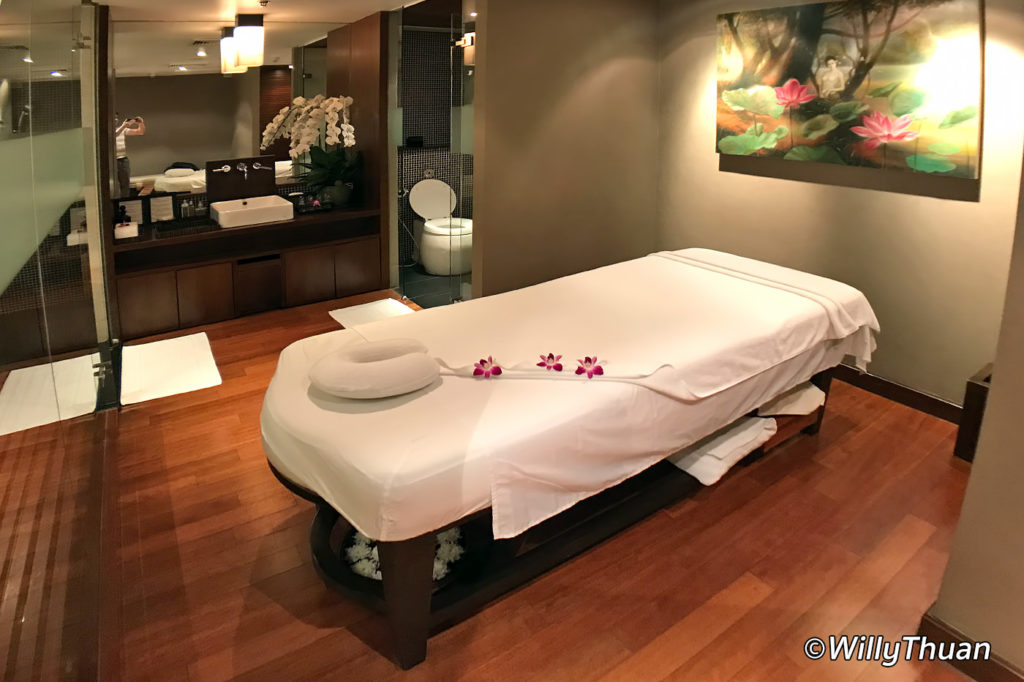 Note that even though you know what time your flight is, you can't book the spa in advance, it's 'first come first served', but it didn't seem to be overly busy. Just remember to arrive a lot earlier if you plan to take advantage of the first-class spa at the airport.
On-Board Thai Airways First Class
The cabin
Each plane and each airline is obviously different, and each first-class cabin has different layouts and features. Our aircraft was an Airbus A380 with rectangular alcoves and large full flatbeds. Superbly designed with plenty of storage and 2 USB plugs and two electric plugs, an oversized sliding 41 x 69 cm table and a large 25″ TV screen (yes it is significant in a plane). Separation is good as you can raise an electric panel to isolate yourself from your closest neighbour if you are in the central area.
The 25″ screen with a noise-cancelling headset will allow you to enjoy plenty of good movies, including the usual set of new releases. It will keep you happily busy on the way to your destination, but you will most probably get the same movies on the way back!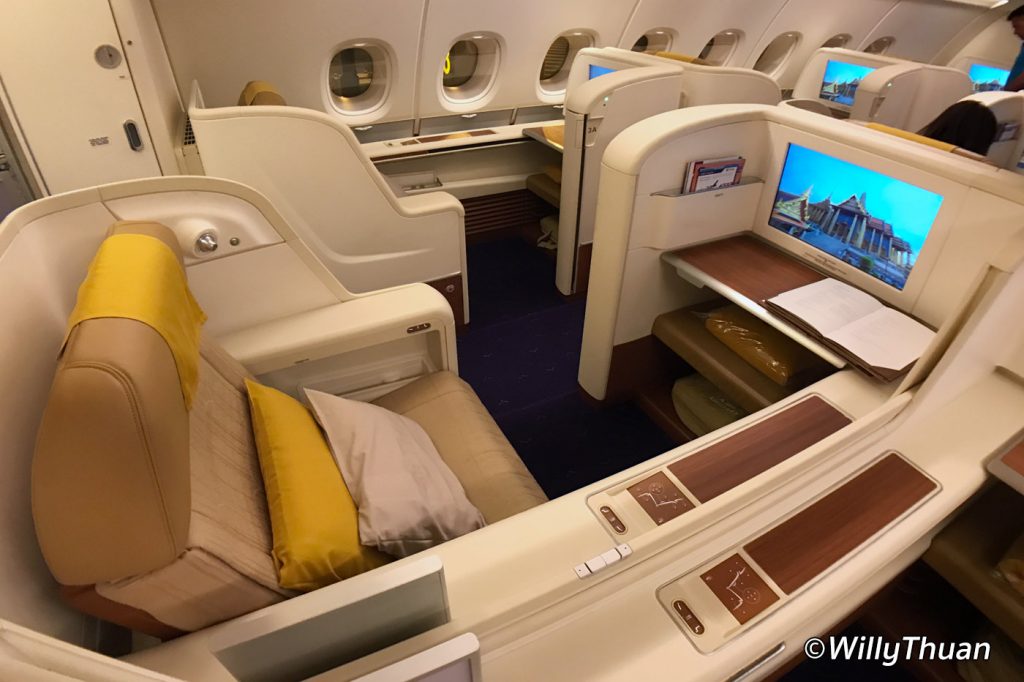 When the time is right, a cabin attendant will prepare your bed for the night: flatten your bed entirely, place an extra thin mat for your comfort and add blankets and pillows. And yes, they also supply pyjamas and a changing room! I tried the pyjamas, and it was a little too warm for me, but I loved the feeling of being in a real bed. The cabin crew come and check if you are comfy, just like in the commercials!
Meals on Thai Airways First Class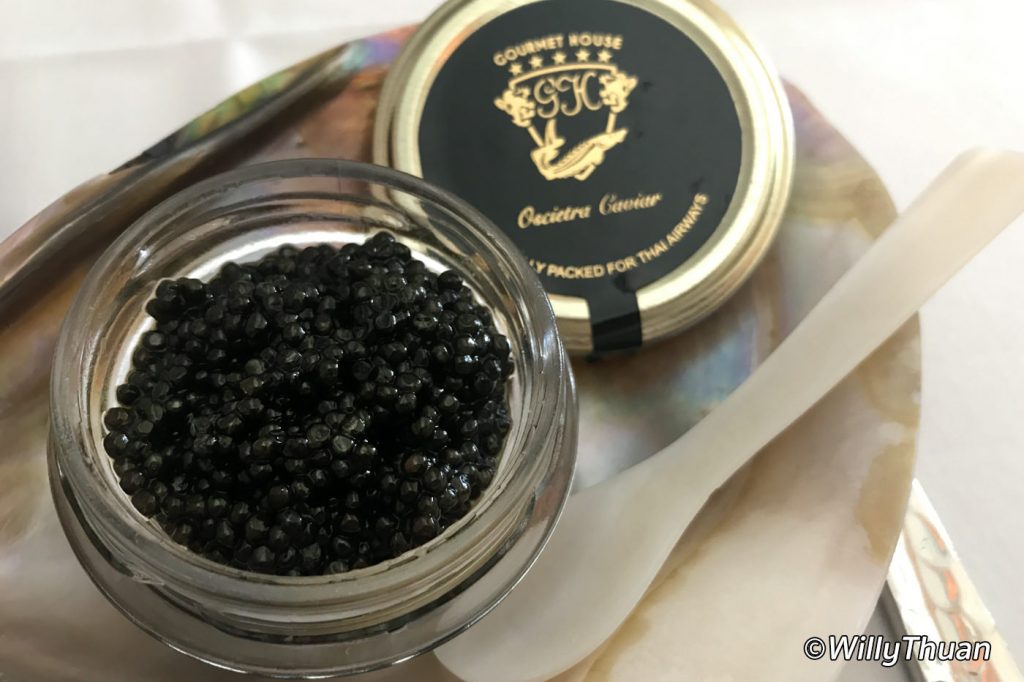 From the moment you walk inside the plane, it's all about pampering you. You get warm towels, as many glasses of champagne as you want as long as you don't appear overly drunk, and plenty of little canapés. The meals are the highlight of the flight, and these are real 5-course dinners beautifully served.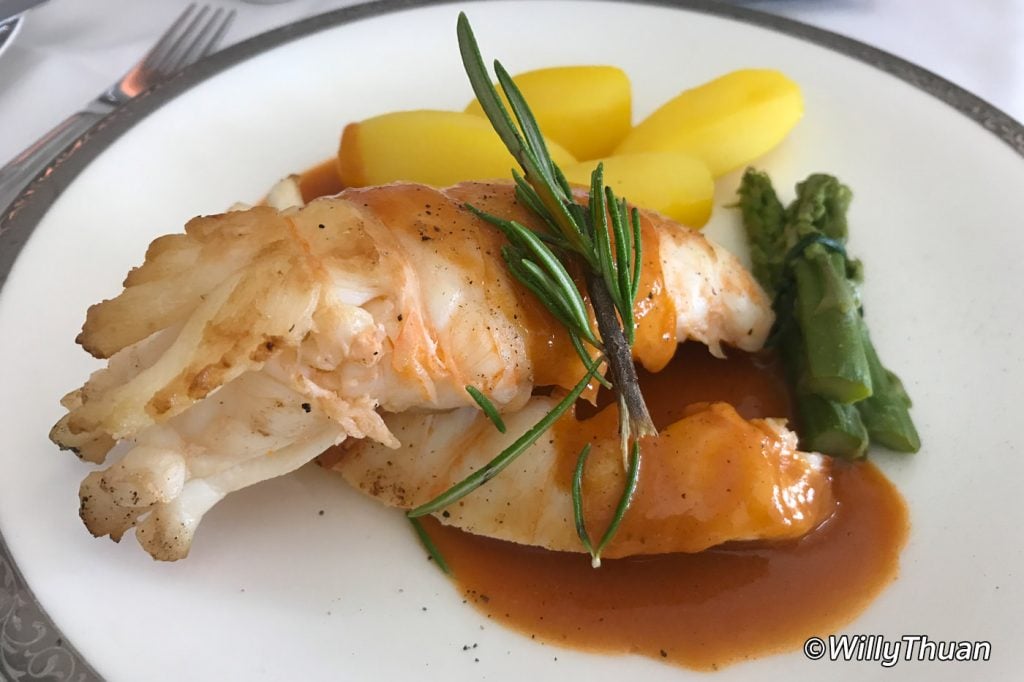 On First Class, each dish is served with real plates and real cutlery (no plastic here!) and your 41 x 69 cm table are large enough to make you feel like in a restaurant (except that I fell asleep in the middle of my meal once!) There is an on-board menu to choose from with 2 or 3 different main dishes but you are encouraged to order in advance online from a much more extensive menu selection.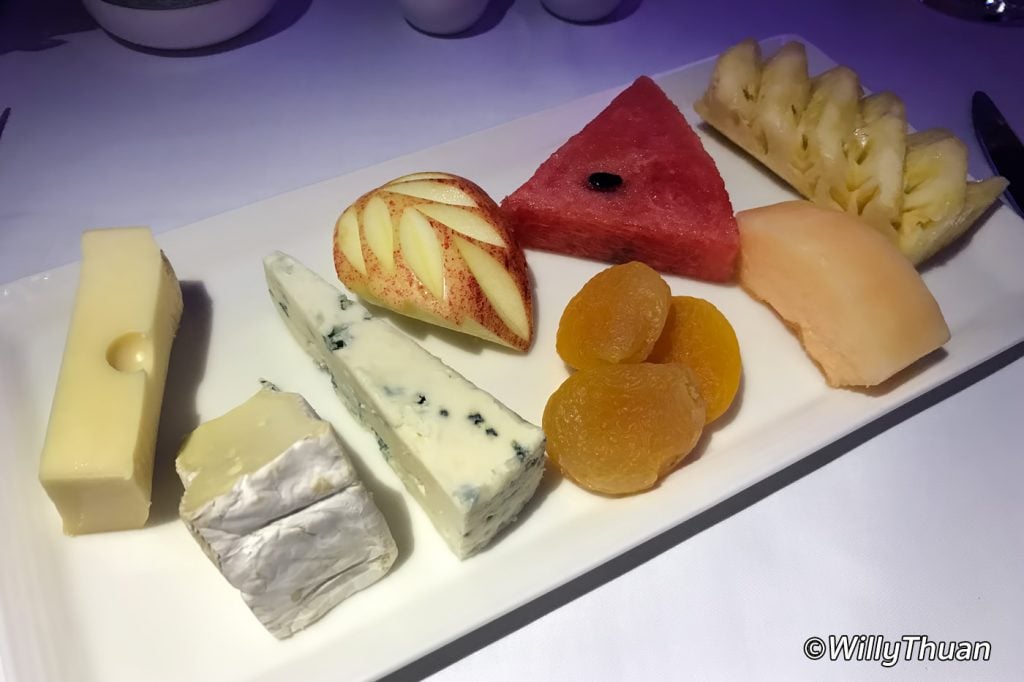 The meals consist of 4 or 5 courses; I can't really remember as so many little plates and tiny ice creams keep appearing between dishes. All the appetisers were excellent, and the caviar was a nice touch (remember you are 15,000 feet above the ground!)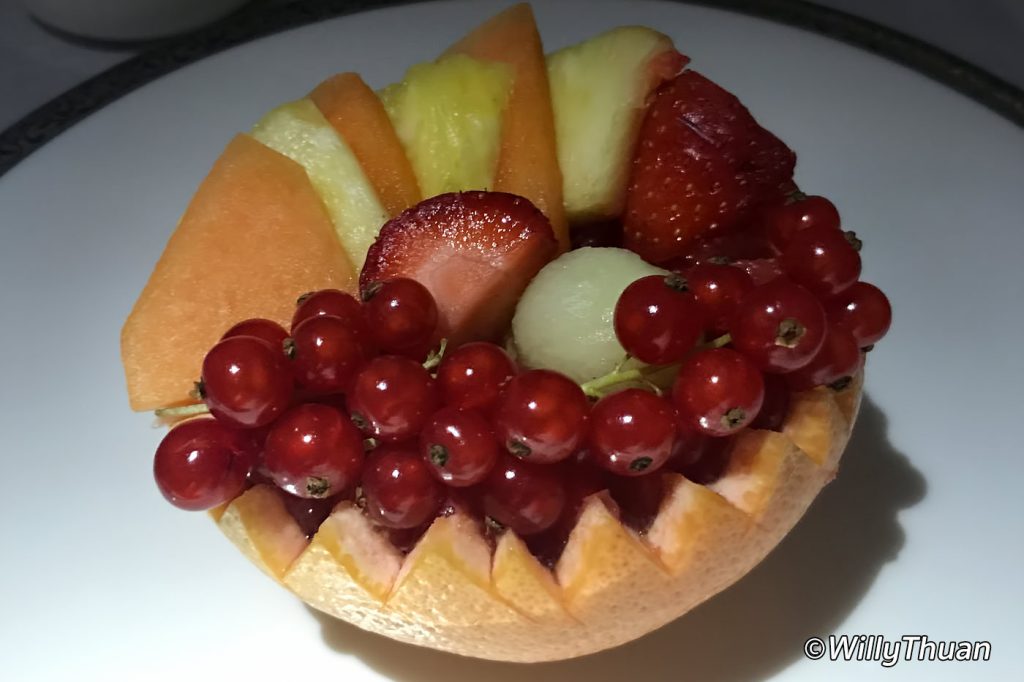 On both flights from and to Paris, appetisers, cheeses and sweets were great, but the main dishes were so-so, the lobster was really hard. They even serve you a real espresso, not that watery tasteless coffee.
]
Inside the little pouch on First Class Thai Airways!
Always fun to get that little bag of freebies in business class but in first class, you get a really beautiful little RIMOWA hard case, which means 2 if it is a return flight! We got a green one and a grey one and the content were actually different!
Inside your pouch, you will find Brush and comb, slumber shade (that black mask you wear to sleep), cotton buds, Evian facial mist, moisturiser, toothpaste, toothbrush and mouthwash, lip balm and weird comfort socks.
Other things you get:
A pyjama
+ 20 MB free internet access. Yes of course you are expected to brag to as many friends as you can within 20 Mb and trust me it goes fast (you get 5 Mb in Business class). If you want more, you'll have to pay and it doesn't come cheap.
Verdict
What strikes the most? As soon as you are in your seat, you entirely forget that you are actually on a plane. This is 10 hours of pampering, playing with the toys, eating a lot, drinking quite a lot and sleeping if there is enough time left after that! You even wish the flight could be just a little longer so you can finish that movie.
Of course, it doesn't come cheap, but you arrive fresh for a new day, so you actually save valuable time and you don't feel lousy. Want to know how much it costs? Go to the Thai Airways Website and find out!
(Once again this is NOT a sponsored review, we actually paid with our mileage for this flight)
Flying Thai Airways Business Class
Also worth reading