---
How to use Phuket Smart Bus?
---
The Phuket Smart Bus is a very comfortable and affordable way to go from beach to beach for a very reasonable price. It is doing pretty well on the islands, and visitors love it.
There are several ways to use the many Phuket local bus services. All are cheap and slow, but if you are visiting Phuket with a small budget and if time is not an issue, you can save quite a bit by taking advantage of these bus options.
Phuket Smart Bus
The Phuket Smart Bus, the most interesting one for you, will take you from beach to beach, ride from Phuket airport to Rawai beach, and return. The bus goes from Phuket International Airport to Rawai beach and stops at 15 stations along the way, almost every beach on the west coast: Bangtao Beach, Surin Beach, Kamala, Patong Beach, Karon and Kata Beach and finally Rawai.
Phuket Smart Price
The rate is now fixed at 100 baht for any destination.
If you stay in Phuket for a long holiday, you might consider,
3 days pass: 499 THB (can be purchased directly from the driver)
10 days pass: 1,000 THB, 15 days pass: 1,500 THB, 30 days pass: 2,600 THB (can be purchased on the Phuket Smart Bus website)
Buy a refillable Smart Card onboard to pay the fare (fare cannot be paid directly in cash). Refill is available in designated shops or restaurants around the island.
NOTE: the bus is free for kids under seven years old! Please show a passport and inform the staff at the airport or the driver.
Phuket Smart Bus Itinerary
The list and map below list all the stops of the bus, but to give you a couple of essential hints:
---
Phuket Smart Bus Time Table
Note: keep in mind that the bus is almost always late by 10 to 15 minutes!
---
Where to catch the Smart Bus at Phuket Airport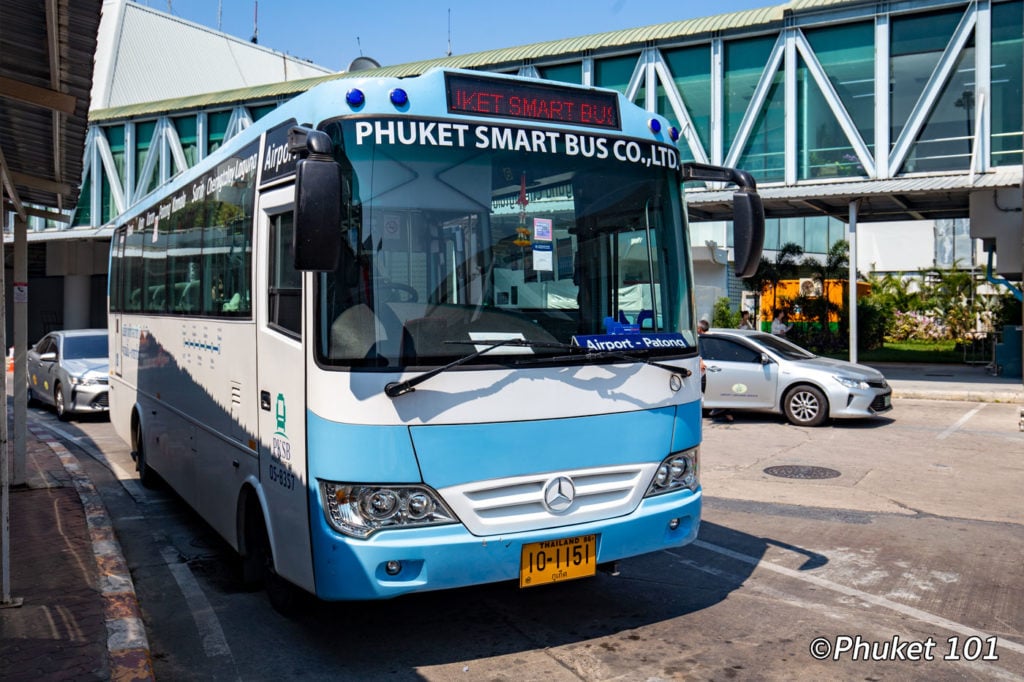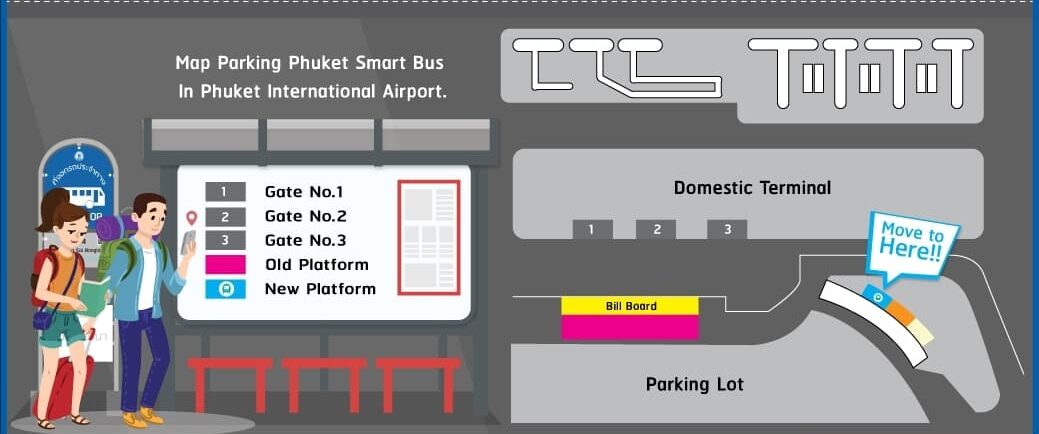 ---
Other ways to get around Phuket
Phuket Taxis, Tuk Tuks and Buses – Getting Around Phuket
Phuket Local Blue Bus and Pink Bus
Renting a car with driver in Phuket (minivans and taxis for a day)
PHUKET AIRPORT TRANSFERS 🚐
---
FAQs about Phuket Smart Bus
Q. How much does the Smart Bus cost?

a. The ride costs 50 baht for the shortest distance and 170 baht for the longest ride.

Q. Where do I find the Smart Bus at the airport?

a. The Smart Bus is parked on the left side of the domestic terminal when exiting.

Q. How often does the bus run?

a. The Smart Bus starts once an hour at the airport, on average, depending on the traffic.

Q. How do I pay for the bus?

a. Buy a refillable Smart Card onboard to pay the fare.