What is the Phuket FantaSea Show?
Notice: Phuket Fantasea is reopened on Fridays and Saturdays – the park is open from 5.30 pm – 10.00 pm and the show is at 8 pm.

Phuket FantaSea is a show narrating the legend of Kamala, which in this story is a jungle with a mythical palace, quite different from the Kamala you know! This massive stage performance plays on the ground of a large theme park located in Kamala Beach. After more than 20 years in Phuket, the show is still going strong, welcoming millions of visitors and tourists from around the world each year to enjoy this dazzling performance.
---
The Park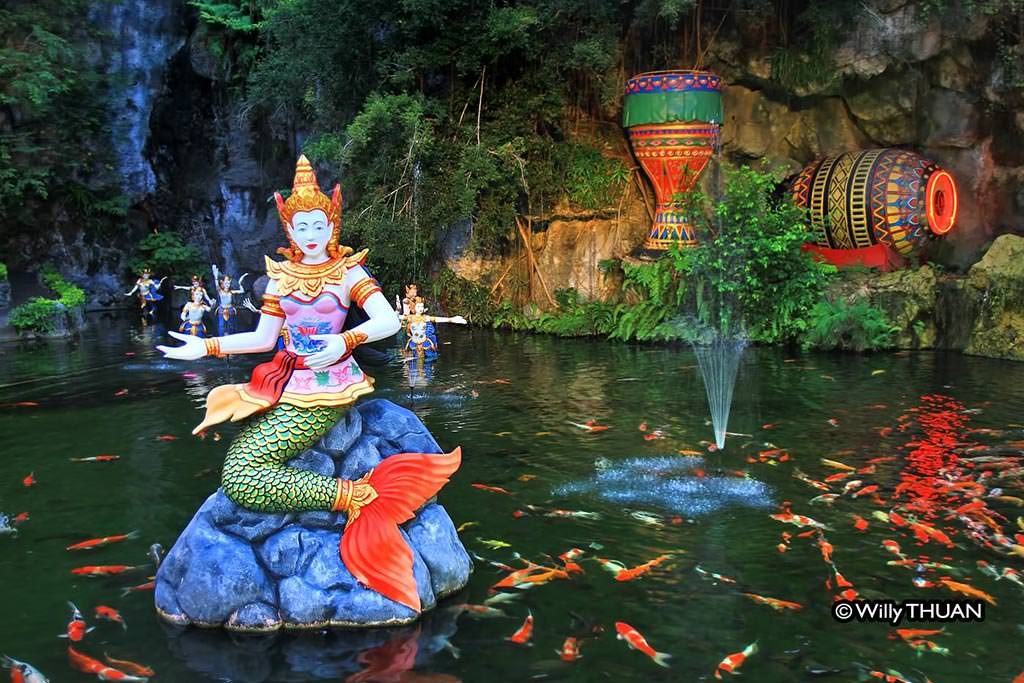 The FantaSea park is immense and designed to entertain you for several hours before the show. You can enjoy shops, shops and more shops plus some coffee shops. A couple of funfairs keep the kids busy, and you might even win a couple of stuffed animals. Of course, you have to pay to play the games (on top of the entrance fee), and the prize is probably cheaper than the game, but you get the bragging rights.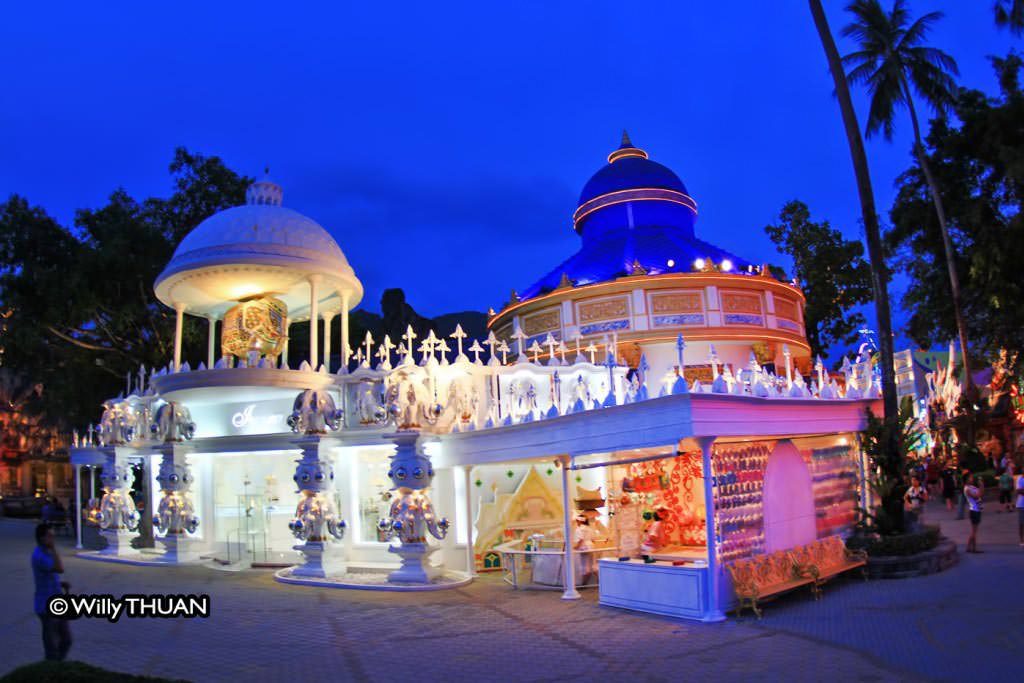 Phuket FantaSea park is beautifully crafted, designed around Thai mythology and legends, with endless photo and selfies opportunities. The restaurant and the main building where you will see the show are imposing.
---
Dinner at Golden Kinaree Restaurant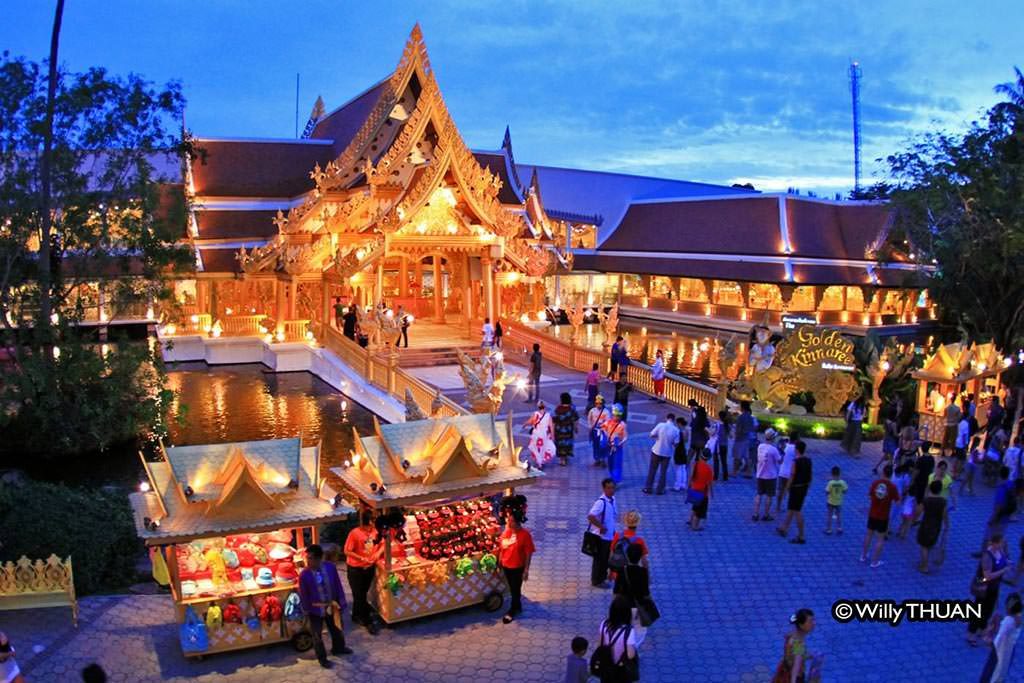 Beyond a dozen bright and colourful traditional Thai boats, we reach the Golden Kinaree restaurant resembling a vast golden temple. The dinner is optional, but we decided to give it a try to at least write about it. Passed the large doors, we just froze for a second: We never saw such a humongous dining room in our entire life!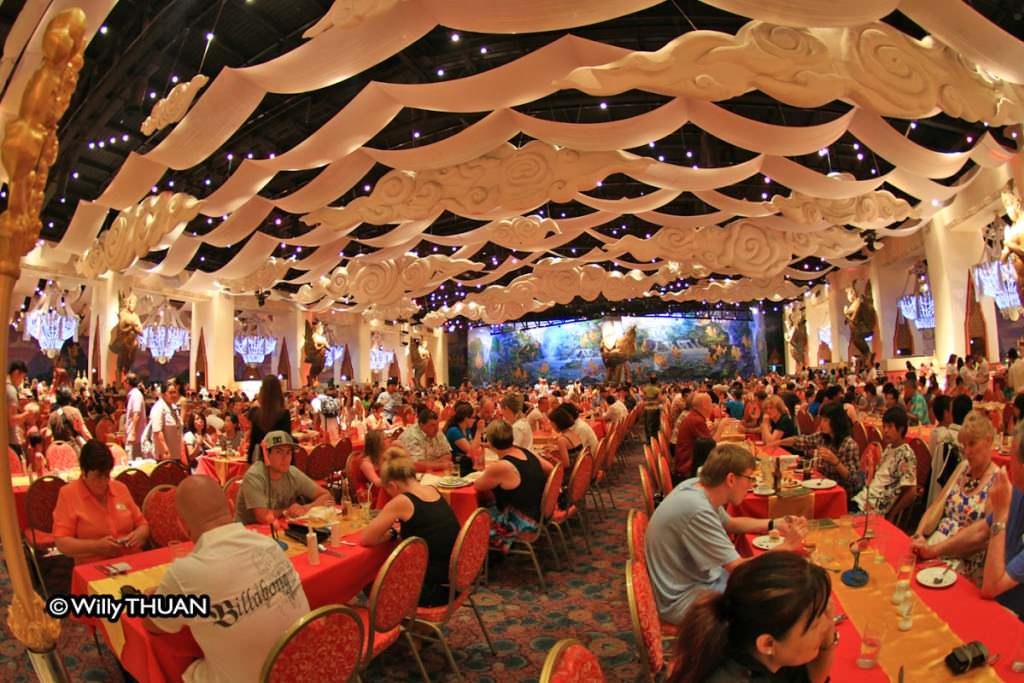 A room capable of hosting 4,000 seats is larger than a soccer field! The decor at Golden Kinaree is beautiful, and the buffet is acceptable, but it's the opposite of an intimate restaurant. You better enjoy a nice dinner in Kamala Beach before coming to the FantaSea Phuket show.
---
The Setting
The crowd rushes to the theatre as soon as they announce the show. Even though everyone booked their seats in advance, there seems to be an urge to get in first!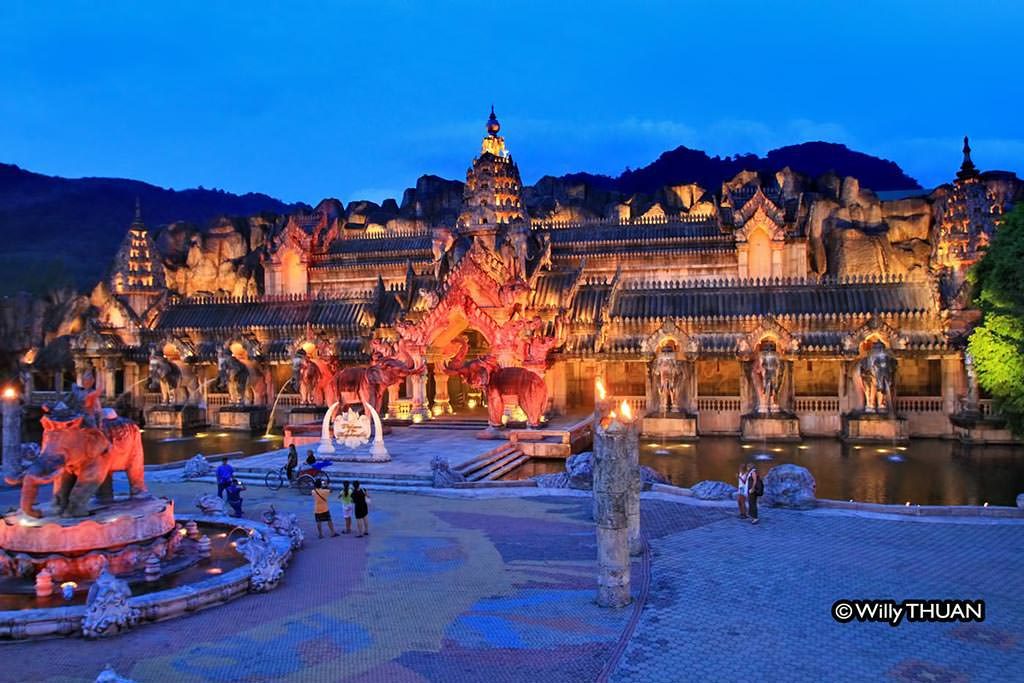 Visitors are not allowed to take photos inside the theatre and must deposit their cameras at dedicated counters. Phuket FantaSea has always been very strict on this point. We never managed to get an authorisation to shoot inside the theatre, sorry!
The large theatre accommodates 3,000 persons. If you get bad luck and end up in a back seat or on the 2nd floor, the elephants will look as big as frogs. Book a 'gold seat', it's not much more, and you get to be closer.
---
The Show at Fantasea Phuket
The show starts with a caravan of massive elephants walking through the audience, followed by performers in Thai costumes. It's impressive and surreal, probably the best part of the show. The show starts once everyone reaches the stage in a great display of sound and light effects.
The FantaSea show narrates the history of Kamala, but we suspect nobody follows the story past the first 5 minutes. Actors, dancers and acrobats smoothly perform a well-rehearsed play. The flying Thai angels and the acrobats spinning above the audience's head get all the attention. Some scary clowns coming straight out of a Stephen King novel do a bit of magic. They didn't seem to have anything to do with Thai mythology, but the front stage performance allows the crew to change the set behind closed curtains! 🙂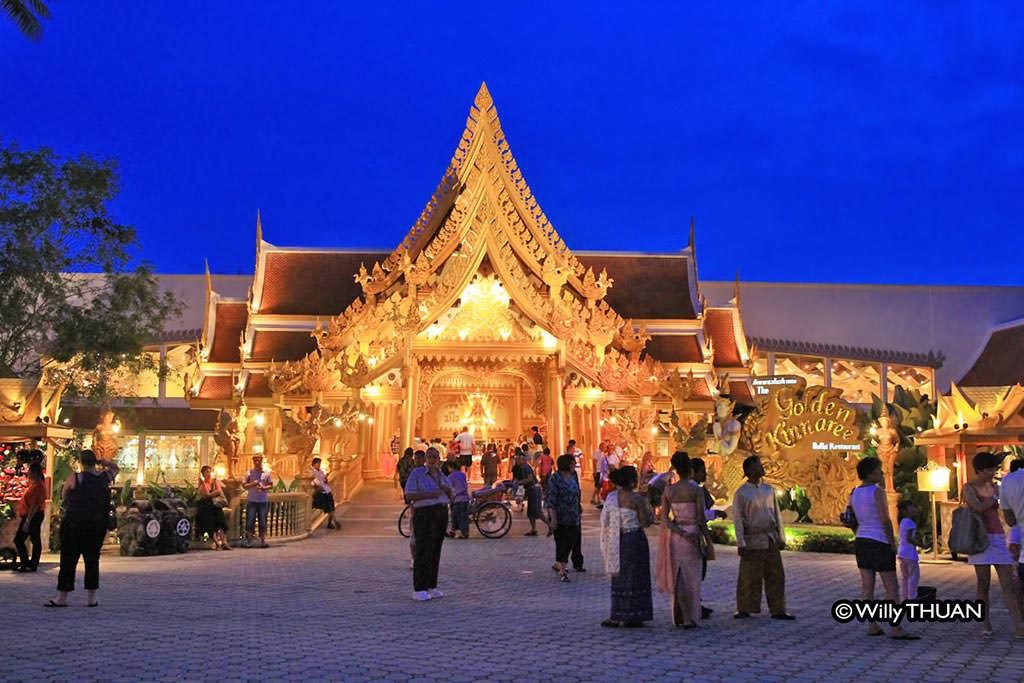 Epic battles, scenes and traditional dances end with the return of the elephants. That part is has a little disturbing 'circus' feel to it. For the grand final, the good guys rescue the princess: the audience is happy and cheers. The bunch of crazy chickens that run in a neat line across the stage is a fun touch. How do they do that?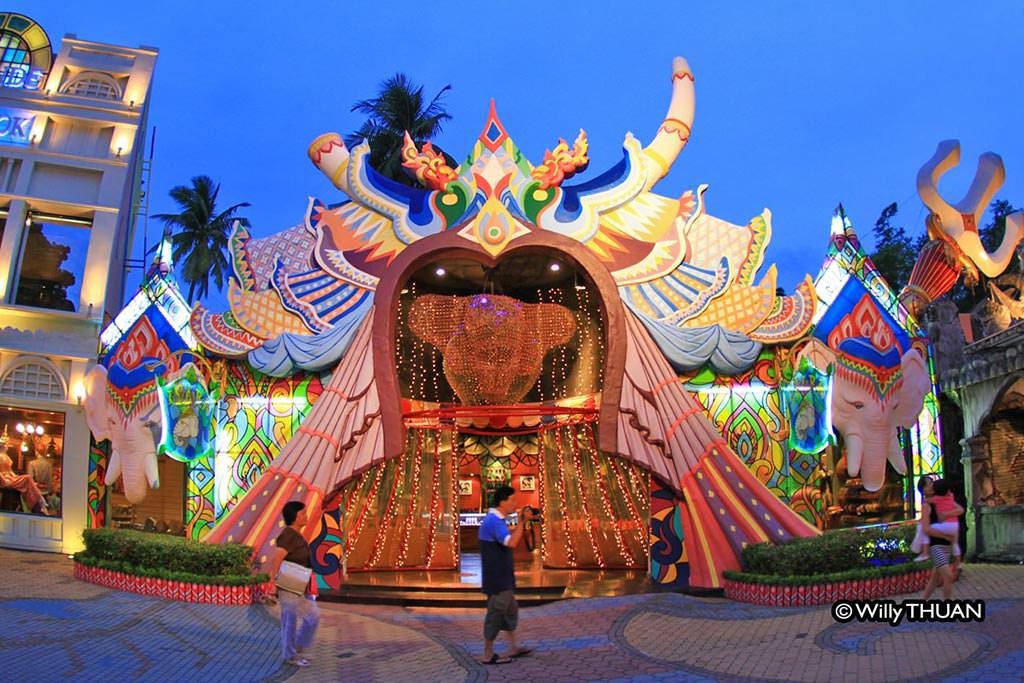 Phuket FantaSea is a pretty good show and a decent attraction park. It might feel a bit 'mass tourism' to some. Kids will love the colourful game zones and the brightly lit buildings, and the massive temples might impress adults. There is a bit of controversy regarding the elephants involved in the show — some elephants standby near the restaurant for a photo or a short ride. Lately, riding elephants is not ethical anymore, and Elephant Sanctuaries are becoming more popular.
---
Phuket FantaSea Photos
---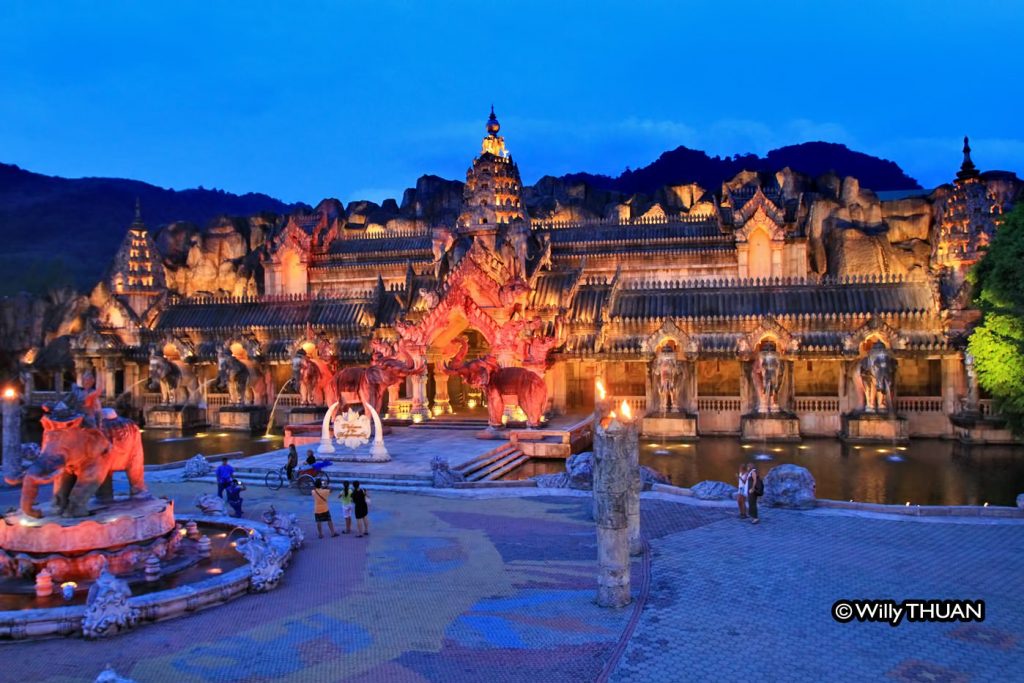 Phuket FantaSea Info
Location: Kamala Beach
Address: 99 Kamala, Kathu District, Phuket 83150
Open: Only Friday and Saturdays 5.30 pm – 10.00 pm
Show: 8 pm
Phone: 076 385 000
Price: starts at 1,800 THB
---
Phuket FantaSea Prices
Show only: 1,800 baht
Show plus buffet dinner: 2,200 baht – Child 2,000
Transfer from any hotel in Phuket: 350 baht.
Gold Seat extra charge: 350 baht (closer to the stage)
Ticket Types
Adult Prices
(Thai Baht)
Child Prices
(Thai Baht)
Standard seats
1,800
1,800
Standard seats + Dinner
2,200
2,000
Gold seats
2,150
2,150
Gold seats + Dinner
2,550
2,350
Standard seats + Transfer
2,150
2,150
Standard seats + Dinner + Transfer
2,550
2,350
Gold seats + Transfer
2,500
2,500
Gold seats + Dinner + Transfer
2,900
2,700
---
Phuket FantaSea Map
If you are on mobile, add the map here: https://goo.gl/maps/mX4vD1ZSXVtGVGNn9.
---
You May Also Like
---
FAQs about Phuket Fantasea
✳️ How far is Phuket Fantasea from Patong Beach?
Phuket Fantasea is 14 kilometres from Patong Beach, 9 minutes drive on a typical day.
✳️ How long is the show?
The show lasts 70 minutes and starts at 8.40 pm.
✳️ How much is a ticket at Phuket Fantasea?
Price starts at 1,800 baht per person, + 350 baht for a gold seat.
✳️ How much is the buffet dinner?
The buffet dinner at Golden Kinnaree + show costs 2,200 baht for adults and 2,000 baht for children. The restaurant is open from 6 pm to 9 pm.
✳️ Is Phuket Fantasea open every day?
Phuket Fantasea is closed on Thursday and is open other days of the week from 5.30 pm to 11.30 pm.
---