Sunsets at Promthep Cape
Promthep Cape, locally called "Laem Promthep", seems to be an irresistible spot for a good old sunset photo at the very south of Phuket island, not far from Nai Harn Beach on the way to Rawai Beach.
This landmark has always been a daily meeting point for hundreds of tourists to line up with a camera facing west. Colourful buses download hordes of tourists hungry for a sunset picture, and the place starts buzzing with flashes. It's also funny to see how many people still take sunset photos with a flash!
With its elevated location and a few small islands nearby, the Promthep Cape is a nice place to admire the sunset, but it is not always impressive. Watching the crowd is almost more entertaining: most people are texting or playing Facebook games while waiting for the six o'clock moment.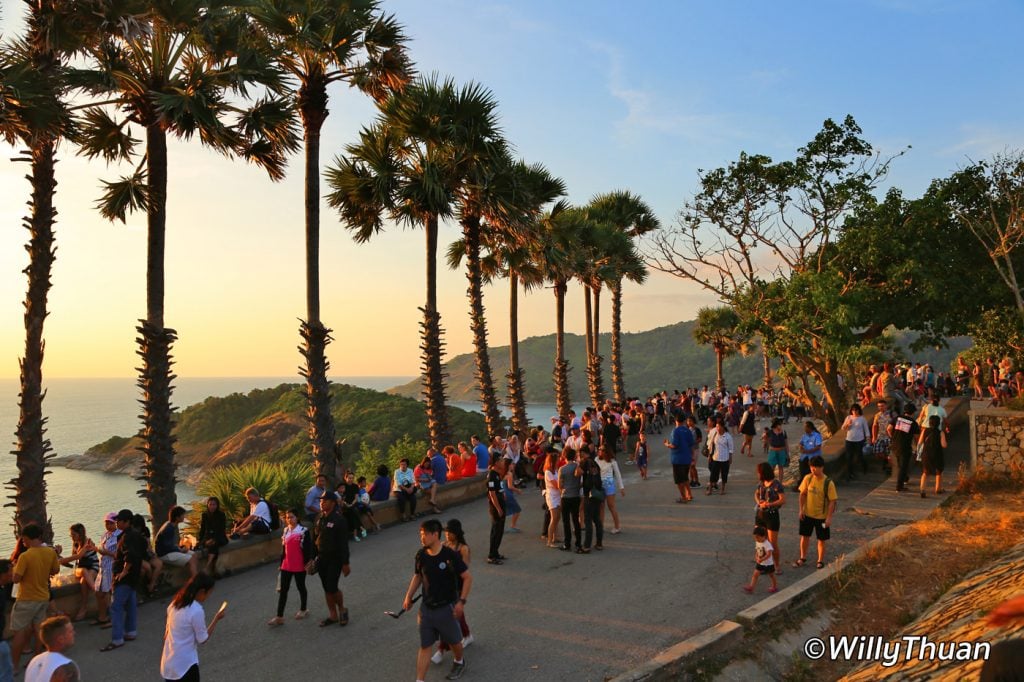 If you feel courageous, and not many visitors seem to be, walk down to the end of the cape. It is relatively easy to go there, but without training, you might wonder why you have to inflict this on yourself on the way back.
What does Laem Promthep mean?
Laem Promthep is a cape located at the southernmost tip of Phuket island in Thailand. In Thai language, "Laem" means "cape" and "Promthep" is a combination of two words: "prom," which means "the best," and "thep," which means "view." Therefore, Laem Promthep can be translated as "the cape with the best view."
What to do around Promthep Cape?
Apart from the cape itself and the iconic palm trees you always see in the photos, there is not much to do in the vicinity. The Lighthouse, also a mini-museum, doesn't display much to look at, and even from the rooftop doesn't offer any particular view.
The shrine surrounded by hundreds of elephants, statues and carvings in all sizes and colours maybe be more interesting than the museum. As you walk around, you can't miss it.
Phuket 101 receives 250,000 monthly visitors on average (500,000 pageviews/month).
If you wish to advertise on this space or other options available on Phuket 101, just contact us.
Where to eat at Promthep Cape?
Once done with your sunset photo, there are only two things left to do: a bit of touristic shopping if you like stuff made of shells or 'I love Phuket' tee shirts or what I recommend instead, have dinner on the spot.
Dine 'al fresco' at the very cool Bukito by Promthep Restaurant (that's their new name). The evening sky displays beautiful colours over the bay while enjoying good Thai food and seafood dinner. A great way to end the day.
If you have your car or a scooter, you can drive to Rawai Beach and enjoy many restaurants. Rawai View Cafe is just 3 kilometres from Promthep.
Did you know?
Promthep Cape cape is also the image of Phuket you will see on car plates. If you pay attention, you will recognise its iconic tall sugar palm trees on car plates having a lucky number. In Thailand, you can buy a particular 'lucky' number on a plate decorated with the most iconic landmark of your province for a large amount of money.
---
Useful Tip:
If you made it that far south and like viewpoints, continue driving toward Nai Harn Beach and stop at Ya Nui Beach and the Windmill Viewpoint.
---
---
Promthep Cape Information
Location: South Phuket
Address: Rawai, Mueang Phuket District, Phuket
Open: 24 hours
Price: Free
Distance from Patong: 20 km
Distance from Kata: 10 km
Distance from Phuket Town: 18 km
---
Street View
---
Fast Facts about Promthep Cape
Promthep Cape Map
If you are on mobile, add the map here: https://goo.gl/maps/Zn5GhrbSS1BNPzs67.
---
What's Around?
The Nai Harn Phuket – One of Phuket Best Hotels
Rawai Beach ⛱️ What to Do in Rawai Beach?
More places to visit in and around Phuket
Plan your trip
---
FAQs about Promthep Cape