Elephant Jungle Sanctuary Phuket
Where to play with elephants in Phuket
The Elephant Jungle Sanctuary Phuket allows the visitors to get close to the elephants in an ethical and fun way than the controversial elephant trekking. Here, no one ride the animals, this time is over…. At the new generation of elephants sanctuaries you feed them, play with them and bathe adults and baby elephants in a way you never experienced before.
Yes, there are still many elephant trekking camps in Phuket but this new kind of rehabilitation camps are successfully showing the way. Hopefully old fashion trekking camps will change because people have already changed. The trend seems to be efficient as more and more elephant trekking camp seized that golden opportunity and recycled themselves into elephant sanctuaries. Wise move!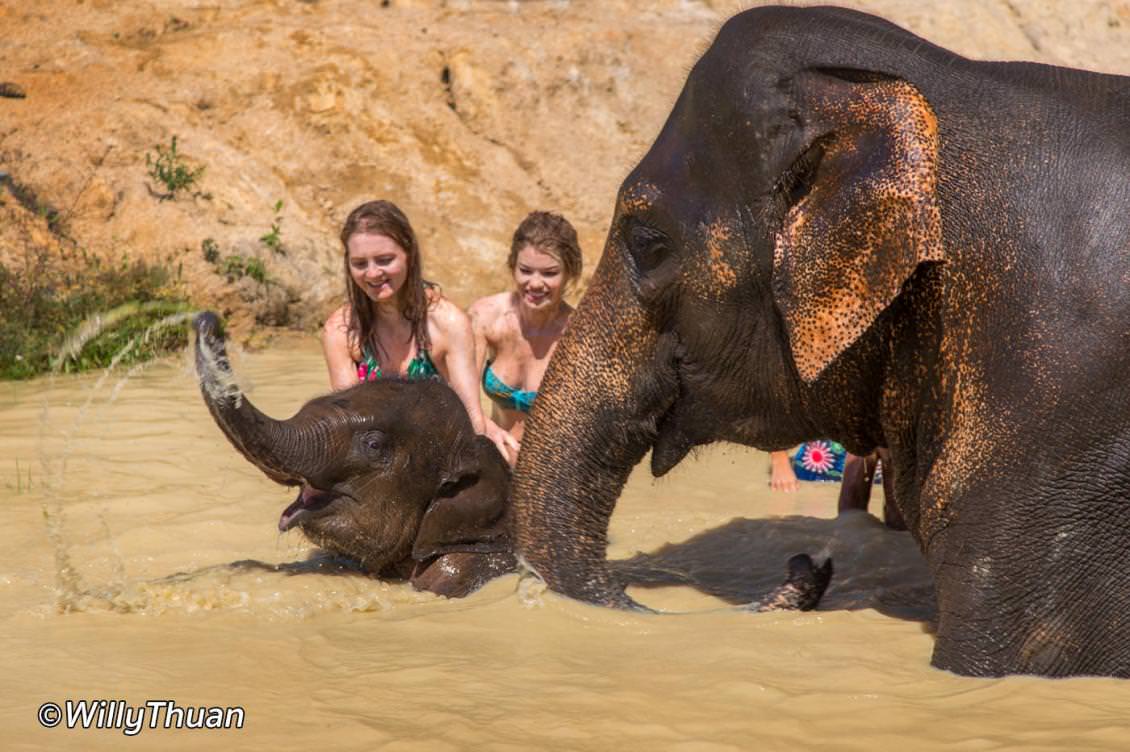 When you arrive at the elephant camp of Naithon Beach, you first get a short briefing. Usually people book the morning or afternoon visit and are picked up directly from their hotels, which is very convenient. First you will get a short briefing about the rehabilitation camps and its purpose. Learn about the elephants, their burden with the old fashioned tourism, which is unfortunately still well alive in Thailand.
Learn how the sanctuary is trying to change mentalities while offering a unique experience. In their approach, this sanctuary allows visitors to bath with those elephant because they are not wild animals anymore but domesticated, allowing people to show them affection.
Feeding the elephants
Guests are then invited to prepare food for the animals. It's a bit messy but fun and everyone seem to enjoy being useful. Once food has been ready a small group of elephants arrive and eat from people's hands. Kids are usually hesitant at first but quickly enjoy the playful baby elephants who looks just as happy as human children are!
The food is all gone a lot faster than you may think. The group then walks to a nearby muddy water pond where the elephants run into and start enjoying themselves. Visitors are hesitant to jump into the brown waters but it doesn't last long. Soon everyone is in it splashing and rubbing the mammals with handfuls of mud.
The Mud Bath
The group later walks to a water pond where mud can be rinsed away and everyone can have another round of fun (not to mention unforgettable photos). This is a very unique experience and elephants seems to enjoy the moment as much as the guests.
The Elephant Jungle Sanctuary Phuket is one of the new sanctuaries that are opening all around Thailand. Even if not all are as perfect as some might say, they are changing travellers' mind. With more sanctuaries, there will be less trekking, more education and more respect for these noble animals.
To book The Elephant Jungle Sanctuary Phuket is easy, just talk to your hotel counter.
Elephant Jungle Sanctuary Photos
Elephant Jungle Sanctuary Phuket Map