What are the cheap things to do in Phuket with a small budget
What are the cheapest things to do in Phuket with a mall budget? Of course, it's not easy to travel cheaply as, in general, Phuket is more expensive than anywhere else in Thailand. But if you start with these few suggestions, you will be able to make the best of your holiday without spending a fortune. You might find the experience a lot more enlightening too!
One of the best ways to stay within budget is to rent a bike, as taxis and tuk-tuks will increase your cost dramatically; expect to pay 150 baht a day, but the price goes down if you rent for a week or more. Of course, driving a bike in Phuket is tricky, and you will have to drive carefully, but many people do it without problems. All you have to do is keep your eyes on the road, and you will need a driving license for the occasional controls (see driving in Phuket).
You also can travel around and even from the beach to the beach using local buses. Local buses are cheap but will be a lot slower than tuk-tuks. Read also about the best free things to do in Phuket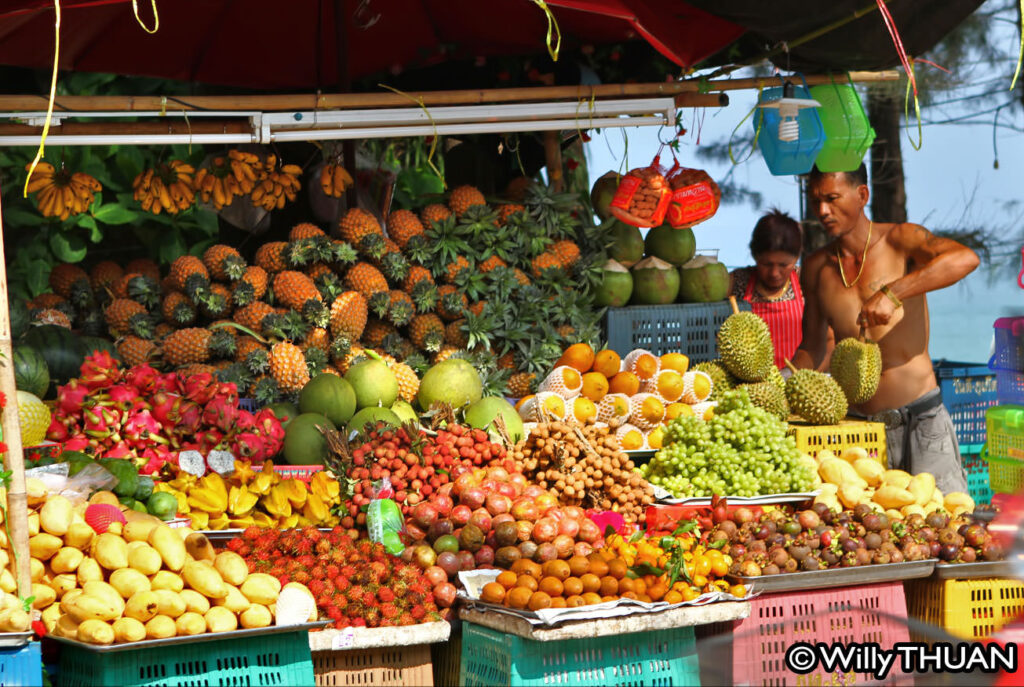 Always fun to discover the colourful and vibrant Local Fresh Markets; if it is your first time in Asia, you will learn a lot more about Thais people's life than on any tour! Also, great for budget shopping. Phuket Weekend Market in Phuket Town is very popular, not far from Central Festival Shopping Mall. Lately, we have had a fun night bazaar in Town called the Chillva Market.
Phuket 101 receives 250,000 monthly visitors on average (500,000 pageviews/month).
If you wish to advertise on this space or other options available on Phuket 101, just contact us.
A great way to spend a great day without spending a baht is to go snorkelling, and because water is warm all year round, you'll never need a wetsuit. Phuket has more than 40 beaches, but not all are good for this activity. Some have nice rocky ends and warm blue clear waters, often sheltering colourful fishes and corals. Ideally, you should bring your gear; it's not easy to rent one, but buying a mask and snorkel is affordable. Laem Singh Beach, Ao Sane, Ya Nui Beach, Banana Beach, Surin Beach, Nai Harn, Nai Thon and Kata Noi Beach.
Also, an obvious recommendation, but some of the many temples and shrines around the island are beautiful, and isn't it time to pay respect to your ancestors and bring yourself some good luck? Of course, Wat Chalong is the most popular, but there are many other beautiful places to admire, such as the Big Buddha or the reclining Buddha in a cave. Read more about Phuket Temples and Chinese shrines.
Sounds obvious? Some are a lot better than others! Listing them all would be impossible, so we picked 10 of them in Town: Best Local Restaurant in Phuket Town. Eating in the streets is always cheaper, but beachfront streets and seafood centres with touts trying to convince you to sit down might not. You will always find it more reasonable on the back roads, especially if all the seated guests are Thais! Almost every shop can understand a simple order, or point at the images or the food from your neighbours, lots of fun! If you want an all-you-can-eat buffet at a ridiculously low price and have a real, local experience, try a Mookata local Barbecue! But don't expect fancy meats or lobsters!
One of the great ways to explore Phuket without spending more than your gasoline is to go from viewpoint to viewpoint. There are at least ten viewpoints around Phuket, giving you a reason to drive around and get an overview of the island. Self-driving is also an opportunity to discover more and a chance to stop whenever you spot something interesting.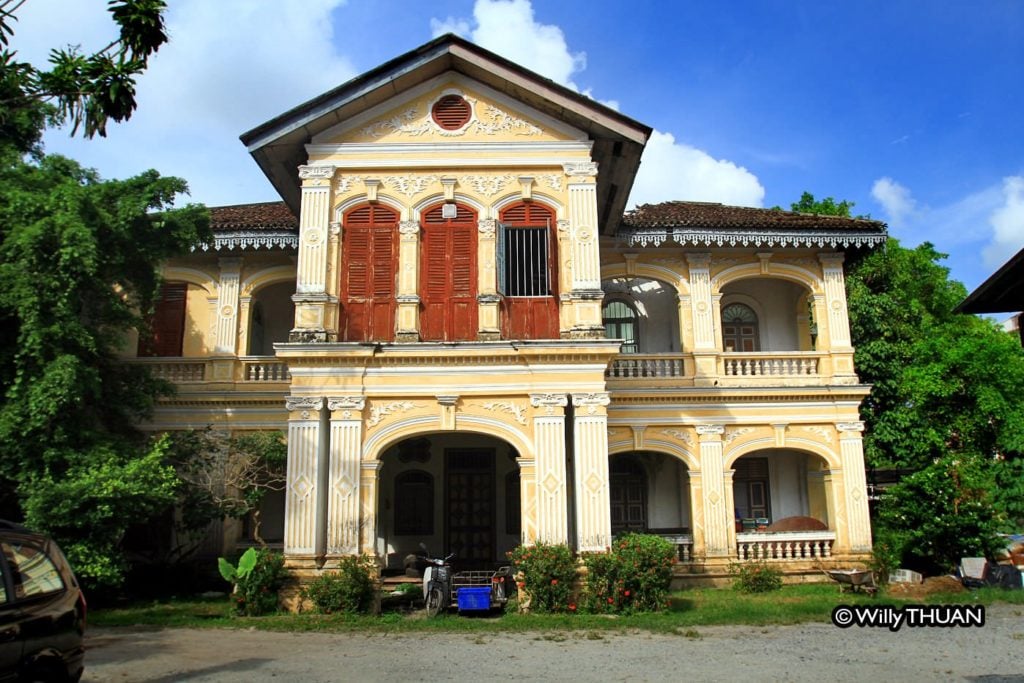 As you explore the old streets of Phuket town, you will have a unique walk along old Sino-Portuguese streets with their beautiful shophouses. With many small cafes, bakeries and eateries along the way, it is perfect for a half-day away from the beach. Visit the local markets near the bus station and explore the tiny streets here and there to discover some magnificent mansions.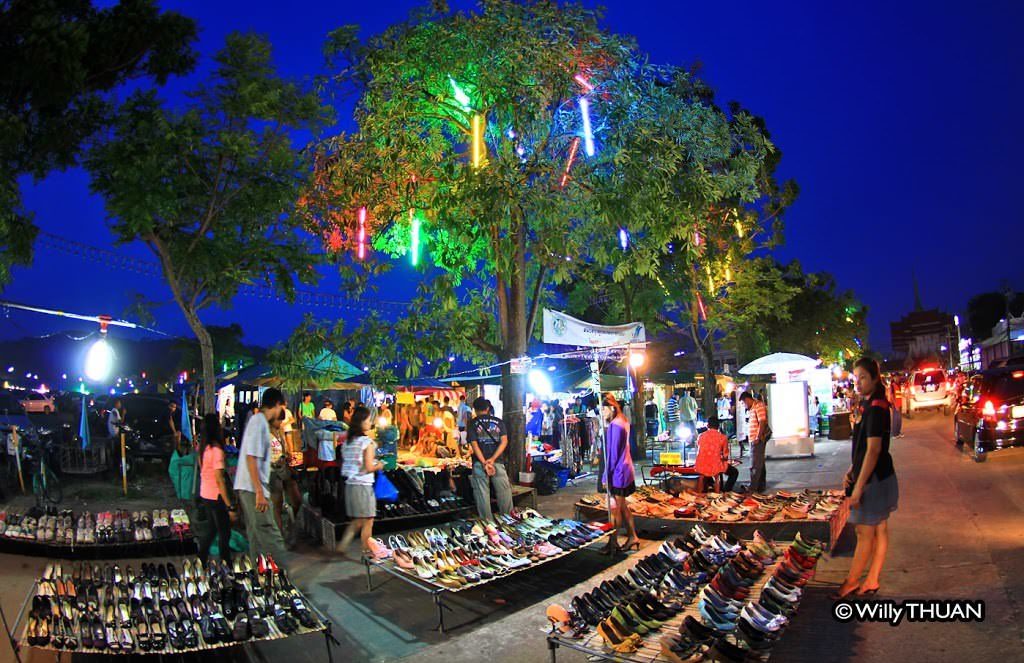 Phuket night markets are always fun; from the new Chillva Market to the giant Naka Weekend Market or the Sunday Walking Market in Phuket Town, almost everyone loves to browse the incredible array of things you don't need. Phuket night markets are intense, colourful, surprising, fascinating, puzzling, smelly, messy, confusing or overwhelming. But night markets all have one thing in common, and they offer a unique glance at the daily life of Thai people, rich, poor or just like you and me.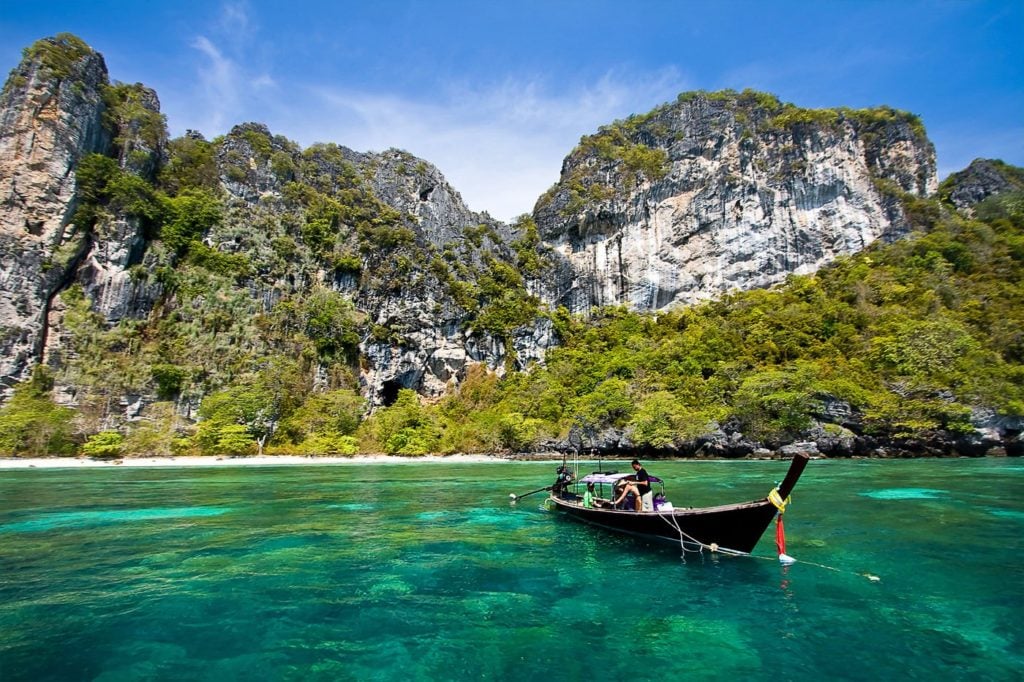 Phi Phi is a beautiful island, and going for a cheap day trip is possible. The cheapest is to go by bike to the Rassada Pier in Phuket Town and catch a ferry for only 600 baht, but you can find more affordable options online. But if you want the full day, the best is to look around to find the lowest price for hotel transfer + lunch + National Park fee. Much safer if you are not sure you will be able to see the pier near Phuket Town in the morning. And make sure you don't miss the ferry back to Phuket!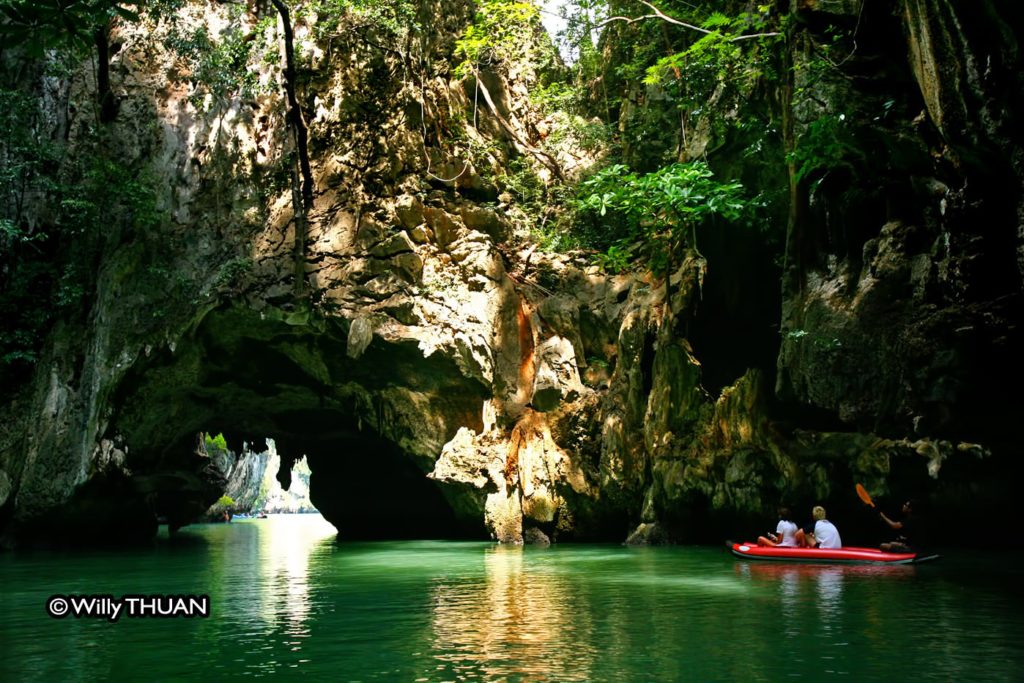 Phang Nga Bay for 1,100 Baht per person is the cheapest and most reliable we could find, and we tried it: see here. On the way, stop at the reclining Buddha inside Suwannakuha Cave and its monkeys. Cruise around Phang Nga Bay and visit a renowned water cave. Get a glimpse of daily life in Koh Panyi, the village on stilts and reach James Bond Island. This tour includes lunch and hotel transfers!
Everyone should see it at least once; unlike what most people believe, Bangla Road is not Sin City for Single Men. It's more of a colourful street full of life, restaurants, shops and bars, and ladies. On each side of Bangla walking street are excellent and affordable Live Music Bands and Night Clubs with free entry. If you want to know more, enter these famous Go-Go bars and see what this is all about. Patong is much more easygoing than Bangkok or Pattaya, and all the beer bars sell beers for 90 baht.
Phuket has a collection of small but good hotels that are not difficult to find. We always get the question: can you recommend a cheap hotel in Phuket? But there is no real fixed list for that as prices keep changing.
Here is how you can find it:
Go to your favourite online hotel website and use the filters!
Select your location
Select low price
Select 'highest guest satisfaction.'
It's that simple! (you can also stay in one of Phuket's best hostels)
There are several ways to use Phuket bus services in Phuket. Riding the local bus is slow and complicated, but you can't have it all! There are four kinds of coaches: the blue bus, the pink bus, the airport bus and the new Smart Bus.
The one you need most is the Phuket Smart Bus which starts at Phuket airport and drives down the island to Rawai beach. It's long and slow but incredibly cheap. You buy a card onboard, and you can refill it when needed.
Then you have the Blue Bus (known as Song Taew) that goes from Phuket Town (Central market, Ranong Road) to each beach and vice versa. The blue bus leaves roughly every 30 minutes from 6 am to 6 pm, and the ride costs 30 to 40 baht. A typical trip from Phuket Town to Patong is 50-60 minutes.
Then you have the Pink Bus that circulates around Phuket town, and the Airport Bus from Phuket airport to Phuket town takes about an hour. It leaves every hour and costs about 100 baht one way.
---
More Pages about Budget Travel
---