---
What to do in Phuket for free?
---
Are there any interesting free things to do in Phuket? It may sound like a strange question, but Phuket is well-known to be the most expensive destination in Thailand. If the flight ticket and the hotel used most of your budget, there are ways to make the best of your stay without spending much.
We wrote a page about 'Phuket with a small budget', but here we will list the places you can explore without spending a single Baht. Of course, some could argue that markets are not free, but they are colourful and interesting enough to visit without buying. And yes, you still need some kind of transportation to get around in some cases, so check the page about buses in Phuket, or rent a small motorbike.
---
Yes, spending the day at the beach is the most obvious free thing to do in Phuket, and you didn't need anyone to tell you that, but did you know that Phuket has more than 40 beaches? Going from beach to beach is a fantastic way to spend a day or even more and take unforgettable photos if you rent a motorbike.
Phuket 101 receives 250,000 monthly visitors on average (500,000 pageviews/month).
If you wish to advertise on this space or other options available on Phuket 101, just contact us.
The giant white marble of Phuket is free to visit, and the majestic statue plus the panoramic view from up there is definitely worth the ride up the hill. The road to the top is nicely paved, and the trip is worth the ride. Remember that you shouldn't wear too-short skirts or pants as this is a religious site. However, if you forget, you will be asked to wear a provided free sarong.
Wat Chalong s a famous and beautiful, colourful, and superbly crafted temple. If you drive to the Big Buddha, it's effortless to stop at Wat Chalong on the way. There are many Thai temples around the island (Wats as they are called here) but also Chinese shrines, and all are free to visit. You are also supposed to avoid wearing too short clothing, but it's not as strict as at the Phuket Big Buddha. It's just a mark of respect we strongly recommend observing.
There are a few viewpoints around the island, so if you have already decided to go from beach to beach, you can easily add these to your itinerary. The most famous are Karon Viewpoint, and the most impressive are Black Rock. The superb Samet Nangshee is another jaw-dropping panorama, but it may be far outside the island.
The historical streets of Phuket town have been beautifully renovated and, with many Sino-Portuguese shophouses and mansions, are a great photographer's playground. Thalang Road is best known for the Sunday Walking Street Market, but many streets are around to explore. If you don't have your wheels, you can always ride the local blue bus; it's cheap.
Wat Chalong, listed above, is a must seem, but you will be surprised to see how many beautiful temples and shrines there are around this island to admire. Since there are more than 25 temples around the island, there will always be one near you.
Night markets are always fun and colourful to browse and photograph, and they often offer street performances you can enjoy for free. (usually, a small tip would be nice). Some are open every night, like Malin Plaza and OTOP in Patong, and some are open only on weekends or even Sundays, like the very popular Sunday Walking Street Market illustrated above.
Bangla is a unique entertainment street lined with bars and clubs, but you can walk up and down the street to see it for yourself with spending (but with so many bars everywhere, it's hard to resist at least a drink!). The street is quite wide and packed after 9 pm. It's incredibly colourful and lively, a visual blast worth a few photos. In addition, there are always a few street performances to enjoy.
Phuket is one of the few places where you can see planes landing above the beach. Aircraft approach the runway so close to the beach that it has become a favourite free playground for selfies. In theory, people are not allowed to be in the path of planes, but no one seems to care. Even if you stay slightly on the side, it is still very impressive.
Markets are not free, but exploring them is a great way to learn about the real life of a country. Fresh markets display vegetables and tropical fruits worth a photo. If you are interested in cooking, it can be even more interesting as a visit to a fresh market is often included in the many cooking classes available in Phuket.
---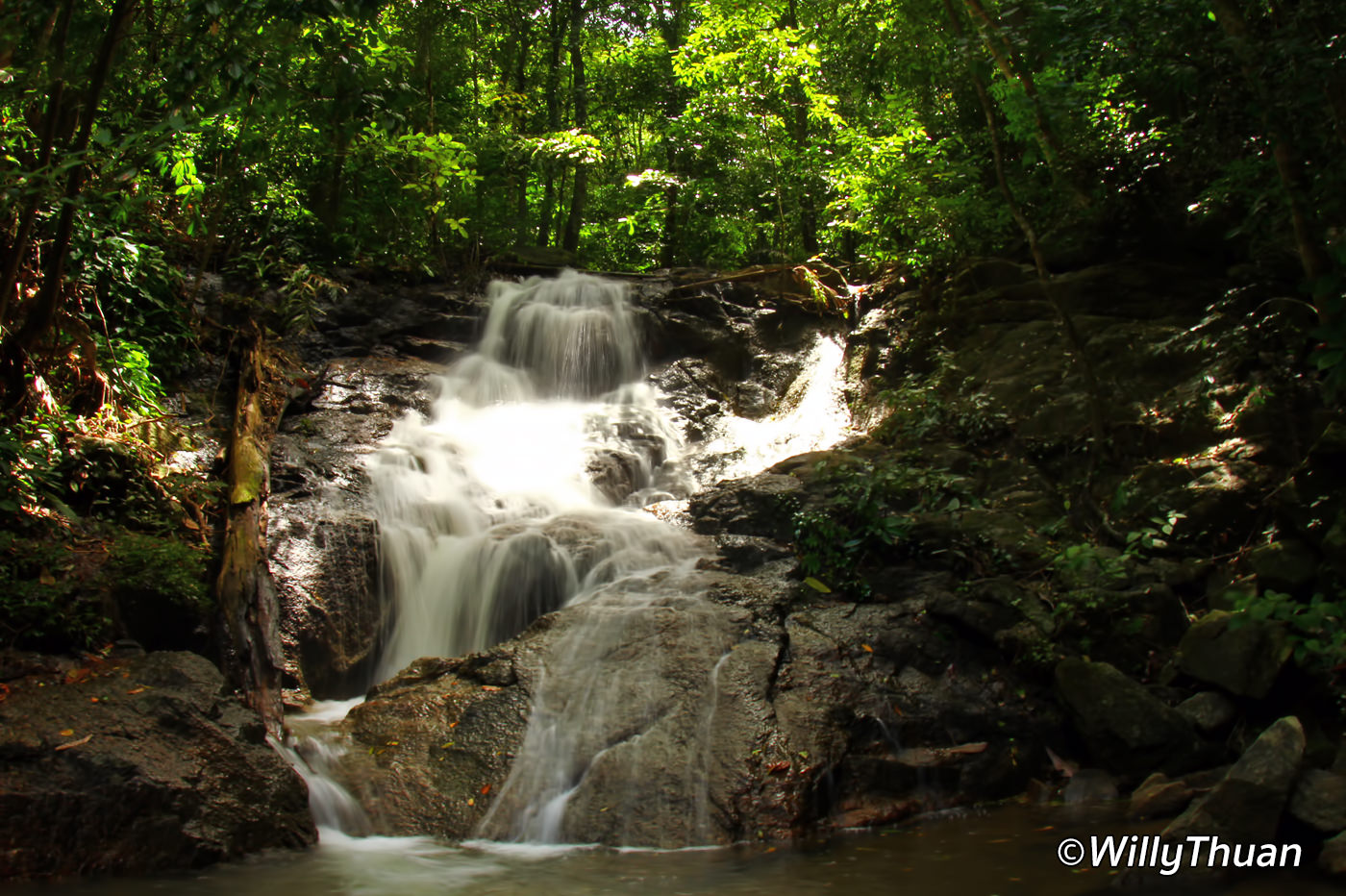 The Kathu waterfalls are not very impressive, but it can be nice if you go there during the rainy season. In addition, contrary to other Phuket waterfalls located in National Park, this one is free to visit. There is a bit of climb to reach the top, but it's easy and makes a nice trail, don't expect too much.
---
More reading
12 Cheap Things to Do in Phuket with a Small Budget (updated)