Thai Temples of Phuket
Phuket temples are always worth a visit, from the temple hidden inside a cave to the famous Wat Chalong, a visit to Thailand would not be complete without exploring few of these magnificent and beautifully ornamented buildings ('Wat' means 'Temple', you guessed it).
Phuket does have many temples and one by one we will probably list them all, but many are difficult to find or have very little touristic interest unless you are a Buddhist. Of course you already know that you have to remove your shoes (and cap) before stepping in and making a donation even small is a nice gesture and ultimately, it is good for you. Here are 19 temples in Phuket, but we counted more than 26 so we will add temples as we visit them. See also our page about Chinese Shrines of Phuket which are obviously completely different.
---
Most Popular Temples of Phuket
Chalong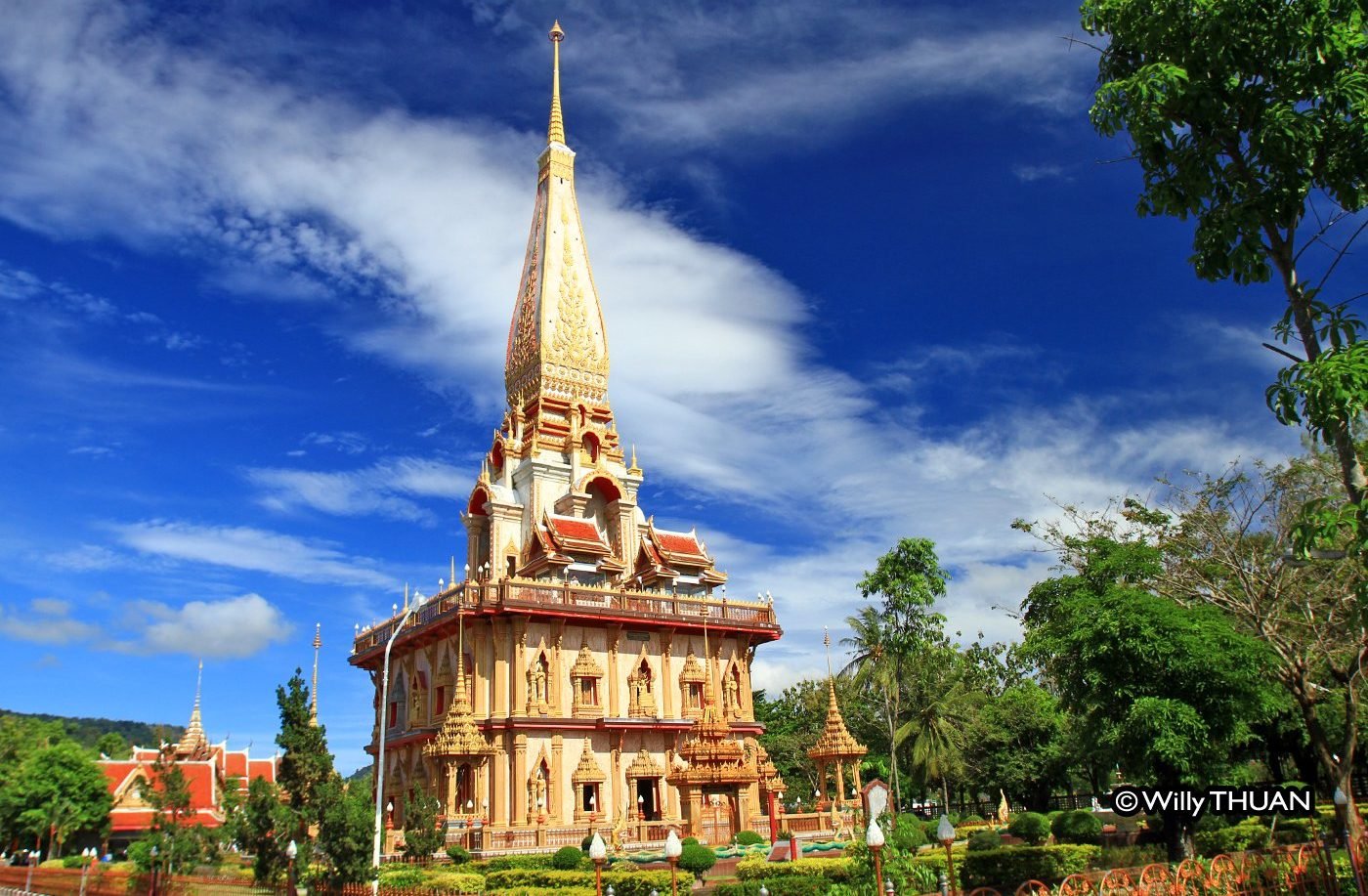 Chalong Temple, built at the beginning on 19th century, is the largest and most visited Buddhist temple in Phuket. Its real name is Wat Chaitararam, but you probably won't hear it or see it on any road signs. It's not my favourite temple to photograph, but it is almost a must to visit. (read more)
---
Near Chalong
Phuket Big Buddha, a 45-meter tall marble statue, is visible from anywhere in the southern part of Phuket. It might not be my favourite attraction, but the views from up there are breathtaking. (read more)
---
Phuket Town
Wat Mongkol Nimit  or Wat Putta Mongkon is not the most impressive temple in Phuket but this one means a lot to the locals of Phuket Town. All temples are of course worth visiting but since this temple is really close to Thalang Road, the historical streets of Phuket Town it would complete your visit perfectly. (read more)
---
Patong Beach (Kathu)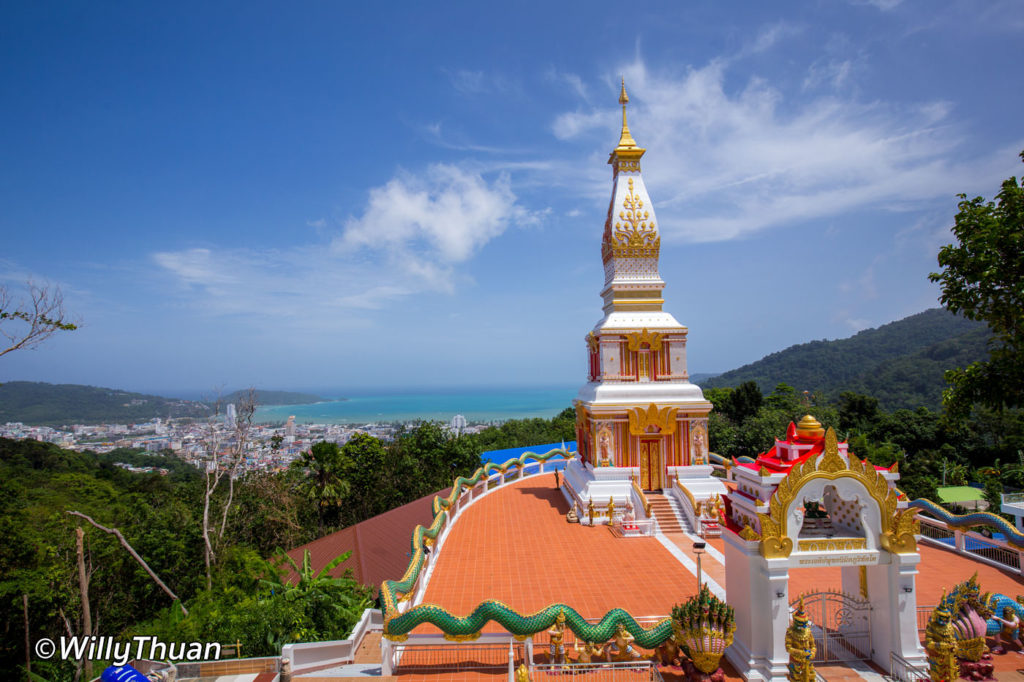 Doi Thepnimit is a monastic residence with a superb panoramic bird-view of Patong Bay. You can spot the new white iconic pagoda if you stand on the beach of Patong. Read more
---
Phuket Town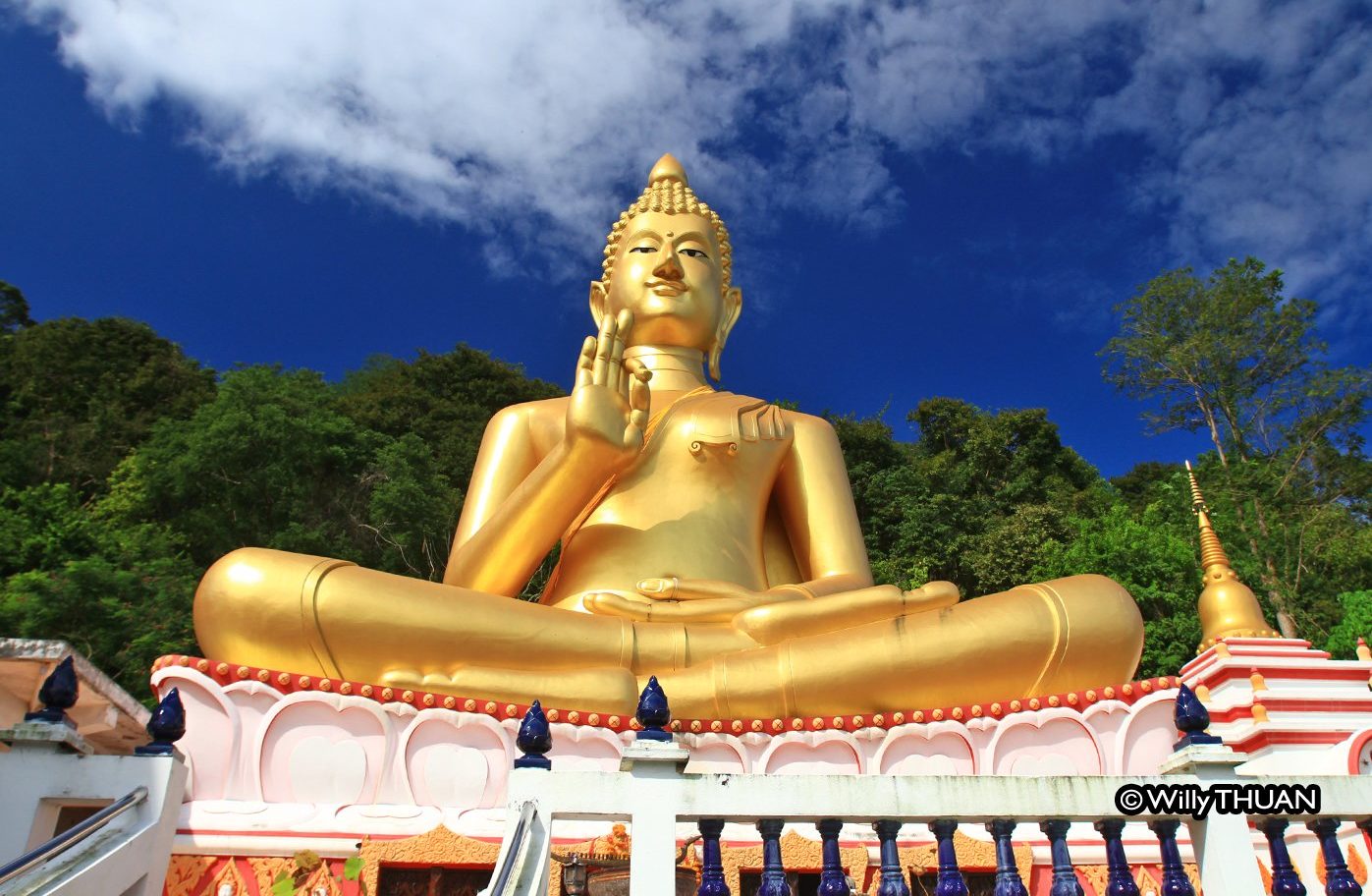 Despite being considered big (at the time), many travellers miss Khao Rang Temple because the road leading to it is not so easy to locate, you have to try hard to deserve it. It is certainly not as grand as the Big Buddha in Chalong, but it has a discreet charm. To me, it also feels a lot more real, and not so much a tourist attraction. Mostly locals go there to do merit and pray on week ends. (read more)
---
Thalang
Wat Phra Thong which means 'Golden Buddha Image Temple' is a very old temple with a big legend, the kind of story that irresistibly attracts people. It's not very big or impressive, but the first thing everyone wants to see is the famous half buried golden Buddha. So what's this strange legend about? (read more)
---
(On the way to the airport) Wat Sri Sunthon sounds like any another temple, and since there are so many of them in Phuket, you might ask what can be different about this one? (read more)
---
Karon Beach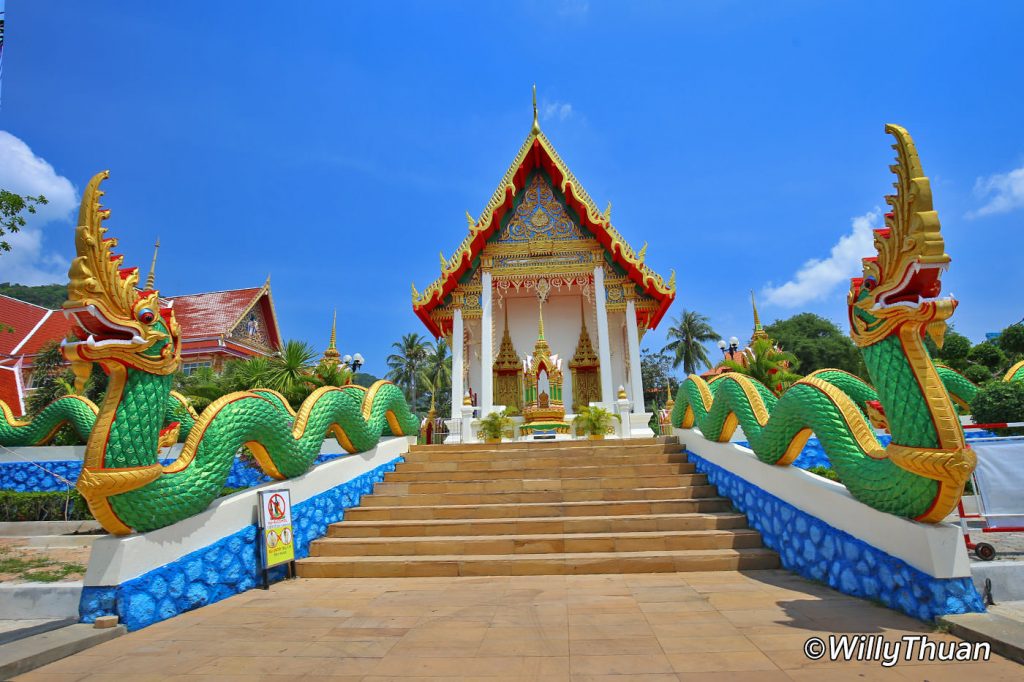 (Karon Beach) A small but beautiful temple in the back on Karon Beach. You'll find it by driving inland from the Karon circle. This temple frequently hosts markets and fun fairs, always fun to visit. Read more about the Karon Temple Market
---
Koh Sirey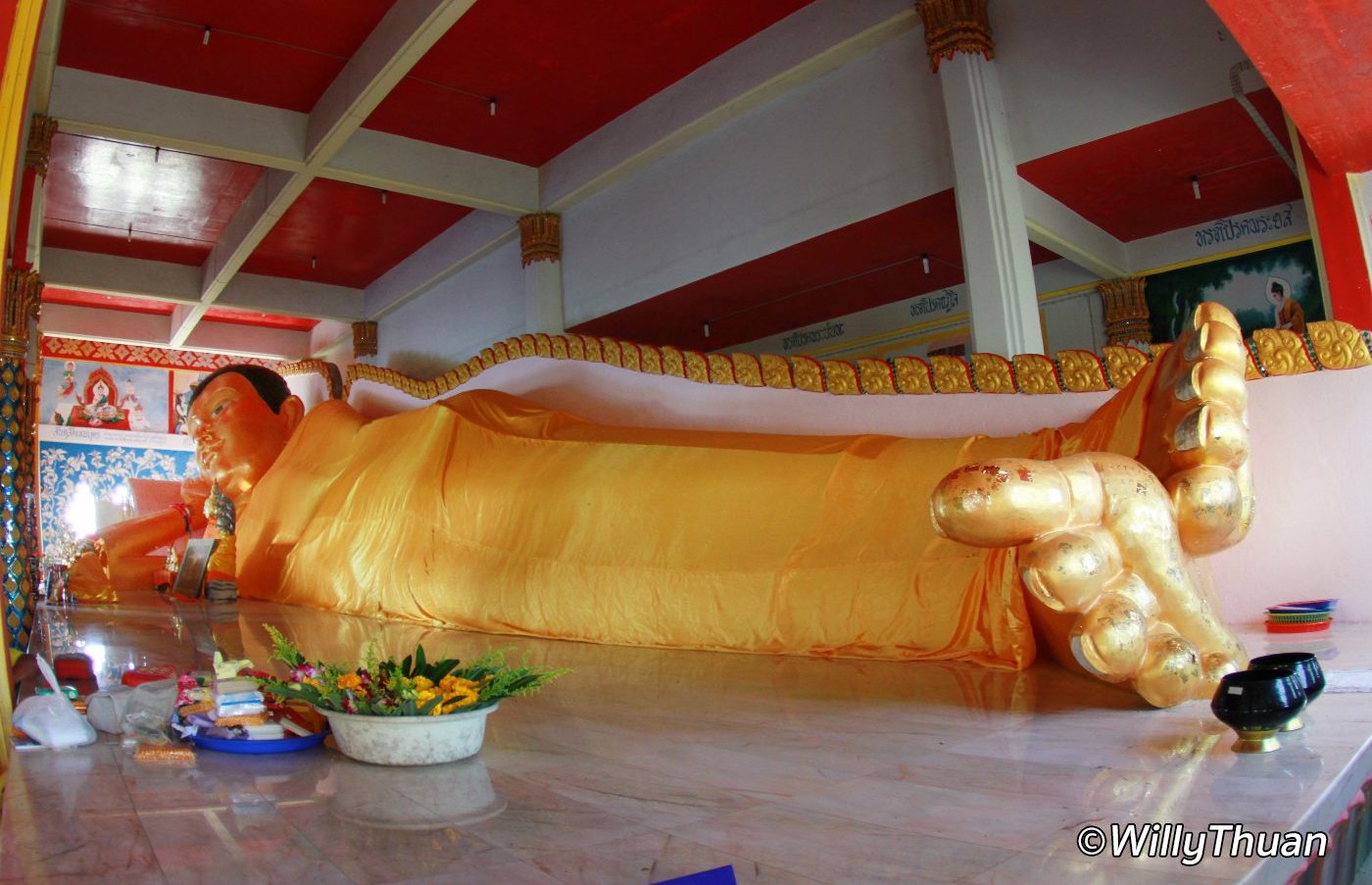 (Koh Sirey) This small island is only 20 km square and is visible from quite far with its Thai temple built at the top of a hill. Driving up there is easy and a small road drives around the temple, surrounded by many small shrines dedicated people passed away. The temple also shelters a golden reclining Buddha which without being really impressive (like the one at Wat Sri Sunthron), is still as big as the temple. (read more)
---
Thalang Intersection, on the way to airport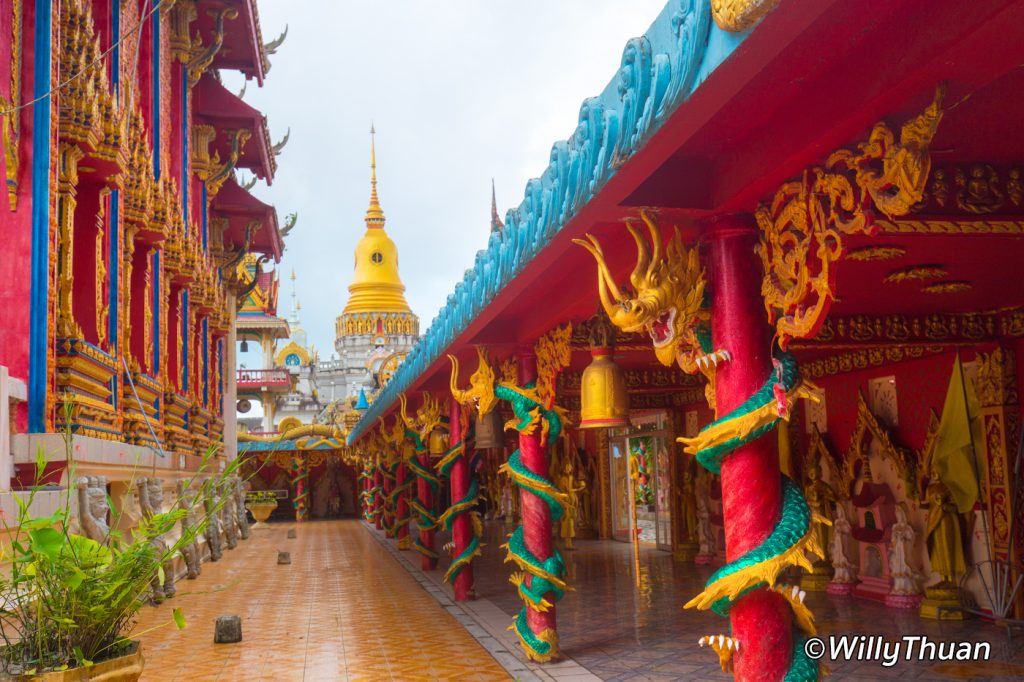 This unusual wat is 200 years old, the oldest in Phuket, built when the main city of Phuket was located in Thalang. It seems to be permanently under construction. Each of the many buildings is decorated with a multitude of intricate ornaments, then surrounded by a multitude of statues of diverse origins, from an arm less cop standing next to a lion to the more logical Buddha images. Everything was designed with mixed Chinese and Thai mythology influence, largely influenced by the mood of the day. Read more
---
Kathu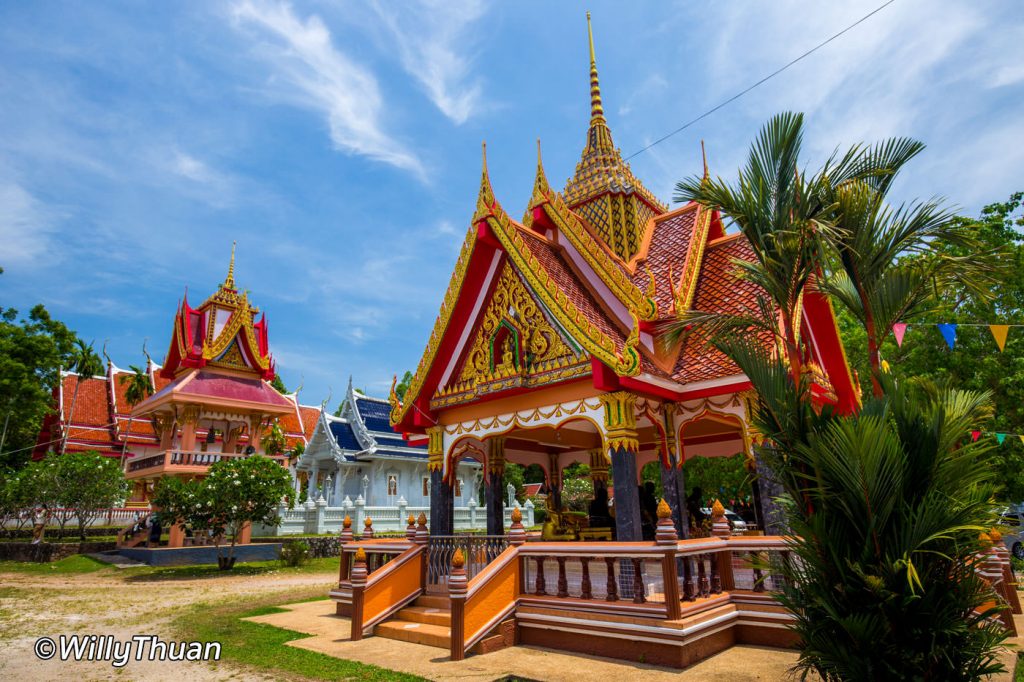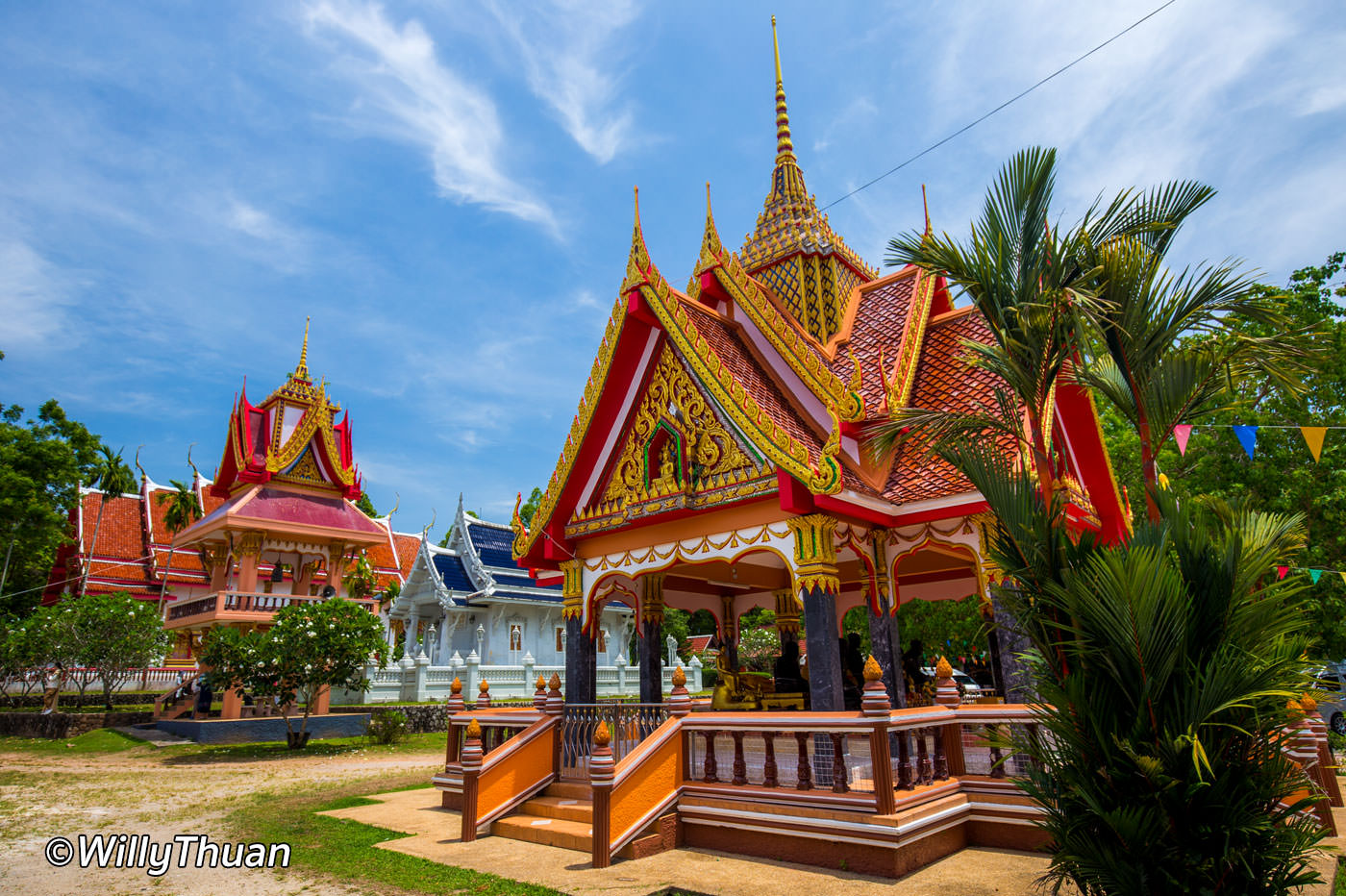 This small but beautifully decorated set of temples is rarely visited as it is inside Kathu, a village located a bit away from the main Phuket Town – Patong road. Not many travelers take the time to drive around this area. The monks at Wat Kathu are very friendly, some even speak English and will happy to chat with you about any question you may have. Read more about Kathu
---
12. Wat Cherngtalay
Cherngtalay near Bangtao Beach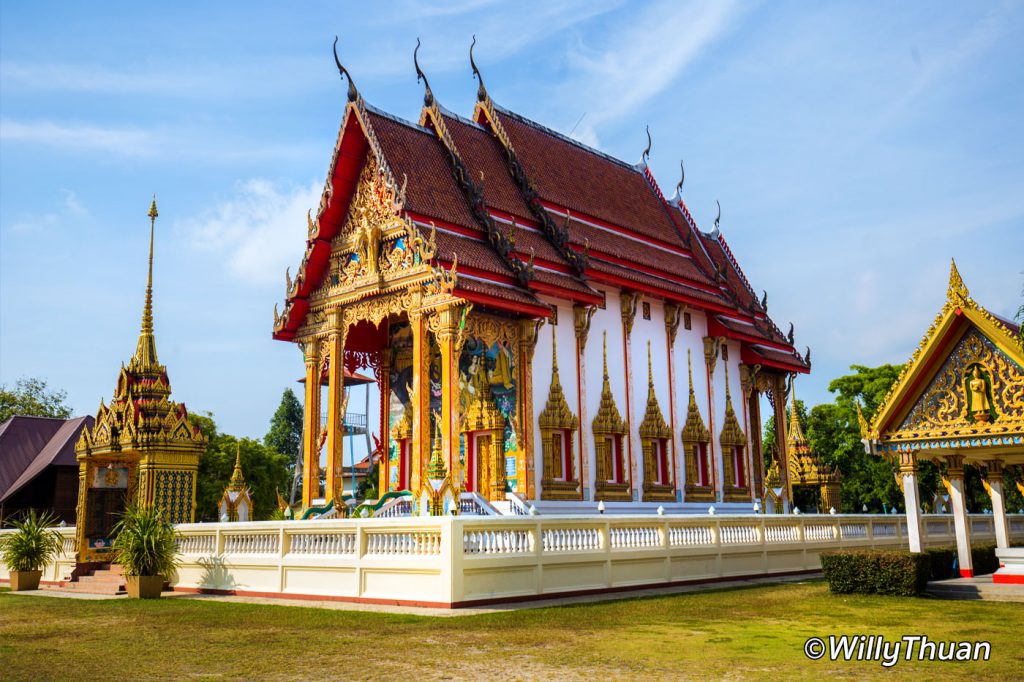 People often miss this magnificent temple located not far from Cherngtalay village on Bangtao beach. You will see it when driving from the heroines monument in the direction of Bangtao beach. By the time you notice it, it probably will be too late.
---
13. Wat Wichit Sangkaram
Phuket Town
This vast and beautiful temple on the fringe of Phuket town also plays a significant role for Phuket citizens but is rarely visited by tourists because of its location in a back street of city .
---
14. Wat Suwan Kiriwong (Patong Temple)
Patong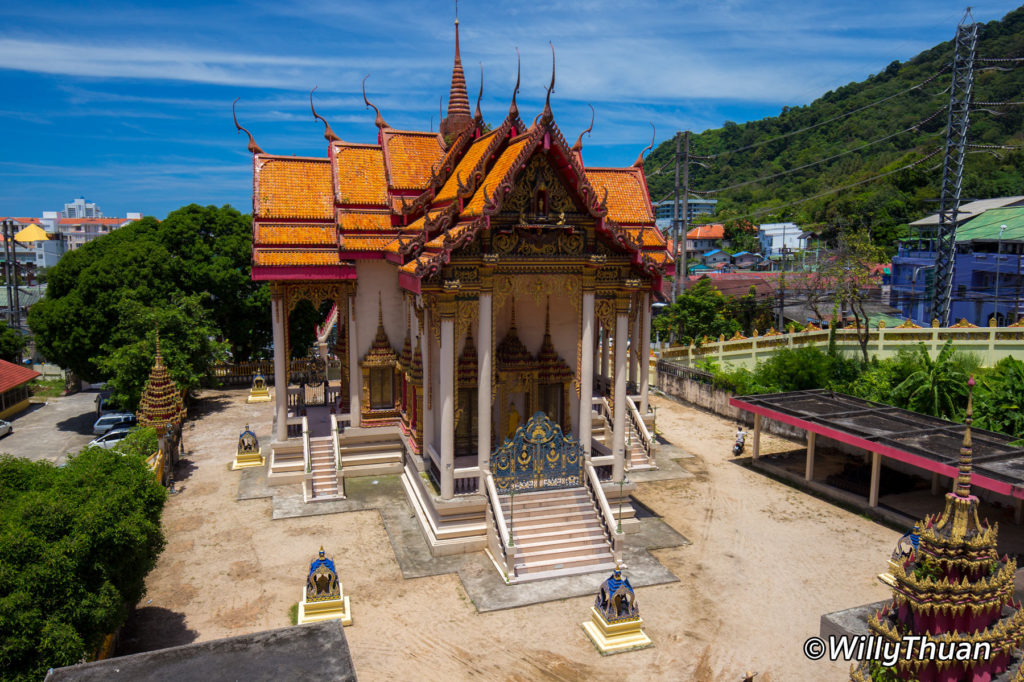 You cannot miss the Patong as you will drive by when arriving from the airport. It's a beautiful temple but surprisingly not very popular with locals who prefer another temple less visible, not far from the north end of Patong Beach.
---
15. Wat Khosit Wiharn
Phuket Town
Tourists do not often visit this beautiful temple built on top of a flight of stairs as the gate leading to it is barely visible between two shop houses. This temple seems to face Wat Khao Rang set on a hill on the other side of town.
---
16. Wat Tha Rua
A very anonymous white-walled temple on the way to the airport. I never saw anyone while visiting it.
---
17. Wat Nakaram (Wat Naka)
Phuket Town
This temple only main characteristic is the golden Chedi standing next to the main temple. Located just across the road form the famous Phuket Weekend Market, it's an excellent opportunity to visit both at once.
---
18. Wat Thepnimit
Phuket Town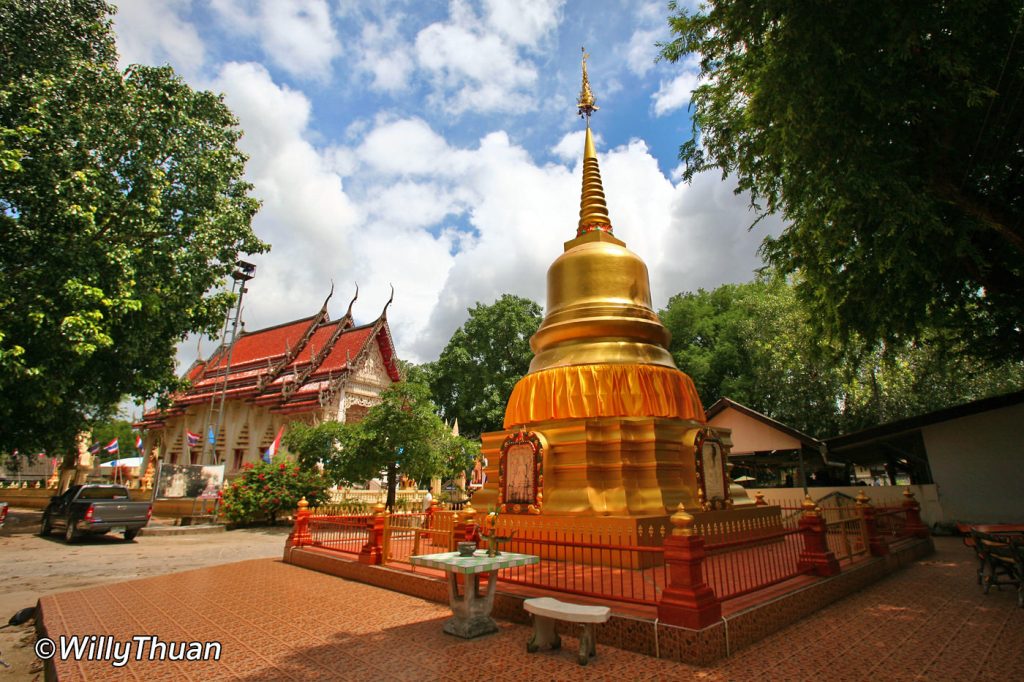 Another of the many Wats of Phuket with no real particular sign except for a small golden Chedi.
---
19. Wat Sapum
(Thepkasatri Road, outside Phuket Town on the way to the airport) Beautifully standing on the east coast of Phuket just opposite Koh Maphrao (Coconut Island) this temple is not often visited as cars usually drive (too) fast in these curves and the street leading to the temple is hard to locate.
---
20. Wat Nai Harn
Nai Harn
Recently rebuilt, this temple was hidden and somewhat unknown despite being so near the very popular beach of Nai Harn. In the recent years, the temple has been beautifully restored and is now an excellent occasion to stop for a photo and pay respect.
---
 21. Wat Sophon Wanaram
Bang Pae
A tiny but brightly decorated temple on the road between the Heroine monument and Bang Pae waterfalls. Easy to spot the gate by the road side.
---
22. Wat Luang Pu Supha
Chalong
Wat Luang Pu Supa is where the oldest monk in Thailand lives, more than 112 years old. Parts of this temple are still under construction. Quite large and built over the waters of an artificial pond, the temple grounds also include a golden Chedi and a large but unfinished hemispheric Chedi.
---
Other Temples on the island
20 Wat Thepkassatri
21 Wat Mai Khao
22 Wat Kittisankaram
23 Wat Tha Chat Chai
24 Wat Sawang Arom (Wat Rawai)
25 Wat Pa Aram Wattanaram
26 Wat Samkong
---
Temples Outside Phuket
---
(Temple of the Reclining Buddha in a Cave)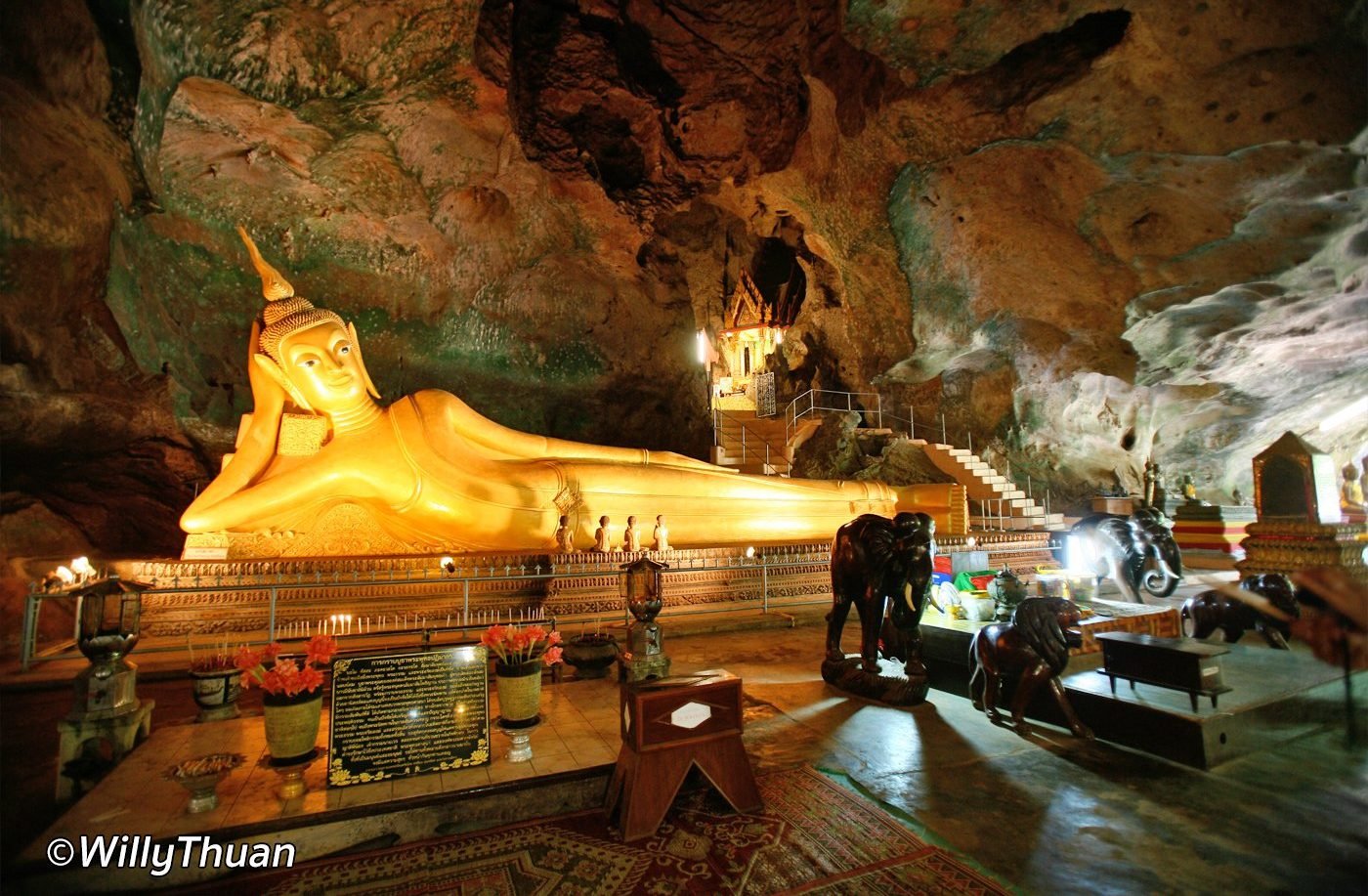 A faded decorated gate opens at the feet of a cliff onto a large cavern with high ceilings, about forty meters long and twenty meters wide. This surprising temple shelters an impressive fifteen meters long golden reclining Buddha and several other large standing Buddha images. (read more)
---
Map of Phuket Temples
You may also like: