---
Wat Phra Nang Sang
---
Wat Phra Nang Sang was built more than 200 years ago and was originally known as Wat Takian; and is one of the oldest Thai temples in Phuket. This unusual temple was built when Thalang was the main city of Phuket Island and even was the scene of a battlefield during the Burma war in 1785.
For many years, Wat Phra Nang Sang was a bit mysterious and seemed to be permanently half under construction and half-abandoned: there always was unfinished buildings, but you rarely saw someone working on them.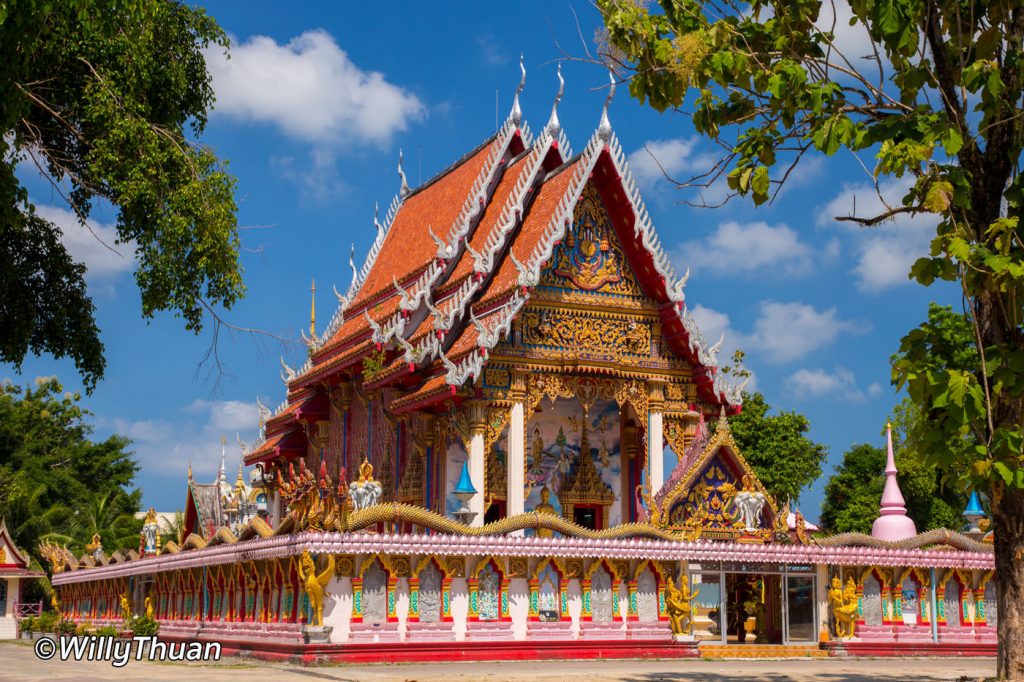 Everything is designed with mixed Chinese and Thai mythology influences. The legend goes that Lady Luad Khao, the spouse of the ruler of Nakhon Si Thammarat, was condemned to death for having a love affair. Before the execution, she asked the last favour to travel to Sri Lanka to pay last respect to the relics of Lord Buddha. She built this temple when she returned, hence Wat Phra Nang Sang, which means 'built by the Royal Lady'. The story goes that when she was executed, her blood was white, and she became known as Phra Nang Luad Khao, the lady with white blood.
The most important elements in Wat Phra Nang Sang are three ancient Buddha images called Phra Nai Phung, meaning 'abdomen Buddha image' and Phra Sam Kasat 'Three King Buddha image', which are enshrined in the abdomen of another Buddha statue.
The grounds consist of several main buildings. The central one is more classic in style and ornamented with gold and red main colours and many paintings inside featuring Lord Buddha's life and other significant historical events.
---
Wat Phra Nang Sang before the renovation
---
From what we understood, the locals complained about the person's vision in charge of decorating Wat Phra Nang Sang. In 2018, all the strange statues and buildings were destroyed, and only the true Buddhist temples, chedi and back buildings were kept, cleaned and repainted.
Before the big renovation, each of the many buildings was decorated with many intricate ornaments, then surrounded by a multitude of statues of diverse origins, often not in the same style or not with a big picture in mind. The front area of the temple, very visible from the road as your drive to Phuket Airport, appeared an immense and severe dark statue stands a tall unfinished concrete pagoda surrounded but derelict buffaloes forever pulling broken carriages.
Further in the back, a concrete human-size statue of a cop was standing next to a lion and a tiger. The cop was missing an arm, so the first thing that came to mind was to blame the lion! But it probably just fell off 😀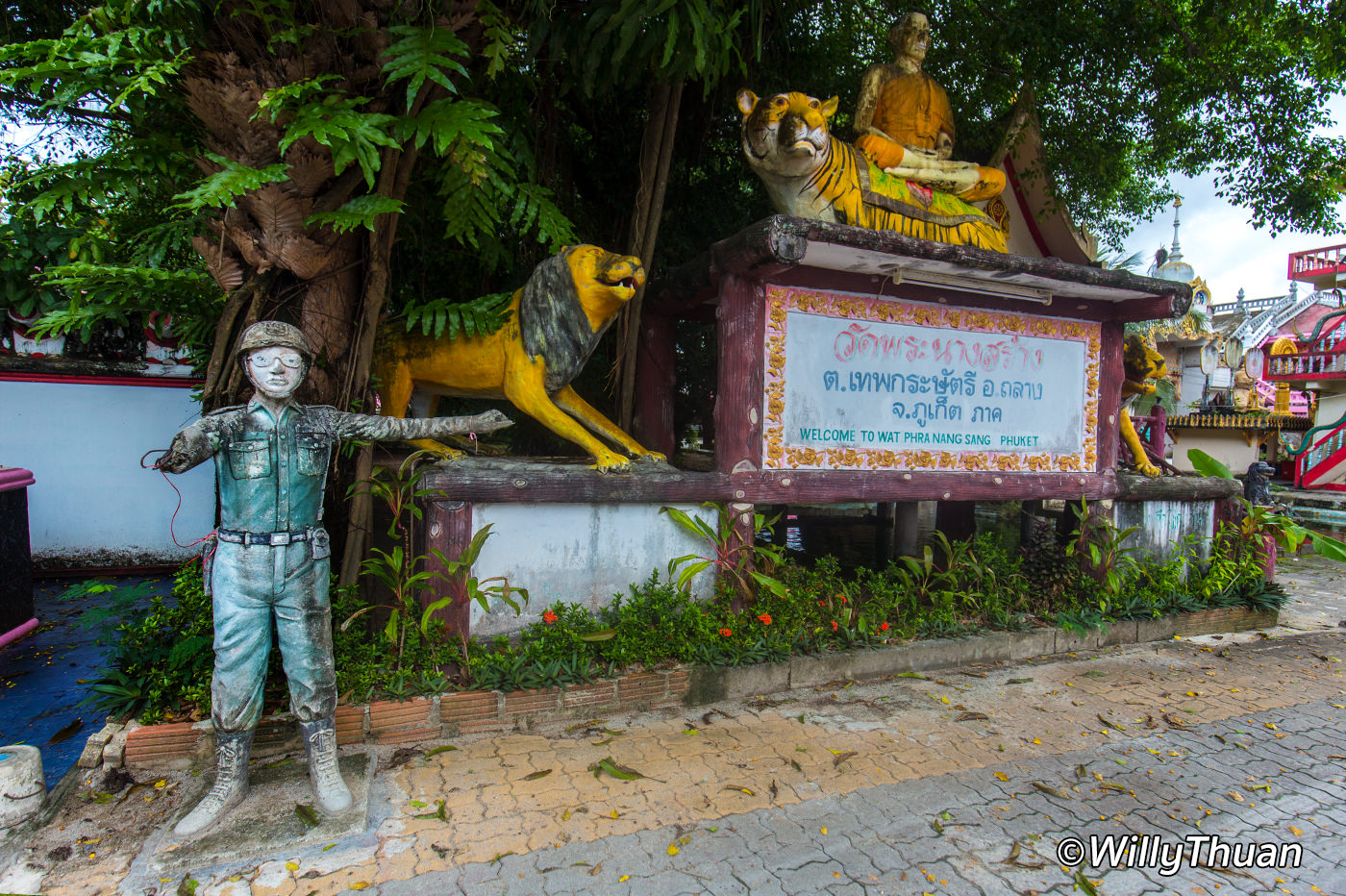 The most surprising and even shocking were the two immense god warriors holding automatic weapons guarding the doors of the back building. The whole thing was eerie and quite surprising.
The temple is also renown for a small reclining Buddha (much smaller than the huge one at Wat Sri Sunthon on the same road) and two large Buddha heads made of tin.
Photos of Wat Phra Nang before renovation
---
Wat Phra Nang Information
Location: Thalang
Address: Thep Krasatti, Amphoe Thalang, Chang Wat Phuket 83110
Phone: 076 311 084
Price: free
Dress Code: No short skirts or short pants, no sleeveless T-shirts
Distance from Phuket town: 20 km
---
Wat Phra Nang Sang Map
Get the directions on your phone: https://goo.gl/maps/ieV1s4FsQjswnPjn7
---
What's Around?
---
Other interesting stories
Phuket Temples – A List of the Most Famous Temples of Phuket