---
Phuket reclining golden Buddha
---
Wat Sri Sunthon (Wat Srisoonthorn) is known for the immense golden Buddha reclining at the top of a large building in the 'Pang Sai Yat' posture, which corresponds to "Realizing Nirvana" (read more here). The statue seems to be staring endlessly at the frantic traffic on the nearby road to Phuket International Airport. Of course, you already knew that 'Wat' is the Thai word for 'Temple'.
Surprisingly, most people miss the giant Buddha peacefully glittering in the sun of Phuket. The statue is so big; how can you possibly miss it when you drive on such a busy road? Even residents hearing about the giant reclining Buddha of Sri Sunthon have no idea where the place is.
Best of all, Wat Sri Sunthon is easy to spot. Just drive past the 'Heroine Monument' and keep going for a couple of kilometres… you will spot this typical temple gate on your left. Through that gate, this huge golden Buddha is staring at you. But as this is a speedway and people tend to drive fast in this area, most drive too fast and miss it.
Like most temples, the grounds of Wat Sri Sunthon are usually peaceful. The main temple is surrounded by several constructions, a bell tower and a large building on top of which the Buddha rests. You can climb the stairs at the back of the structure and walk around the Buddha. However, the sculpture takes its full dimension from a distance through the tree foliage.
As usual, carvings and funny statues are scattered here and there on the temple grounds. Some are cute, such as pink elephants or exotics animals. Some are right down scary, like the 'Pret Pret' on the photo below. 'Pret' is a demon or hungry ghost, and according to Thais' common belief, Prets are as tall as palm trees, have a mouth as small as a needle, their feet and hands are as big as a sugar palm leaf. Their only food is blood and pus. That's lovely.
People who curse their parents, commit adultery, or have a greedy life will become Pret after death. It's another form of life co-existing with human beings, but a human can't see them. Well, most humans can't. Worry not; it is not a permanent state. Once they have done their 'time', they will return to a human form, become angels or go to hell.
---
Wat Sri Sunthon Photos
---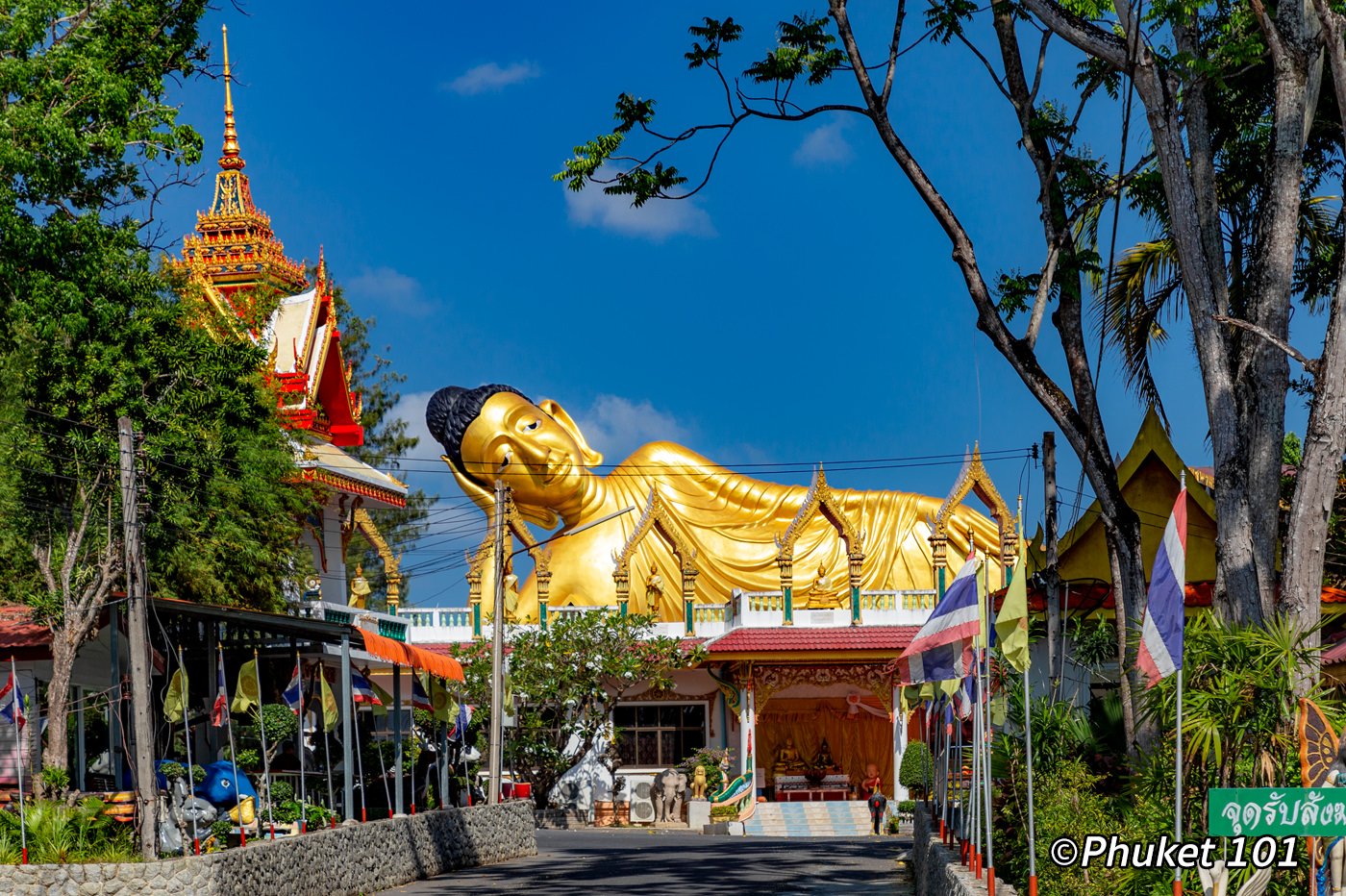 Wat Sri Sunthon Info
Location: On the way to the airport
Address: 20/4 Thepkrasattri Road, Tambon Si Sunthon, Amphoe Thalang, Chang Wat Phuket 83110
Open: 7 am – 5 pm
Phone: 098 017 8044
Price: Free
Dress Code: No short skirts or short pants, no sleeveless T-shirts
---
Wat Sri Sunthon Map
---
More reading