---
Sang Tham Shrine or the Shrine of the Serene Light
---
The Shrine of the Serene Light, locally known as Sang Tham Shrine, is a beautifully decorated Chinese Temple on Phang Nga Road, one of the most famous streets of Phuket Town. It used to be 'the little hidden Chinese temple' tucked away at the end of a small path, right under your nose. While most Thais knew all about it, only a few foreigners were aware of its existence, and those who knew would proudly whisper its secret location to newbies like an old secret passage to some mystic temple.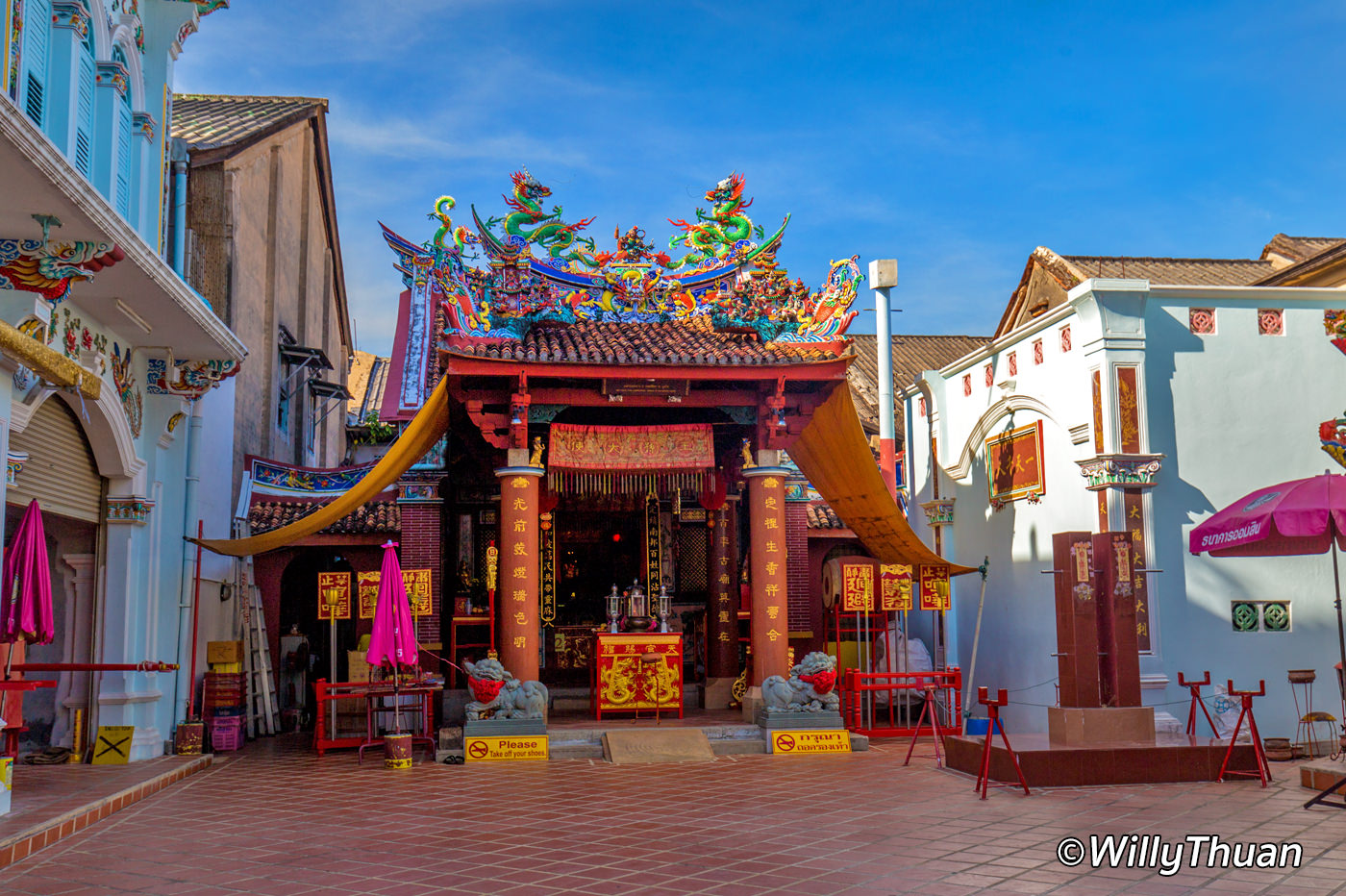 The Shrine of the Serene Light, called Ting Kwan Tang in Chinese and Saeng Tham Shrine in Thai, was built in 1889 by a Chinese family and initially had two hidden entrances. The main entrance was a narrow anonymous-looking gate leading to a rundown anonymous walkway located on Phang Nga Road, not hidden, but no one was paying attention to what was behind it. The second entrance, however, was more entertaining: it hid behind the toilets of a local restaurant called Wilai, which occasionally serves delicious Hokkien Noodles, among other dishes.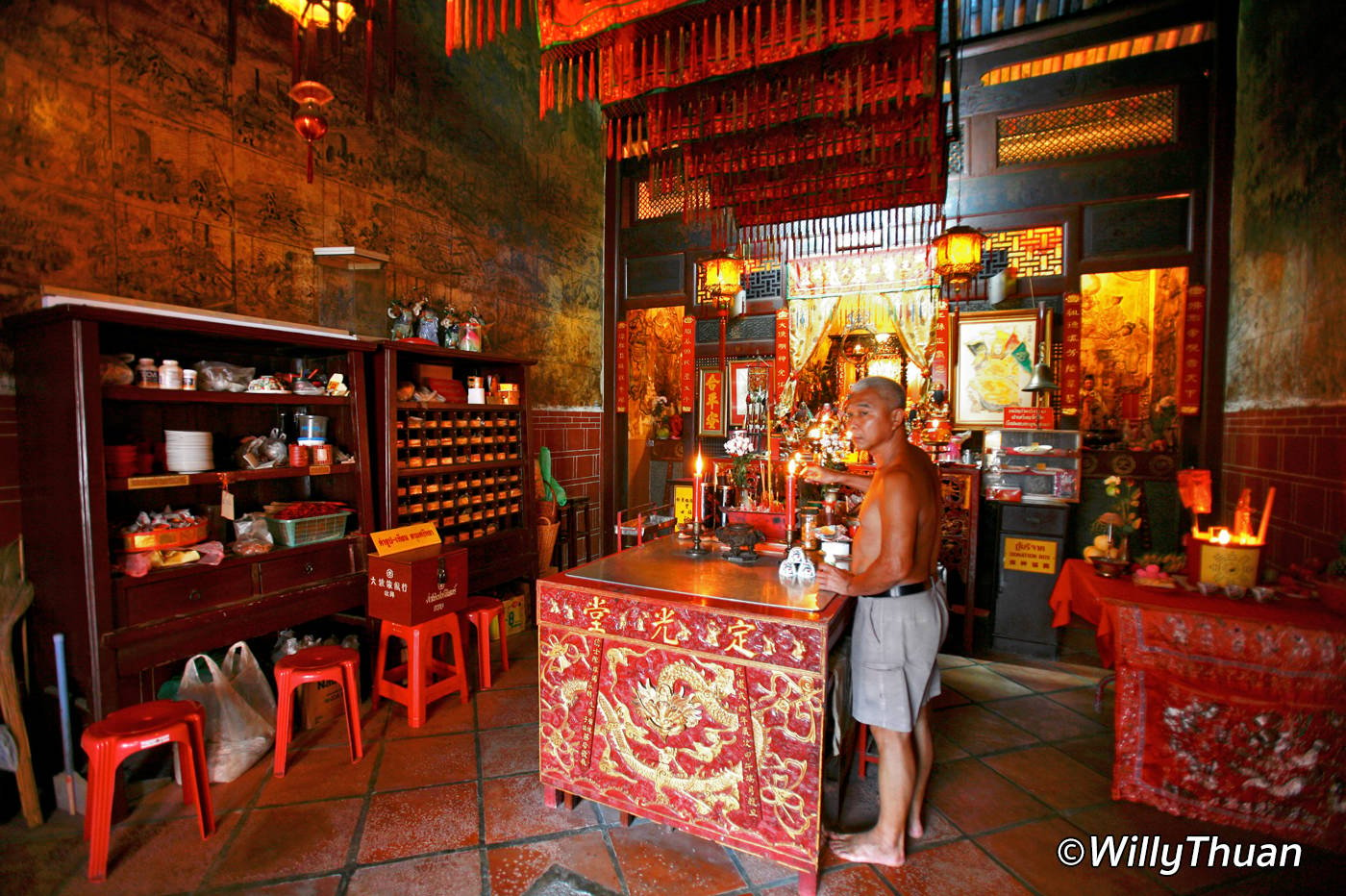 The anecdote of the passage next to the toilet would pop up each you would have lunch with a local expat…: "Hey did you know there was a secret passage to a hidden Chinese temple called Shrine of The Serene Light just past the toilet?" With this introduction, you suddenly became the centre of attention. Then in 2010, with Phuket rocketing in popularity and tourists' appetite for anything secret, the shrine entrance was widened and highlighted by a massive and unmissable Chinese gate. So much for the little secret; worse, the secret passage from Wilai restaurant is now closed.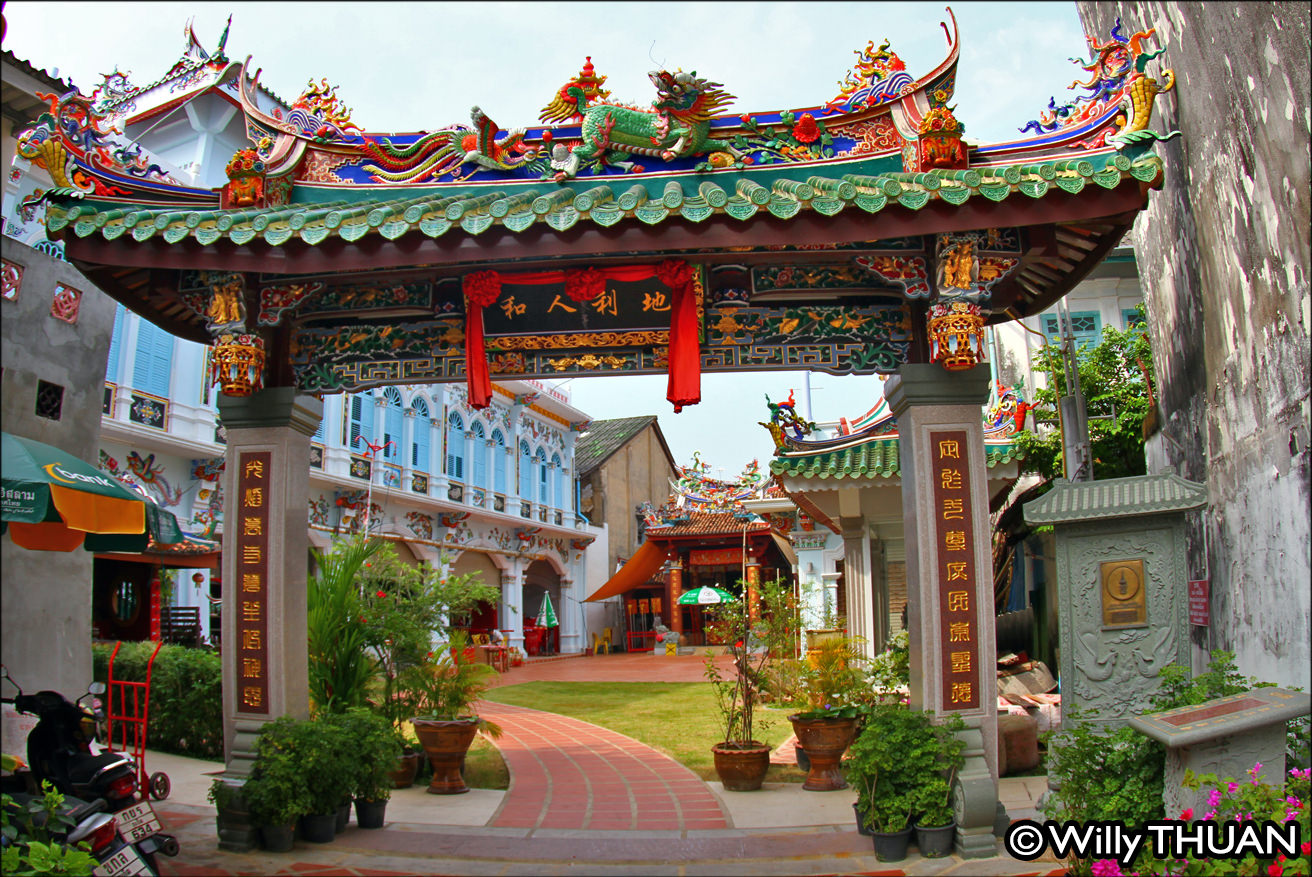 While the small shrine has remained untouched, keeping its original old wall paintings, ceramic roof and authentic atmosphere, the garden and buildings surrounding it have been rebuilt and repainted. The result is quite pleasant and an excellent photo opportunity.
---
What's Around the Shrine?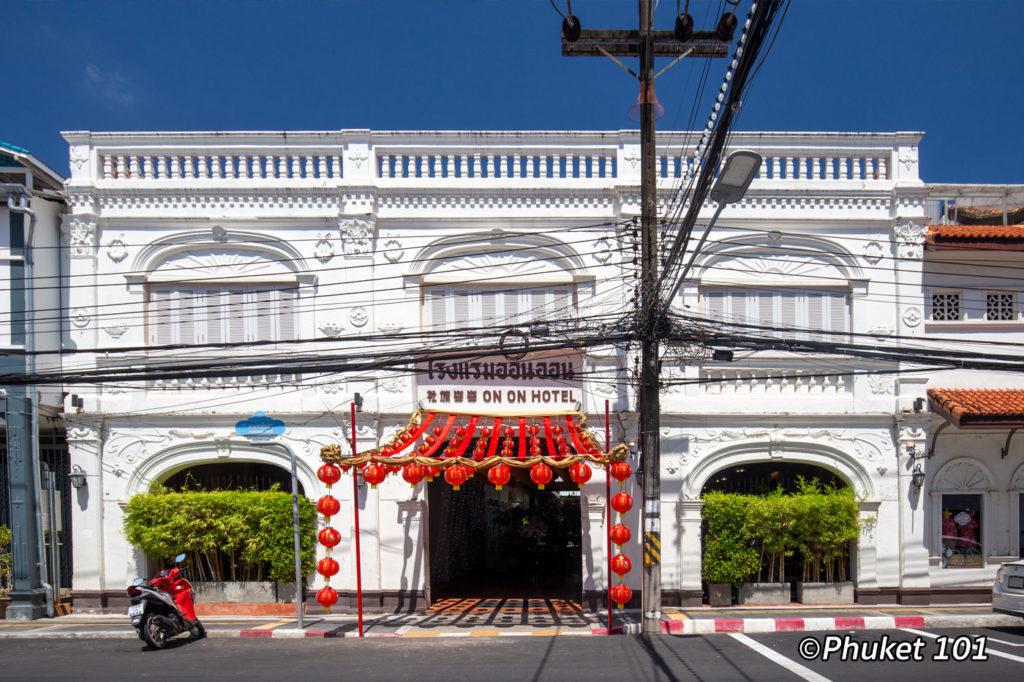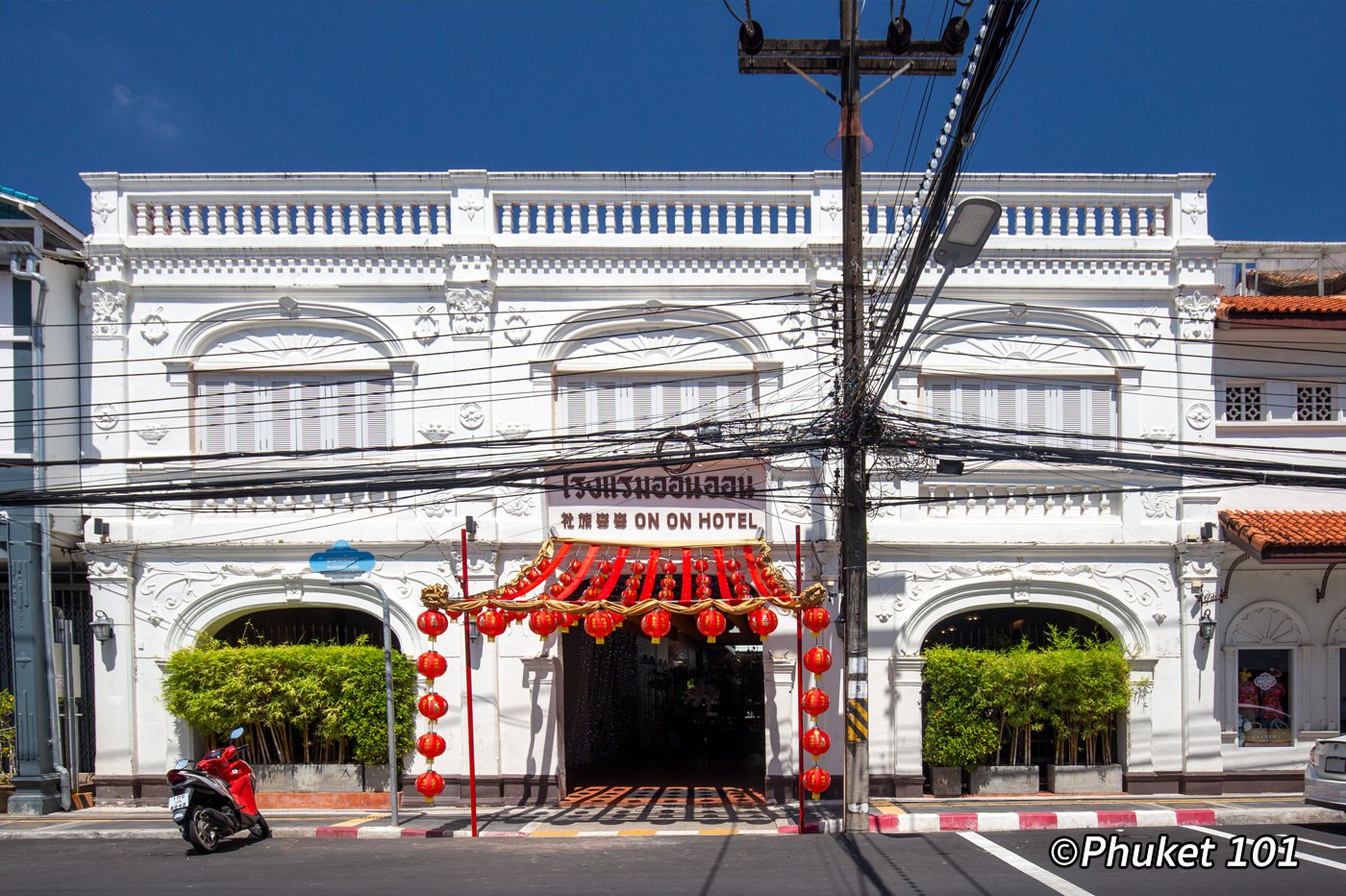 The Shrine is on Phang Nga Road, just parallel to
Thalang Road
, the famous
historical street of Phuket Town
. Just next to the Shrine is the famous On On hotel, featured in the movie 'The Beach' and beautiful restored since. Across the street is an excellent Thai restaurant called
Tub Kab Kao
that serves great Phuket food in a beautiful house.
---
Virtual Tour
---
Photos of the Shrine of Serene Light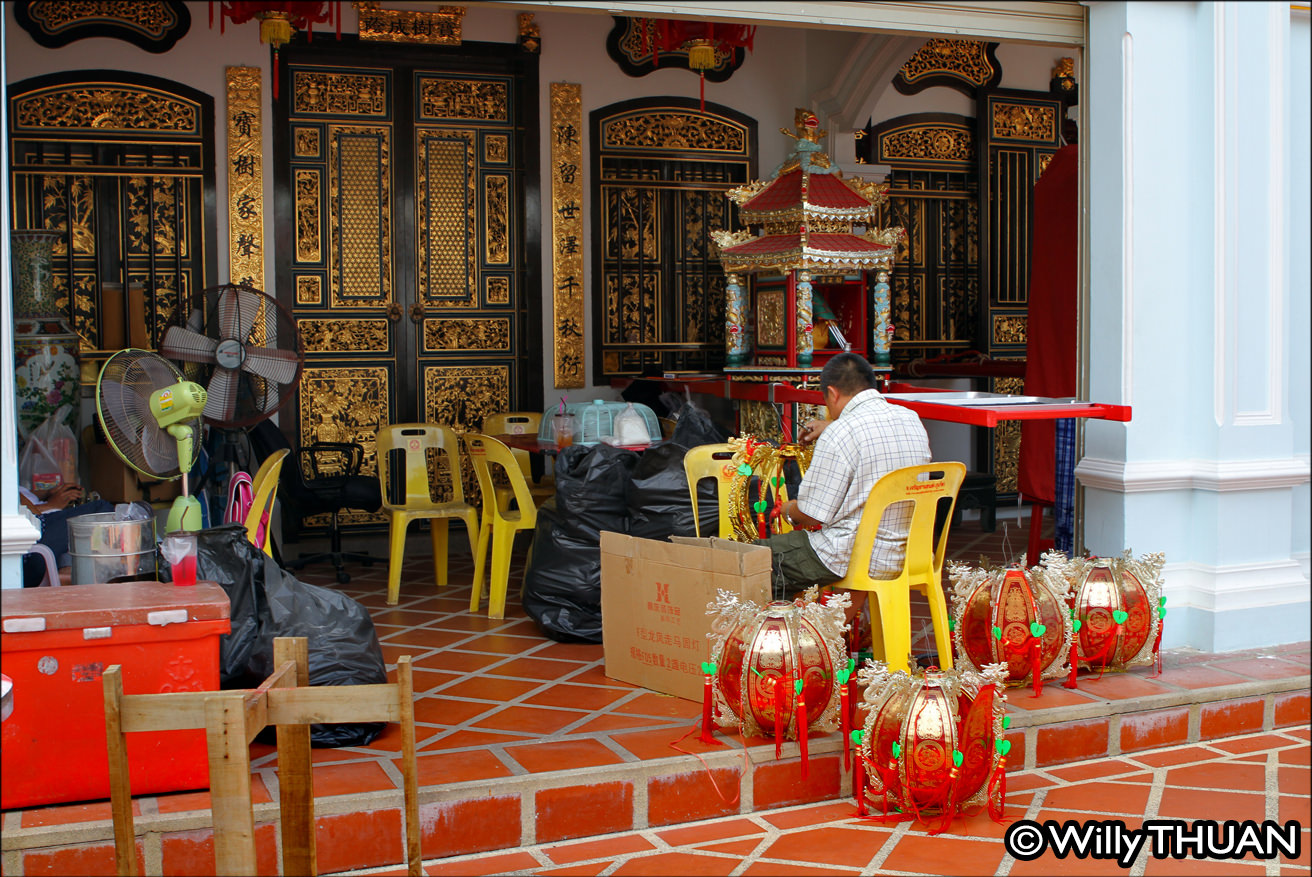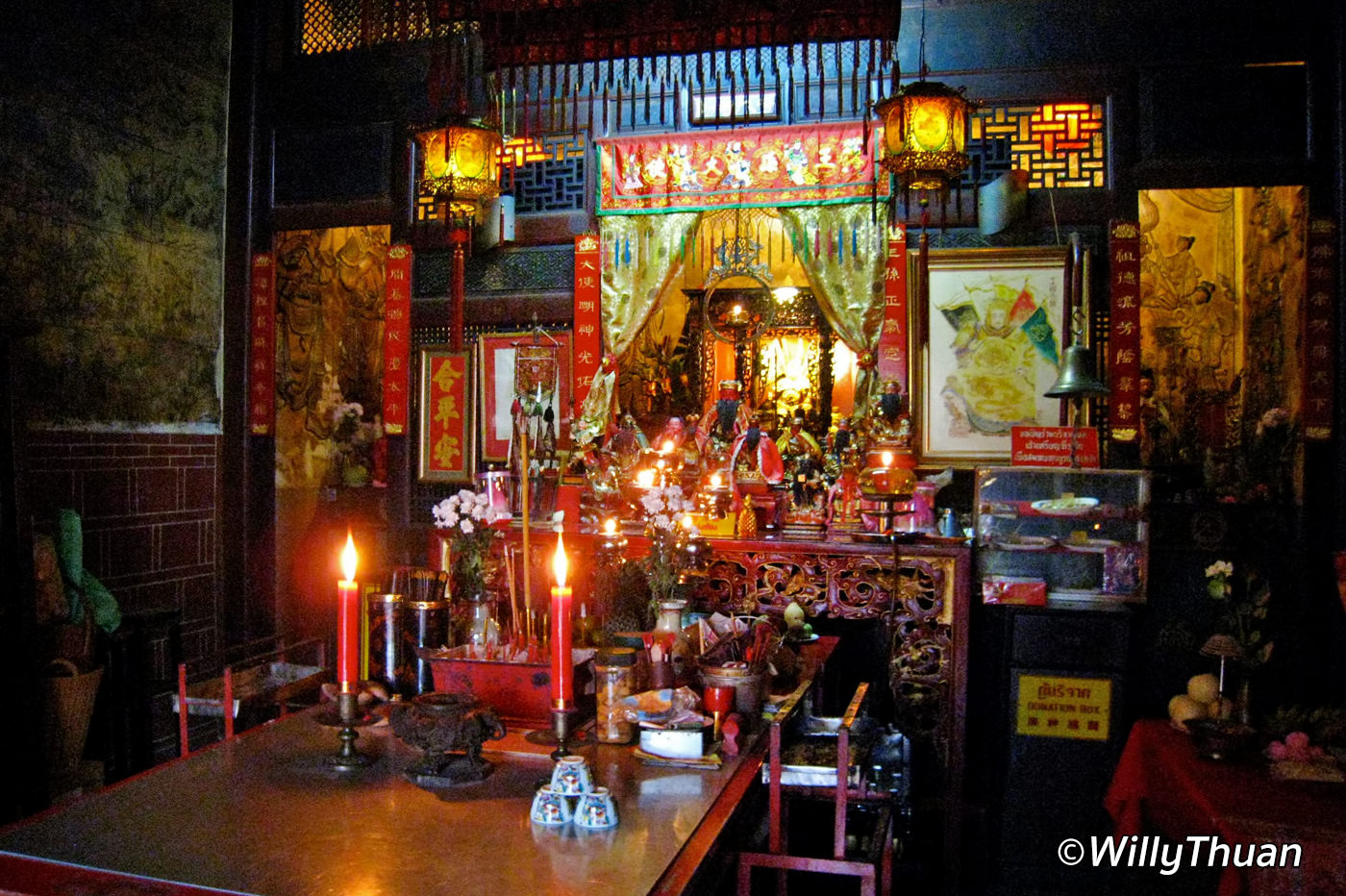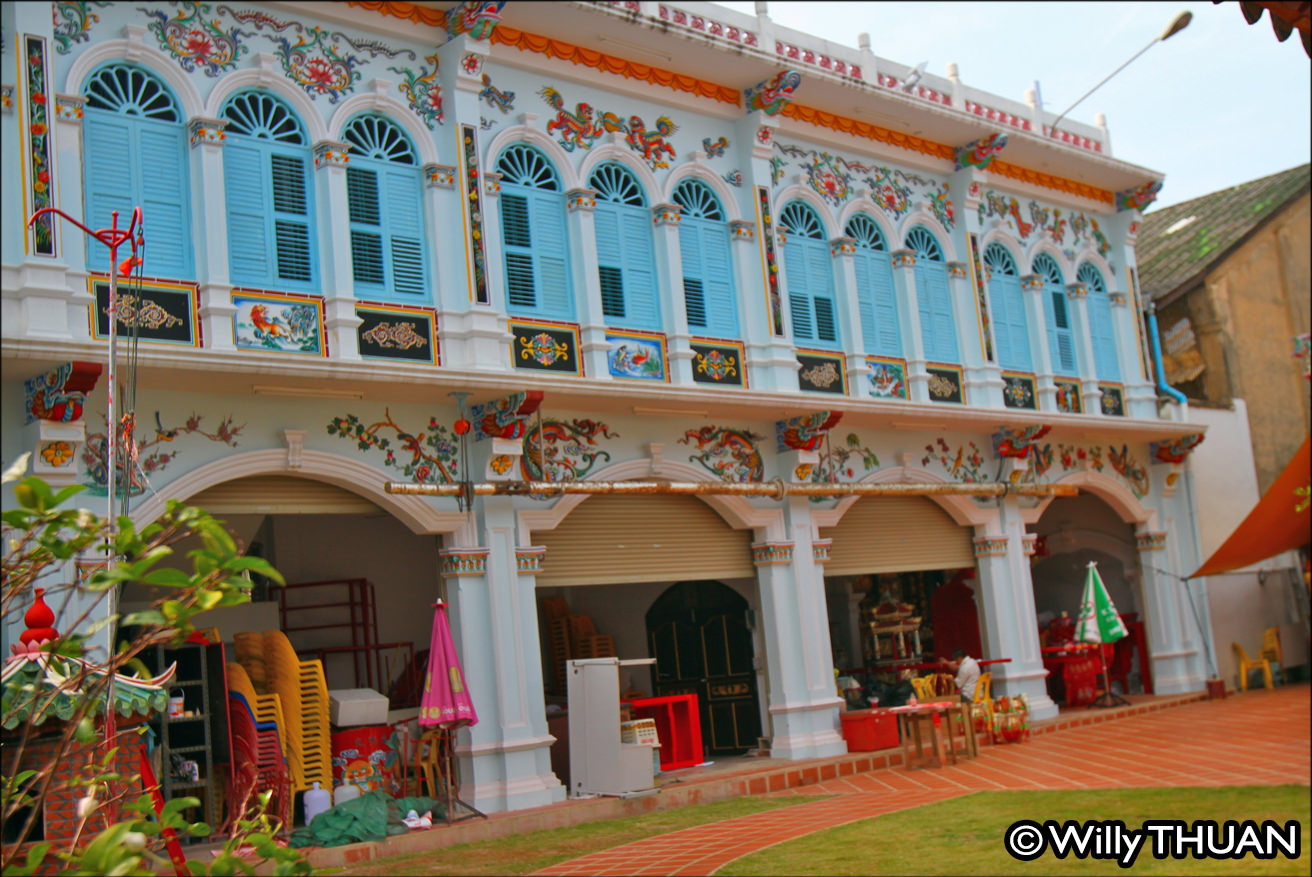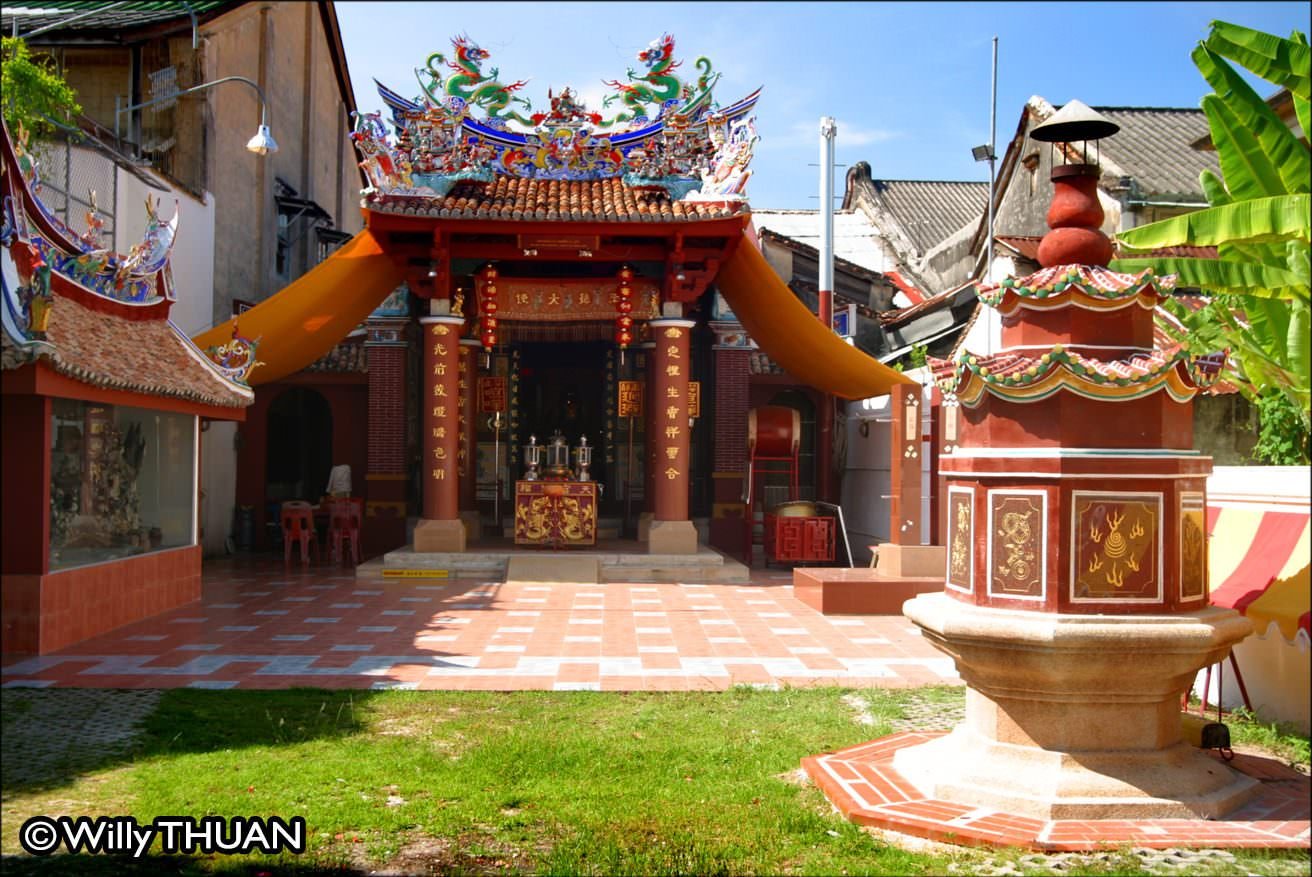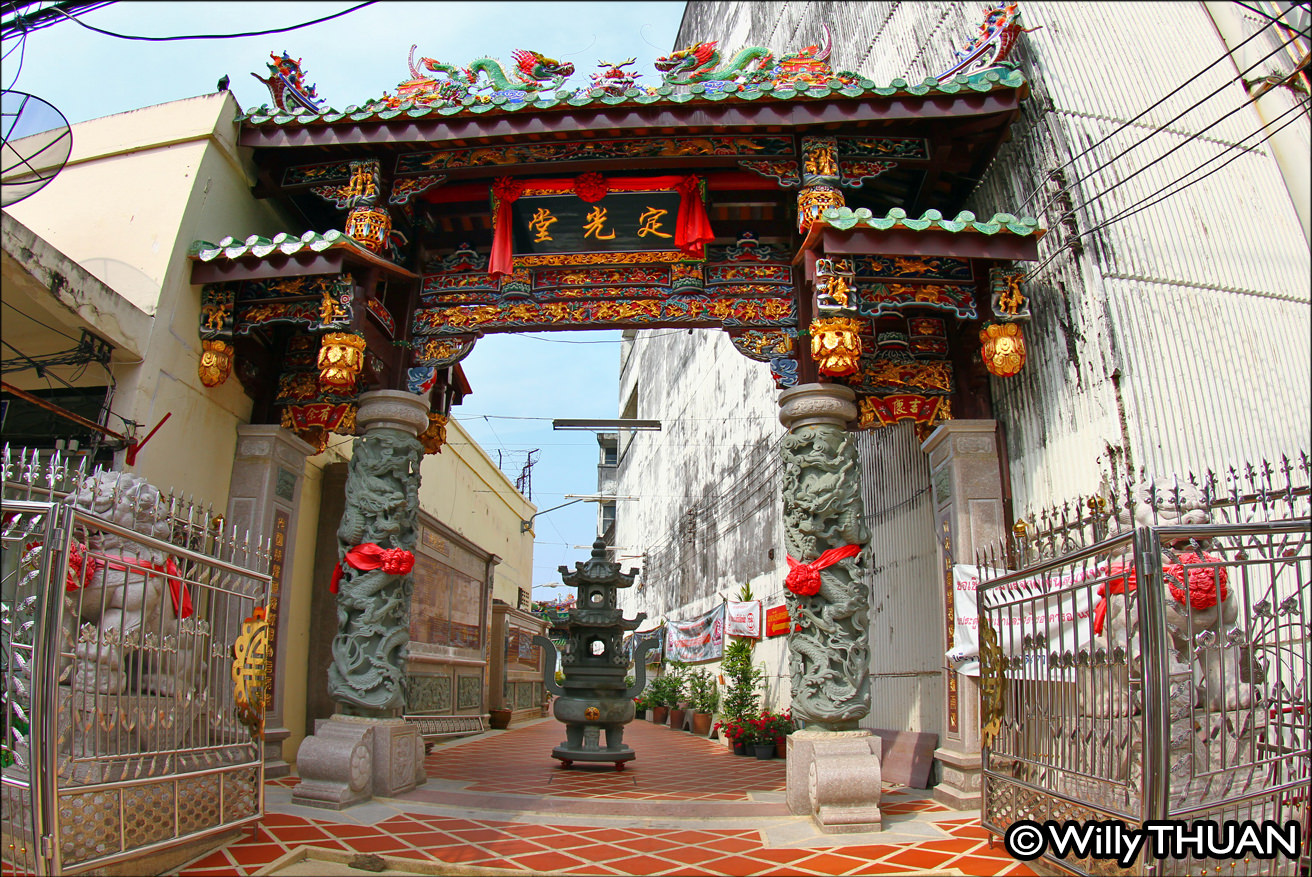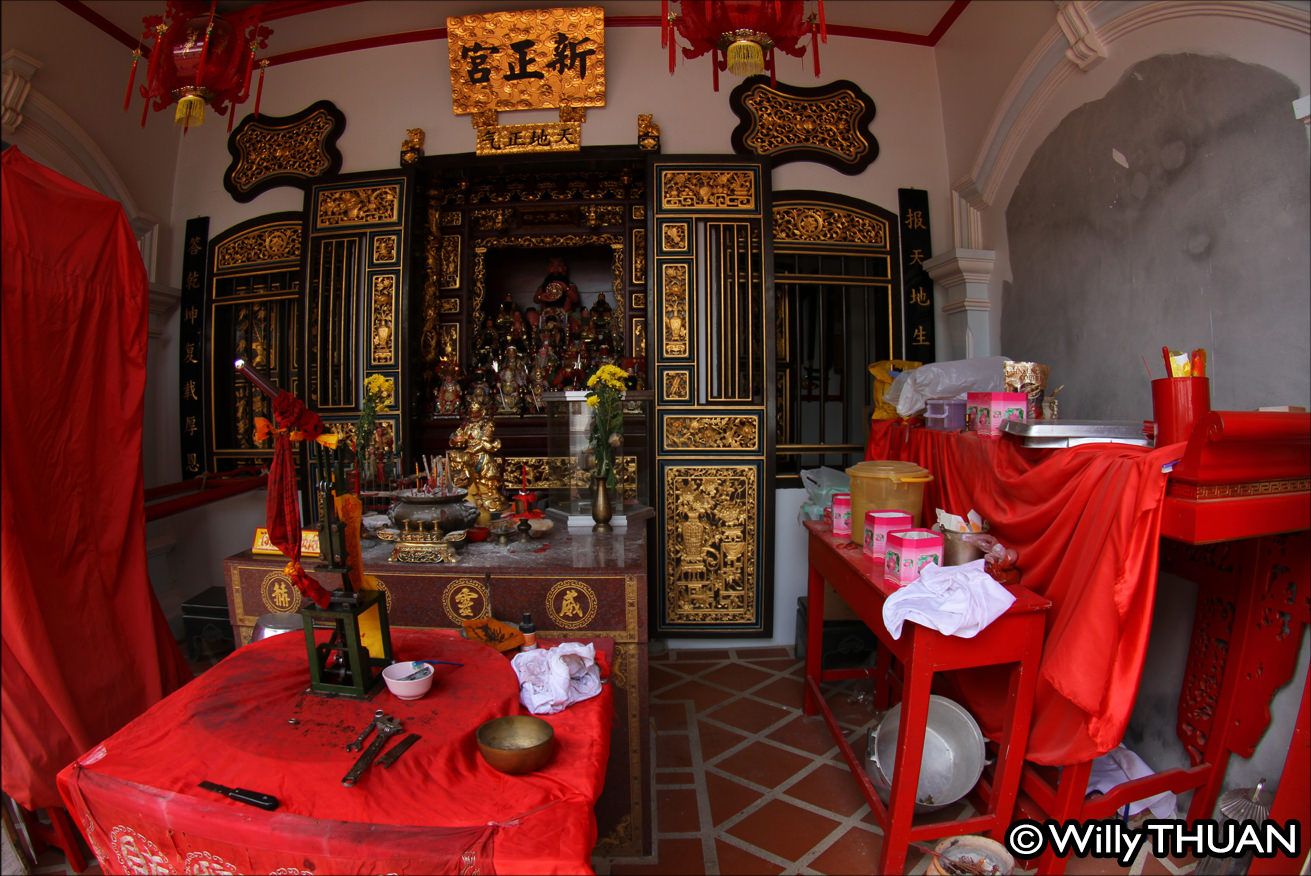 (See also our large Old Phuket Town Photo Gallery)
---
Shrine of Serene Light Info
Location: Phuket Town
Address: 72/1 Yaowarat Rd, Amphoe Mueang Phuket, Chang Wat Phuket 83000
Open: 8:30 am – 5:30 pm
Price: Free
Built: 1891
Local name: Sang Tham Shrine
Hokkien name: Teng Kong Tong Shrine
---
Shrine of Serene Light Map
Get the directions on your phone: https://goo.gl/maps/gzhhjpKTg2gVoGh56
---
Nearby
Tu Kab Khao Phuket – Thai Restaurant in Phuket Town
---
More reading
Thalang Road in Old Phuket Town – A Walking Guide
Phuket Sunday Walking Street Market
10 Chinese Shrines in Phuket ⛩️