Khao Rang Hill in Phuket Town
Rang Hill (Khao Rang), located in the middle of Phuket, is famous for its scenic restaurants, temple, monkeys, and a new viewpoint bridge. Khao Rang is not very high, but its location makes it fun for lunch or dinner with a good bird view of Phuket Town. Rang Hill used to be a fitness park but has lost popularity, maybe because of the growing monkey population. All year round, people climb up there to admire the views of the southern part of the island: Chalong, Panwa and even the Big Buddha sitting on top of its hill.
---
Where to eat on Khao Rang?
---
The best time to go to Rang Hill is for lunch, or a romantic dinner, as three excellent restaurants are built on the hillside, all offering a different angle. Or you can sit on the panoramic terrace and enjoy the breeze after ordering fresh fruit shakes and buying some dry fruits at one of the newly renovated shops.
Our favourite restaurant is Tunk Ka Cafe, which has been here for a long time and is getting increasingly popular, so the best tables are occupied first.
Phuket 101 receives 250,000 monthly visitors on average (500,000 pageviews/month).
If you wish to advertise on this space or other options available on Phuket 101, just contact us.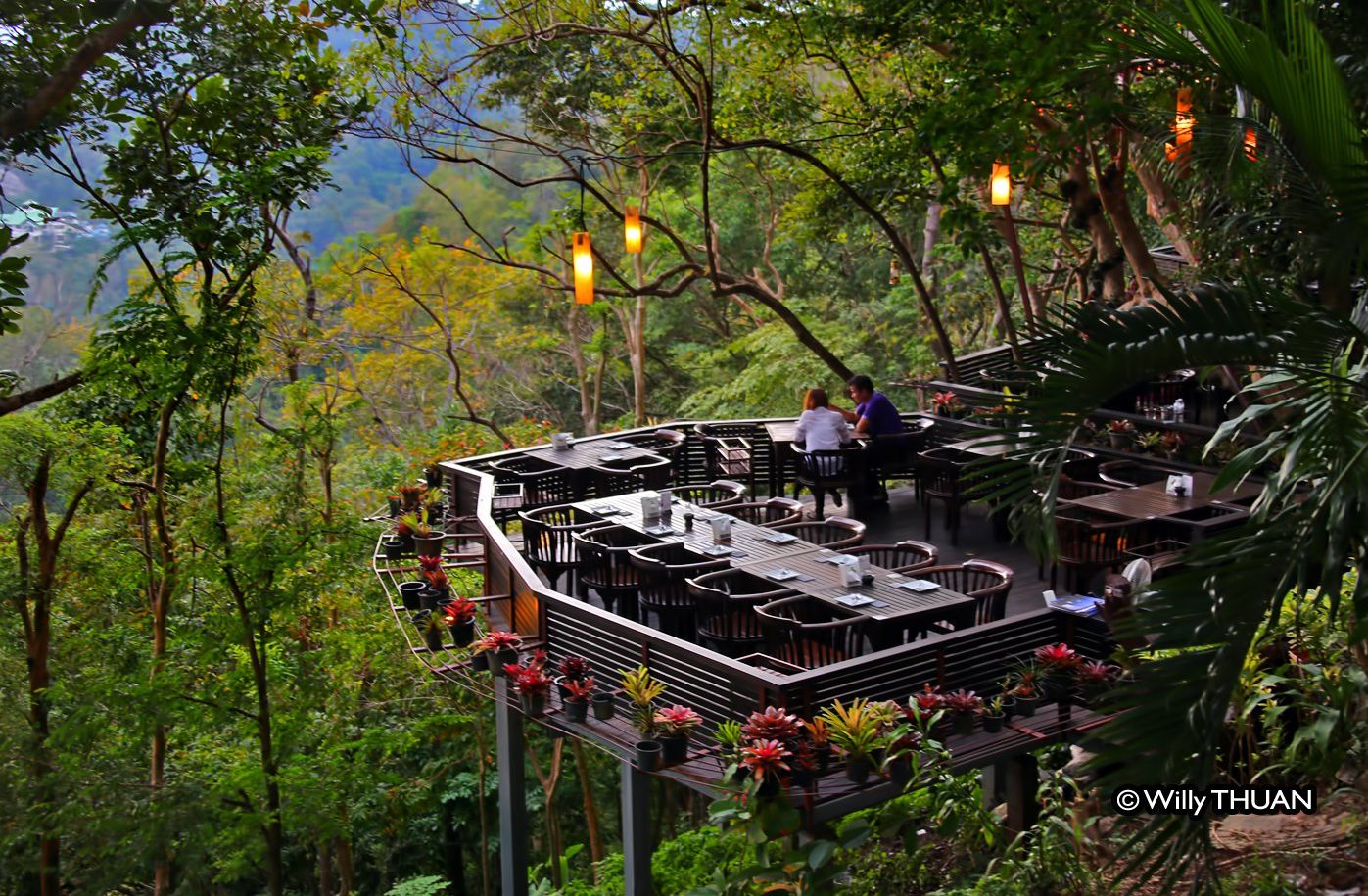 The second choice is Khao Rang Breeze, which doesn't get as much panorama as the others, but has a fantastic terrace on stilts and has some of the most surprising toilets in town: one of the walls is just glass with a view of the trees.
---
What to do on Khao Rang?
---
This temple called Wat Khao Rang Nok looks more like a monk retreat, with three wooden praying rooms sheltering statues of monks, Buddhas and several bungalows. Another less tiring way to reach it seems to be next to Phuket View Restaurant, but the pleasure of discovering this retreat after such exhausting climb was more rewarding.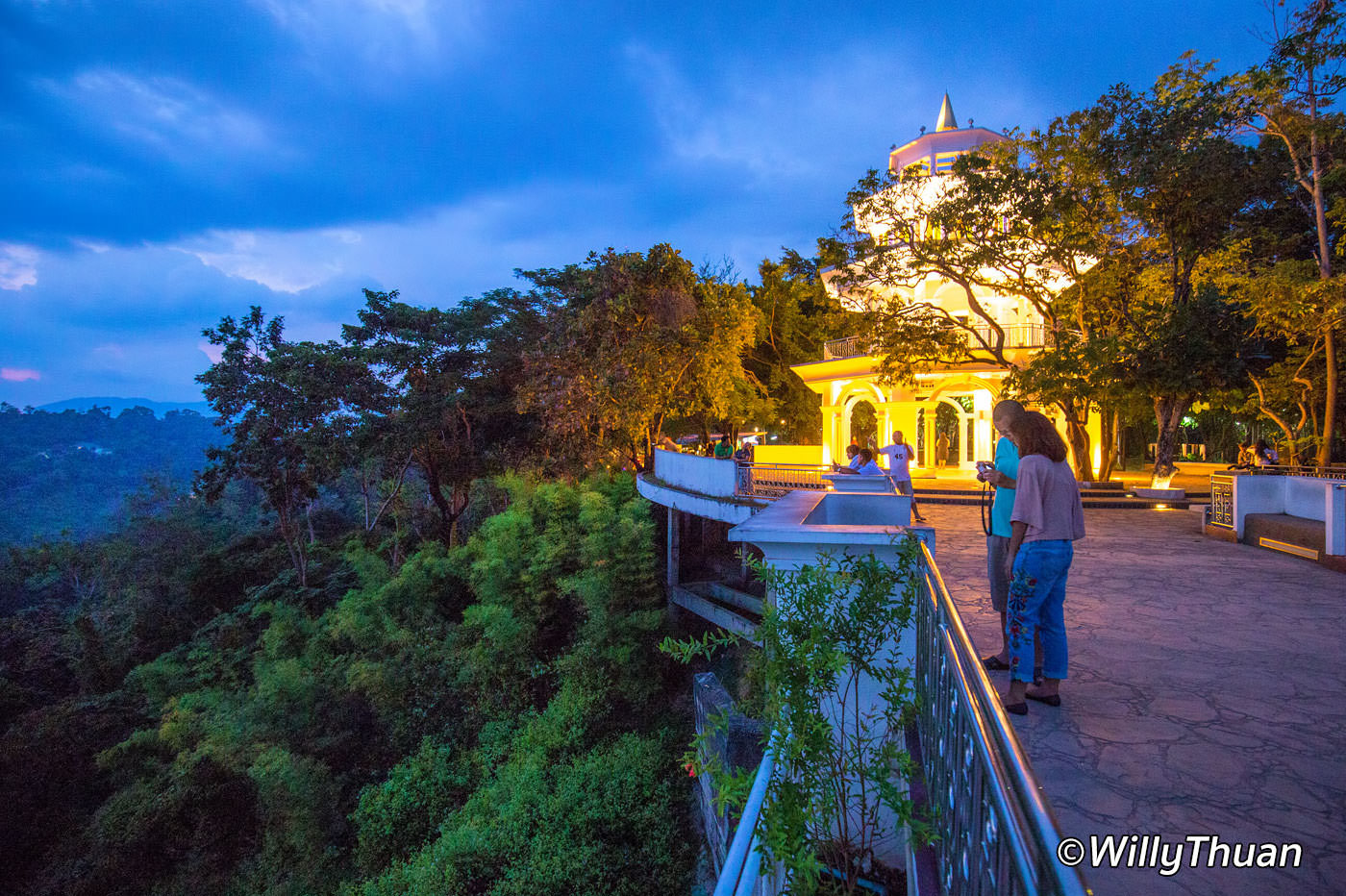 The latest significant addition to Rang Hill is a panoramic platform with a walking bridge and a beautifully designed pavilion, located near the parking at the top of the hill, just between the 2 restaurants mentioned before.
---
How to Get to Khao Rang Hill?
---
There are three ways to reach the top of Rang Hill (plus a hidden one). One street, Soi Wachira, located just next to the well-known Vachira Hospital, leads to the very nice Wat Khao Rang (Kao Rang temple) and a large golden sitting Buddha. Another way but the longest and most convoluted road called Hongyok Utis Road starts right passed the 'Bangkok Hospital Phuket'. The third way is by a street called Soi Chimbi starts from Mae Luang road and passes by a small Thai Temple with its white Chedi on the right and side, and a not very well known Chinese temple on the left.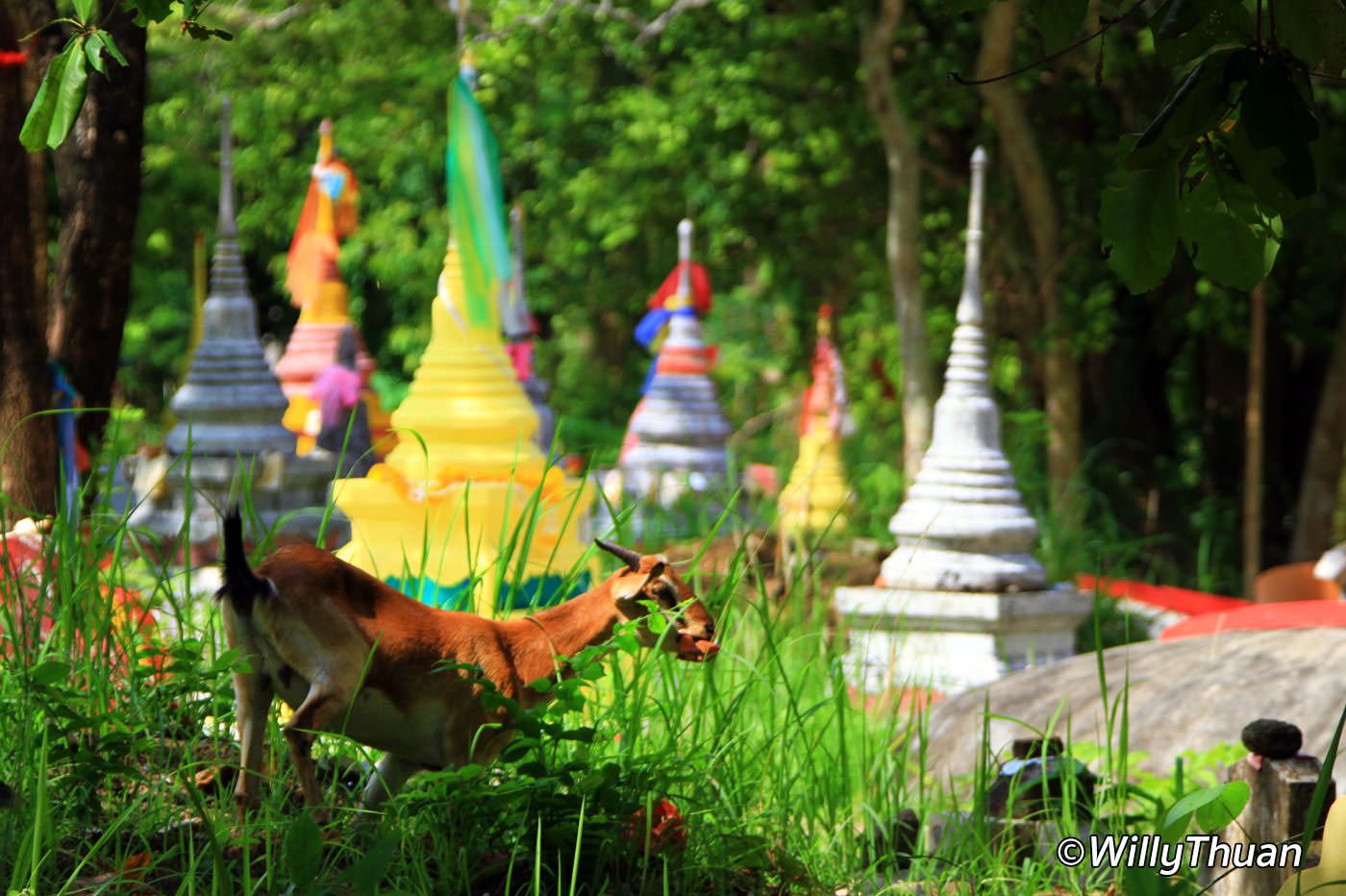 This discreet shrine is, in fact, near an unsuspected massive Chinese cemetery whose size can only be appreciated from the top. This large cemetery is worth a stop, offering countless photo opportunities. Chinese cemeteries are rather colourful and decorated, not creepy at all. Few goats are happily roaming among the colourful graves, and many huge trees provide welcome shade. Now, if you are courageous, walk to the back of the cemetery and find a tiny staircase that will take you to a small temple at the top of Khao Rang Hill. Get ready for some climbing!
---
Once again, I thought I knew Phuket, but I still managed to find a few surprises here and there; it's mostly a question of keeping your eyes open, and be curious about everything, and NEVER assuming you know a place.
---
Khao Rang Hill Photos
---
Where is Khao Rang Hill?
---
See also
---
Your Phuket Town Travel Guide