---
An excellent southern Thai Restaurant in Phuket Town
---
Tu Kab Khao is a popular Thai restaurant in Phuket town serving great southern Thai food, a chance to try their selection of dishes typical from Phuket. Tu Kab Khao is the name given to a small closet every Thai house had a long time ago to keep the food safe from ants and flies for the next meal. The feet of that closet was placed in a bowl of water to keep the ants away. (see photo at the end).
Tu Kab Khao received a Michelin Plate rating from the new Michelin Guide for Phuket. 'Michelin Plate' is a sign of excellent food.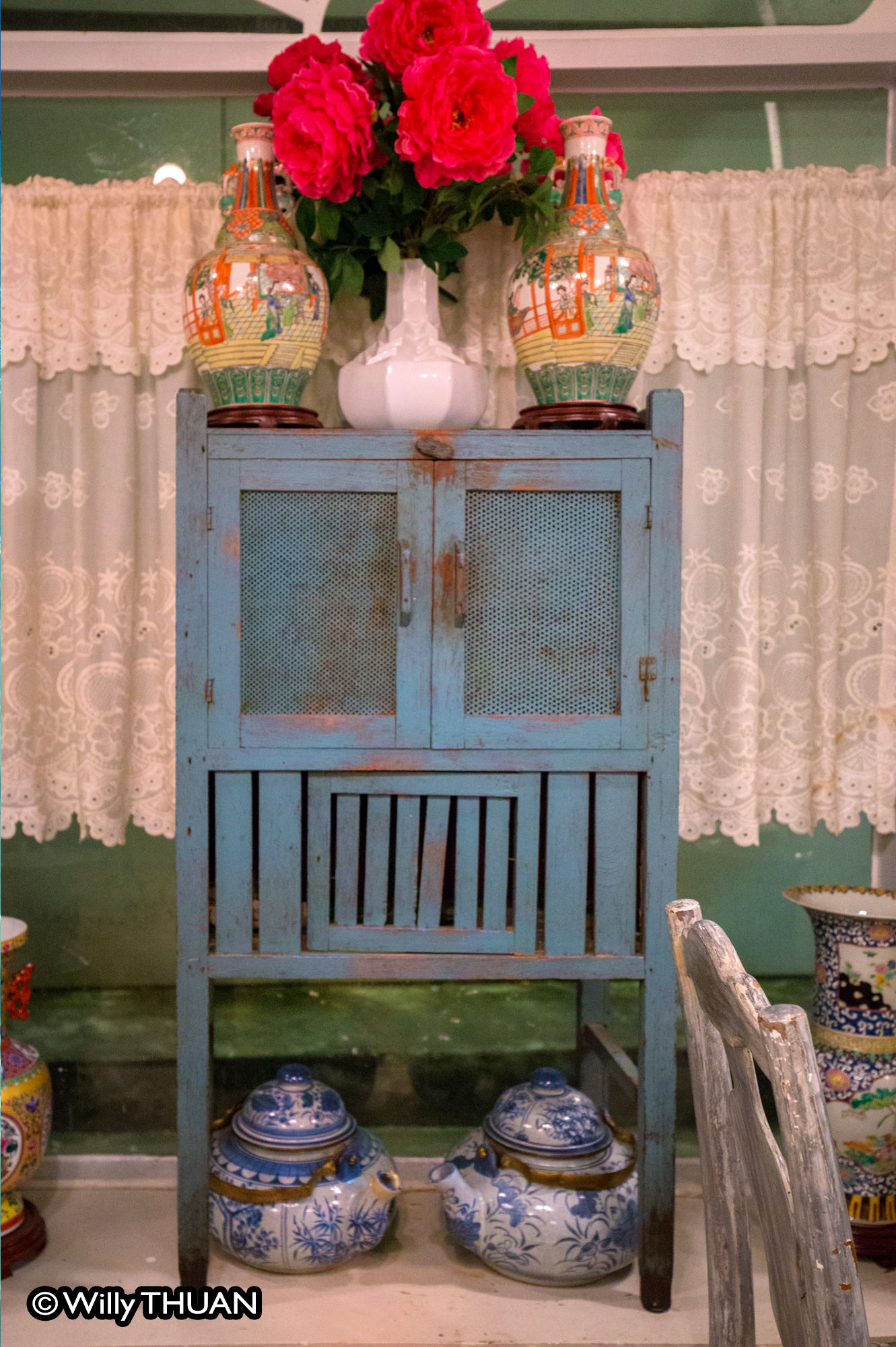 Tu Kab Khao restaurant is set inside an old heritage house facing the beautiful Shrine of The Serene Light on Phang Nga Road, the heart of Old Phuket Town, making your lunch or dinner even more attractive. It's an excellent opportunity and feels unique, but it's not as expensive as it may look.
It's relatively easy to spot the restaurant since a gigantic lobster hangs on one of the house's corners, like a massive insect eating the concrete. They probably added it so people would say precisely, "It's that restaurant with that weird lobster hanging on the side!" It certainly works.
The decor is elegant without overly sophisticated: velvet sofas, arched doors and draped curtains. The staff is amiable and efficient and can answer difficult questions about local cuisine and ingredients. The venue looks rather expensive, but the prices are just right, and it is quite affordable.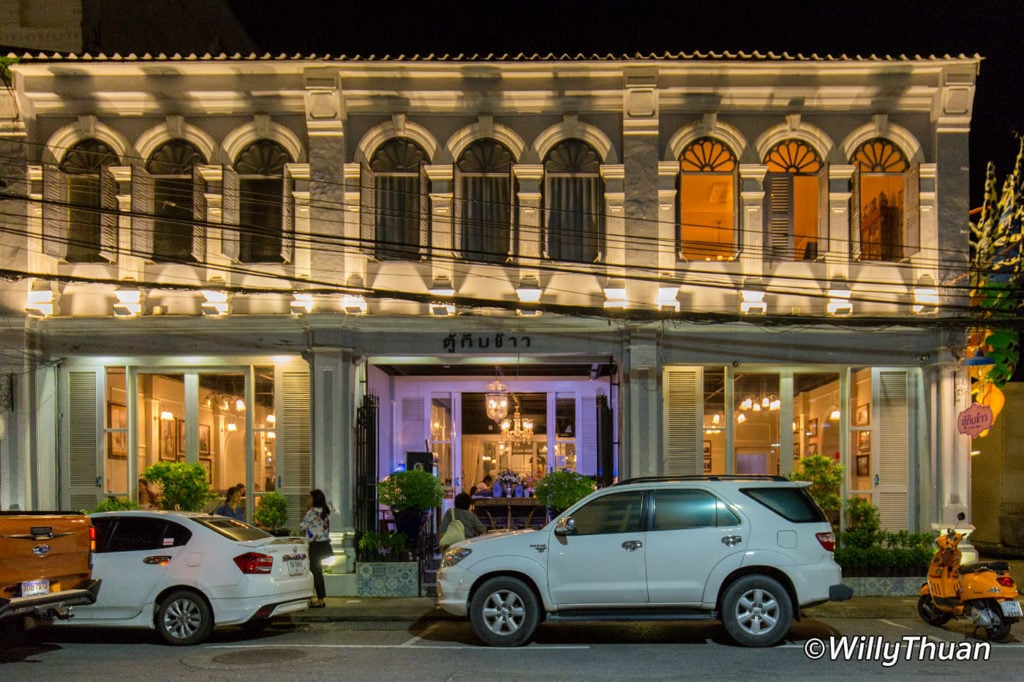 Tu Kab Khao is a large restaurant, but it creates a cosy and relaxing atmosphere as it's divided into five smaller sections. Somebody made a great deal of effort to keep a traditional decoration that will perfectly wrap up your exploration of the Phuket old town's heritage streets.
---
What to order at Tu Kab Khao?
The food is authentic Thai, and the extensive menu is well-illustrated, so you won't have to struggle to select something nice. We visited twice a row, so we had the chance to try many of their dishes. If you are ready for real, local Phuket food, be aware that some food can be very spicy and pungent, this is a restaurant where local Thais go too!
Sen Mee Gaeng Poo (360 baht) is an excellent crab in a curry with thin rice noodles, a classic here.
Gaeng Som Pla (180 baht) is some local fish in turmeric sauce that is sour and spicy, not for beginners.
Pla Sai are small deep-fried fish in turmeric, always a local favourite but here too, not for the beginners since it's small and hard to eat.
Big Prawns (240 baht) in a tamarind sauce are beautiful (a bit sweet, though).
Moo Hong Phuket (265 baht), a pork belly stew, is also lovely to enjoy.
Nam Prik Koong Siap (165 baht) is another dish Thai people love. It's very healthy, but not everyone likes uncooked veggies like green beans, eggplants and slices of ginger with a prawn paste.
There is an excellent choice of local desserts, but we were so full that we just went for their delicious coconut ice cream.
---
Phuket 101 receives 250,000 monthly visitors on average (500,000 pageviews/month).
If you wish to advertise on this space or other options available on Phuket 101, just contact us.
---
Tu Kab Khao Restaurant Info
Location: Phuket Town
Address: 8 Phang Nga Road, Phuket Town (the restaurant with a giant lobster hanging on the side)
Open: Daily 11 am – 12 midnight
Phone: 076 608 888
Speciality: Southern Thai Food
Price: Affordable
Facebook: click here
---
Tu Kab Khao Map
Get the directions on your phone: https://goo.gl/maps/UieXVnhbT5XNbUjd9
---
More Restaurants in Phuket Town
---
Your Phuket Town Travel Guide