---
A great local restaurant in Phuket Town
---
One Chun received a 'Bib Gourmand' rating from the Phuket Michelin Guide. Bib Gourmand means 'friendly establishments that serve good food at moderate prices.'
One Chun Restaurant (One Chun means 'Monday') is one of the best Thai restaurants in Phuket Town. Serving a southern Thai cuisine without compromise, One Chun first succeeded with locals who are not easy to impress when it comes to their food. The young owner Khun Prang found the right formula: great food, reasonable price, fun atmosphere, excellent service and good location. Now you too can enjoy real Thai food the way we love it here.
One Chun Phuket is fun and cosy with a family and friends atmosphere. A special mention about the creative retro decor with brick walls covered with old clocks, vintage radios, old television sets from the 60s and even an old cinema camera.
But ultimately, what matters most is still the food! We went to One Chun several times: this is the real deal, Thai food as it should be. When your order, the staff will ask you how spicy you like it but make no mistake, for some dishes known to be fierce, if you say 'I like it spicy because I'm no beginner and I'm a real man!' Get ready for a blast. You have to see how many locals enjoy the place to know this is the right place when it comes to southern food.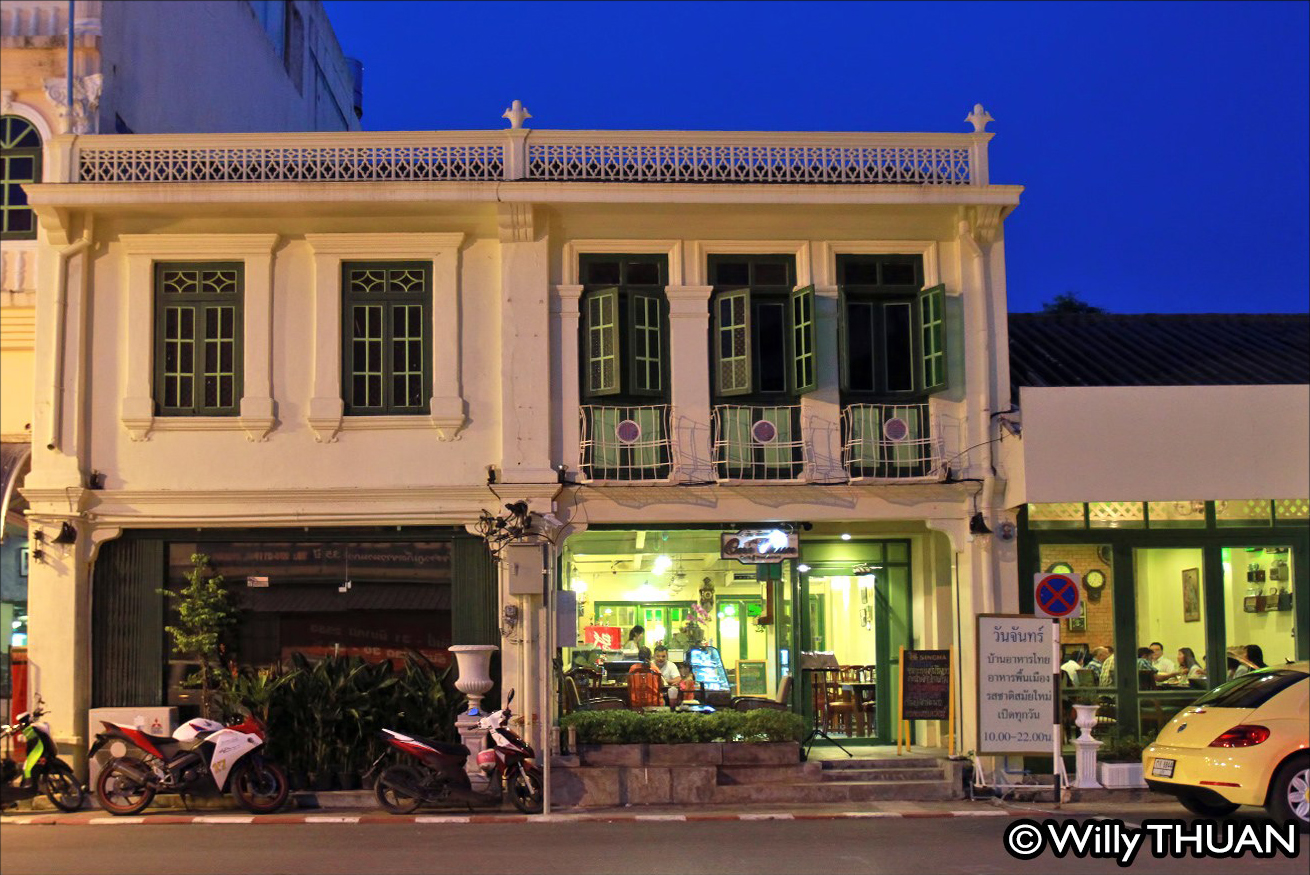 ---
What to Eat at One Chun
We ordered all kinds of specialities but if you need help here are some of the ones we enjoyed as you can see in the photos:
Tom Khlong Pla Gao – our favourite dish: a spicy grouper fish soup (150 baht)
Pak Miang Koong Siab Pad Khai – Stir-fried local green leaves with dried shrimps and egg (150 baht)
Kang Poo – curry crab (280 Baht, which is cheaper than its neighbour Raya House)
Pla Tod Nam Pla + Yum Mamuang – Deep-fried red snapper with spicy mango salad (60 baht per 100 grams)
Tuna Foo + Yum Mamuang – Deep-fried crispy Tuna fish with mango spicy salad (120 Baht, recommended)
Moo Kua Klue – Deep-fried pork belly with salt (120 Baht)
Best selling dish: Kam Poo Pad Manao – Stir-Fried Crab with lime sauce, served with brown rice or rice berry (250 baht).
If you need help, the staff speaks enough English to help you with ordering and will even suggest some dishes.
There is, of course, a lot more on the menu than what we listed here. The best is just to let your appetite and your eyes decide for you as we always do. Just remember: don't always pick the things you already know, be daring! It's more fun to try new things and maybe, just like me, you might discover here your new favourite dish!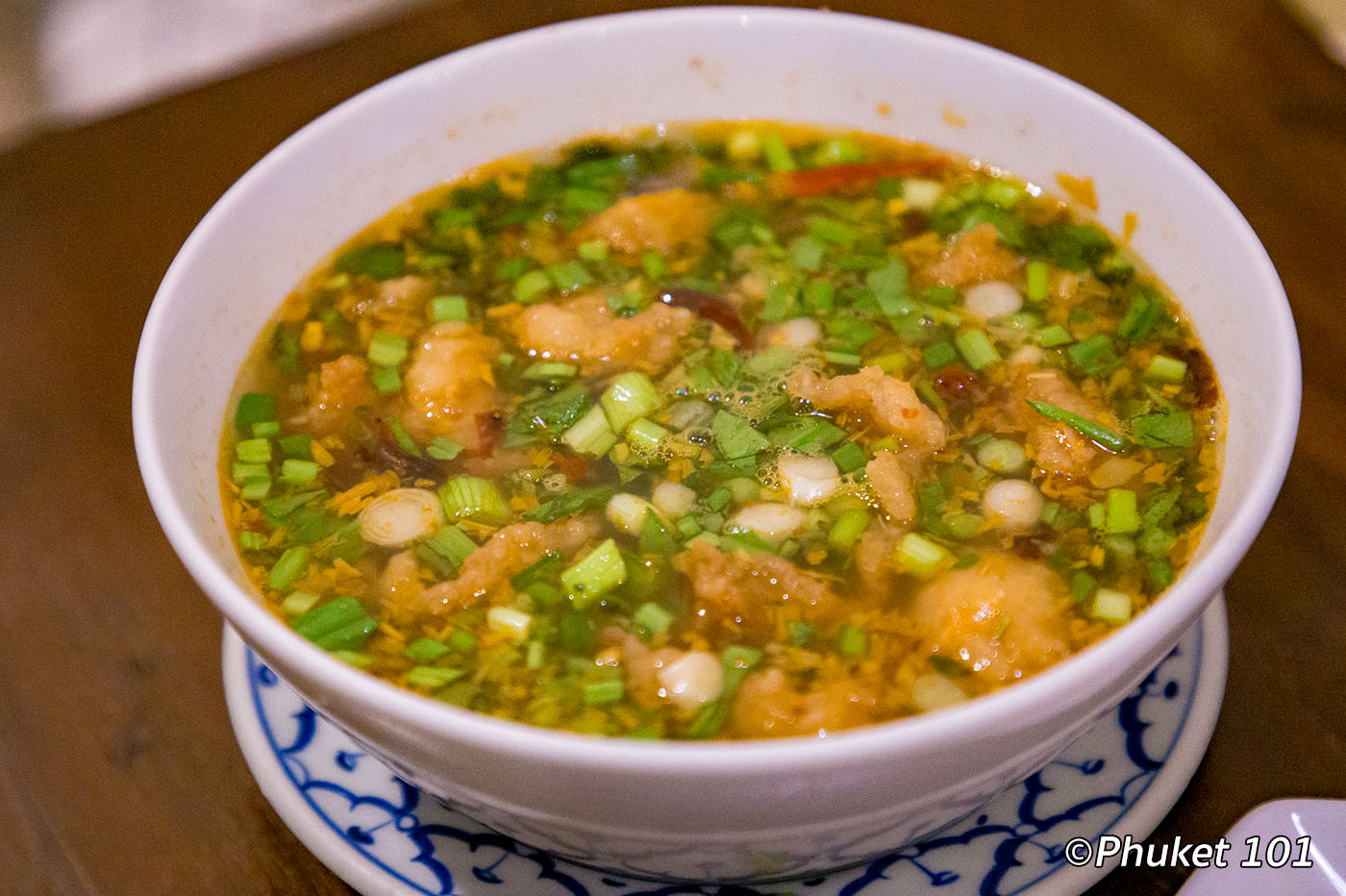 On Sunday, the location is very convenient as it is precisely where the new Phuket Walking Street Market starts at the intersection of Thalang Road and Thepkasattri Road. One Chun restaurant is perfect for a nice dinner before a visit to the Street Market. Also great for a break after a day of exploration of Phuket Town. If you drive a car, be aware that the parking space around the restaurant is minimal on Sundays. You can try to park on the perpendicular street ;).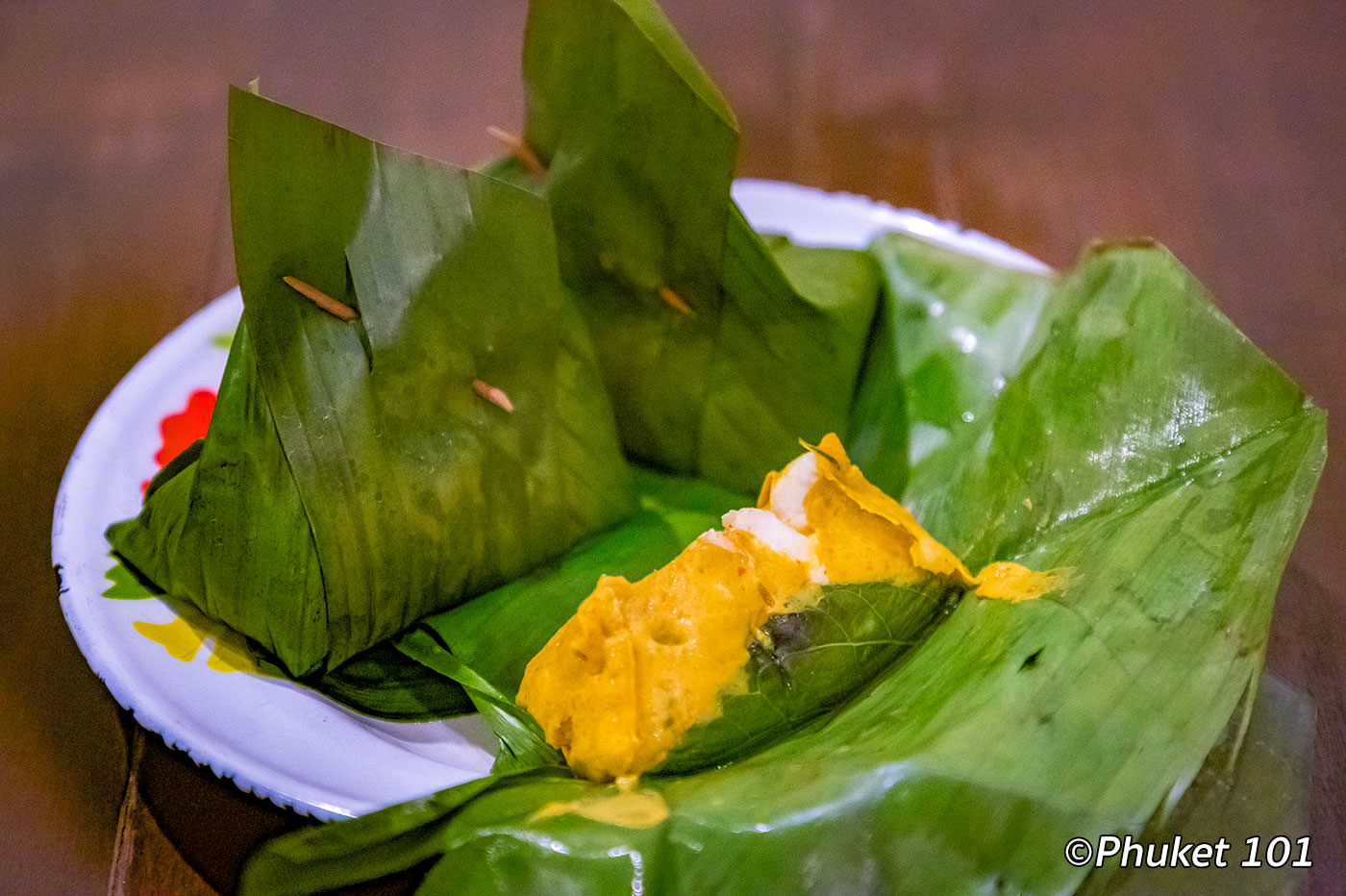 ---
One Chun Phuket Info
Location: Phuket Town
Address: 48/1 Thepkrasattri Rd., Talat Yai, Phuket Town, Phuket 83000
Open: 10 am – 10 pm
Tel: 076 355 909
Price: Affordable
Contact: https://www.facebook.com/OneChunPhuket/
---
Certificate ' Best in Phuket '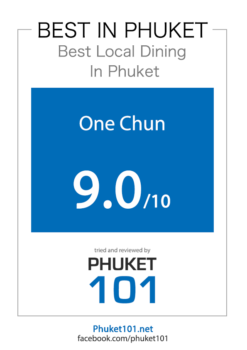 How ratings work:
Our ratings are based on quality, food, setting, service and price – We pay for our meals and our stays, and we come unannounced.
---
One Chun Restaurant Map
---
More restaurants in Phuket Town
More reading