---
Phuket Chinese temples and shrines
---
Phuket's Chinese shrines always offer an excellent opportunity for some good photos. There are quite a few around, and each has its characters and unique features. The large ones are very popular during Chinese New Year in February or the Phuket Vegetarian Festival in October and can get extremely crowded, not to mention very loud from firecrackers.
Best known and most popular during the festival period is probably Jui Tui Shrine, right in the middle of Phuket Town, and right next to it, you'll find Put Jaw Shrine, more modest but even more revered for being the oldest Chinese shrine in Phuket. It's bright, colourful and very decorated if you have the chance to visit around festival times.
Phuket 101 receives 250,000 monthly visitors on average (500,000 pageviews/month).
If you wish to advertise on this space or other options available on Phuket 101, just contact us.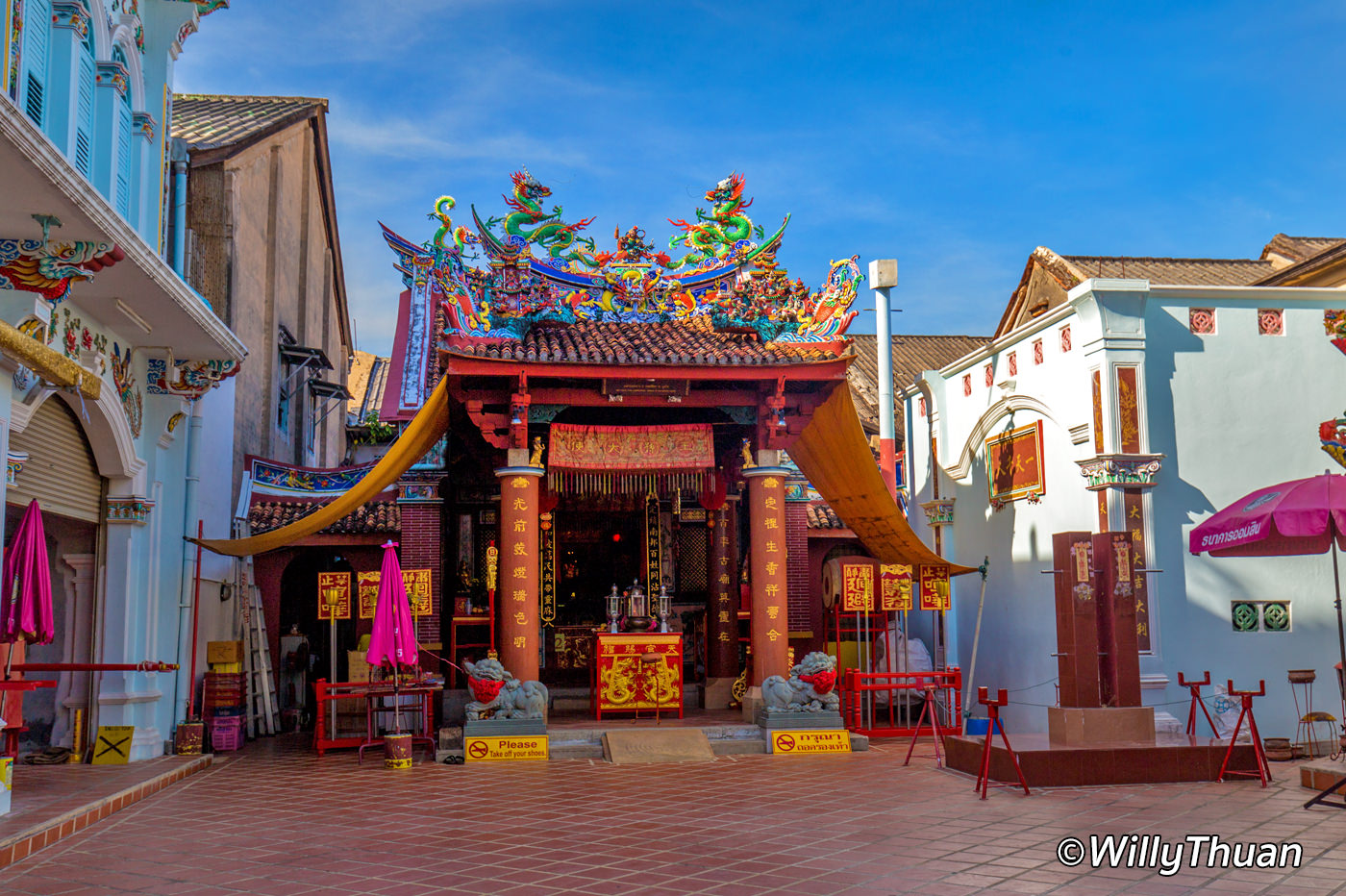 Another beautiful temple called 'Shrine of Serene Light' is not too far from these. It used to be a very special place only known by a few who spent enough time exploring. One entrance was a narrow anonymous gate near the well-known 'On On hotel', opposite the amulet market and knowing this entrance was a little pride we enjoyed sharing like a personal secret. But there was better: another hidden entry even more interesting: behind the kitchen of a small friendly restaurant called 'Wilai', located next to the China Inn on Thalang Road.
'This secret path is still there, but the secret of the shrine of Serene Light has been exposed: The narrow front entrance has recently been wiped out, remodelled and is now a big and colourful Chinese gate with massive pillars all wrapped with golden dragons… hard to miss!
Location: Phuket Town
Address: 72/1 Yaowarat Rd, Amphoe Mueang Phuket, Chang Wat Phuket 83000
Open: 8:30 am – 5:30 pm
Price: Free
Built: 1891
Local name: Sang Tham Shrine
Hokkien name: Teng Kong Tong Shrine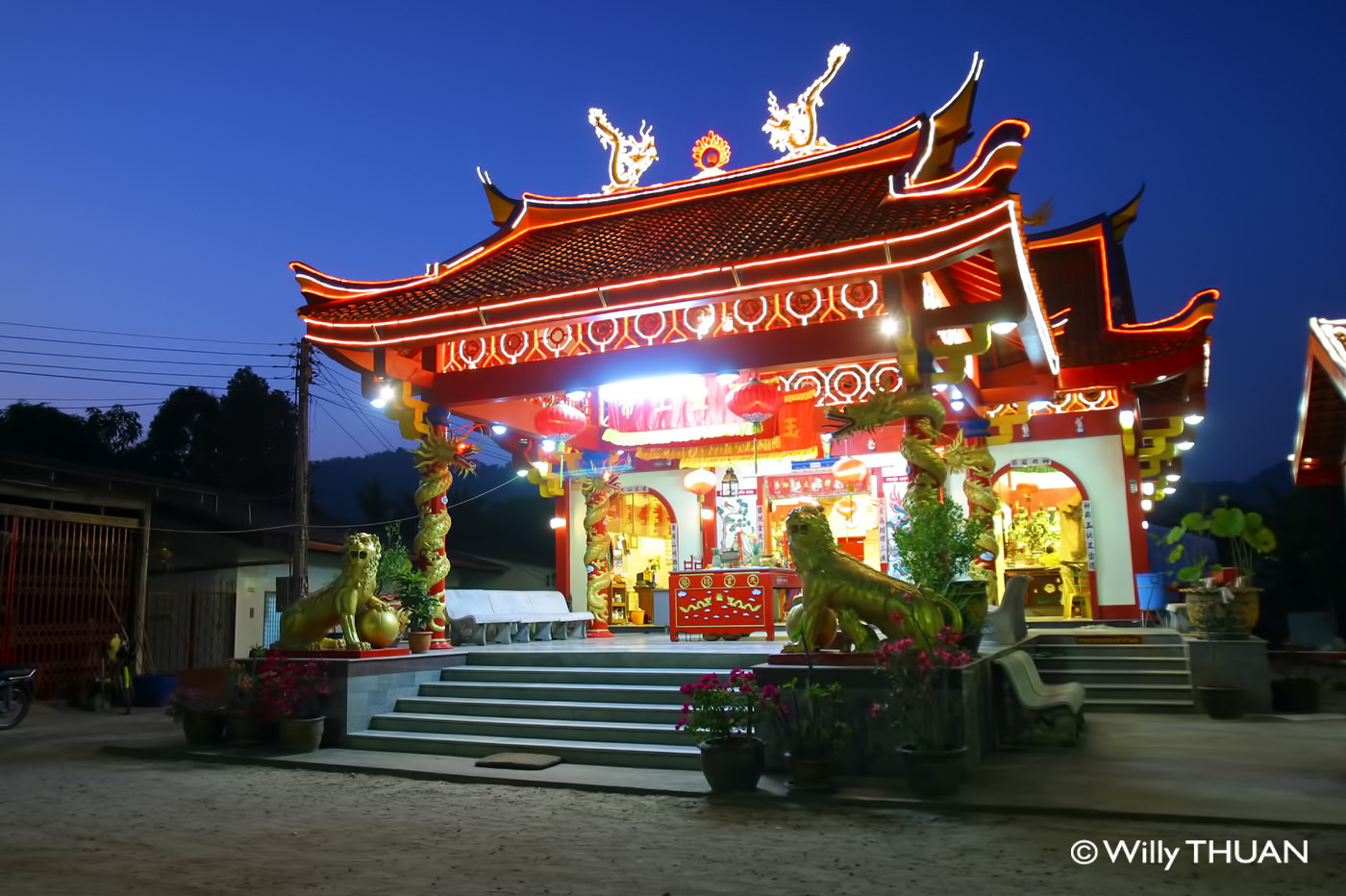 Lim Hu Tai Su is a Chinese Taoist shrine on the north side of Phuket Town, also known as Sam Kong Shrine, for the neighbourhood it's found in. Though not as well known by visitors as larger Chinese shrines like Jui Tui Shrine in Phuket's Old Town area, Sam Kong Shrine is a revered place of worship for the local community. It's become a key part of the Phuket Vegetarian Festival when it hosts several ceremonies and a procession during the annual 9-day event. Lim Hu Tai Su Shrine, also known as Sam Kong Shrine, is between Chillva Night Market centre and 'Bangkok Hospital Phuket' on the outskirt of Phuket town.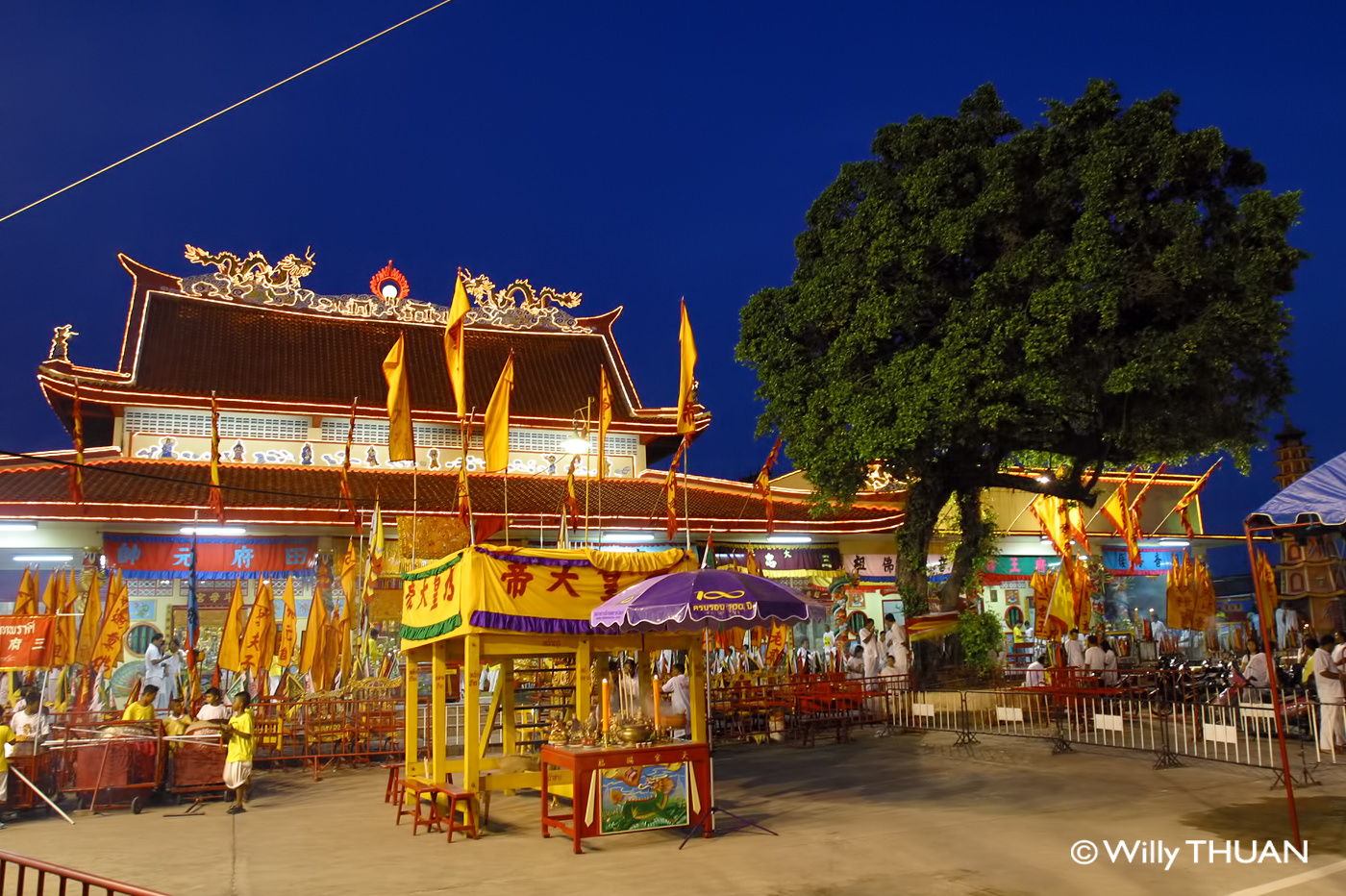 Bang Neow Shrine in Phuket Town is one of Phuket's oldest and most revered Chinese shrines. It's one of the main shrines taking part in the annual Phuket Vegetarian Festival and is a place of worship and merit-making activity for the local Chinese-Thai community throughout the year.
Location: Phuket Town
Address: Bang Neow intersection, Phuket Road, Tambon Talat Yai, Mueang, Phuket 83000
Phone: 088 169 2595
Price: There's no entry fee, but donations are welcome to help with its upkeep.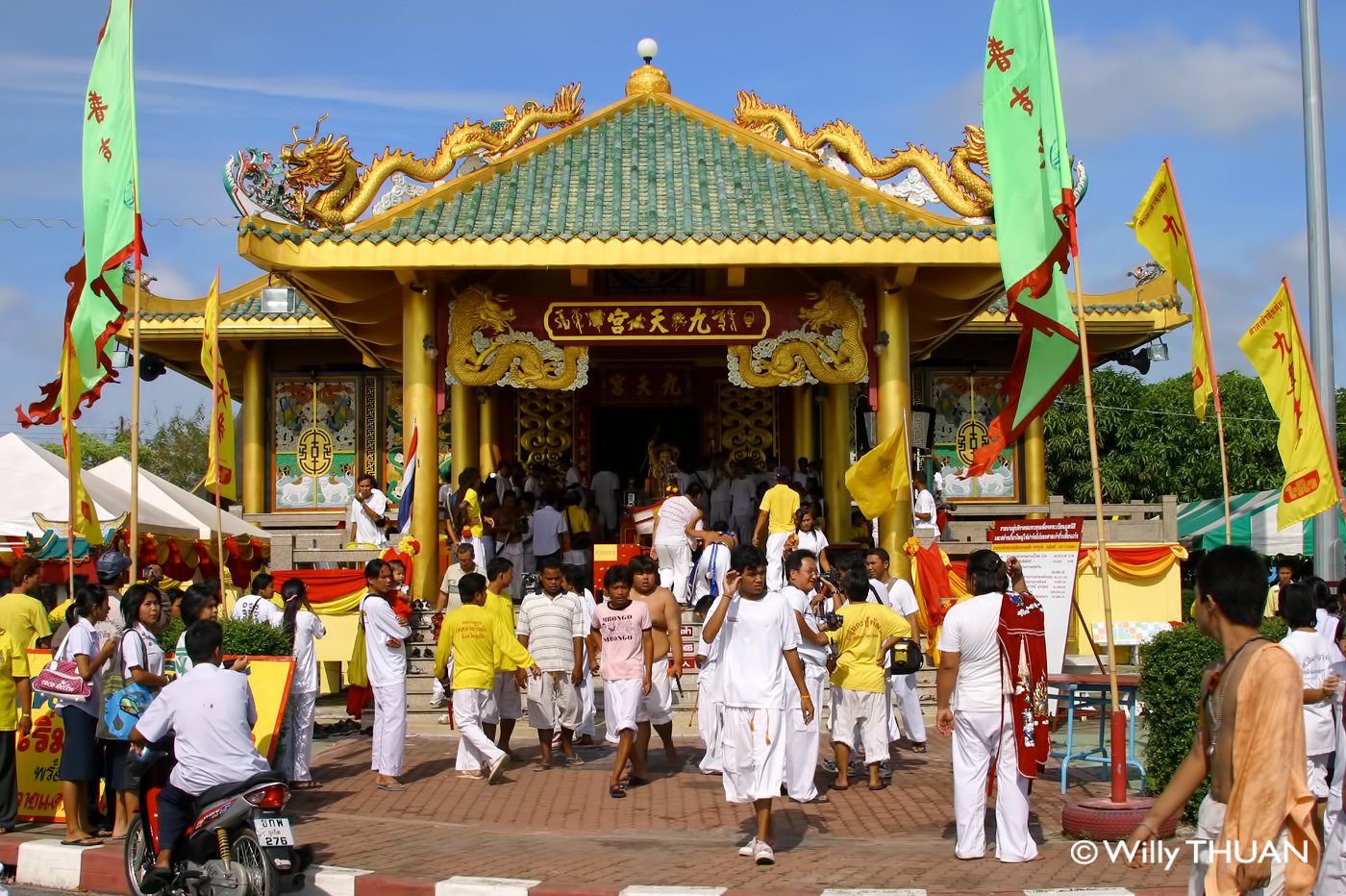 Kio Thian Keng Saphan Hin Shrine, in Phuket town, is a small and modest shrine, but it plays a significant role during the Vegetarian Festival and several lesser-known Chinese events in Phuket.
Location: Saphan Hin, Phuket Town
Address: Soi Bang Yai, Wichit, Mueang Phuket District, Phuket 83000
Entry: Free
Hok Nguan Kong Shrine is a Chinese temple near the Surin Clock Circle in Phuket Town. It was founded more than 80 years ago by the Chinese-Thai community in Phuket. From the 1800s, well into the 20th century, thousands of migrants from China arrived in Phuket to work in the tin mines and establish merchant businesses.
The Tha Rua Shrine was once a popular tiny temple on the way to the airport, just before reaching Heroins Monument. A few years ago, it was taken down, and a huge building was erected at the location. It is a large construction and took a long time to build. Still, it doesn't look quite finished, and it also seems less popular than the original discreet one.
Location: Sri Sunthon
Address: 187/7 Soi Lak Mueang 1, Si Sunthon, Thalang District, Phuket 83110
Hours: 8 am – 5 pm
Lai Thu Tao Bo Keng is one of the oldest Chinese shrines in Phuket, and many believe it was the birthplace of the Phuket Vegetarian Festival nearly two centuries ago. The shrine is located in the subdistrict of Kathu in the island's interior, between Phuket Town and Patong Beach. Though it's not well known as a tourist attraction, Kathu Shrine is important to the local Chinese-Thai community's culture. It plays a major role in the annual Phuket Vegetarian Festival when the shrine comes alive with crowds of white-clad devotees joining the rituals and ceremonies of the nine-day event.
Location: Kathu
Address: 4020 Kathu, Kathu District, Phuket 83120
Hours: 9 am – 4.30 pm
Phone: 076 202 245
Sam Sae Chu Hut Chinese Shrine is a modest and discreet Chinese shrine near the intersection of Khaw Sim Bee Road and Mae Luan Road, on the way up to Khao Rang Hill in Phuket Town; it opened in May 2002.
---
Of course, there are many more shrines in Phuket town, not to mention all around the island. Another temple on the way to Monkey Hill is dedicated to tigers, with tiger statues and carving everywhere in and around this small, unimpressive building. It's not a great place, but you get to see the monkeys when going up there.
---
Chinese Shrines Photos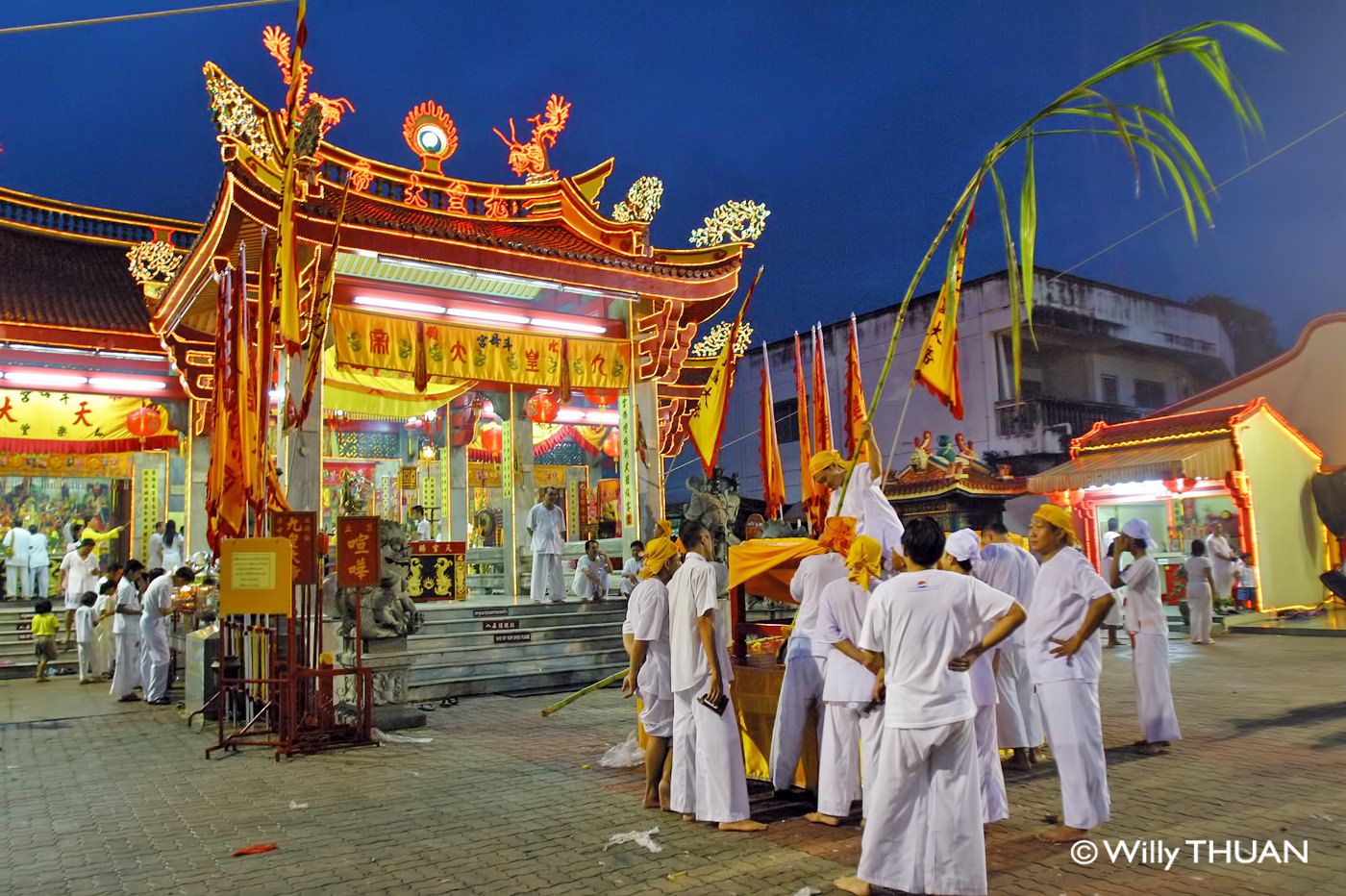 ---
Chinese Shrines Map
---
You may also like:
Phuket Vegetarian Festival 2022 – September 25th to October 4th
Phuket Vegetarian Festival 2022 – September 25th to October 4th