Travelling to Phuket on Budget
Phuket is not cheap, we all know that, but if you travel on a very tight budget, there are still a few things you can do to save a bit and have a great time. These tips rely on real and personal experience. Just for the short story, I arrived in Thailand 20 years ago with basically no money and no job.
My first job in Phuket only paid 12,000 baht per month, so I had to find ways to pay the rent, travel around and most of all: have fun. Here is a list of things I learned along the way. They might help you save a few bucks.
Plan a bit in advance, read this page, and expect to do some waiting: you can't have it all! (We have a few other pages with more useful info: "10 Things to Do in Phuket With a Small Budget")
---
[the_ad id="30528″]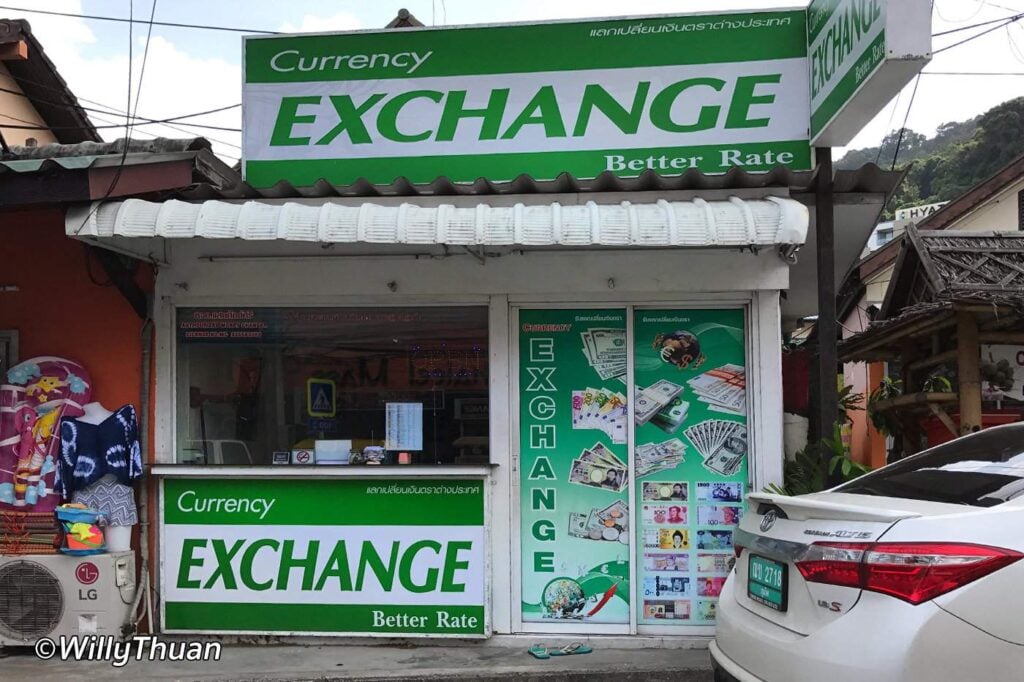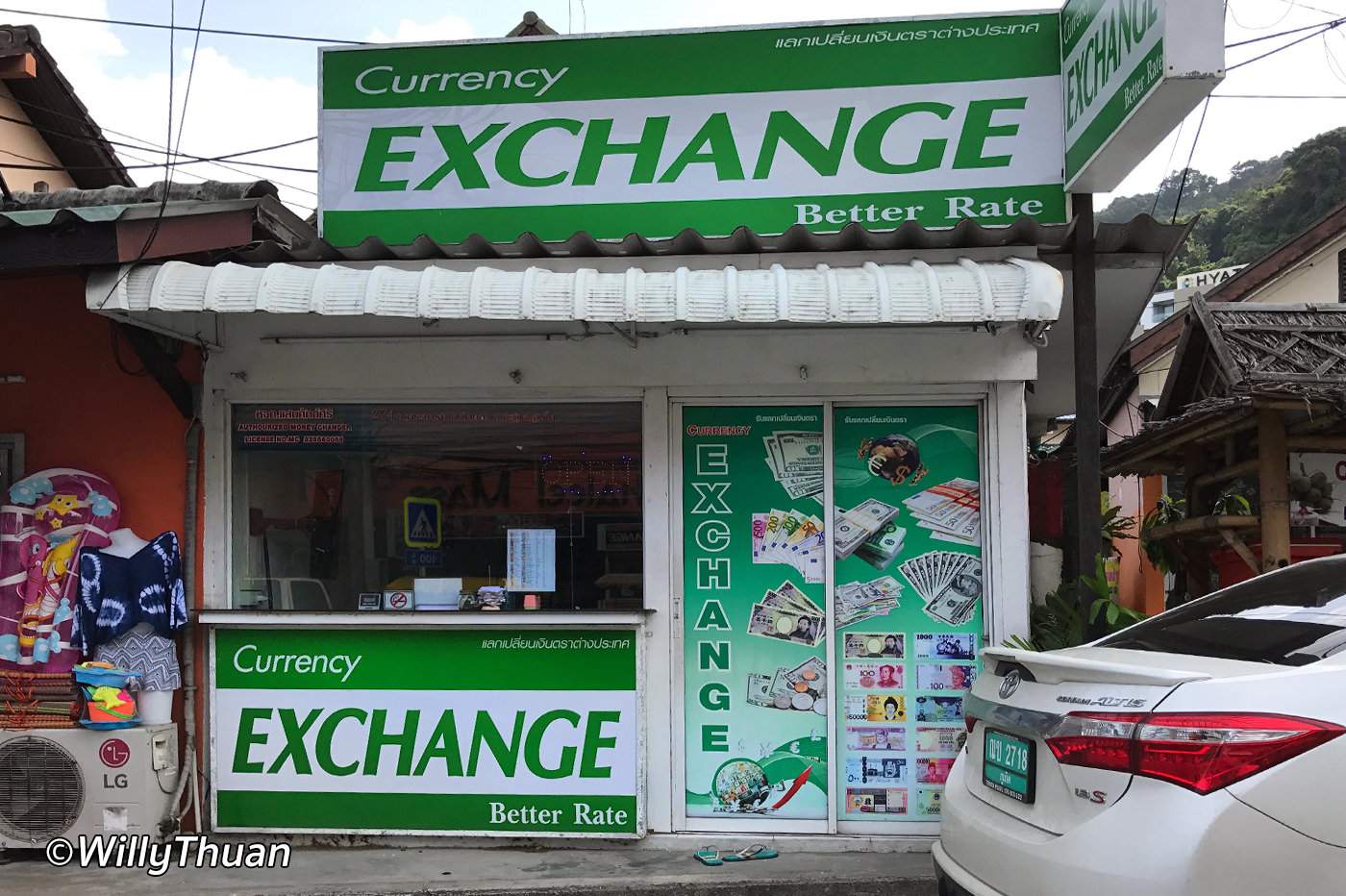 There are many ways to change your money when coming to Phuket, but it can make quite a bit of difference if 10 baht means a lot to you. Changing currency from home country is probably the worse option, as well as changing at your hotel in Phuket. The rate at Phuket airport is pretty good if you can spot the green 'SuperRich' counter, convenient if you have to pay your taxi meter by cash.
Exchange rate from ATM is acceptable as well and is widely available at the airport and all around the island. The cheapest option is to change your cash in the streets. Look at the rate on the electronic board as it tends to differ just a little between each booth. The booths with no bank name are the cheapest (probably not legal, but that is not your problem) double-check your change before leaving the booth. Thailand is not known to trick tourists like they often do in Bali money changers but better be safe.
[the_ad id="30528″]
---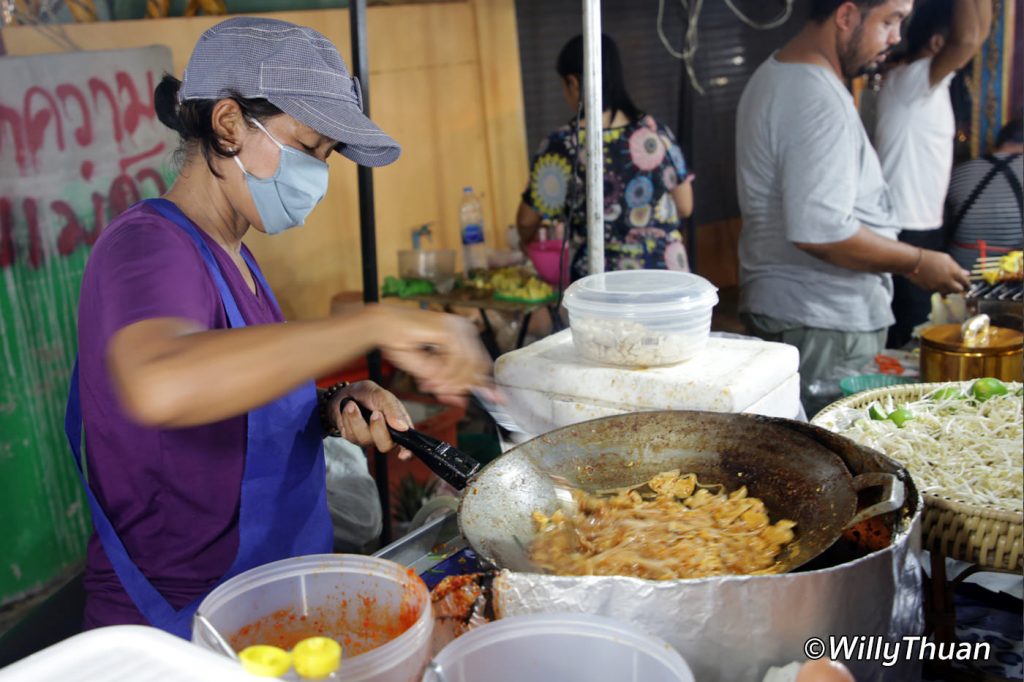 It seems obvious, but the food is indeed excellent in the streets of Phuket and is a lot safer than most people think. As you walk the streets, touts will kindly invite you to sit at the many open seafood restaurants along the road. They are good, but not necessarily cheaper than real seafood restaurants.
Banzaan and other night markets are great alternatives to pick your food and have it cooked for a small fee. Streets and markets of Patong are always more expensive than any other market on the island. Note also that you usually don't bargain on food.
---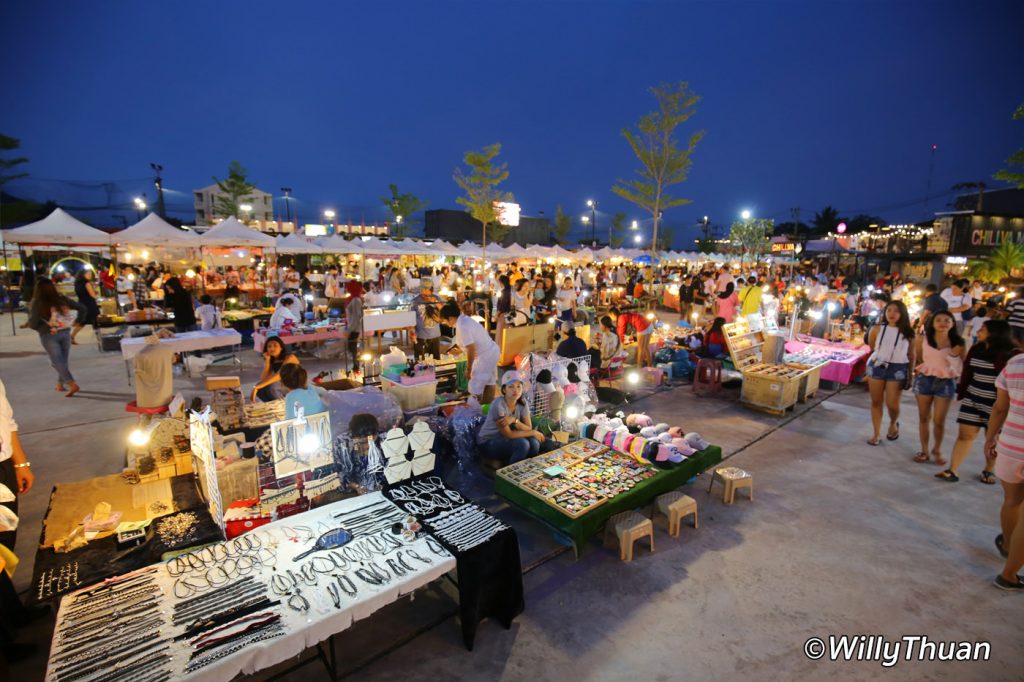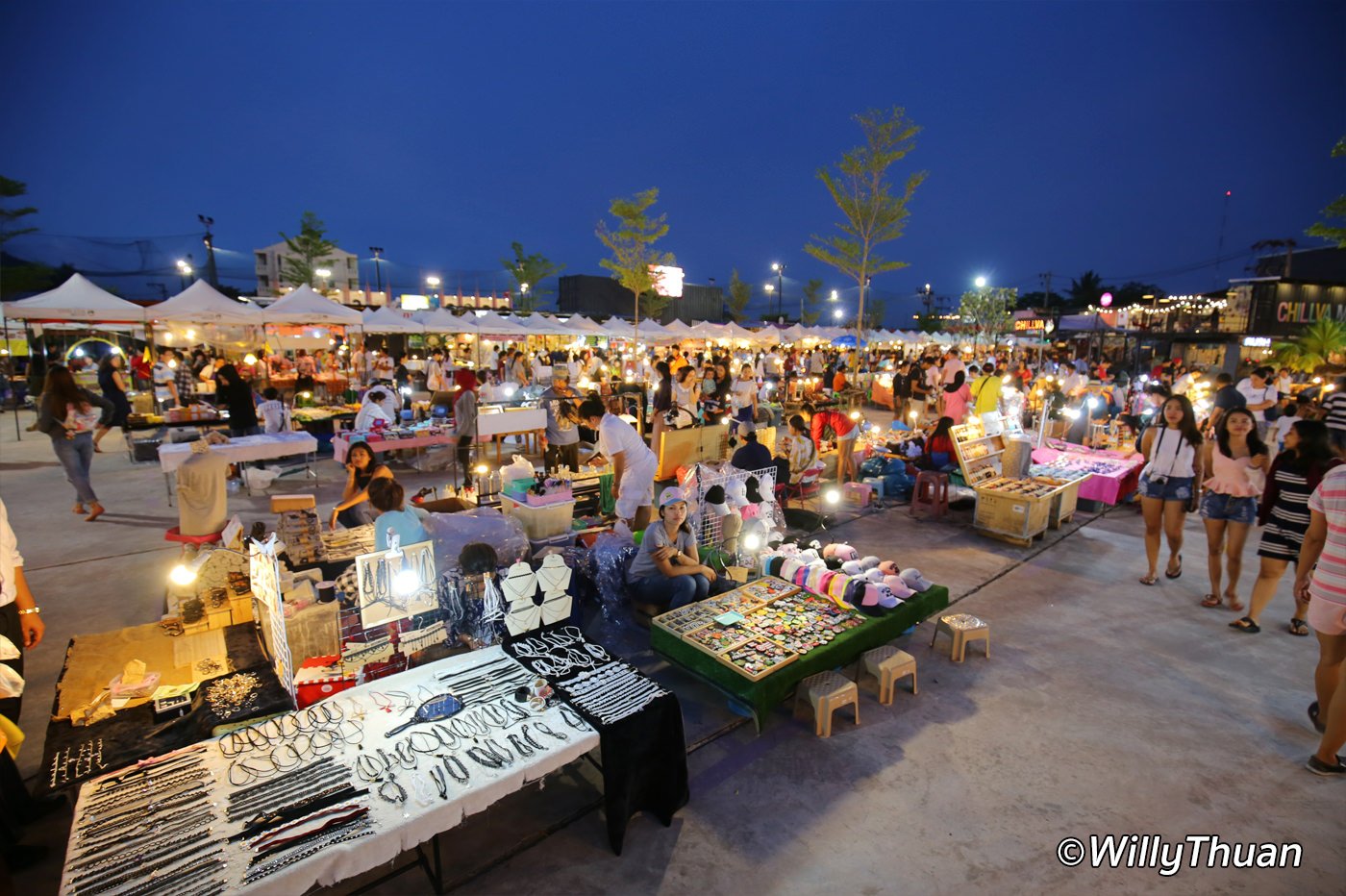 Markets are great to buy all kinds of clothing, bags, accessories, electronics and souvenirs, but get ready to bargain. Note that most of the branded good you will find on the market are fake, and the quality will probably be on the low end. Read More! ►
[the_ad id="30528″]
---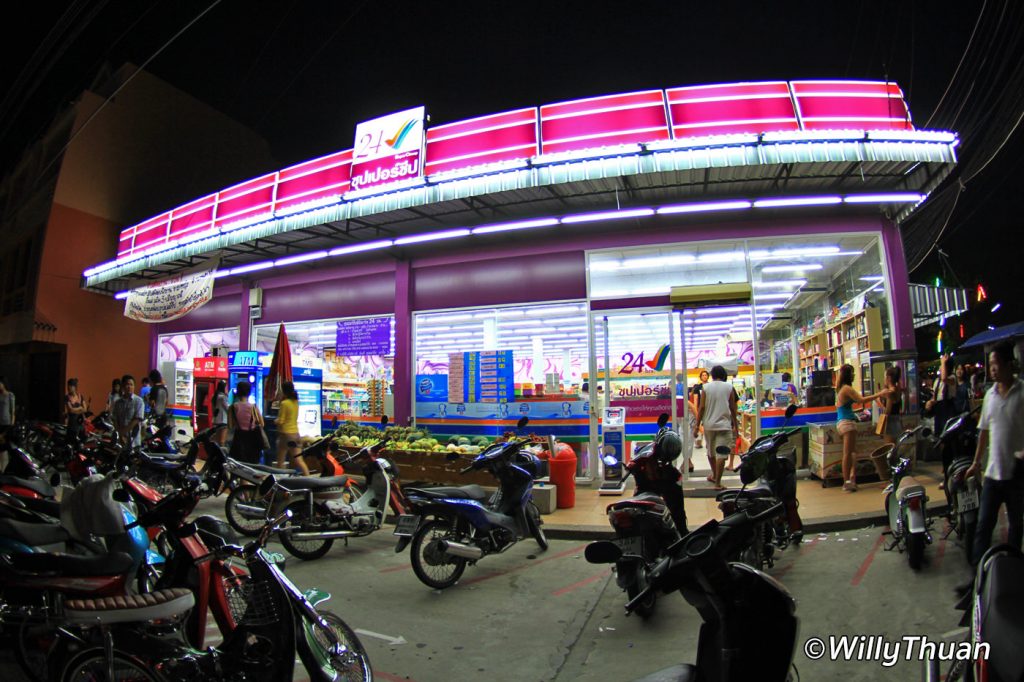 This is not a well-known tip: If you need to buy something from the convenience stores, avoid 7-11 and Family Mart. We did the research, and these are the most expensive places to buy anything! Now there is this local brand called 'Super Cheap' that looks like a big 7-11 with purple stripes instead of orange and green. It is significantly cheaper, and locals know it very well. Super Cheap started as a huge warehouse and became hugely popular with locals. Those convenience stores are now widely available around the island.
---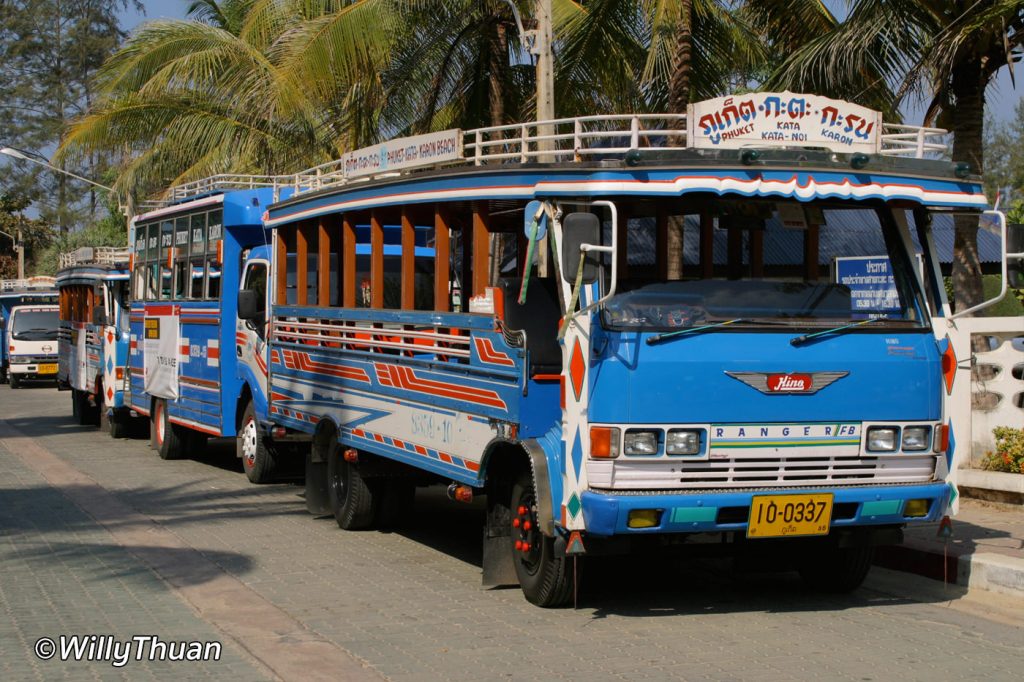 There are 3 kinds of local buses.
The Smart Bus that goes from Phuket airport to Rawai and stop at each beach.
The Pink Buses go around Phuket town and only costs only 15 baht! There are several routes so use the below map to know when to change.
The Blue Buses go from the central market in Phuket Town to specific beaches. Prices are from 15 to 45 baht and departures is every 30 minutes or so. Buses don't go between beaches except:
Phuket town > Karon, Kata and Kata Noi beach and back
Phuket Town > Kamala, Surin and Bang Tao beach and back
Phuket Town > Rawai and Nai Harn and back
Phuket Town > Patong and Back
---
6. Practice your bargain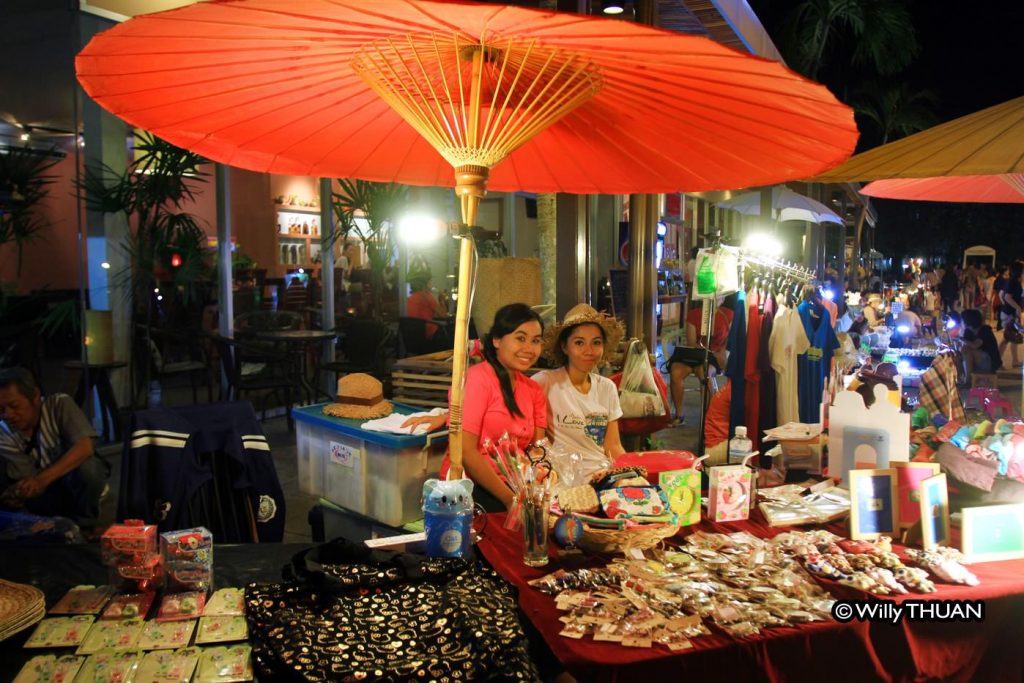 If you shop in the streets or at the market, you need to bargain, most of us are not familiar with this practice, and we tend to be a little shy. In most touristic areas, vendors are well aware of that and might try to take advantage by raising the price further. Bargaining is not easy for beginners, but remember that the sellers are used to it, so you don't have to be shy when making a counteroffer.
If you are in a Patong, bargain harder. By offering 50%, you should be able to knock down 30% of the asked price. However, in more remote areas of Phuket don't expect a significant discount. Remember that you don't bargain in restaurants, convenience stores and malls! If you are a walk-in guest in a hotel, you can bargain the cost of a room night.
---
7. Know your local brands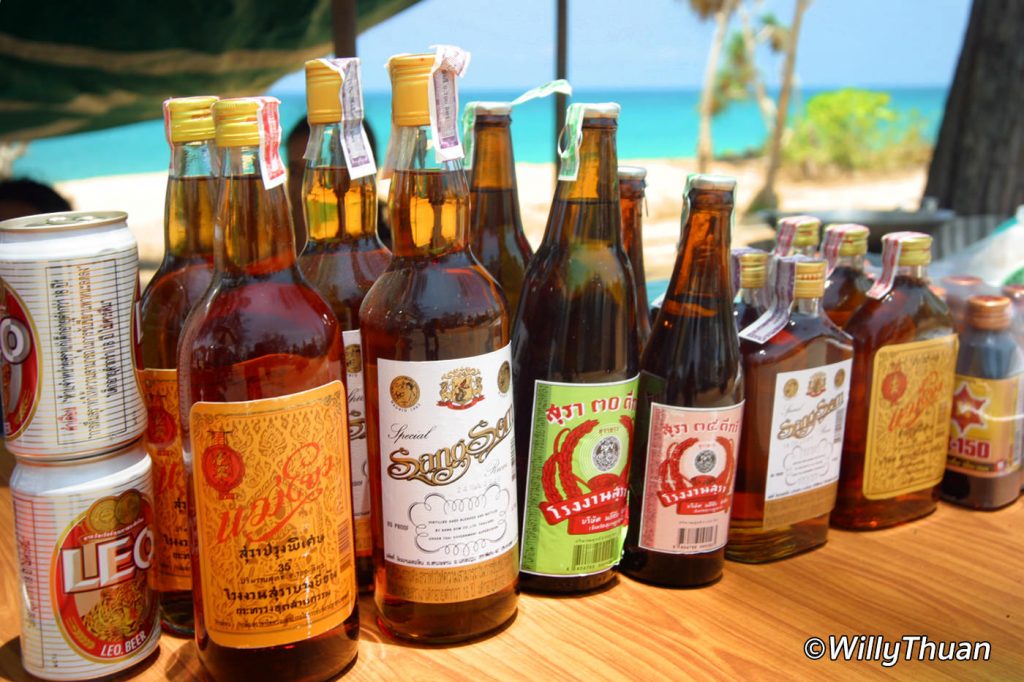 When every baht counts, you can go 'local'. Food is easy to find in the streets and markets, but you can also get cheaper beers (Cheers, Red Horse, Archa) and local Cokes aren't bad (Est, Big Cola). We urge you not to smoke, but domestic cigarettes are much cheaper (Krong Thip, SMS, Wonder) On the long run, your throat might become painful!
Then you have the local alcohols that are quite alright but tend to give you a massive hangover the next day: Sang Som and the like. Those are often used in those famous 'Buckets' which are cheap mixes of local alcohol, soft drink and Red Bull you can buy cheap in party places. Also known to give notorious hangovers. The famous Mekhong Whisky that used to be so popular is trying to reposition itself as a 'luxury Thai Whisky' and has become harder to find. What they call Thai whiskey is in fact a spiced rum.
---
8. Book your hotel early and do your homework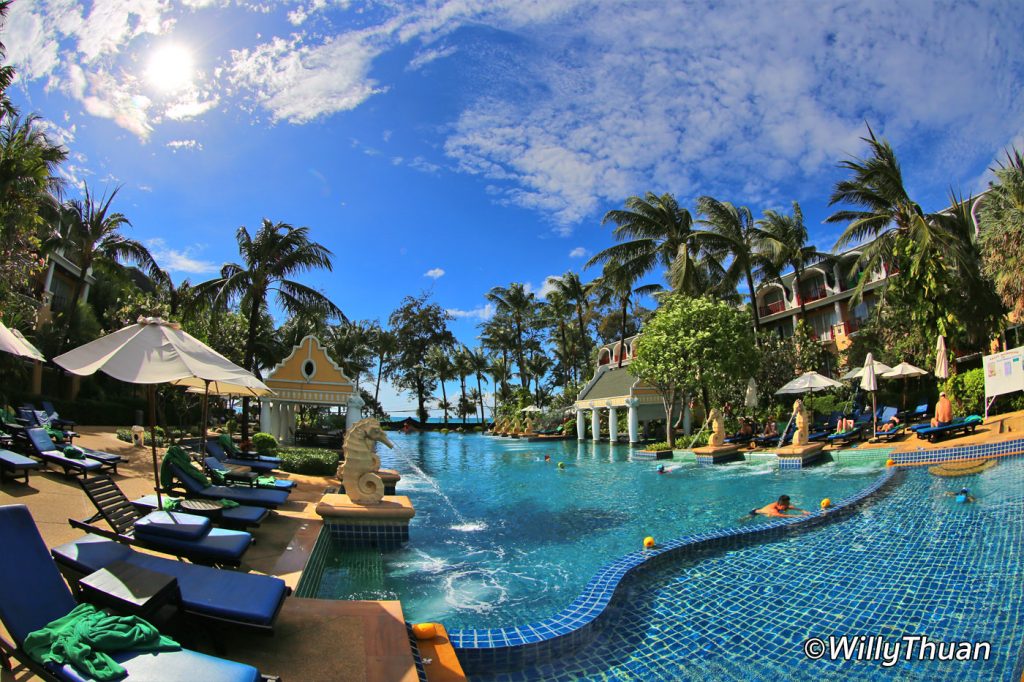 You probably read this on all the websites selling hotel rooms and in your emails, but this is true. Booking early will often get you better rates as prices tend to increase when hotels occupancy increase. If you are really with a tight budget and you are 100% sure of your travel dates, the cheapest option will always be the non-refundable. Also, if you plan to come for the high season (which wouldn't be a good idea if you have a tiny budget anyway) rooms become difficult to find. If you are on a really tight budget, consider staying in a hostel, some are really good.
---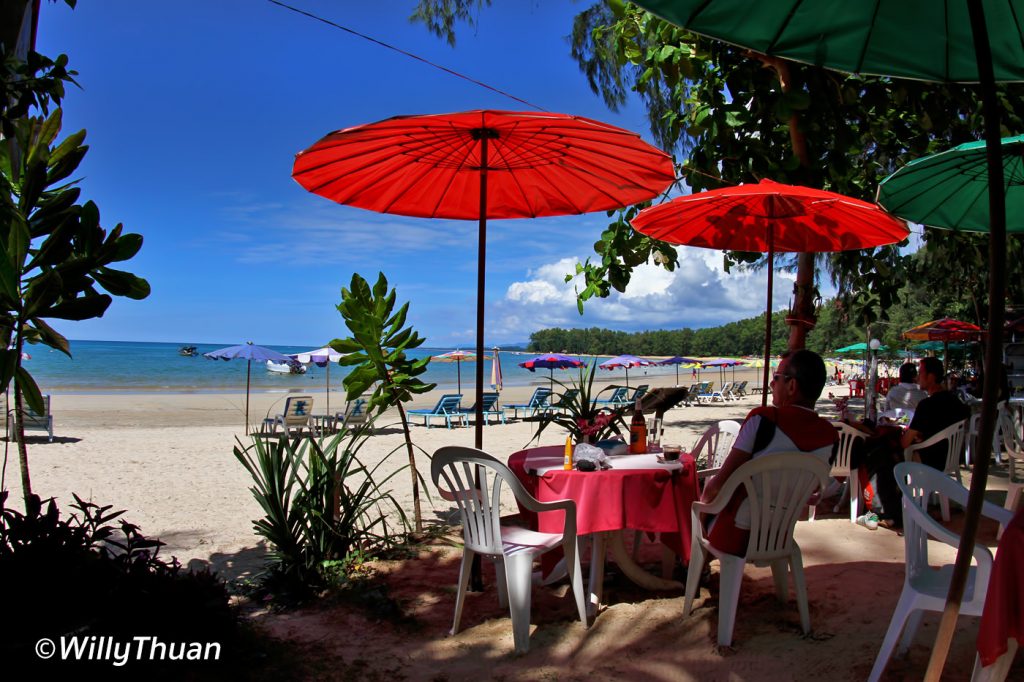 No need for a long explanation here: Everything is more expensive on the most touristic beaches. Patong Beach is probably the most expensive, then Kata beach and Karon. Kamala Beach is a good compromise. During the high season, stay away from south Phuket!
---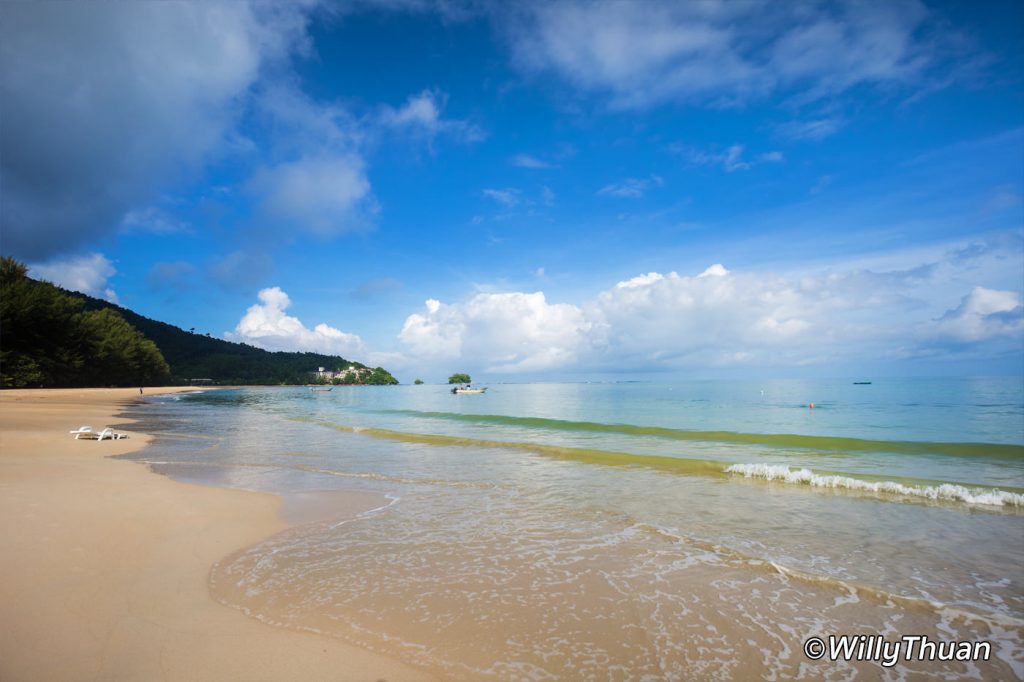 Hotels are significantly cheaper during the low season, but the overall cost of your holiday can get considerably lower as prices are lower, and you can bargain better. Most businesses are running low, so they need income, allowing you to be tougher with your counteroffer. Just to be on the safe side, try to book a hotel with a beautiful pool as the sea can be rough: when the flags are red, respect them and stay out of the sea.
Readers always ask about the weather during low season. We wrote a couple of useful pages here: What to Expect From Rainy Season, What to Do When it Rains, Phuket weather month by month.
---
11. Get a local sim card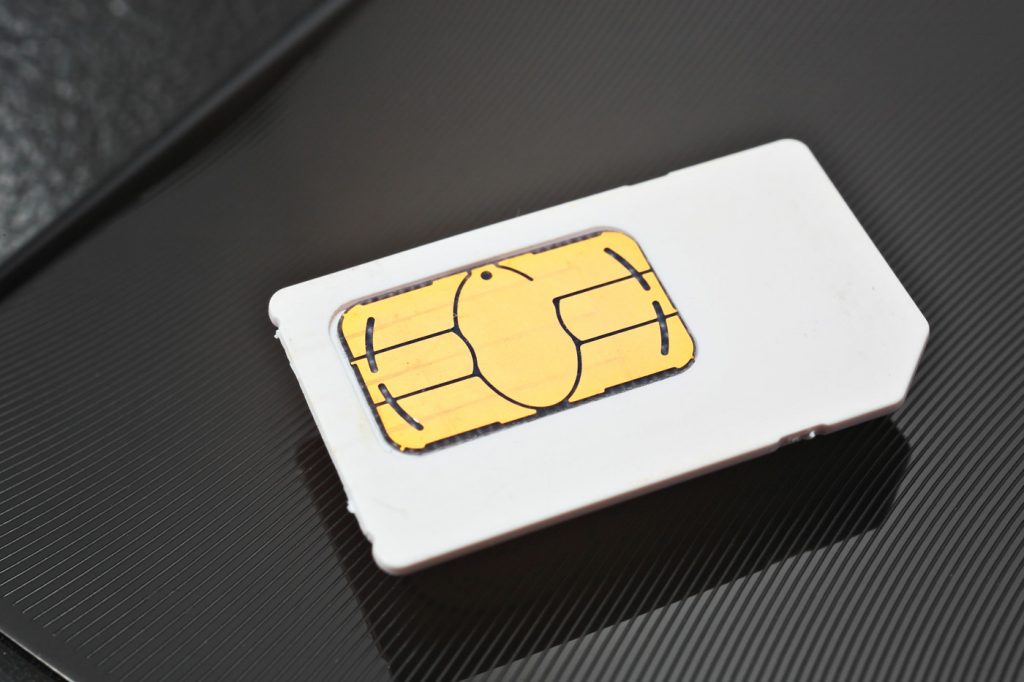 Roaming is expensive, so get a local SIM card at the closest convenience store, they are everywhere, cheap and easy to refill. Even if you don't speak Thai, the staff at the convenience store will know what you are looking for.
---
12. Skip the hotel breakfast!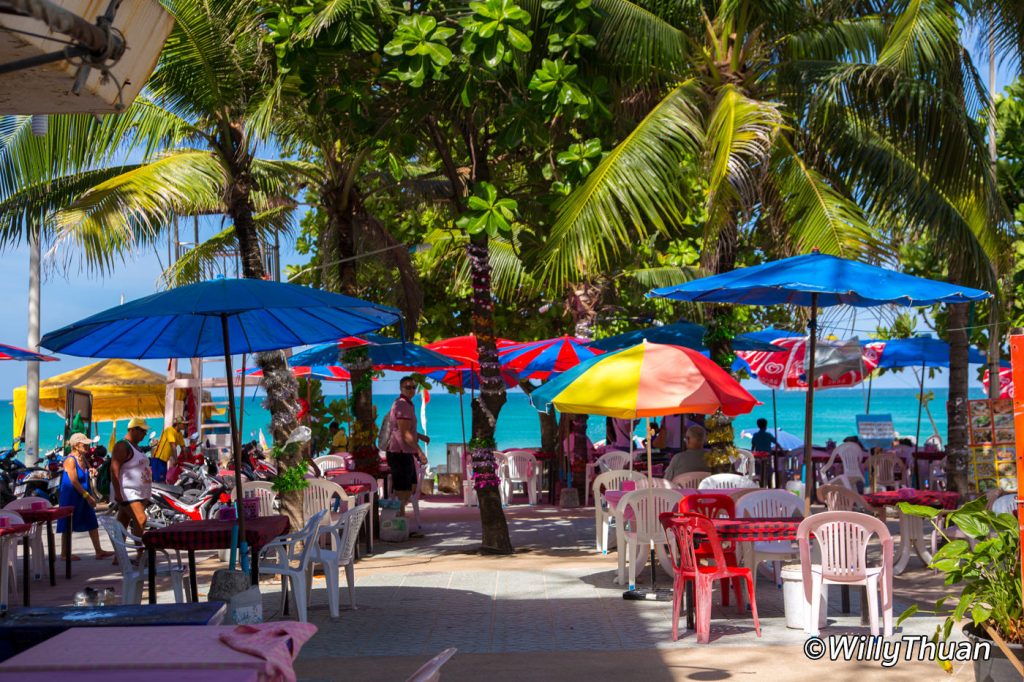 Unless you are the kind of person that can't do the first step without having breakfast, better skip the hotel buffet. Even in a cheap hotel, it's usually overpriced. Enjoy great local foos in the streets or go to the nearest food court. There are a few near the beach in Patong, Karon, Kamala and Bangtao serving a good value breakfast.
---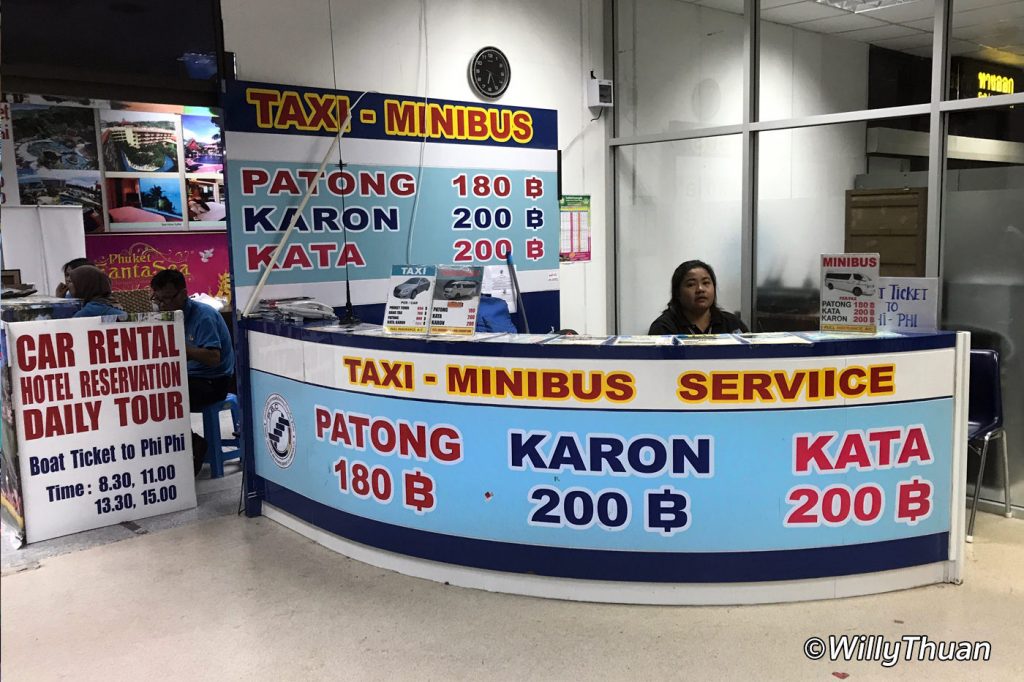 It's about 250 baht per person, and it's even cheaper than a Taxi meter (Patong beach 180 Baht, Karon and Kata 200 Baht). On the other hand, it will take longer to reach your hotel as you will have to wait for the van to be full plus you might be the last one to reach your destination.
Having a lot of time is almost a requirement when travelling cheap and this applies to everything you will do if you want to cut cost. Yes, there is also a very cheap local bus, but it would only take you to Phuket town from where you would have to get another local bus to your destination, then an overpriced Tuk Tuk to your hotel. Not worth the waste of time.
---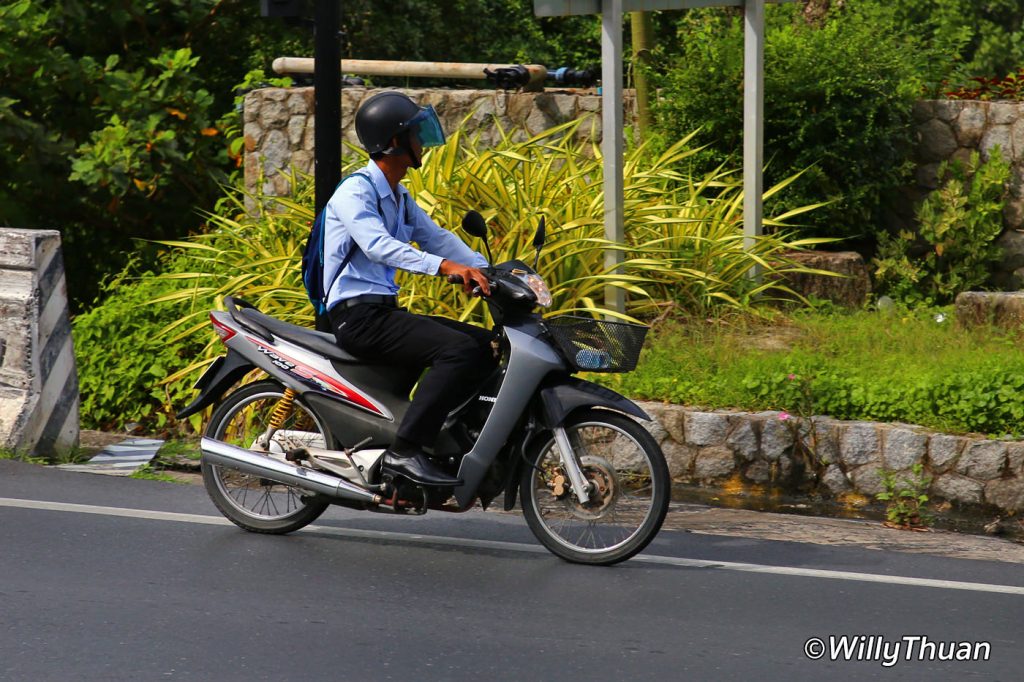 Renting a bike is the best and cheapest way to go around as Tuk-Tuks are always too expensive. However, you need to know about a few things: have an international driving license and wear your helmet. Police controls are not unusual, and the fine of 500 baht will hurt your budget. Renting a bike can also lead to very costly accidents, so in addition to driving carefully, having an international driving license is recommended. Read here to know more about renting a bike in Phuket and here about "The Art of Driving in Phuket" and "14 Lifesaving Tips to Survive Driving a Bike in Phuket".
---
More Pages about Budget Travel