Laem Singh is accessible by boat and now by land!
Laem Singh beach is accessible again? Yes, it is now! Laem Singh Beach is one of Phuket's most beautiful beaches, but it was closed in April 2017. It looks excellent in any weather, like being in the Caribbean, a bit nostalgic, very green with palm trees leaning over the sand and now, you can have the beach almost for yourself! It is a surprising beach. This hidden gem is between Kamala Beach and Surin beach, and while those two beaches can be bustling during peak season, the beautiful Laem Singh beach is deserted! So why is that?
There is now a new way to walk from Surin beach to Laem Singh beach!
---
What Happened
Two years ago, Laem Singh beach was packed and full of life, restaurants and activities. Everybody loved Laem Singh, and it had this hidden tropical cove feel. It was simply irresistible. There was a dispute, and the landowner decided that no one should cross his property anymore. For a year, it was inaccessible, and everyone was crying, "why oh why". The news came later that they sold the land to the famous Mandarin Oriental Hotel (you know, the one in Bangkok)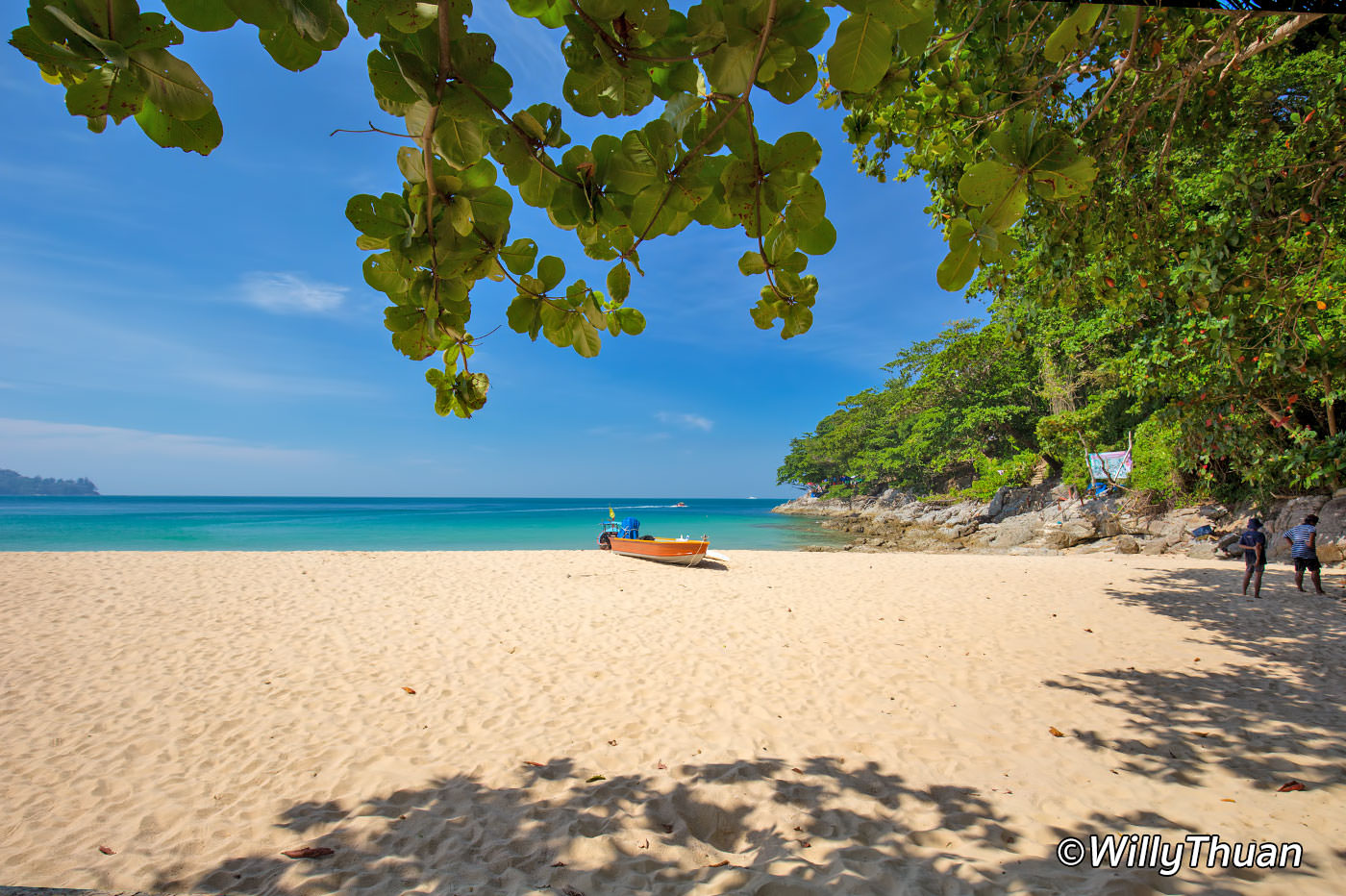 Suddenly, at the end of 2017, someone remembered that if you can't cross the land around a beach, no law can forbid you to come by sea. What a great business opportunity! So you could return to Laem Singh beach by riding a small orange boat from Surin Beach for just 200 baht per person. We went back end of 2023, and the ship is still operating happily.
Phuket 101 receives 250,000 monthly visitors on average (500,000 pageviews/month).
If you wish to advertise on this space or other options available on Phuket 101, just contact us.
What to Do on Laem Singh
Surprisingly, a modest but beautiful Thai restaurant was built on a wooden terrace on the rocks of Laem Singh. The food was good, considering the unlikely location and the superb view, and the team was very friendly. And they do have icy drinks! Three people sell a few souvenirs on the beach and, occasionally, a Thai massage! What more can you ask on a deserted beach?
How to get to Laem Singh Beach by boat?
Go to Surin beach and walk south (that's to the left of the beach when facing the sea). You will see a tiny white sign near the sea and a guy standing next to it. The poster is in English. The price is 100 baht per person or 400 baht for the whole boat if you don't feel like waiting.
The crew will help you board a small boat directly from the beach, so you will get your feet wet. They will also give you a card with a number on it and tell you to give it to the guy at Laem Singh beach once you want to return to Surin Beach. (no extra charge to go back). The crew is amiable and accommodating and speaks a little English too.
How to go to Laem Singh Beach by Land?
Yes, you can, and we did it! And while it is not super easy, it's feasible. We would not recommend it with young kids or if your balance is not right. It will require climbing some rocks to reach the beginning of the path. It's not super hard, but falling would hurt. The trail starts just after Patcharin Seafood, the only restaurant still standing on Surin beach, at the very south end. You can spot it easily. Walk past the restaurant, or even through it and start climbing the rocks along the sea. Soon you will locate the first sign. '
Past those rocks, the walking becomes more comfortable and flatter; the restaurant owner did a pretty good job making sure it was easy, including a tiny bridge! The best way to thank him is to have a drink or food at his lovely restaurant. He is a nice guy, and the spot is beautiful for taking photos.
More Photos of Laem Singh Beach
Laem Singh Beach Before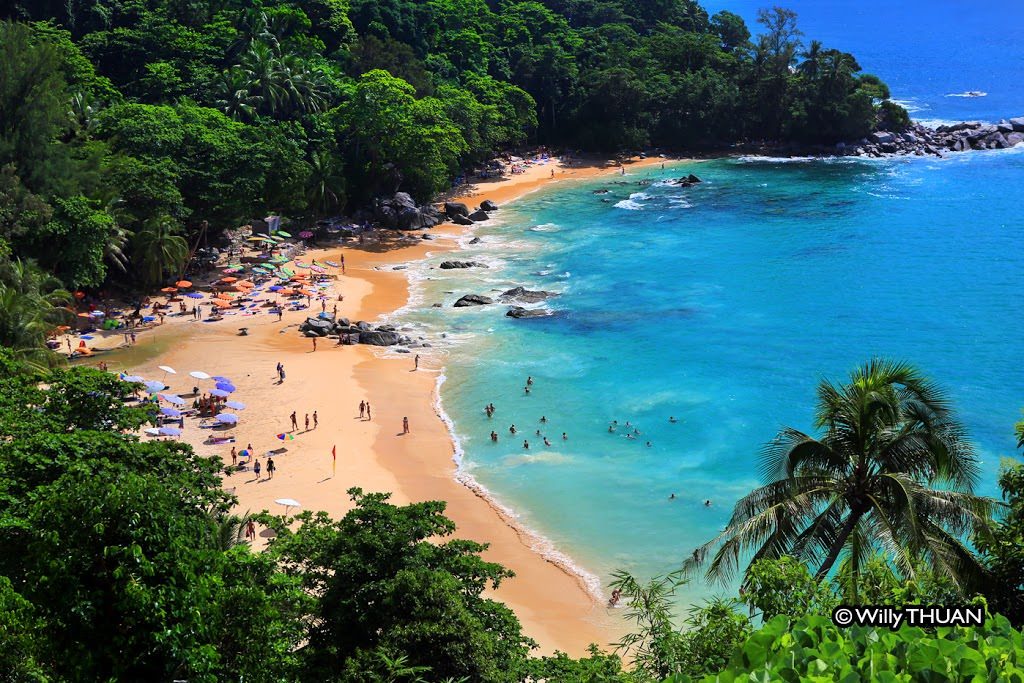 Once a secret remote beach hard to access, Laem Singh became a massive tourist attraction in itself; blame it on the internet. Three rows of beach chairs, not less than six restaurants and bars, access stairs as wide as a highway. It could accommodate a serious crowd on a sunny day. Parking was scarce and expensive (40 baht for a car).
It could get seriously busy on sunny days, with a crowd, foot massage, beach vendors and jet skis. But when clouds arrived and sun worshipers ran away to the nearest spa, it was time to rediscover this beautiful little creek barely visible from the road.
Lunch on the beach was surprisingly good, and the price was just a bit higher than usual. Two restaurants were famous: Da Ali, an Italian-Thai restaurant run by a popular Muslim guy who has acquired a word-to-mouth reputation, and 'Lame Singh Restaurant' with its funny misspelt name.
This craze is long gone, and the beach is now entirely abandoned. Even the security guard making sure people did not walk on the land behind the beach has disappeared. Laem Singh beach is the perfect Robinson Crusoe beach in Phuket!
---
---
Where is Laem Singh Beach?
---
---