Update 2018: Laem Singh Beach is now accessible by boat!
Laem Singh beach is accessible again? Yes it is now! 2 years ago Laem Singh beach was packed and full of life. everybody loved it and it had this little tropical hidden cove touch to it. It was irresistible. Then it seems that there was a dispute with the land owner who decided that no one should cross his land anymore. For a year, it was inaccessible and everyone was crying "why oh why".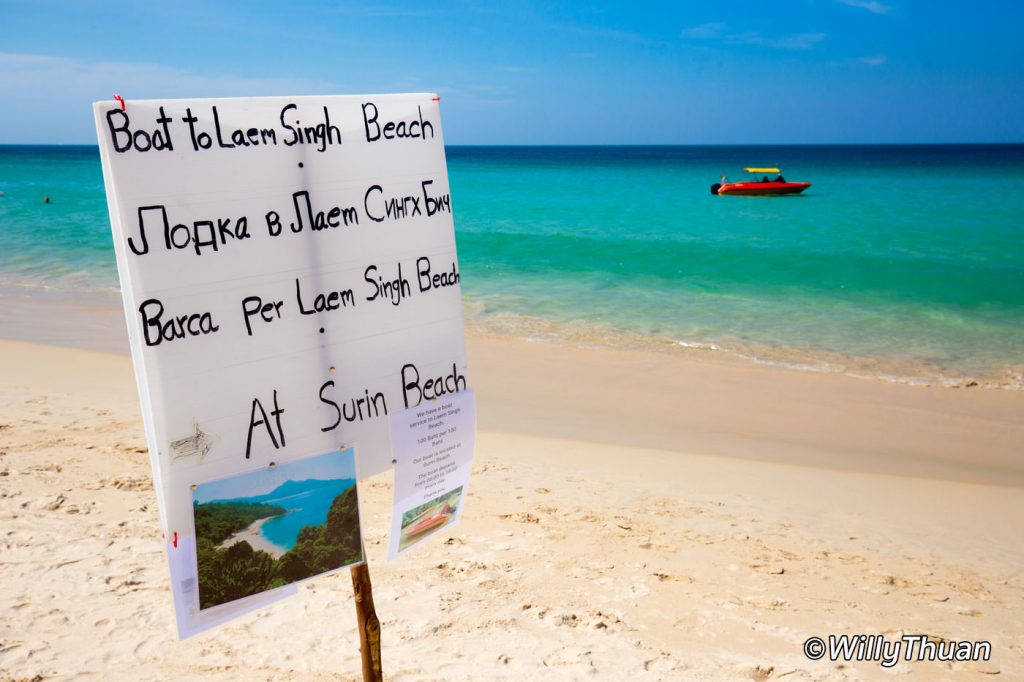 Suddenly, at the end of 2017, someone remembered that if you can't cross the land around, no law forbids you to come by the sea! And think about the business opportunity! So you now can go back to Laem Singh beach by riding a small boat from Surin Beach for just 100 baht per person. Enjoy it now while it's quiet, it might become a popular business very quickly.
How to get to Laem Singh Beach in 2018
Go to Surin beach and walk south (that's to the left of the beach when facing the sea). you will see a tiny white sign near the sea and a guy standing next to it. Sign is in English. The price is 100 baht per person or 400 baht for the whole boat if you don't feel like waiting.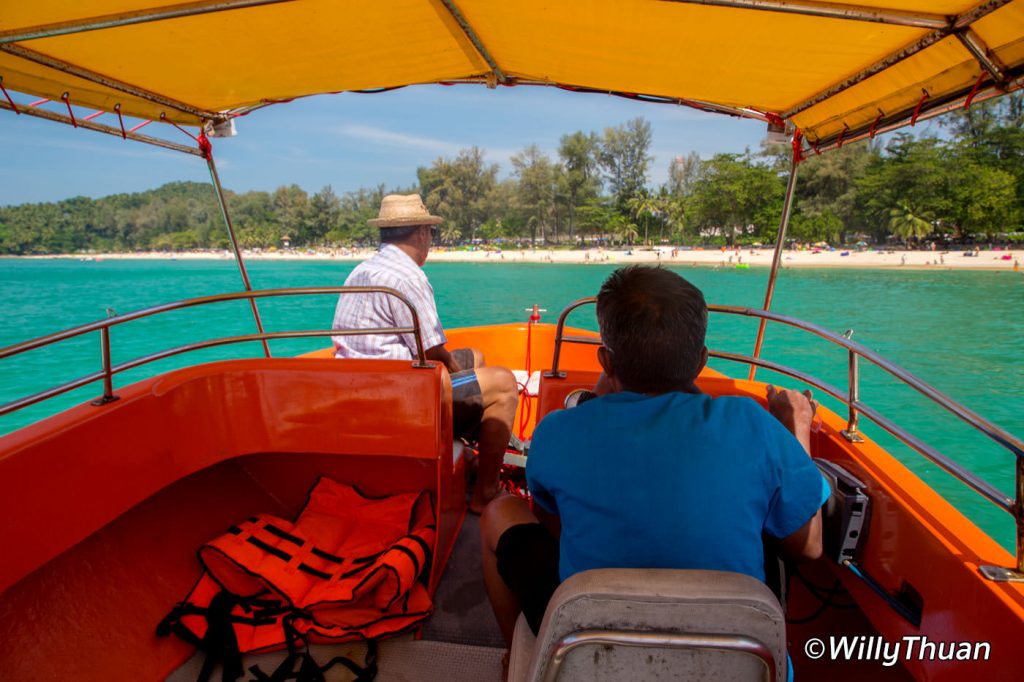 The crew will help you board a small boat directly from the beach so you will get your feet wet. They will also give you a card with a number on it and tell you to give it to the guy on Laem Singh beach once you want to come back (no extra charge to come back). The crew is very friendly and accommodating and speaks a little English too.
This information is from beginning 2018 and as we all know, could change anytime so have a plan B!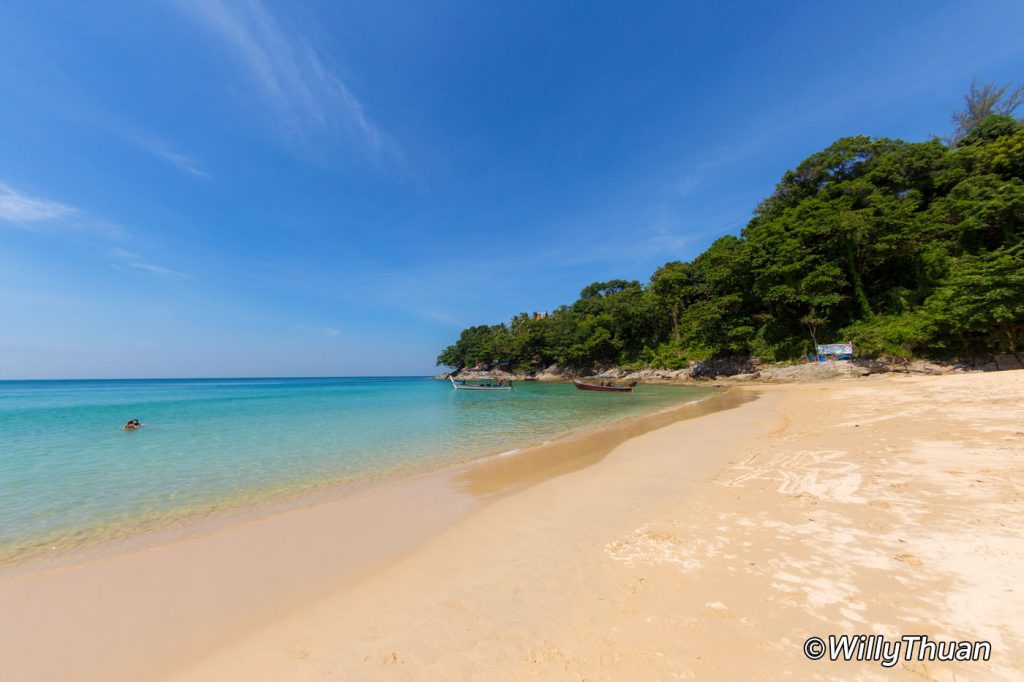 ---
Laem Singh Beach in 2017
In April 2017, to the public shock, the lovely sandy cove of Laem Singh Beach was been closed to the public by the owners of the land surrounding it. As you may know, private beaches are illegal in Thailand but it the entire land around it belongs to someone, that someone has the right to give access or not, so there is not much anyone can do about it.
---
Laem Singh Beach Before
Weather is cloudy but you really wanted to go to the beach today… don't give up yet! Laem Singh Beach happens to look better in this weather. Beaches are always associated with blue sky, blue sea and sunshine, but Laem Singh has this beautiful tropical feel that goes well with any weather. It's like being in the Caribbean, a bit nostalgic, very green with palm trees leaning over the sand and you'll have the beach almost for yourself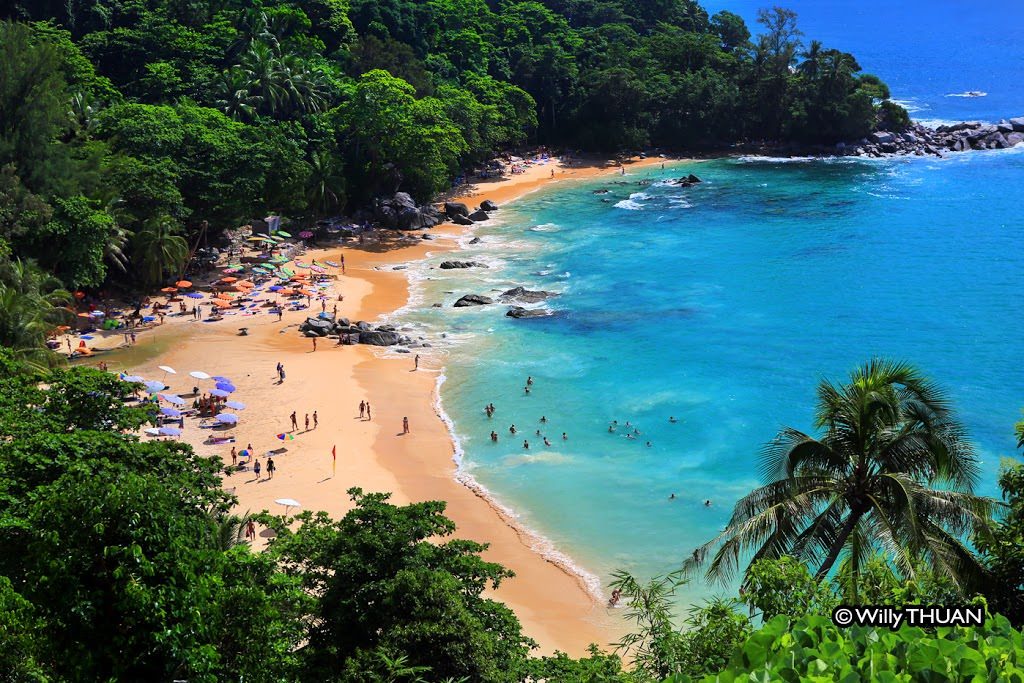 Once a secret remote beach hard to access, Laem Singh is now almost a tourist attraction on itself, blame it on internet. Three rows of beach chairs, not less than six restaurants and bars, access stair as wide as a highway… it can accommodate a serious crowd on a sunny day. Parking is scarce and expensive (40 baht for a car) and if the stairs to go downhill are easy to walk down, you might be surprised how steep they are on the way up… or was it that Singha beer I had?
Crowd, foot massage, beach vendors, jet-skis… it's so busy when sun shines. But when clouds arrive and sun worshipers run to the nearest spa, it is your time to rediscover this amazing little creek barely visible from the road. A couple of beach chairs will cost you 200 baht and beach staff is really helpful: few drops of rains and a young guy will come and add three more umbrellas to the one you already had… since you are his only guest.
Lunch on the beach is surprisingly good, price is a just a bit higher than usual but once you've been climbing those stairs, you'll forgive them. Two restaurants stand out a bit from the others: Da Ali, an Italian-Thai restaurant run by a popular Muslim guy who has acquired a word to mouth reputation, and 'Lame Singh Restaurant' with it's funny misspelled name. A good point: toilets are really clean compared to what the old horrible wreck was in the past…
Once a month a party with DJ is held on Laem Singh Beach, some might like it, some might find the music starting at 5pm rather annoying. So at the end, if you are after secluded beaches, go to Banana Beach while it lasts, or drive to Mai Khao Beach on sunny days, but save Laem Singh for an occasional cloudy day!
Laem Singh Beach Map
Version Française de la Plage de Laem Singh