What to do in Surin Beach?
Surin Beach is one of the island's most beautiful and natural spots. Long gone are the many famous beach clubs and the long line of restaurants that made this place so famous, but the beach looks a lot more natural now. It still is blessed with a large beach of beautiful sand and a fantastic blue sea. You can now sit down at small tables under the coconut trees and enjoy local Thai food at one of the many small food stalls or one Thai restaurant at the south end of the beach.
Surin Beach Video
The quality of the water and sand always makes it one of the best beaches in Phuket. Swimming is excellent during the high season as the water can be incredibly clear, as seen in the photos below (December to April), but the sea can be rough in the low season.
WHAT TO DO IN SURIN BEACH?
The Beach
As usual, the beach is the main reason people drive to spend the day here or book one of the hotels a little away from the sea. It's a striking 800-meter soft sand stripe and a little paradise. Depending on what the law authorises during your visit, you can rent umbrellas and sometimes loungers. Food vendors are selling some good cheap Thai food in the parking just behind the line of trees.
Laem Singh Beach was also a much-loved place, a little tropical bay with coconut trees leaning over the sand and bamboo restaurants in their shade. Access to Laem Singh has been closed to the public, and it has become a deserted paradise. However, there are still two little-known ways to access it!
---
Pansea is another stunning beach in Phuket, but only The Surin and The Amanpuri Resort's guests can access it. Private beaches are not allowed in Thailand, but similar to what happened to the neighbouring Laem Singh, if you own the land around, no one can cross it to reach the sea. The only way to enjoy it is to stay at one of the two hotels. We did it, and it was fantastic to have such a beach, almost for yourself.
WHERE TO EAT IN SURIN?
All the fantastic restaurants that used to sit on the side beach are long gone, but you can buy from local vendors, and one restaurant still stands at the very south of the beach. Thai people are way too resourceful not to find a way to bring the trade back where it is most needed! During high season, Surin beach now has a long line of local food vendors, fresh fruit juice stalls, massage, beach toys vendors, and so on. It's good to see life back.
Beachside hawkers and street food
All along the beach, small local restaurants set up inviting tables and chairs, the perfect spots for an inexpensive lunch or even just a snack and a drink. The beachfront was home to many fancy restaurants and beach clubs that were illegally built and destroyed, but the demand was still there, and locals were resourceful. First, hawkers came back to the vast parking area, and year after year, chairs and umbrellas popped up everywhere.
The Smokaccia by Chef Luca is an amazing little restaurant located by the roadside in Surin Beach. The concept entirely based on sourdough is as surprising as it is delicious. At first, we were a bit curious about how sourdough could be the main ingredient of every dish on the menu. Your dish is cold smoked at your table and served with different oils and dips if you want to experience different taste variations. The bread is light and crisp outside, and that unique smokey taste adds to the fresh ingredients.
Address: 116/4 Moo 3 Surin, Choeng Thale, Phuket 83110
Hours: 10.30 am – 6 pm, closed on Tuesday and Wednesday
Phone: 093 179 4489
Facebook: click here
Reservations: recommended for dinner
Patcharin Seafood
Patcharin is the only restaurant still operating in Surin. It may have to do with the fact that the restaurant is built on the rocks and not directly on the sand. As you can imagine, the Patcharin restaurant became much more popular after removing all other venues. The food is good and well-priced, and the view is beautiful.
Palm Seaside is a trendy venue from the nearby TwinPalm hotel, which is also known for the famous Catch Beach Club on the same beach. The design creates a superb atmosphere to enjoy a sunset cocktail by the sea, followed by a seafood dinner. The price is on the high side.
Location: Bangtao Beach
Address: 110/2 Moo 3, Cherng Talay, Thalang, South Bangtao Beach, Phuket
Open: Lunch: 12 noon – 4 pm, Dinner: 6 pm – 11 pm (last order)
Phone: 094 480 0883
Price: High
Arva is an exclusive Italian restaurant at the famous Amanpuri Phuket, serving authentic cuisine by Chef Luca from Puglia, south Italy. Read more
Address: 118, Srisoonthorn Road Cherngtalay, Thalang District, Phuket 83110
Open: Lunch 12 noon – 3 pm, Dinner 7 pm – 10.30 pm
Phone: 076 324 333
Price: High
WHERE TO STAY NEAR SURIN BEACH?
The most attractive resorts are Twinpalms Resort, The Surin, Ayara Resort and of course, the legendary Amanpuri. Just next to Surin Beach is the beautiful 'Pansea beach', but hotels owning the land around the beach will not allow access to non-guests. Surin Beach Resort is the only budget hotel nearby with beach access.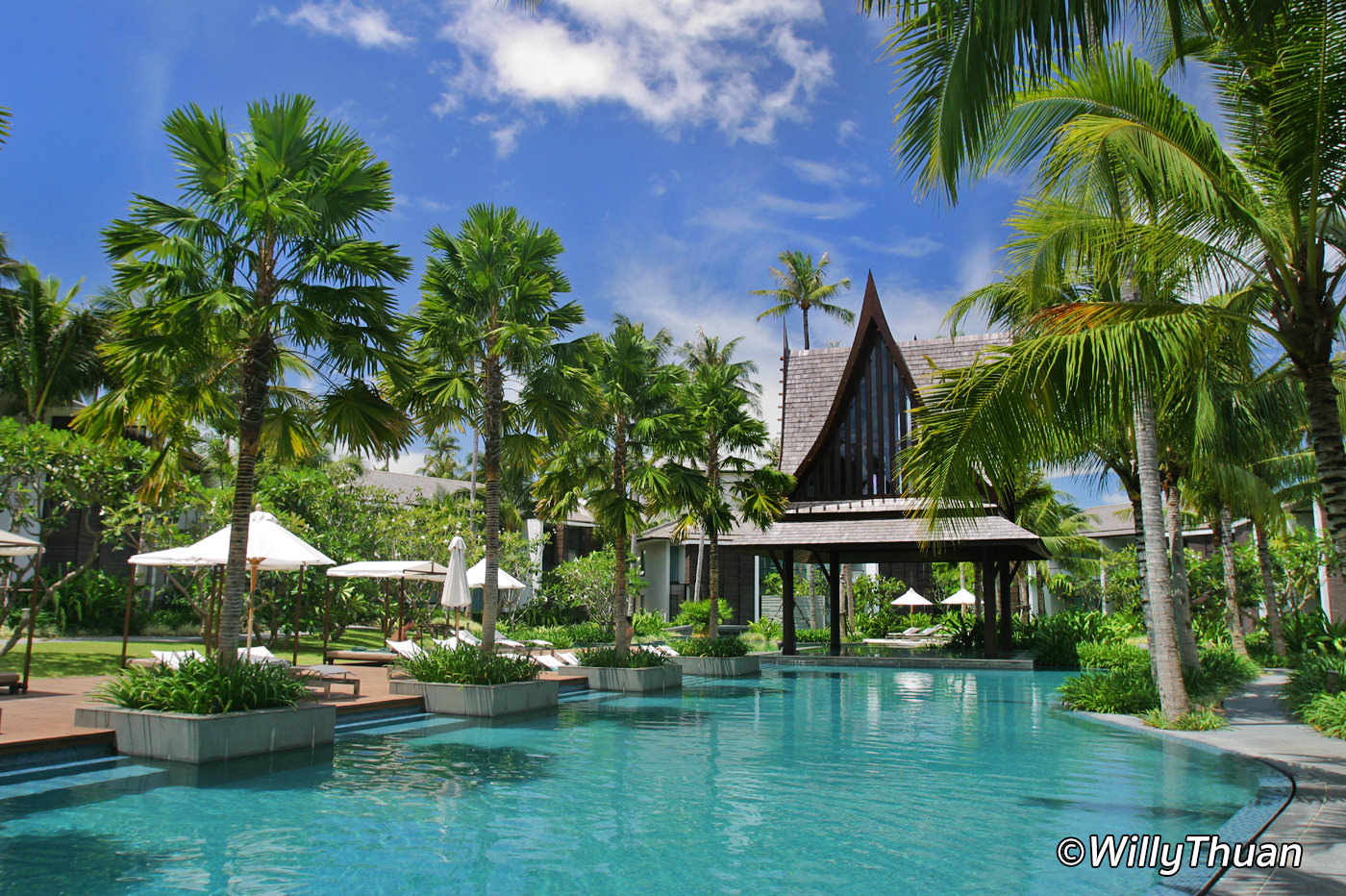 Twinpalms Phuket Resort doesn't have beachfront access or sea views but is only 350 metres from one of the most beautiful beaches of Phuket. Minimalist designs with elegant lines, large spacious rooms, a vast central pool lined by tall sugar palm trees, and Twinpalms have a lot to offer to travellers with high expectations, including beach clubs, exclusive spas, and excellent cuisine.
Range: 5-star
Swimming pools: 1
Restaurants and bars: 3
Distance to the beach: 350 m
Distance from Phuket International Airport: 23 km
Distance to Patong Beach: 13 km
Distance to Phuket Town: 24 km
The Surin Phuket is a beautifully designed hotel with a long history and a fantastic location on Pansea beach. It's also one of the first luxury hotels on the island and one of the best places in Phuket to escape your busy life! The Surin has three restaurants, including a superb beachfront open terrace to enjoy a sunset dinner and a magnificent spa.
Range: 5-star
Swimming pools: 1
Restaurants and bars: 3
Distance to the closest beach: on the beach!
from Phuket International Airport: 24 km
to Patong Beach: 13 km
to Phuket Town: 25 km
Amanpuri Phuket
Range: 5-star
Swimming pools: 1 (+ all villas have pools)
Restaurants and bars: 5
Distance to the closest beach: on the beach!
from Phuket International Airport: 24 km
to Patong Beach: 13 km
to Phuket Town: 25 km
SHOPPING IN SURIN
You won't find much around, but a few shops worth mentioning. 'Lemongrass' sells spa and massage products with an extensive range of oils and essences. The 'Plaza' is a three-floor modern building full of house decorations, lovely paintings, and clothing. Try 'Ginger', a fashion shop from Chiang Mai, displaying an original collection of clothing and accessories at very affordable prices.
What changed on Surin Beach?
The answer is simple: EVERYTHING. Surin used to be a great place to party and walk from beach clubs to bars and restaurants all along the beach. You could rest on the comfortable sofas of the many beach clubs until sunset, when it was time to start partying around trendy bars and talented DJs.
Most of it is gone, all of what was on the beach and across the small street: the famous Catch Beach Club that pioneered the beach club trend in Phuket, and the excellent Salt restaurant, all gone. Today the beach is undeniably beautiful and natural with lots of palm trees, and parking is not a problem anymore.
SURIN BEACH INFORMATION
---
More Photos of Surin
---
What's Around?
Laem Singh Beach
---
FAQs about Surin Beach
Q. Where is Surin Beach located in Phuket?

a. Surin Beach is located on the west coast of Phuket, about 24 kilometres north of Phuket Town and 23 kilometres south of Phuket Airport.

Q. What are the best things to do at Surin Beach?

a. Surin Beach is a great place to swim, sunbathe, and relax. It also offers water sports activities such as surfing, stand-up paddleboarding, and kayaking. There are also plenty of restaurants and bars to enjoy right on the beach side.

Q. Is Surin Beach suitable for families with children?

a. Surin Beach is suitable for families with children during the high season, December to April, when the water is generally calm and shallow, making it safe for swimming. There are also lifeguards on duty during the day.

Q. When is the best time to visit Surin Beach?

a. The best time to visit Surin Beach is between November and February when the weather is dry and sunny. However, this is also peak tourist season, so expect the beach to be a bit busy and hotel rates to be higher.

Q. Is there accommodation near Surin Beach?

a. There are many accommodation options near Surin Beach, including hotels, resorts, and villas. Some popular options include The Surin Phuket, Twinpalms Phuket, and Novotel Surin.