A superb private beach
Pansea Beach looks like a private beach, but since private beaches are not allowed in Thailand, you can get around by owning all land around that beach. Only two luxury hotels, 'The Surin' and 'Amanpuri', can access Pansea Beach. So if you happen to be a guest of one of these two resorts, you will have the privilege to share one of the most amazing beaches in Phuket.
You might say such beaches are lovely because they are protected from the crowd, but I believe it's a mix of both. Someone picked the best spots long ago to build a hotel. Unless you are a guest staying in these resorts, you might never enjoy the beauty of it, but there are other ways 🙂
Pansea Beach is located just next to Surin Beach on the west coast of Phuket, but the hidden path leading to the beach is hard to find and a little steep, so not many people use it. But if you do, you will be rewarded by a long wide superb beach with soft sand and an incredible blue sea.
Once there, you can buy a drink at the local shack or get a beach massage as some smart locals come in the morning with longtail boats to make their profitable little trade with the resort's customers, too happy to pay a fraction of the price for that beach massage. So we let you imagine how much a spa treatment would cost at the Amanpuri.
---
Where to Stay on Pansea Beach?
---
Pansea beach is home to two exclusive hotels: The Surin and Amanpuri Phuket. Both resorts offer a good range of water sports, kayaking, windsurf, water skiing and wakeboards. You can occasionally rent the unavoidable jet skis from locals, but luckily, they don't seem frequent; most people paying this price to find peace are not ready to pay more to disturb it.
The Surin Phuket occupies most of the front beach with some thatched roof umbrellas, a beautiful black pool and a few beach villas. The restaurant by the beach is open to outside guests and is a fantastic place to enjoy the sunset.
Phuket 101 receives 250,000 monthly visitors on average (500,000 pageviews/month).
If you wish to advertise on this space or other options available on Phuket 101, just contact us.
A bit further starts the area dedicated to the Amanpuri, one of the most exclusive hotels in Phuket, often welcoming international celebrities. The price is very high, but if you wish to see it from the inside without staying at the hotel, you can have dinner at their Italian restaurant Arva.
---
Photos of Pansea Beach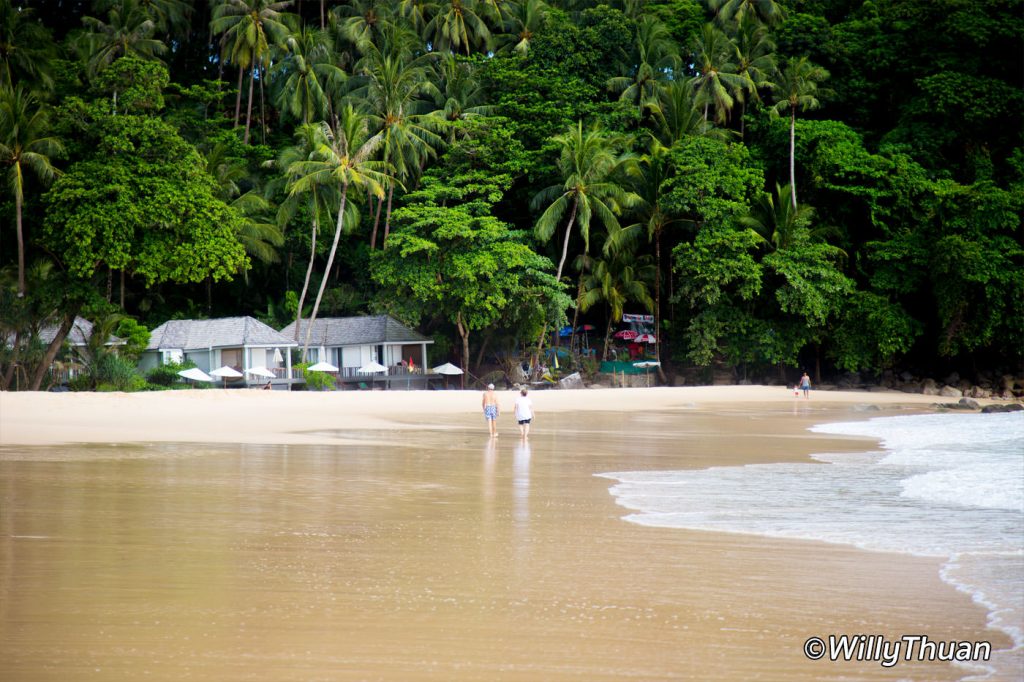 ---
Pansea Beach Map
---
---