What are the Best Clubs in Phuket?
What are the best Night Clubs in Patong? If you are ready to party until late, here are the best clubs and discos in Patong Beach to dance way beyond the official 2 am closing time. You'll have to choose between the seven nightclubs and discos worth mentioning, but you also can find smaller places here and there.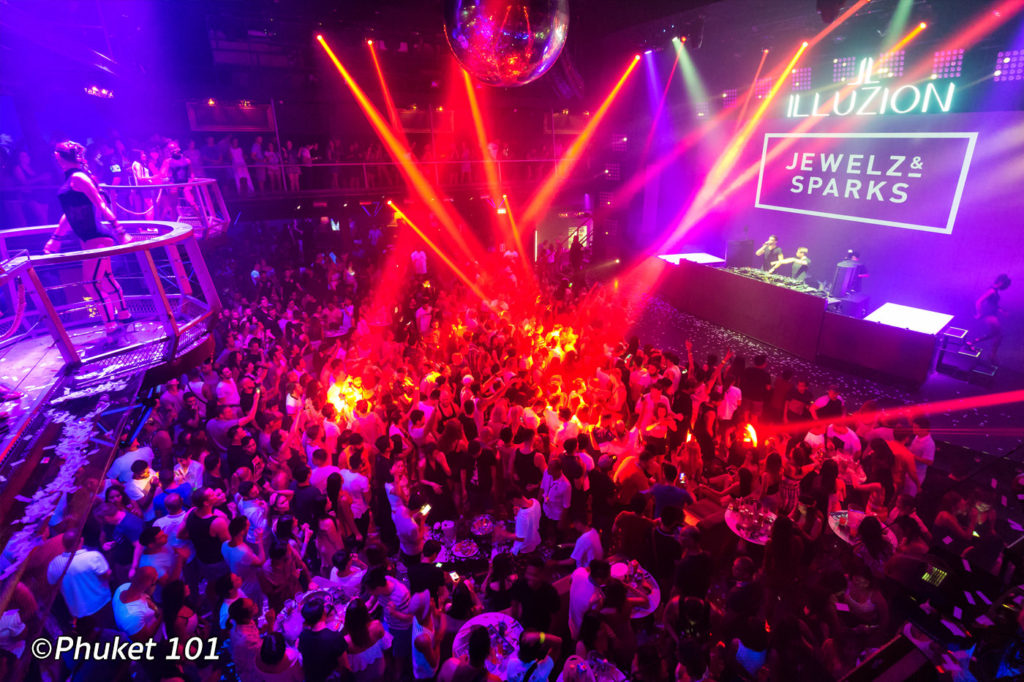 Good thing: several of them are not far from each other just around Bangla Road, some are free to enter, others will stamp your hand so you can freely go in and out as you please. Discos near the centre of Bangla get packed earlier than others too, so if you are an early bird, better know where to start!
---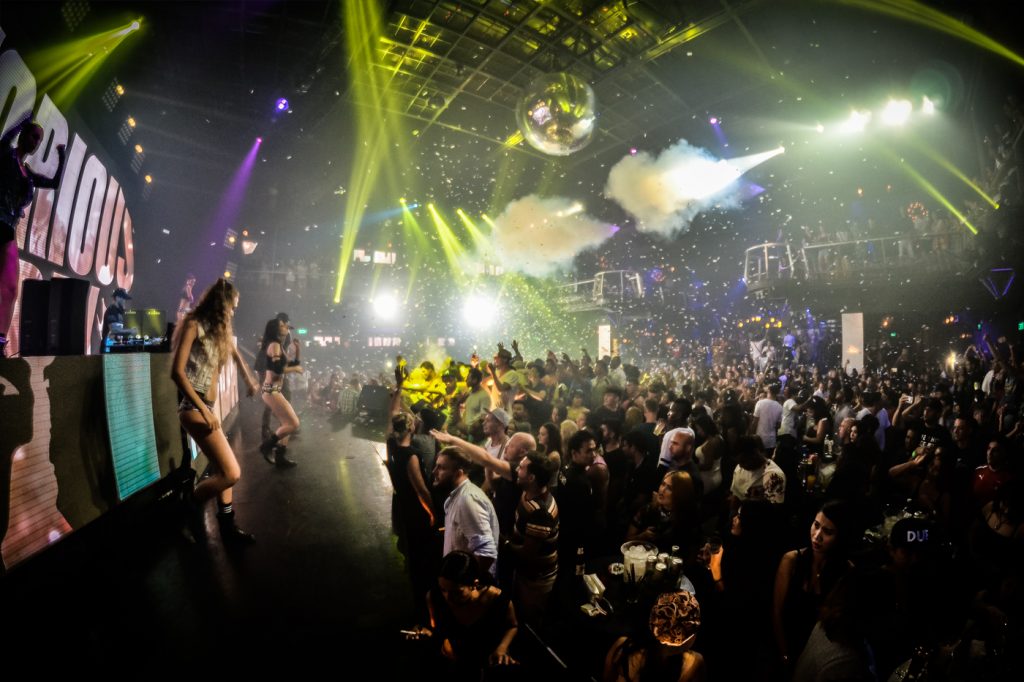 Illuzion Phuket is an increasingly popular Nightclub on Bangla road, Patong Beach, built where an old shopping mall used to be and right opposite of the other massive Sugar Club. Illuzion is gigantic, supposedly able to accommodate up to 5,000 standing people plus hundreds of VIP tables. The music and atmosphere grab you as soon as you step inside and the quality of the sound and light system it instantly noticeable. Read more
Location: Soi Bangla
Open: daily from 10 pm to 4 am
Price: Free entrance
[the_ad id="30528″]
---
At the end of Soi Gonzo, White Room Lounge & Nightclub is small and therefore get easily busy, a good thing at early hours and is popular with young Aussies. Simple, but White Room benefits from a trendy new design and good friendly atmosphere. read more
Location: Soi Gonzo (off Bangla Road)
Price: Free entrance
---
3. Sugar Club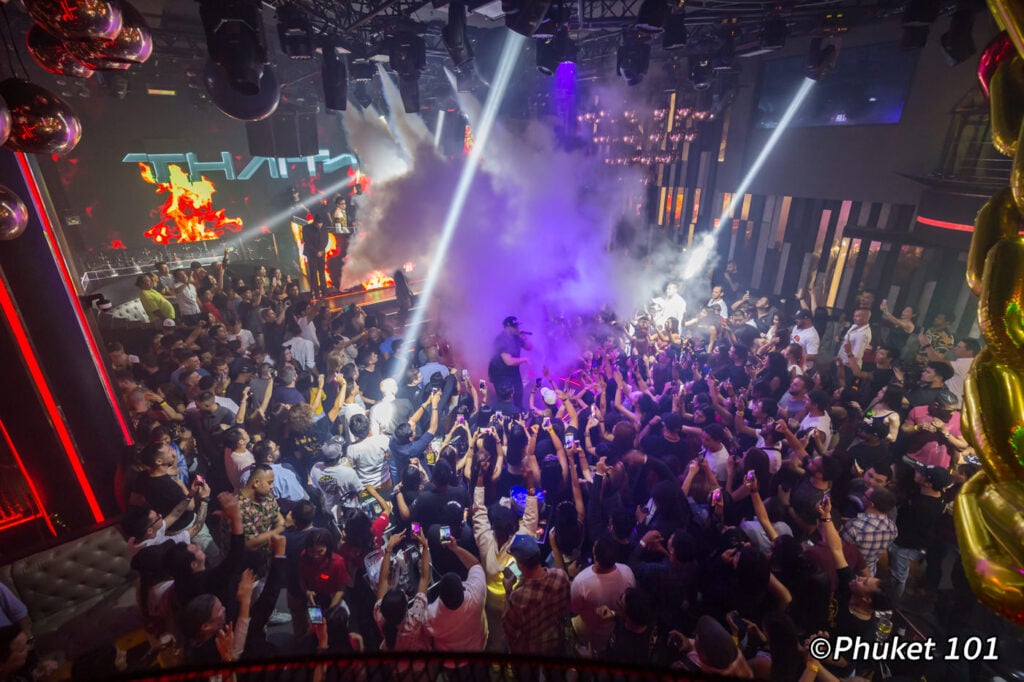 Sugar Club is an international-standard Hip Hop venue recently opened in Patong beach that originated in Bangkok in 2014. The club features international DJs including Rae Sremmurd, Fatfingaz, Baby Yu, Lil Yachty and backed up by the best local talents.
You can't miss the enormous neon display of this brightly lit new club is right in the middle on Bangla road. Entrance is free, and drinks start at 200 baht for a local beer. Great stage, powerful sound system, VIP zone and great dancers. If you are into Hip-Hop, Sugar Club is your club!
Location: 70/3 Bangla Road, Patong Beach, Phuket 83150
Phone: 098 889 8590
Price: Free entrance
[the_ad id="30528″]
---
4. Tai Pan Club
One of the oldest venues in Patong Beach, Tai Pan went through many different phases before reaching the success it enjoys today. Packed every night without being pushy to patrons, Tai Pan is old an old-school club, and people seem to love it. Great sound, good lighting and great atmosphere and best of all, no entry fee!
Location: At the intersection of Bangla Road and Rat U Thit road, you can't miss the triangular front
Price: Entrance is free, but you should pick up one of the vouchers they hand over in the nearby streets, it gives you a free shooter when buying a drink!
---
5. Hollywood Disco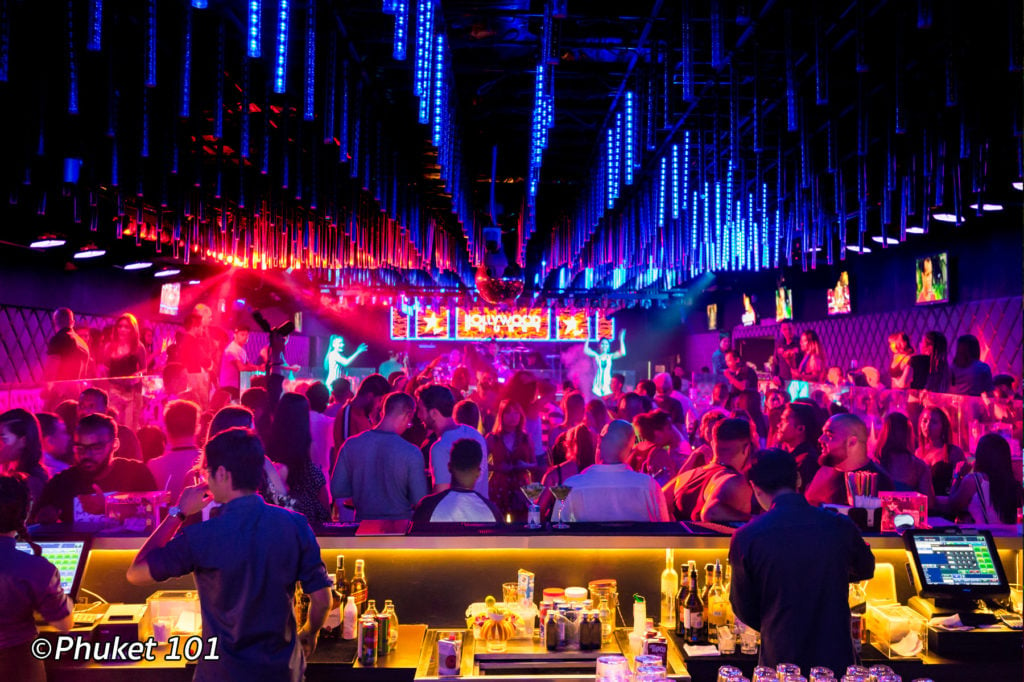 Hollywood on Soi Easy off Bangla Road, is entrance free and drinks are around 300 baht, but you'll have to book your tables around the dance floor, from 2,000 baht up if you want to be seated. The disco which seems to be popular on weekends is on the second floor above Soi Easy bars and consists of two large rooms. The first room has lots of young Thai girls having fun around central tables, while the dance floor itself is in the second room. There are many security guys in a disco; it's almost intimidating. Don't come before midnight, that when the fun starts.
Location: Soi Easy, off Bangla Road, second floor
Price: Free entrance
---
6. Banana Disco
Banana Disco, located on the beach road not really far from Bangla Road, is one of the two oldest clubs in Patong. It was already here in1994 when I arrived. It only starts to get busy enough to be interesting past eleven with a good mix of young Thais and tourists, so don't come too early to this one or you might feel lonely. Sound system and light effect are good, and the dance floor is quite large. Price is 200 baht but includes a drink and once you've got your hand 'stamped', you can leave and come back anytime.
Location: Beach Road (not far from Bangla Road)
Price: 200 baht, includes a drink
---
Replacing the sadly defunct 'Old Tiger Disco' on Bangla Road, the 'New Tiger Disco' is a huge but rather empty cave located on the top floor of a three floors entertainment complex resembling a humongous and psychedelic Flinstone's cave. Despite the similarity with the burnt down 'Old Tiger Disco' the success is not there, stolen by the hugely popular Illuzion Club next door. Read more
Location: Bangla Road, hard to miss!
Price: Free entrance
---
If we missed any club or if you wish to share some info (or correct some possible error) don't hesitate to share or contact us. Oh and if you decide to seriously party, you might want to read about 'Party drinks and hangover cures' in Phuket.
---
Where are Patong Best Clubs?
---
You may also like
Bangla Road in Phuket – What to Do on Bangla Walking Street?