Phuket Marriott Resort and Spa Nai Yang Review
Phuket Marriott Resort and Spa Nai Yang is the ideal retreat for those seeking a peaceful getaway. Situated on the serene Nai Yang Beach, our hotel offers a unique location near the tranquil Sirinat National Park, away from the crowded beaches of southern Phuket. The beautifully designed rooms feature Thai influences and modern amenities. The hotel has three excellent restaurants, and Quan spa provides a range of excellent treatments, while the vast swimming pool offers ample space for relaxation and recreation. The hotel has many great features and qualities; we had a lot to enjoy and discover during our 3-day stay.
Range: 5 star – Distance from the beach: on the beach – Beach Score: 6 / 10 – What's around: 5 / 10

| | Phuket Marriott Resort and Spa, Nai Yang Beach Summary |
| --- | --- |
| Worth Noticing | There is a secret beach nearby. |
| The Beach | The beach is immense, and the water warm and shallow. Sand maybe not be as white and the sea as blue as in busy beaches, but Nai Yang is a charming and relaxing beach. |
| The Facilities | 1 large pool, an excellent spa, 3 restaurants: The Andaman Kitchen (Thai cuisine), Big Fish (Thai, International), The Lounge (International), Cooking classes, Kids club. |
| What's Around? | Plenty of local food, small restaurants, shops and convenience stores, Splash Jungle Water Park, Blue Canyon Country Club. |
| Who is it for? | Good for couples who prefer a peaceful retreat and small families. |
| Price | A bit pricey |
| The Hotel | 5-star resort, a very modern hotel with pool access room and private villas. |
The location on Nai Yang Beach
Phuket Marriott Resort Nai Yang is on the secluded Nai Yang beach, a bay close to the airport, so you can start your holiday soon after landing, but far enough, so you don't have to worry about planes. Nai Yang Beach is just next to a national park and hasn't changed much in the past 20 years. Travellers who don't like how much Phuket has developed in the past decade will love this hotel and its unique beach.
It's a perfect timeless hideaway, surrounded by nature and the beauty of an immense sandy bay. Locals and those who know the place love to spend time in this national park. You can easily find Thai food from the local vendors, relax under the immense trees or play in the sea. Nai Yang Beach is as close to the original Phuket as possible. It's not isolated either, as a short walk will take you to a tiny beachfront village where you can get drinks and food with your feet in the sand.
The rooms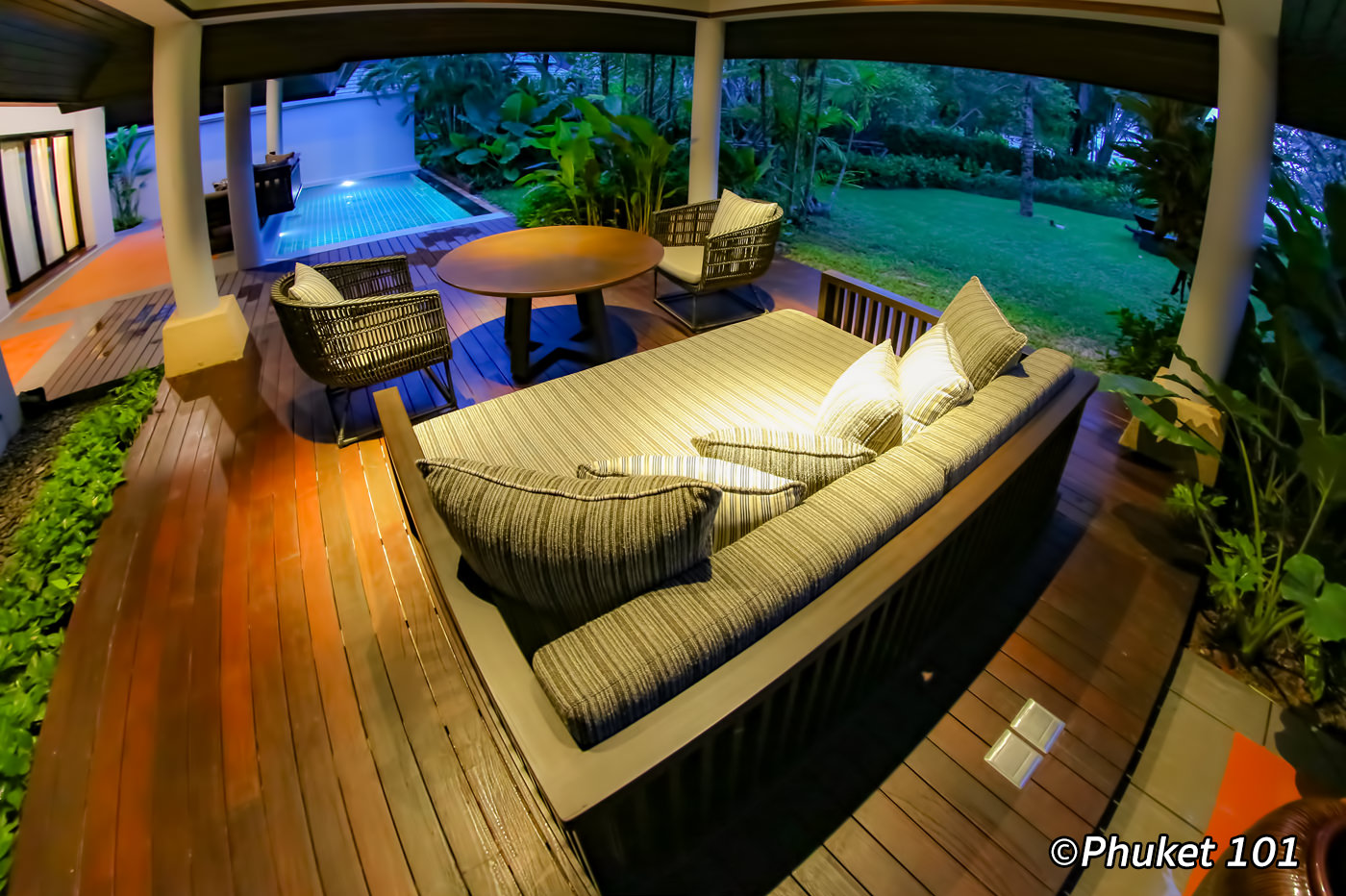 Phuket Marriott Resort and Spa Nai Yang have 180 rooms and a lot of room types to choose from, and since you opted for the relaxing part of the island, you probably will spend some time in it, so the best is all the pool access or the beachfront villas. Large and superbly designed with modern Thai inspiration, beachfront pool villas are the best choice as they come with a garden in front and a large covered sitting area. Unfortunately, the sea is not always visible from your bed; it would have been perfect.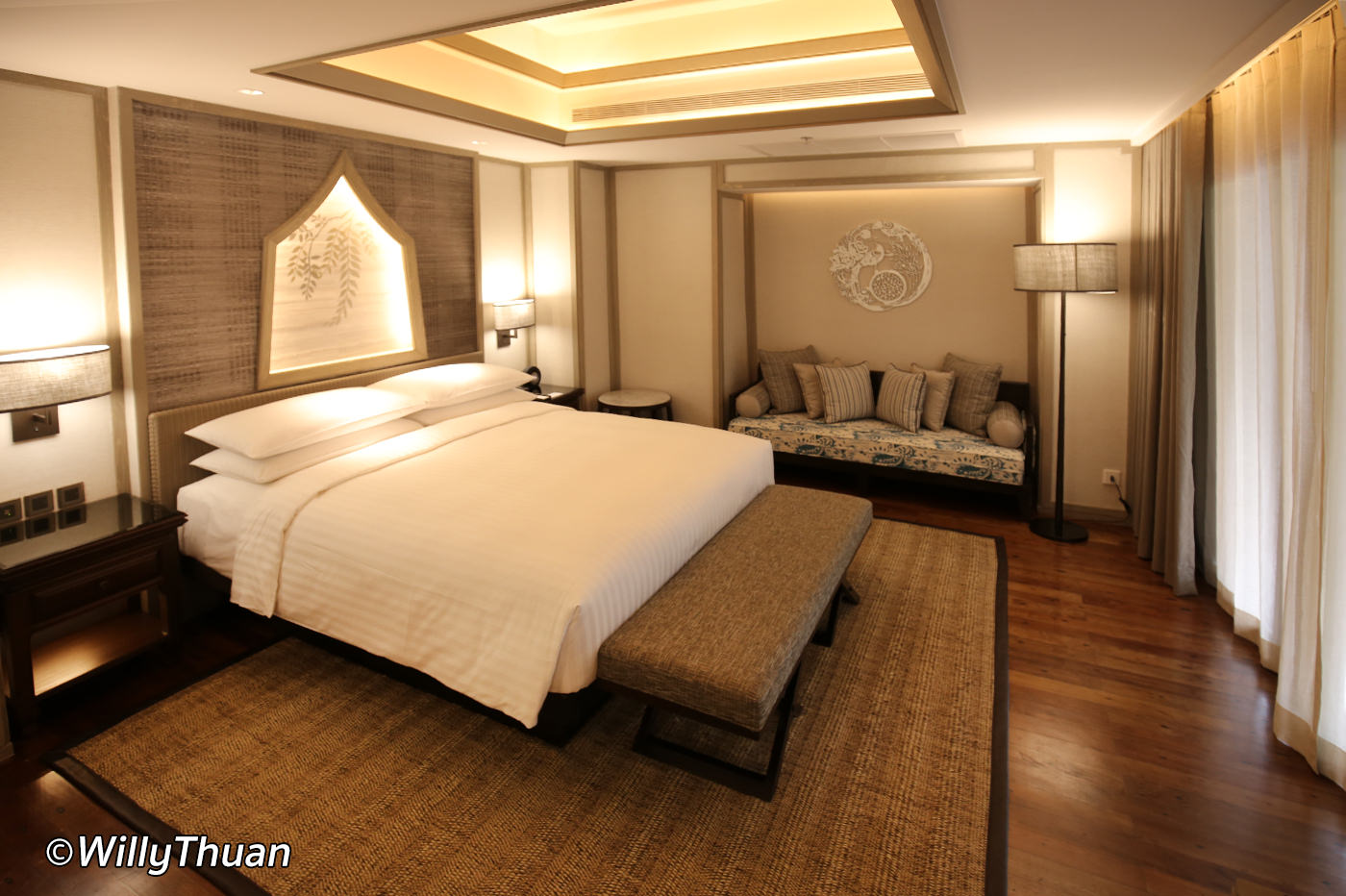 It may sound a little trivial, but in an era where every traveller comes with computers, tablets, phones and cameras, getting enough plugs in old-fashioned hotels is frustrating. Phuket Marriott Nai Yang knew that, and we were impressed (we even took a picture)! There are more plugs than you can use, but they can also accommodate plugs from any country, and even better: there are no less than four USB plugs on the walls, one set next to your desk and one next to the bed! How cool is that? Sure, in 10 years, it will come standard (or whatever plug we will use in 10 years), but that's a great feature.
The restaurants
The Phuket Marriott Resort and Spa Nai Yang count three restaurants. 'The Lounge', 'Andaman Kitchen' and 'Big Fish Bar & Grill'. You can also enjoy a light meal at 'The Lounge' near the lobby, where they serve excellent dishes such as Hamburger foie gras and some beautifully presented Thai snacks.
Andaman Kitchen is where you will probably keep it for breakfast. It's a larger but cosy room with a great choice of breakfast dishes, western or Asian (go for both since it's a buffet, spoil yourself!) And the chef makes a great omelette!
Big Fish Restaurant
Big Fish is the most attractive restaurant since it's just by the beach, and most seafood comes from the little fishing village next to the hotel. You get to eat the freshest seafood, and you support the local community at the same time. In the morning, you can sometimes walk to the small fishing boats and look at the day's catch.
We visited several times and stopped over for lunch lately. We sat at the terrace and enjoyed a deliciously fresh and crispy Marriott Nai Yang Salad (grilled cajun prawns, feta cheese, pomelo, mango and lettuce with pineapple chilli dressing, 390 baht), followed by a slow-braised lamb shank (590 baht), tender and cooked to perfection. The dishes were beautifully presented, and the service was spotless and friendly.
On another occasion, we tried one dish we usually love, the sea bass wrapped in banana leaves. The success of such a recipe is to keep the fish's natural flavour without overwhelming it, which has to be great, so only great fish will do. With just a surprisingly delicate banana leaves aroma and a light spicy lime sauce, it was so perfect we did order it again the next day. (And you can select from more than ten wines by the glass, it is a nice touch).
Mama's Kitchen
Romantic Beach Dinner
If you come with your loved one, and it seems that most customers do, you can treat yourself to the most romantic dinner ever: your feet in the sand and your head under the stars! That's obviously if tide and weather allow it, but it's worth trying! (starting at 5,200 baht plus taxes).
Facilities
The spa
Quan spa is only four rooms but is designed for instant relaxation. Their wide choice of treatments is excellent (and we are not easily impressed), and therapists are genuinely skilled, with gentle but firm pressure, just as you requested. And here is a tip: their sunburn aloe wrap treatment is very efficient; you need to remember this since the sun of Phuket is a lot stronger than it seems!
The swimming pool
The swimming pool is immense, around 2,600 meters square. The largest part is near the beach, so long that you can swim almost through the entire resort. Such a large swimming pool allows the hotel to offer a lot of pool access rooms.
Kids Club
The kids club is bright, spacious and colourful, with a large outdoor playground and daily fun activities. It's a nice place where your kids will have serious fun with a dedicated team. The club is near the hotel's central area, so you can even say hi anytime. Kids from 4 years old can join; for those younger than this, you will need to book a babysitter 24 hours in advance.
The team!
The hotel crew is genuinely friendly, polite, caring and always smiling; Thailand hospitality at its best: you feel instantly at home and relaxed. From the laundry lady to the gardener and the chef, people greet you with a natural smile and a Wai (Thai greeting). Besides, it seems that most of the team speak excellent English.
Summary
The Phuket Marriott Resort and Spa Nai Yang is a great choice for those seeking a hideaway escape. Located on the secluded Nai Yang beach, the hotel offers a unique location near Sirinat National Park, far from the crowded beaches of south Phuket. The hotel has beautifully designed rooms with modern Thai inspiration, complete with enough plugs for all your devices. The hotel offers three excellent restaurants, Quan spa offers an excellent choice of treatments, and the swimming pool is immense, allowing guests to enjoy a lot of pool space. Overall, the hotel is an excellent choice for those seeking a peaceful, relaxing holiday.
Information
Phuket Marriott Resort and Spa Nai Yang Info
Location: Nai Yang Beach
Address: 92 Moo 3 Tambol Sakoo, Amphur, Talang Tambol Sakoo Phuket, Phuket 83110
Phone: 076 625 555
Open: 24 hours
Bookings: see the rates
Factsheet
| | |
| --- | --- |
| ⛱️ Main beach nearby: | Nai Yang Beach |
| ⛱️ Distance to the beach: | on the beach! |
| ⛱️ Beach condition: | good |
| ⭐ Range | 5-star resort |
| 🏊‍♀️ Swimming pools: | 1 huge pool |
| 🍴 Restaurants and bars: | 4 |
| 🛍️ Facilities | Spa, Fitness |
| 🚙 Distance to Phuket Town: | 30 km |
| 🚙 Distance to Patong Beach: | 34 km |
| ✈️ Distance from Phuket International Airport: | 4 km |
---
Phuket Marriott Resort and Spa Nai Yang Map
Get the directions on your phone: https://goo.gl/maps/hSH9JXNLo4J2FjrVA
---
What's around Phuket Marriott Resort and Spa Nai Yang?