An immense aquarium in Phuket Town
Aquaria Phuket is an attraction in Phuket town, on the lower floor of the immense Central Floresta (part of the Central Festival). The place covers a large surface and is advertised as the largest aquarium in Thailand, with 25,000 animals and 300 species, which we didn't take the time to count.
What does Aquaria look like?
Aquaria consists of four distinct areas: Mystic Forest, Coastal Heaven, South China Sea and Station Aquarius.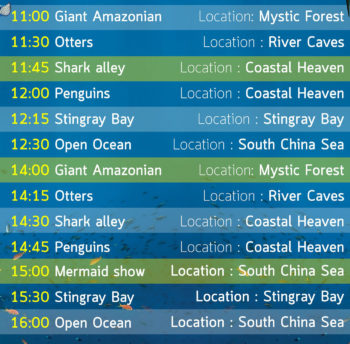 You can walk back and forth between each area, some are outdoors, and most are indoors. You will see giant freshwater fish, stingrays, otters, penguins, leopard sharks and other sharks. Every hour, you will be able to assist with animal feeding or presentations. The schedule is as follows (it may change, so double-check with the program inside Aquaria.)
As you go, you will notice a lot of food, snack and drinks are on sale everywhere. There is even a restaurant if you choose to dine among the fish. And, of course, there is a souvenir shop on the way out, just before reaching the TrickEye Museum, that can be purchased with the aquarium ticket.
Mystic Forest
Mystic Forest is a freshwater area. Enjoy watching lizards, chameleons, snakes and other lizards.
Coastal Heaven
As you move to the saltwater area, enjoy a vast space dedicated to penguins.
---
South China Sea

Station Aquarius
An open space where adults and the kids get a chance to touch starfish and horseshoe crabs.
If you feel like having dinner in an unusual atmosphere, Andasi Night & Lounge is a 120-seat restaurant next to the most massive tank. Here you can enjoy a modern contemporary dinner with fine wines with schools of fish swimming in the background. The restaurant is open from 7.00 pm to 10.30 pm.
You can choose between a three-course (2,688 baht) or a 5-course dinner (3,888 baht). The dinner is excellent, the dishes are beautifully presented, and the surreal atmosphere makes the experience so unique. As you dine inside the half tunnel, leopard sharks and sting rays slowly glide in front and above you, followed by schools of glittering fish. Dinner starts at 7.30 pm, and reservations are strongly recommended at 061 172 6144. Read about our dining experience here
What's good
On the plus side, it's immense, and kids will enjoy taking photos with enormous fish swimming around their heads. It's much easier to reach than the original Phuket Aquarium, so you don't have to drive a long way to see the marine life. If you decide to spend the day in Phuket Town, you can easily add it to your day, especially on a rainy day.
On the downside
At the cost of 940 baht per person (490 baht per child 3-11 years old), it is a rather expensive experience (locals pay half this price). Aquaria is more of an entertainment display, so you will not learn as much as in the Cape Panwa Aquarium (a biological centre with all kinds of educational information and professionals trying to save marine life.)
The layout is complex, and the curved tank glass distorts the view quite a lot in some areas, making visibility difficult. Even taking photos of marine life is challenging. Like in other aquariums in Bangkok and Phuket, there is a short tunnel, but it soon appears it is only a curve glass reflecting in a curved mirror!
Overall, it will keep you busy for an hour or so, probably not much longer.
Aquaria Phuket Info
Location: Phuket Town
Address: B1 floor, Central Floresta, 199, Vichitsongkram Rd, Wichit, Muang, Phuket 83000
Open: 1.30 am – 7 pm, daily
Phone: 076 629 800
Price: Adults 712 baht, children 392 baht (3-11 years old)
Bookings: Book here
---
Aquaria Phuket Map
Get the directions on your phone: https://g.page/aquariaphuket?share
More reading