Where to Shop in Patong Beach
Patong Beach offers a fun shopping experience with a variety of street bazaars, night markets and fresh markets, and immense malls where travellers can conveniently escape the heat or the rain while enjoying vast choices of shopping, food and entertainment. Jungceylon shopping complex is definitively the most attractive shopper's paradise in Patong Beach, selling international and local brands for every taste and budget, as well as an array of fashion outlets, electronics stores, and entertainment options. Across there street, Central Patong is another popular mall. For cheaper and more fun options, the Otop night market stalls sell cheap clothing and often fake brands, but mostly delicious street food. Malin Plaza is a bustling night market famous for its seafood and Thai delicacies. Lastly, Banzaan Market is a great spot to explore fresh produce, local snacks, and affordable souvenirs. Patong Beach offers something for every shopper.
Jungceylon Shopping Center is a massive complex in the very centre of Patong Beach and the largest on Phuket Island. Covering 200,000 square meters, it's so vast it feels like a city within a city. Jungceylon shopping centre offers a diverse range of shopping, dining, and entertainment options. With over 300 stores, visitors can explore both local and international brands. Expect to find many souvenir shops, dozens of restaurants, a department store, multiplex cinema, a bowling alley, electronic shops, massage shops and a food court on the lower floor, a two-storey supermarket and many attractions on the upper levels.
Phuket 101 receives 250,000 monthly visitors on average (500,000 pageviews/month).
If you wish to advertise on this space or other options available on Phuket 101, just contact us.
Central Patong is a shopping mall in the heart of Patong, accessible from the famous Bangla Road and just opposite of the famous Jungceylon. This recent mall offers an extensive selection of shops, ranging from fashion and accessories to electronics and cosmetics. With its modern architecture and spacious interiors, Central Patong provides a comfortable and convenient shopping experience. The mall also features a food court serving a variety of cuisines, as well as a supermarket for everyday needs. Visitors can enjoy in shopping, dining, and entertainment, all within this lively destination in Patong.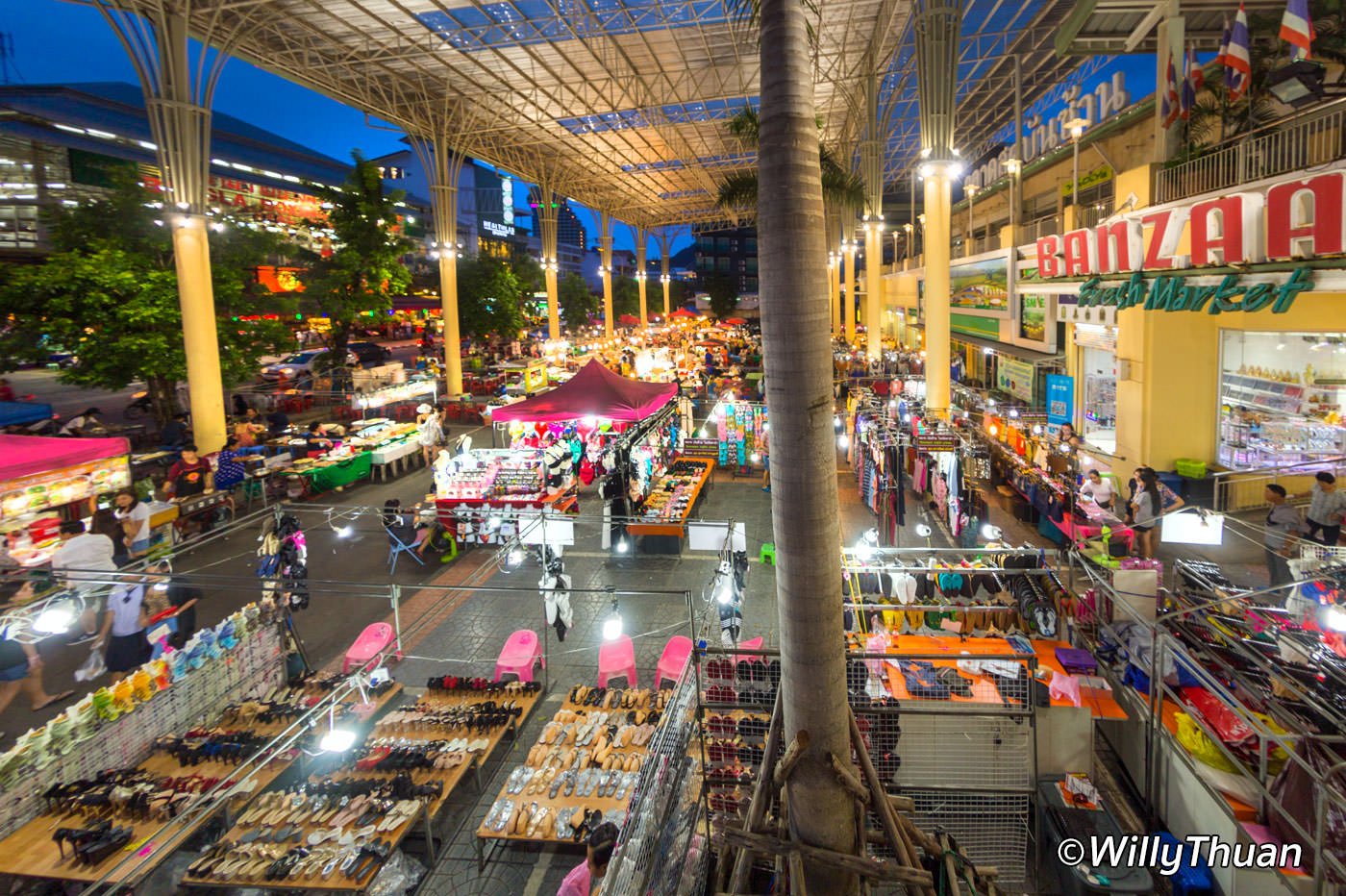 Banzaan Market is a bustling and vibrant local market situated in Patong, right behind Jungceylon Shopping Mall. It offers a captivating sensory experience with its colourful displays of fresh produce, seafood, meats, and local delicacies. Visitors can immerse themselves in the lively atmosphere and enjoy authentic Thai street food at night. The market also features a small variety of stalls selling clothing, accessories, souvenirs, and household items on the upper floor, but this area seems to have shrunk a lot. Because of its location in a tourist town, you can expect the prices to be higher than in other local markets of Phuket, but Banzaan market is a popular destination to discover the veggies and spices used to create amazing Thai food.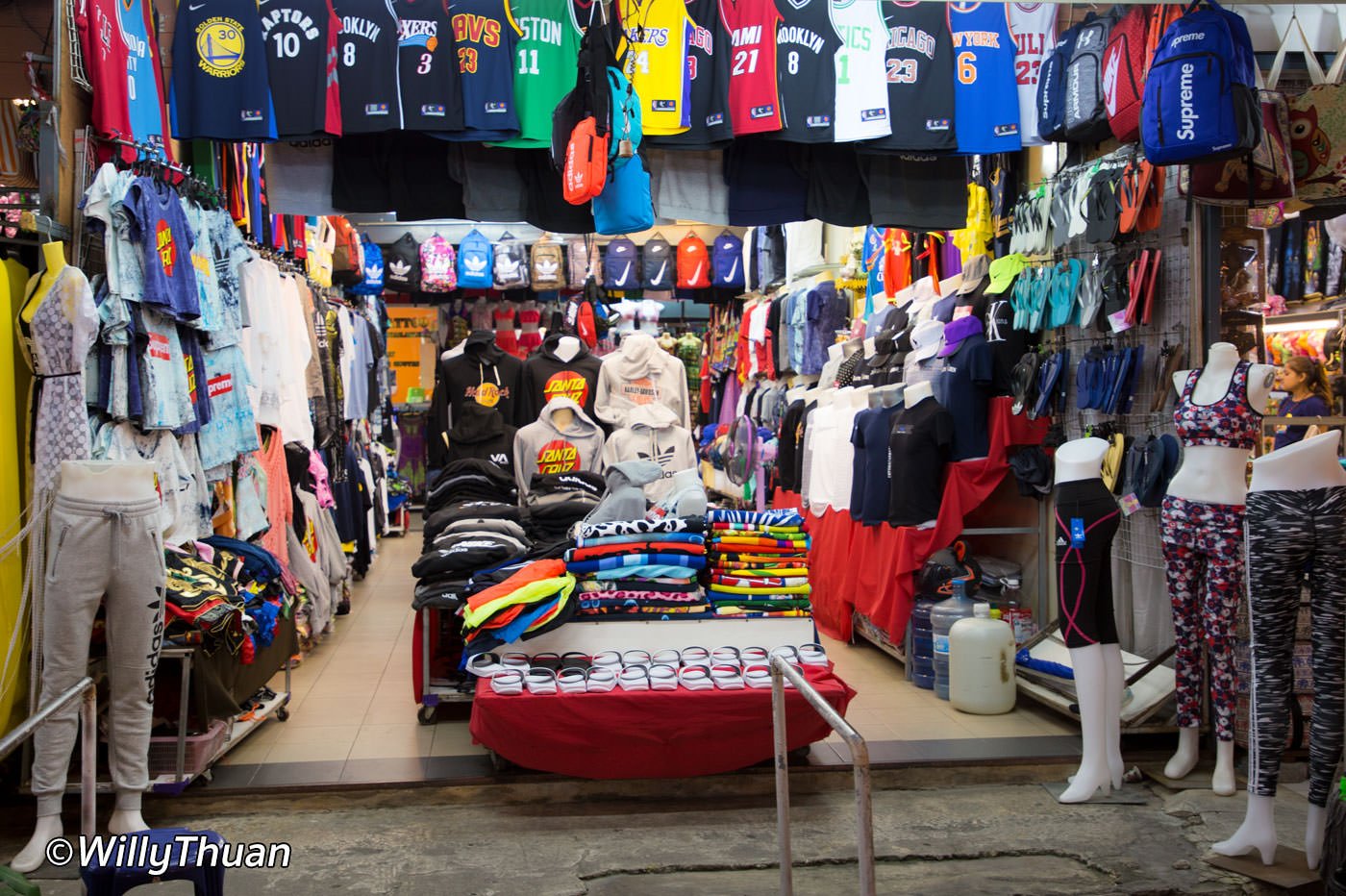 Otop Market, located on the second road of Patong, offers affordable clothing, bags, and knock-off brands. Originally intended to promote local handicrafts, the market's focus has shifted to selling fake items and unnecessary souvenirs. Despite its convenient location near Jungceylon shopping mall, Otop Market primarily caters to tourists seeking cheap copies of designer goods.
Malin Plaza stands as a fun night market located at the southern tip of Patong Beach. It provides a blend of cheap shopping, affordable street food and drinks, all within a relaxed tropical ambiance that travelers often seek in Thailand. Within this destination, a variety of native dishes, fruits, confections, as well as bars and cafés are available, creating a fusion of local markets and vibrant bazaars. You even have the option to buy fish and seafood from the market stalls, with the added convenience of having it freshly prepared and cooked right before you.
Bangla Market
Bangla Market, nestled at the end of Bangla Road in Patong Beach, is a vibrant hub renowned for its lively atmosphere and a mix of market and open-air food court featuring an array of shops, street food and entertainment options. Visitors can explore an eclectic mix of local handicrafts, clothing, and souvenirs, while also indulging in delicious street food. As the sun sets, Bangla Market transforms into a dynamic nightlife destination with bustling bars and clubs, making it a must-visit for those seeking a lively and unforgettable experience in Patong Beach.
Shopping in the streets of Patong
Street shopping offers an enjoyable and convenient experience, often filled with entertainment as you explore. People typically visit without specific shopping intentions, but rather get drawn to items they hadn't considered before, adding to the fun of purchasing. Prices initially quoted are higher than expected, necessitating bargaining. The initial price varies based on seasons, proximity to central areas like Bangla, and crowd density. During peak seasons and busy times, it's advisable to negotiate harder.