What to Do in Patong Beach?
There are a lot of things to do in Patong Beach beyond the much talked about nightlife and the ever going party. Patong is full of activities for families, couples, singles and friends, and even a few attractions most people don't know yet.
We will not go into details about nightlife but mostly focus on the real activities, the things you can mostly do during the daytime (and in case of rain too!). Note also that in this page, we also include things to do in the nearby Kathu. It's not that far, and they do have a couple of places worth considering.
---
1. Obviously, the beach!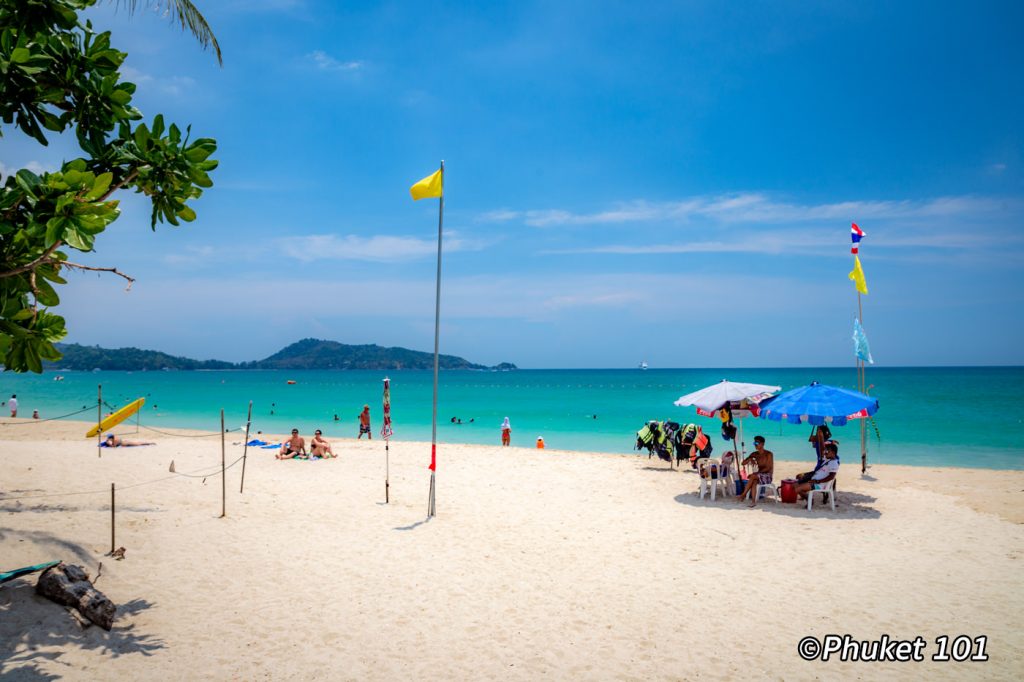 Yes, mentioning the beach is a bit obvious, but despite the occasional bad press, the beach of Patong is what attracted the first tourists. And indeed, Patong has a beautiful beach with white sand and blue water during high season. There are a few restaurants on the beach as well. Of course, in the central area, it can be crowded and noisy with too many jet skis and parasailing boats, but not always. People often make a final judgement based on a single bad experience. The north part of the beach is quieter, and the water is lovely. If you come during low season, you might be surprised how quiet it can be. So if you picked Patong for your holidays because you want to have everything accessible, you would enjoy the beach.
---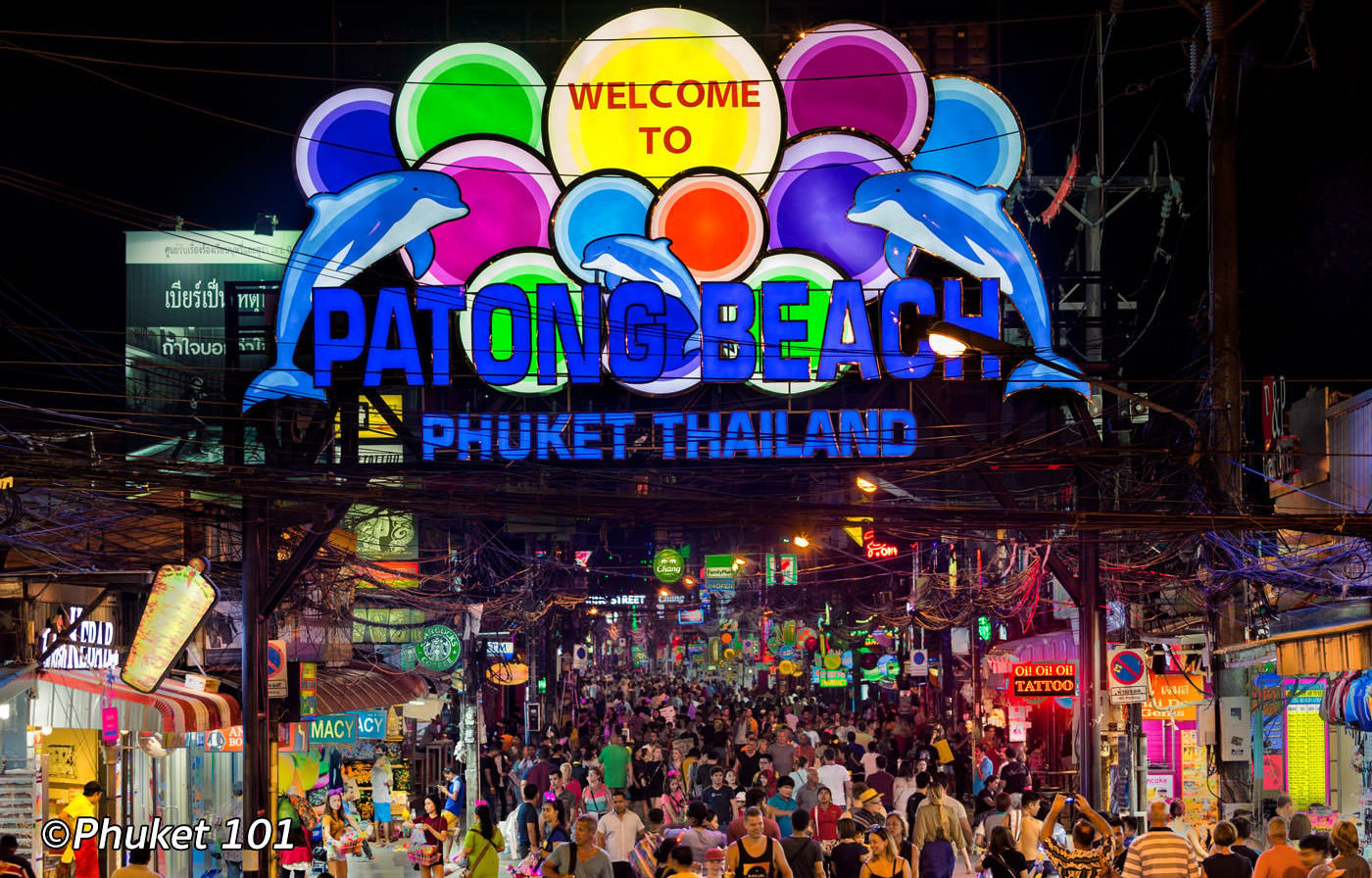 There is no doubt that Bangla Walking Street or Bangla Road is the very heart of Patong beach and unlike Pattaya or Soi Cowboy in Bangkok, the walking street is more of a party street and addresses to everyone. Here you will find great nightclubs, lot of bars, great live music bars, shopping malls and of course, Go Go bars. While nightlife may not be to everyone's taste, it is pretty easy going and has become so iconic; you should see it for yourself at least once.
---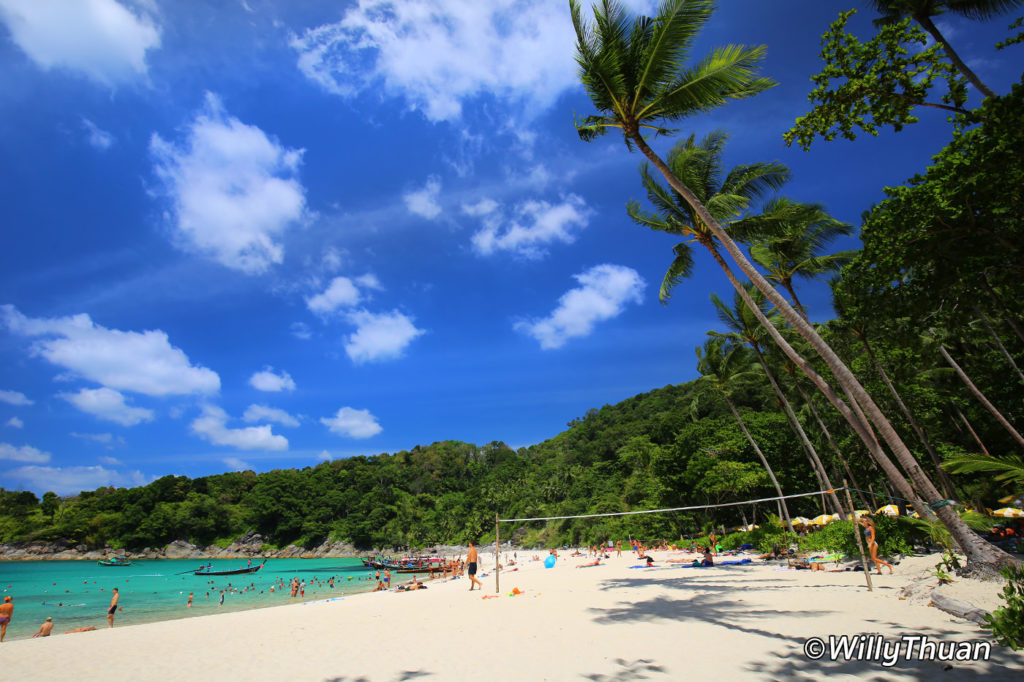 ---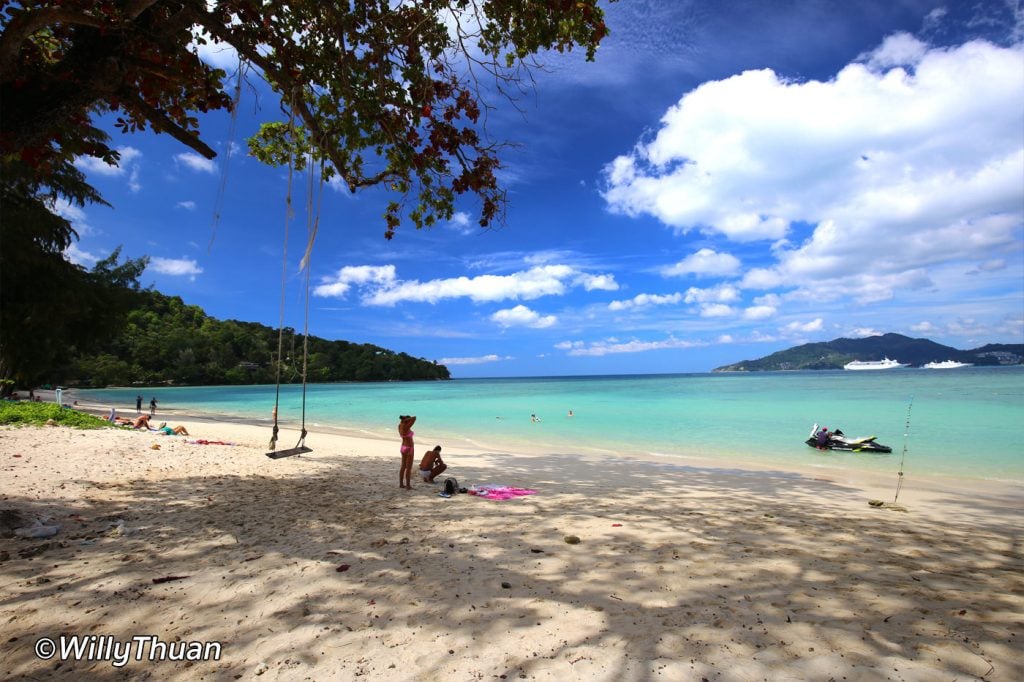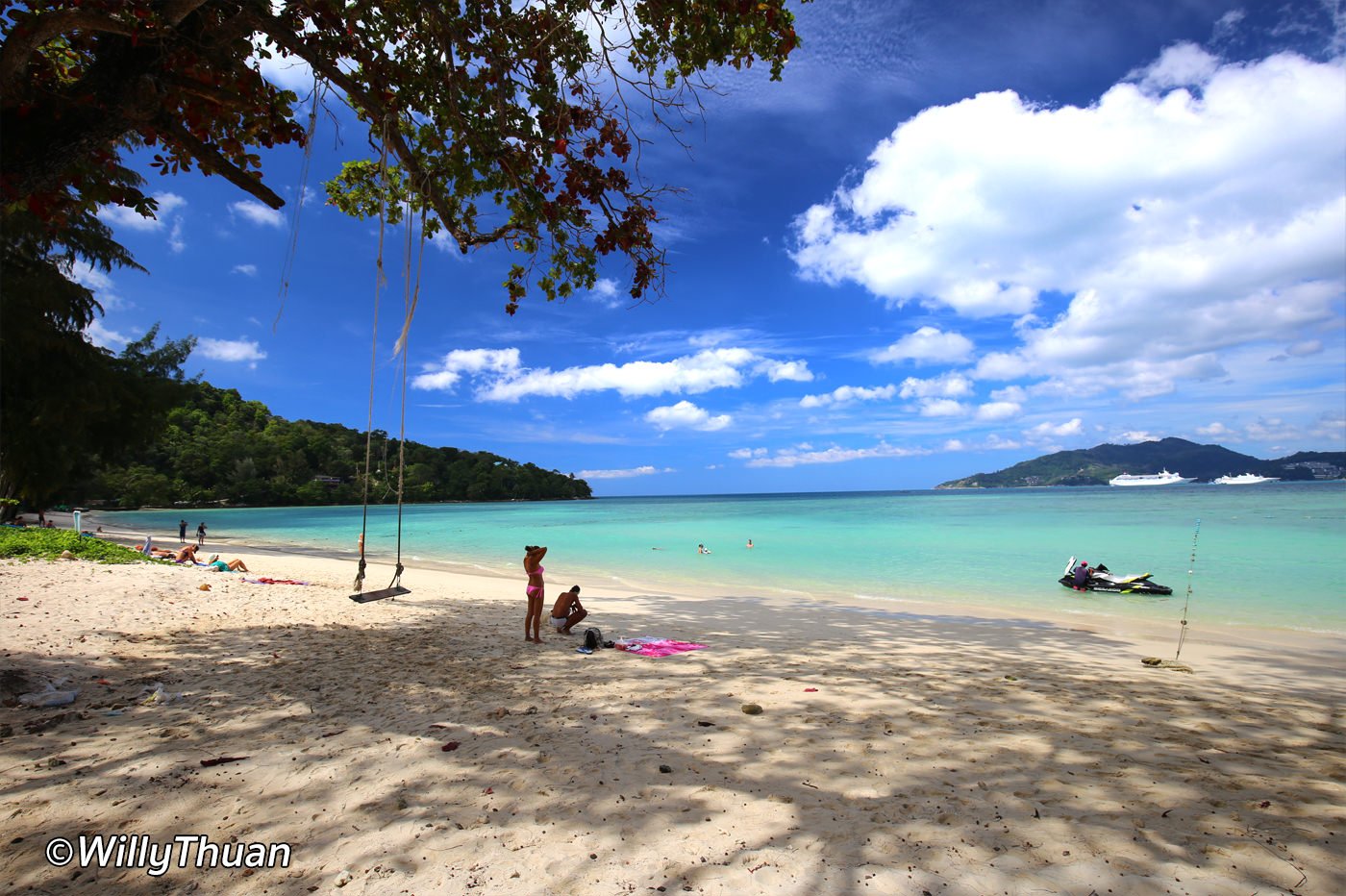 ---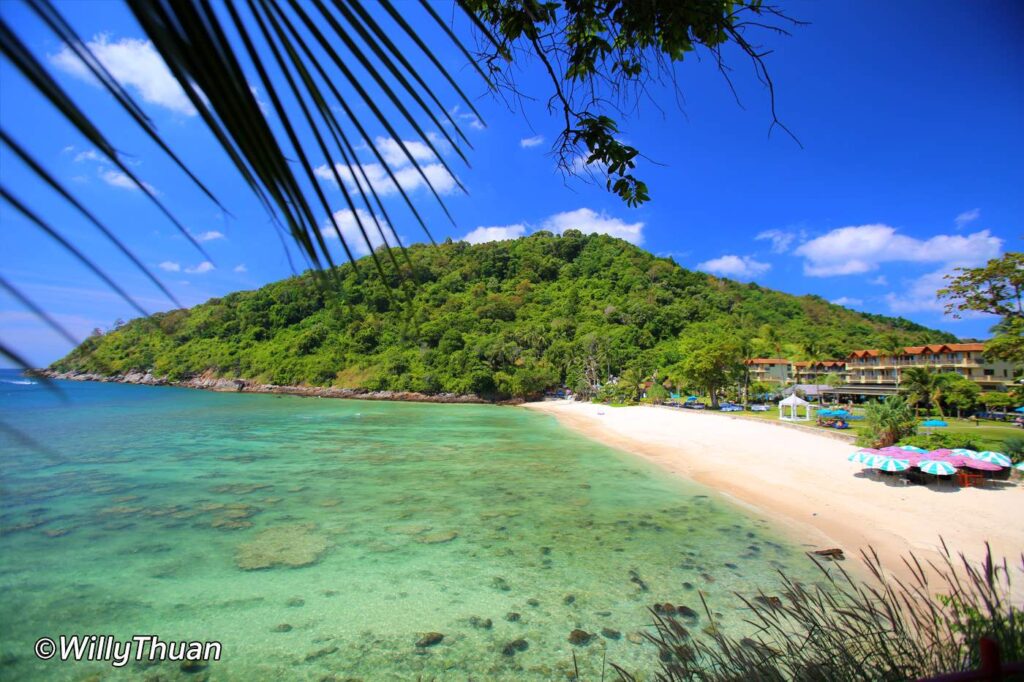 Patong itself may not be great for snorkelling, but Merlin Beach is just around the corner. This spot might not be great for swimming, but it's known to be good for snorkelling and admiring colourful sea life in shallow waters. Just remember to bring or buy your snorkelling gear as you won't find any for rent on those beaches.
---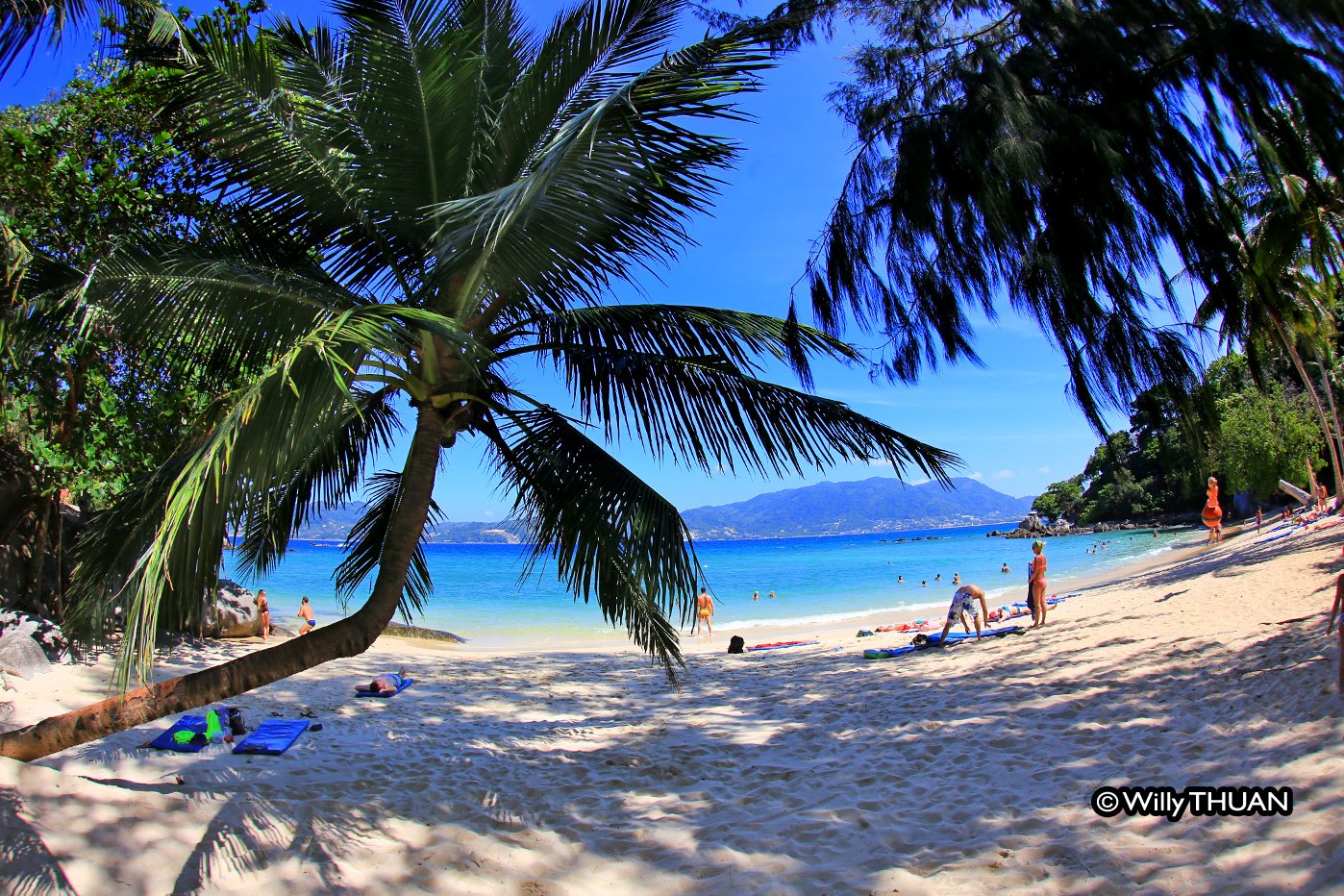 ---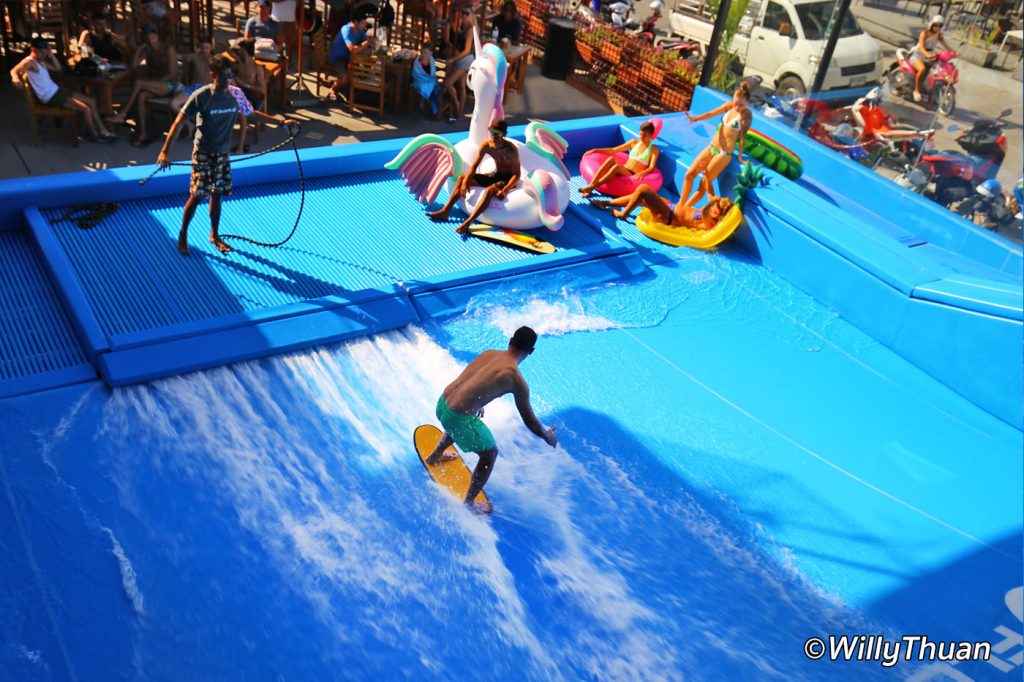 Surfhouse is a fun activity for adults and kids, beginners and advanced, and you can even play on a rainy day! Learn how too surf on a steady artificial wave flowing on an inflatable slope. If you fall, you will safely bounce and start again. It's safe and easy, but you will get a real adrenaline rush. Patong Surfhouse is near the beach and close to Bangla road. It also features a bar and is a favourite party place with a DJ, often until late.
---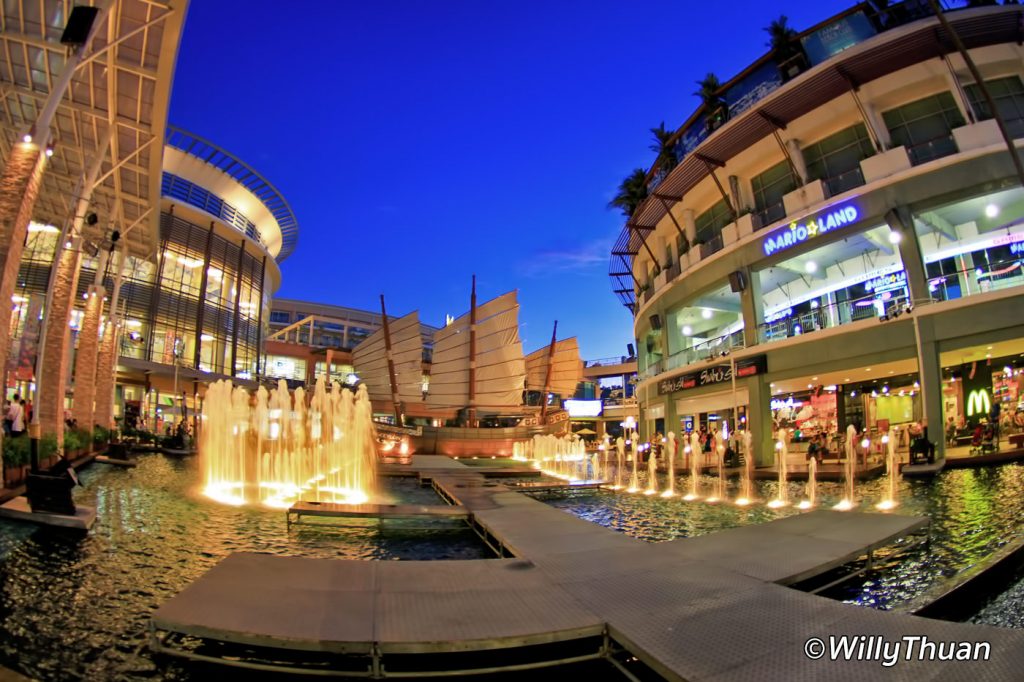 Patong has become a full-scale shopping hub, and there is something for every budget and every type of shopper. Street shopping is where you'll buy silly stuff; night markets are suitable for cheap clothing and knock-off brands. Shopping malls sell a mix of real brands, electronic goods, souvenirs and everything in between. Jungceylon is a lot more than just shopping. It's full of restaurants and fun things to do, so whenever it rains or gets too hot, it's a great place to spend some time.
---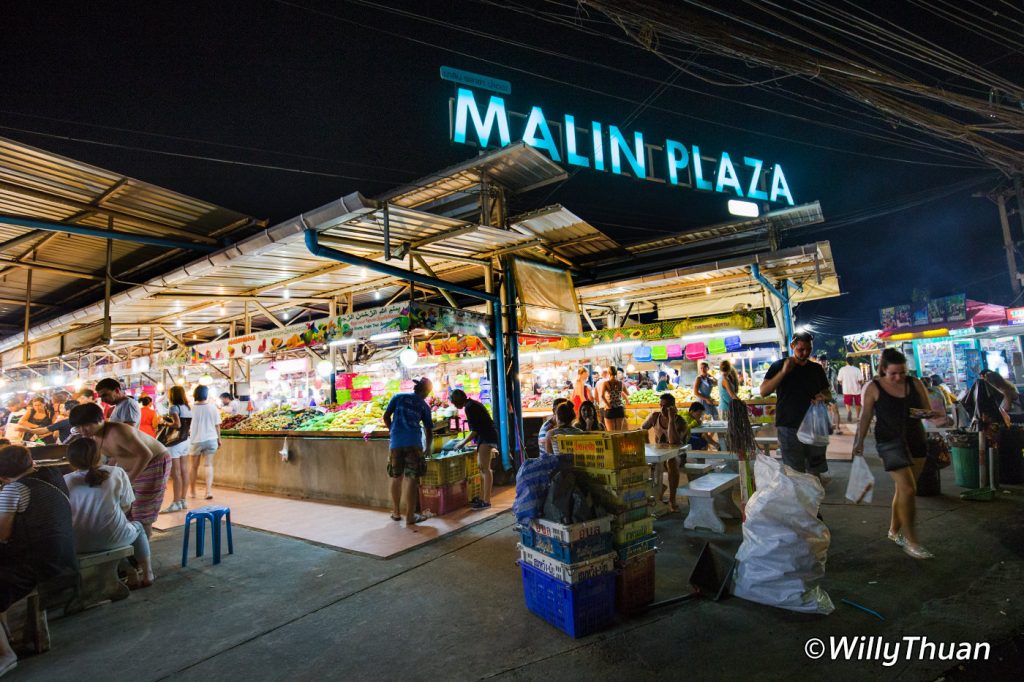 There are more night markets and night bazaars in Patong than most people imagine. They might not be as fun as the Phuket Town Weekend Market, but they offer a fun 'local' experience. In case you haven't been to one yet, night markets are more about food than only shopping. Walk around, browse, buy some souvenirs, tee-shirts and bags, then pick some seafood and have it grilled or cooked just for you. It's cheaper and a lot more fun than a restaurant.
---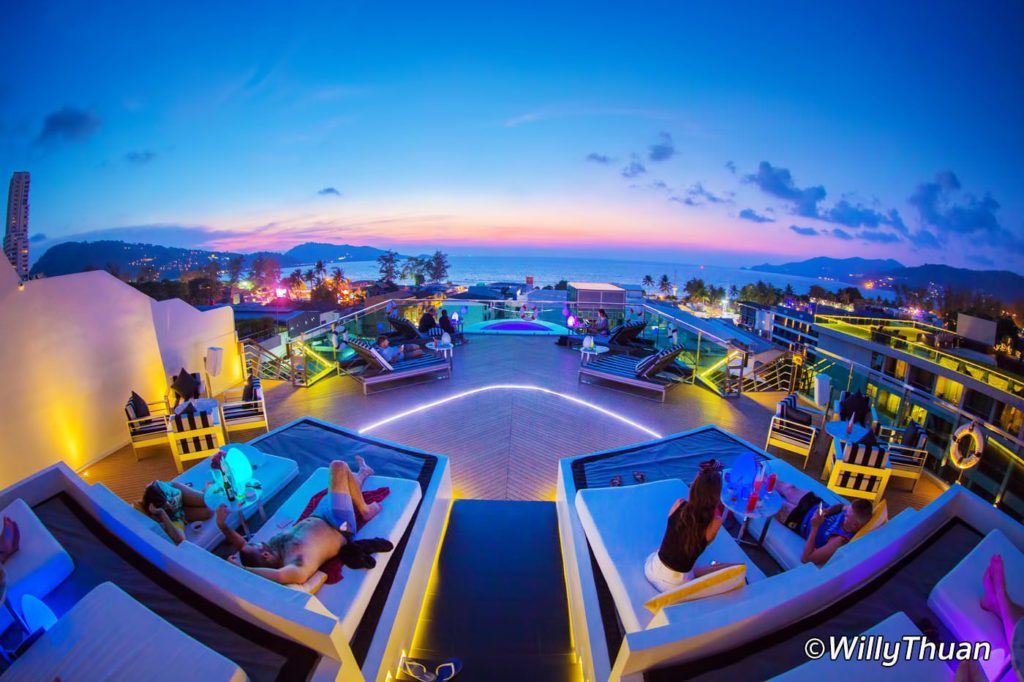 The KEE Sky Lounge rooftop bar has been popular for years, but it got a significant facelift, and it sure looks good. The rooftop bar invites you to the sun deck of a luxury cruiser, one of the best places in Patong to enjoy a sunset with a cocktail and great music.
---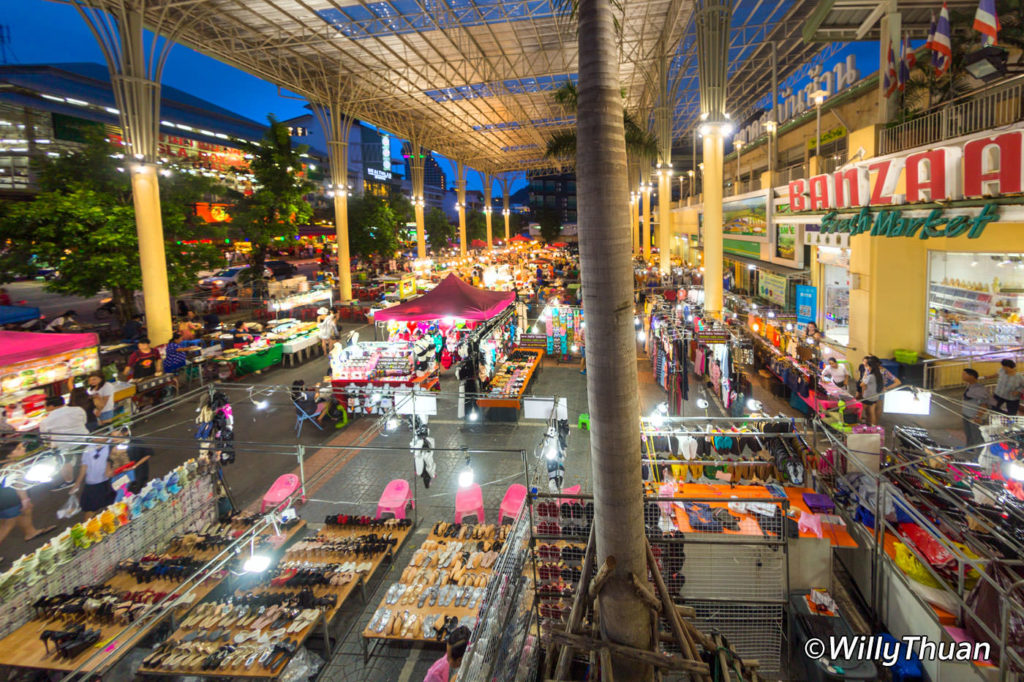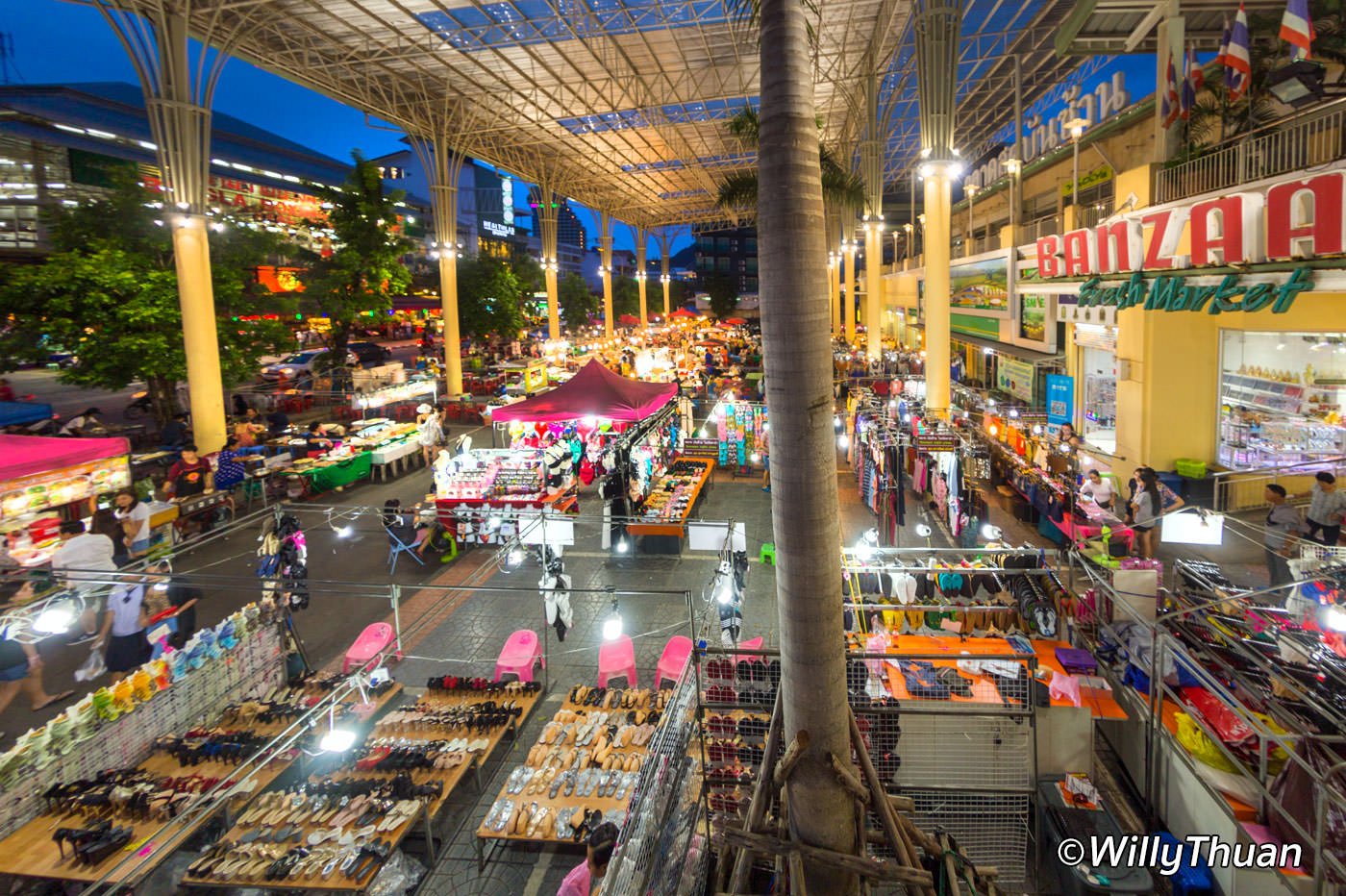 Banzaan Market is an excellent experience during your holiday. It's both a fresh market where you can get your first glimpse of fun looking Thai fruits, amazing fishes, strange veggies and colourful sweets, but a lot easier to access than most local markets.
---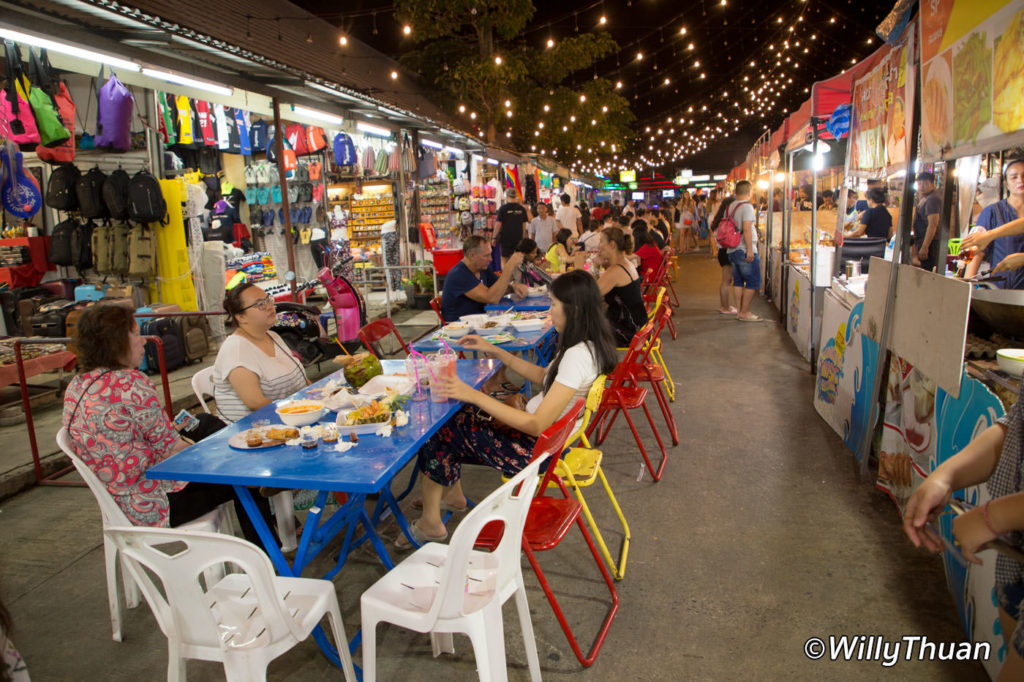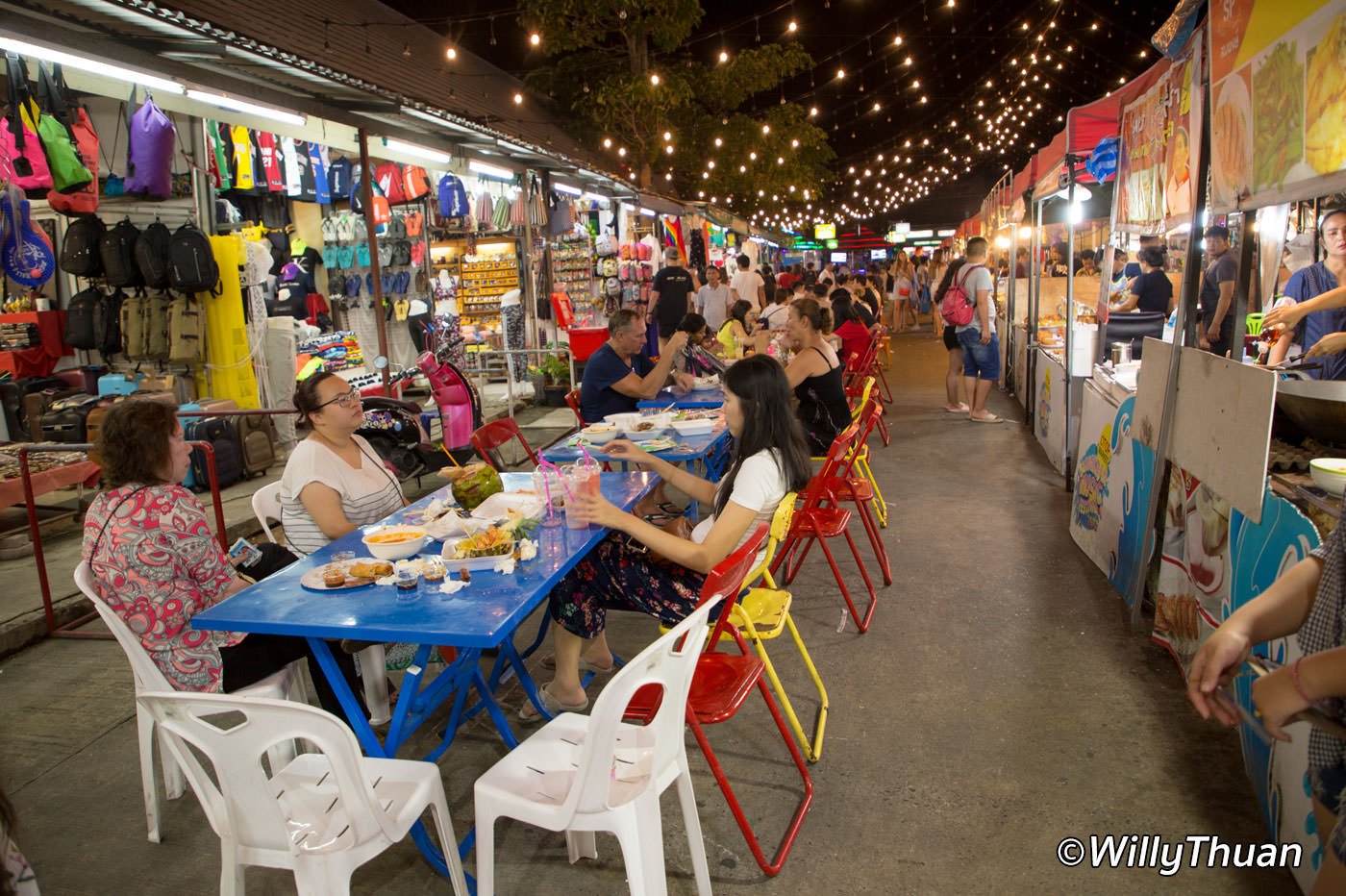 Otop Market is located just behind the Holiday Inn Resort, opposite Hooters and Hard Rock Cafe. This long-running night market got a boost of popularity in recent years with the addition of the street foo section.
---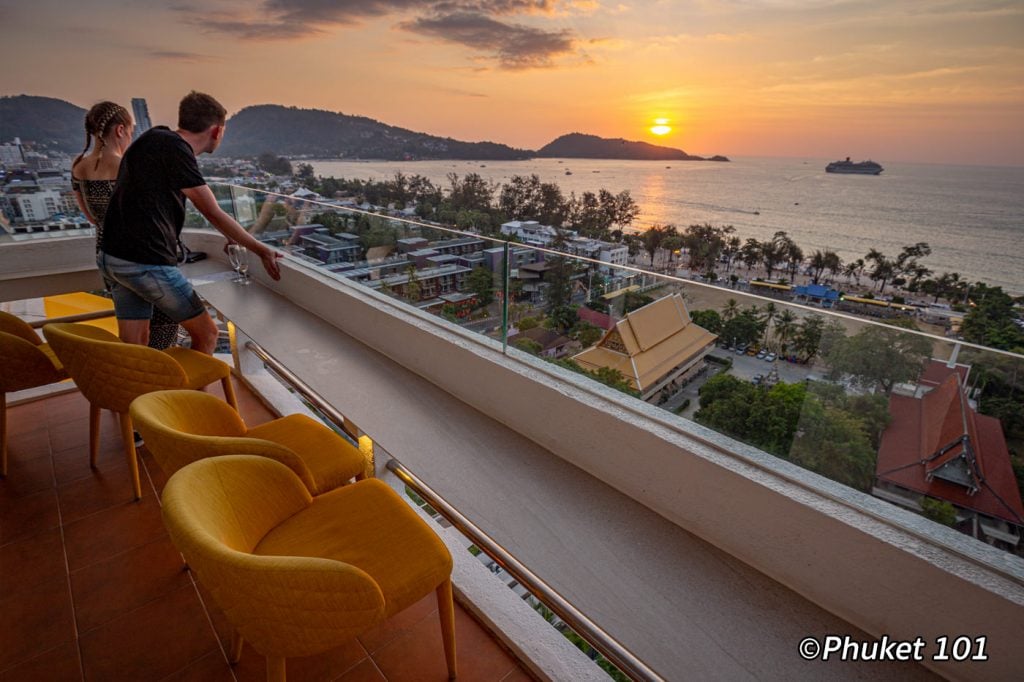 Rooftops in Patong are modest in size because a couple of decades ago, a law passed stating that no building could be higher than a coconut tree! (that law passed after somebody already built the three existing towers you will see). So far we counted 5 or 6 of rooftops around Patong, but only a few of them are worth it.
---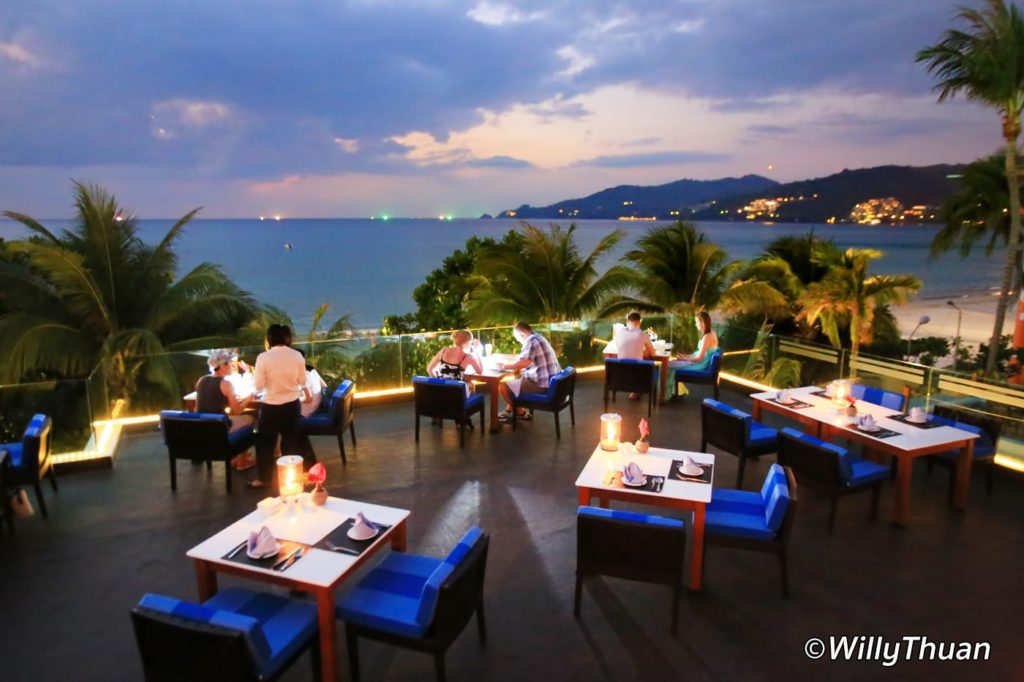 The Surface is both a bar and a restaurant. It's not very high but has a unique location just above their beach of Patong. The view is a little obscured by palm trees, but we can't be too picky, and they add a nice little touch to your pictures.
---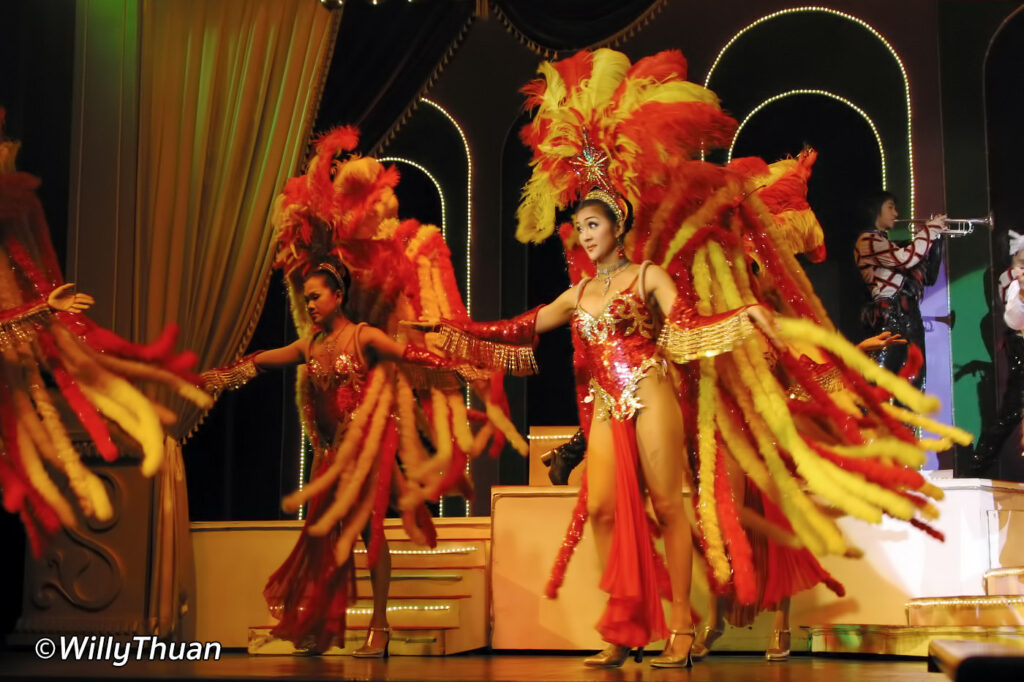 Simon Cabaret is a ladyboy Vegas kind of show that has been successfully running every night for 20 years. The success of the show relies on an impressive decor, big stage, decent choreography, superb costumes and most of all pretty dancers, all males!
---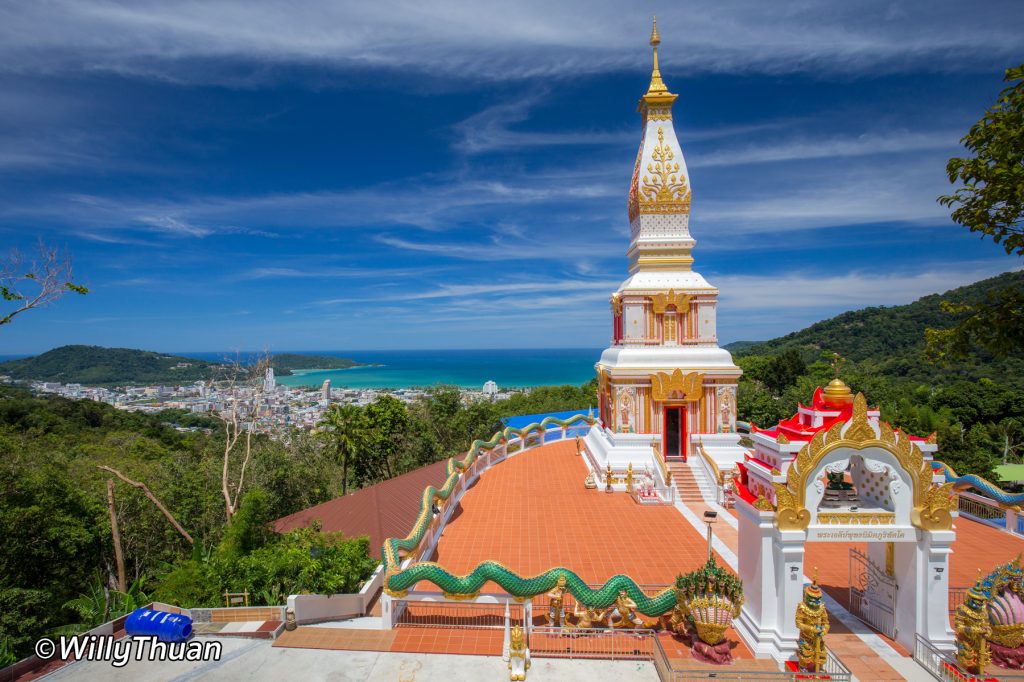 There are three Thai temples in Patong and one Chinese Shrine just outside on the hill. The most visually attractive, but often missed is the one at the bottom of the hill. It's not easy to park if you drive a car, but if you are on a bike, it's worth taking a photo on your way out. Built at the top of the hill overlooking Patong, Doi Thepnimit is a lot more impressive. Technically it's not a temple, but a Chedi and a monastery, but with such panoramic view of the bay, it is impressive. You can't miss the small Chinese temple on the main road.
---
17. Wat Suwan Kiriwong (Patong Temple)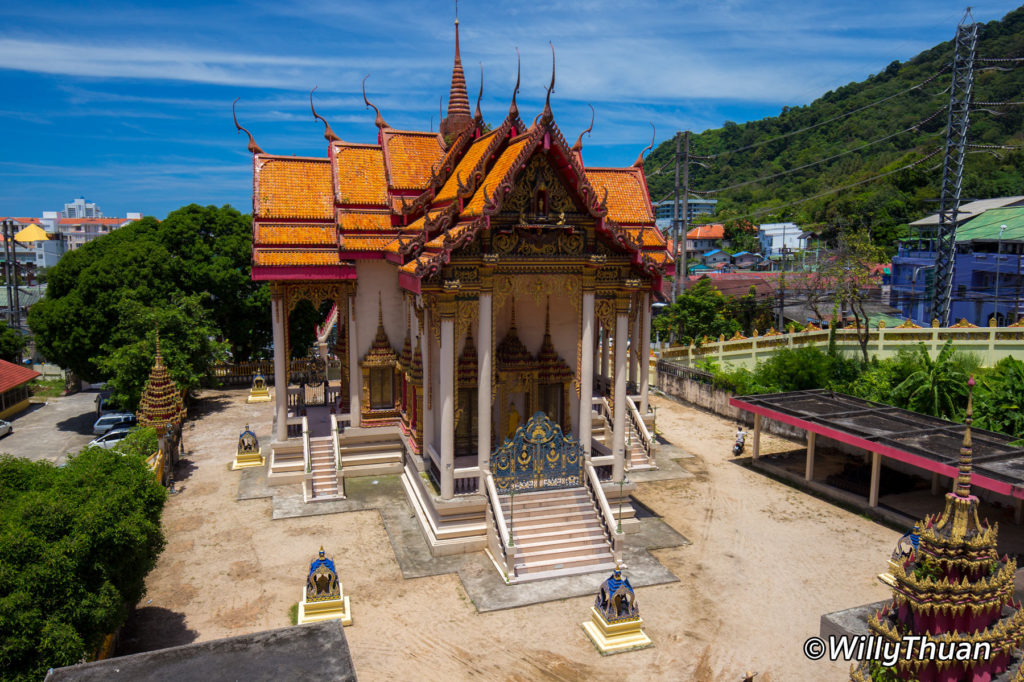 ---
18. Parasailing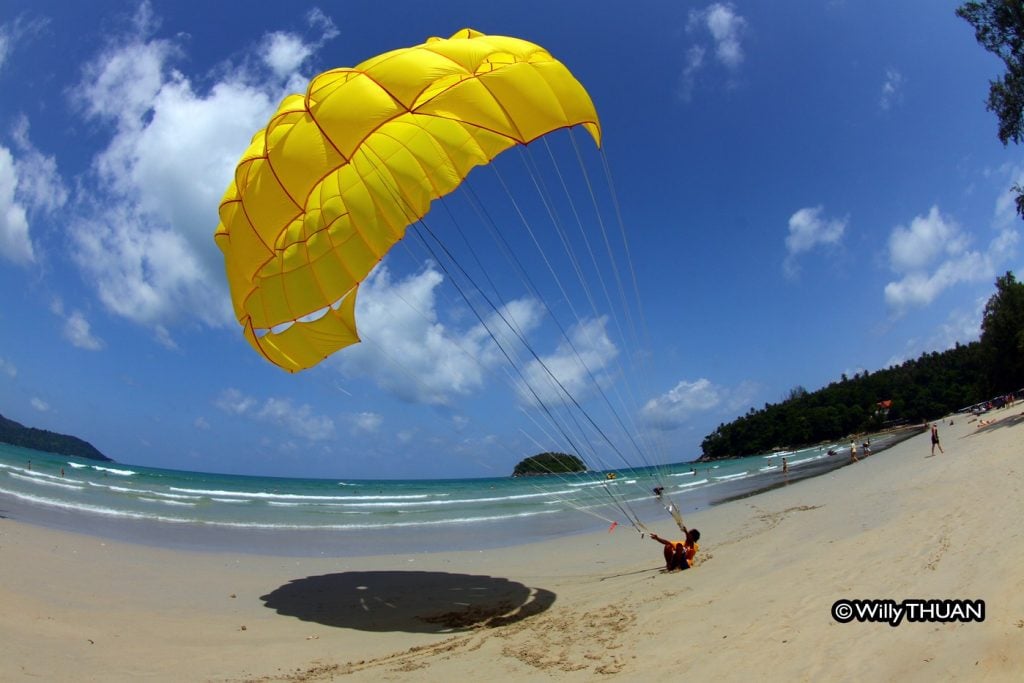 Parasailing is available all year round all along the beach of Patong. Here you take off and land directly from the beach and surprisingly, a beach boy will climb in the rope above you for the duration of the (short) flight. It doesn't look very safe, and as the setting is elementary, accidents are not unheard of, but it has been going on for decades. Parasailing in Phuket costs 1,200 baht for a child and 1,500 baht for an adult.
---
19. Jet Ski
Jetskis have been controversial as long as they have been on the beach. Between accidents, scams and noise pollution best it to avoid the risk. If you really can't resist, Expect to pay 1,500 baht for 30 mn on a one-person jet ski or 2,000 baht for 30 mn on a two-person jet ski.
---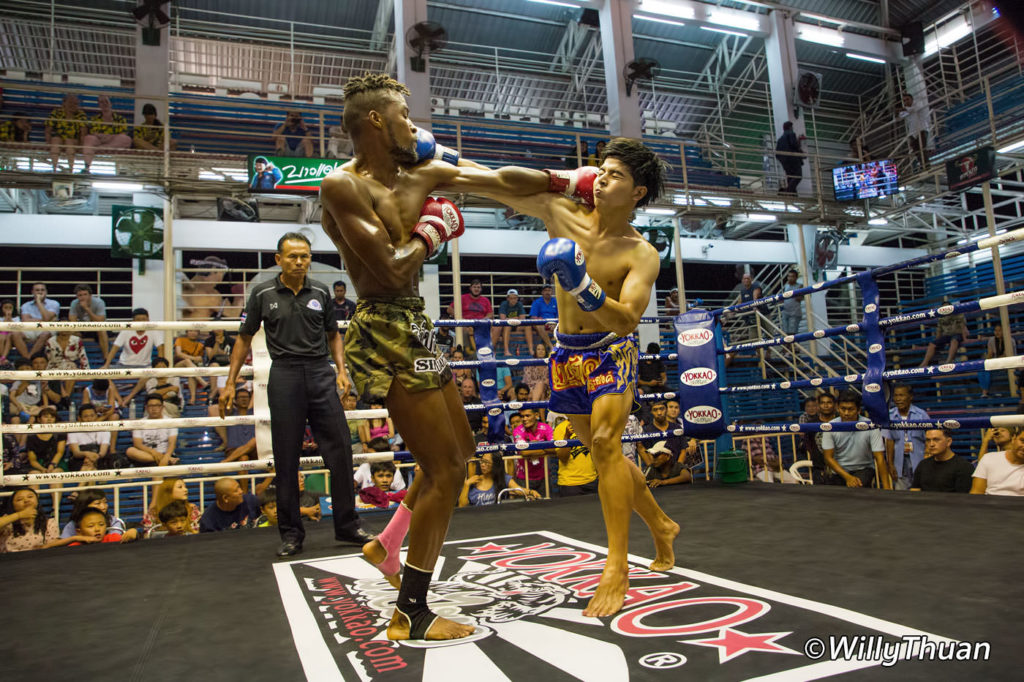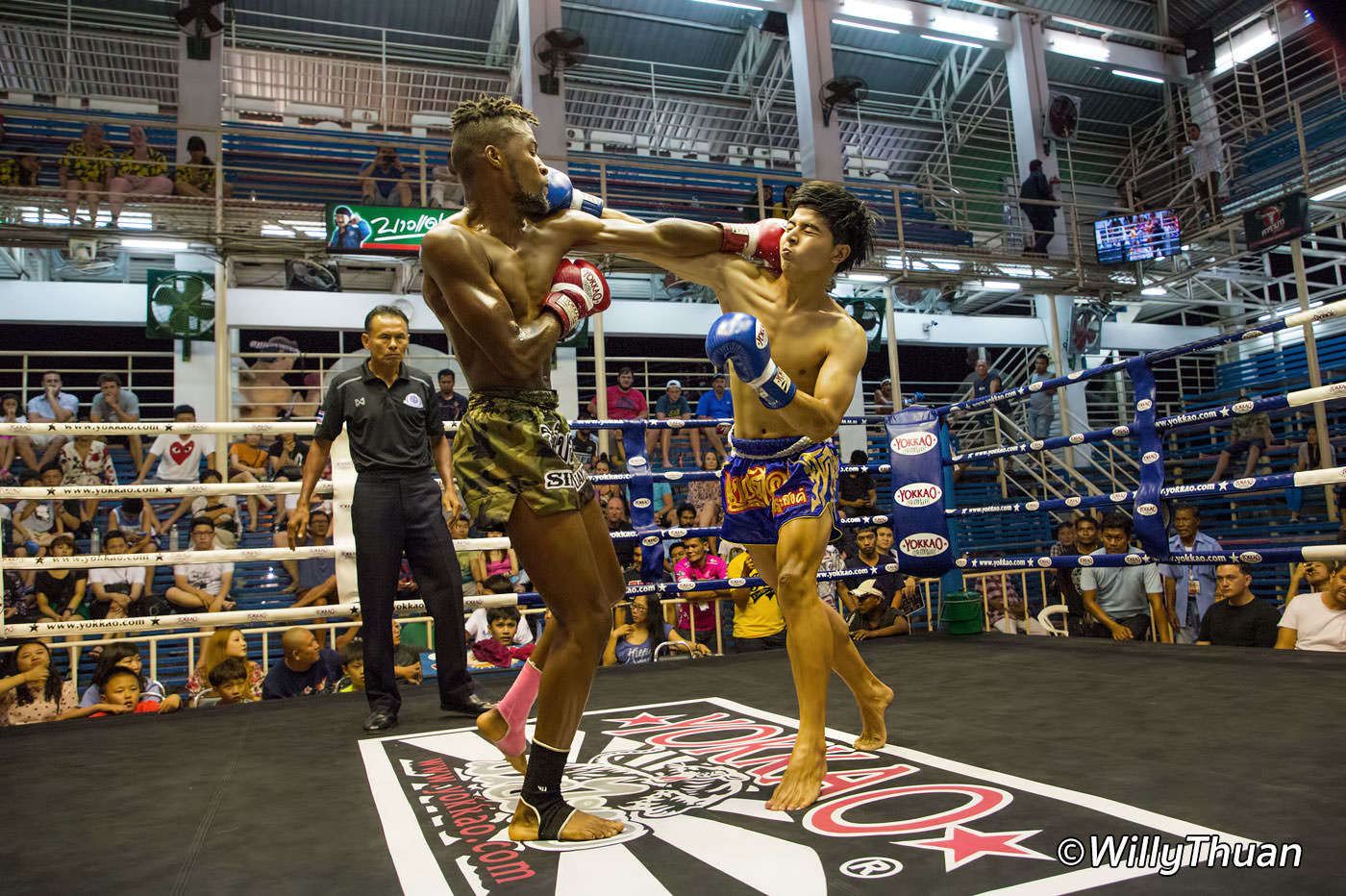 Muay Thai is a well known martial art, viral around the world. If this is your kind of action, you won't have to go very far to watch a Muay Thai match. There are two stadiums in Patong and Bangla Boxing Stadium is the easiest to find, just behind Jungceylong Shopping Mall.
---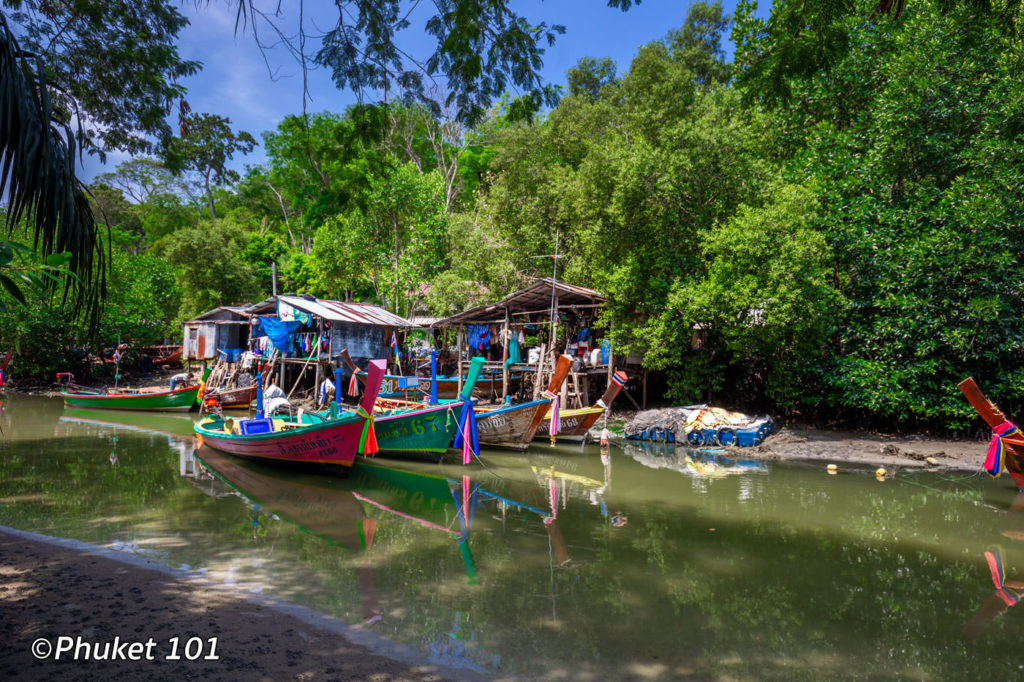 Under the bridge at the end of Patong is a surprisingly old-fashioned fishermen village, where locals park their longtail boats when not in use. Since it is easy to access, it may be worth a photo.
---
Just Outside Patong
---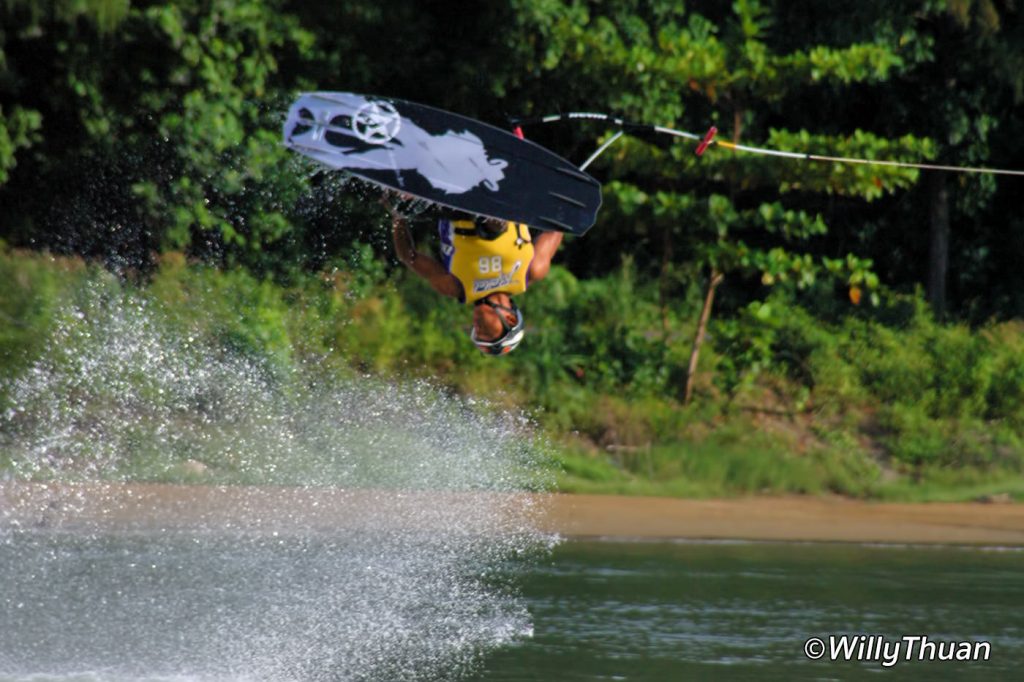 Phuket Wakepark is an 'O' shaped cable ski lake in Kathu, just outside Patong. It's enjoyable and exciting but requires a lot of energy and practice. It's not cheap, but it is fun and unforgettable.
---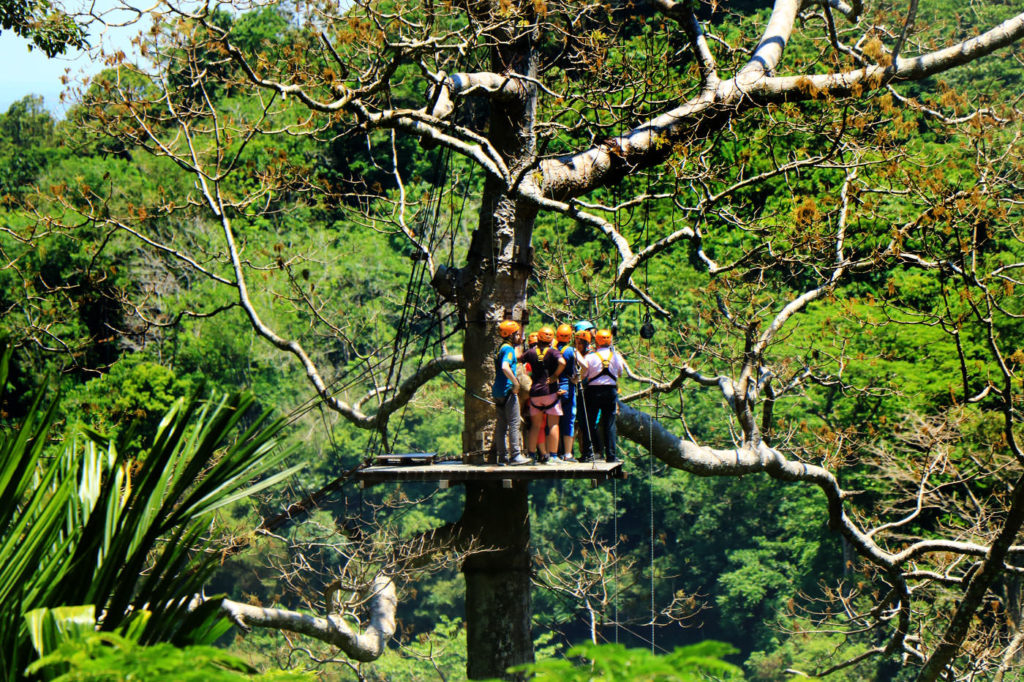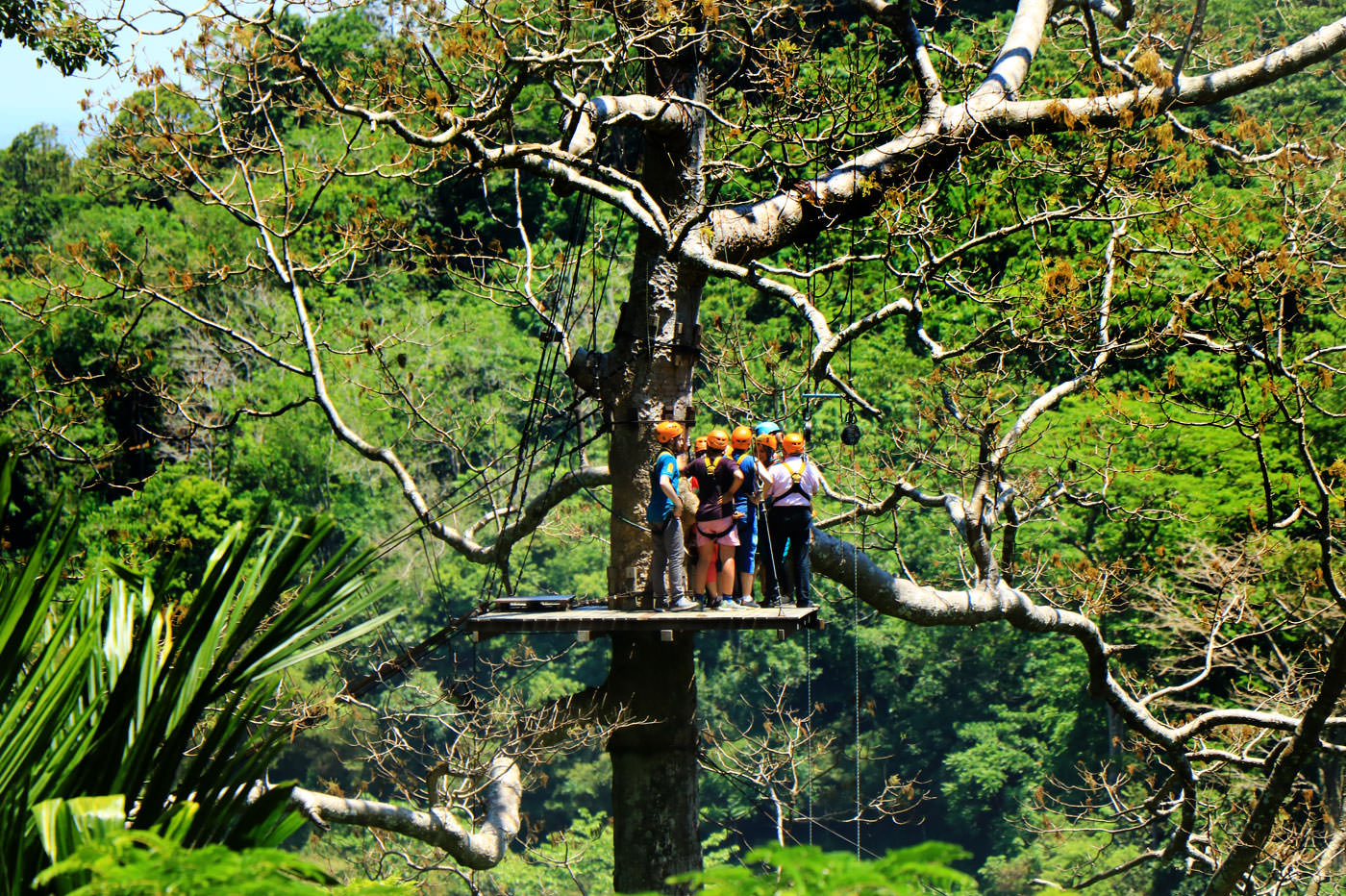 Zipline is a great way to spend a cloudy afternoon with family or friends. Flying Hanuman is a 15 ziplines course set in the jungle just on the other side of the mountain behind Patong.
---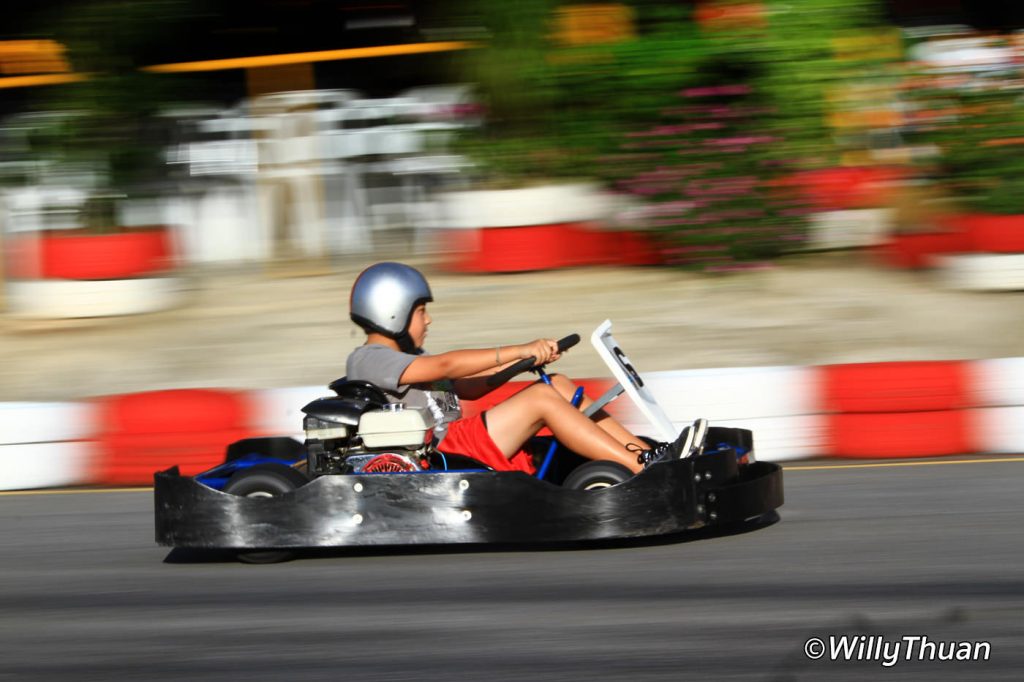 Need a bit of adrenaline rush after a long lazy day on the beach? Go-kart is a fun way to spend a couple of hours racing with friends and family.
---