A rooftop on the 19th floor in Patong
Andaman Sky Lounge is one of the least known rooftop bars and restaurants in Phuket. It's quite easy to find this place in Patong, but it took us a while to review it. The bar is on the 19th floor of the Andaman Beach Suite and can accommodate between 30 to 50 people. The tower itself is 21 floors high and is just a couple of blocks from the beach, making is a great place to enjoy the sunset.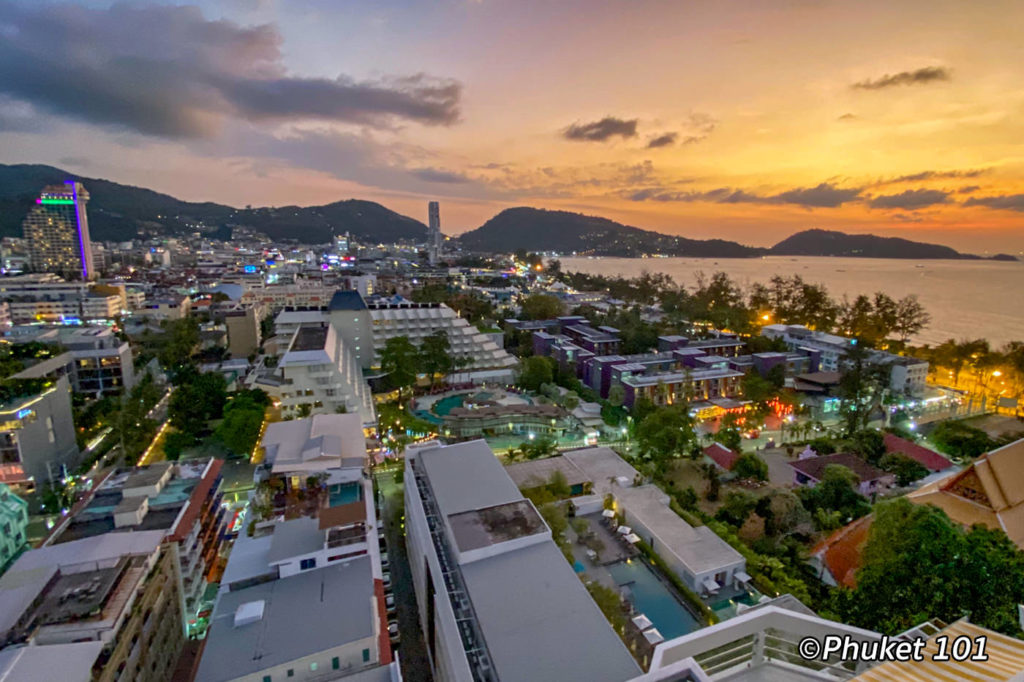 You won't have much difficulty to spot the tall tower of Andaman Beach Suite since there are only 3 or 4 towers in Patong. This is not a coincidence, about 20 years ago, the municipality passed a law that forbade any building to be taller than a palm tree. When you know how popular Patong is and how greedy real estate is, imagine how many towers there would be here! There is nothing to block the view in front of the rooftop.
Andaman Sky Lounge has 3 areas:
The side terrace, with tables and chairs, where most people go directly. The back of that terrace has a sofa where groups tend to gather, but the view is the back of Patong and the hills beyond, including the Doi Thepnimit temple hidden in the trees high up the hill.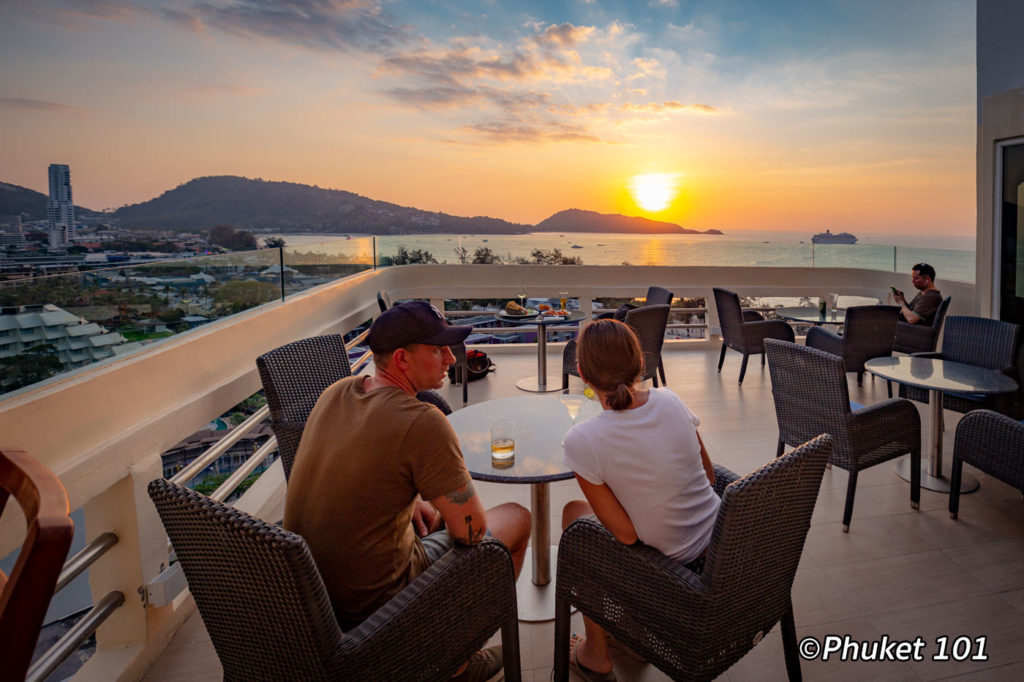 The outdoor front counter where the guests sit side by side, and it is actually quite a good place. Here everyone faces the bay and can cheer to the sunset.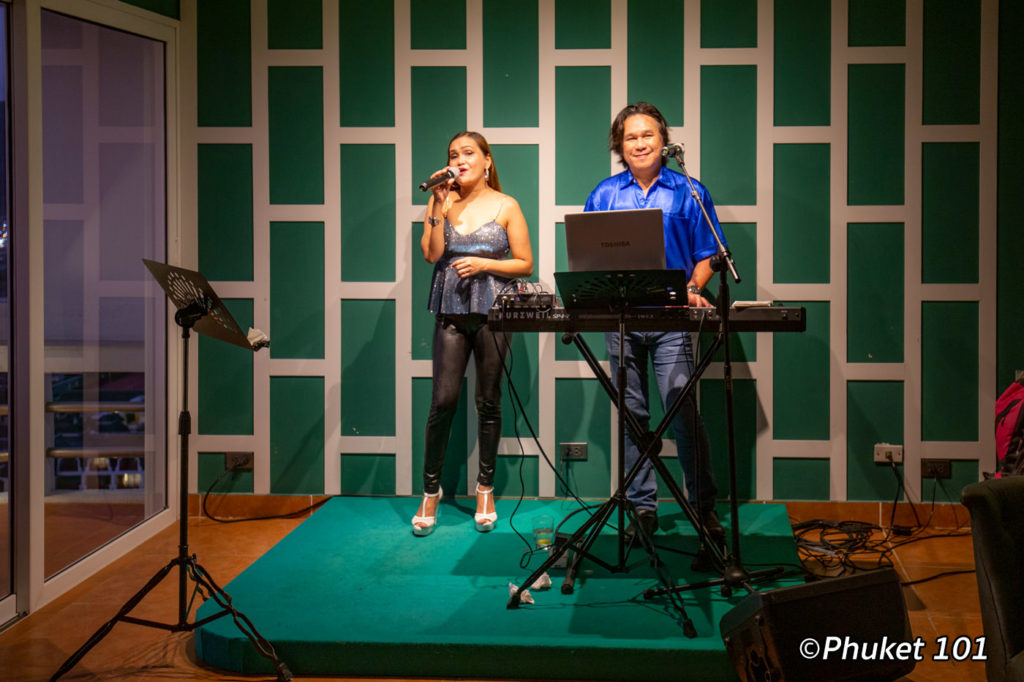 The indoor room is partially air-cond but as you can imagine, is the least popular sitting area. If the rain comes, because it does sometimes, it's a welcoming shelter. This is also where a good live band plays every evening to create a cool holiday atmosphere to go as the sun goes down.
---
The food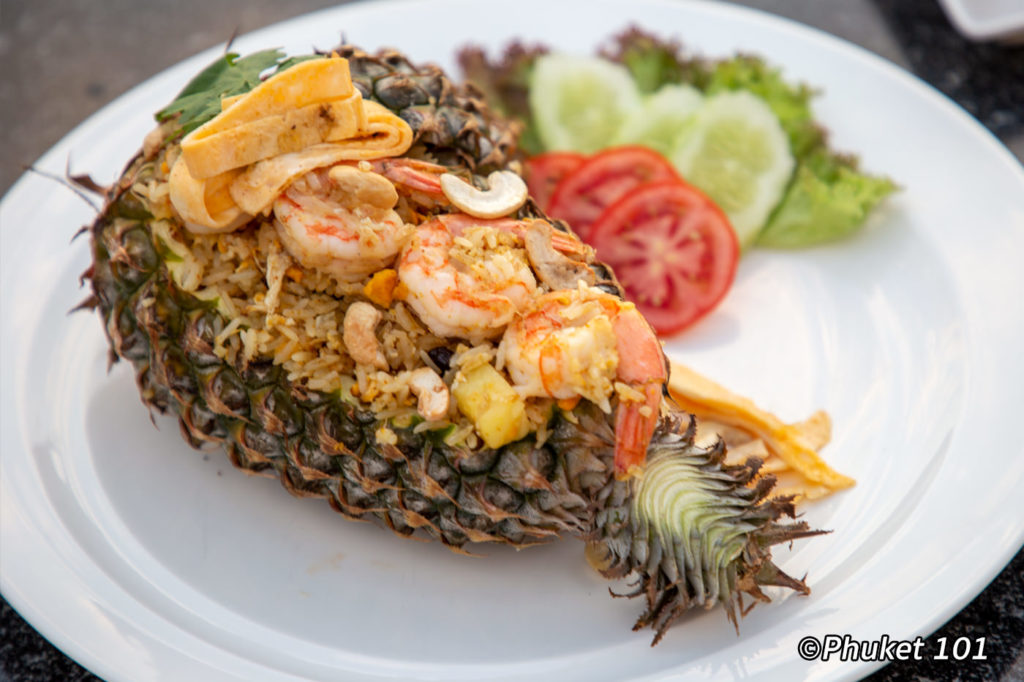 Food and drinks are good, and the menu is a mix of Thai and international tapas. The price is a little high but rooftops always are. It's quite casual because most people don't come for a culinary experience but for a good place to cheer with a superb view. We had Thod Mung Kooh, those popular and delicious deed fried prawn cakes (250 baht), tomato bruschetta (190 baht) and that all times favourite fried rice in a pineapple (300 baht). A Singha beer is 110 baht and a glass of Sauvignon blanc from Marlborough is 250 baht.
---
Andaman Sky Lounge Photos
---
Andaman Sky Lounge Info
Location: Patong Beach
Address: 60/12 Rat-U-Thit 200 Pee Rd Patong, Phuket 83150
Open: 5 pm – 11 pm
Phone: 076 341 879
Altitude: 19th floor
---
Andaman Sky Lounge Map