What to Do on Paradise Beach?
UPDATE: Paradise Beach is open and the entry fee is now 200 baht, including a drink
Paradise Beach Phuket is just 4 kilometres from Patong Beach and consists of two small sandy bays with blue water, soft sand and coconut trees. You will find plenty of beach chairs, bars, restaurants, shops and massive parties on some nights. Yes, Paradise Beach is small, remote and not easy to find if you don't know, but it is becoming increasingly popular, mainly since it used to host Phuket Full Moon Parties.
Paradise Beach Video
Subscribe to our YouTube for more Phuket videos!
---
Paradise beach used to be difficult to find until a concrete road made it easier to reach. It suddenly became trendy as it is very close to Patong and it was a bit like discovering a secret beach.
This Robinson Crusoe atmosphere is long gone, but Paradise still has a lot to offer. If the main beach gets too crowded for you, walk 100 meters to the left above a small hill, and a flight of stairs will take you to a surprisingly quiet sandy cove.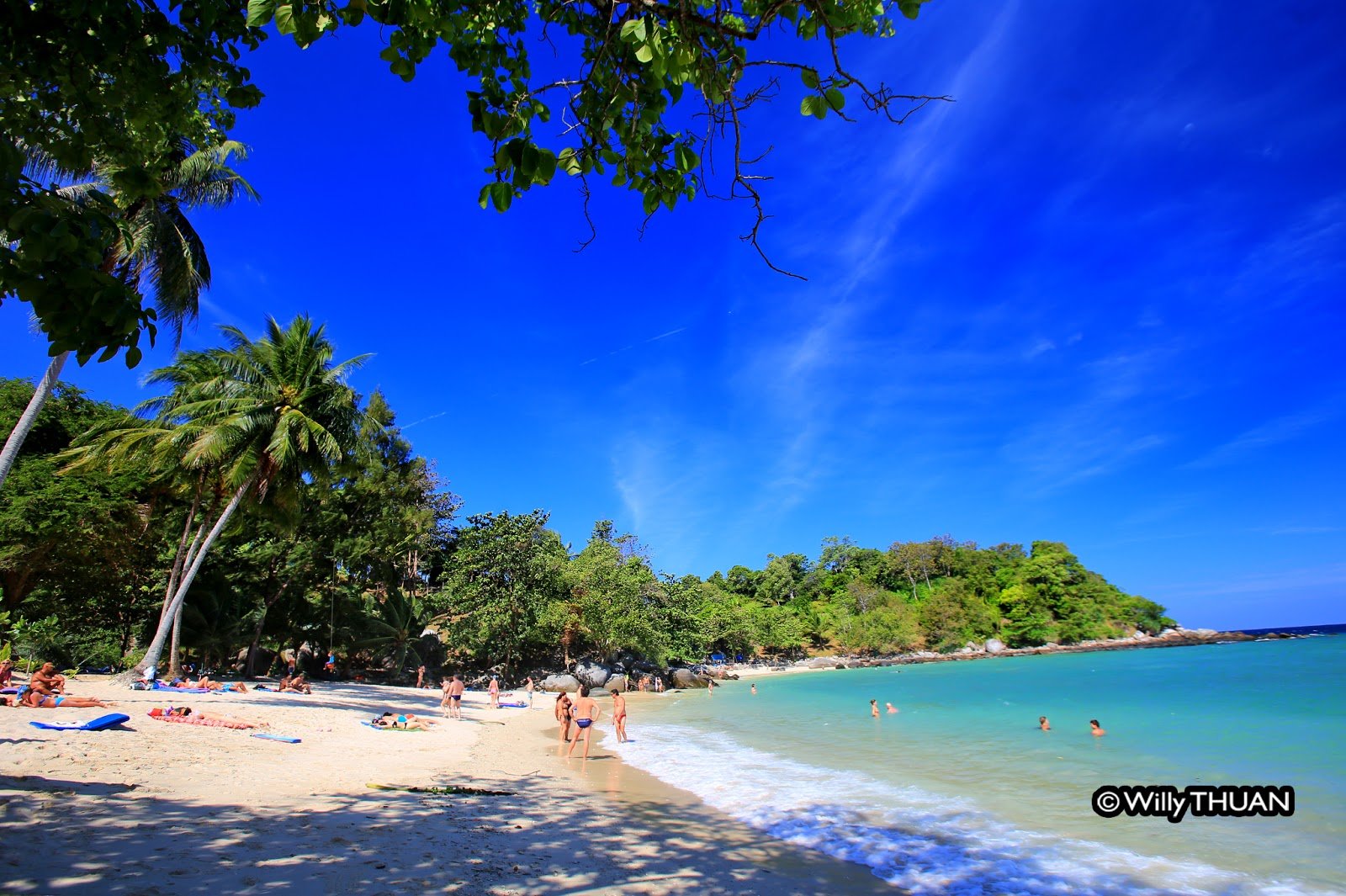 ---
The Main Beach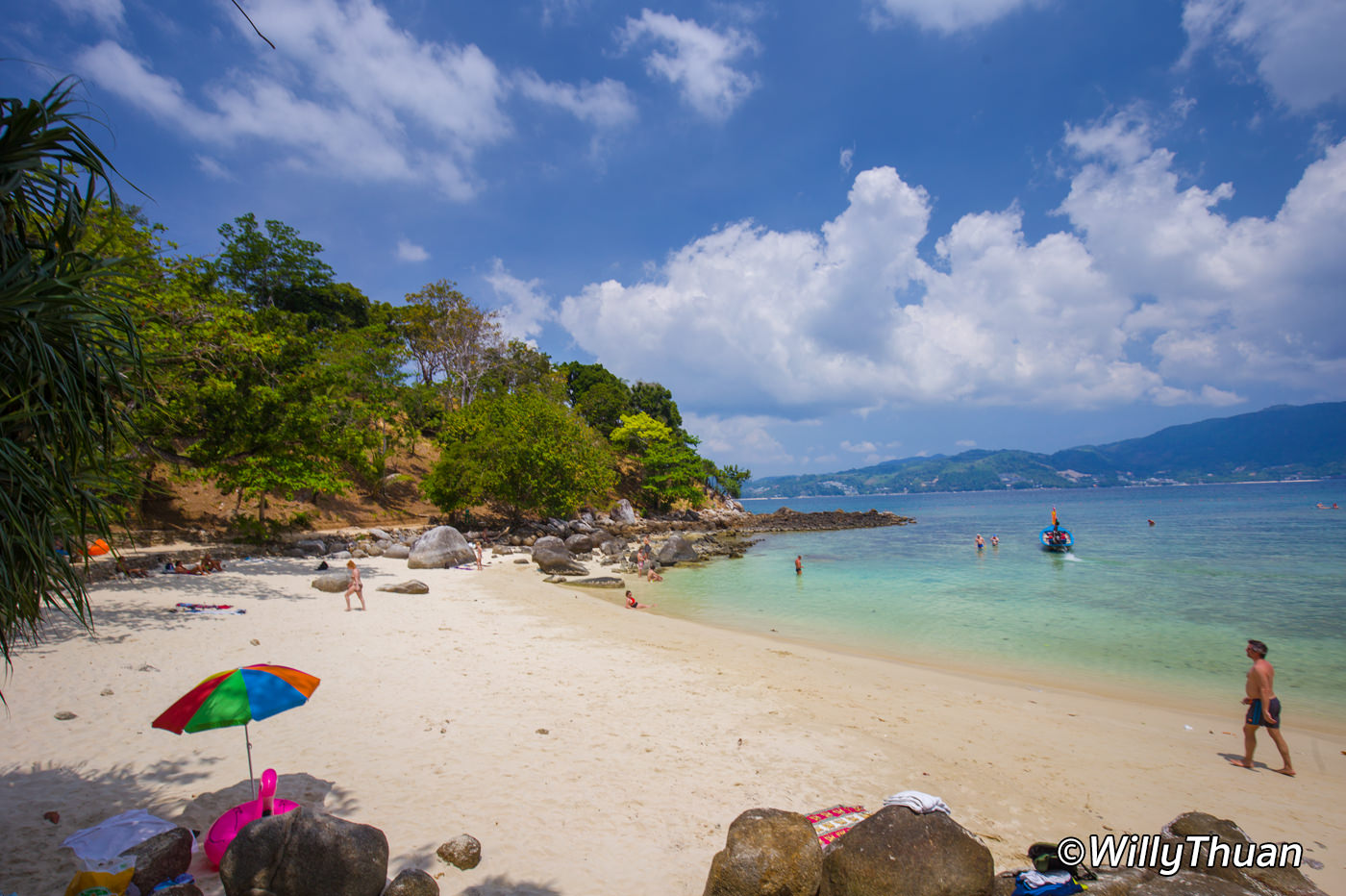 If you ever explored this beach in the past, you will probably be shocked as the main beach has tremendously changed in recent years. It was always a bit crowded with many beach chairs and a couple of restaurants, but it now looks more like a cross-breed between a village and a shopping mall. All around the beach are restaurants, shops, bars, stages, dance floors and more colourful shops. It's not to everyone's taste, and the entrance is not free, but it still attracts crowds.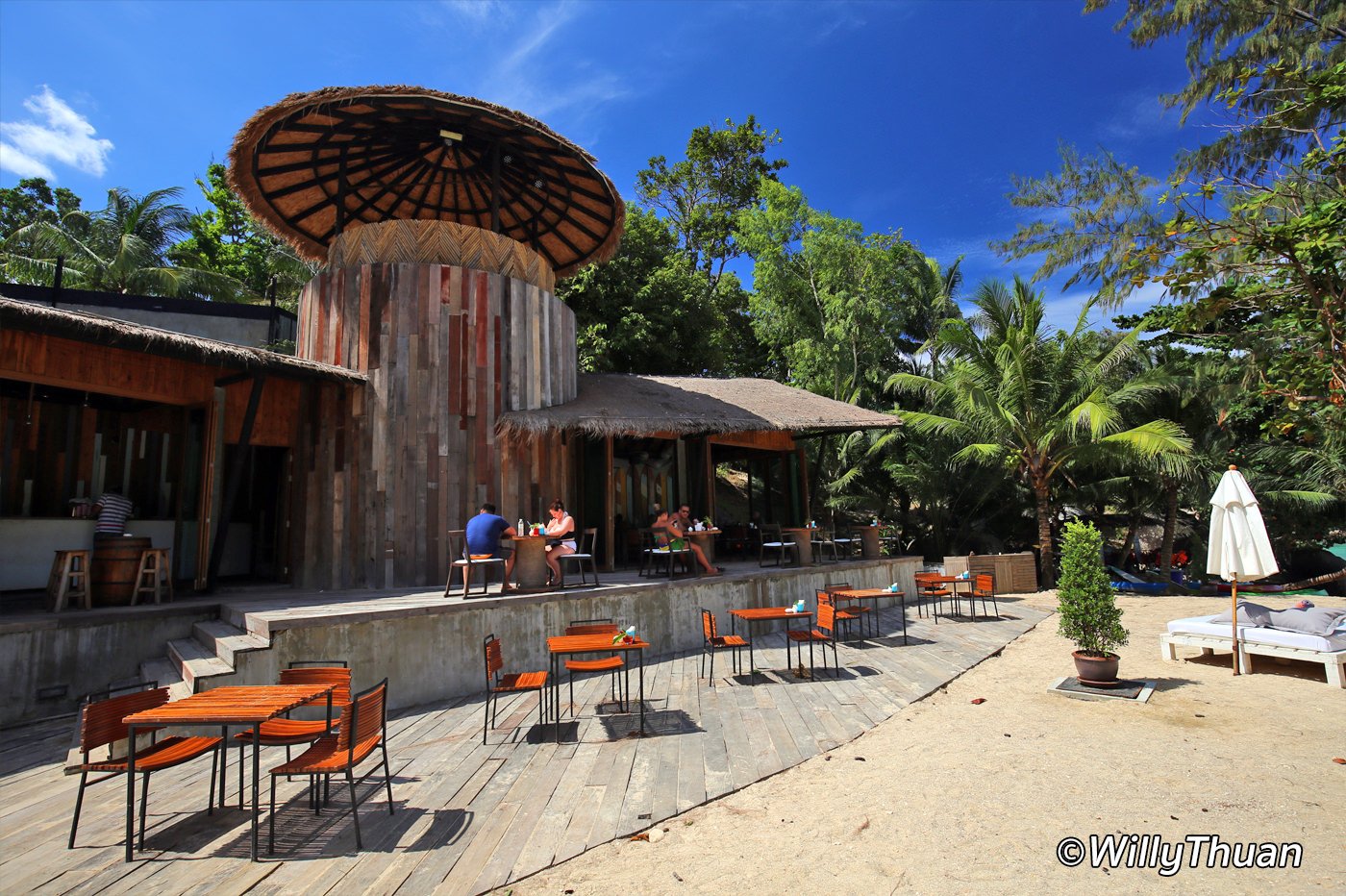 Phuket 101 receives 250,000 monthly visitors on average (500,000 pageviews/month).
If you wish to advertise on this space or other options available on Phuket 101, just contact us.
---
How to get to Paradise Beach?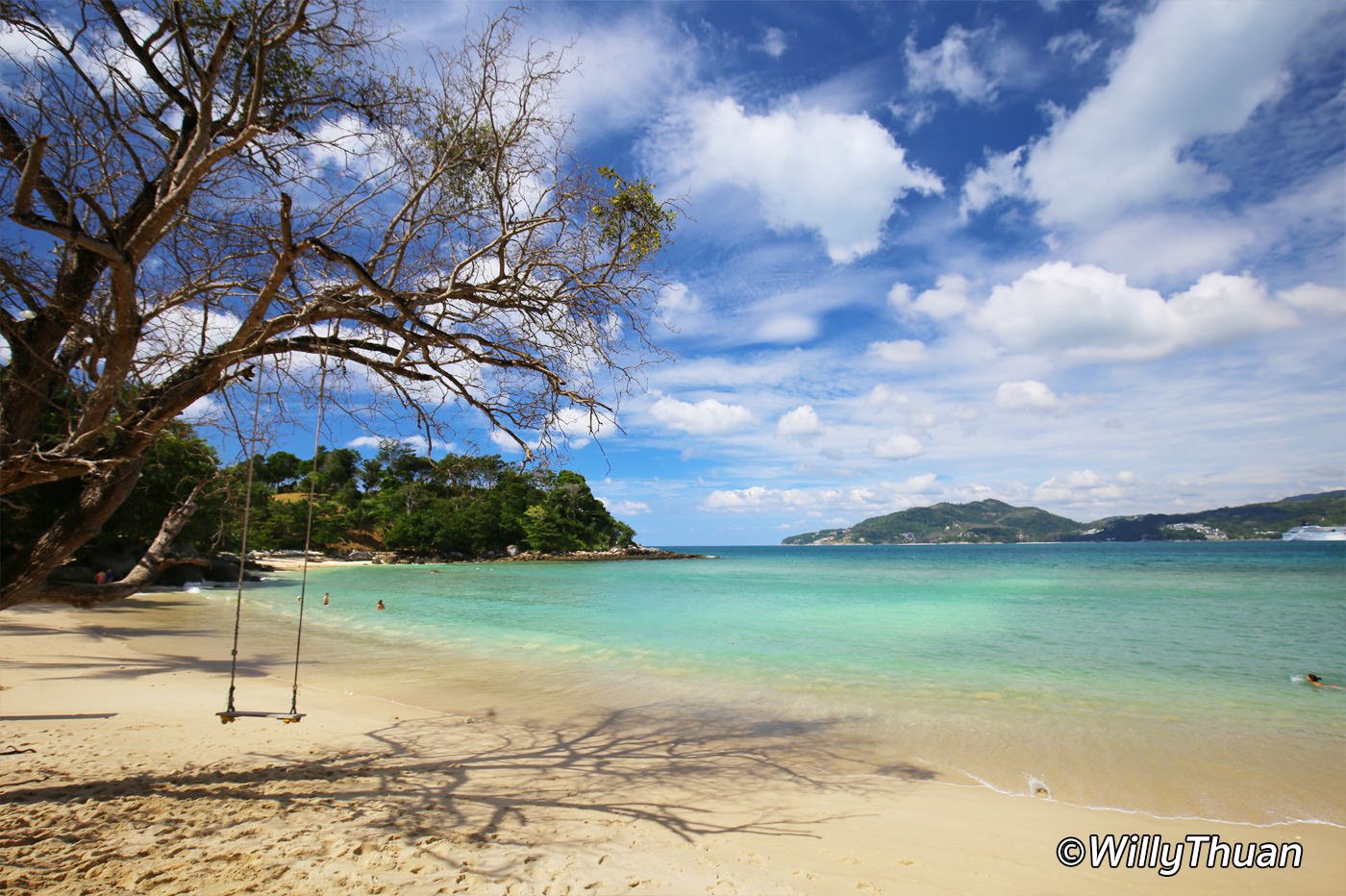 On your own: From Patong Beach, drive south to the bridge leading to the well-known 'Amari Phuket', and turn left right after the bridge. Then follow for a few kilometres until you reach the 'Marriott Merlin Beach Resort' on your left and the nice Tri Trang Beach on your right. A sign pointing to 'Paradise Beach' a the bottom of the hill will show you to continue further for another 2 or 3 kilometres. The road is quite narrow but nicely paved, which makes it fairly easy (too easy). You will arrive at a vast parking area that can accommodate more than twenty cars and many bikes. From there, a shuttle will take you to the beach (again, it's now all free).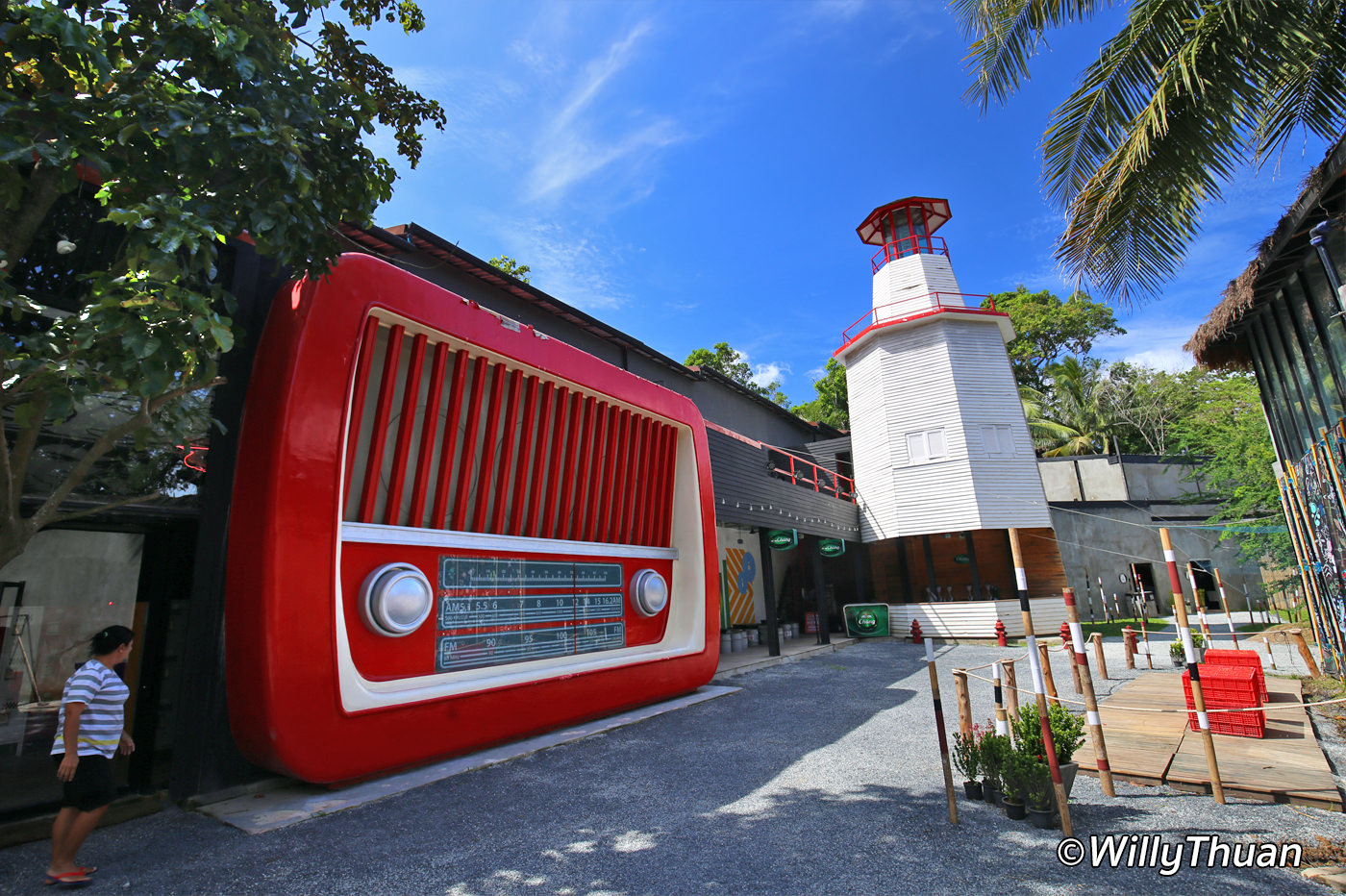 By Shuttle: Look for the yellow truck at Jungceylon Mall; it's free and every 30 minutes. (see map)
9:00 am to 9:00 pm, every 30 minutes
9:00 am to 4:00 am, every 30 minutes for the Full Moon Party
Map to Paradise Beach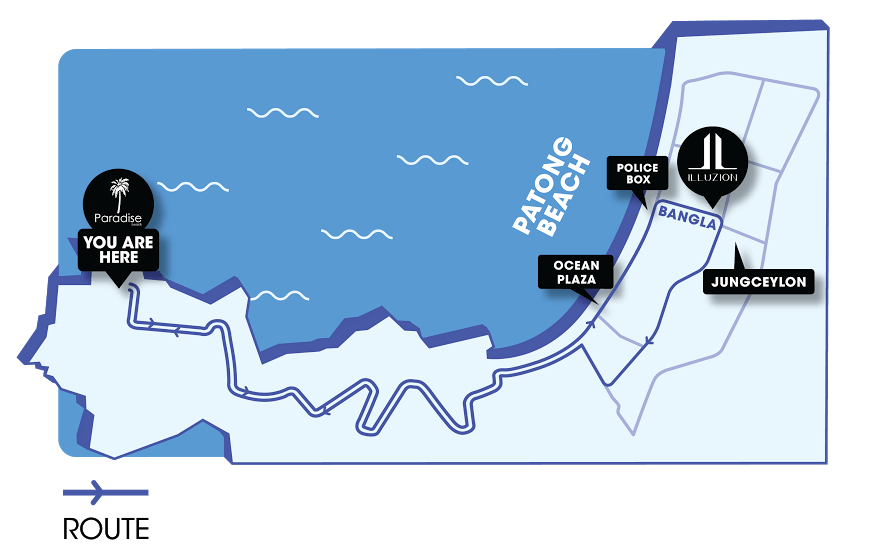 ---
---
There are at least two types of parties on Paradise beach: Full Moon and Half Moon. Obviously, the Full Moon Party is the most popular. There is an entrance fee to join, but there are plenty of free shuttles between Patong and the beach on those nights.
360 view of Paradise Beach
---
More Photos
---
Paradise Beach Info
Location: 4 km south of Patong
Address: 109 Muean-Ngern Rd., Patong, Kathu, Phuket, 83150 Thailand
Tel: 083 743 9009
Open: 9 am – 7 pm
Price: 200 Baht (price may change anytime)
---
Paradise Beach Map
If you are on mobile, add the map here: https://goo.gl/maps/KdYFtcaHmX9ef9Zq9
---
---