Phuket Marriott Resort Merlin Beach Review
Phuket Marriott Resort Merlin Beach is a 5-star hotel with a unique location on Merlin Beach in Phuket, just a few kilometres from the busy Patong and yet in superb and quiet surroundings. Marriott Merlin Beach Resort is a large hotel built on vast land surrounded by hills and beaches.
Quick Hotel Summary
Hotel Summary & Guests Score

Hotel Summary

The Beach
The hotel is right on a beautiful semi-private beach, great to relax but not great for swimming.
The Hotel
5-star beachfront hotel.
The Facilities
8 restaurants and bars and 3 immense swimming pools. Spa, fitness, Kids club, snorkelling and diving.
What's Around?
A few nice panoramic restaurants near the hotel. Beautiful setting for lunch or dinner.
Who is it for?
Traveller who want a quiet location with a beautiful beach, at a short driving distance to the popular Patong Beach.
Worth Noticing
While the beach is not great for swimming, it is great for snorkeling and there is another good beach across the street.
Price
Good value for money
Hotel Location

Click here to see this hotel on the map 📍
Check the rates with your favourite websites
---
Video of Phuket Marriott Resort & Spa, Merlin Beach
Subscribe to our YouTube for more Phuket videos!
The overall layout hasn't changed, and the immense pools are still as beautiful, surrounded but no less than 400 rooms. Apart from this, everything else is new: the new team is super friendly and will make you feel at home from the moment you walk in.
The Beach
Phuket Marriott Resort Merlin Beach occupies an immense beachfront land and doesn't feel compact or crowded. The bay might not always be suitable for swimming, but it's one of Phuket's best snorkelling spots (if not the best). We also loved the immense palm trees standing everywhere above the swimming pools, creating a tropical backdrop for your holiday selfies. Each photo turns into a holiday postcard.
The Rooms
The rooms, just like the entire resort, have been refitted with a better layout and setting, taking advantage of the space. The style is contemporary Thai with warm tones and many wood and terracotta floors. All rooms have comfortable balconies to enjoy the pool or ocean view. As usual, we checked how many electric and USB plugs we could get in the bedroom, and we had more than we needed.
Phuket Marriott Resort Merlin Beach is a 5-star international brand, so all the amenities you can expect are available: fridge, bathrobe, slippers, dryers, safe box, you name it. An espresso machine would have been excellent, though it seems to have become common in all 5-star hotels of Phuket. The bath products are from the famous Thai brand THANN, which is a nice touch.
With 400 rooms, you can expect a lot of room types, no less than 11 to be precise, mostly pool view and pool access but also beach view and beach access suites. Those with sea views are the most popular, but there are not many, so better to book early.
The Restaurants
Phuket Marriott Resort Merlin Beach has a nice collection of excellent restaurants:
Thai Pantry
On the first day, we tried the Thai Pantry, which serves Thai dishes with a modern touch, which doesn't sacrifice the authentic taste. We asked for 'spicy' as we know that often restaurants in hotels tend to tone down Thai food, and it comes very spicily, just the way we like it.
We tried the classic Tom Yum Goong (a traditional Thai spicy river prawn soup – 280 baht) and a Neua Pad Kraphao (Wok-fried beef tenderloin with hot basil and chilli – 380 baht). It was excellent, and we could see that our neighbours were enjoying their dishes too.
---
DOCG Italian Restaurant
DOCG is an excellent Italian restaurant with outstanding traditional cuisine and a good wine list. We ordered a Beef Carpaccio (290 baht), Calamari Fritto (290 baht) and the dish of the day: a Beef cheek. The beef cheek was big and intimidating but surprisingly light and tender. Don't miss a chance to try one of the cocktails mixed at the restaurant. The 'Count's Negroni' cocktail was so good we ordered a couple more after the first (325 baht).
---
Merchant Kitchen
Merchant Kitchen is the largest restaurant serving international cuisine, but that's where you'll enjoy your breakfast buffet. Of course, the seats outside by the pool are the best as you enjoy the fantastic blue and palm trees, but it gets busy pretty fast. The buffet is huge, with a bit of everything for everyone, just as we expected. And because Marriott is a holiday resort, the buffet is open until late!
---
You can take a break at Beach Grill during the day, a garden restaurant facing the sea. For us, it's the perfect location for writing, and once we get tired, we swim to the pool bar, which is always the best way to get that unique holiday feeling!
The Kids Club
Phuket Marriott Resort is indeed a good family resort. The Kids Club is not too big, just the right size for children to feel comfortable and not isolated. Everyone seemed happily busy with their friendly team and many activities and games. The Kids Club is colourful and well-designed, with plenty of interactive games. The kids' pool features fun water cannons and water slides. You can also get a babysitter if you place your request one day before.
Activities
The coral house reef is beside the resort, a unique base for snorkelling and beach diving. The hotel has a dive centre, so don't miss this chance to try your first dive! It's easier than you think since you can dive directly from the beach in only half a day! The 'Try Dive' for beginners at the house reef starts at 2,900 baht, it's a great opportunity, and you might get to see some sea turtles.
Usually, even the most basic diving experience consumes an entire day. Here you can have the rest of the family enjoy something else at the hotel while you dive. Even better, make it a family experience, as kids can start as you as ten years old. How unique is this! Once you have gone through your introductory dives, you can learn further, embark on a real diving holiday, and take a scuba-diving course available at the hotel. You can even take day trips to dive at one of the great islands around Phuket.
Phuket Marriott Resort is also developing a friendly butterfly garden on the side of the hotel. Don't go imagining a large enclosed cage with hundreds of insects. It is an open garden growing the type of plants that butterflies seek food and reproduction to come from their own will. That is still mostly a project, but it will be interesting to see it succeed.
---
Spa
A hotel in Thailand would not be a true 5-star without a good spa. The spa features six treatment rooms, including a couple of rooms and offers a full array of treatments: facials, body scrubs, body wraps, and couples massages. The spa is great for relaxing and helps to adjust your jet lag and is perfect after a long day of exploration or to cool down a sunburn. And as everyone knows spa is the first place everybody thinks about on an occasional rainy day, book early!
Nearby beaches
Not only the Phuket Marriott Resort Merlin Beach has its secret beach, but just around the corner, you can enjoy more superb beaches. The amazing Freedom Beach is now famous for its soft white sand and magnificent water. If you know how difficult it is to get to freedom beach, you'll be happy to hear that you can use a kayak from the hotel.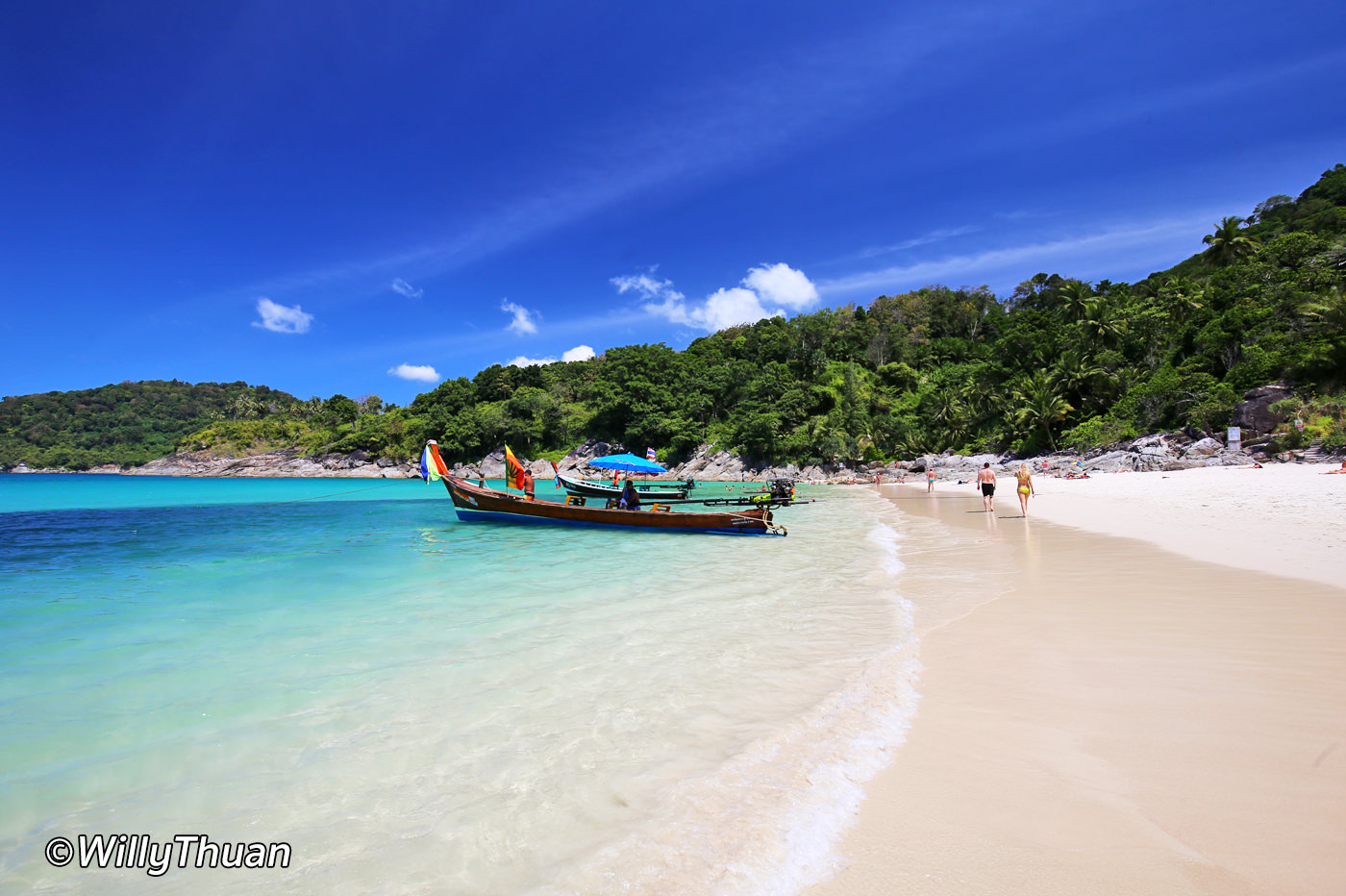 A little further, Paradise beach is famous for its tropical atmosphere and monthly full moon parties. Then Tri Trang beach is just across the street, so you are spoiled with beaches!
The garden between the hotel and the beach is a lovely place to spend the day suntanning or participating in many activities such as yoga or Muay Thai training, and easy access to the beach or restaurants.
---
More Photos
Information
Bookings and Availabilities:
Check the rates with your favourite websites
---
Phuket Marriott Resort Merlin Beach Info
Location: Merlin Beach
Address: 99 Muen-Ngoen Road Tri-Trang Beach, Patong Patong Phuket, Phuket 83150
Phone: 076 335 300
Open: 24 hours
---
Factsheet
| | |
| --- | --- |
| ⛱️ Main beach nearby: | Merlin Beach |
| ⛱️ Distance to the beach: | on the beach |
| ⛱️ Beach condition: | beautiful but rocky |
| ⭐ Range | 5-star |
| 🏊‍♀️ Swimming pools: | 3 |
| 🍴 Restaurants and bars: | 8 |
| 🛍️ Facilities | Spa, fitness, Kids club, snorkeling, diving |
| 🚙 Distance to Patong center (Bangla): | 3 km |
| 🚙 Distance to Phuket Town: | 19 km |
| ✈️ Distance from Phuket International Airport: | 41 km |
---
Phuket Marriott Resort Merlin Beach Map
Get the directions on your phone: https://goo.gl/maps/7SyRWzHdPGrhhJoAA
---
---
---
FAQs about Phuket Marriott Resort Merlin Beach
Q. How far is Phuket Marriott Resort Merlin Beach from the beach?

A. Phuket Marriott Resort Merlin Beach is a beachfront property, so it is located right on the beachfront with direct access to a semi-private beach.

Q. What are the main attractions around Phuket Marriott Resort Merlin Beach?

A. Some main attractions around Phuket Marriott Resort Merlin Beach include Tri Trang Beach, Patong Beach and Karon Beach to the South. Near the hotel are two beautiful secluded beaches: Freedom Beach and Paradise Beach.

Q. Are there any restaurants in Phuket Marriott Resort Merlin Beach?

A. Yes, Phuket Marriott Resort Merlin Beach offers eight restaurants and bars, including Thai, Italian, and international cuisines.

Q. How far is Phuket Marriott Resort Merlin Beach from Phuket Town, Phuket Airport, and Patong Beach?

A. Phuket Marriott Resort Merlin Beach is approximately 19 km from Phuket Town, 41 km from Phuket Airport, and 4 km from Patong Beach.

Q. What time are check-in and check-out at Phuket Marriott Resort Merlin Beach?

A. Check-in at Phuket Marriott Resort Merlin Beach is typically at 3:00 PM, and check-out is at 12:00 PM.

Q. Does Phuket Marriott Resort Merlin Beach offer free Wi-Fi?

A. Yes, Phuket Marriott Resort Merlin Beach offers free Wi-Fi to its guests.

Q. How many rooms are there at Phuket Marriott Resort Merlin Beach?

A. Phuket Marriott Resort Merlin Beach offers a total of 414 rooms, including deluxe rooms, family rooms, suites, and villas.