What to do on Merlin Beach?
Merlin Beach, Tri Trang Beach, Paradise Beach, Freedom Beach, which is which? Whenever we post a photo of any of these beaches, it starts endless discussions, which is still confusing. The names' similarities, plus the fact that some of these beaches were hard to reach until recently, didn't help. However, these four beaches are located around a peninsula just south of Patong Beach, so let's clarify.
Merlin Beach Video
Merlin Beach is the least known of all four beaches unless you are a guest of the Phuket Marriott Resort Merlin Beach, of course, in which case this beautiful strip of sand is all yours. Still, any other traveller would miss the small dirt road along with the hotel that leads to the beach.
In theory, the concept of a private beach doesn't exist in Thailand, but owning the land surrounding the beach ends up the same. In the case of Merlin Beach, you won't have this problem as the road that leads to the beach is visible once you know where to look! That dirt road is just a few hundred meters long. Once you reach the beach, you'll first see the usual massage huts and the beach beyond it. The area is nice, and while the sea is not great for swimming because of the coral, it is one of the best spots in Phuket for snorkelling.
Where to stay on Merlin Beach?
There is only one hotel on this beach, and it is a superb resort with plenty of outlets, restaurants and activities, especially snorkelling.
Phuket Marriott Resort Merlin Beach is a new 5-star hotel with a unique location on a semi-private beach in Phuket, just a few kilometres from the busy Patong and in superb and quiet surroundings.
Location: Merlin Beach
Address: 99 Muen-Ngoen Road Tri-Trang Beach, Patong Patong Phuket, Phuket 83150
Phone: 076 335 300
Open: 24 hours
Range: 5-star
Swimming pools: 3 pools (3,603 sqm)
Restaurants and bars: 8
Distance to the Beach: on the beach!
Phuket 101 receives 250,000 monthly visitors on average (500,000 pageviews/month).
If you wish to advertise on this space or other options available on Phuket 101, just contact us.
Where to eat on Merlin Beach?

On a green hill at the south end of the beach, a flight of stairs will take you to Little Tiger, a very welcoming restaurant with a superb birdview of the bay. The restaurant might not serve spectacular food, but a charming spot to enjoy a sunset drink.
Other famous beaches near Merlin Beach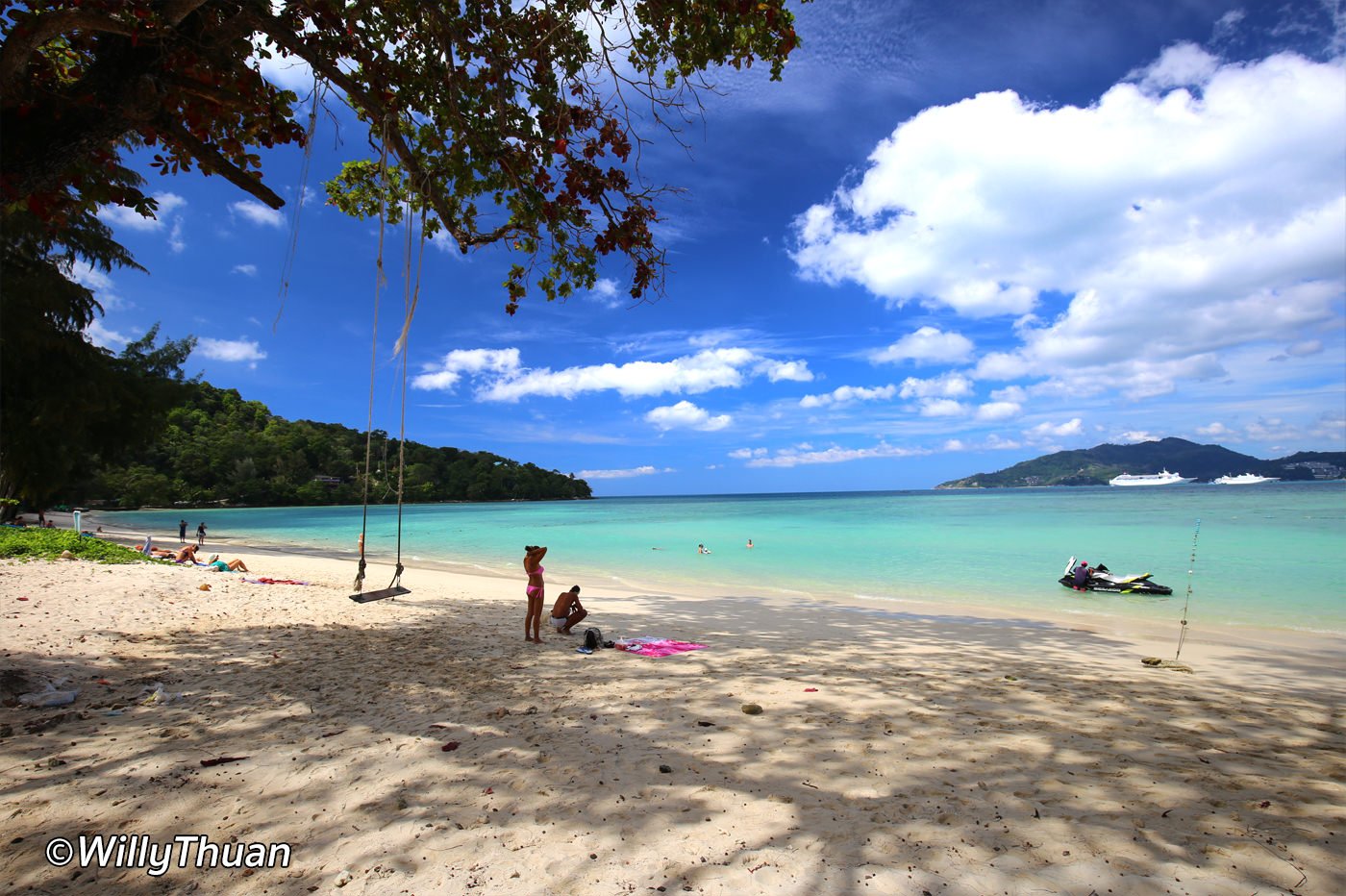 Now just on the other side of the road is Tri Trang Beach, often mistaken for Merlin Beach, which is probably the origin of the confusion. Tri Trang is the longest of all four beaches and is home to Rosewood, a 5-star hotel recently opened. With a couple of bars, only Tri Trang Beach started to be a popular escape for those who don't like Patong's crowded beach but wish to stay nearby. The sea is shallow and rocky, not great for swimming, but a beautiful place to relax in the shade of huge trees.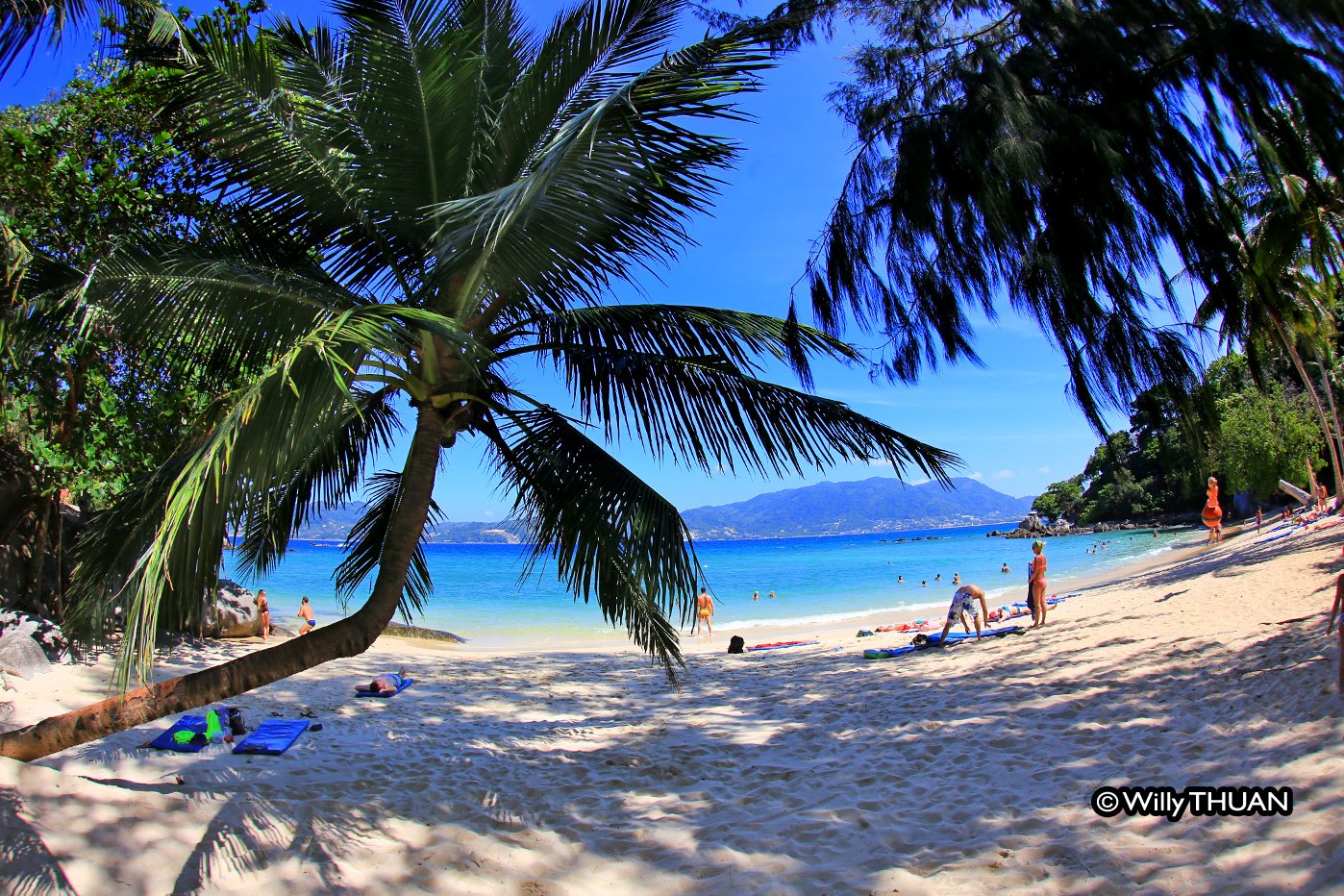 Past Tri Trang Beach, a small narrow road winds a few kilometres through a wooded hill until it reaches Paradise Beach. Paradise beach is a beautiful little double cove at low tide, but the beach shrinks so much at high tide that beach chairs have to squeeze next to each other. The beach entrance is not free; you'll have to pay 100 baht to get onto the beach, supposedly the fee for a beach chair, but even if you don't want one, they still charge. Go figure.
---
Then Freedom Beach is a fantastic beach only accessible but longtail boats, usually from Patong Beach. Occasionally there is a way to reach there by walking, but the gate is often locked, and the slope is seriously steep. In the high season, you'll find several restaurants and bars, umbrellas and beach chairs—a great place to spend the day. During low season, it's deserted as no longtail would take you there.
---
More Photos
---
How to get to Merlin Beach?
Merlin is a little bit hidden, but it is not a private beach. There is a small road to access it, and once you know where this street is, you will find the beach very easily. First, you must reach Patong, then aim to the south of the beach, direction Amari Phuket Resort. Cross the bridge and turn left, then from the bridge, drive about 3 kilometres. You can easily go there by tuk-tuk, taxi or self-driving:
From Patong Beach to Merlin Beach: 3 km
From Phuket International Airport to Merlin Beach: 41 km
From Phuket Town to Merlin Beach: 18 km
From Merlin Beach to Phuket Big Buddha: 25 km
---
Merlin Beach Map
Get this map on your phone ▷ https://goo.gl/maps/QfuQU3YyHwX2JrTR6.
---
---