---
What to do on Koh Racha Island?
---
Racha Island or Koh Racha Yai (also called Raya Island) is a small idyllic island just 12 kilometres south of Phuket, popular for day trips, snorkelling and scuba diving. The island is so small it can only accommodate a few resorts: The Racha, a real luxury hideaway, Racha Island Resort, Baan Raya Resort and the modest Bungalow Raya Resort. Believe it or not, even people living in Phuket need to get away once in a while and spend some quality time on another little paradise island.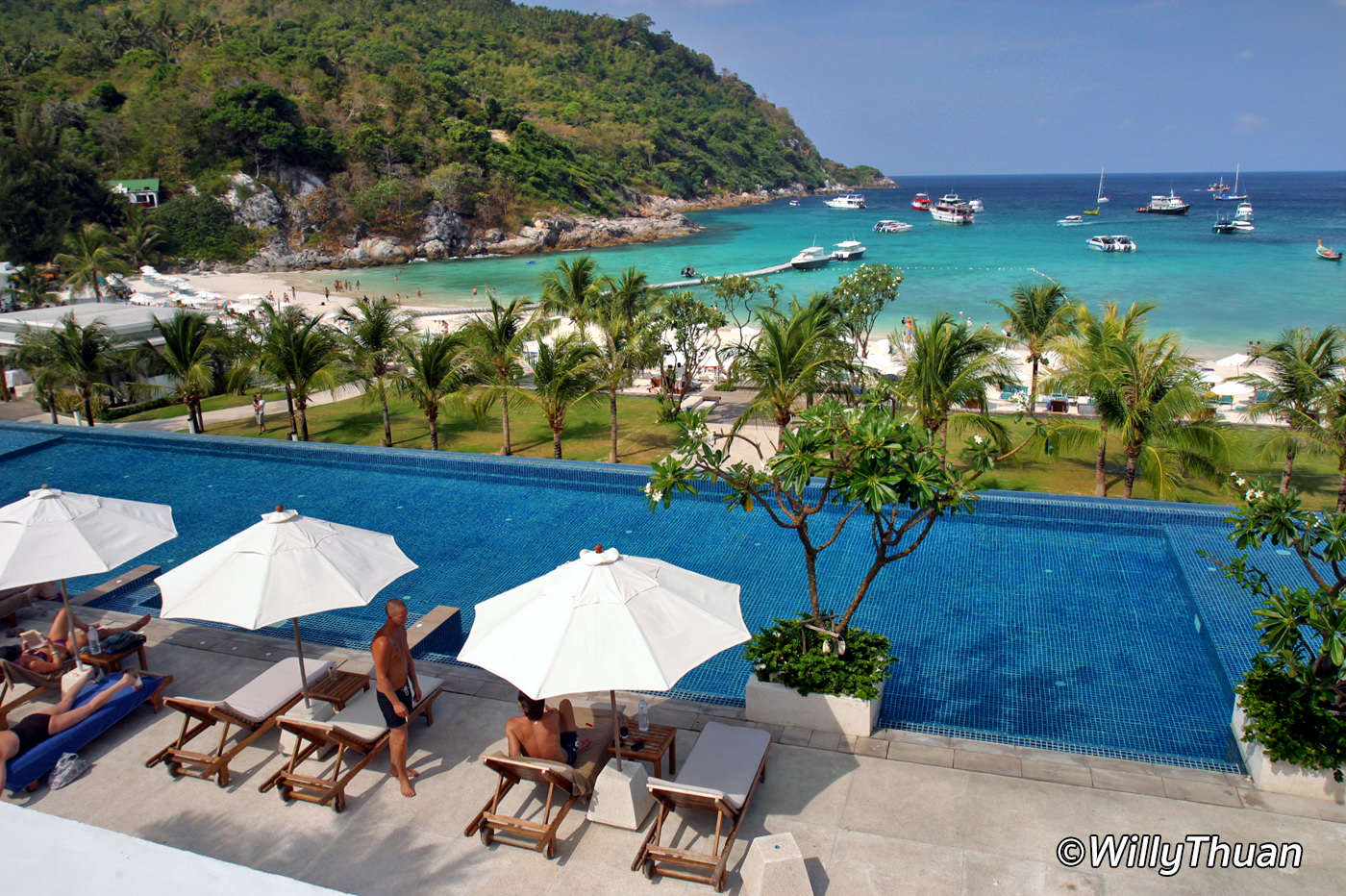 ---
How to go to Koh Racha
---
Koh Racha Yai is very easy to get to and will take about 30 mn by speed boat or an hour on a big slower boat, departing from Chalong Pier in the south of Phuket. You can book a day trip at any tour counters widely available around the island or even at your hotel tour counter. It is usually just a little more expensive, but very convenient since it's in front of you and they already know where to pick you up. If you book a stay at The Racha Resort, the transfer will be included.
---
Scuba diving
This tiny island is very well known by divers as a clear dive site, especially for beginners like me. I did my first dive there, and even without prior dive, the experience was fantastic. By twelve meters deep, the water around Racha Island is crystal clear; we felt like flying effortlessly above a surreal landscape! Gently drifting just a meter above corals formations full of life, fishes flying above and below and other divers in the far, it was simply amazing and a lot easier than anticipated. It was a diving day trip on a course called 'Discover Scuba Diving'. If you want to give it a try, even as a beginner, you too can easily book a diving day trip with any of the many dive centres in Phuket.
We did go back to Racha Island as we had to work on a complicated project and needed absolute concentration and no computers around. Ultimately, it was quite distracting! Racha Island was just what we needed: a tropical island with nothing else to distract us but the tropical blue sea, a white powdery sand beach, a fantastic sunset, and some great food by the beach.
---
The 3 beaches of Racha Island
---
Patok Beach
Patok Beach is where the floating pontoon welcomes guests during the high season. There are two types of accommodation on this beach: Luxury at The Racha and budget accommodation at Bungalow Raya Raya Resort. The beach is superb, with powdery white sand and incredibly clear blue water. Note that there are no loungers on the beach anymore.
---
Siam Bay
Siam Bay is a smaller but sandy beach facing north. It is home to the Raya Island Resort, a new and immense hotel.
---
Ter Bay
Ter Bay is a tiny rocky cove facing east, with just a couple of bars and umbrellas where the floating pontoon welcoming guests and speedboats is set during the low season.
---
The Racha is a true luxury resort for anyone who needs to get away from everything, be pampered for a few days and experience true Thai hospitality. The resort consists of seventy superbly designed villas and vast pools suites. The hotel guests can enjoy excellent Thai or international food in three restaurants, including an outdoor garden with immense coconut trees. If you don't have a private pool, the infinity pool above the restaurant is superb and spacious.
Best of all, you can enjoy sunset cocktails on comfortable sofas just above the white beach, probably the best spot to be! The spa is an experience not to be missed, whether it is to release stress or treat the day's sunburn. The hotel is part of The Small Luxury Hotels of the World and a very proactive eco-friendly resort.
---
Racha Island Resort
The Racha Island resort is an immense hotel with Sino Portuguese architecture and design influenced by old Phuket Town's historical streets and mansions. It features two swimming pools and a beachfront restaurant.
---
Photos of Racha Island
---
Racha Island Info
Distance from Phuket: 12 km
Main island: Koh Racha Yai
Main hotel: The Racha Resort
Activities: Snorkeling, scuba diving

---
Racha Island Map
---
More reading