Phuket Best Beach Club: Cafe Del Mar in Kamala
Cafe Del Mar is not the latest beach club in Phuket because they pop up faster than rooftops in Bangkok, but having our own Cafe Del Mar here in Kamala Beach is a statement: Phuket is a party island. This well-known Ibiza brand found out that Phuket was definitely the right place for a beach party beach club with good music, great drinks and most of all, notorious parties.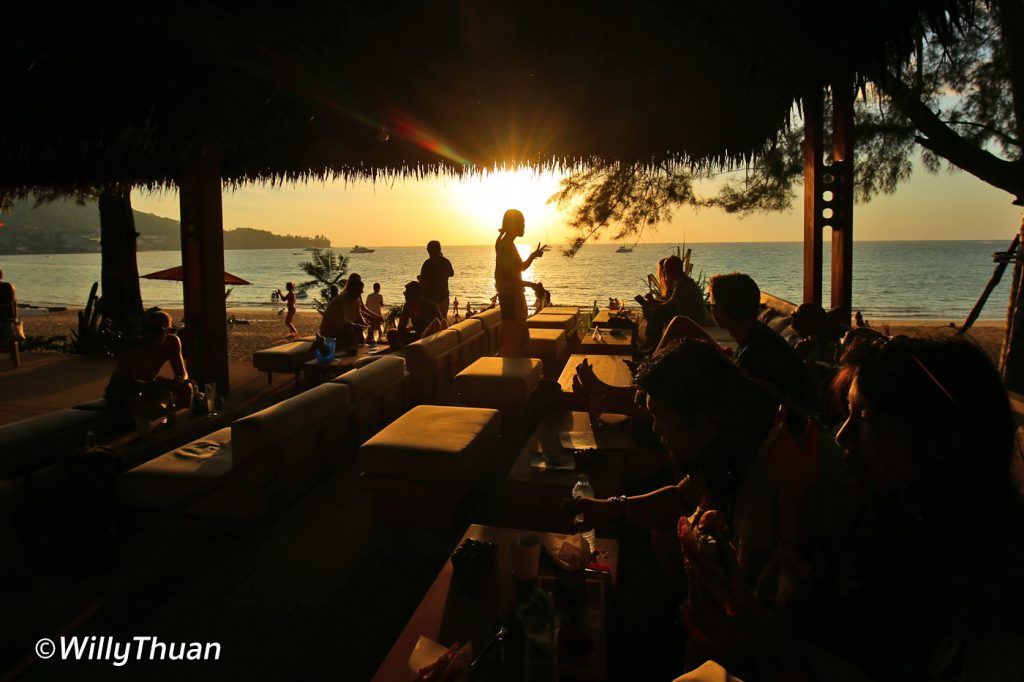 Located at the northern end of Kamala Beach, just next to HQ Beach Lounge, Cafe Del Mar is surprisingly discreet during the day. Since beach clubs all learned the hard way that you can't have your club right on the beach, Cafe Del Mar did what the new generation of beach club did: build on the very edge of the beach line, usually under the trees. It obviously doesn't feel the same but it's better than no beach clubs at all.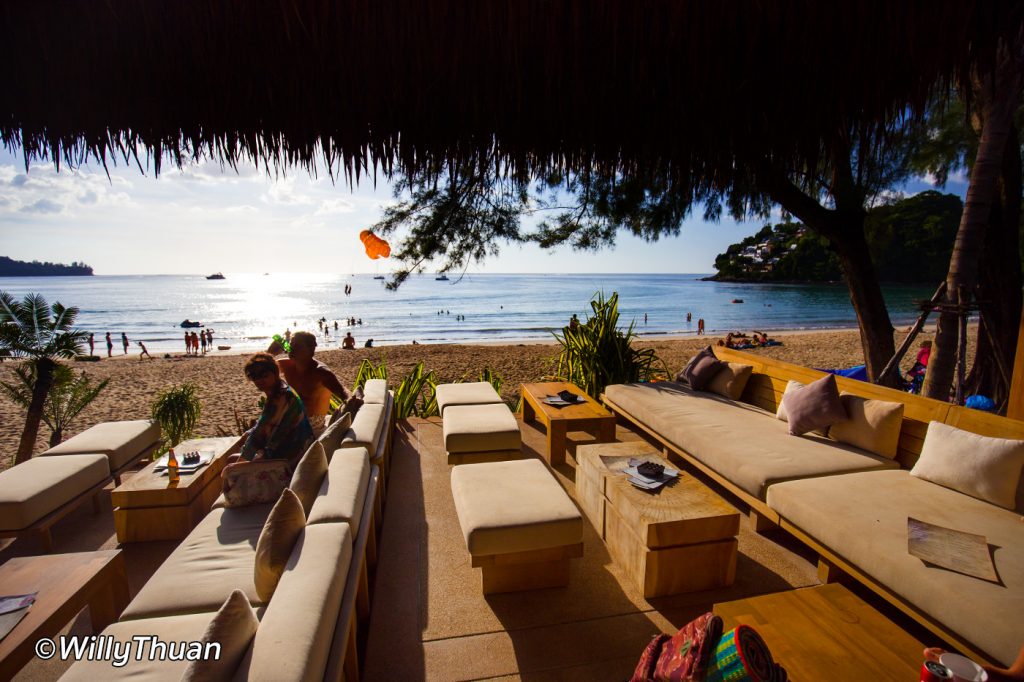 Cafe Del Mar Phuket is all wood, straw roof and orange tones… it's a good place to chill in the afternoon but it gets quite hot under the roof as the breeze doesn't get through. The club feels a little cramped with a pool in the back of the main building and beach beds tightly packed on the side of it. Looks like the land was a little small to accommodate the ambition of the club.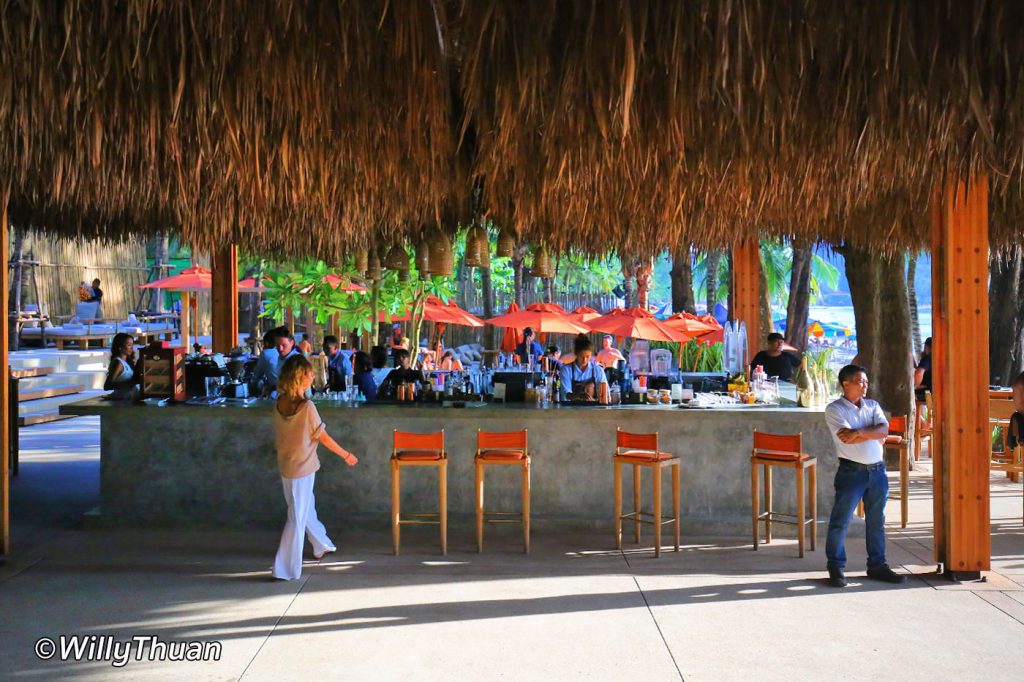 So of course the place fills up very fast and getting a sofa is not guaranteed. When you get one, your neighbors sit so close to you they eventually start invading your space and that can be a little annoying. The place being a drinking and party place people tend to forget manners and end up literally using you space. So get ready for promiscuity.
Music and drinks are well mixed, just as you expect them to be. A beer will cost you 130 baht, a craft beer 250, a coke 70 baht, a whisky or a tequila starts at 240 and a 'classic' cocktail 280 baht. You can order some tapas, salads  or meats from a decent size menu: Cold cuts 320 baht, baguette sandwich 320 baht, Wagyu burger 390 baht, lamb chops 790 baht.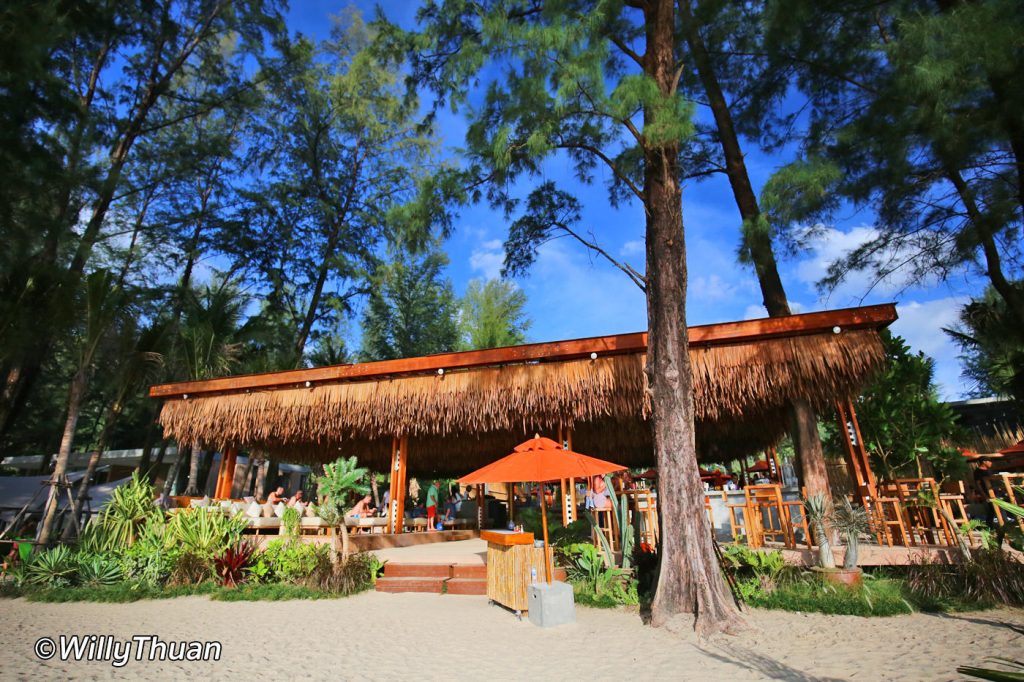 Now the price for the loungers and beach beds are a little high so get ready for some spending: 1,000 baht minimum spend per single lounger per day and 3,000 baht minimum spend per double beach bed. This is not the rent fee, but the minimum you need to spend in drinks or food to use a bed, no wonder why everyone cramps on the free sofas! Let's see how long they survive at that price.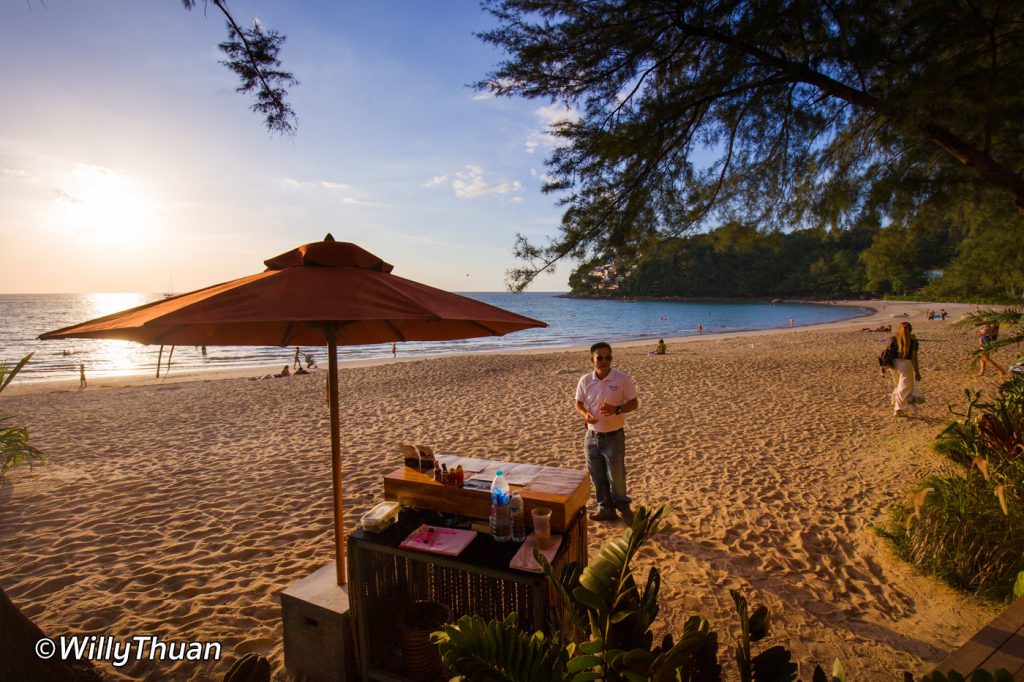 The atmosphere is good but a little stiff. People coming here and staff are younger than in other beach clubs  and have the attitude of the upper class young crowd who 'belong'. Or maybe I'm a little too old for Cafe Del Mar. Tapas are decent without being memorable. Waitresses are nice and do their best to accommodate the demanding clientele and the lack of seats.
Music grows louder as the night grows dark and on weekends the party goes full blast, so if you want to party on the send under the moonlight, you know where to go!
Cafe Del Mar
Location: Northern end of Kamala, just next to HQ Beach club
Open: 10 am – 2 am
Phone: 081 188 1230
Price: 1,000 baht minimum spend per single lounger per day, 3,000 baht minimum spend per double beach bed
Cafe Del Mar Phuket Map